September 23, 2013
Touch of Grace Biscuits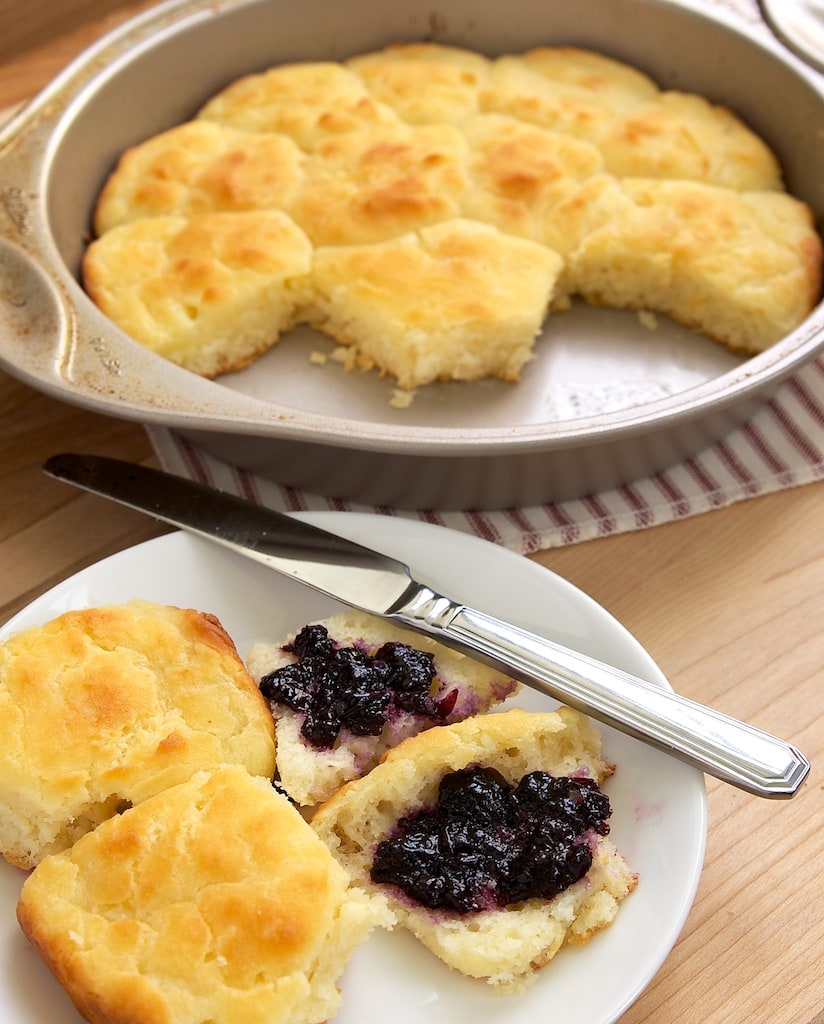 I've always had a thing for biscuits. Now that I live in NYC, where finding a good biscuit can be a bit challenging, I appreciate them even more.
Earlier this year, I was fortunate to be invited to spend a couple of days in Nashville with White Lily and Martha White. We cooked up a veritable biscuit storm down there! We tried several different recipes for biscuits, all of them delicious. While I love big, fluffy buttermilk biscuits, I fell in love with these Touch of Grace Biscuits.
I've been baking these at every opportunity since that trip. And, as September is National Biscuit Month, this is the perfect time to share these beauties with you!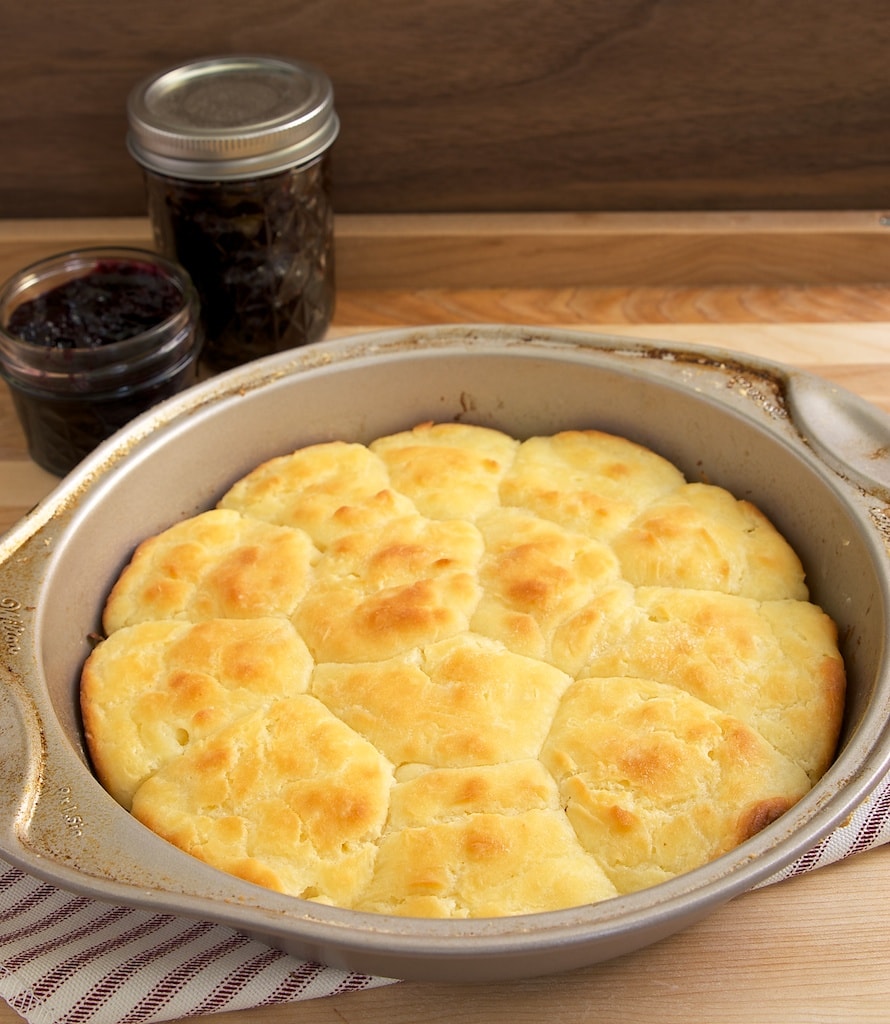 So, what makes these so special? To me, it's all about the texture. They are soft and light and just a joy to eat. Of course, all that buttermilk and cream is a pretty good thing, too. These are the biscuits I make when I want to slather biscuits with jam. Or, just eat them straight out of the pan. Believe me, that works, too.
A word of warning when making these…. Once you get the dough mixed, you may think you've done something terribly wrong. It looks a bit like, well, cottage cheese. But, just go with it. When they come out of the oven, you'll have beautiful, glorious biscuits like you've never had before. Enjoy!
Scroll past the recipe for a White Lily giveaway!
Touch of Grace Biscuits
Yield: 12 to 14 biscuits
Prep Time:15 minutes
Cook Time:20 minutes
Touch of Grace Biscuits are wonderfully delicate and amazingly delicious!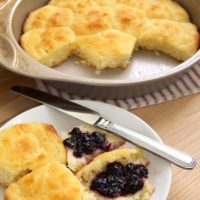 Ingredients:
about 1 cup all-purpose flour
1 & 1/2 cups self-rising flour*
1 tablespoon granulated sugar
1/4 teaspoon salt
3 tablespoons unsalted butter, cold and cut into 1/2-inch pieces**
1/2 cup heavy cream
3/4 cup buttermilk
2 tablespoons unsalted butter, melted
Directions:
Preheat oven to 450°F. Grease an 8-inch round cake pan.
Place the all-purpose flour onto a plate or into a pie or cake pan. Set aside.
Combine the self-rising flour, sugar, and salt in a mixing bowl. Add the cold butter and mix into the flour mixture using a pastry blender or a fork. Mix until the butter is the size of small peas.
Stir in the cream. Then, stir in buttermilk. Mix until incorporated and the mixture resembles cottage cheese.
Use a large spoon or an ice cream scoop to scoop some of the dough into a biscuit-size portion. Drop the dough onto the all-purpose flour. Sprinkle with flour to coat the outside of the dough.
Flour your hands and pick up the dough. Form into a round and shake off excess flour. Place the dough in the prepared pan. Repeat with the remaining dough. Press each biscuit against another so that they will rise and not spread.
Bake until the biscuits are lightly browned, about 20 minutes.
Brush the biscuits with the melted butter. Allow the biscuits to cool for a few minutes before serving.
Notes:
*If you have access to White Lily self-rising flour, I highly recommend it for these biscuits. If you can't get it locally, Amazon has it as an add-on item, and it is also available at Soap.
**Confession: The original recipe uses 3 tablespoons of shortening. I always make these with butter, as I'm still not a fan of shortening.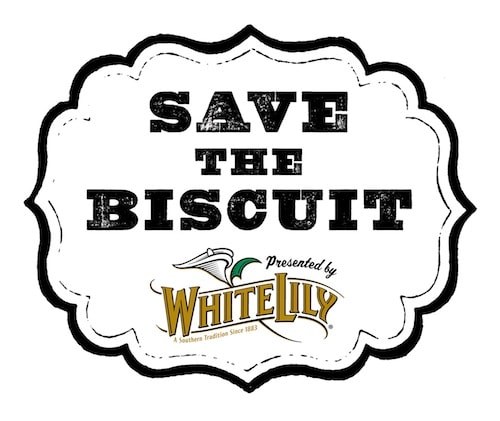 To celebrate National Biscuit Month, White Lily is giving one lucky Bake or Break reader a Biscuit Essentials Kit! Here's what's included:
Save the Biscuit tote bag
Biscuit cutter
Pastry blender
White Lily Self-Rising Flour
White Lily tea towel
Flour sifter
Save the Biscuit t-shirt
PLUS! Two runners-up will get their own Save the Biscuit t-shirt!
Please read all of the entry details and conditions below. Note that the winner must be a U.S. resident 18 years or older. Please add bakeorbreak at gmail dot com to your address book so that a winning email from you doesn't end up in your spam folder. If the winner does not respond within 48 hours, another winner will be chosen.
If you are unable to see the raffle widget below, please make sure your browser is updated or try using another browser.
Good luck!
Giveaway provided by White Lily. This post contains affiliate links.