July 10, 2013
Caramel Pecan Brownies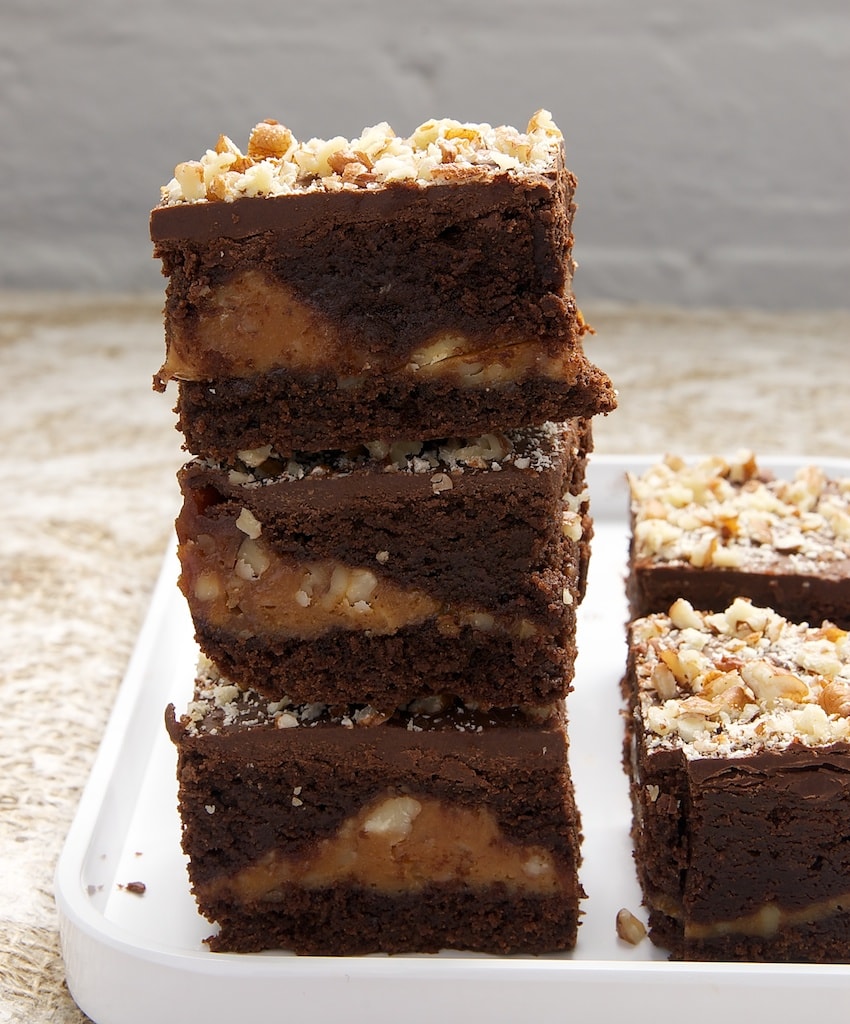 In the midst of the wonderfully steady stream of summer fruit around here, I took a departure and made brownies. Chocolate knows no season, right? Honestly, I was planning on making something fruity, but the little voice in my head that kept whispering "brownies!" wore me down.
Of course, I am in no way apologizing for making brownies. These amazing, gooey, rich brownies need no excuses. In fact, the only apology that should be related to these is mine for not making them sooner.
The basic idea is a simple premise. Two layers of brownies sandwiched around a nutty caramel layer, all topped off with more chocolate and nuts. They are, in a word, decadent.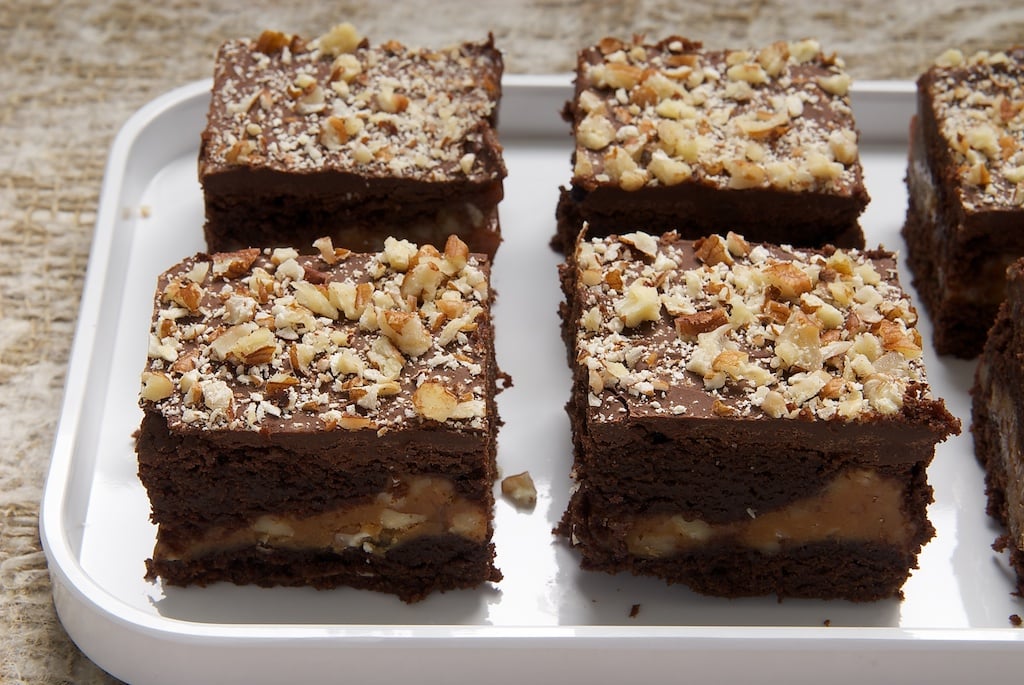 If I may offer a word of caution, you and these brownies will be far happier if you can manage not to let the caramel layer spread all the way to the edges. If it does, it's still fine. They may stick to the lining a bit, but it will peel off with minimal effort.
This recipe is a loose adaptation of a recipe that I printed who knows how long ago. I have no idea where it originated. I found it in a collection of saved recipes that I haven't touched in months and months. Now that I've made these brownies and tasted them, I'm glad that past me saw fit to save the recipe that led to these beautiful and fabulous brownies.
Caramel Pecan Brownies
Yield: 16 2-inch brownies
Prep Time:25 minutes
Cook Time:30 minutes
Ingredients:
For the brownies:
1 cup all-purpose flour
3/4 cup unsweetened cocoa powder
1/2 teaspoon baking powder
1/2 teaspoon salt
10 tablespoons unsalted butter, melted
1/2 cup granulated sugar
1/2 cup packed light brown sugar
2 large eggs
1 teaspoon vanilla extract
For the caramel:
14 ounces caramel bits or soft caramels
2 tablespoons milk
1/2 cup chopped pecans, toasted
For the topping:
1 cup semisweet chocolate chips
1/4 cup chopped pecans, toasted
Directions:
Preheat oven to 350°. Grease an 8-inch square pan. Line with parchment paper or aluminum foil so that the lining overhangs by a couple of inches on two opposite sides.. Lightly grease lining.
Whisk together flour, cocoa powder, baking powder, and salt. Set aside.
Combine melted butter, sugar, and brown sugar. Add eggs and vanilla, and mix until well blended.
Add flour mixture in 3 or 4 portions, mixing just until combined.
Spread half of brownie batter into prepared pan.
Place caramels and milk in a microwave-safe bowl. Heat in microwave in 30-second increments, stirring in between, until caramel has melted. Stir until smooth. Microwaves vary, but this should take about 3 minutes.
Stir in 1/2 cup pecans. Immediately pour over brownie layer in pan. Tilt the pan to spread out the mixture. Try to leave a 1/4- to 1/2-inch margin around the edges.
Drop remaining brownie batter by teaspoonfuls over the top of the caramel. Carefully spread the batter evenly over the caramel.
Bake 25-30 minutes, or until a pick inserted into the center comes out with moist crumbs. Only insert the pick through the top layer of brownies.
Place pan on a wire rack. Sprinkle with chocolate chips, and allow to sit for 5 minutes. Then, spread the chocolate evenly over the top of the brownies. Garnish with remaining 1/4 cup pecans.
After allowing brownies to sit for about 20 minutes, transfer pan to refrigerator for about 30 minutes to set. When ready to cut into bars, use the overhanging lining to lift the brownies out of the pan and onto a cutting board. Cut into bars with a sharp knife.