March 27, 2013
Blueberry-White Chocolate Oatmeal Cookies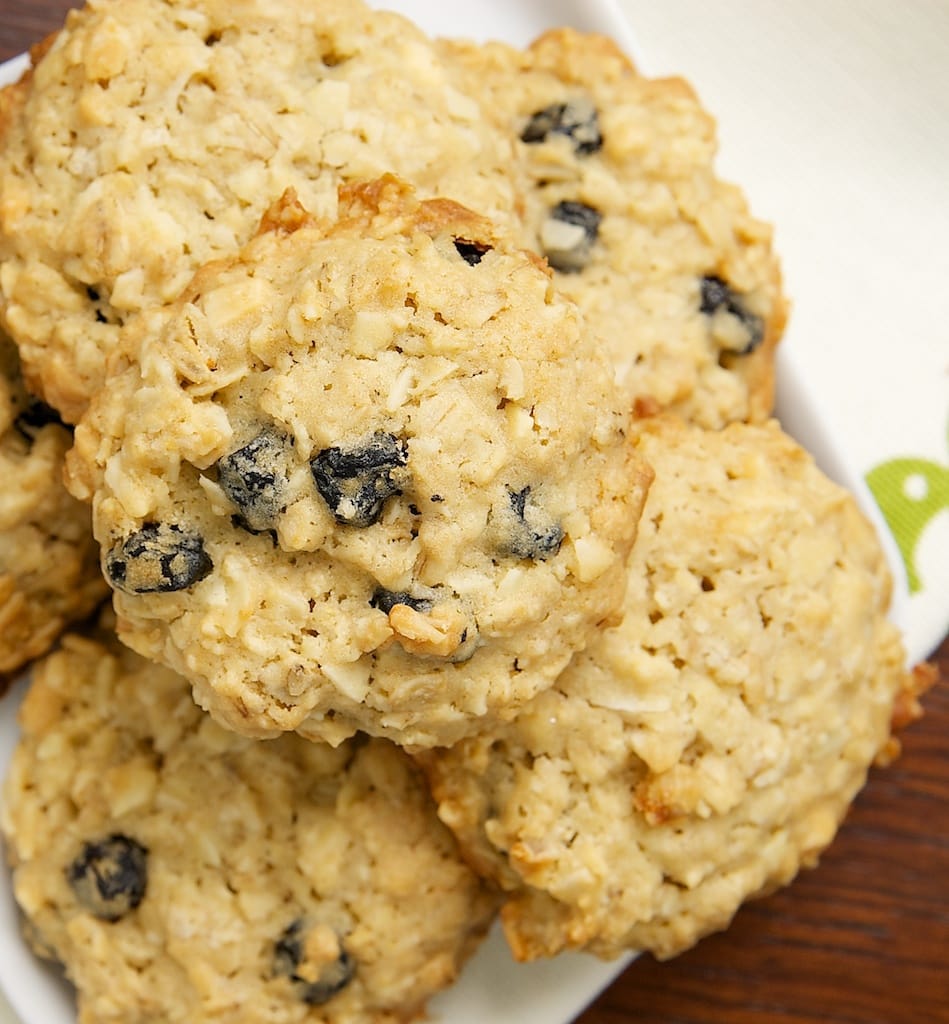 Recently, I've been on a bit of an organizing streak. I generally consider myself organized, but there are new levels of obsession around here. I think I owe some of that to living in New York. Small spaces are pure misery without some extreme organization.
As I was rearranging the cabinet that passes for my baking pantry, I found some dried blueberries stuck behind a giant bag of cinnamon. So, obviously, I had to pause the organizing and make cookies.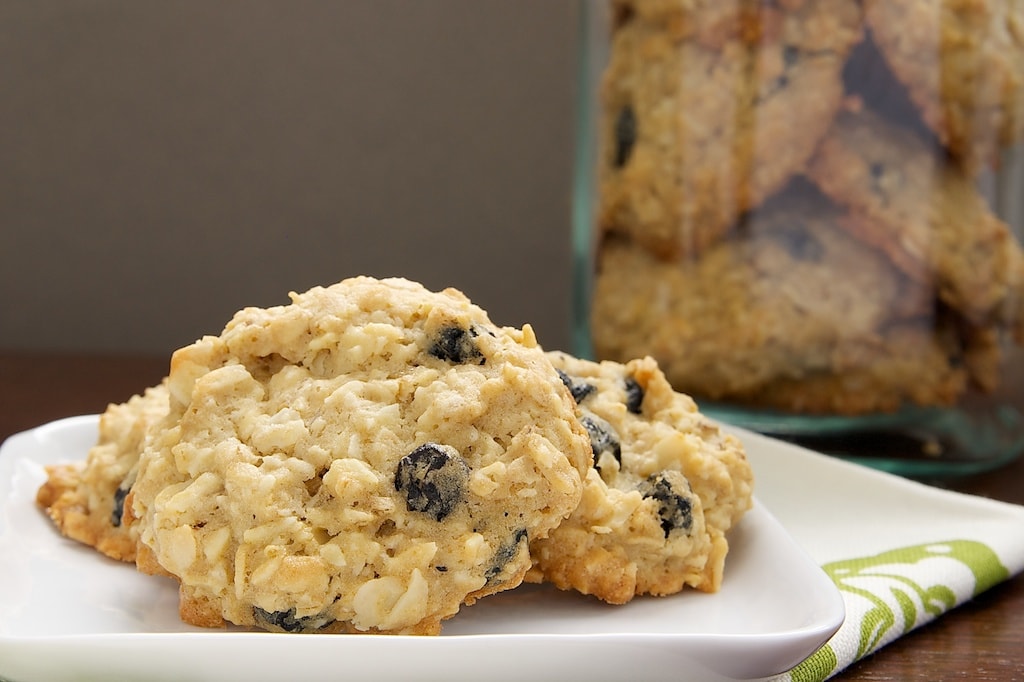 I'm a big fan of oatmeal cookies. They just seem somehow more… significant than most other cookies. Plus, there's that extra bit of chewiness from the oats that appeals to me. I tend to make them with whatever I have on hand – nuts, chocolate, dried fruits. So, I gathered up some white chocolate and almonds in addition to the blueberries, and got to baking.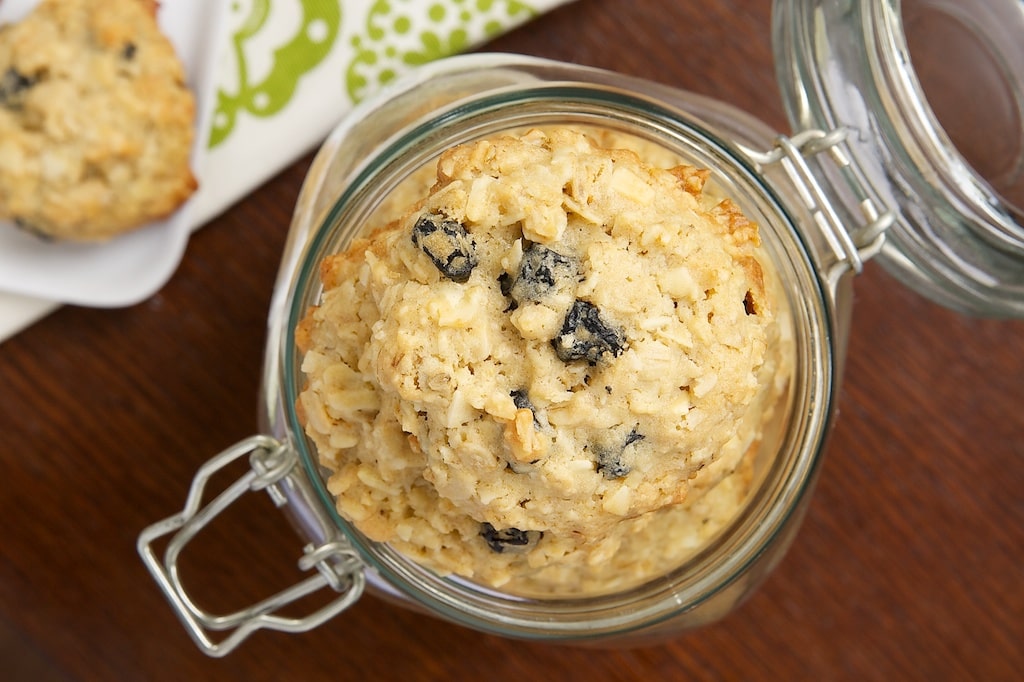 A little while later, I had a bunch of big, chewy, tasty cookies and a little more room in my kitchen cabinet. These cookies are a nice departure from my usual go-to add-ins. The blueberries are sweet and tart. The white chocolate adds a nice creamy sweetness. And, the almonds provide some crunch.
If you like some salty with your sweet, I might suggest bumping up the salt or sprinkling a tiny bit on top of each cookie before baking. I adore these as is, but I wouldn't turn down a saltier version.
Blueberry-White Chocolate Oatmeal Cookies
Yield: about 20 large cookies
Prep Time:20 minutes
Cook Time:22 minutes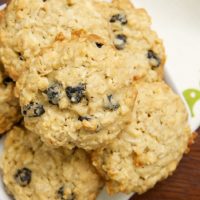 Ingredients:
1 & 1/4 cups all-purpose flour
1 teaspoon baking powder
1/2 teaspoon salt
1 & 1/2 cups old-fashioned oats
3/4 cup unsalted butter, softened
3/4 cup packed light or dark brown sugar
2 large eggs
1 teaspoon vanilla extract
3/4 cup dried blueberries
3/4 cup chopped white chocolate
3/4 cup chopped almonds
Directions:
Preheat oven to 350°. Line baking sheets with silicone liners or parchment paper.
Whisk together flour, baking powder, and salt. Stir in oats. Set aside.
Using an electric mixer on medium speed, beat butter and brown sugar until light and fluffy. Add eggs, one at a time, mixing well after each addition. Mix in vanilla.
Reduce mixer speed to low. Add flour mixture in 3 or 4 portions, mixing just until combined. Stir in blueberries, white chocolate, and almonds.
Drop dough in 3 tablespoon portions (A cookie scoop works well.) onto prepared pans. Leave about 2 & 1/2 inches between cookies. Flatten cookies slightly.
Bake, one pan at a time, 18-22 minutes. Edges should be browned and centers set. Cool on pans on wire rack for 5 minutes. Then, transfer cookies to wire racks to cool completely.