February 7, 2013
Banana Bread Bundt Cake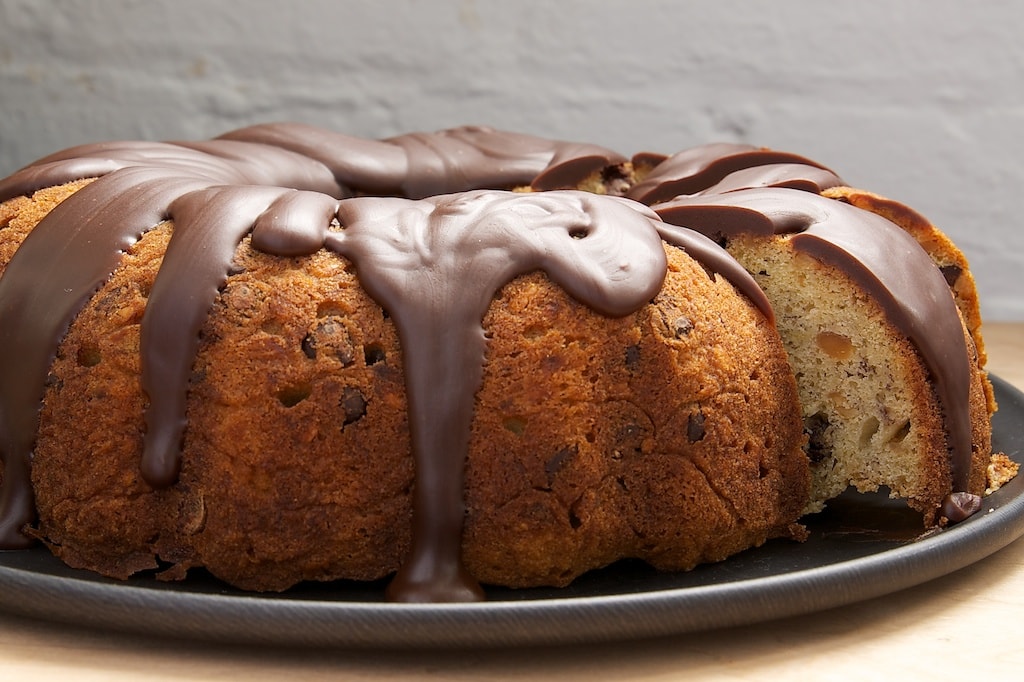 I mentioned a few weeks ago that banana bread is the search term that brings more people to Bake or Break than anything else. It's a commonly searched-for recipe, and I just happen to have a long-standing love affair going on with banana bread.
Recently, I received a copy of Lindsay Landis' and Taylor Hackbarth's new book, Breakfast for Dinner. I have to type that carefully, because the Southern girl in me so wants to type "supper" instead.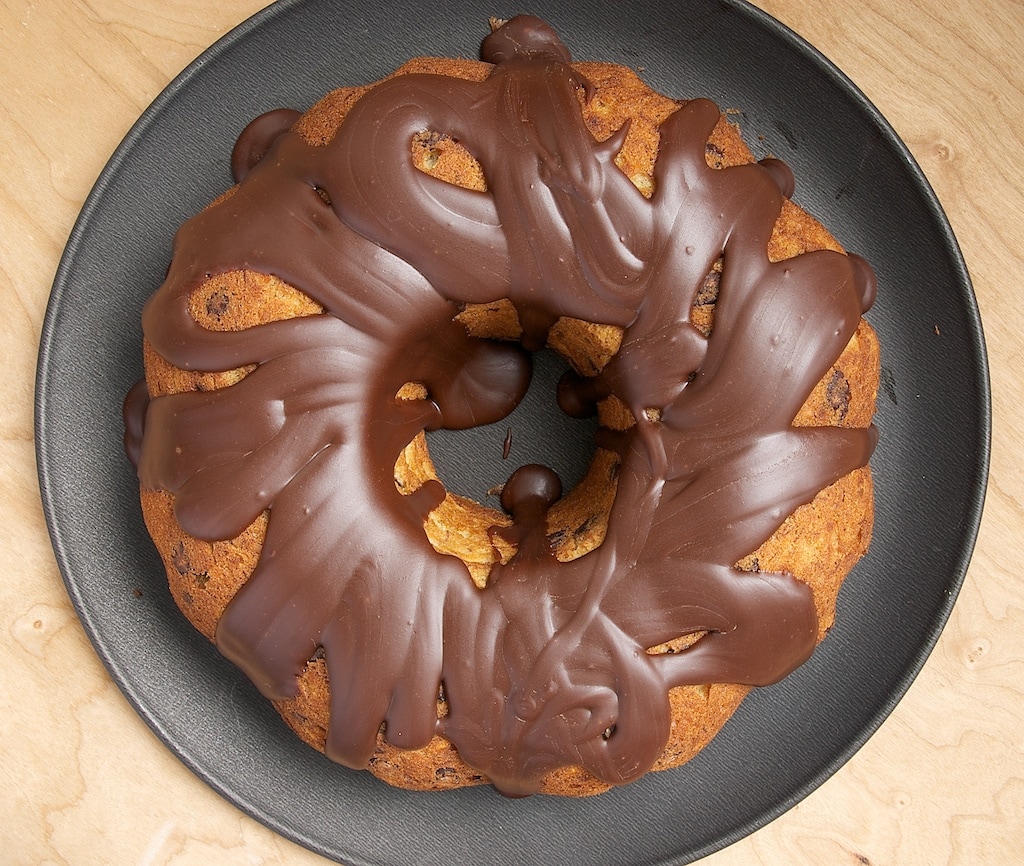 You may remember my talking about Lindsay and her previous book, The Cookie Dough Lovers' Cookbook. These beautiful and delicious Cookie Dough Billionaire Bars are from her fabulous book. That book also inspired this Chocolate Cookie Dough No-Bake Cheesecake.
Her new book is all about breakfast foods designed for dinner time. There are main dishes and sides and such, but I, of course, headed straight for the desserts. And landed happily on this Bundt cake.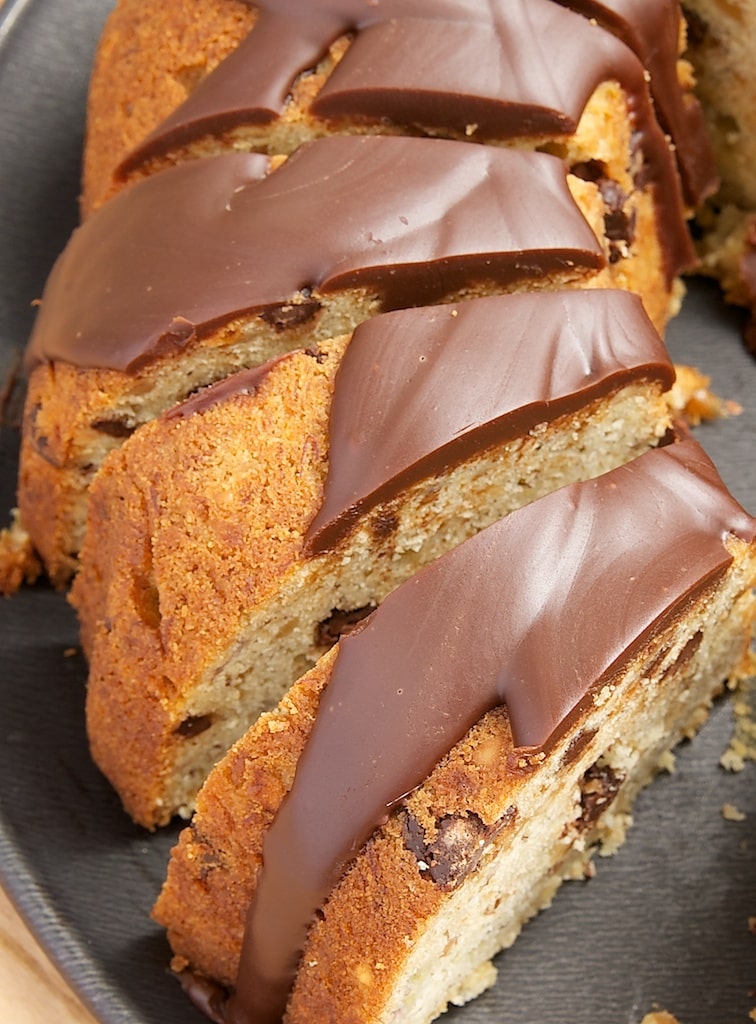 I stuck pretty close to the original recipe, with a couple of changes. I substituted some brown sugar for part of the granulated sugar, and I also added some chopped roasted peanuts to the cake to enhance the peanut butter flavor in the glaze.
It's a beautiful combination of banana bread and cake, all topped off with a chocolate-peanut butter glaze. Perfectly suitable for dessert. Or breakfast, for that matter.
Quirk Books provided me with a copy of Breakfast for Dinner. All opinions are my own. Post includes affiliate links.
Banana Bread Bundt Cake
Yield: 12-16 servings
Prep Time:30 minutes
Cook Time:50 minutes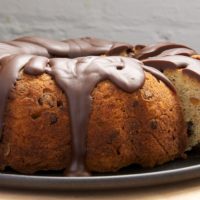 Ingredients:
For the cake:
2 & 1/2 cups all-purpose flour
1 teaspoon baking powder
1/2 teaspoon baking soda
1/2 teaspoon salt
3/4 cup unsalted butter, softened
1/2 cup granulated sugar
1/2 cup packed light brown sugar
2 large eggs
3 very ripe bananas, mashed (about 1 & 1/4 cups)
1 teaspoon vanilla extract
1/2 cup milk
1 cup semisweet chocolate chips
1/2 cup chopped roasted peanuts
For the glaze:
3 ounces (1/2 cup) semisweet chocolate chips
1/3 cup heavy cream
2 tablespoons creamy peanut butter
Directions:
To make the cake:
Preheat oven to 350°. Generously grease a 12-cup Bundt pan. (I use a cooking spray with flour. If you use a different kind of spray, you may want to flour the pan as well & shake out the excess flour.)
Whisk together flour, baking powder, baking soda, and salt.
Using an electric mixer on medium speed, beat butter, sugar, and brown sugar until light and fluffy. Add eggs, one at a time, mixing well after each addition. Mix in bananas and vanilla.
Reduce mixer speed to low. Gradually add flour mixture in 3 portions, alternating with milk. Begin and end with flour. Mix just until combined. Stir in chocolate chips and nuts.
Pour batter into prepared pan and spread evenly. Bake 40-50 minutes, or until a pick inserted into the center comes out clean.
Cool in pan on wire rack for 10-15 minutes. Then, remove cake from pan to wire rack to cool completely.
To make the glaze:
Place chocolate and cream in a microwave-safe bowl. Microwave at half power in 30-second increments until chocolate melts when stirred. (Alternately, heat in a medium saucepan over low heat until melted.) Add peanut butter and stir until smooth.
Let glaze cool until slightly thickened. Pour over cake. Cover and refrigerate until ready to serve.
Notes:
Cake will keep, refrigerated, for up to 3 days.