This supremely moist cherry-vanilla yogurt cake is studded with fresh fruit, then topped with an almond crumble and vanilla glaze to create the perfect summertime dessert!
Moist Yogurt Cake With Fresh Cherries
I became very excited when cherries started appearing at our local markets a few weeks ago. It's exciting because, well, they're cherries! Also, the arrival of stone fruits means that summer has peaked. (Come on, fall!) But, most of all, it means it's time to bake cherry berry crumble and cherry plum slab pie, of course, this cherry-vanilla yogurt cake.
While you have to be a serious cherry lover to enjoy cherry pie and cherry cobbler, this cherry-studded yogurt cake offers a little more balance. Instead of being the star of the show, the cherries are part of an ensemble cast here—there's plenty of vanilla, a crunchy almond topping, and the wonderfully tender crumb and slight tang from the yogurt.
Just remember that cherry season won't last long. Make this cherry-vanilla yogurt cake while you can!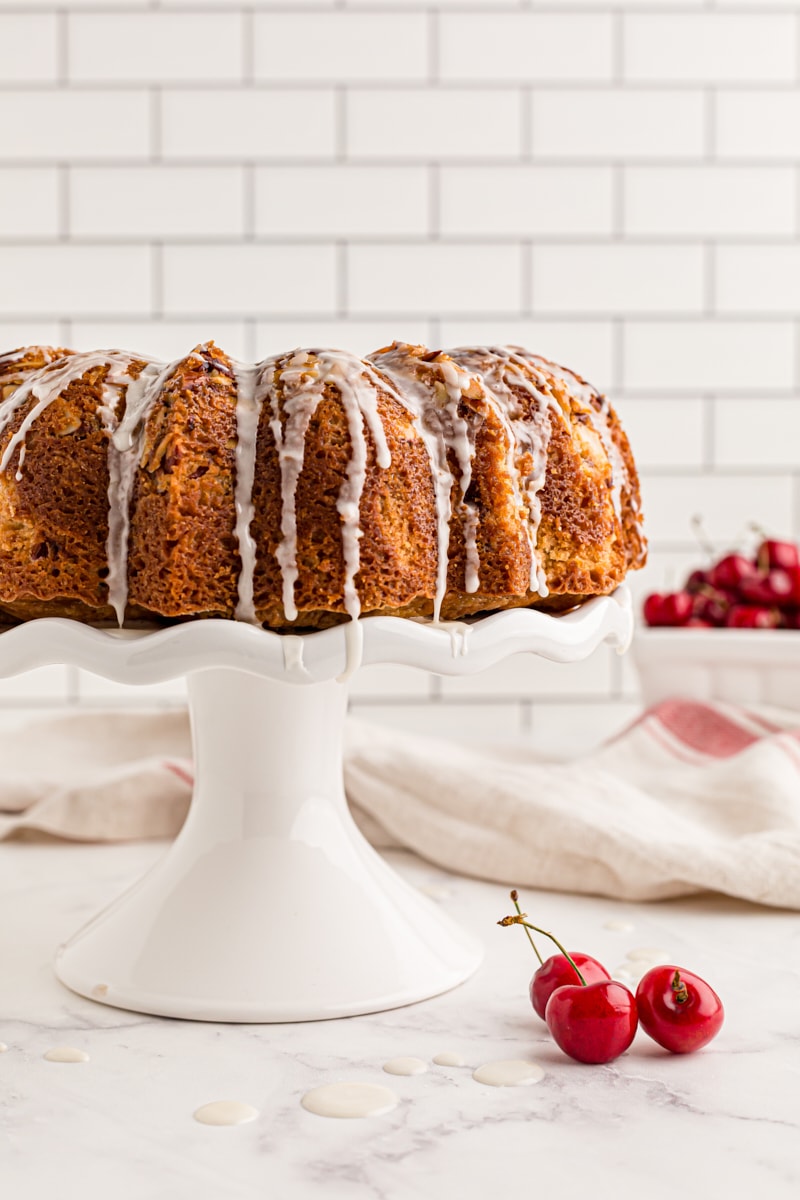 Why You'll Love This Cherry-Vanilla Yogurt Cake Recipe
Here's what makes this cherry-vanilla yogurt cake such a hit:
Perfectly moist. The benefit of baking with yogurt is that it gives cakes, muffins, and quick breads a tender, moist crumb without having to add a lot of oil.
Irresistible topping. A sweet almond topping takes this recipe from good to outstanding. The crunchy texture and nutty flavor perfectly complements the juicy cherries and vanilla in the cake.
A slice of summer. Cherries are at their peak during the summer and this cake is one of my favorite ways to enjoy them. The addition of vanilla really brings out the best in these little stone fruits.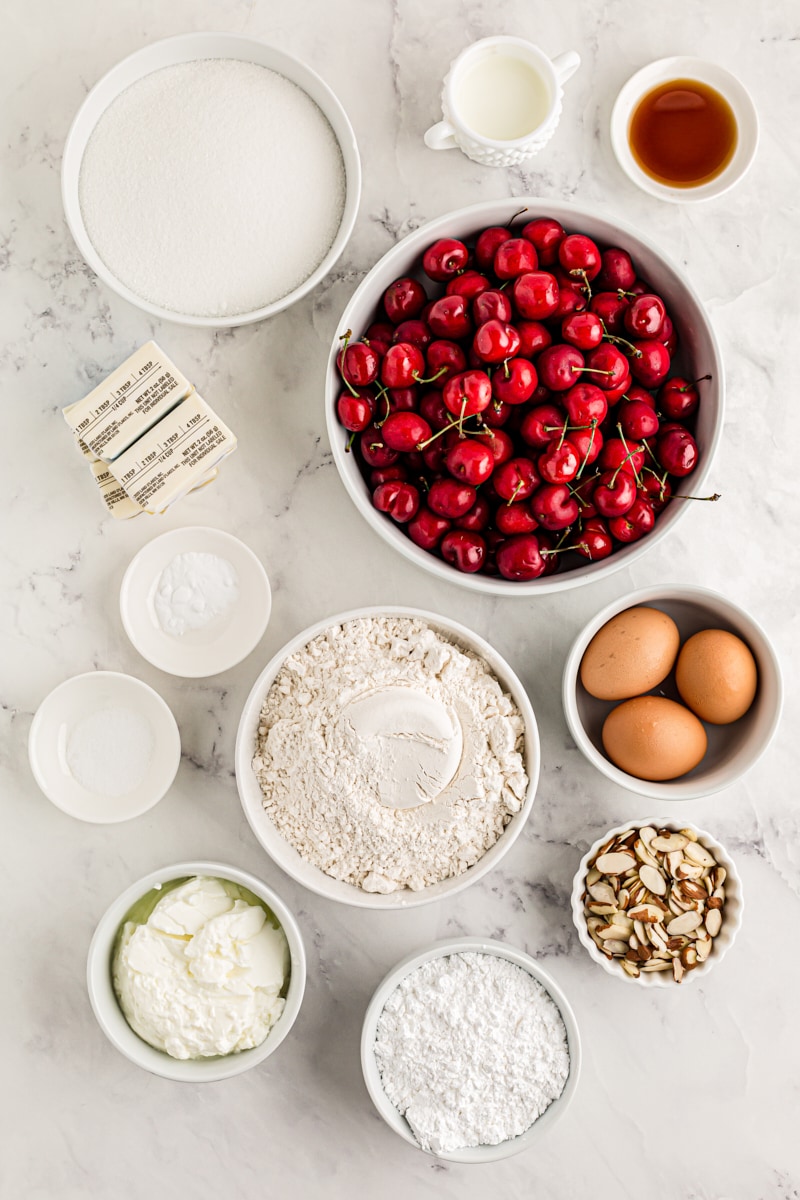 What You'll Need
Scroll down to the recipe card to find the ingredient quantities and recipe instructions.
For the Topping:
For the Cake:
All-purpose flour – Here's how to measure flour for baking.
Baking soda
Salt
Unsalted butter – Let the butter soften at room temperature.
Granulated sugar
Eggs – While the butter softens, you can set the eggs on the countertop, too. Room temperature eggs hold more air when beaten.
Vanilla extract – Use store-bought or homemade vanilla extract.
Plain or vanilla Greek yogurt – Be sure to use Greek yogurt, which has a thicker consistency than regular.
Cherries – Pit the cherries and then coarsely chop them.
For the Glaze:
Confectioners' sugar – Break up any lumps or sift the sugar to ensure a smooth glaze.
Vanilla extract
Milk – Any variety you have on hand.
What's the Easiest Way to Pit Cherries Without a Cherry Pitter?
You can use a chopstick or stainless steel straw to push the pits out of the cherries if you don't have a cherry pitter. Another option is to place the side of the blade of a chef's knife on top of a cherry and then press down firmly with the heel of your hand. This will make it easy to pull the flesh away from the pit.
How to Make Cherry-Vanilla Yogurt Cake
Although there are three components to this cake—the topping, the cake, and the glaze—it's still quite simple to make. Here's what you'll need to do.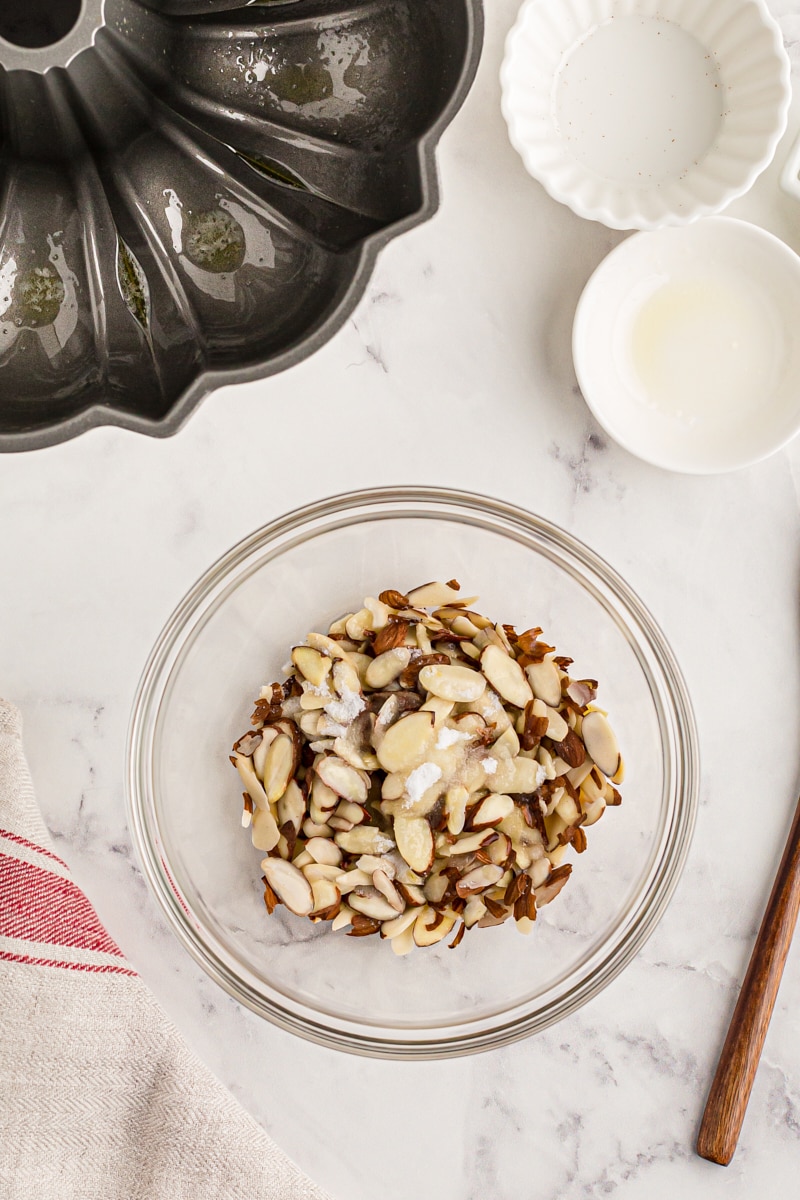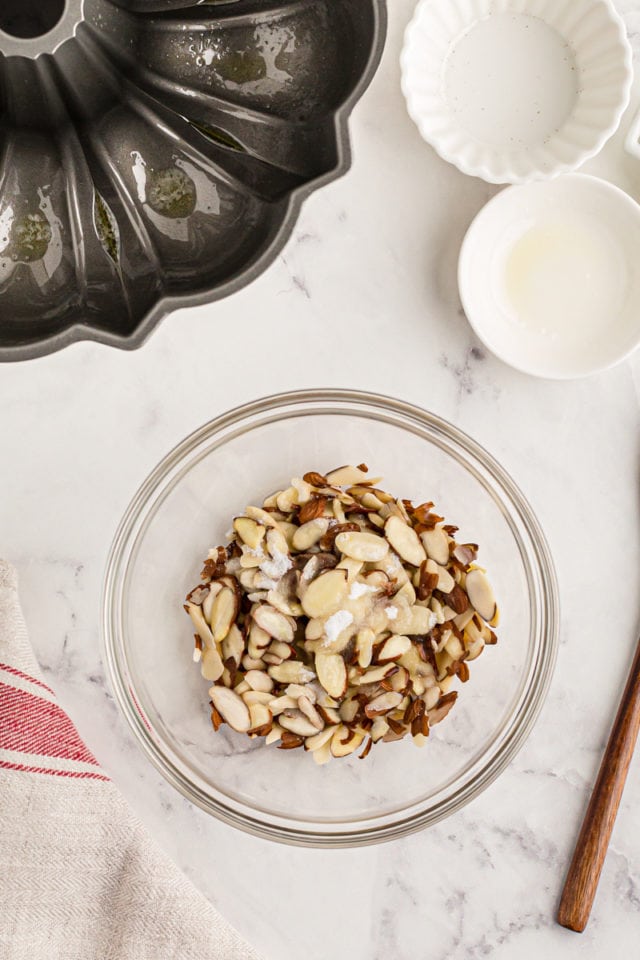 Prepare. Preheat your oven to 325°F and grease a 10-12 cup Bundt pan.
Make the topping. Stir together the almonds, sugar, and melted butter in a small bowl and scatter this mixture into the Bundt pan.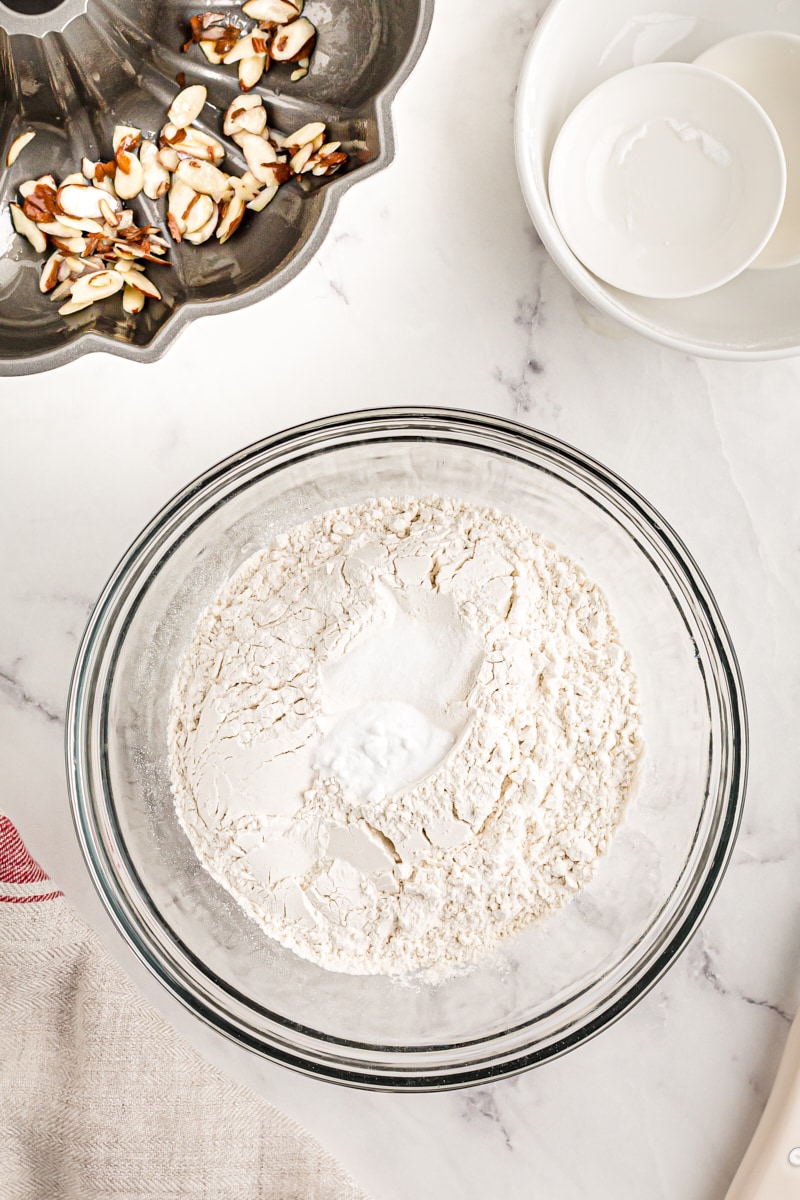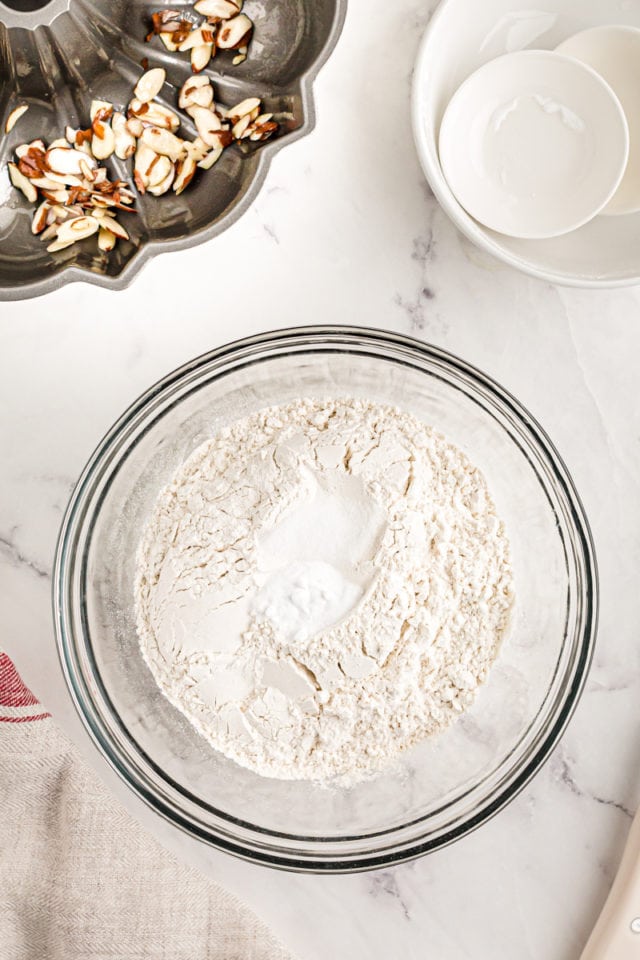 Mix the dry ingredients. In a mixing bowl, whisk 2 1/4 cups of flour with the baking soda and salt.
Mix the wet ingredients. Use an electric mixer on medium speed to beat the butter and sugar in a second mixing bowl, until they're light and fluffy. Beat in the eggs one at a time, followed by the vanilla.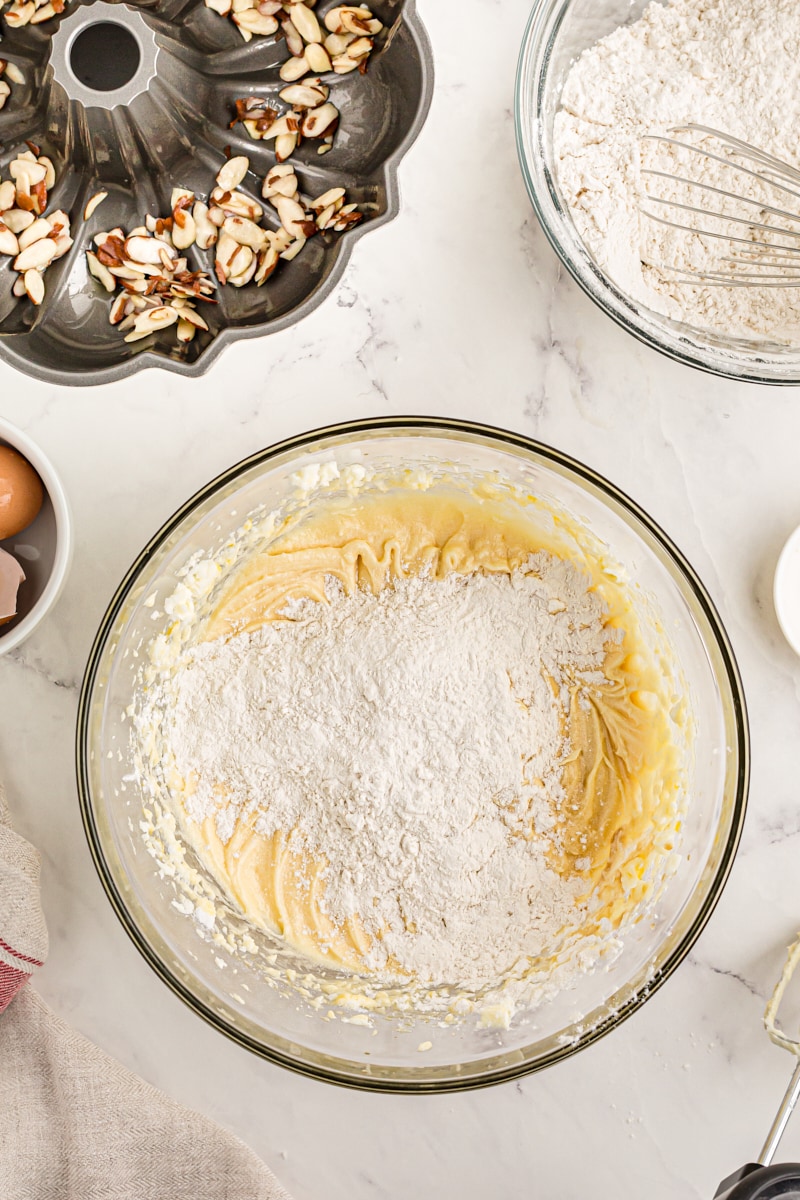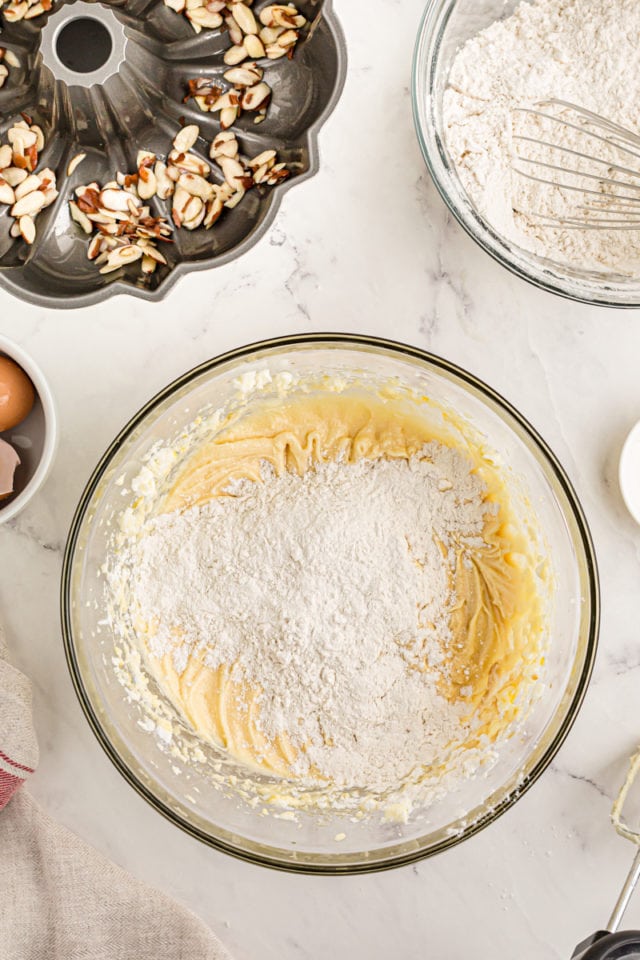 Finish the batter. Add the flour mixture to the wet ingredients in three portions, alternating with two portions of the yogurt.
Fold in the cherries. In another bowl, toss the cherries with the remaining flour, then fold the cherries into the yogurt cake batter.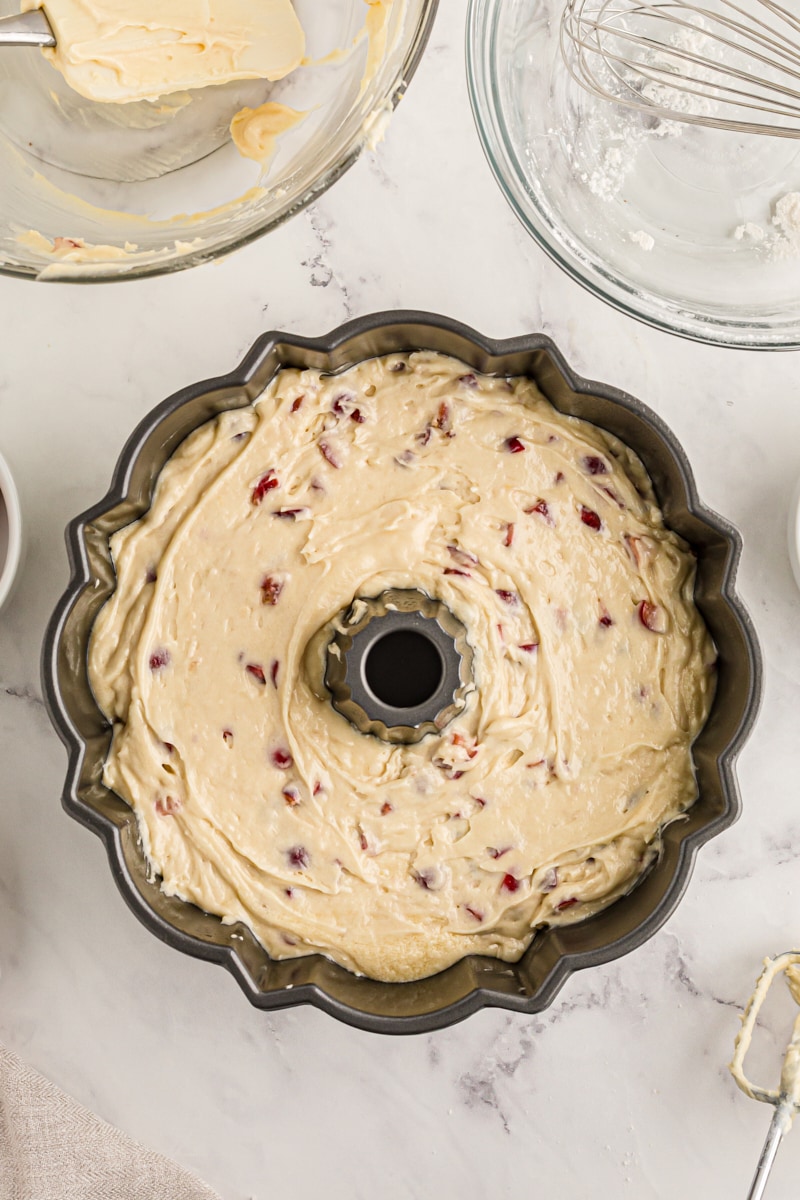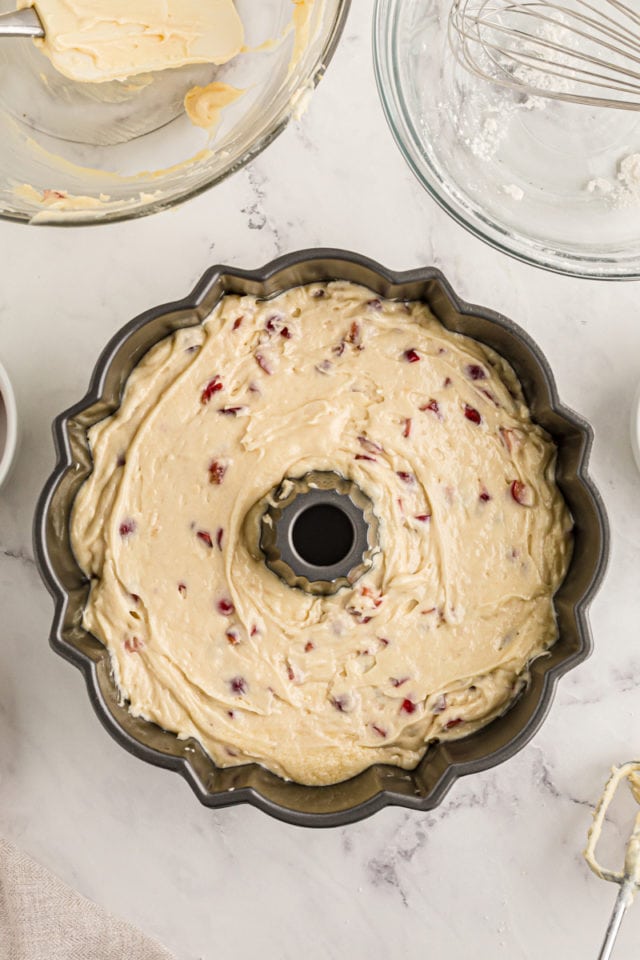 Bake. Pour the batter into the Bundt pan and bake for about 60 minutes, or until a pick inserted into the center comes out clean.
Cool. Let the cake cool in the pan for 15 to 20 minutes, then turn it out onto a wire rack to finish cooling.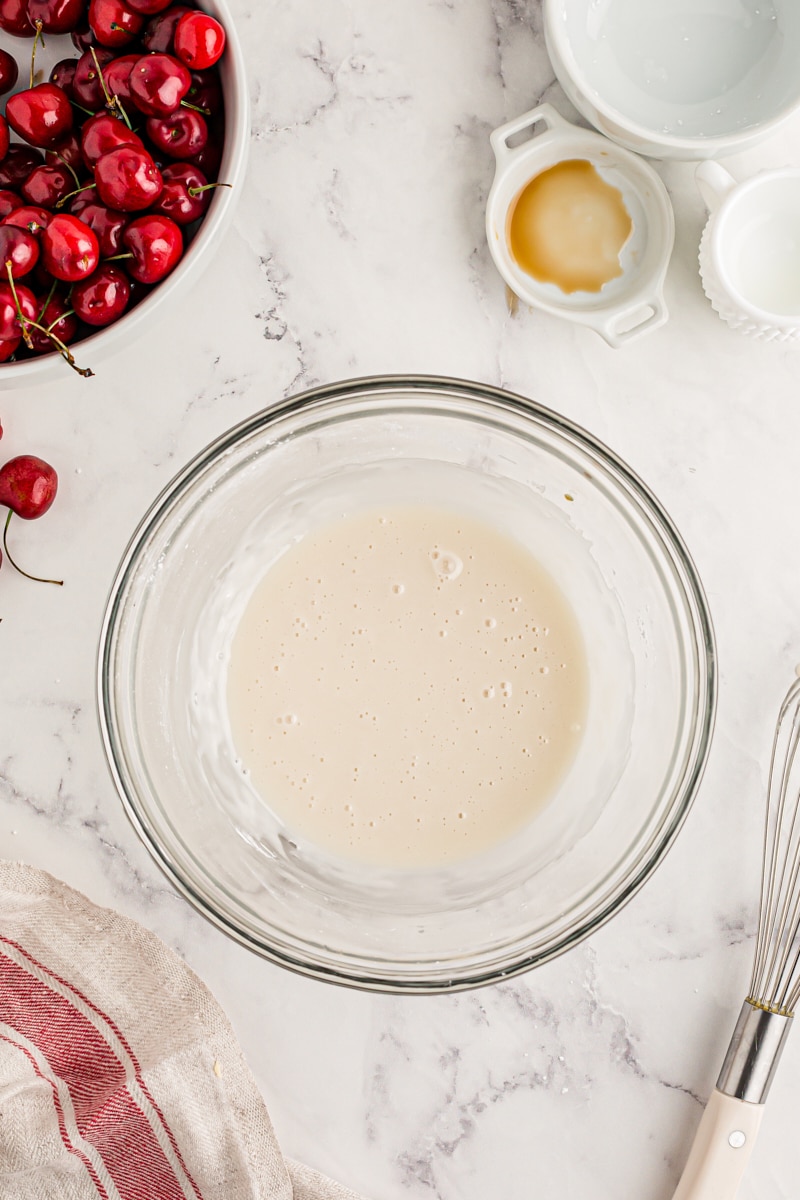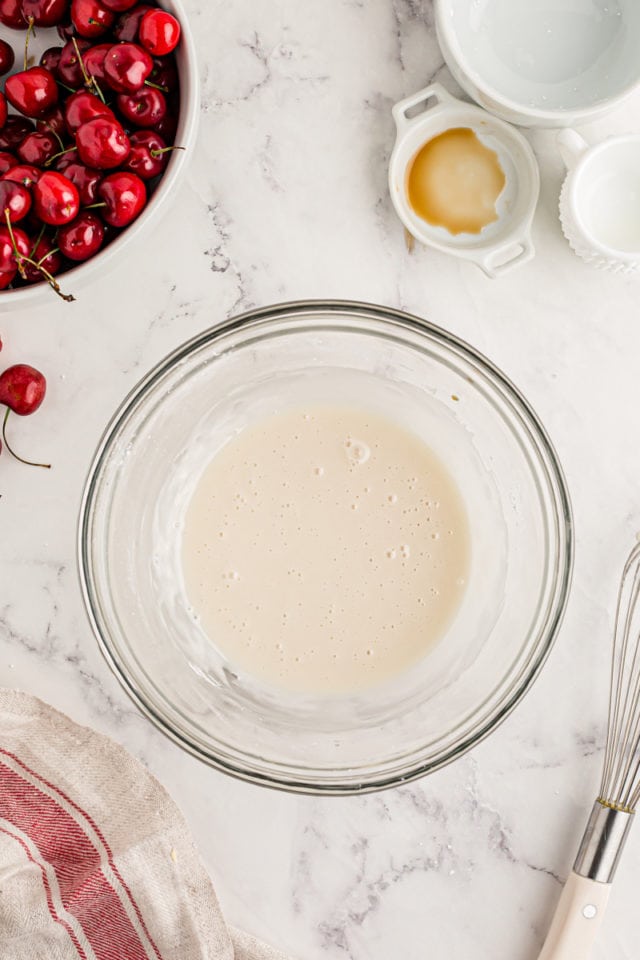 Make the glaze. Whisk together the confectioners' sugar, vanilla, and milk in a bowl until the mixture is smooth.
Finish. Drizzle the glaze over the top of the cooled cake.
Tips for Success
Read over my baking tips for beginners, then follow these additional pointers for a perfect cherry-vanilla yogurt cake.
Don't over-mix. As with any cake recipe, be sure not to over-mix the batter. Too much mixing can result in a tough cake, so you should only stir until the dry ingredients are just incorporated.
Use a cherry pitter. Investing in a cherry pitter will save you time and frustration when preparing this recipe.
Allow for cooling time. If you pour the glaze onto a warm cake, it will absorb right into the cake—it's still delicious, but not the look you want!
Make cleanup easy. Place a layer of foil under the cooling rack before glazing the cake. This will catch the glaze that drips off, sparing you from having to wipe it off of your counter or scrub it off of a platter.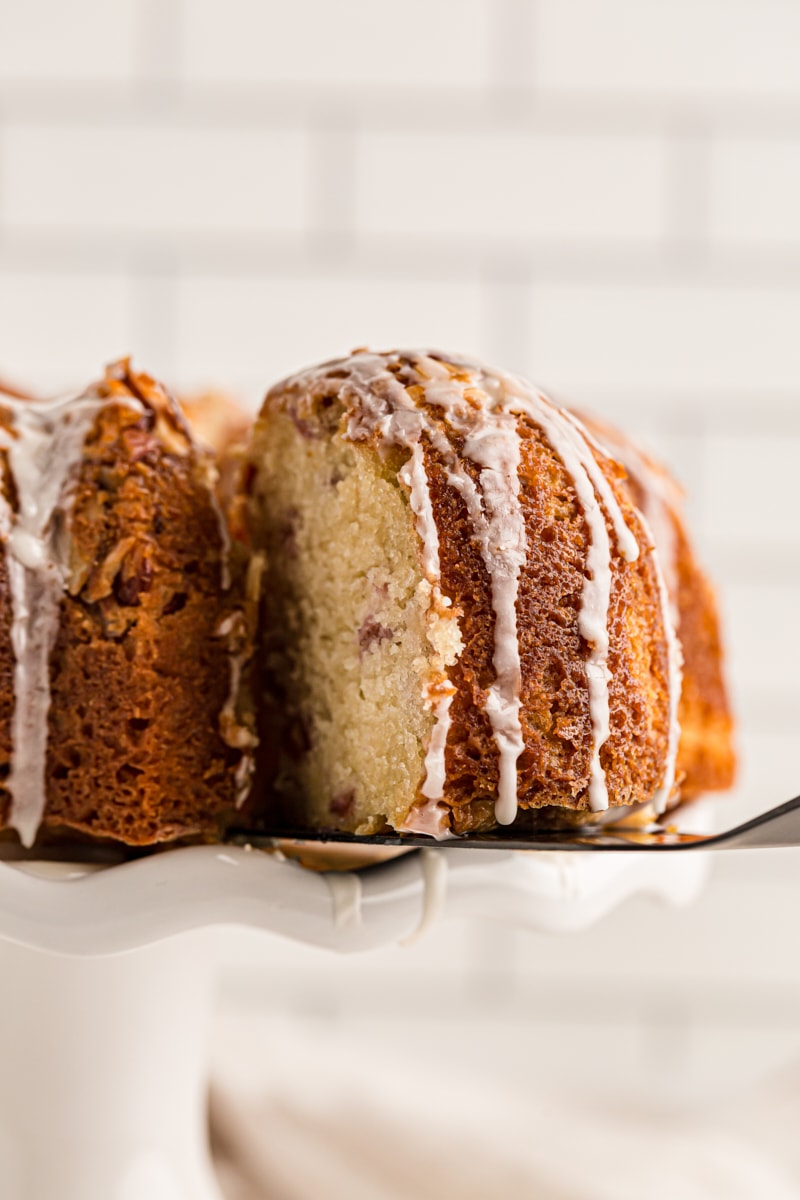 Variations
I like sweet cherries in this cake, but you can use tart cherries if you prefer. Other diced stone fruit like peaches or apricots would also be delicious, as would fresh berries.
Another simple swap is substituting almond extract for vanilla. Despite its name, almond extract isn't nutty; instead, it has a fruity, almost floral aroma. It pairs particularly well with cherries and other stone fruits because the same compound that gives almond extract its fragrance is found in the pits of stone fruit. (That's why almond extract tastes a little bit like cherries!)
Serving Suggestions
This cherry-vanilla yogurt cake is delicious on its own, but a dollop of homemade whipped cream never hurts either. On a hot day, try it with a scoop of no-churn vanilla ice cream and an assortment of fresh summer fruit for garnish.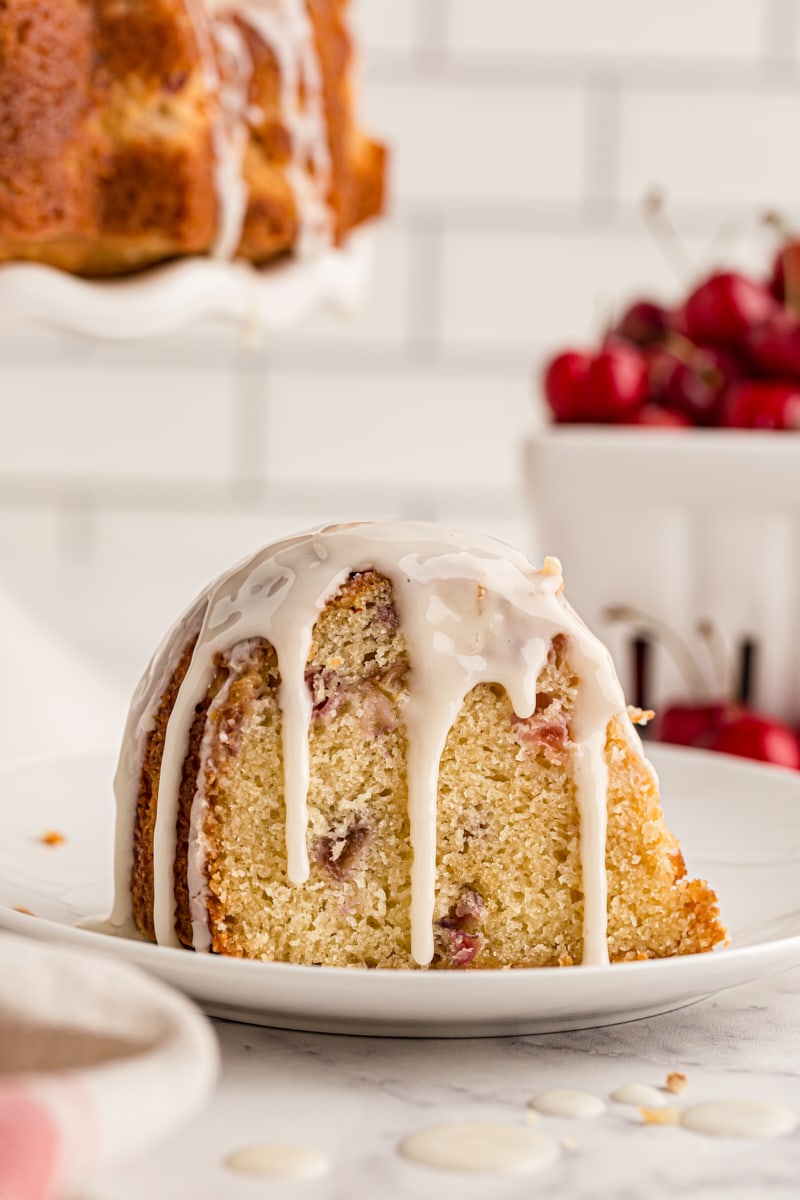 How to Store
Store cherry-vanilla yogurt cake in an airtight container at room temperature for up to 3 days, or wrap the cake tightly on a platter.
Can This Recipe Be Frozen?
Yes, this cherry-vanilla yogurt cake can be frozen. To freeze the whole cake, place it on a parchment-lined baking sheet and freeze until the glaze is solid. Then, wrap the cake in a layer of plastic followed by a layer of foil. Individual slices can be wrapped in plastic and then stored in an airtight container or freezer bag.
The cake will keep in the freezer for up to 2 months. Let it thaw at room temperature before serving.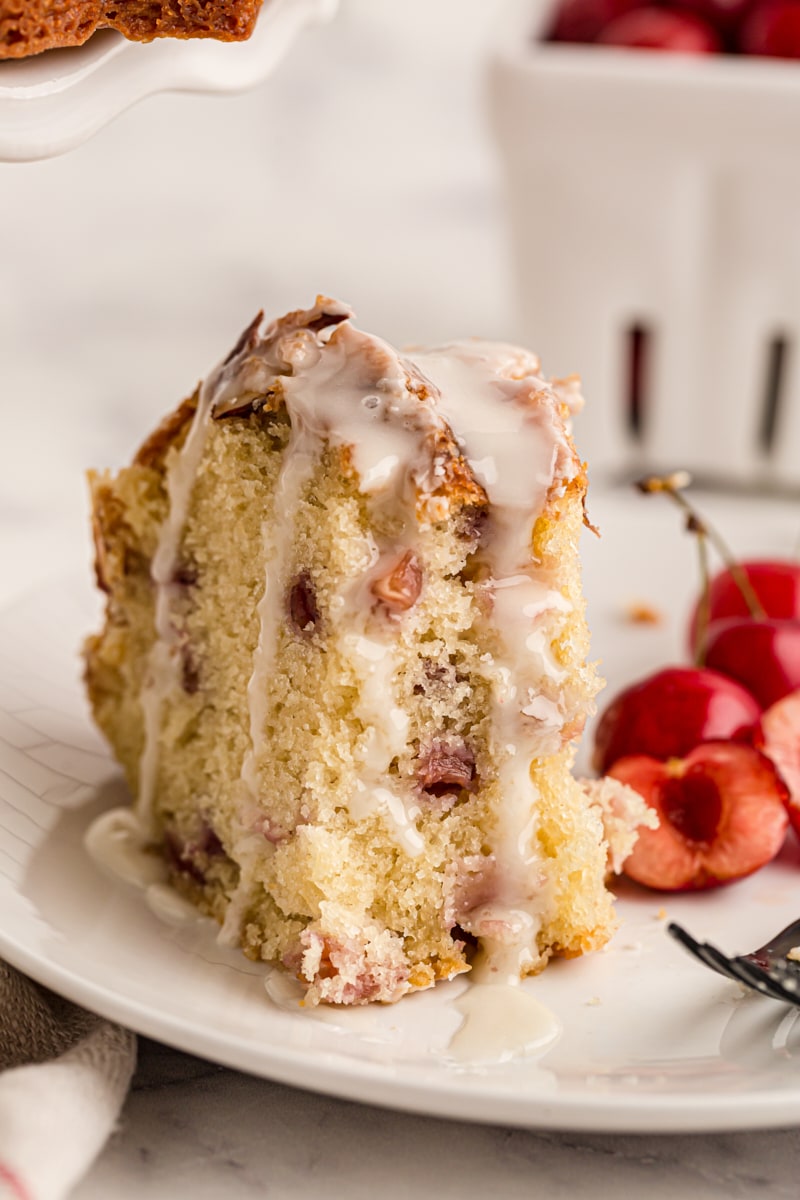 More Recipes with Yogurt