2012 was a very different kind of year for me and for BoB. First and foremost, it was my first full year of full-time baking and blogging. That has been a huge yet welcomed change! I'm so grateful for being able to do what makes me happy.
With all that time dedicated to this blog, I shared over 100 recipes with you in 2012. And, there are a lot more of you to share with these days. Thanks to all of you for reading and following Bake or Break. Whether you've been keeping up since 2006 or just recently found me or somewhere in between, you are greatly appreciated!

Besides all of that, I became a contributor to the Wisconsin Dairy Board's awesome Go Bold with Butter, a recipe site dedicated to the joys of real butter. Developing recipes for them has been a fun and educational experience for me. Look for my recipes there in the new year, too.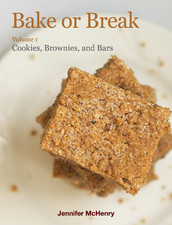 This year also brought my first cookbook in the iBookstore. Bake or Break Volume 1: Cookies, Brownies, and Bars is a collection of 32 recipes, with about one-third of them never shared here on BoB. It was a fun project for both me and Quinn. Be on the lookout for the next volume in 2013!
These are the 20 most popular recipes I shared this year, based upon their popularity with you. I have to say that these are a great bunch of recipes. I thoroughly enjoyed making them and passing them along to you. Click on the photos to go to the original post and recipe.
If you made any of these recipes or any others from BoB this year and really loved them, please let me know! Check back tomorrow for my list of favorites that didn't make this list.
I hope you all had a fabulous 2012 and wish you health, happiness, and plenty of dessert for 2013!