January 18, 2008
Raspberry, White Chocolate, and Almond Loaf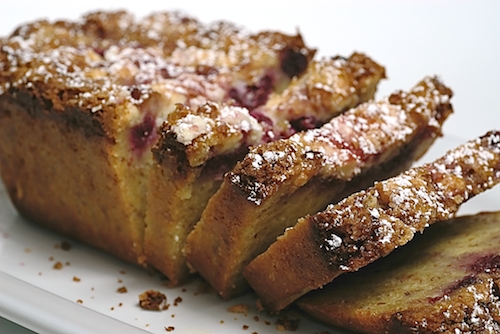 Being a big fan of Williams-Sonoma, you can imagine that I am an even bigger fan of the Williams-Sonoma outlet about 90 miles from here. I try to keep my visits to a minimum, but I do love perusing the aisles looking at all of that lovely, mostly unnecessary stuff.
Last weekend, Quinn and I decided to make the trek for a little shopping, and I was very excited to find that they were having their annual cookbook sale. I showed a modicum of restraint, leaving with six new books.

I'm sure I'll be making many things from my newly acquired cookbooks, but first up is this quick bread from a book aptly named Quick Breads.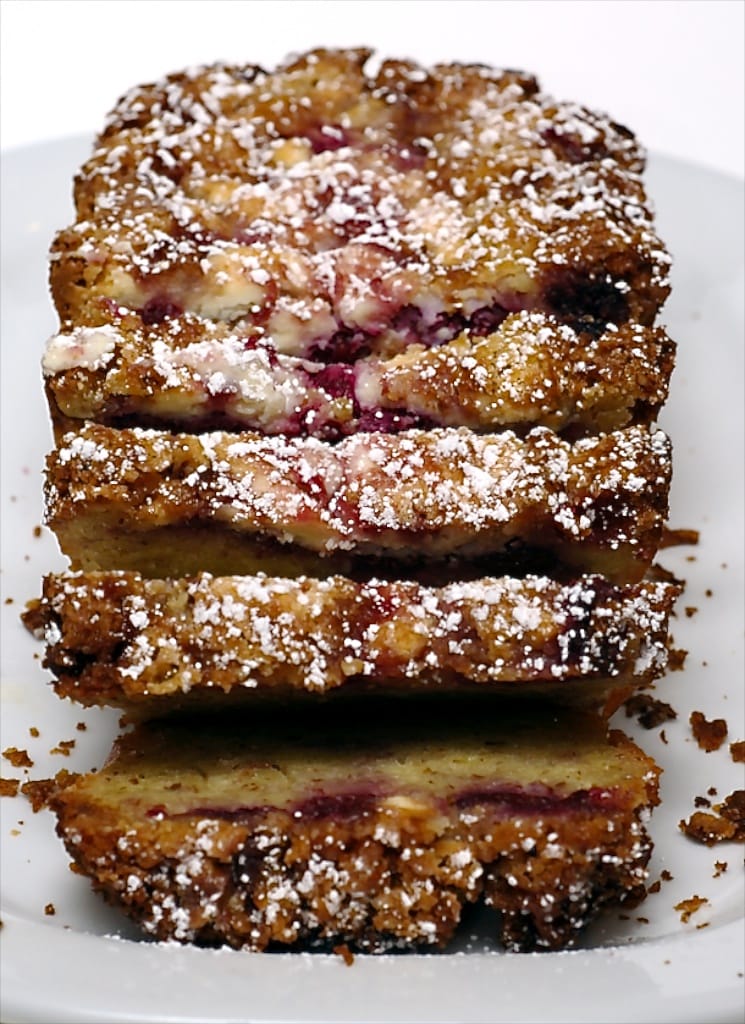 It being the middle of winter, this bread is made possible by a wonderful thing called frozen raspberries. I am not one of those people who has a freezer packed with enough food to feed themselves for months. Just about the only things you'll routinely find in my freezer are pecans, butter, more pecans, and a bottle of vodka. Luckily, though, I did have some raspberries in there for this recipe. While fresh might be better, the frozen worked really well for this bread.
I must say that this bread is amazingly delicious. It's very sweet and dense. It's almost more like a pound cake than bread. Although it provides a big, happy pick-me-up in the morning, I wouldn't hesitate to serve it as a dessert also.
Raspberry, White Chocolate, and Almond Loaf
Yield: 1 standard 9"x 5" loaf
Prep Time:20 minutes
Cook Time:1 hour 10 minutes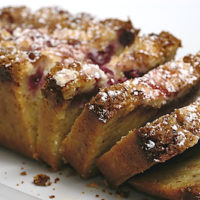 Ingredients:
18 tablespoons (2 & 1/4 sticks) unsalted butter
1 & 1/4 cups caster (superfine) sugar
4 large eggs, beaten
1 cup all-purpose flour
1 & 1/4 cups ground almonds
grated zest and juice of 1 lemon
5 ounces (1 & 1/4 cups) raspberries
5 ounces white chocolate, roughly chopped
confectioner's sugar, for dusting
Directions:
Preheat oven to 350°. Line the bottom of a standard 9″x 5″ loaf pan with parchment paper. Butter pan and set aside.
Beat butter and sugar until light and fluffy. Add eggs, a little at a time, until blended. If the mixture seems to be curdling, add a little of the flour. Stir in flour, ground almonds, and lemon zest and juice.
Spoon mixture into prepared pan. Scatter raspberries and white chocolate over the batter. Bake for 1 hour to 1 hour & 10 minutes. A toothpick inserted in the center should come out clean.
Cool in pan for 30 minutes. Then, cool completely on a wire rack. Dust with confectioner's sugar.