This Raspberry White Chocolate Almond Loaf is dense, buttery, and full of bright berry-and-lemon flavors. Enjoy it for breakfast, dessert, or anytime in between!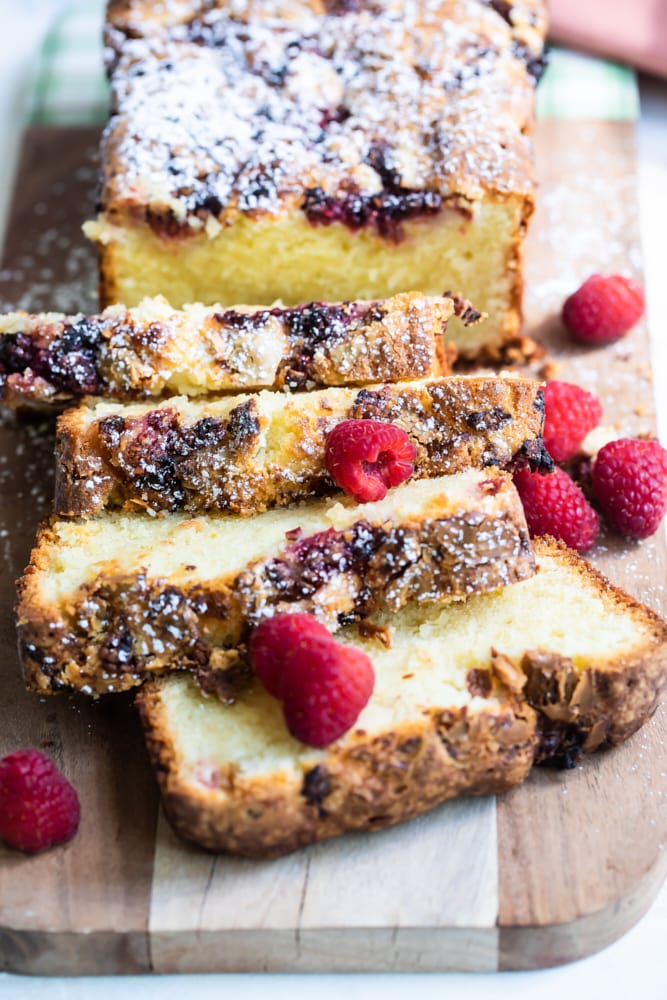 Almond Bread with Raspberries and White Chocolate
Raspberries and white chocolate are a classic flavor combination, but this recipe gives the duo some depth and nuance by adding lemon and almond. The result is an absolute delight—tart lemon juice tempered by sweet raspberries; nutty almond balanced with smooth, mellow white chocolate; and it's all tied together in a buttery, dense cake.
Think of this almond loaf as landing somewhere between a pound cake and a quick bread. It's dense in the best kind of way, and unlike a quick bread, it doesn't follow the standard "muffin method." Instead, the butter and sugar are creamed together, and the batter is mixed like a cake.
Honestly, I waver on whether to call this a cake or a bread. Served as-is, it's a nice treat for a sweet breakfast or brunch. Sprinkle some confectioners' sugar on top, and I'd happily take a slice for dessert. It's versatile enough for any time of day!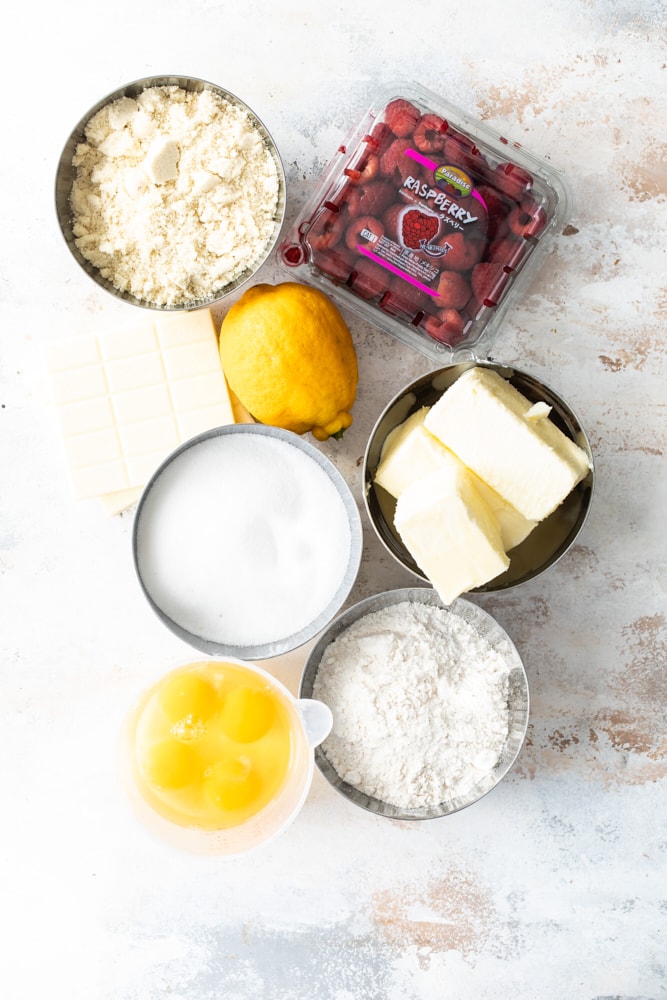 What You'll Need
The ingredient list for this recipe is quite short, which means it's easy to make on a whim! Here's what you'll need to pick up:
Unsalted butter – This should be softened, so set it out about half an hour before you plan to begin baking.
Superfine sugar – Here's how to make superfine sugar.
Eggs – The eggs should be set out with the butter.
All-purpose flour
Ground almonds or almond flour – If you're using ground almonds, make sure they're finely ground.
Lemon zest and juice
Raspberries – These can be fresh or frozen, although fresh is best. If you do use frozen, be sure to rinse and dry them well.
White chocolate
Confectioners' sugar
How to Make Raspberry White Chocolate Almond Loaf
The hardest thing about this recipe is waiting for it to finish baking and cooling so you can eat it! Here's what you'll need to do:
Prepare. Preheat the oven to 350°F and line the bottom of a standard 9″x 5″ loaf pan with parchment paper. Butter the paper to keep the almond loaf from sticking.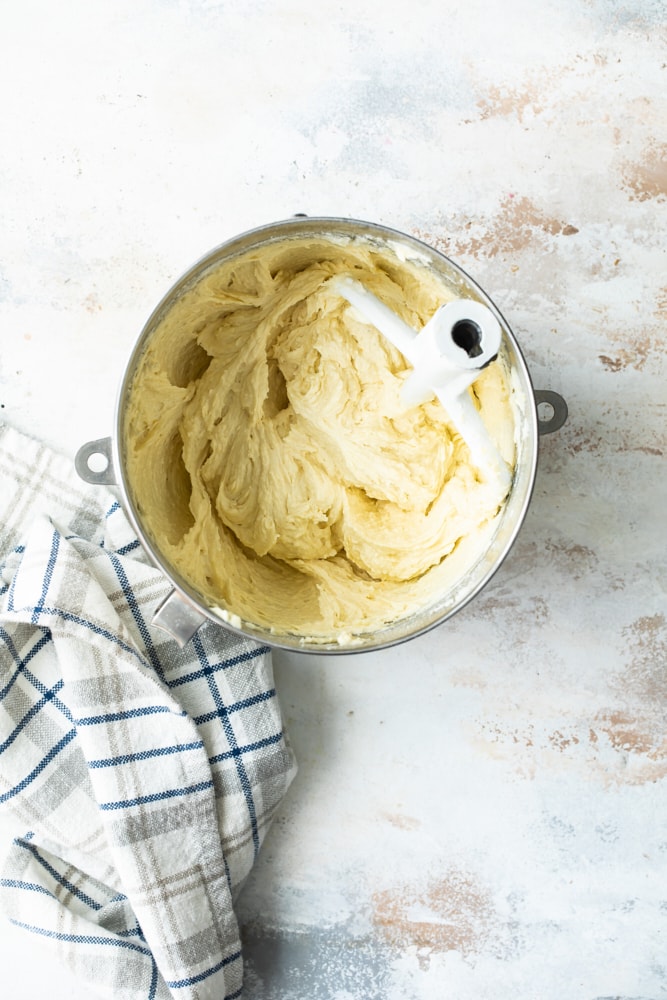 Make the batter. Use an electric mixer on medium speed to beat the butter and sugar in a mixing bowl until they're light and fluffy. Beat in the eggs one at a time; if the mixture seems to be curdling, add a little flour. Stir in the flour, ground almonds, lemon zest, and juice.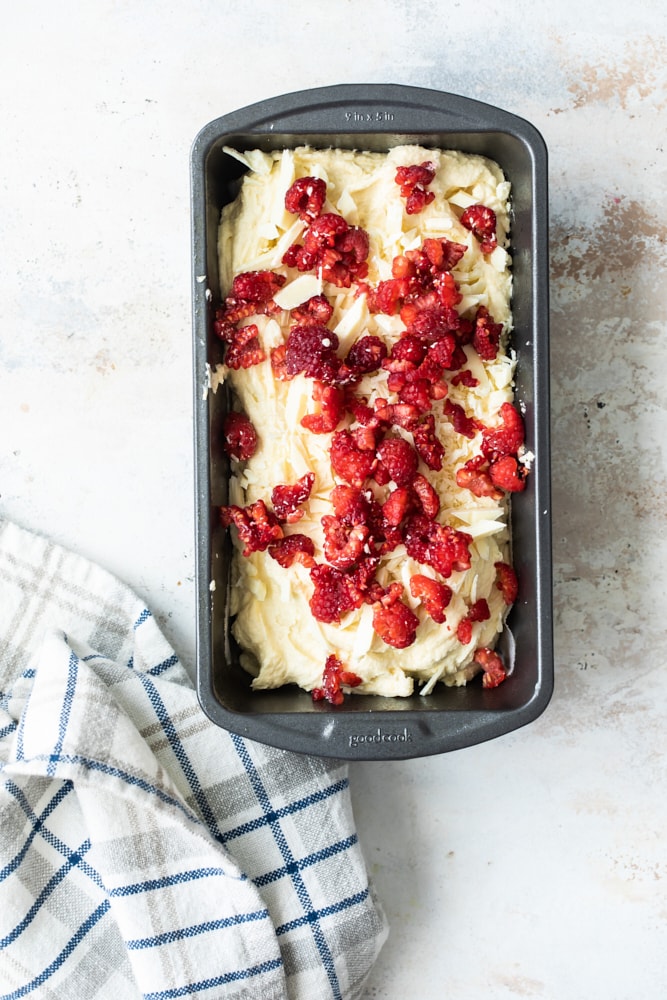 Bake. Transfer the batter to the prepared pan, then scatter the raspberries and chocolate over the top. Bake for 60 to 70 minutes, or until a toothpick inserted into the center comes out clean.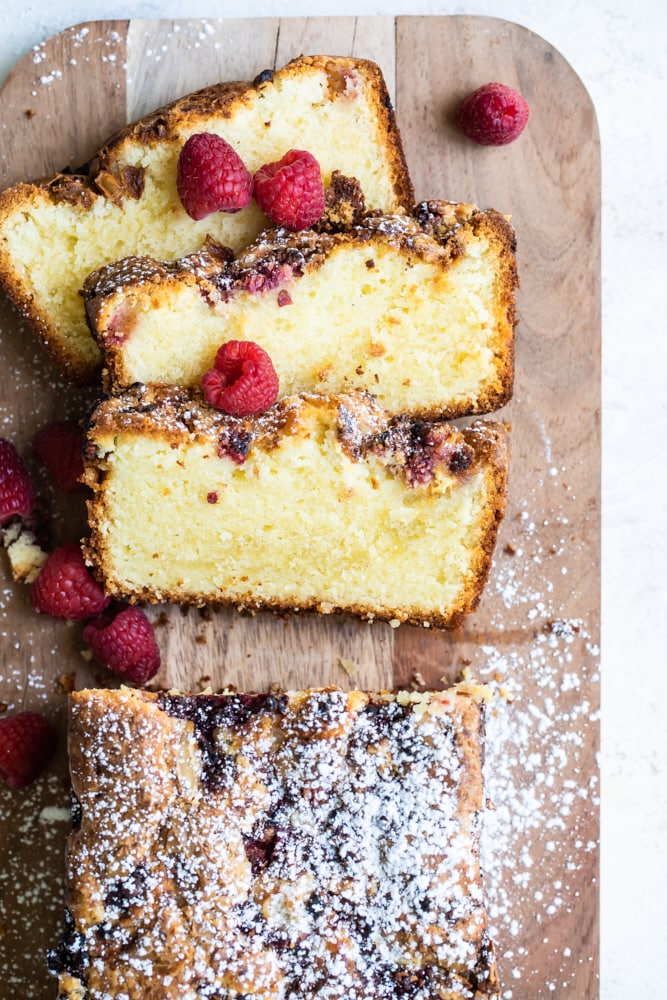 Cool. Let the loaf cool in the pan for 30 minutes, then carefully remove it and set it on a wire rack to finish cooling. (Learn more: Why Every Baker Needs Wire Cooling Racks) Dust with confectioners' sugar before serving.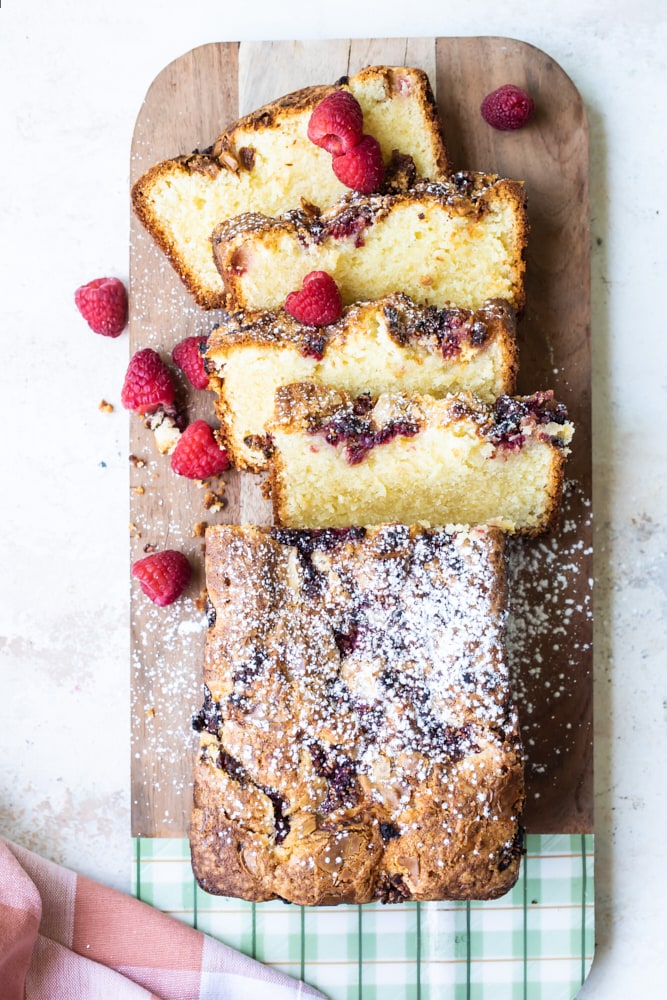 Tips for Success
Your almond loaf will turn out perfectly if you follow these tips:
Measure accurately. Use a kitchen scale to measure by weight if possible. Otherwise, take care to avoid over-measuring, especially with the flour. See How to Measure Flour for more info.
Use a light-colored metal pan. Dark pans will bake the outside edges and the bottom more quickly, which can cause the center to be under-baked.
Make sure your pan is the correct size. "Standard" loaf pans come in two sizes. Be sure yours is 9″ x 5″ to prevent a potential mess.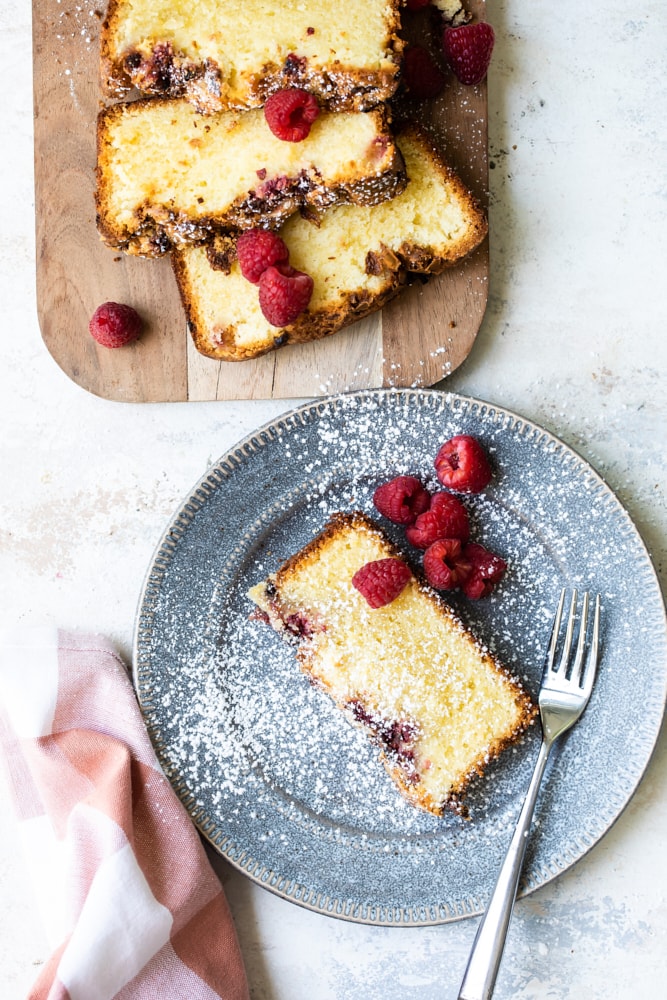 How to Store
Wrap your almond loaf in plastic wrap and store on the counter at room temperature for up to 3 days.
Can This Be Frozen?
Yes, you can freeze this recipe by wrapping it tightly and keeping it in the freezer for up to 3 months. I recommend wrapping in two layers of plastic wrap and then wrapping again in aluminum foil or placing in a freezer-safe container or bag. Let it thaw at room temperature before serving.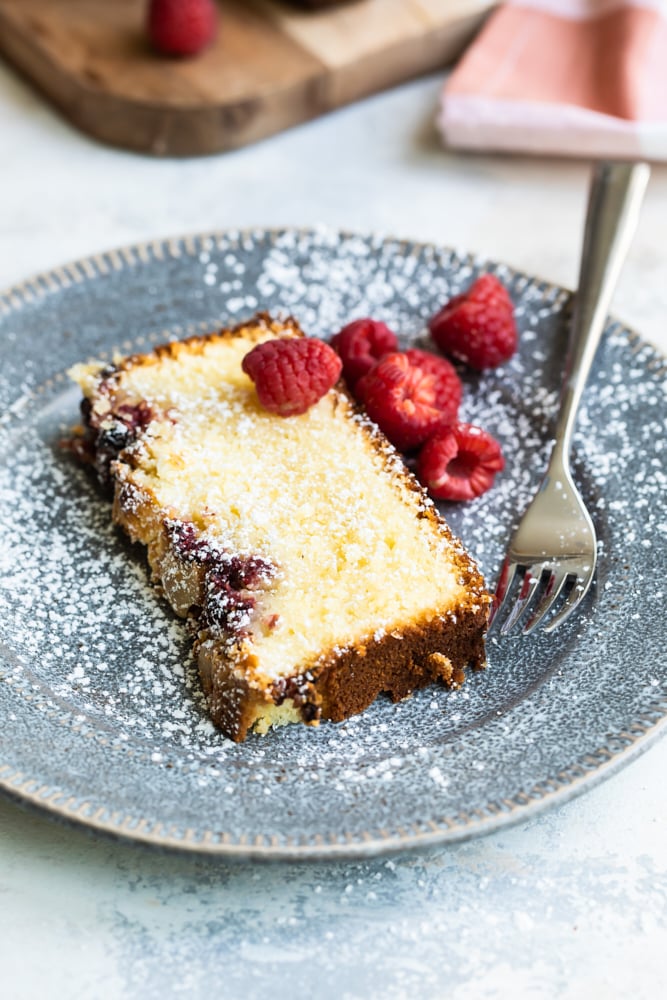 More Raspberry-White Chocolate Treats