July 5, 2012
Lemon Icebox Bars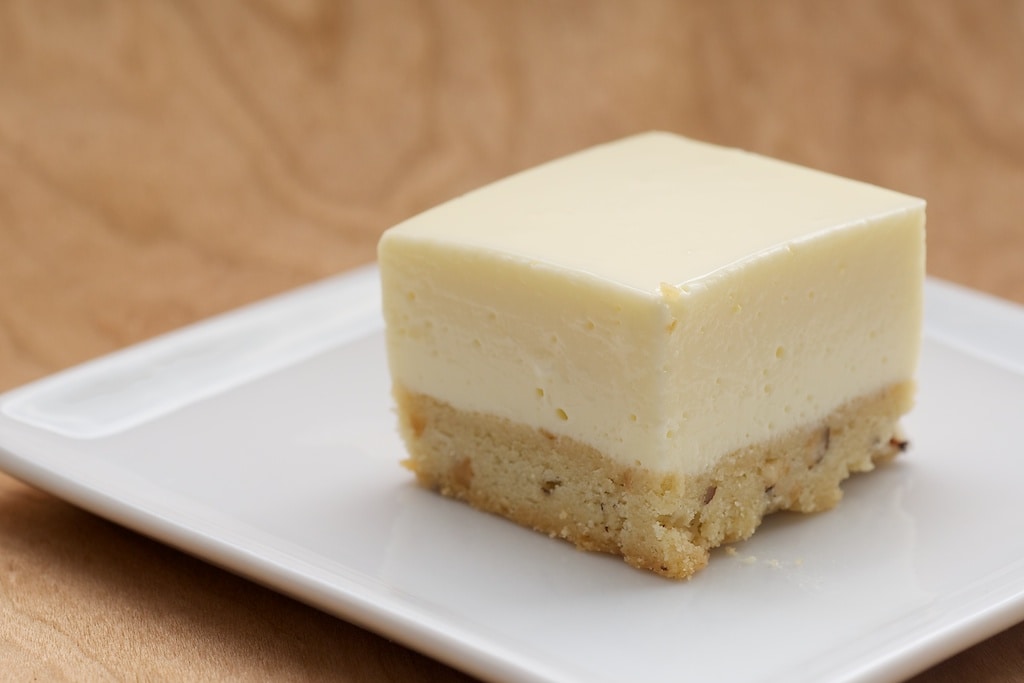 I'm sure at least a few of you are thinking that lemon bars are not exactly ground-breaking material. But, these are not your typical lemon bars. No, these are far better. They're like lemon bars for grown-ups.

I found this recipe in the latest issue of one of my favorite magazines, Taste of the South. It just sounded so summer-y that I knew I had to make it. These almost qualify as no-bake, with only the crust getting any oven time.
That crust is a perfect complement to all that lemon flavor in the filling. It is quite buttery and also has a good helping of hazelnuts and ginger. I am pretty sure that this is the first thing I've ever baked using ginger. I'm generally not a fan, but either my tastes have changed or it just doesn't come through as a strong flavor.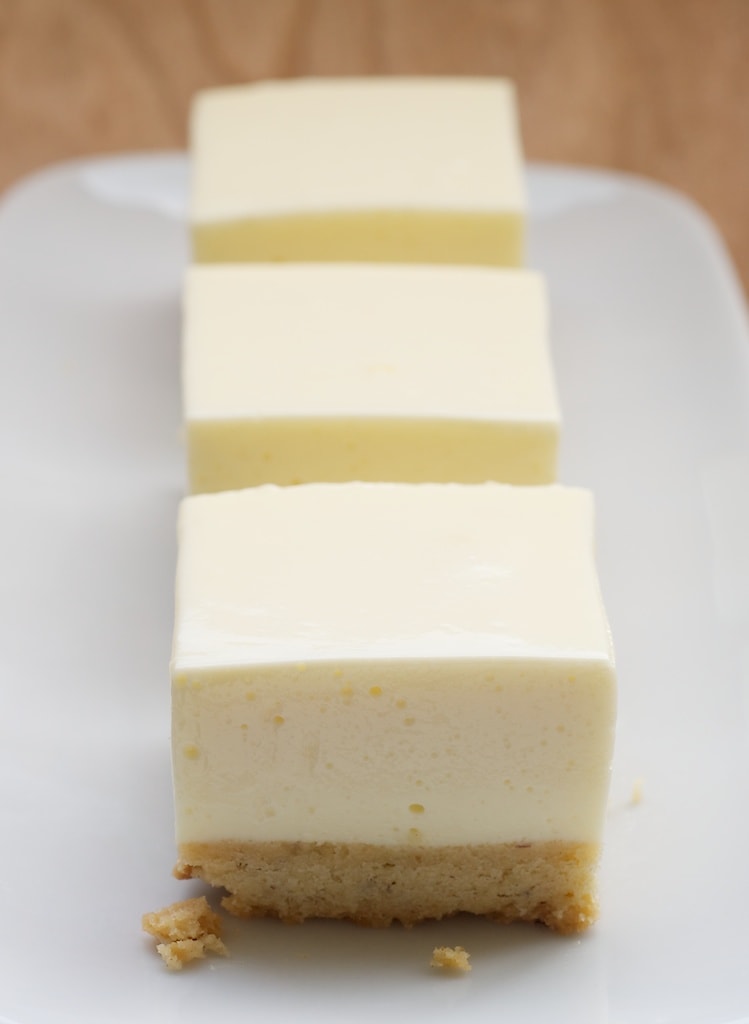 As for the lemon component, well, there's a lot of it. It will just about fill a standard 9″x 13″x 2″ pan all the way to the top. All that lemon is mixed in with some very good things like cream cheese and mascarpone. Yeah, grown-up lemon bars indeed.
These bars couldn't be more perfect for summer. They are light and smooth and just plain delicious. If you're feeding a crowd, these are just the thing. The original recipe suggests cutting these into 18 bars (!!!), but I preferred smaller bars about 1 & 1/2-inches square.
Lemon Icebox Bars
Prep Time:30 minutes
Cook Time:15 minutes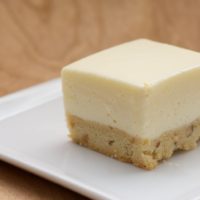 Ingredients:
For the crust:
1 cup unsalted butter, softened
3/4 cup confectioners' sugar
1/2 teaspoon vanilla extract
2 cups all-purpose flour
1/4 cup finely chopped (or ground) hazelnuts
1 tablespoon ground ginger
1/4 teaspoon salt
1 egg yolk
For the lemon filling:
8 ounces cream cheese, softened
8 ounces mascarpone cheese, softened
28 ounces sweetened condensed milk
4 large eggs
1 tablespoon lemon zest
1 cup fresh lemon juice (about 5-6 lemons)
6 tablespoons boiling water
1 packet (about 1 tablespoon) unflavored gelatin
Directions:
To make the crust:
Preheat oven to 350°. Line a 9″x 13″x 2″ baking pan with aluminum foil so that foil overhangs about 2 inches on short sides.
Using an electric mixer on medium speed, beat butter, confectioners' sugar, and vanilla until creamily. Reduce mixer speed to low. Add flour, hazelnuts, ginger, and salt. Mix well. Mix in egg yolk.
Press crust mixture evenly into bottom of prepared pan. Bake 10-15 minutes, or until lightly browned. Allow to cool completely on wire rack.
To make the filling:
Using an electric mixer on medium-high speed, beat cream cheese until creamy. Add mascarpone, beating until combined. Add condensed milk, beating until smooth. Add eggs, one at a time, beating well after each addition. Add lemon zest and lemon juice. Beat until thick and smooth.
Combine boiling water and gelatin in a small bowl. Whisk until gelatin has dissolved. Let cool for about 5 minutes.
Add gelatin mixture to lemon mixture. Beat well. Pour filling onto cooled crust. Refrigerate for at least 8 hours.
Use foil overhang to lift bars carefully from pan. Cut into bars.
Notes:
Cover and store in refrigerator for 3 days.
If you have help, I suggest lining pan with another piece of foil that overhangs the long sides of the pan. Then, with some help, the delicate bars can be lifted from all 4 sides.