January 16, 2012
Fleur de Sel Chocolate Chip Blondies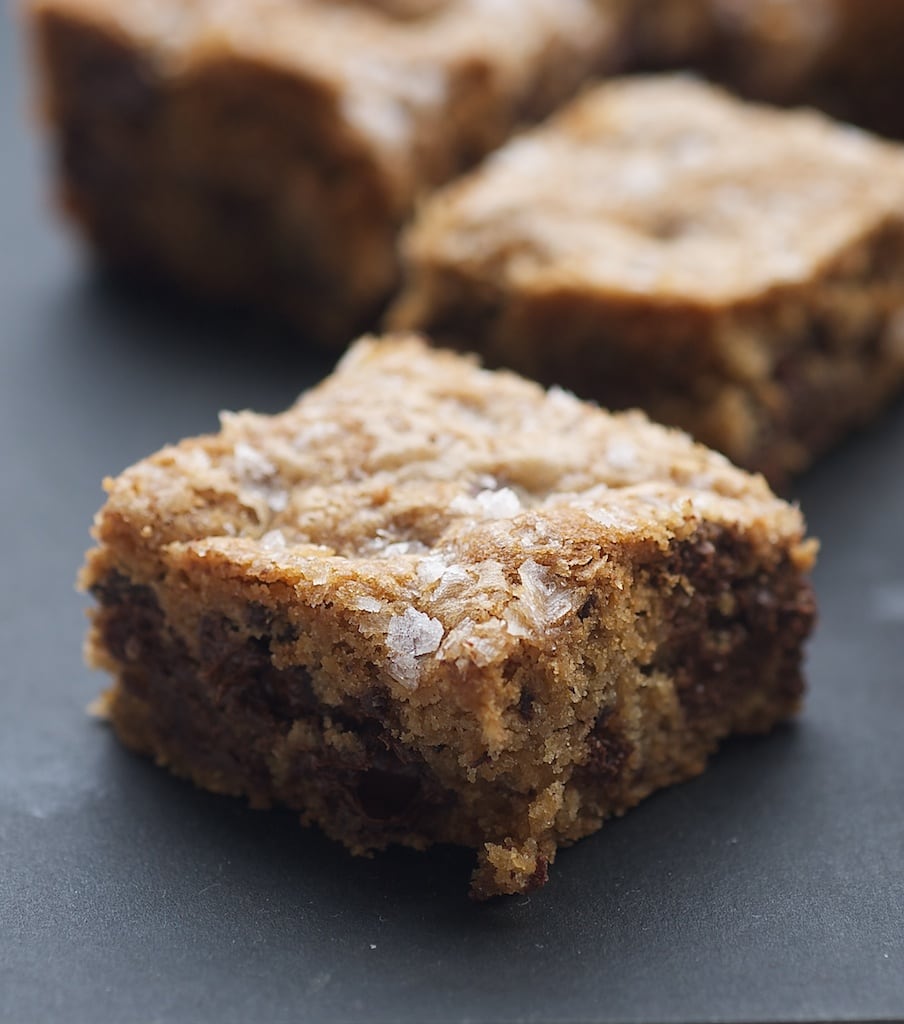 If the baking lords ever decide the whole sweet and salty thing is played out, please don't tell me. I'd rather live in oblivion, happily eating salty, sweet treats.
These blondies are a very fine example of how sweet and salty play well together. First of all, you have brown sugar blondies that can barely contain all the chocolate chips in them. Then, that's topped off with lots of beautiful sea salt.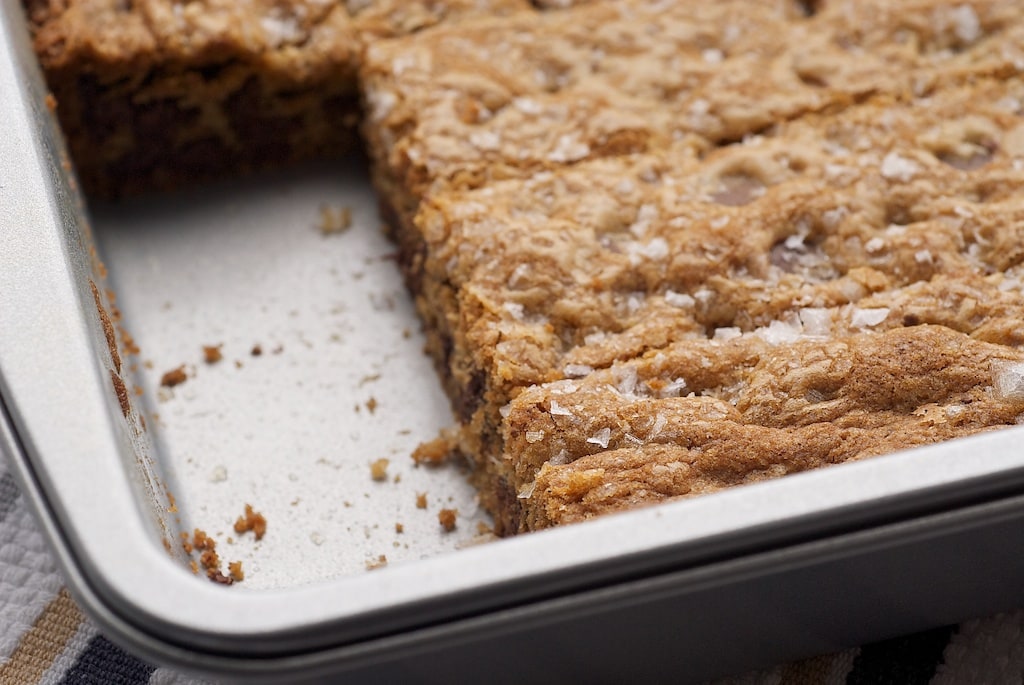 You can make these slightly salty or super salty or somewhere in between, depending on your tastes. I wasn't shy with the salt, but if you want a more subtle saltiness, then just cut back on the amount sprinkled on top. You can also omit the salt mixed into the blondies if you'd like.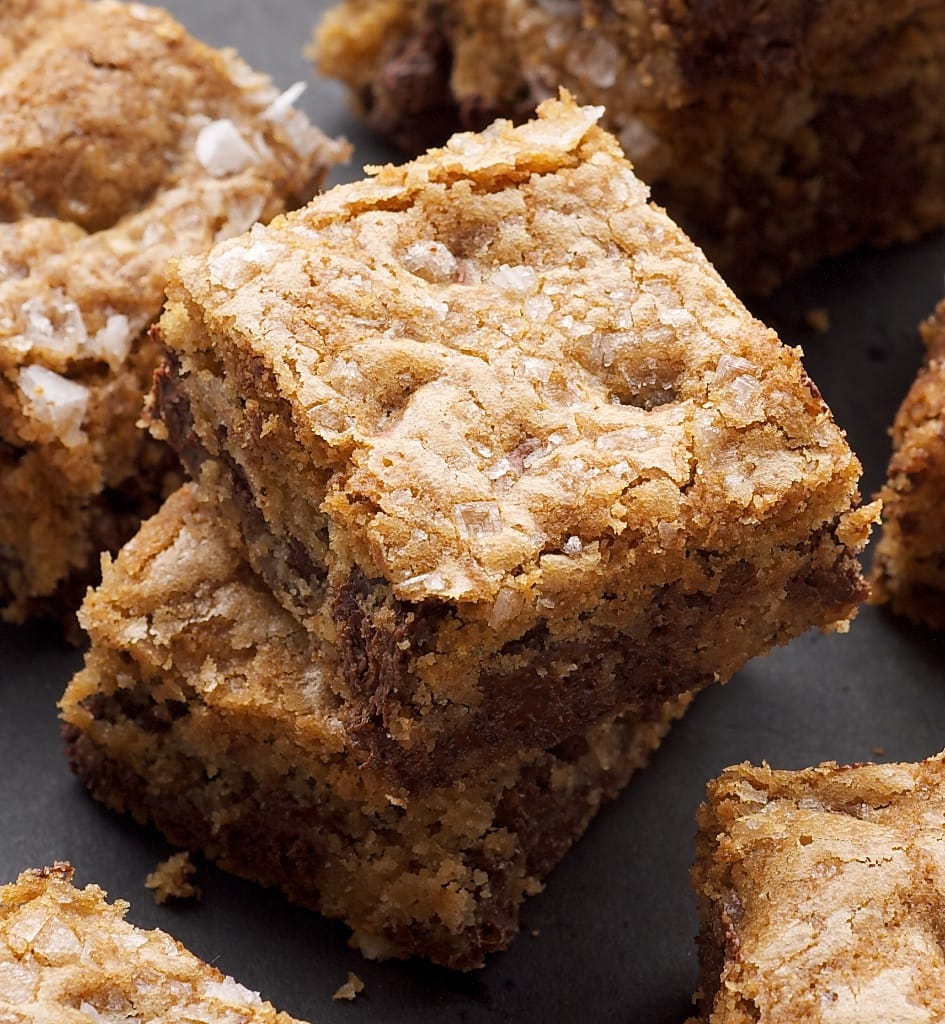 These were a big hit with us and with some friends who were willing taste-testers. They do have quite a sweet/salty punch, so it's easy to cut these into small bars so you'll have plenty to feed a crowd. Or, just keep them for yourself. I'll never tell.
Fleur de Sel Chocolate Chip Blondies
Prep Time: 20 minutes
Cook Time: 35 minutes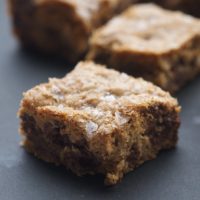 Ingredients:
2 & 1/3 cups all-purpose flour
1 & 1/4 teaspoon baking soda
pinch fine sea salt (optional)
1 cup unsalted butter, softened
1 cup packed light brown sugar
1/2 cup granulated sugar
2 large eggs
2 teaspoons vanilla extract
3 cups semisweet chocolate chips
1 to 1 & 1/2 tablespoons fleur de sel
Directions:
Preheat oven to 375°. Grease a 9″x 13″ baking pan with butter or cooking spray.
Whisk flour, baking soda, and pinch of salt. Set aside.
Using an electric mixer, beat butter until light and fluffy. Gradually add both sugars and mix until light and fluffy. Add eggs, one at a time, mixing well after each addition. Mix in vanilla. Gradually add flour mixture. Stir in chocolate chips.
Spread dough into prepared pan. Sprinkle top of dough with fleur de sel.
Bake 30-35 minutes, until center is set and top is golden brown. Cool completely in pan on wire rack before cutting into bars.