June 3, 2014
Butterscotch Caramel Crunch Blondies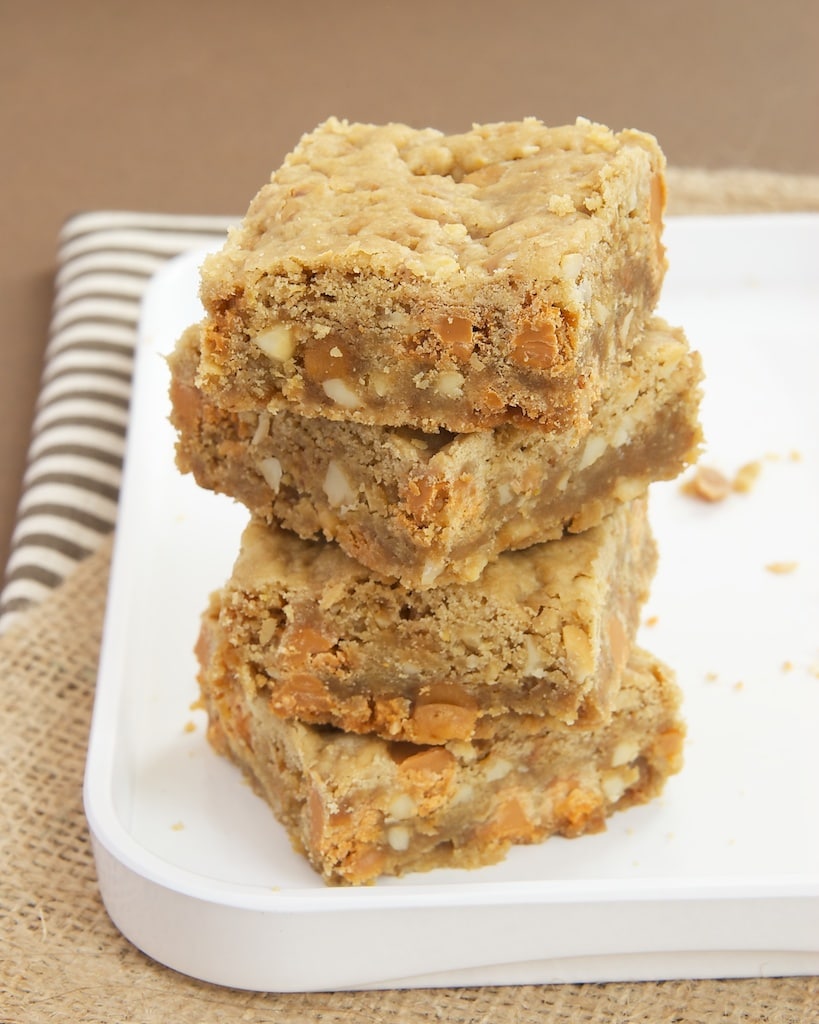 It doesn't take much perusing here at BoB to see that I have a soft spot for chocolate. It's my go-to flavor for desserts, and I usually can't resist tossing some chocolate chips into non-chocolate things I'm baking. But, I do manage to show some restraint sometimes and leave the chocolate in the pantry.
These blondies are an excellent use of all kinds of things that aren't chocolate. In fact, they're a good pantry-cleaner. We're talking butterscotch chips, caramel, cashews, and toffee. Yep, all of that.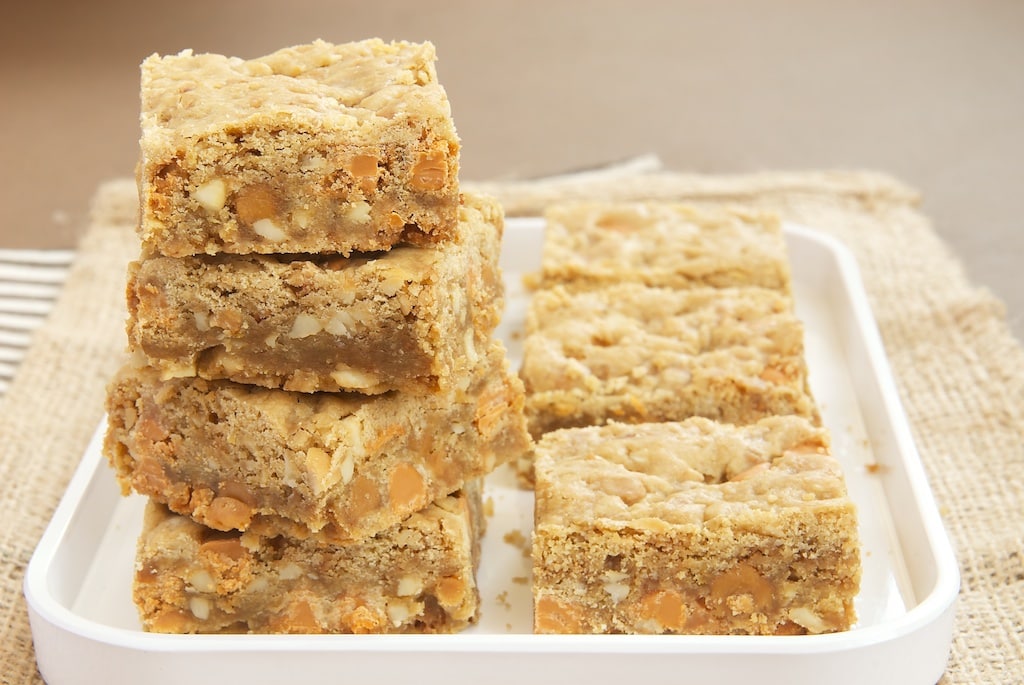 In fact, there is so much good stuff in these blondies that you'll think there's no way it's all going to mix together. But, it will. There will seemingly be more add-ins than actual blondie batter, but it works. And, it means that there's plenty of good stuff in every single bite!
A couple of words of advice. First, not all butterscotch chips are created equally. I used Guittard, which is the brand I usually keep on-hand. Just be sure to get a quality brand that tastes good straight from the bag. Second, make sure your caramel bits are fresh. Otherwise, they may be less delicious and more obstacle when eating these blondies.
Of course, if you can't tame your chocolate craving, chocolate chips are always an option.
Butterscotch Caramel Crunch Blondies
Yield: 24 2-inch bars
Prep Time:25 minutes
Cook Time:35 minutes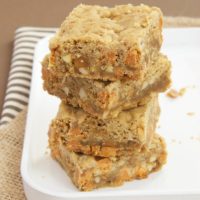 Ingredients:
1 & 1/2 cups packed dark brown sugar
3/4 cup unsalted butter
2 & 1/2 cups all-purpose flour
2 teaspoons baking powder
1 teaspoon salt
2 large eggs
1 tablespoon vanilla extract
1 & 1/2 cups butterscotch chips
1 cup caramel bits
1 cup toffee bits
1 cup coarsely chopped cashews*
Directions:
Place brown sugar and butter in a small saucepan. Cook over medium heat, stirring frequently, until melted and smooth.
Transfer to a large mixing bowl and allow to cool to room temperature.
Preheat oven to 350°. Grease a 9″x 13″ baking pan.
Whisk together flour, baking powder, and salt. Set aside.
Add eggs, one at a time, to cooled butter mixture, beating well after each addition. Stir in vanilla.
Stir in flour mixture. Then, stir in butterscotch, caramel, toffee, and cashews.
Transfer batter to prepared pan and spread evenly.
Bake 25 to 30 minutes, or until golden brown.
Cool in pan on a wire rack before cutting into bars.
Notes:
*If you're using salted cashews, you may want to decrease the salt in the recipe. Or, just go with it for a nice sweet & salty treat.
Recipe slightly adapted from BHG.