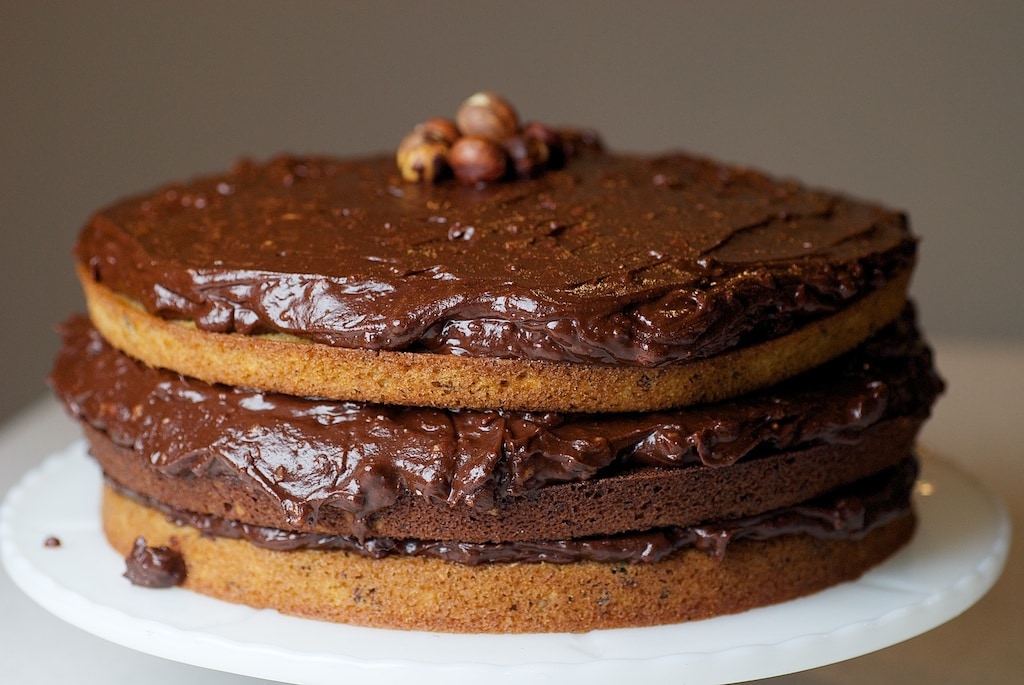 As many of you may know, Quinn and I made the big move to New York in October. Not surprisingly, I've had very little time for baking before or after the big day. As Thanksgiving approached, however, I knew that I would have to break my bake-less streak for our first New York holiday.
I ended that streak in a big way with this cake. It is over-the-top decadent and worth every calorie. It's a three layer cake consisting of two white hazelnut cakes and one chocolate hazelnut cake. Between those layers is some lovely Frangelico and a very, very chocolate filling with a bit of a pecan crunch. It's pretty much everything I love rolled into one dessert.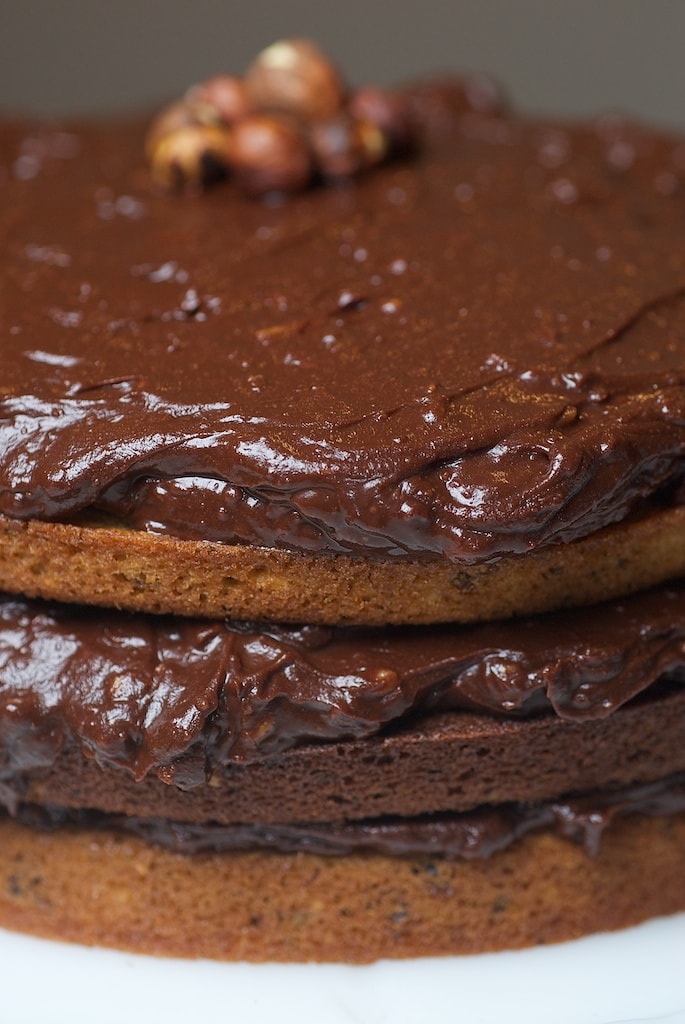 This is the kind of cake that's great for the holidays because you can share it with everyone. It's very rich, and I could only eat a very small slice per sitting. It was just the two of us this year for Thanksgiving, so I was sure to share with some folks in our building. It's amazing how quickly you can make friends when you start handing out cake!
Yield: 12 to 14 servings
Prep Time: 30 minutes
Cook Time: 26 minutes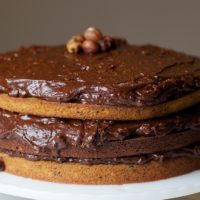 For the cake:
3/4 cup unsalted butter, softened
2 cups firmly packed light brown sugar
2 large eggs
3/4 cup water
1/4 cup white vinegar
2 cups all-purpose flour
1 teaspoon baking soda
1/4 teaspoon salt
1 cup finely chopped hazelnuts, toasted
1 tablespoon vanilla extract
1/4 cup unsweetened cocoa powder
For the chocolate topping:
1/2 cup hazelnut liqueur, such as Frangelico
24 ounces chocolate (semisweet or milk)
2 cups (1 pound) unsalted butter
1 & 1/2 cups chopped pecans
2 teaspoons vanilla extract
Directions:
To make the cake:
Preheat oven to 350°. Grease 3 8-inch round cake pans. Line bottoms with parchment paper or wax paper. Grease paper. Set aside.
Using an electric mixer on medium speed, beat butter until creamy. Gradually add brown sugar and beat well. Add eggs, one at a time, beating well after each addition.
Combine water and vinegar. Set aside.
Combine flour, baking soda, and salt. Add to butter mixture, alternating with the water/vinegar mixture. Begin and end with flour mixture. Stir in chopped hazelnuts and vanilla.
Pour one-third of the batter into one of the prepared pans. Repeat with a second pan.
Fold cocoa powder into remaining batter. Pour into third pan.
Bake until a wooden pick inserted in the center comes out clean (about 19-21 minutes). Cool in pans on wire rack for 10 minutes. Then, remove from pans, peel off paper, and allow to cool completely.
To make the chocolate topping:
Brush Frangelico over cake layers.
Melt chocolate and butter in a heavy saucepan over medium-low heat. Allow to cool for about 10 minutes. Stir in pecans and vanilla. Cool mixture, stirring occasionally, until it is consistent for spreading (about 45 minutes).
Place one white cake layer on serving plate. Spread a third of topping on top of cake. Do not cover sides. Top with the chocolate cake layer. Spread a third of topping on top of cake. Top with remaining white cake layer. Spread remaining topping on top of cake. Garnish, if desired, with toasted hazelnuts. Allow cake to set several hours before serving.