These Vanilla Bean Cheesecake Bars prove that vanilla is anything but boring! A fragrant, rich cheesecake is layered over buttery shortbread for a swoon-worthy treat.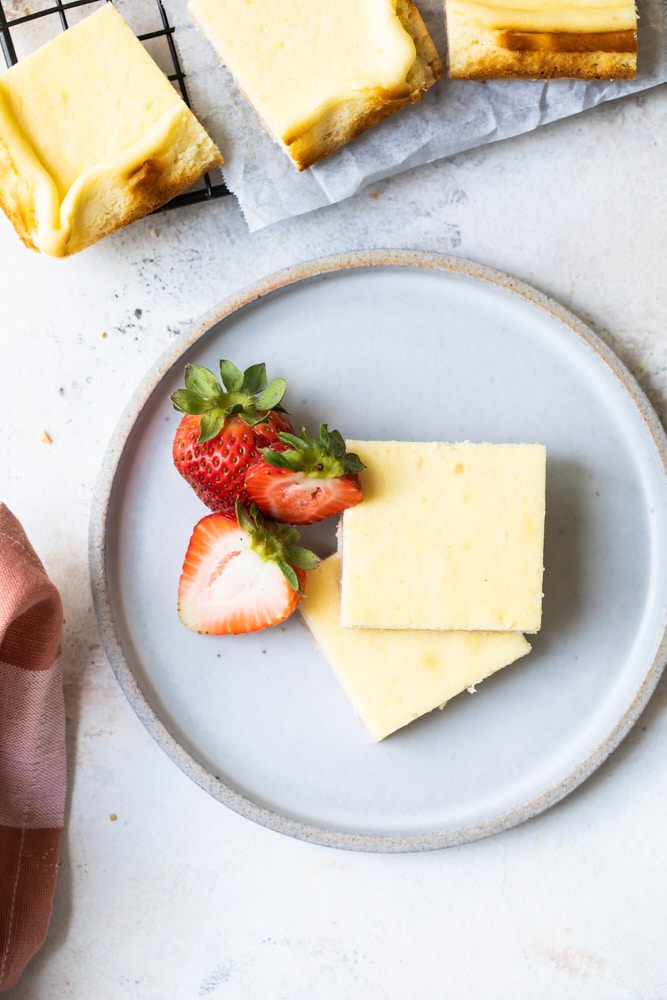 Easy Homemade Cheesecake Bars
While the word "vanilla" has become associated with plain and boring, good vanilla is an experience. Just think about the smell of a vanilla bean simmering on the stovetop with milk to make a custard, or the scent that wafts out of a bottle of real vanilla extract when you unscrew the cap. Plain? Boring? Hardly!
So for my fellow vanilla lovers out there, this recipe for Vanilla Bean Cheesecake Bars is for you. Needless to say, the vanilla flavor really shines in this recipe; you can use a high-quality vanilla extract, paste, or vanilla beans to make it. If you'd like, you can serve your bars with macerated berries or a drizzle of chocolate sauce, but personally, I don't want anything competing with the vanilla.
(Want something a little more formal than bars? I also have a recipe for traditional Vanilla Bean Cheesecake.)
I should also mention that this recipe is easy to make for a cheesecake. You'll whip up a simple shortbread crust, press that into the bottom of your pan and bake it, then top that with a layer of cheesecake. You can make it in the afternoon and it will be chilled and ready to serve by the time you're finishing up with dinner!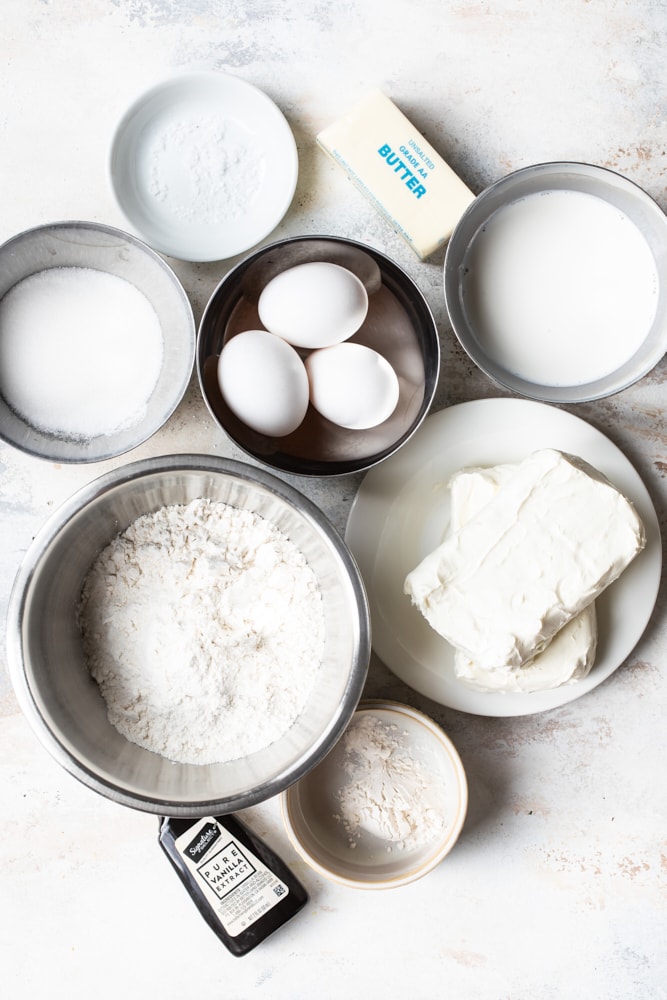 What You'll Need
While the ingredients here are simple, there are a few things you'll want to take note of!
For the crust:
Unsalted butter – The butter should be left on the countertop to soften.
Vanilla sugar or granulated sugar – See below for instructions on making vanilla sugar.
All-purpose flour – Measure by weight for best results.
Salt
For the filling:
Cream cheese – Your cream cheese needs to be room temperature, otherwise it will be difficult to mix the filling.
Granulated sugar
Half-and-half – Or try one of these half-and-half substitutes.
Eggs – Your eggs will also need to be room temperature.
Vanilla – This could be the seeds of a vanilla bean, vanilla extract, or vanilla bean paste. Whichever you choose, make sure it's a high-quality brand. Vanilla is the star here, so you want it to shine its brightest!
All-purpose flour
Optional toppings – Sweetened whipped cream with fresh berries, chocolate shavings, nuts, or anything else you like. Pretty much everything goes with vanilla!
Instructions for Vanilla Sugar
Place discarded vanilla beans or fresh, split vanilla beans in a container with granulated sugar. (Make sure the beans are completely dry.) After a few hours, the flavor of the vanilla bean will infuse into the sugar and you'll have vanilla sugar! You can also buy vanilla sugar from many stores.
How to Make Vanilla Bean Cheesecake Bars
There are two parts to this recipe: the crust and the filling. Both are easy enough to make in one go, although you can make the crust up to a day ahead if you like.
To make the crust:
Prepare. Preheat your oven to 350°F and grease a 9x13x2-inch baking pan.
Make the shortbread dough. Use an electric mixer on medium speed to beat the butter and sugar in a mixing bowl until it's smooth and fluffy. Reduce the mixer speed to low, then slowly add the flour and salt until the mixture is crumbly.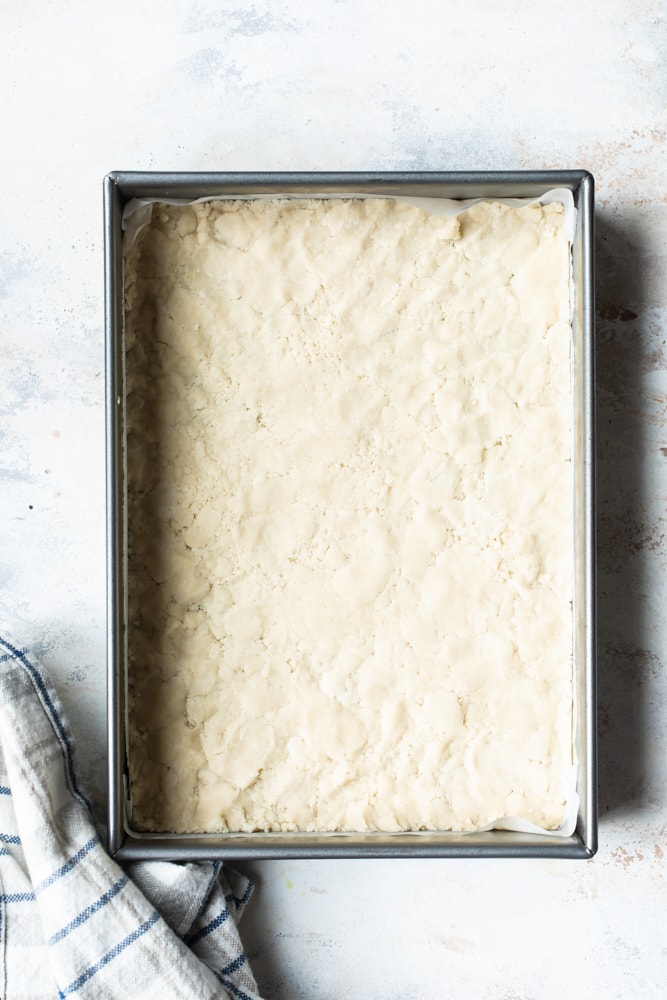 Bake. Transfer the dough to the pan and press it into the bottom, making sure it's evenly distributed. Bake for 15 minutes.
To make the filling: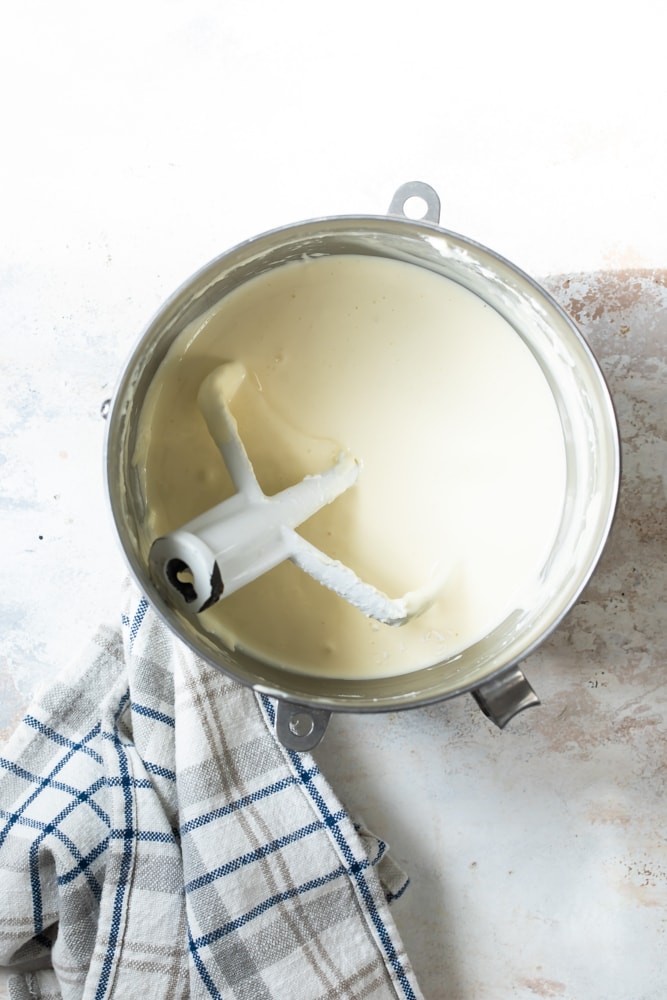 Combine filling ingredients. Place the cream cheese, sugar, and half-and-half in the bowl of a stand mixer or a food processor. Mix until smooth, then add the eggs one at a time. Add the vanilla and flour, and mix until smooth.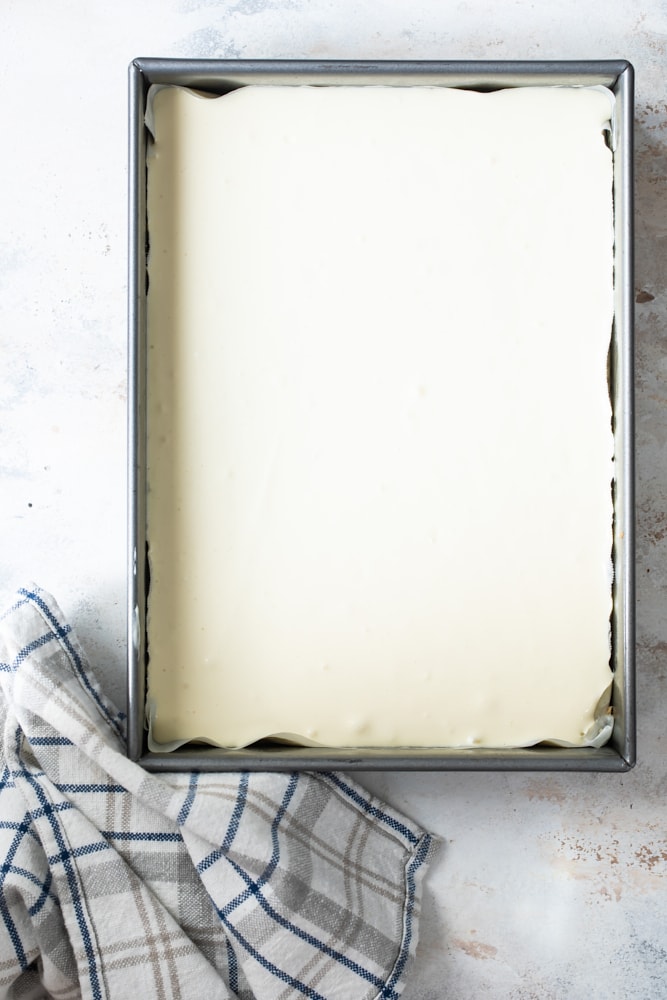 Assemble and bake. Pour the filling over the shortbread crust, then place the pan in the oven and bake for 22 to 24 minutes, or until the filling is set.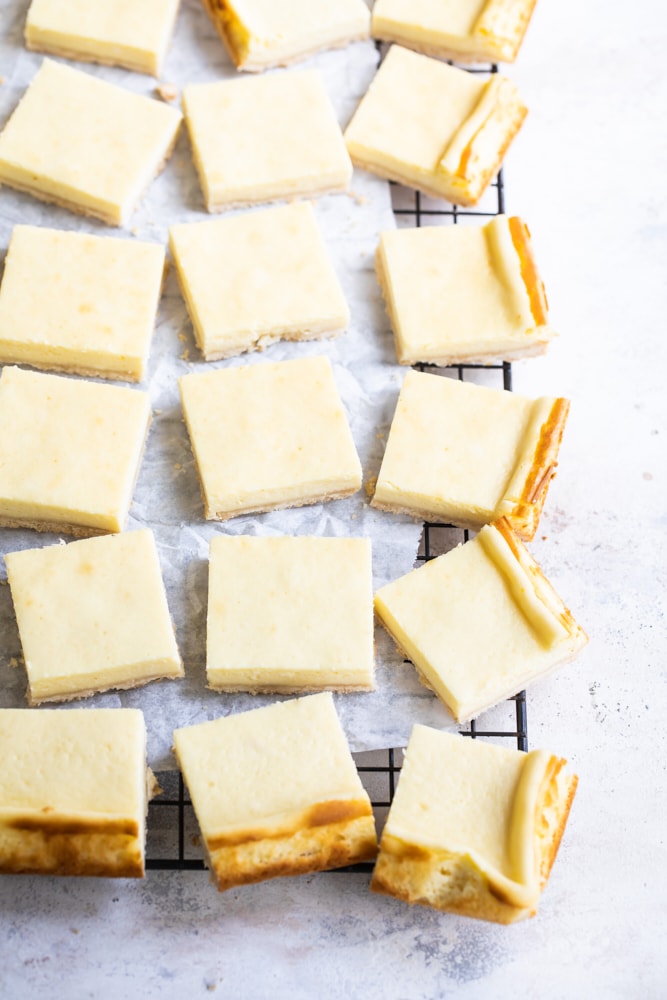 Cool and chill. Cool to room temperature before refrigerating the bars; once they're chilled, you can cut them and serve.
Tips for Success
Here are some tips for perfect cheesecake bars:
Measure accurately. Use a scale to measure by weight, if possible.
Use a light-colored metal pan. Dark pans tend to bake the outside edges and bottom too quickly, leaving the inside under-baked.
Chill the bars before slicing and serving. Plan for at least a couple of hours of chilling for best results. (Warm cheesecake is not very appetizing!) Keep any leftovers tightly covered and refrigerated.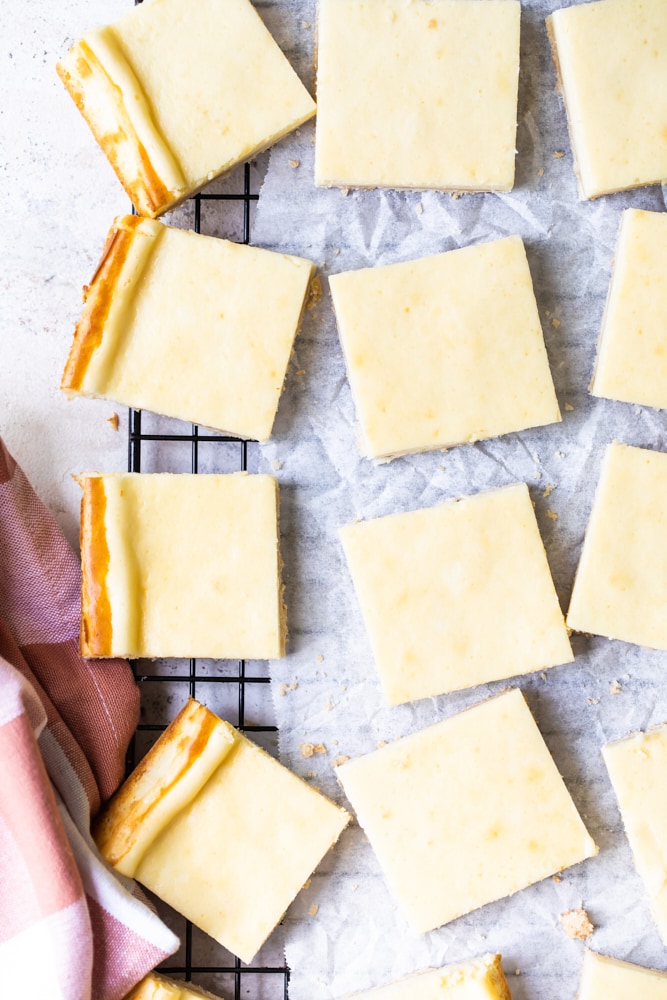 How to Store
Cheesecake bars will last about a week in the refrigerator. Wrap the bars tightly with plastic wrap or place them in an airtight storage container.
Can This Recipe Be Frozen?
Yes, you can freeze these cheesecake bars. Wrap them individually and place them in a freezer bag or airtight storage container. They'll keep for about 3 months; let them thaw in the refrigerator before serving.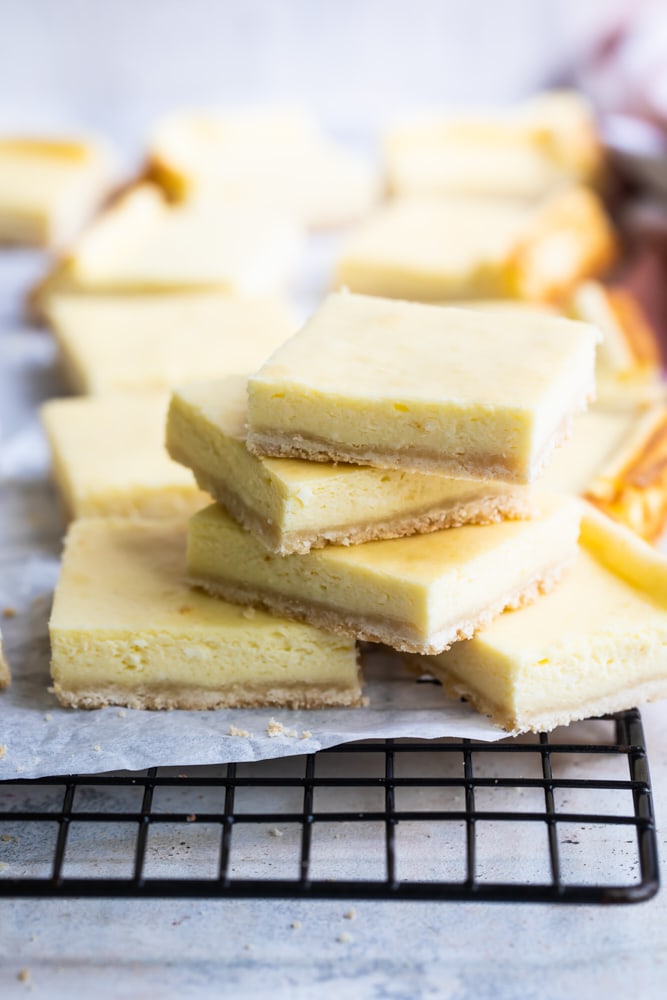 More Cheesecake Bar Recipes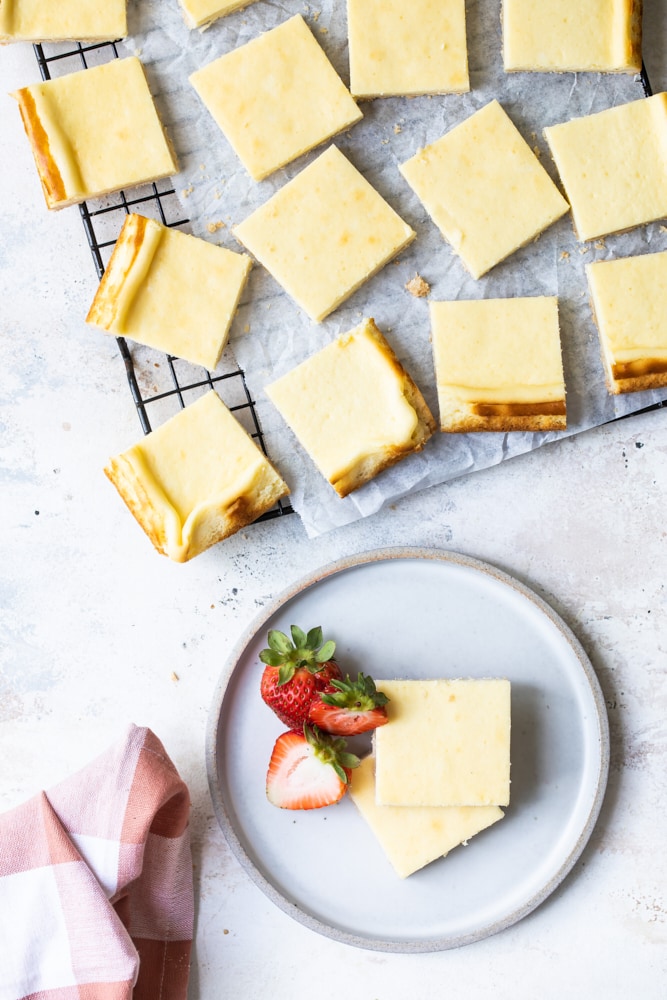 Video Tutorial: Vanilla Bean Cheesecake Bars