February 22, 2008
Dark Chocolate Chunk and Dried Cherry Oatmeal Cookies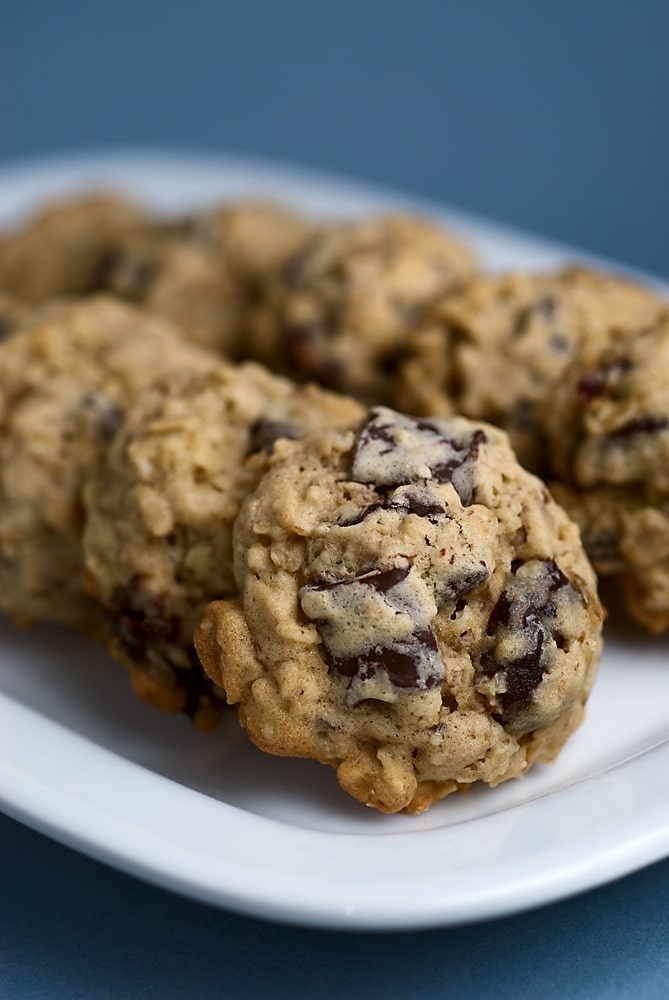 Whenever I see some kind of chocolate I've not tried before, I usually find some justification for buying it, especially if I can bake with it. Recently, I found Schokinag's semi-sweet chocolate baking chunks and knew that I had to have them. As much as I use chocolate chips, I knew that they would be put to good use.

Of course, the first test was a simple taste test. Quinn and I both gave them an enthusiastic thumbs up. Then, I started trying to think of just the thing to bake using them. While I flipped through shelves of cookbooks and countless bookmarked recipes, Quinn took the simple approach of unfolding the enclosed recipes and quickly pointed out his recipe choice.
I'll admit that I probably wouldn't have picked out this recipe on my own. While I love oatmeal cookies and chocolate chip cookies, the dried cherry component just didn't appeal to me. However, I have to say that after sampling the finished product, I was extremely glad I made them.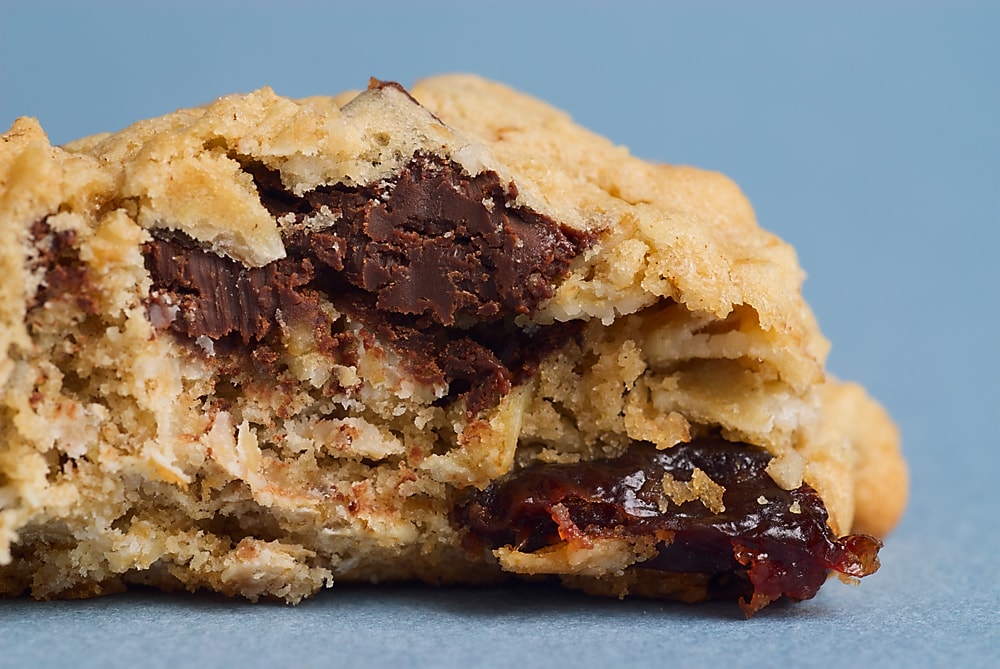 I love the chewiness that oats give to a cookie. The merits of chocolate really need no explanation here. As for the cherries, I was really surprised at how much I liked them. They add a nice tartness to counterbalance all the chocolate. Although I don't think I'd eat them on their own, their presence in these cookies is just simply delicious.
Dark Chocolate Chunk and Dried Cherry Oatmeal Cookies
Yield: about 48 cookies
Prep Time:20 minutes
Cook Time:12 minutes per pan
These sweet, tart, chewy cookies and their great flavor combination are irresistible!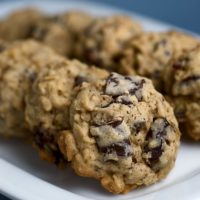 Ingredients:
1 cup unsalted butter, softened
1 cup firmly packed light or dark brown sugar
2 large eggs
1 & 1/2 teaspoons vanilla extract
1 & 1/2 cups all-purpose flour
1 teaspoon baking soda
1/2 teaspoon ground cinnamon
1/2 teaspoon salt
3 cups old-fashioned rolled oats
1 cup dried cherries
8 ounces semi-sweet chocolate chunks
Directions:
Preheat oven to 350°F. Grease or line baking sheets.
Using an electric mixer on medium speed, beat the butter and brown sugar together until smooth. Add the eggs one at a time, mixing after each addition. Mix in the vanilla.
In a separate bowl, whisk together the flour, baking soda, cinnamon, and salt. Gradually add to the butter mixture, mixing just until combined. Do not overmix. Stir in the oats, cherries, and chocolate.
Drop by tablespoonfuls onto the prepared pans. Bake for 10 to 12 minutes, or until the bottom edges are lightly browned. Cool on pans for a few minutes, then remove to wire racks to cool completely.
Notes:
These may also be made into bar cookies. Press the dough into a lightly greased 13″x 9″x 2″ baking pan. Bake for about 30 minutes.
Recipe adapted from Schokinag.