December 12, 2006
Cinnamon Roll Cookies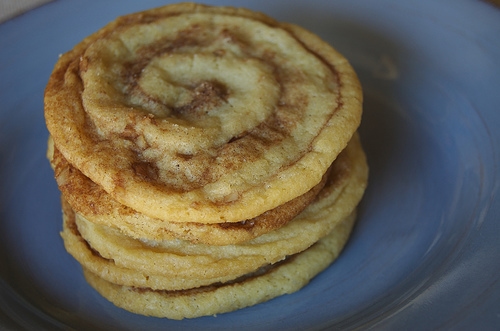 In my continuing obsession with all those holiday magazines, these cookies come to you courtesty of Paula Deen's Christmas. This time of year, one of the most important considerations when baking cookies is how they look. Most holiday cookies are to be given away, so they should at least look nice, right? With the cinnamon swirl in these sugar cookies, these are just begging to live on a cookie tray.
These are not quick cookies to whip up. They're not difficult, but they have to be refrigerated before being baked. Because of that, they do lend themselves to being good make-ahead cookies. I actually made the dough for these late one night and then sliced and baked them the next morning for my co-workers. I should mention here that they were quickly devoured, and I was told more than asked to make more.
One of my least favorite things in baking is rolling out dough. I'm not good at it, never seeming to be able to make anything remotely resembling an actual rectangle. I'm not blessed with patience, so I'm sure that doesn't help. That being said, I still liked these cookies and would make them again. Be sure to give them plenty of room on the baking sheet, because they do spread quite a bit. They'll be much more holiday-worthy if they don't run all over each other.
Cinnamon Roll Cookies
Yield: about 36 cookies
Prep Time:25 minutes
Cook Time:12 minutes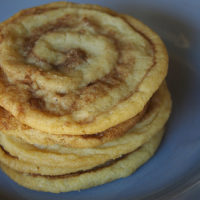 Ingredients:
1 & 3/4 cups all-purpose flour
1 teaspoon baking soda
1/4 teaspoon salt
1 & 1/4 cups granulated sugar + 2 tablespoons sugar, divided
3/4 cup unsalted butter, softened
1 large egg
1 teaspoon vanilla extract
2 tablespoons pecans, chopped
1 teaspoon ground cinnamon
Directions:
Whisk together flour, baking soda, and salt. Set aside.
Using an electric mixer on medium speed, beat 1 & 1/4 cups sugar and butter until light and fluffy. Mix in egg and vanilla.
Reduce mixer speed to low. Gradually add flour mixture, mixing just until combined. Refrigerate dough for 1 hour.
Place chilled dough on a lightly floured surface. Roll into an 18″x 10″ rectangle.
Combine 2 tablespoons sugar and cinnamon. Sprinkle evenly over cookie dough. Press down gently with hands.
Starting with a long side, roll up dough in jelly-roll fashion. Place seam side down on plastic wrap. Wrap and refrigerate at least 2 hours.
Preheat oven to 350°. Line a baking sheet with a silicone liner or parchment paper.
Cut dough into 1/2-inch slices. Place on prepared baking sheet. Bake 10 to 12 minutes, or until lightly browned.
Cool on pans for 5 minutes. Then, remove cookies to a wire rack to cool completely.
Recipe slightly adapted from Paula Deen Magazine.