These Outrageous Peanut Butter Cookies are made with crunchy peanut butter and NutRageous candy bars for a cookie any peanut butter lover will appreciate. The small batch is perfect for satisfying a PB craving!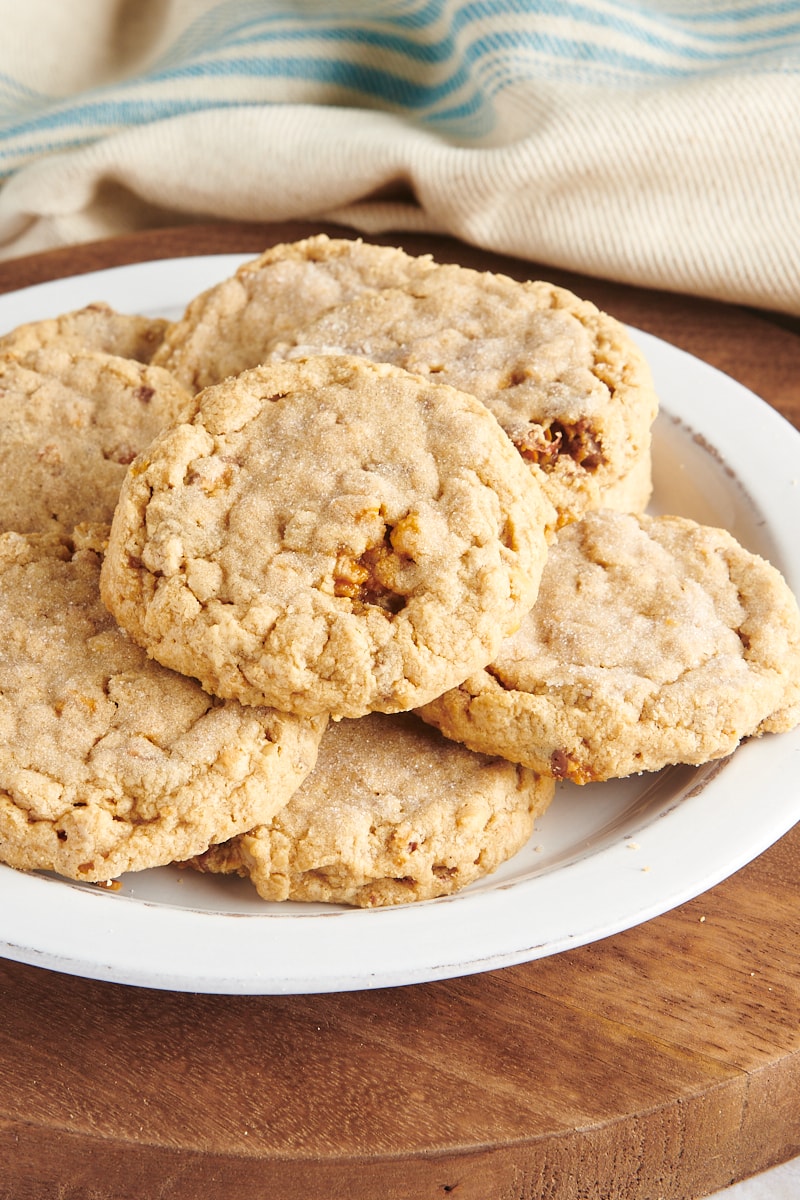 Chewy Peanut Butter Cookies With NutRageous Pieces
There are many peanut butter cookie recipes in this world, from Classic Peanut Butter Cookies to 3-Ingredient Peanut Butter Cookies and No-Bake Peanut Butter Oatmeal Cookies, but there are two things that set this Outrageous Peanut Butter Cookie recipe apart from the rest.
First, there are chopped NutRageous candy bars added to the dough for extra peanut butter flavor. Peanut butter cookies are good, but peanut butter cookies that are flecked with candy bar pieces are even better.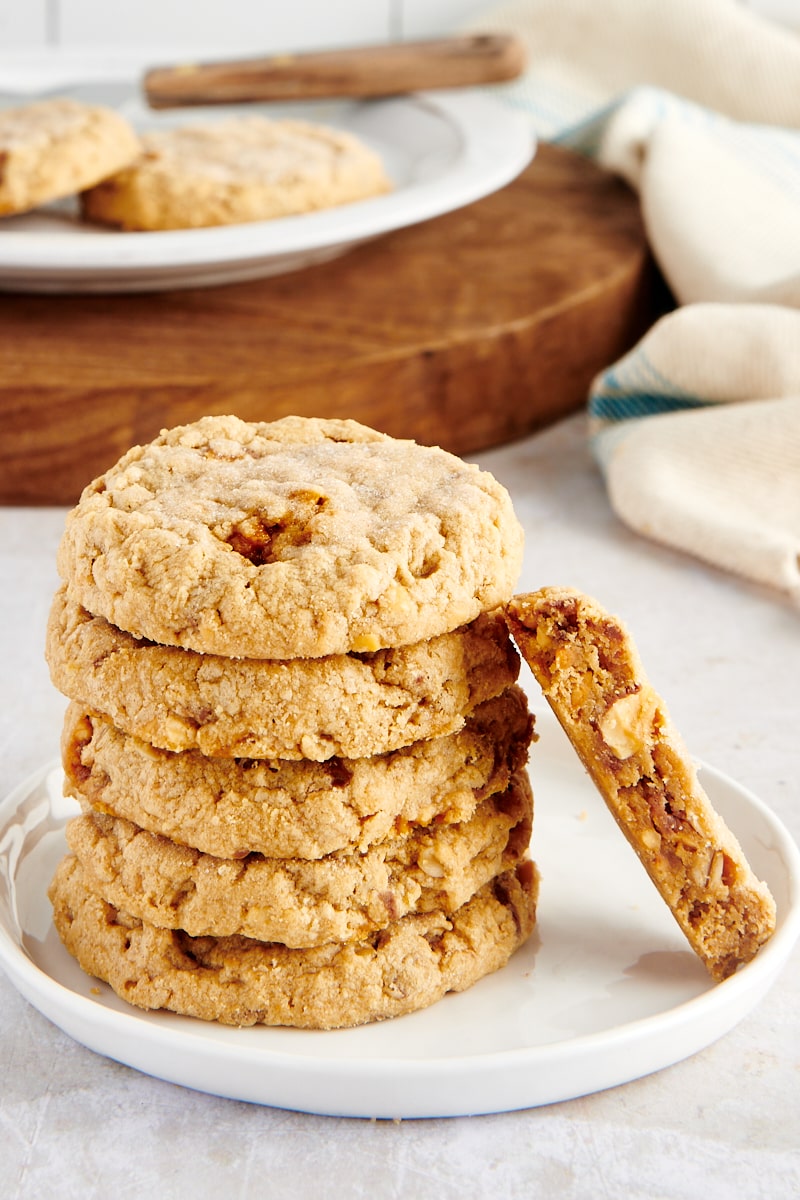 Next, this recipe makes a small batch because it's adapted from Small-Batch Baking by Debby Maugans Nakos. The idea of this cookbook is just as you might suspect—baking in smaller batches. Sometimes you don't want to have to worry about giving cookies to neighbors or freezing the leftovers; a batch of eight cookies is just the right amount.
Of course, once you give these a try, you might find that eight isn't enough. Don't worry—you can always double or triple the recipe!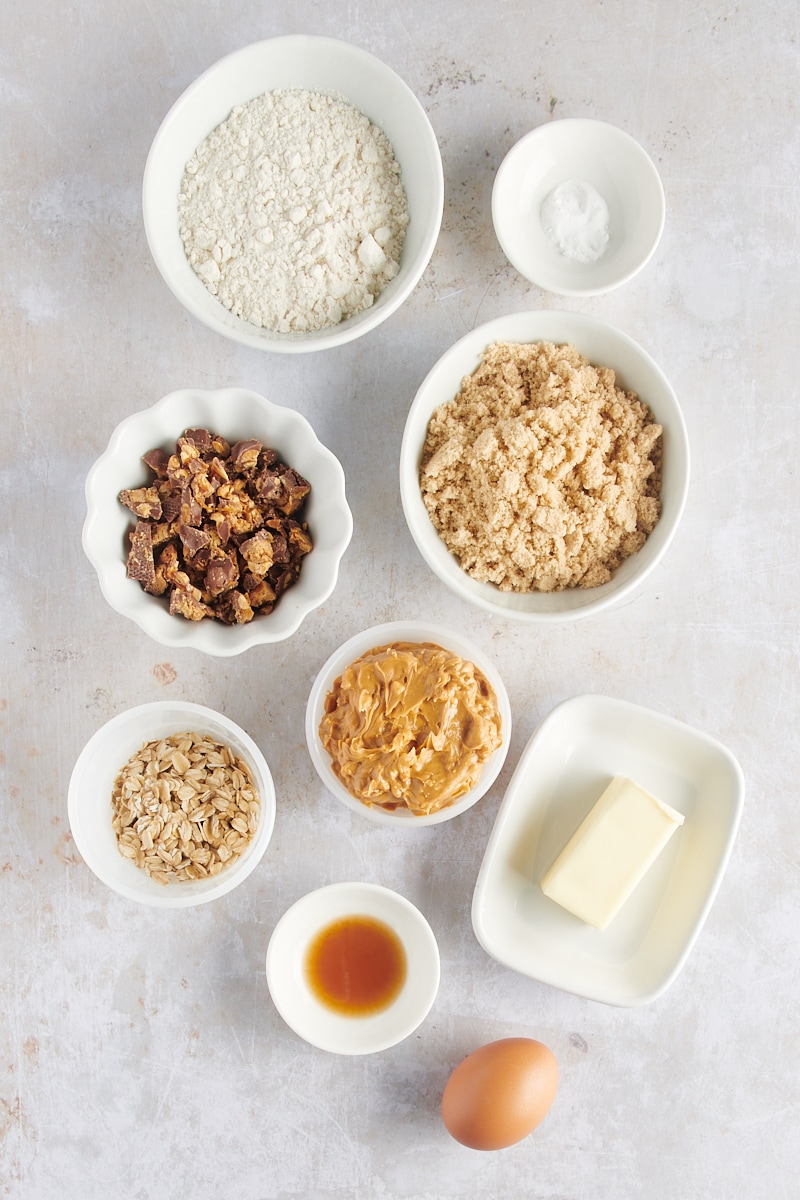 What You'll Need
Scroll down to the recipe card to find the ingredient quantities and recipe instructions.
All-purpose flour – Learn more: How to Measure Flour
Baking soda
Light brown sugar – Learn more: Light Brown Sugar vs Dark Brown Sugar: What's the Difference?
Unsalted butter – Let this soften so it's easy to cream. Learn more: Unsalted or Salted Butter: Which is Better for Baking?
Egg
Vanilla extract – Store-bought or homemade vanilla extract.
Crunchy peanut butter – Crunchy peanut butter adds a nice, nutty texture to these Outrageous Peanut Butter Cookies, but you can use creamy PB if you prefer.
Old-fashioned rolled oats – Old-fashioned oats also add texture to these cookies. Don't substitute quick oats or steel-cut oats—they're not the same.
Chocolate and peanut butter candy bar – The original recipe calls for NutRageous bars, but Take 5, Butterfinger, or even Reese's peanut butter cups will work here.
What kind of peanut butter is good for baking?
Always use regular peanut butter for baking—the kind that's shelf-stable and doesn't require refrigeration or stirring before use. Natural peanut butter has different consistencies at different temperatures, and it also tends to be oilier at the top and dry at the bottom, which can affect how your cookies turn out.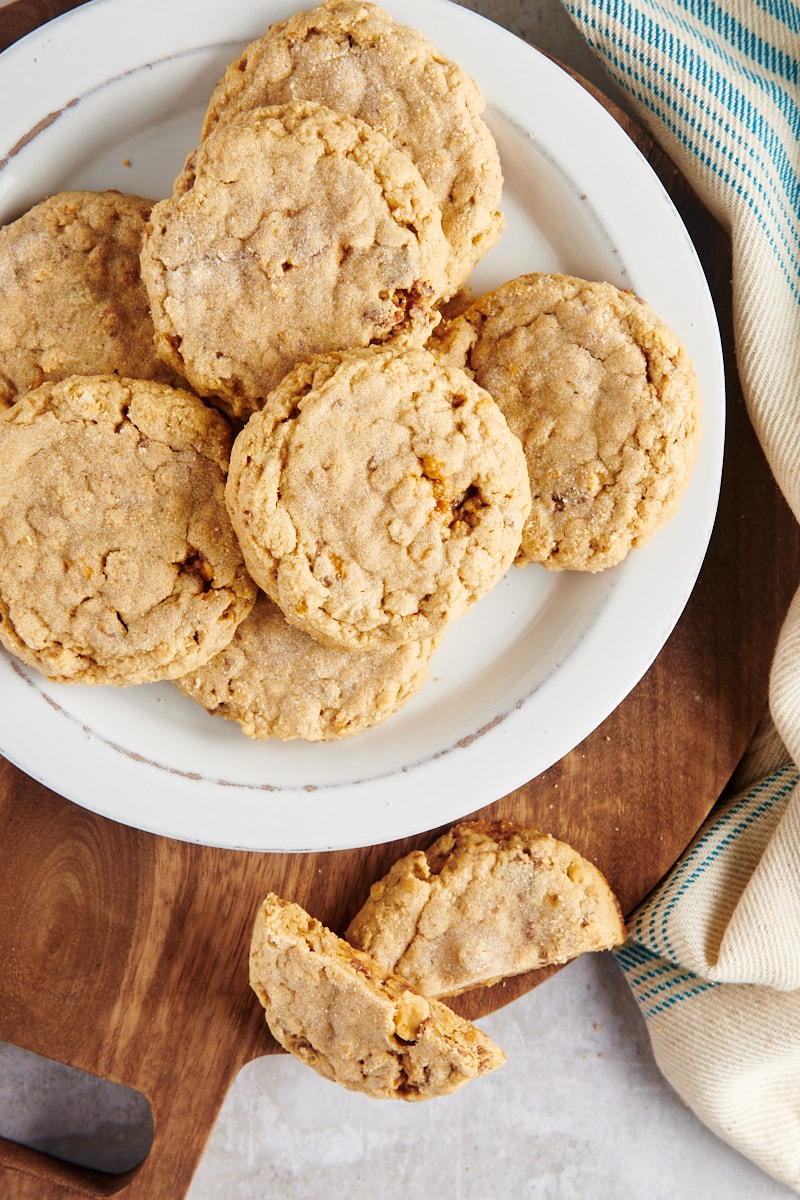 How to Make Outrageous Peanut Butter Cookies
These Outrageous Peanut Butter Cookies are quite easy to make; they don't require anything special and you don't even need to chill the dough!
Prepare. Preheat your oven to 325°F and line a baking sheet with parchment paper or a silicone liner.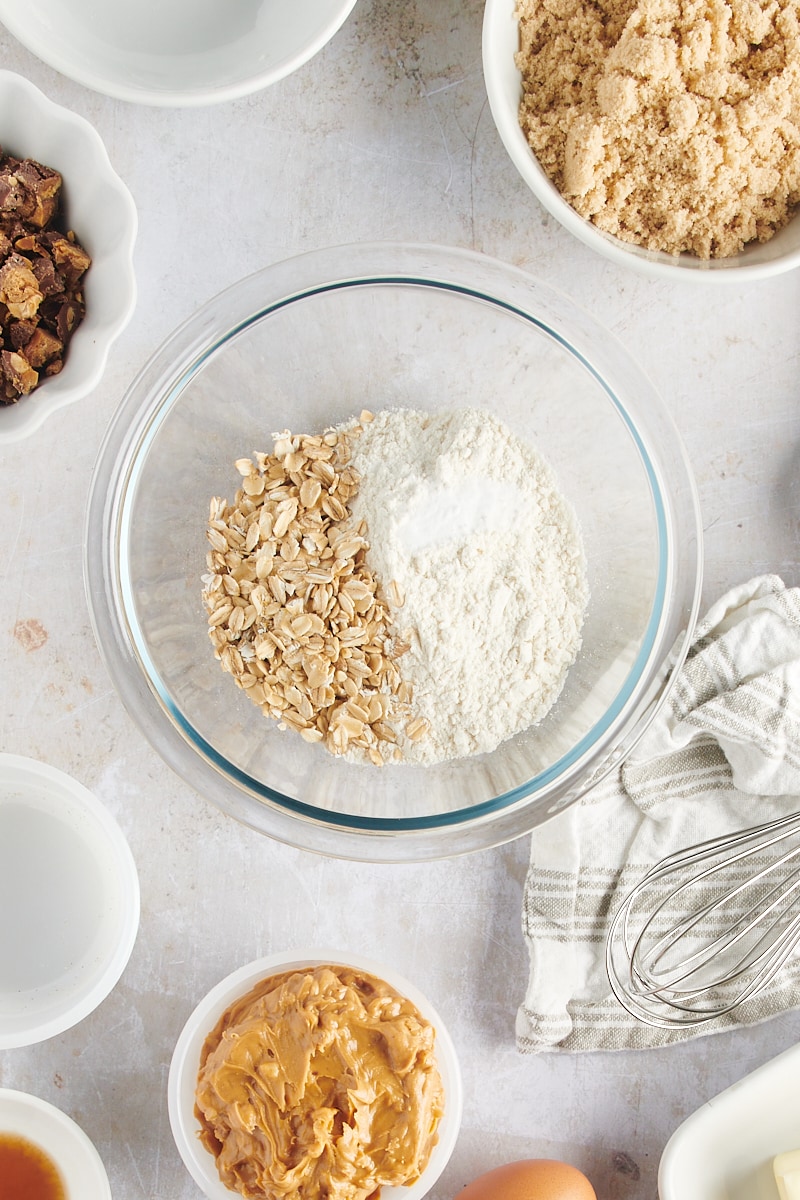 Mix the dry ingredients. Whisk the flour, oats, and baking soda in a medium bowl.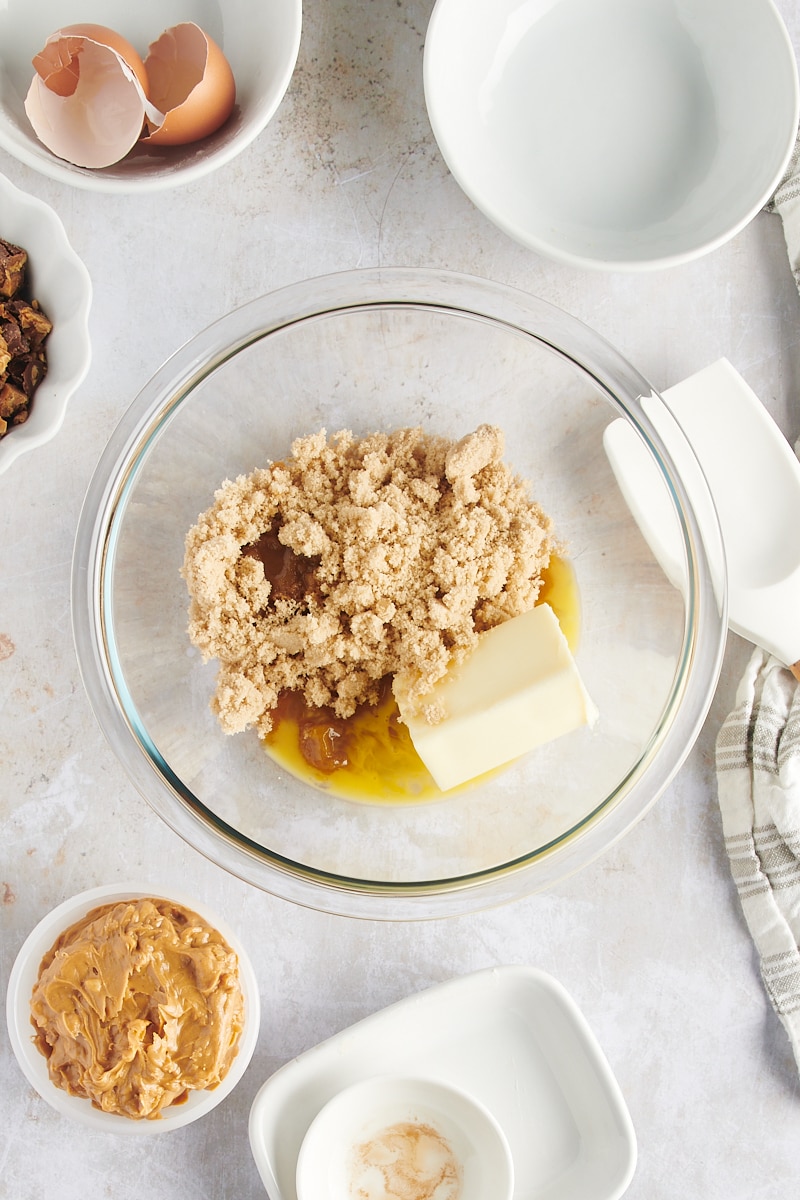 Beat the wet ingredients. In a second mixing bowl, use an electric mixer on medium speed to beat the brown sugar, butter, egg, and vanilla until combined. Once this mixture is smooth, beat in the peanut butter.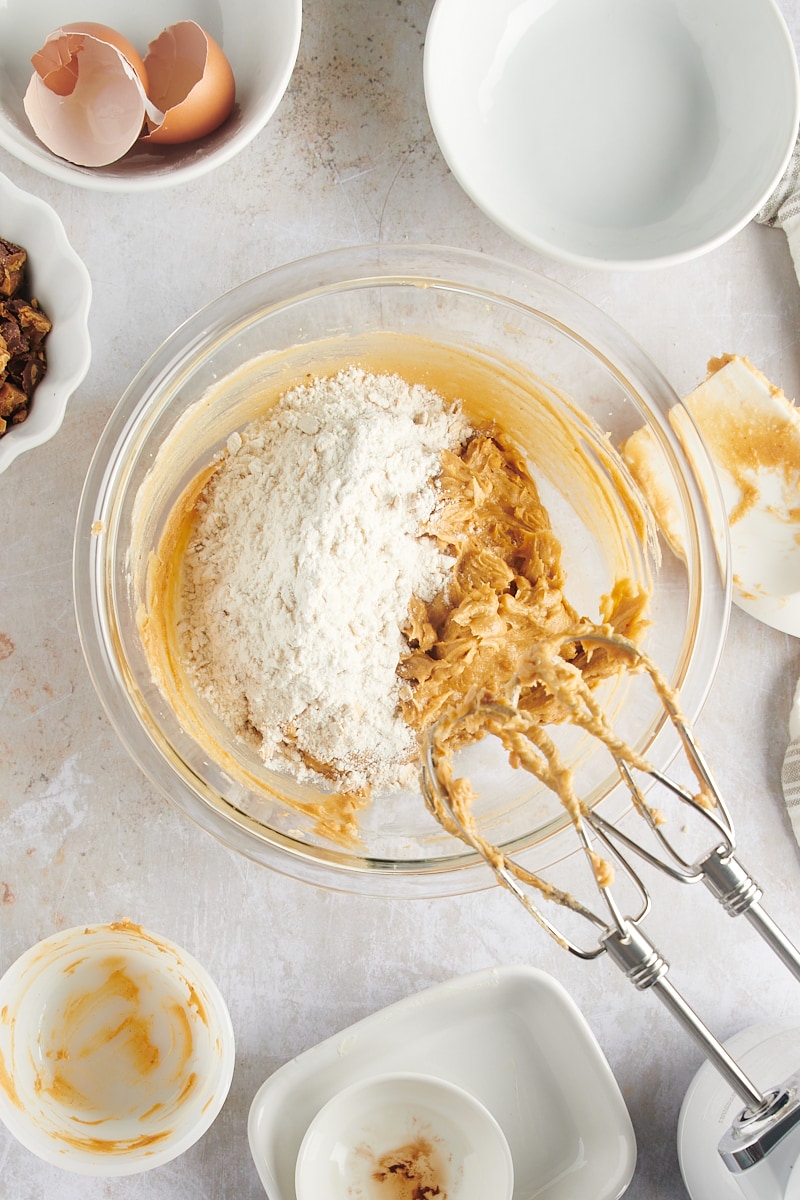 Finish the cookie dough. Add the flour mixture to the bowl with the wet ingredients, and mix just until combined; it's okay if a few streaks of flour remain. Fold in the chopped candy bar.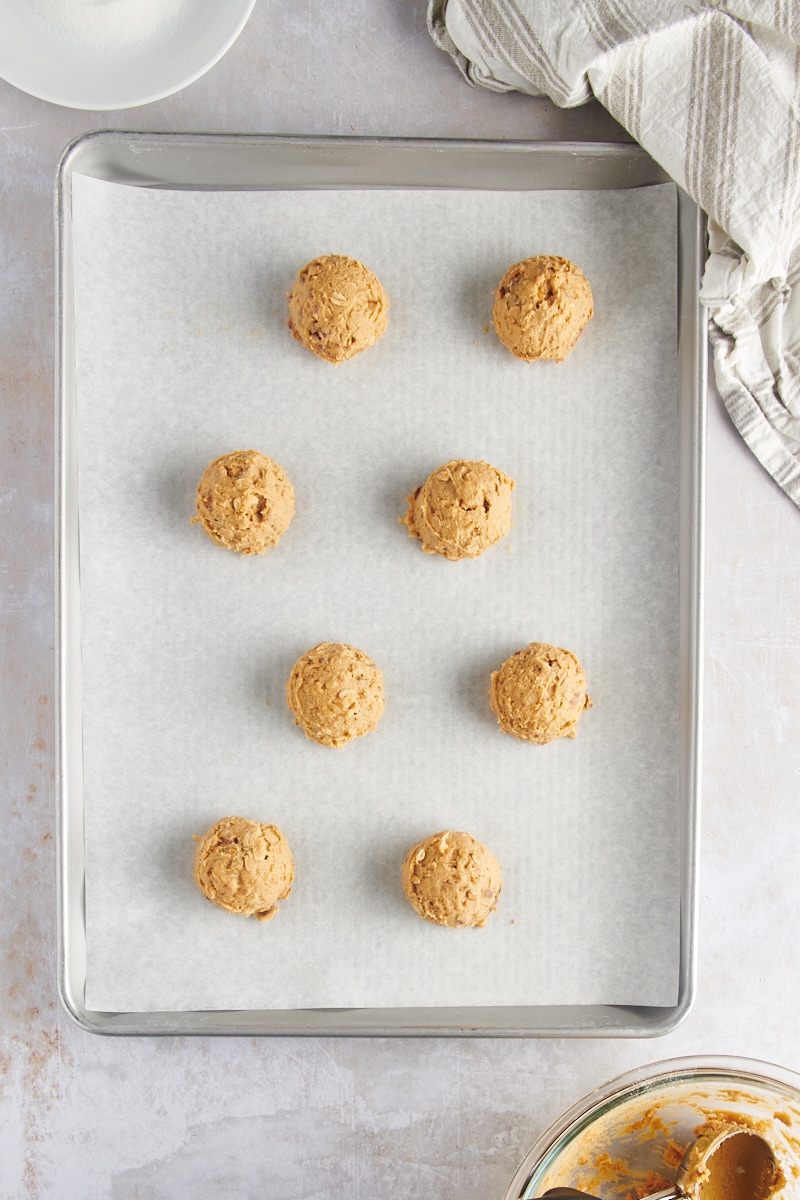 Form the cookies. Drop the dough in 3-tablespoonful portions onto the prepared pan. Use a flat-bottomed glass dipped in sugar to flatten each cookie a bit.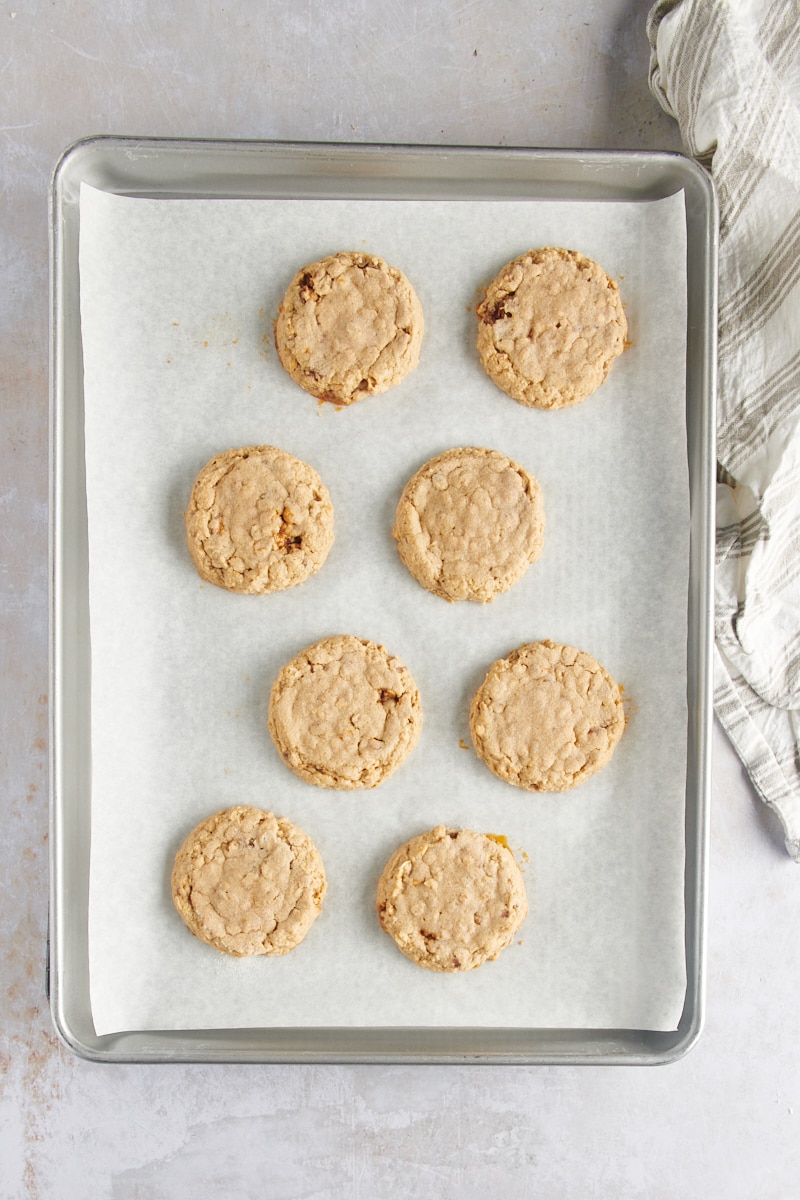 Bake. Place the pan in the oven and bake for 12 to 15 minutes, or until the cookies are lightly browned.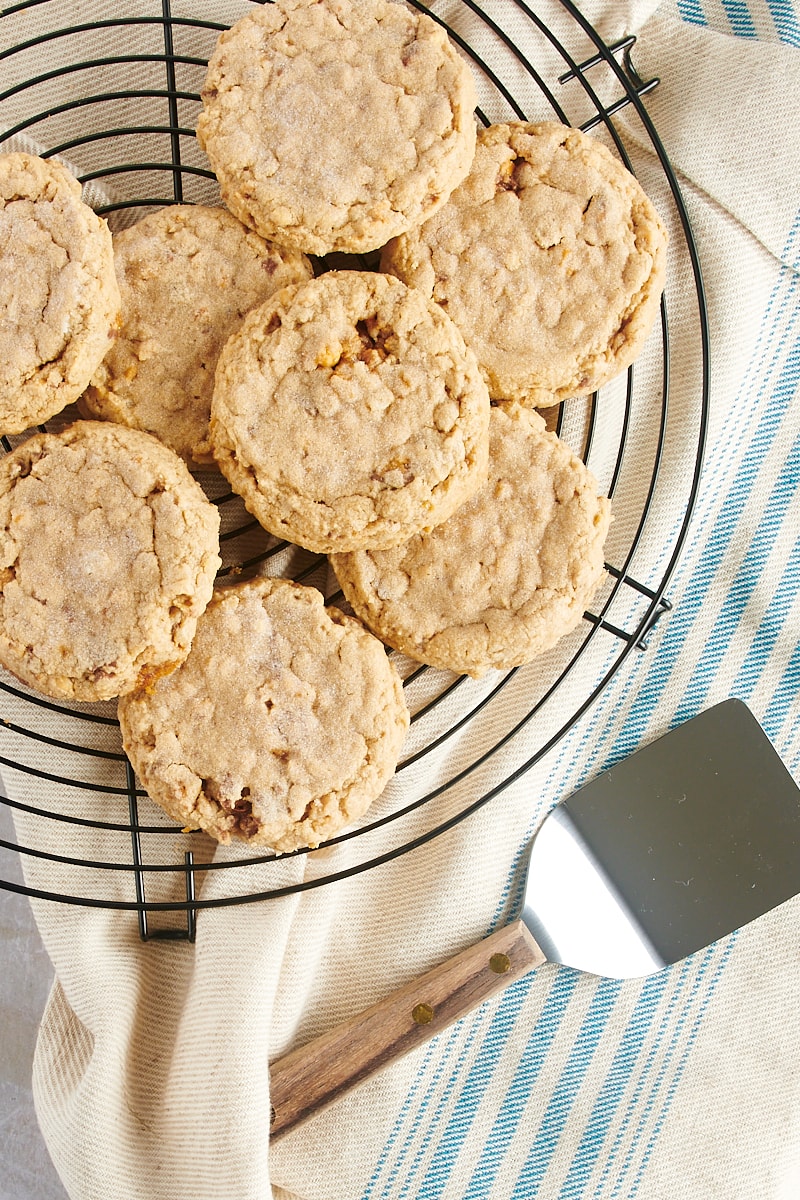 Cool. Let the cookies cool for about 5 minutes on the pan, then transfer the cookies to a wire rack to finish cooling. (Learn more: Why Every Baker Needs Wire Cooling Racks)
Tips for Success
Read over my baking tips for beginners before you start, then use these simple pointers for perfect Outrageous Peanut Butter Cookies:
Start with softened butter. Take it out of the refrigerator at least 30 minutes before you plan on baking, or even longer if your kitchen is chilly. When the butter is soft, it's easier to incorporate it into the rest of the ingredients. Just be careful not to let it come all the way to room temperature, or it won't cream properly.
Beat the egg well. Because you're not using a whole egg, you want to make sure you get a proportionate amount of egg yolk and white in the cookies.
Give them room. These are big cookies, so place them a few inches apart on the baking sheets.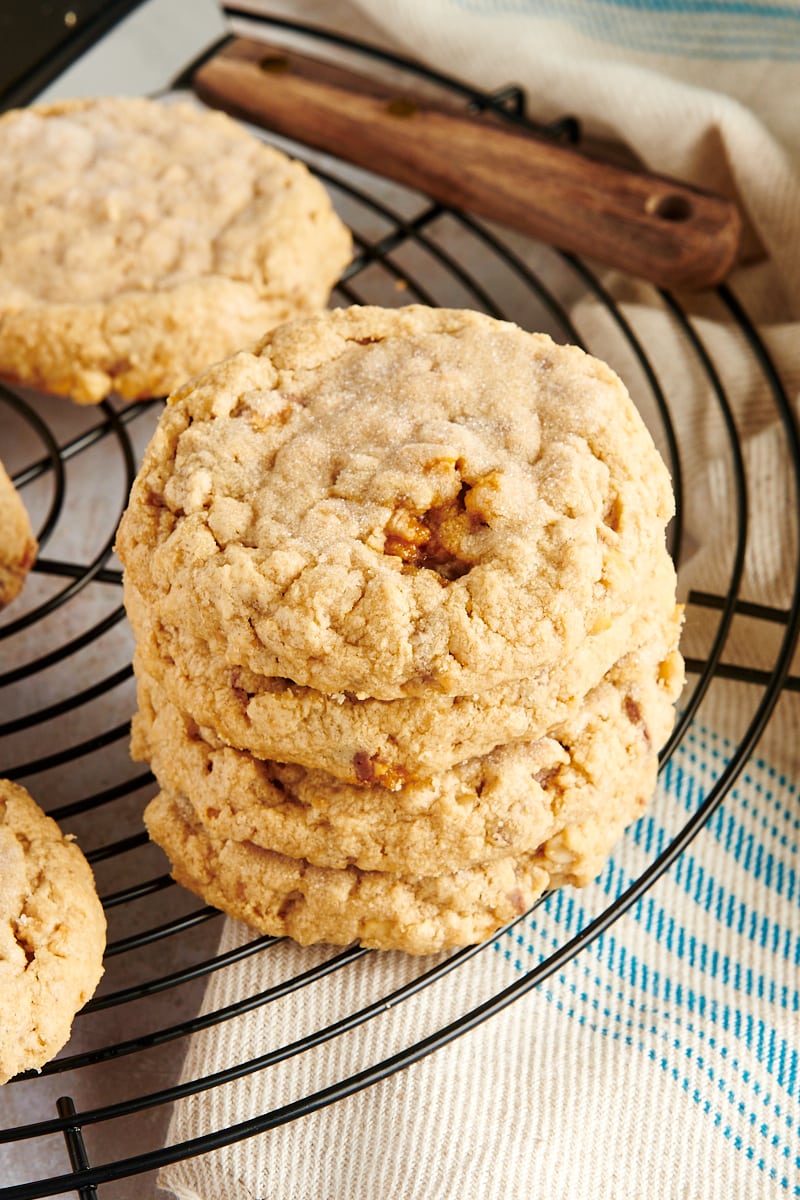 Variations to Try
Want to try something different with these Outrageous Peanut Butter Cookies? Here are some ideas:
Add more candy bar. You can make these cookies even more decadent by using extra candy bar pieces. I recommend gently pushing them into the tops of the cookies when they're fresh out of the oven; the heat will melt the candy bar a bit so they stick.
Or skip the candy bars. Chocolate chips, peanut butter chips, or the baking-size Reese's peanut butter cups work. too.
Make them smaller. You can divvy up the batter into 1- or 2-tablespoon portions if you'd like to make a larger number of smaller cookies. Keep in mind that they'll need less time in the oven.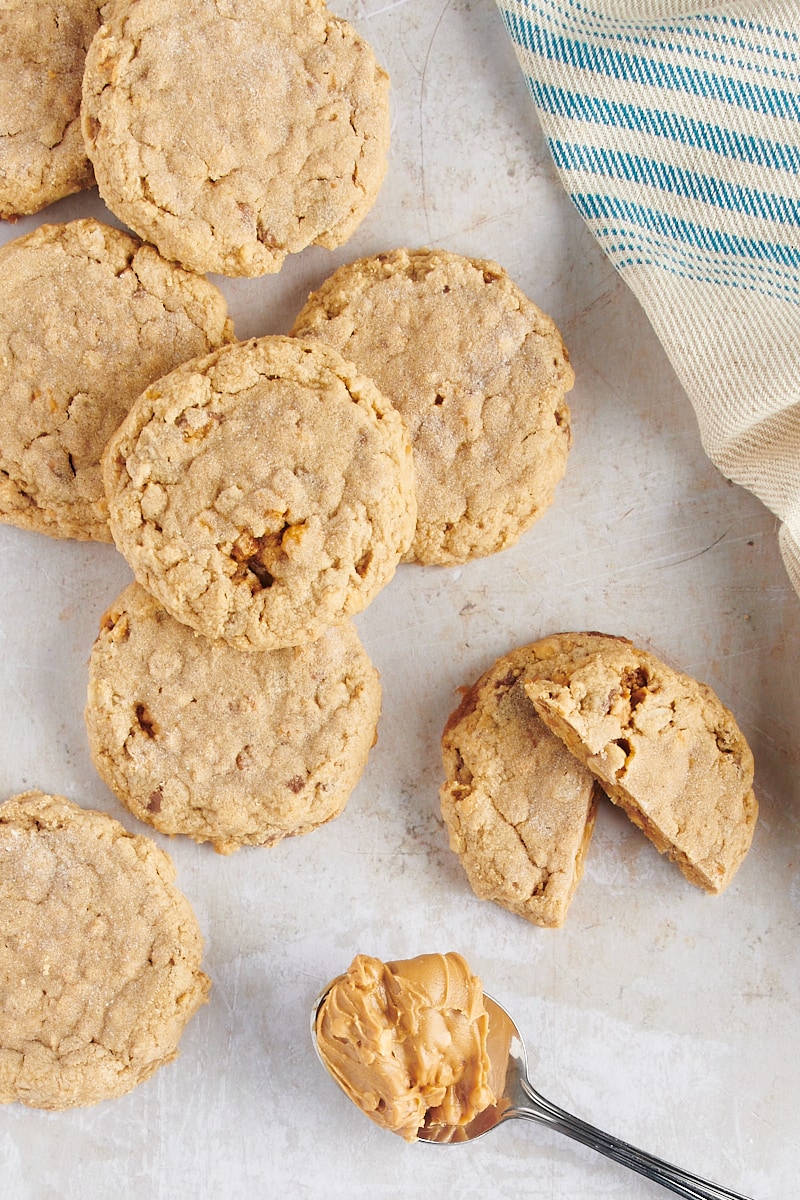 How to Store
Store Outrageous Peanut Butter Cookies at room temperature in an airtight container for up to a week.
Can This Recipe Be Frozen?
You can freeze baked Outrageous Peanut Butter Cookies for up to 3 months in an airtight container, or freeze the unbaked dough for up to 2 months. The baked cookies can be thawed at room temperature or warmed up in the microwave, while the dough should be thawed in the refrigerator overnight.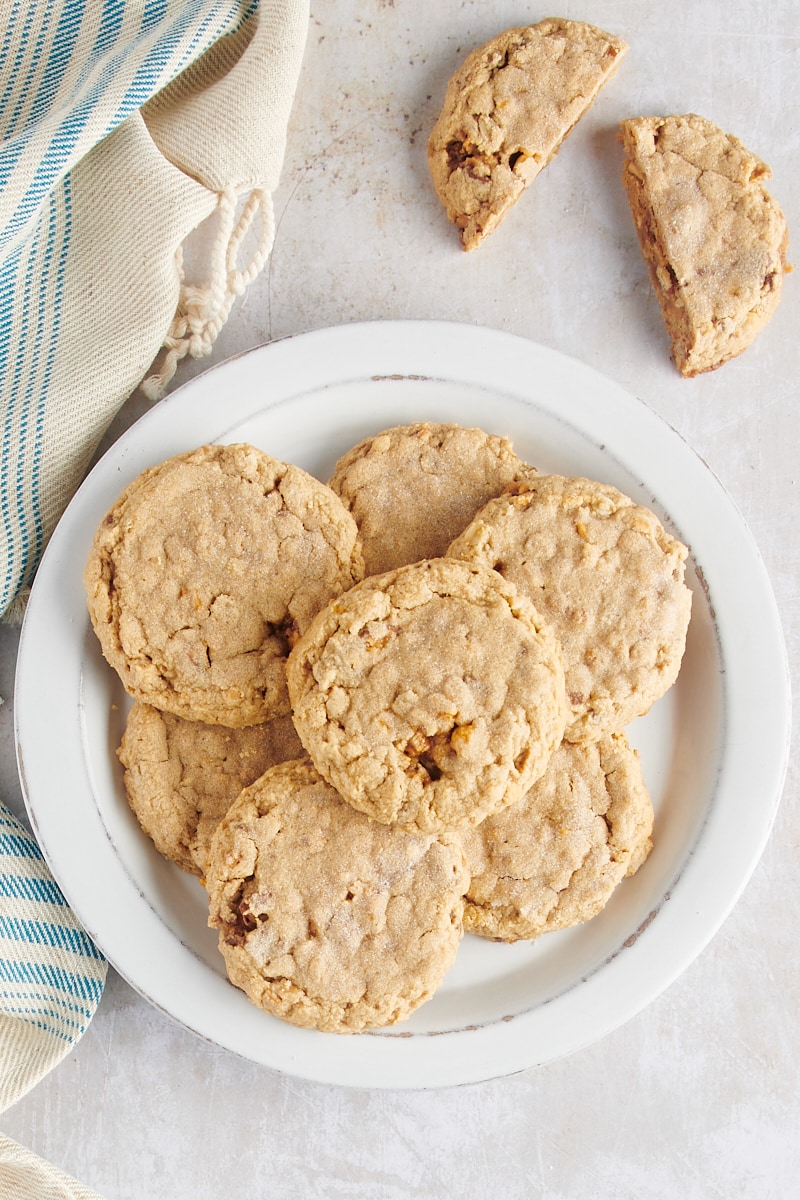 More Recipes for Peanut Butter Lovers