September 13, 2006
Outrageous Peanut Butter Cookies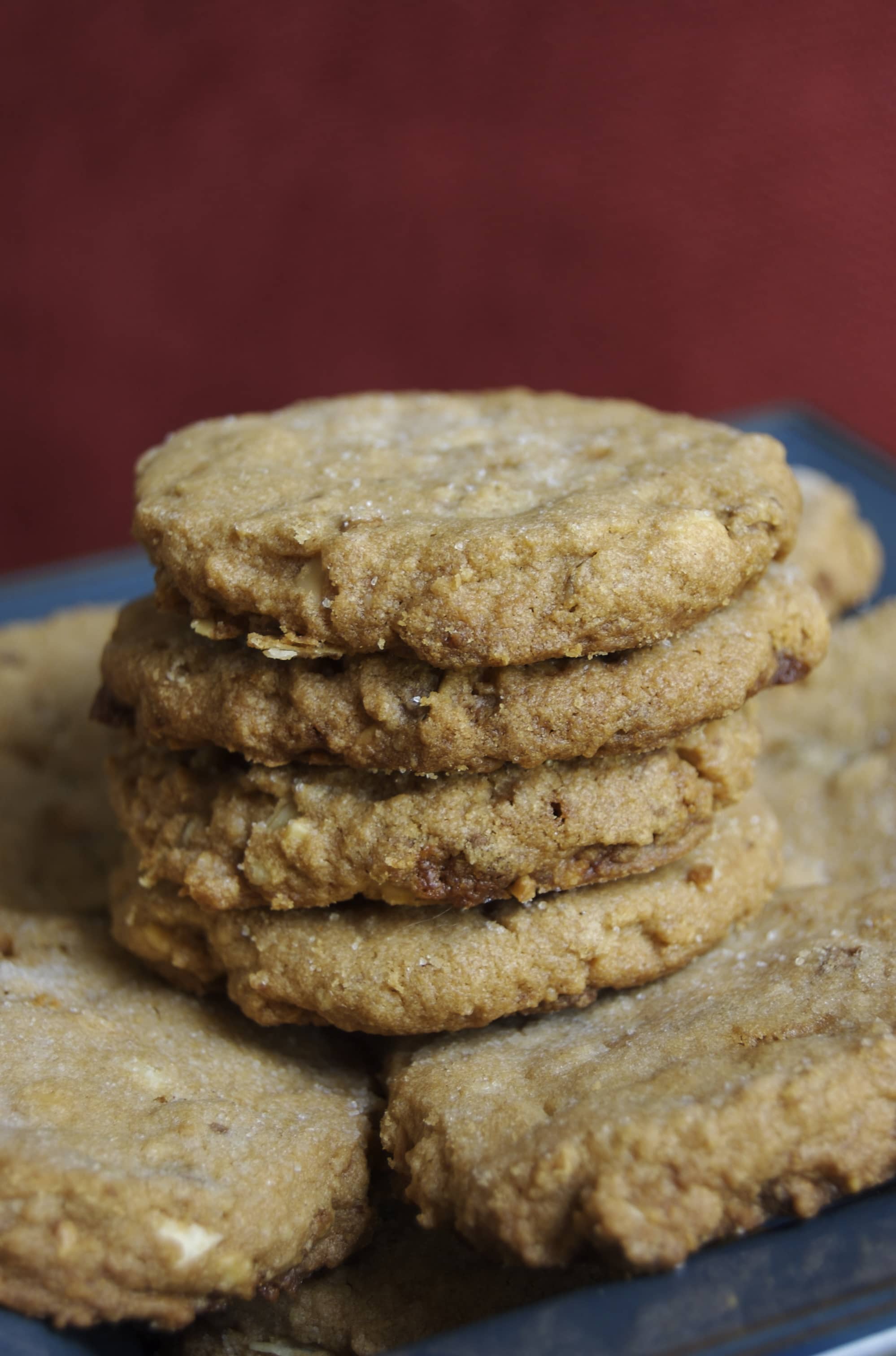 I came across this recipe in last month's Southern Living magazine and quickly decided that I should make these cookies as soon as possible. These peanut butter cookies are made with a NutRageous candy bar chopped up and stirred in the dough. My only delay in getting them made has been actually finding a NutRageous candy bar. The "impulse buys" selection just isn't what it used to be. Finally, I procured one from a gas station. I think I can safely say that this is the first time I've gone grocery shopping at a gas station.
Let me take a minute to talk about the recipe specifics. Southern Living, which is one of my favorite magazines, has the habit of not using name brands in their recipes, but using a very detailed description with a note at the end of the recipe telling what brand product they used "for testing purposes only." So, instead of NutRageous, the recipe lists a "chocolate-coated caramel-peanut butter-peanut candy bar." Really, isn't "NutRageous" a whole lot easier? In fact, I'm thinking these should have been called NutRageous Peanut Butter Cookies. Either way, it's a fine candy bar. And a fine cookie.
This recipe is adapted from Small-Batch Baking by Debby Maugans Nakos. The idea of this cookbook is just as you might suspect – baking in smaller batches. The yield of this recipe is 8 cookies, but I doubled it to yield 16.
First, combine 1/2 cup of AP flour and 1/4 teaspoon of baking soda. In a separate bowl, beat together 1/2 cup of firmly packed brown sugar, 4 tablespoons of softened butter, 4 teaspoons of well-beaten egg (less than 1 egg – or use egg substitute), and 1/2 teaspoon of vanilla extract. When this is blended, add 2/3 cup of extra chunky peanut butter. Next, add flour mixture. Stir in 3 tablespoons of uncooked regular oats and 1 chopped NutRageous candy bar.
On greased/sprayed/lined baking sheets, drop dough by tablespoonfuls. With a flat-bottomed glass dipped in sugar, flatten each cookie. Bake in a 325 degree oven for about 15 minutes or until lightly browned. Cool for a couple of minutes on baking sheet, then remove to wire racks to finish cooling.
These are actually very good cookies. Maybe a bit better than I thought they would be. The peanut butter flavor is delicious. The chocolate from the candy bar is not very noticeable. I liked the crunchiness from using the crunchy peanut butter, but I think creamy peanut butter would work as well. Perhaps with a bit more chocolate thrown in.