September 17, 2006
Chocolate Pecan Pie Bars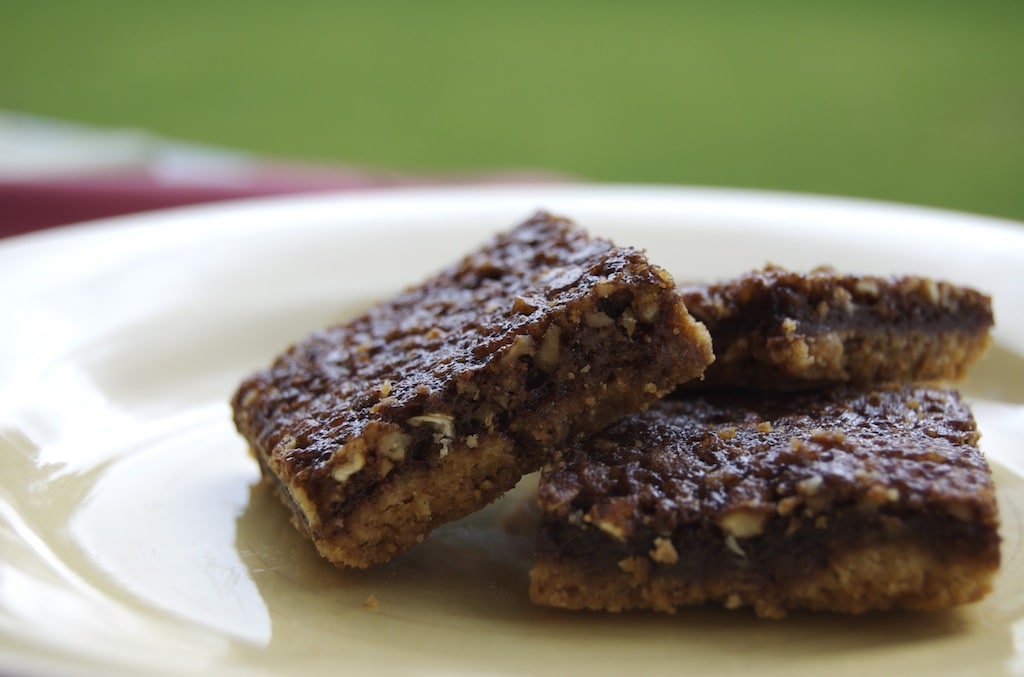 As anyone who has given this blog a good read-through knows, I adore pecans. They are by far my baking nut of choice. I do try to branch out to others occasionally, with the exception of walnuts, but I don't have a freezer full of pecans for no reason.
Pecan pie is also one of my favorite things. However, I usually only make it twice a year – Thanksgiving and Christmas. Anyway, with the weather feeling more and more like fall, I thought this recipe would be just the right thing.

I baked them a bit too long for my liking. Just be sure to keep an eye on them in the oven and not let them get overdone. Everyone who ate them thought they were excellent. I think that I would like to make them again but in a smaller pan so they would be thicker. Still, it is chocolate and pecans, so can it really be that bad?
Chocolate Pecan Pie Bars
Yield: 48 bars
Prep Time:25 minutes
Cook Time:55 minutes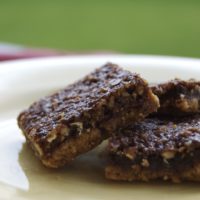 Ingredients:
For the crust:
1 cup unsalted butter, softened
2 cups all-purpose flour
1/2 cup granulated sugar
1/4 teaspoon salt
For the filling:
1 & 1/2 cups corn syrup
6 ounces semi-sweet chocolate
1 & 1/2 cups granulated sugar
4 eggs, lightly beaten
1 & 1/2 teaspoons vanilla extract
2 & 1/2 cups chopped pecans
Directions:
To make the crust:
Preheat oven to 350°. Grease/spray a 15″x10″x1″ baking pan.
Beat butter until creamy. Add flour, sugar, and salt, and continue mixing until the mixture resembles coarse crumbs.
Press onto bottom of prepared pan. Bake for 15-20 minutes or until lightly browned.
To make the filling:
In a large microwave-bowl, heat the corn syrup and chocolate for 90 seconds. Stir, and heat another 60 secons. Stir until chocolate has melted. Alternatively, heat the corn syrup and chocolate in a saucepan over low heat until chocolate has melted.
Add sugar, eggs, and vanilla, and mix well. Stir in pecans. Pour filling mixture over crust and spread evenly.
Bake for 30 to 35 minutes or until center is almost set. Cool completely in the pan on a wire rack before cutting into bars.
Recipe adapted from Kraft.