These Chocolate Pecan Pie Bars combine a layer of buttery shortbread with a fudgy, chewy pecan topping. Basically, they're everything you love about pecan pie in convenient handheld form!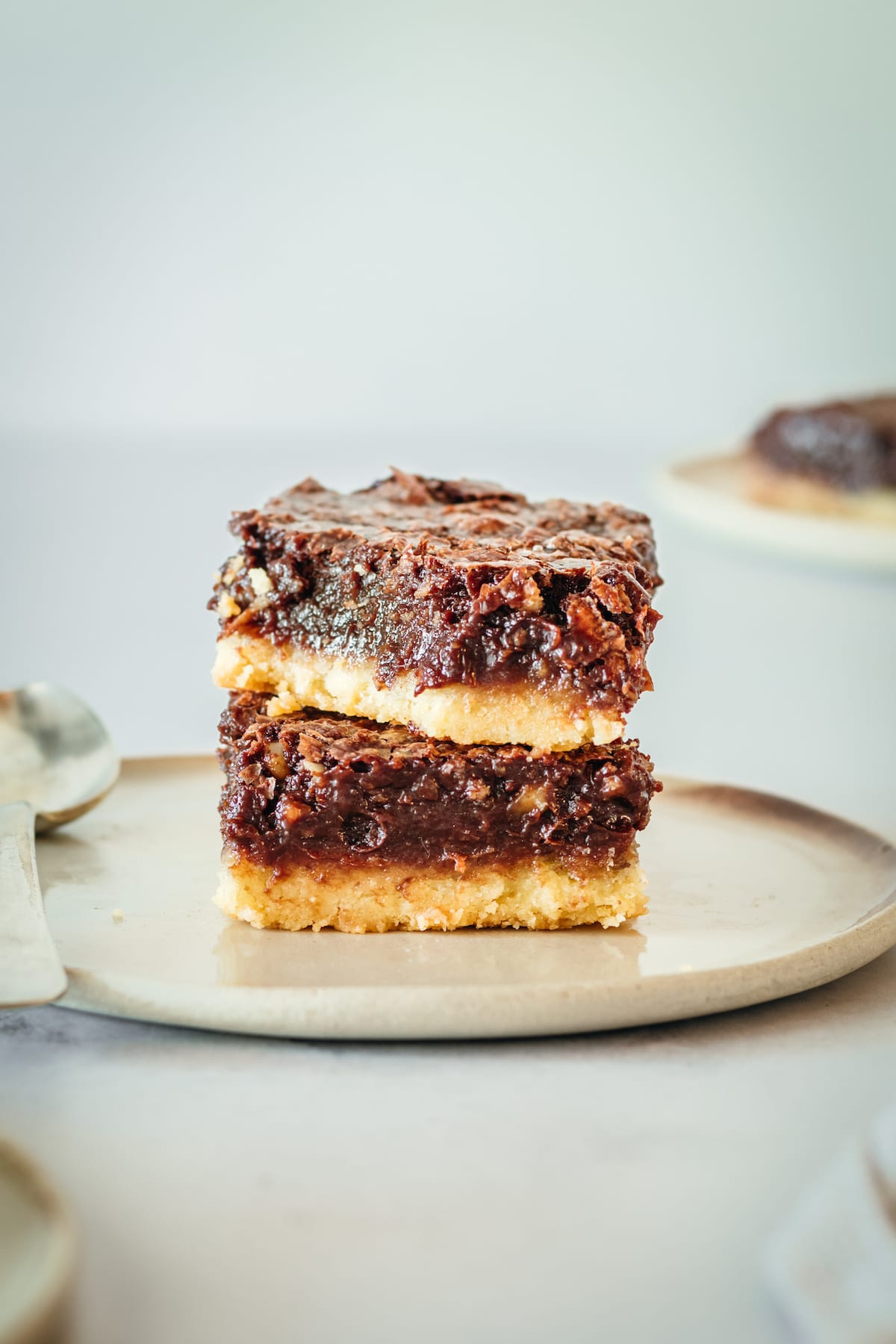 Easy Chocolate Pecan Pie Bars
While a whole pecan pie feels appropriate for a special occasion, these Chocolate Pecan Pie Bars are more of an everyday kind of treat. This is the kind of recipe that's easy enough to whip up for an impromptu weeknight dessert, although it's also delicious enough to earn a spot in your holiday baking rotation.
The addition of chocolate takes these bars to the next level, adding an irresistible fudginess to the basic pecan pie equation. Paired with a buttery shortbread crust, these bars are rich and decadent, so if you're making them for a holiday dessert spread, you might want to cut them into bite-sized pieces!
If you love this idea of pecan pie in bar form, then try Chewy Pecan Pie Bars and German Chocolate Pecan Pie Bars, too!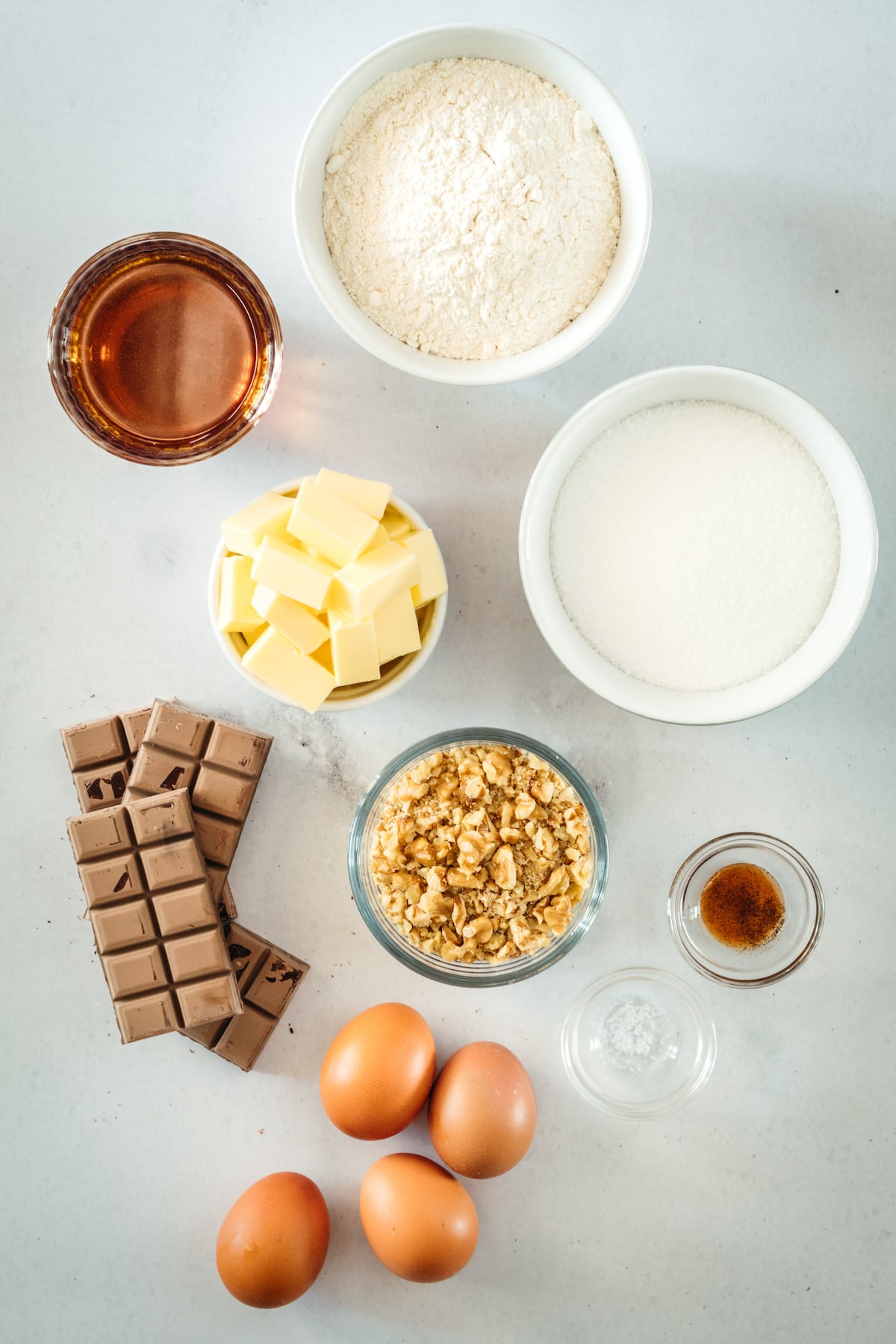 What You'll Need
These chocolate pecan pie bars differ from typical pecan pie because instead of a pie crust, they're made with a layer of shortbread. This means the ingredients are a little bit different, too.
For the crust:
Unsalted butter – This needs to be softened, so take it out 30–45 minutes before you plan on starting the recipe.
All-purpose flour
Granulated sugar
Salt
For the pecan filling:
Corn syrup – You can choose between light or dark corn syrup; dark will add a richer flavor, while light corn syrup adds a hint of vanilla.
Semi-sweet chocolate – Use chocolate chips or a roughly chopped bar.
Granulated sugar
Eggs
Vanilla extract – Use pure vanilla extract, not imitation. The vanilla flavor is an important component of this recipe! Learn more: Types of Vanilla
Chopped pecans
How to Toast Pecans
You don't have to toast the pecans for these pecan pie bars, but it does amp up the nutty flavor a bit. Many people prefer toasting nuts on a baking sheet in the oven, but I think the stovetop method is better because it's faster and you can keep a closer eye on the nuts to keep them from burning. Place a skillet over medium heat, add the nuts, and stir constantly for about 3 minutes, or until they're fragrant and just a touch darker. As soon as they're toasted, transfer them to a heat-proof bowl to cool.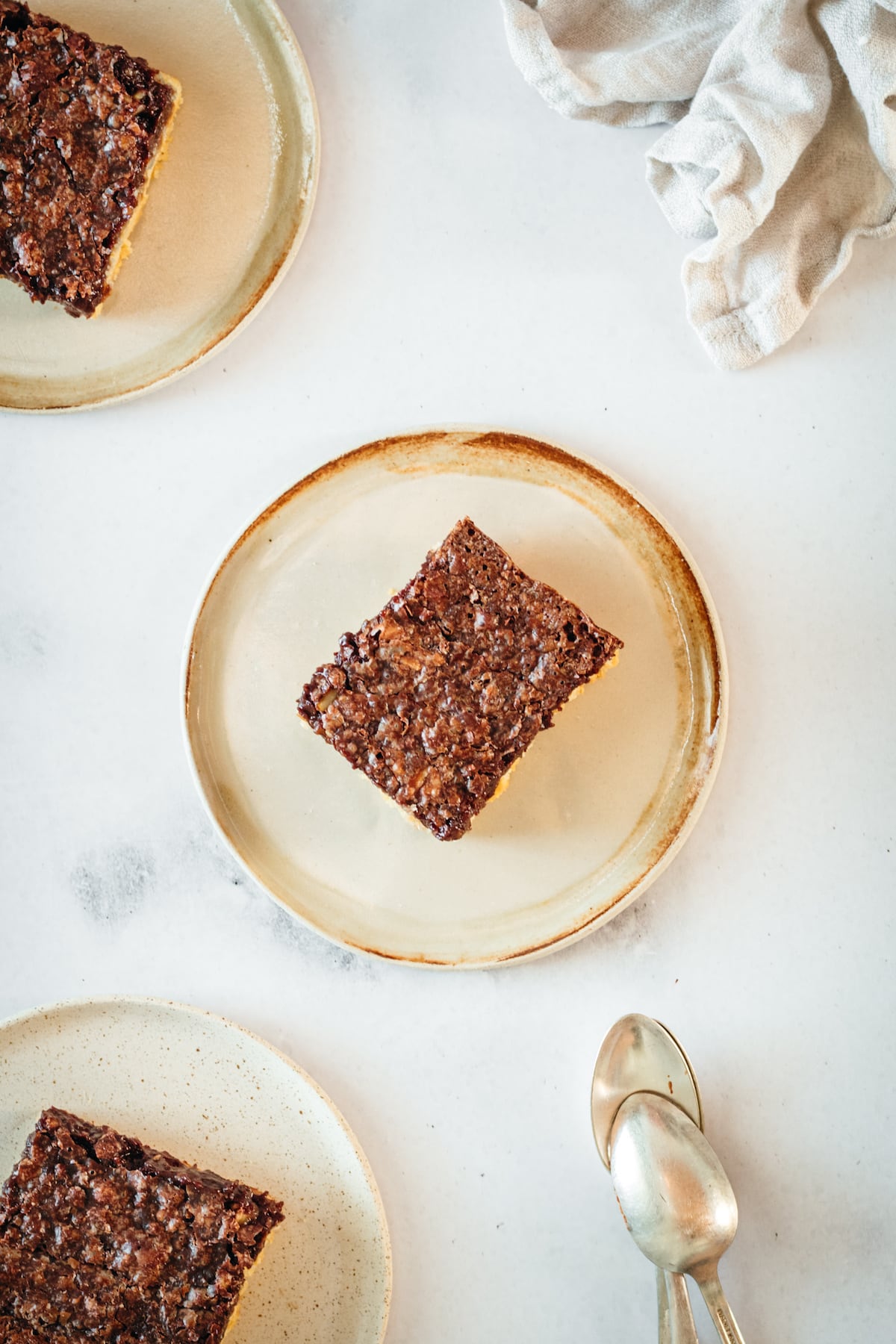 How to Make Chocolate Pecan Pie Bars
I've already mentioned that these are easy, but I just have to emphasize this fact! If you're a novice baker and you're looking for a simple recipe that will impress, this one is perfect. Here's what you'll need to do:
Prepare. Preheat your oven to 350°F and grease a 15″x10″x1″ baking pan with butter or nonstick spray. Alternatively, you can line the pan with parchment paper, which will allow you to pull the bars out of the pan after they cool for easy cutting.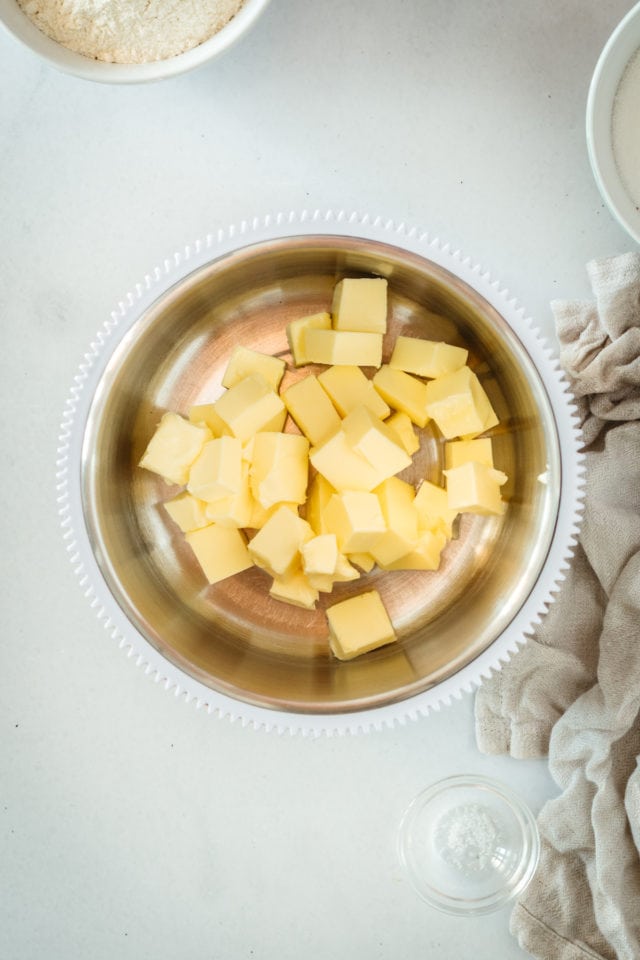 Make the shortbread mixture. Place the butter in a mixing bowl and use an electric mixer on medium speed to beat it until it's light and creamy. Add the flour, sugar, and salt and beat until combined.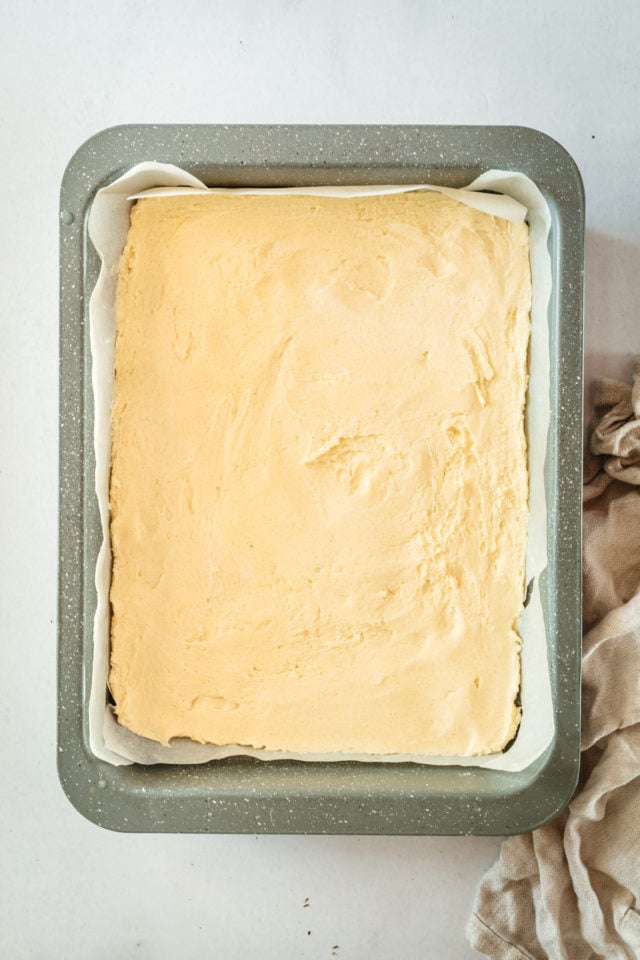 Prepare the crust. Transfer the crust mixture to the prepared pan and use your fingers to press it into the bottom. Bake for 15 to 20 minutes, or until lightly browned.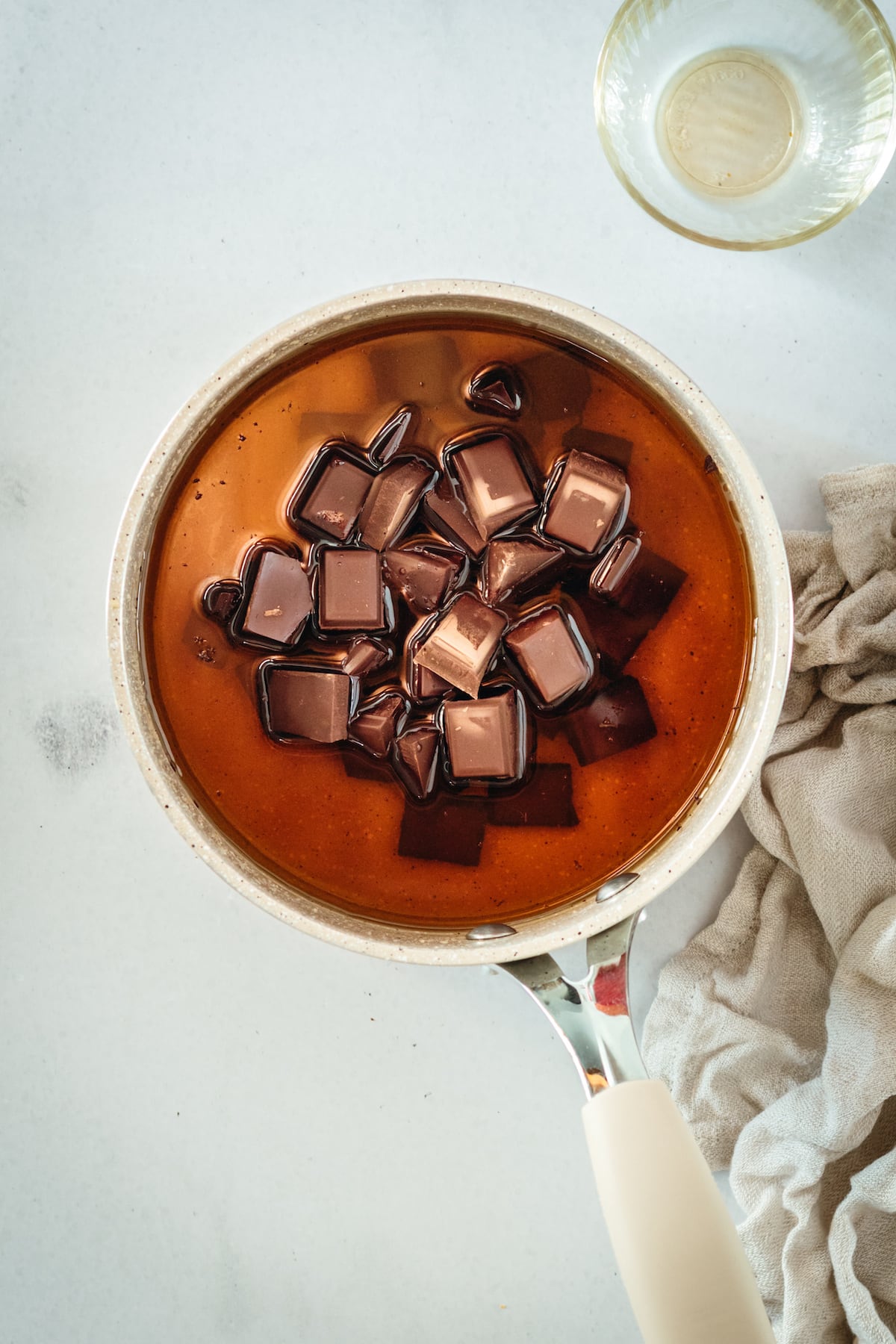 Heat the chocolate and corn syrup. Place the corn syrup and chocolate in a microwave-safe bowl and heat them for 90 seconds. Stir and heat for a minute more, then stir again until all of the chocolate has melted and the mixture is smooth. (You can do this in a saucepan instead of the microwave if you prefer.)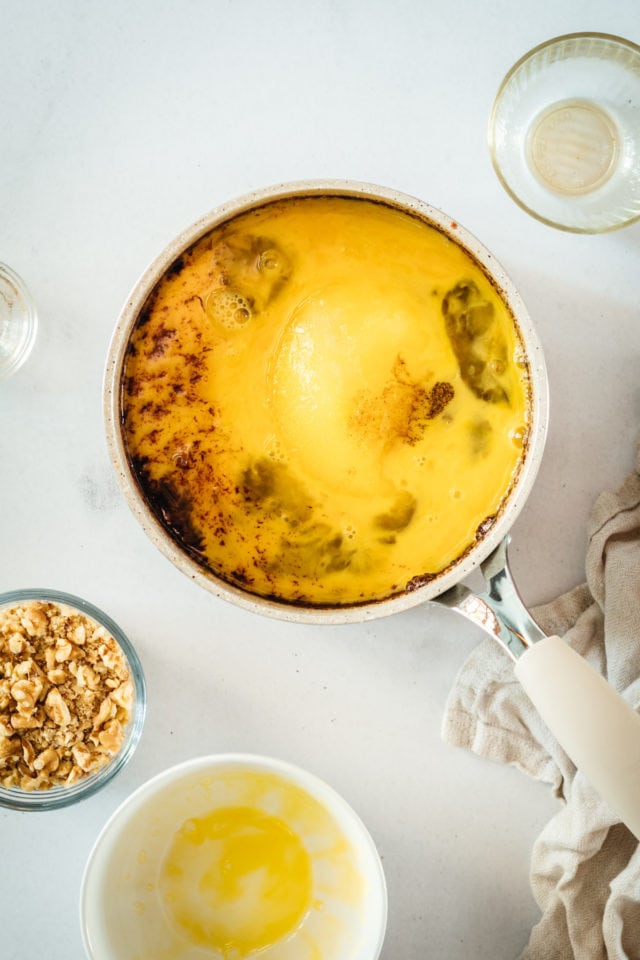 Finish the filling. Add the sugar, eggs, and vanilla to the chocolate mixture and stir until all of the ingredients are incorporated. Fold in the pecans, then pour the filling mixture over the shortbread and use a rubber spatula to spread it into an even layer.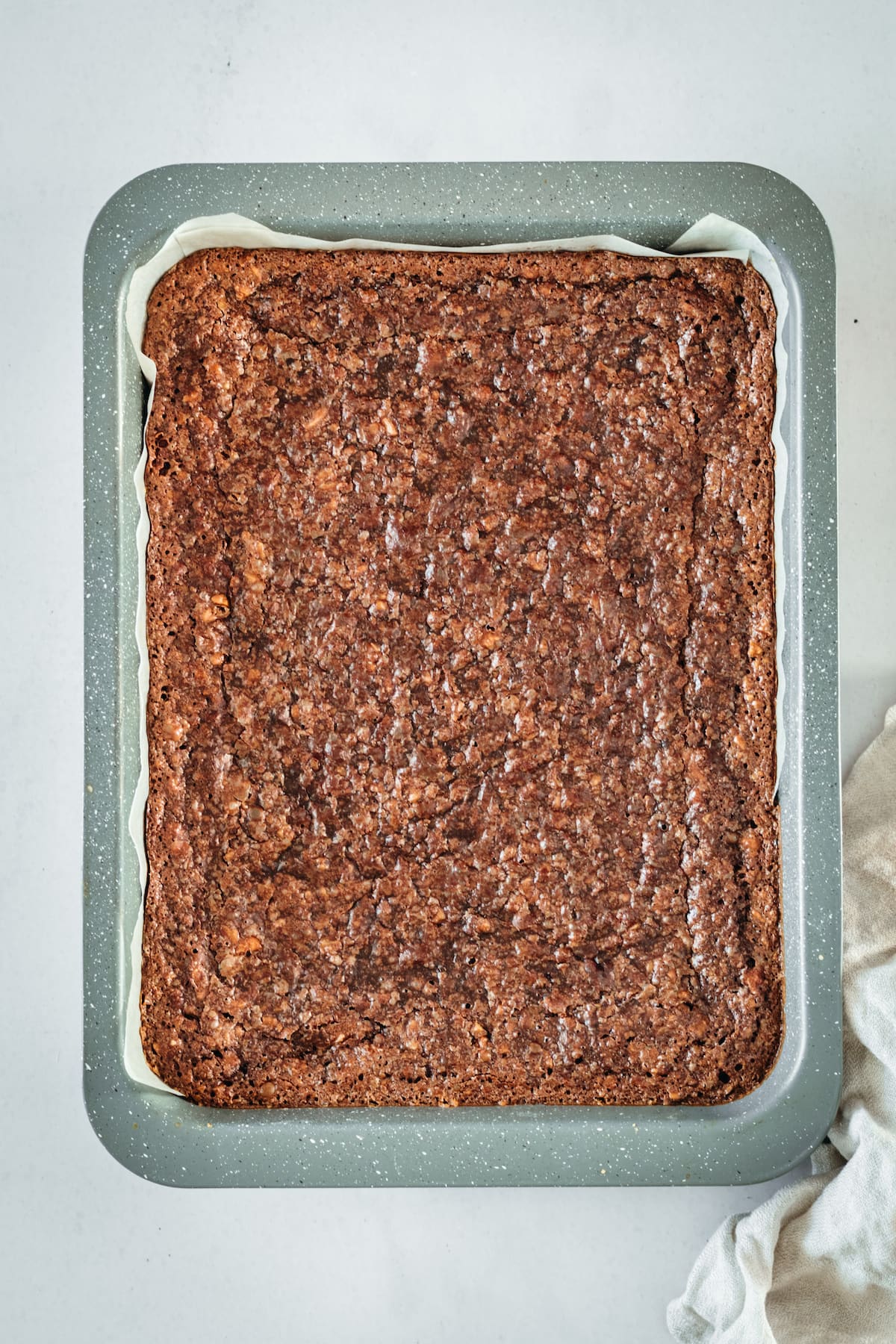 Bake the bars. Place the pan in the oven and bake the bars for 30 to 35 minutes, or until the center is almost set, but still a little bit jiggly. Cool on a wire rack, then cut into individual bars.
Tips for Success
Here are some tips for making perfect pecan pie bars:
Forming the crust. When you're forming the shortbread crust in the baking pan, the harder you press, the better your crust will hold together when you cut the bars.
Shake the pan. This is the trick to knowing when your bars are set! Take the pan out of the oven and gently shake it back-and-forth (not up-and-down). If there's a little bit of wiggle and jiggle in the middle, your bars are done. If the center of the pan moves like molten lava, you need to bake the bars a little bit longer.
Cutting perfect squares. It's easier to cut perfect squares if you line the pan with parchment paper so you can lift the bars out. Then, you can use a large, sharp chef's knife or a pizza rocker to cut straight across.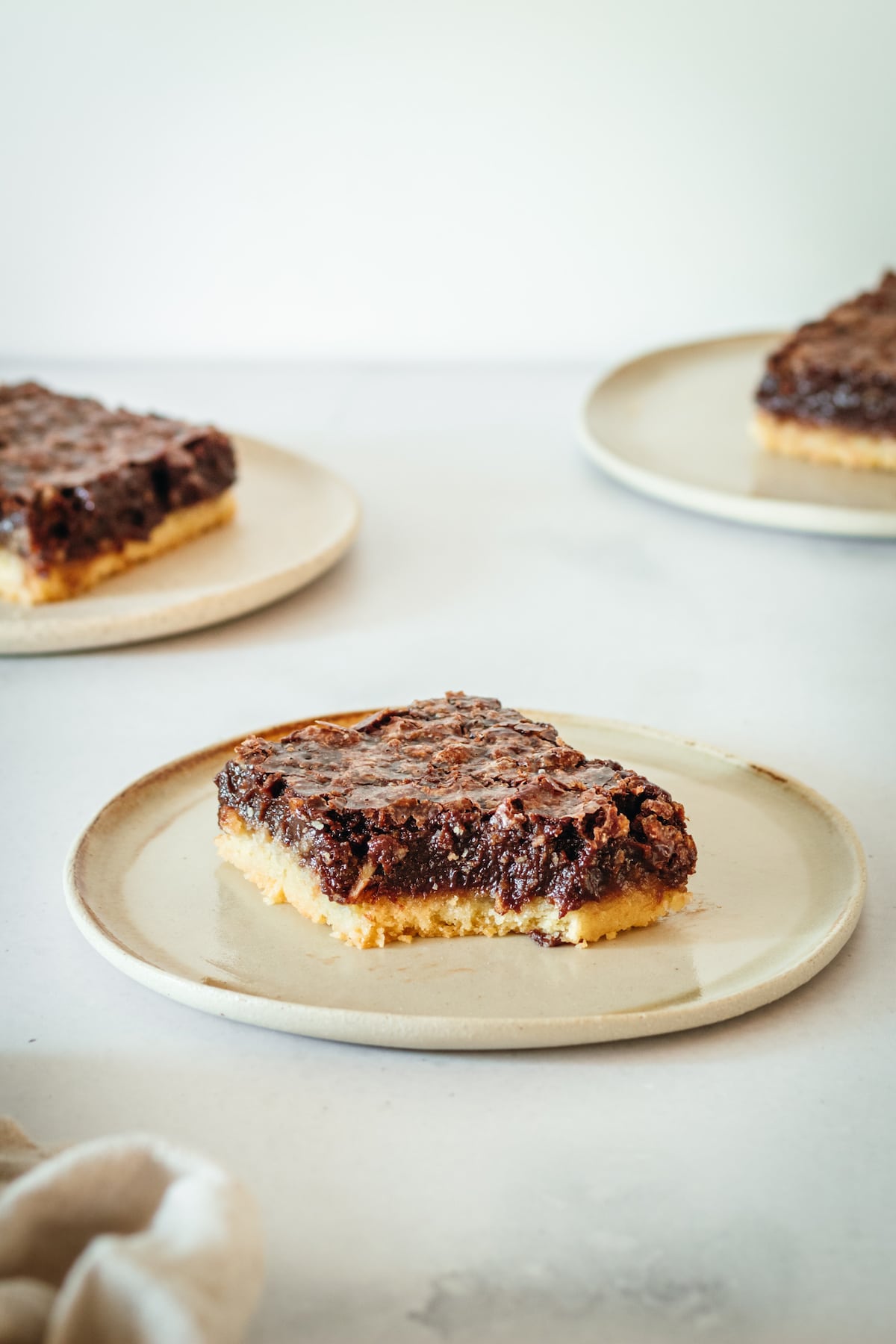 How to Store Pecan Pie Bars
Pecan pie bars can be stored at room temperature or in the refrigerator for up to a week. Store them in an airtight container or zip-top bag.
Can I Freeze These?
Yes, these bars freeze well! Place the bars in an airtight container or freezer bag and store them for up to 2 months. Let them thaw on the countertop or in the refrigerator, then serve.