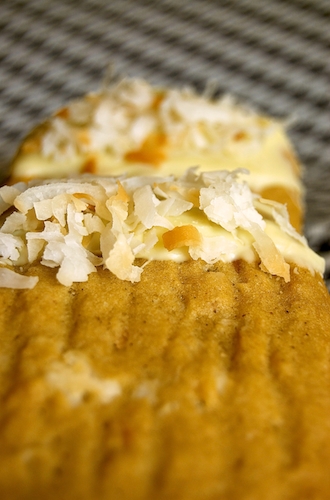 As I have mentioned before, Quinn has quite the aversion to all things coconut. I, on the other hand, have a long-standing affinity for it. Having made something I knew he would like, I decided I could make something with coconut and not feel guilty about it.
I found this recipe in the pages of one of my newest cookbooks, Big Fat Cookies. Sugar, cinnamon, and coconut topped off with white chocolate. I knew this was the one. The cookies are shaped much like an old-fashioned washboard; hence, the name.
These are excellent cookies. Crunchy on the outside, chewy on the inside. The white chocolate/extra coconut part is definitely the best. They make me think a bit of fall. Maybe I'm just wishing for cooler weather after a miserably hot summer. In any case, they are very good. Plus, the look of them is a bit different than your average cookie. I definitely give them points for being interesting.