September 6, 2006
Toasted Coconut Washboards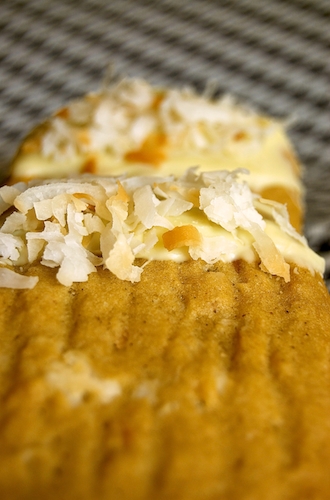 As I have mentioned before, Quinn has quite the aversion to all things coconut. I, on the other hand, have a long-standing affinity for it. Having made something I knew he would like, I decided I could make something with coconut and not feel guilty about it.
I found this recipe in the pages of one of my newest cookbooks, Big Fat Cookies. Sugar, cinnamon, and coconut topped off with white chocolate. I knew this was the one. The cookies are shaped much like an old-fashioned washboard; hence, the name.
First, spread out 2 cups of sweetened, shredded coconut on a baking sheet. Toast in a 300 degree oven for about 10 minutes. Stir once during toasting, and keep an eye on it so it doesn't get over-toasted. Set aside for later, with 1/2 cup set even further aside for the garnishing phase.
Sift together 2 cups AP flour, 3/4 teaspoon of baking powder, 1/8 teaspoon of salt, and 1/2 teaspoon of cinnamon. In a separate bowl, beat together 3/4 cup of softened unsalted butter and 1 cup of light brown sugar. When this is nice and creamy, add 1 egg, 1 teaspoon of vanilla extract, and 1/2 teaspoon of almond extract. Add the flour mixture to the butter mixture and mix until just combined. Stir in 1 & 1/2 cups of the previously toasted coconut.
Now, this is where I actually had to laugh at the directions. The dough is to be divided into two portions, with each rolled between parchment paper to a specific size, then cut into rectangles, blah, blah, blah. You know, that just wasn't going to happen. So, I took a wad of dough and shaped it into a rectangle. Now, isn't that much easier?
Regardless of how the rectangles are formed, they are then placed on a greased/sprayed baking sheet. Using a fork, draw lines down the cookies for the washboard look. Bake at 350 degrees for 12 to 15 minutes, or until the edges begin to brown.
While the cookies are cooling, melt 2 ounces of white chocolate. When this and the cookies are cooled, cover one end of the cookie with melted white chocolate. The recipe suggests a pastry brush, but I used a very small rubber spatula. Sprinkle the remaining coconut on top of the white chocolate. After about an hour at room temperature, the chocolate should be firm and the cookies ready to eat. You can also stick the cookies in the refrigerator for about 15 minutes to expedite the firming up of the white chocolate.
These are excellent cookies. Crunchy on the outside, chewy on the inside. The white chocolate/extra coconut part is definitely the best. They make me think a bit of fall. Maybe I'm just wishing for cooler weather after a miserably hot summer. In any case, they are very good. Plus, the look of them is a bit different than your average cookie. I definitely give them points for being interesting.