Mini Lemon Cheesecakes are the perfect dessert for any occasion! These little cheesecakes are easy to make and always a hit with guests. Plus, there's no need for a fork or plate – just grab one and go!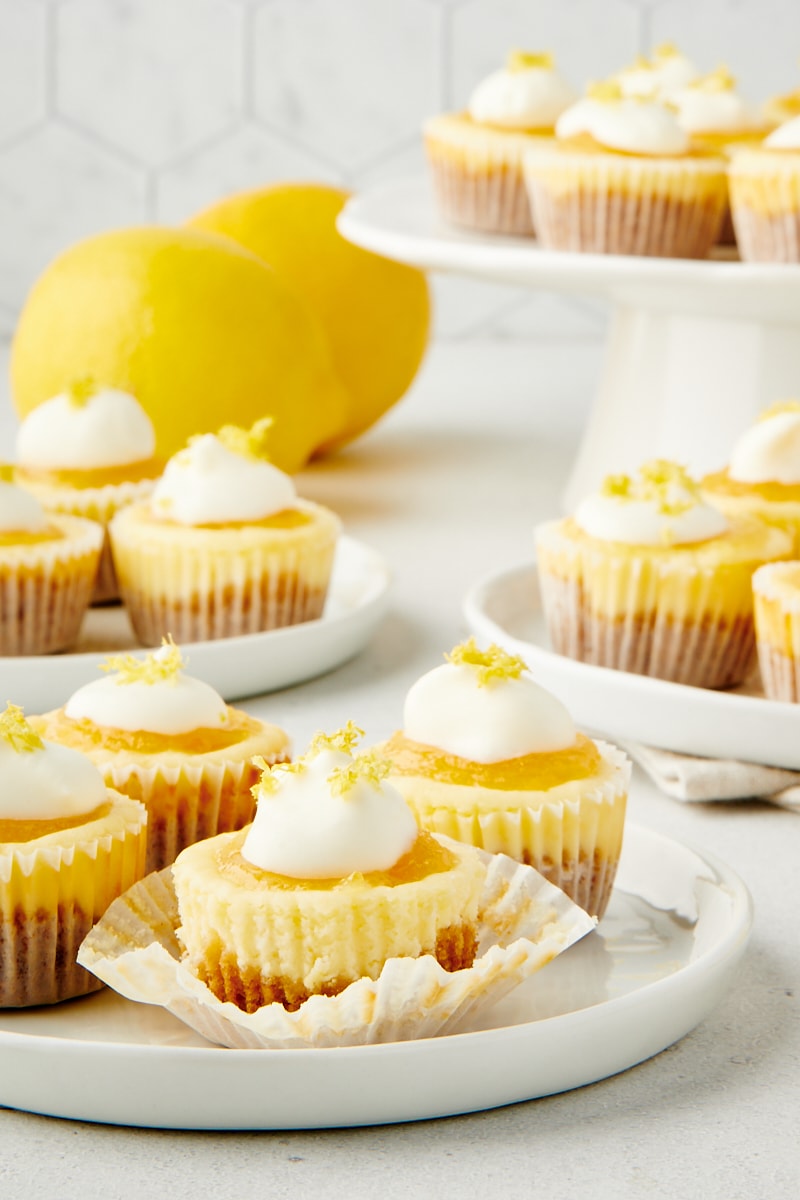 Mini Lemon Cheesecakes
There's something about mini desserts that just makes them irresistible. Maybe it's the fact that they're cute and miniature, or that you can eat more than one without feeling too guilty. Whatever the reason, these Mini Lemon Cheesecakes are sure to be a hit with your friends and family.
These lemon cheesecake bites combine my love of lemon with my obsession with mini desserts. Add rich, creamy cheesecake to that mix, and I am so there!
It all starts with a simple graham cracker crust, followed by an easy lemon cheesecake filling. The tartness of the lemon serves to balance the sweetness of the cheesecake. And the smooth, creamy texture is fantastic!
From there, you can serve them as they are or add some toppings. I like to add lemon curd and whipped cream, but the possibilities are endless!
Mini Lemon Cheesecakes are a great choice for entertaining, as they're made in advance and don't require any slicing and serving. Just set them on a pretty plate or cake stand, and everyone can grab their own!
If you share my love of tiny treats, then you just can't get enough of little two-bite cheesecakes. For more mini cheesecake recipes, try these Brownie Bottom Mini Cheesecakes and Mini Cinnamon Crumb Cheesecakes!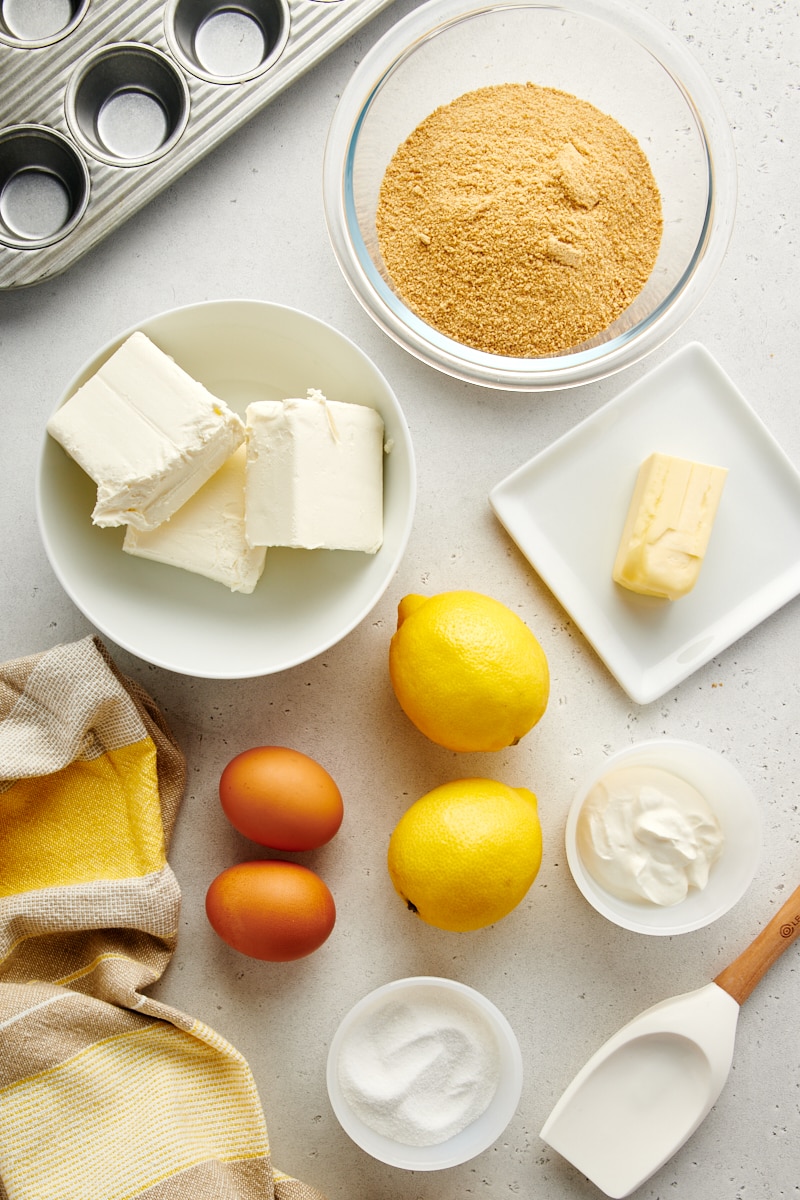 What You'll Need
For the crust:
Graham cracker crumbs – If you prefer, you can use a different type of cookie for the crust. Vanilla wafers and gingersnaps are a great choice. Or how about a crisp lemon cookie for even more lemon flavor?
Unsalted butter
For the filling:
Cream cheese – Bring the cream cheese to room temperature so it will mix smoothly. I recommend full-fat cream cheese that comes in a block, not the whipped kind.
Granulated sugar
Eggs – You'll need a whole egg and an egg yolk. Bring these to room temperature, too.
Lemons – You'll need both lemon juice and lemon zest for these cheesecakes. Count on needing one or two medium lemons, especially if you're using lemon zest for garnish, too. Learn more: How to Zest and Juice Lemons
Sour cream – Let this come to room temperature before mixing. For best results, use full-fat sour cream.
Topping Ideas
The cheesecakes pictured here are topped with a bit of lemon curd, whipped cream, and a pinch of lemon zest. But there are so many other tasty options for topping these mini cheesecakes!
Lemon curd – Spoon about a teaspoon of lemon curd on top of each cheesecake.
Whipped cream – Add this on top of lemon curd if using. Otherwise, dollop it on top and add any other toppings you like.
Fresh berries
Lemon zest
Candied lemon peel
Crystallized ginger
Lemon slices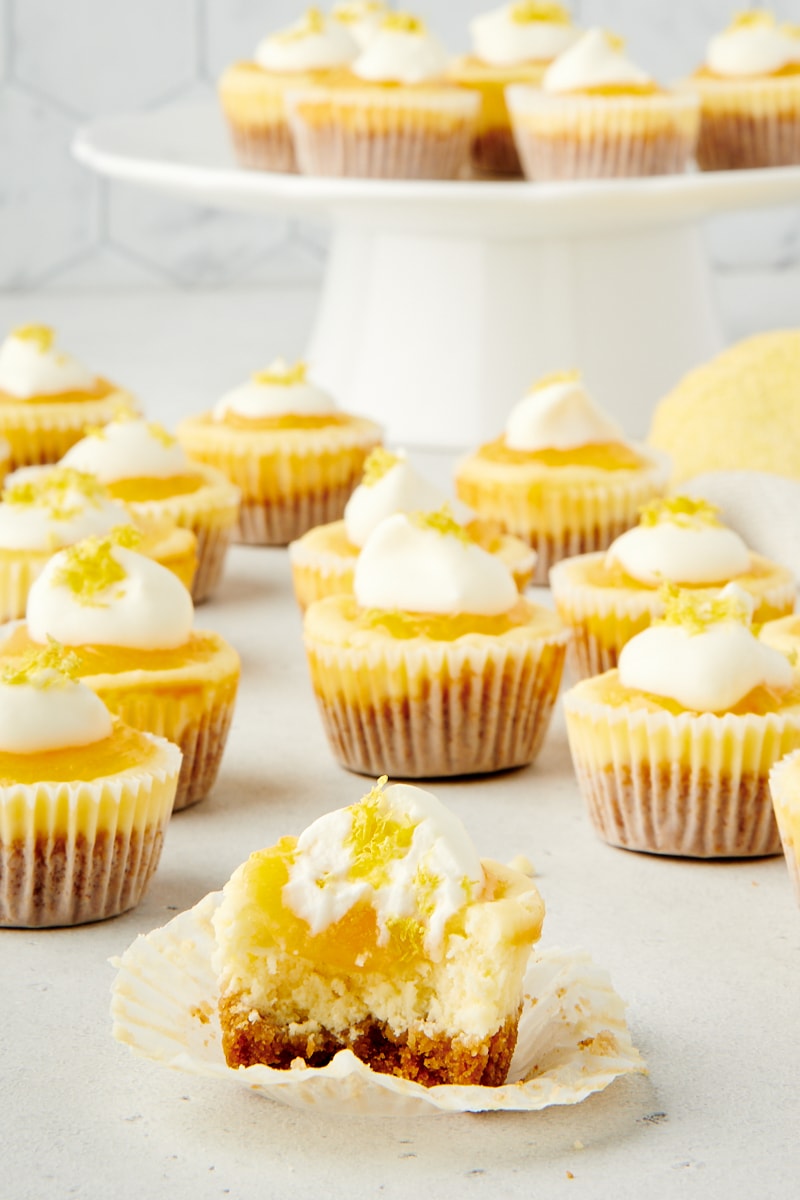 How to Choose Lemons
For these cheesecakes, you can use standard lemons you'll find at your grocery store. These are usually Eureka or Lisbon lemons. If you prefer and have access to Meyer lemons, those will work, too, and give you a milder, sweeter flavor.
Look for fragrant lemons with thin skins. Because you'll be using the zest of the lemons, look for unwaxed lemons. If you can't find unwaxed lemons or aren't sure if yours are waxed, you can scrub the lemons to try to remove as much of the wax as possible before zesting.
How to Make Mini Lemon Cheesecakes
No springform pan needed for these cheesecakes! A mini muffin tin will do the trick to make these tiny treats. And with a quick prep time, you'll have them baking in short order!
To make the crust:
Prepare for baking. Heat the oven to 350°F. Line or grease 24 mini muffin pan cups.
Combine the ingredients. Mix the graham cracker crumbs and melted butter until thoroughly mixed.
Form the crusts. Divide the mixture evenly among the muffin cups, using about a tablespoon of crust mixture in each cup. Press the crust firmly into the bottom and partially up the sides of the cups. If you have a tart tamper, it works wonderfully well for this. A small glass like a shot glass will work, too.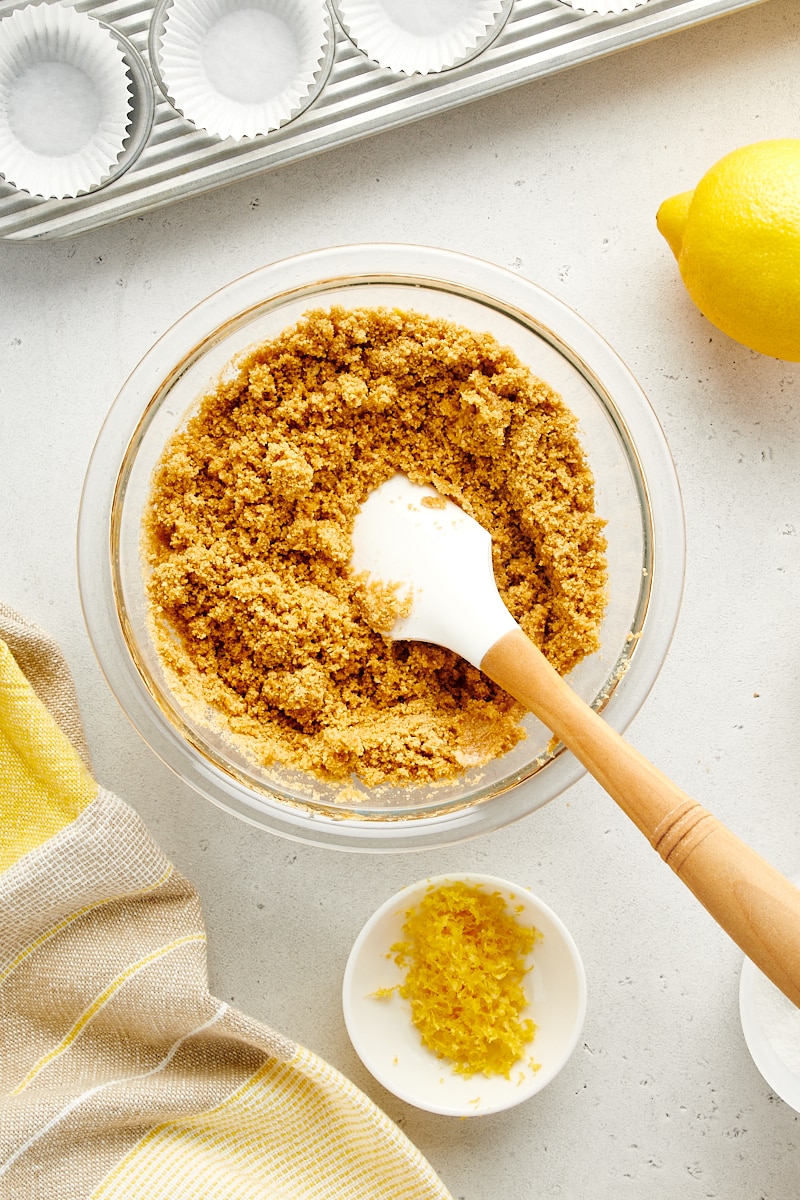 To make the filling:
Begin mixing. With an electric mixer on medium speed, beat the cream cheese and sugar in a medium bowl until thoroughly combined and smooth. Add the egg and egg yolk, and mix well.
Add the remaining ingredients. Mix the lemon juice and zest into the cream cheese mixture. Mix in the sour cream, mixing just until combined.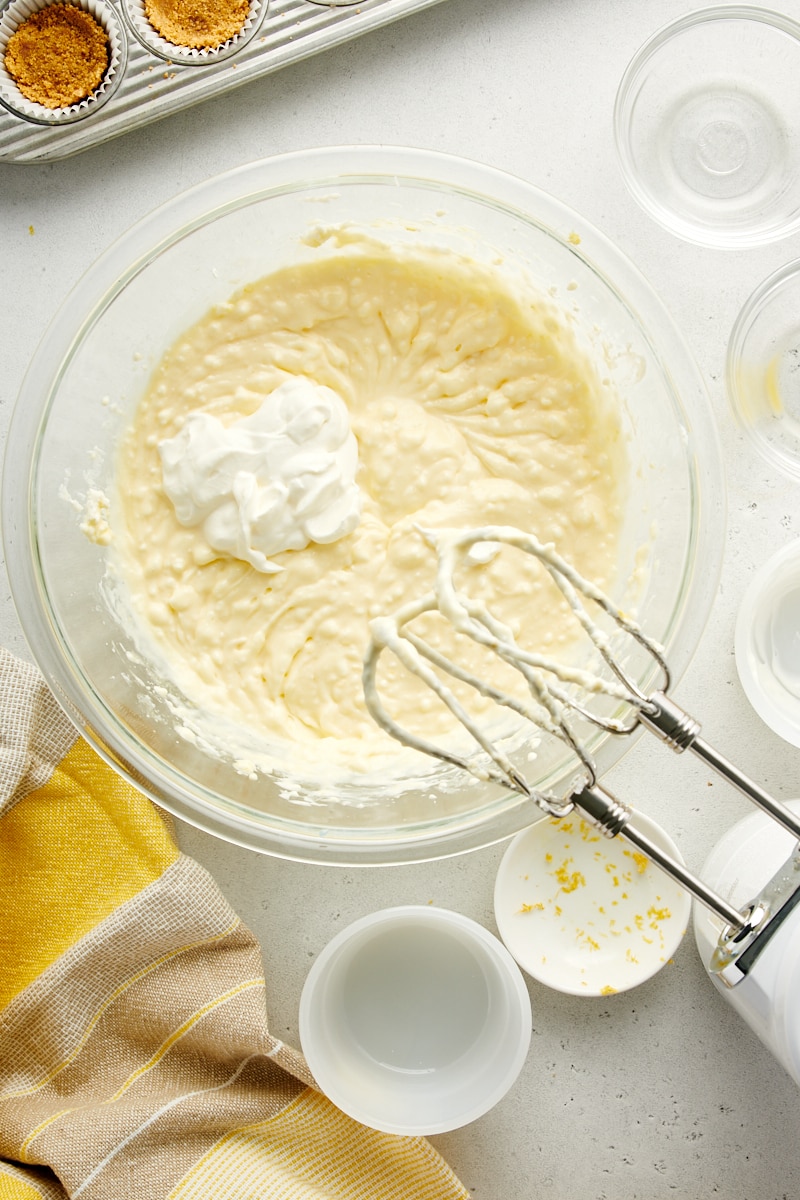 Portion and bake. Divide the cheesecake batter evenly among the muffin cups, filling them just to the top. Place the pan in the heated oven, and bake 18 to 22 minutes or until the cheesecakes are set with a slight jiggle in the center.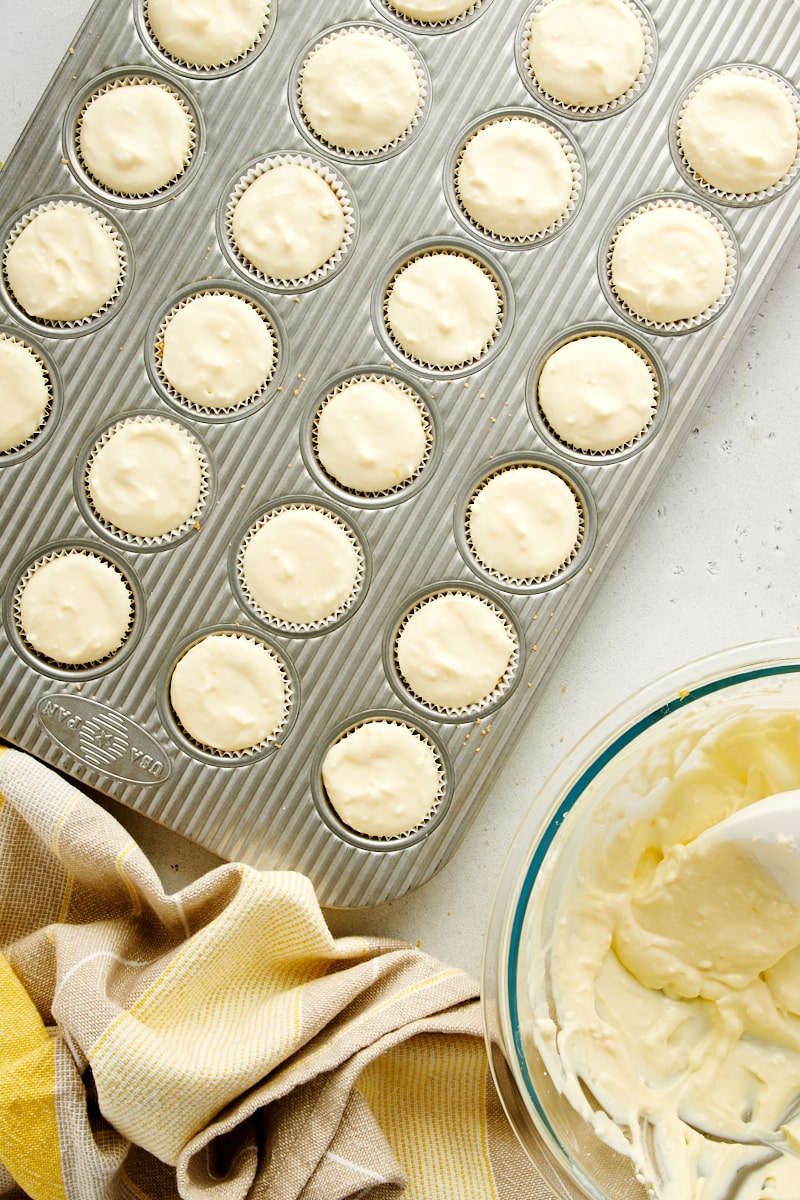 Cool and chill. Cool the cheesecakes to room temperature in the pan on a wire rack. Then remove them from the pan, place in an airtight container, and refrigerate at least 4 hours before serving.
Garnish. Add any toppings you like before serving.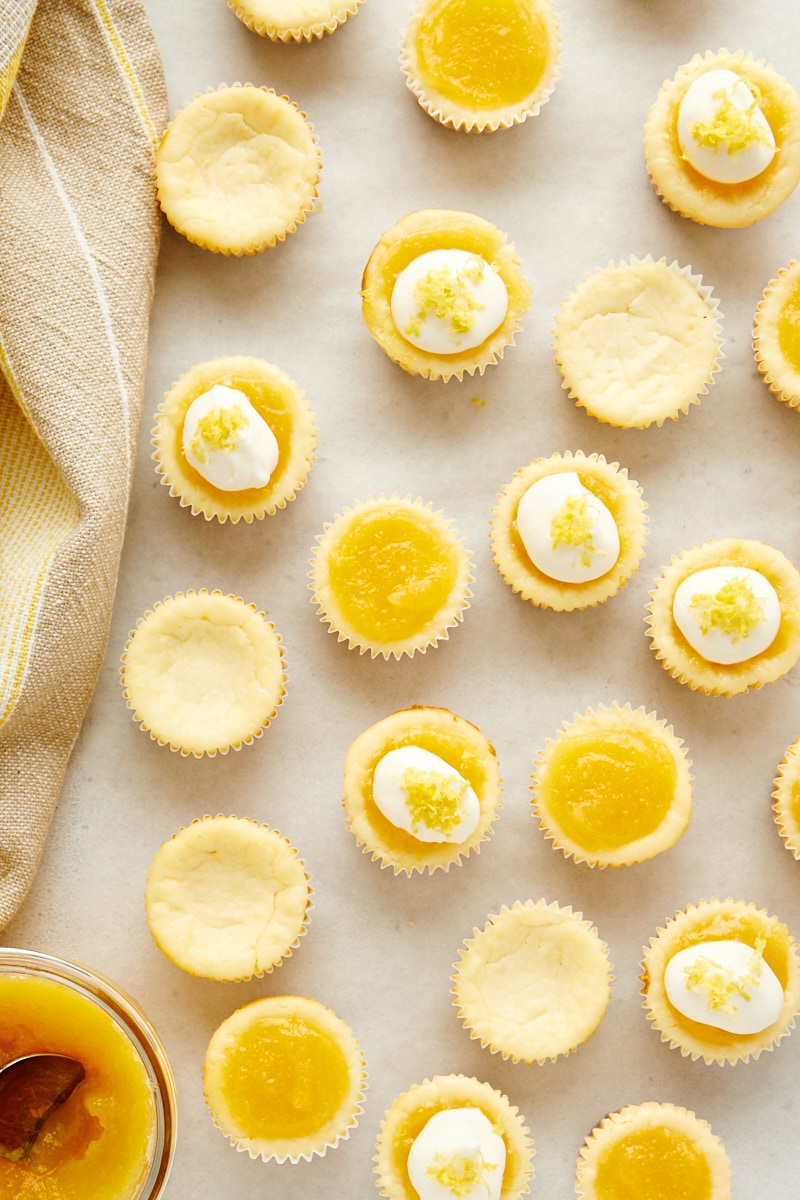 Tips for Success
You'll love how easy it is to make these Mini Lemon Cheesecakes! Here are a few tips for making sure yours turn out perfectly.
Don't over-mix. Too much mixing can lead to cracked cheesecakes. Mix well, but just until everything is combined.
Don't over-bake. Too much oven time can also lead to cracked cheesecakes. When the centers of the cheesecakes appear set with just a hint of jiggle, they're ready to come out of the oven. They'll become firmer as they cool. And if they do crack, that's why toppings exist!
To line or not to line. This is about preference, but also about utility. While liners leave line marks on the cheesecakes once unwrapped, they also make them easier to remove from the pan, to transport, and to serve. If you do use liners, I recommend parchment paper liners.
Use fresh lemons. Fresh lemon juice and zest will give you the best flavor.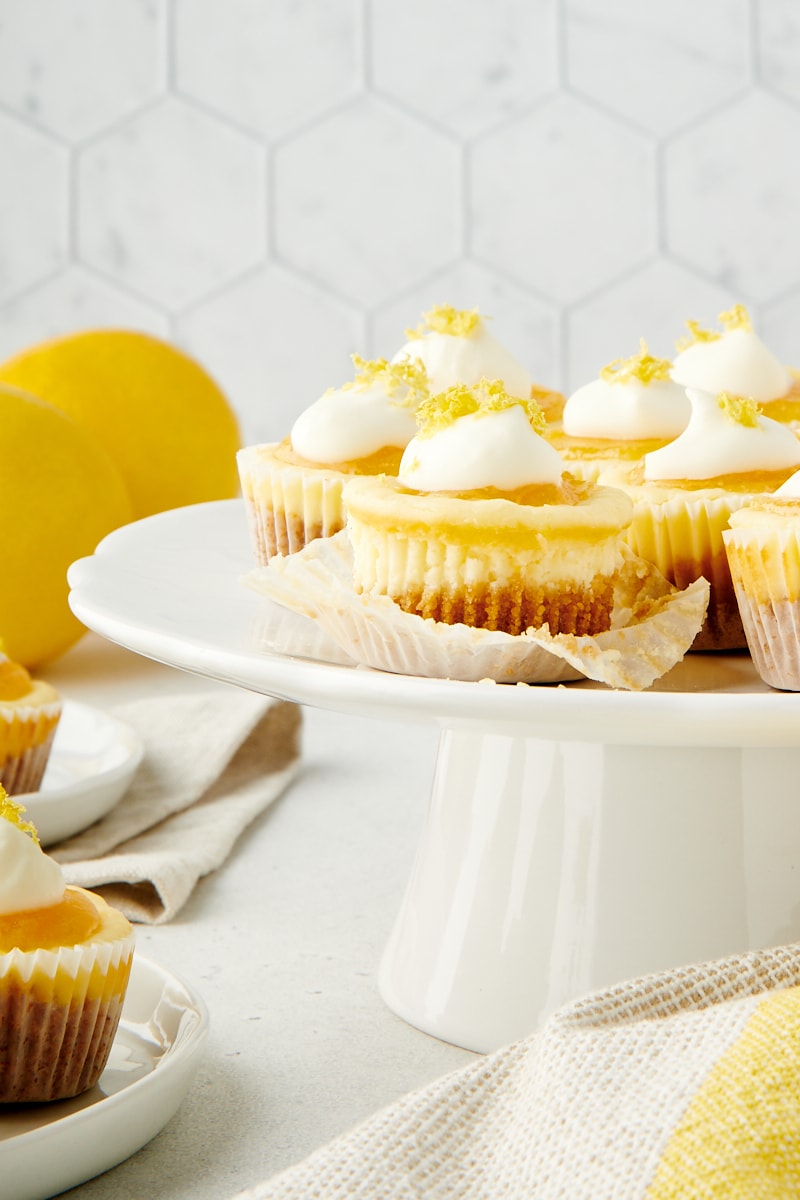 How to Store Mini Lemon Cheesecakes
Keep these mini cheesecakes refrigerated in an airtight container. They'll store best without any toppings. They should keep up to 3 or 4 days.
Can These Cheesecakes Be Frozen?
Yes! You'll need to store them without any toppings. After they've chilled initially in the refrigerator, wrap them well in plastic wrap and place in a freezer-safe container or bag. Properly stored, they should keep up to 3 months in the freezer. Thaw overnight in the refrigerator.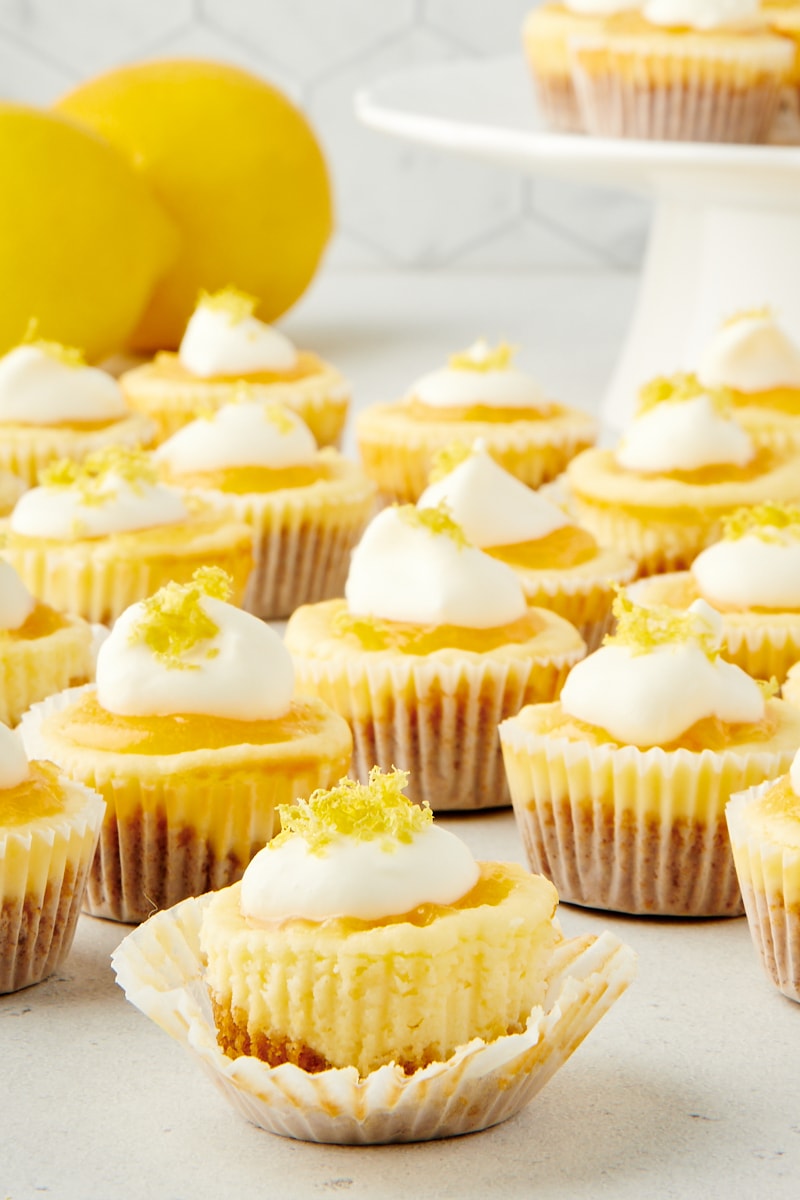 More Lemon Recipes
Can't get enough lemon desserts? Try one of these favorites!