December 19, 2016
Amaretto Cheesecake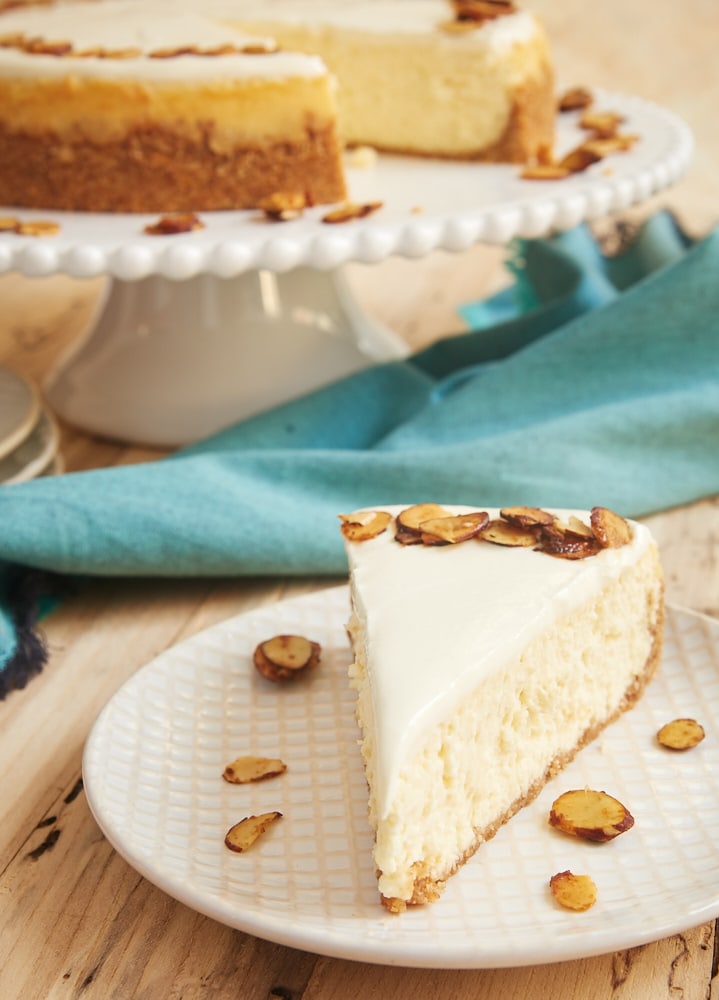 In all these years of baking and blogging, I've learned that it's best not to throw out too many superlatives about a recipe. Taste is subjective, so my "best ever" may not be someone else's. But I just can't help but say that this wonderful Amaretto Cheesecake is, at the very least, the best cheesecake I've had in a long, long time.
It's a fairly simple cheesecake, really. I used my basic cheesecake recipe but with the addition of Amaretto, which is an almond-flavored liqueur. That bit of flavor from the liqueur is fantastic! Then, there's the topping and a little garnishing of toasted almonds to make it extraordinary.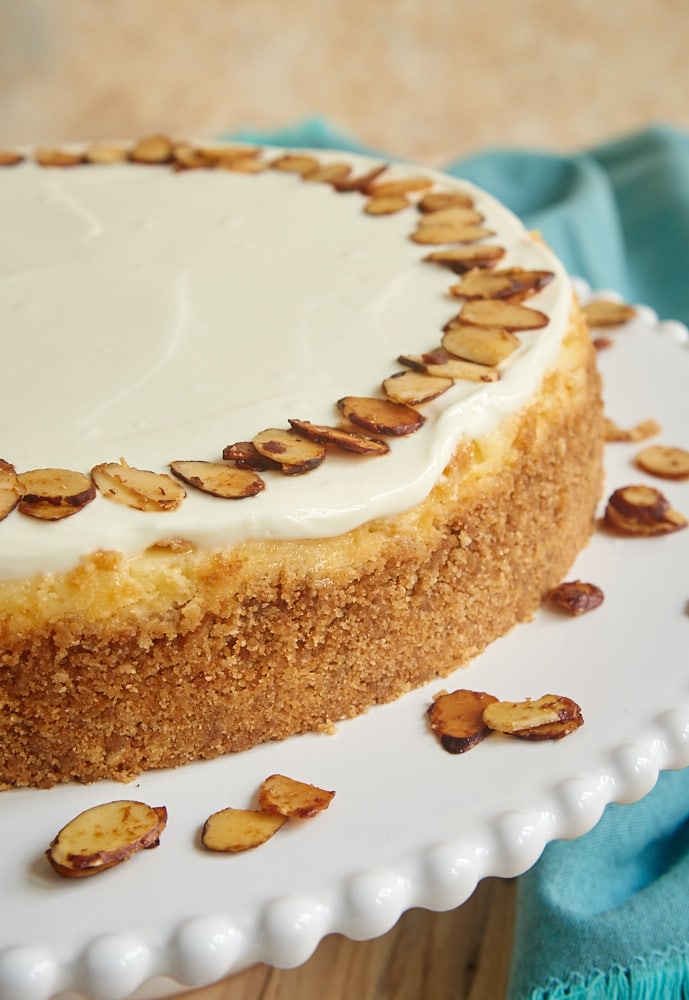 The topping is about as easy as it gets. It's just a combination of sour cream, confectioners' sugar, and almond extract. On its own, it may not seem all that impressive. But spread it on top of this cheesecake, and it's pretty magical. It's sweet and slightly tart flavor combines perfectly with all that creamy, delicious cheesecake.
Finishing this cheesecake with toasted almonds is the perfect garnish. If you want to go another step further, toast the almonds in a skillet with just a little (maybe a teaspoon) of butter and sprinkle a teaspoon or so of sugar on them while they toast. They'll be a little sticky as the cook and cool, so just be sure to stir them frequently.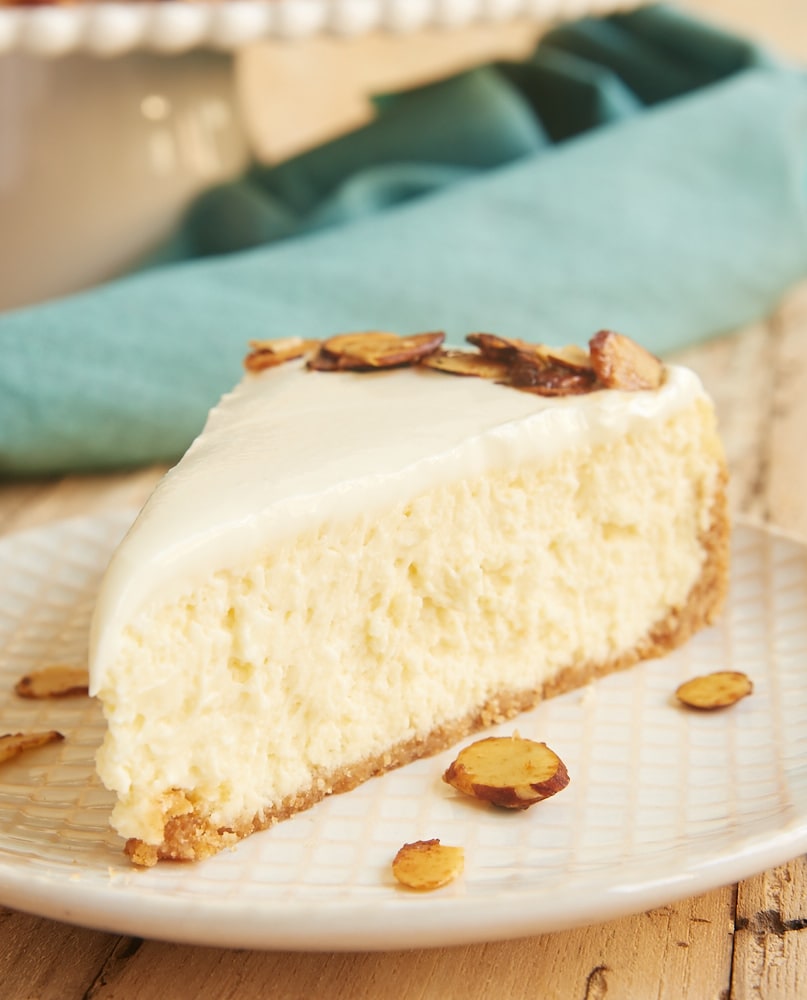 I love when simple recipes result in something impressive. This is such a beautiful dessert that's absolutely delicious, yet it mixes quickly and simply. If you're looking to impress your guests with a gorgeous, irresistible dessert that won't have you exhausted once it's in the oven, this one definitely fits the bill!
Find more cheesecake recipes in the Recipe Index.
This post contains affiliate links. If you make a purchase through one of the links, I'll receive a
small commission at no additional cost to you.
Amaretto Cheesecake
Yield: 16 servings
Prep Time: 25 minutes
Cook Time: 2 hours 25 minutes
Amaretto Cheesecake is such a beautiful, delicious, impressive dessert. If you love almond desserts, you must try this one!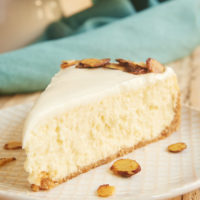 Ingredients:
For the crust:
7 ounces vanilla wafer crumbs (about 1 & 3/4 cups)
5 tablespoons unsalted butter, melted
For the filling:
24 ounces cream cheese, at room temperature
1 cup granulated sugar
3 large eggs
1/4 cup Amaretto or other almond-flavored liqueur
1 teaspoon vanilla extract
1/2 teaspoon almond extract
1/2 cup sour cream
For the topping:
1 cup sour cream
1/4 cup confectioners' sugar, sifted
1/2 teaspoon almond extract
about 1/4 cup sliced almonds, toasted*
Directions:
To make the crust:
Preheat oven to 350°F. Grease a 9-inch springform pan.
Combine the cookie crumbs and butter until thoroughly mixed. Press evenly in the bottom and partially up the sides of the prepared pan.
Bake 10 minutes. Set aside to cool.
To make the filling:
Using an electric mixer on medium speed, beat the cream cheese and sugar until throughly combined and smooth. Add the eggs, Amaretto, vanilla, and almond extract. Mix well. Mix in the sour cream.
Transfer the batter to the pan, and spread evenly.
Bake 15 minutes.
Reduce the oven temperature to 200°F. Bake for 2 hours.
Remove the cheesecake from the oven, and run a thin knife around the outside edge.
Turn off the oven. Return the cheesecake to the oven. Leave the cheesecake in the oven for 2 hours.
Cover the cheesecake loosely and refrigerate at least 8 hours.
To make the topping:
Stir together the sour cream, confectioners' sugar, and almond extract until thoroughly combined.
Spread the topping over the chilled cheesecake before serving. Garnish with toasted almonds.
Notes:
*I used just enough almonds to place around the outside edge of the cheesecake and then offered more on the side for those who wanted more. Use as many as you want. You can even go all-out and cover the entire top with almonds if you like. Just keep in mind that the almonds will soften over time as the cheesecake is stored.