This ultra-moist lemon bread is studded with pecans and finished with a tart, citrusy glaze. It's a treat for breakfast, dessert, or any time in between!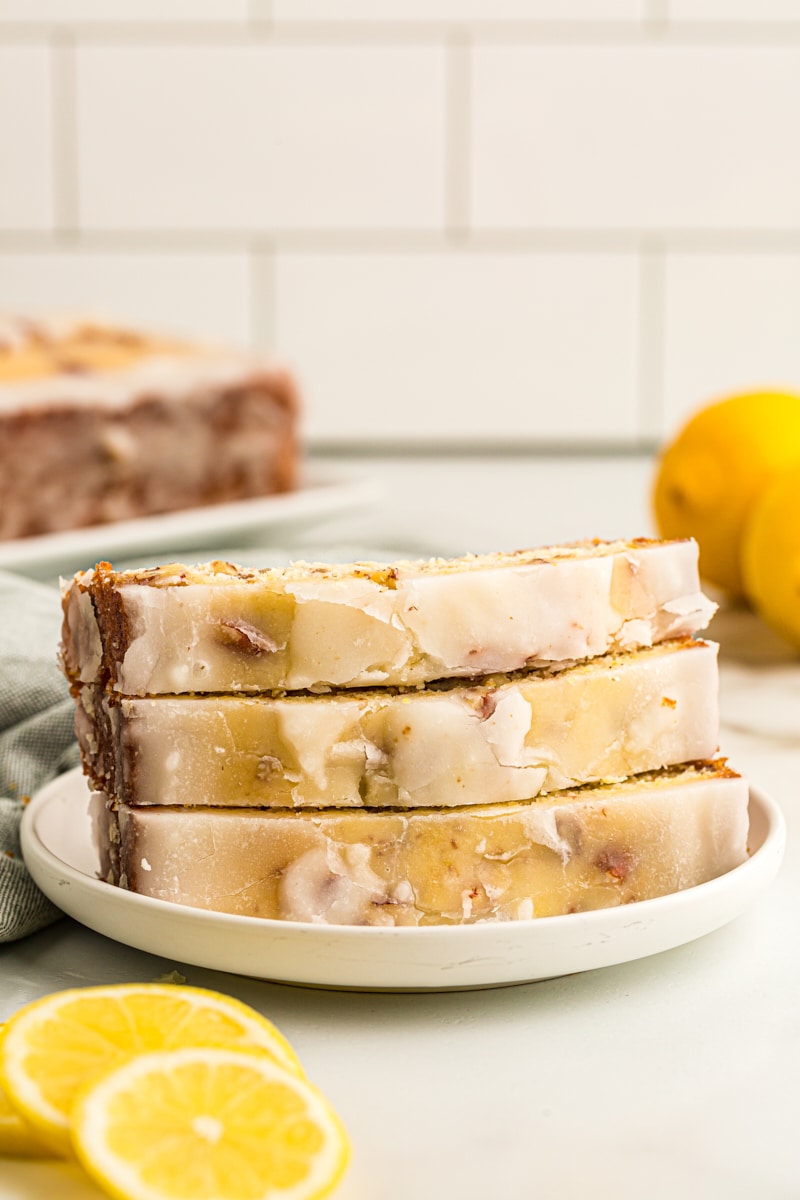 Glazed Lemon Bread With Pecans
This recipe for lemon bread is the first post I ever shared on BoB! I've updated things a bit with new photos and a better written recipe and description, but it's still just as delicious as the first time I made it so many years ago.
Lemon was an acquired taste for me, but now I can't get enough. If you're a fan of big lemon flavor, then this is the quick bread for you. In just a standard-sized loaf, there's enough tart lemon to make any lemon lover's mouth pucker!
The bread is plenty flavorful all on its own. But that glaze! It's such a simple combination of confectioners' sugar and fresh lemon juice. It soaks down into and around the bread, giving it even bigger flavor while keeping the loaf nice and soft.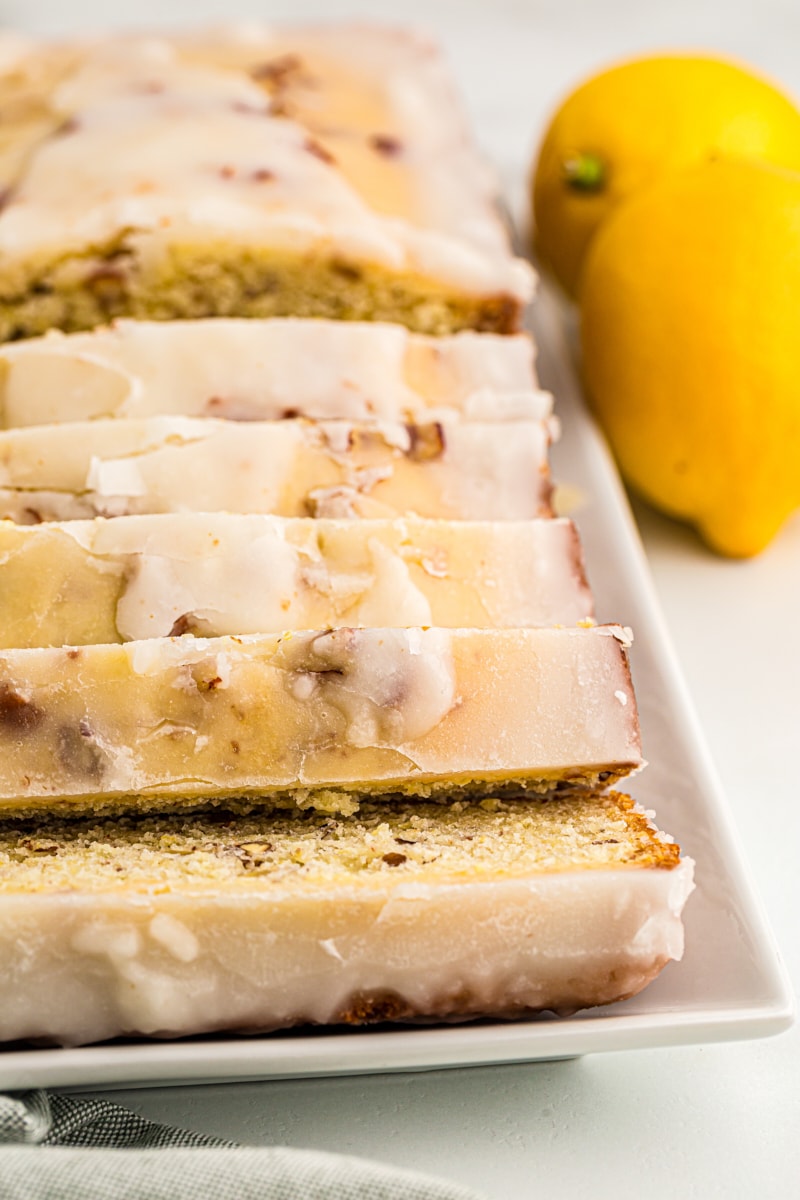 Why You'll Love This Lemon Bread
Here are some of the reasons this lemon bread recipe is a favorite:
Moist. It has a supremely moist, tender crumb that won't dry out overnight thanks to that tart, lemony glaze.
Big lemon flavor. Lemon zest, lemon juice, and lemon extract mean this lemon bread packs a serious punch.
Unique. This isn't your standard lemon bread! The addition of pecans might seem a little out of left field, but trust me: it works.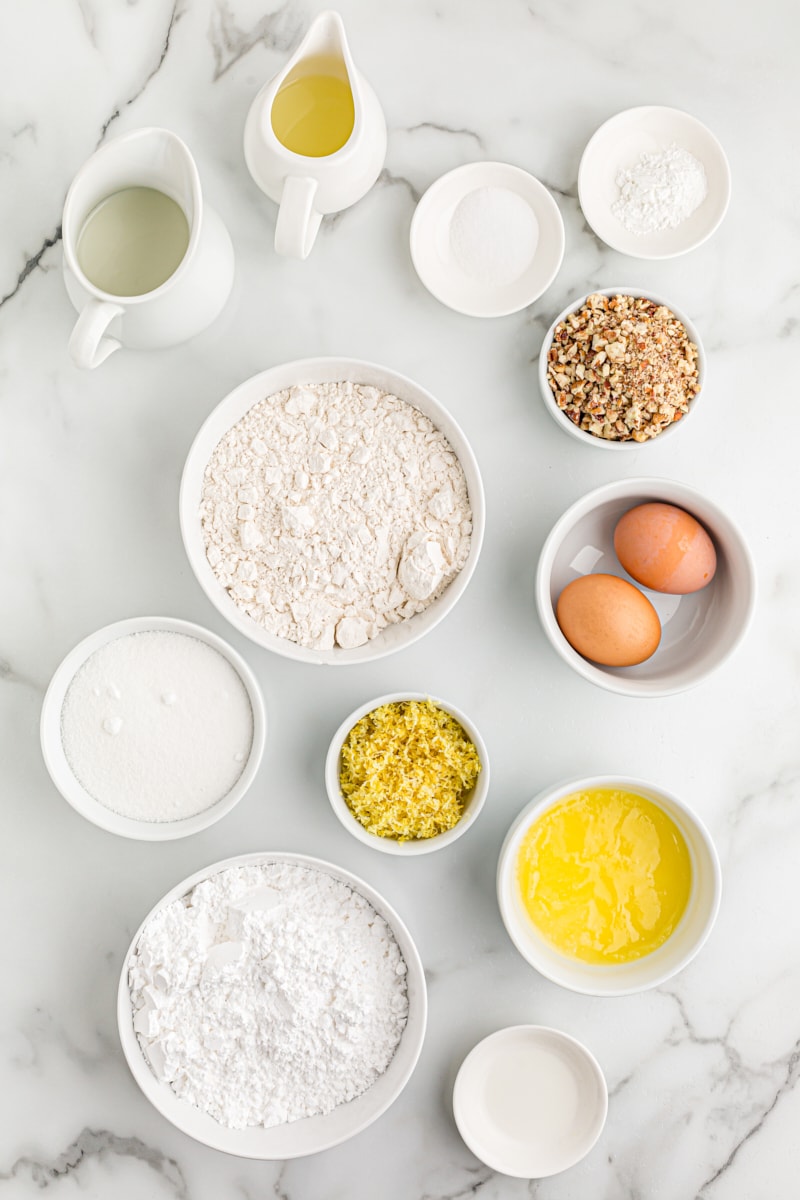 What You'll Need
Scroll down to the recipe card to find the ingredient quantities and recipe instructions.
For the Bread:
All-purpose flour – Here's how to measure flour for baking.
Baking powder
Salt
Lemons – Zest the lemons before juicing them.
Granulated sugar
Unsalted butter – Melt the butter, then let it cool slightly.
Lemon extract – Lemon extract allows us to add extra lemon flavor without watering down the batter with more juice.
Lemon juice – Learn more: How to Zest and Juice Lemons
Eggs – Let these come to room temperature.
Milk – I prefer to use whole milk when baking.
Pecans – Use more inexpensive pecan pieces instead of whole pecans since you'll be chopping them for the recipe.
For the Topping:
Confectioners' sugar – Also known as powdered sugar.
Lemon juice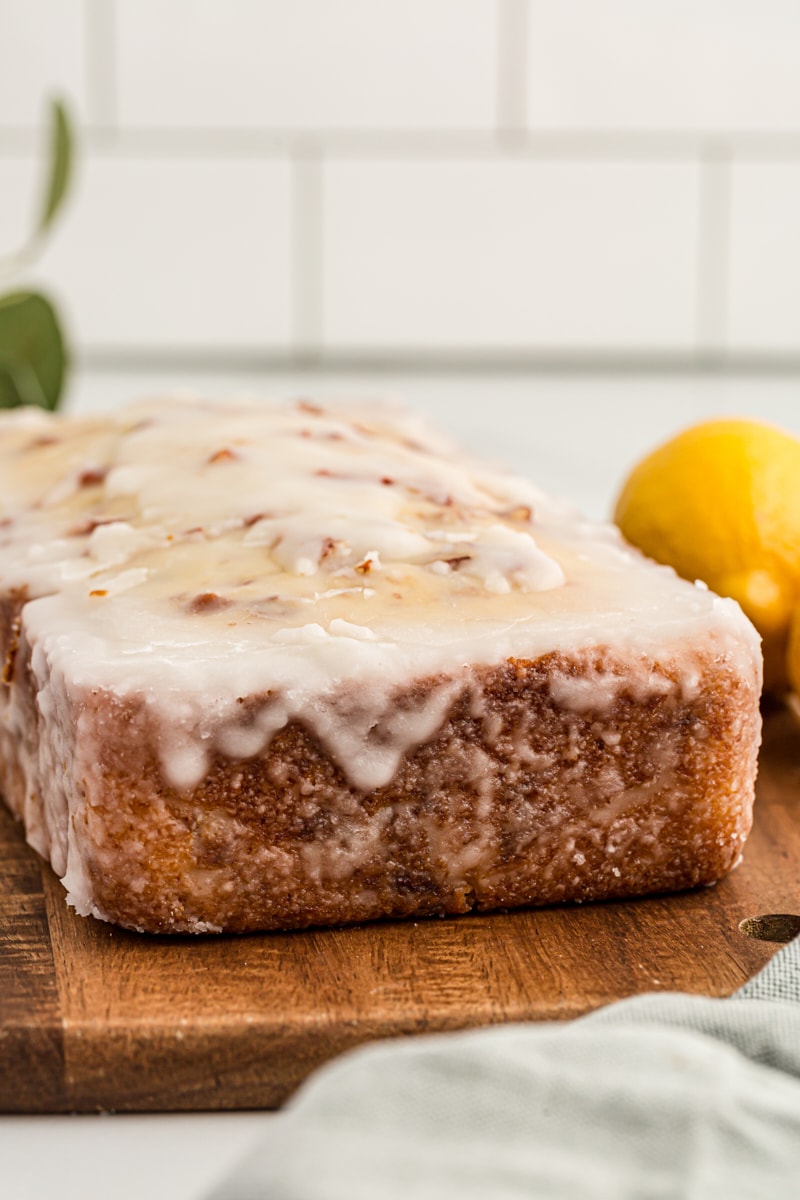 How to Make Lemon Bread
If you've ever mixed traditional muffins or quick breads, then you'll see a familiar method here!
Make the Bread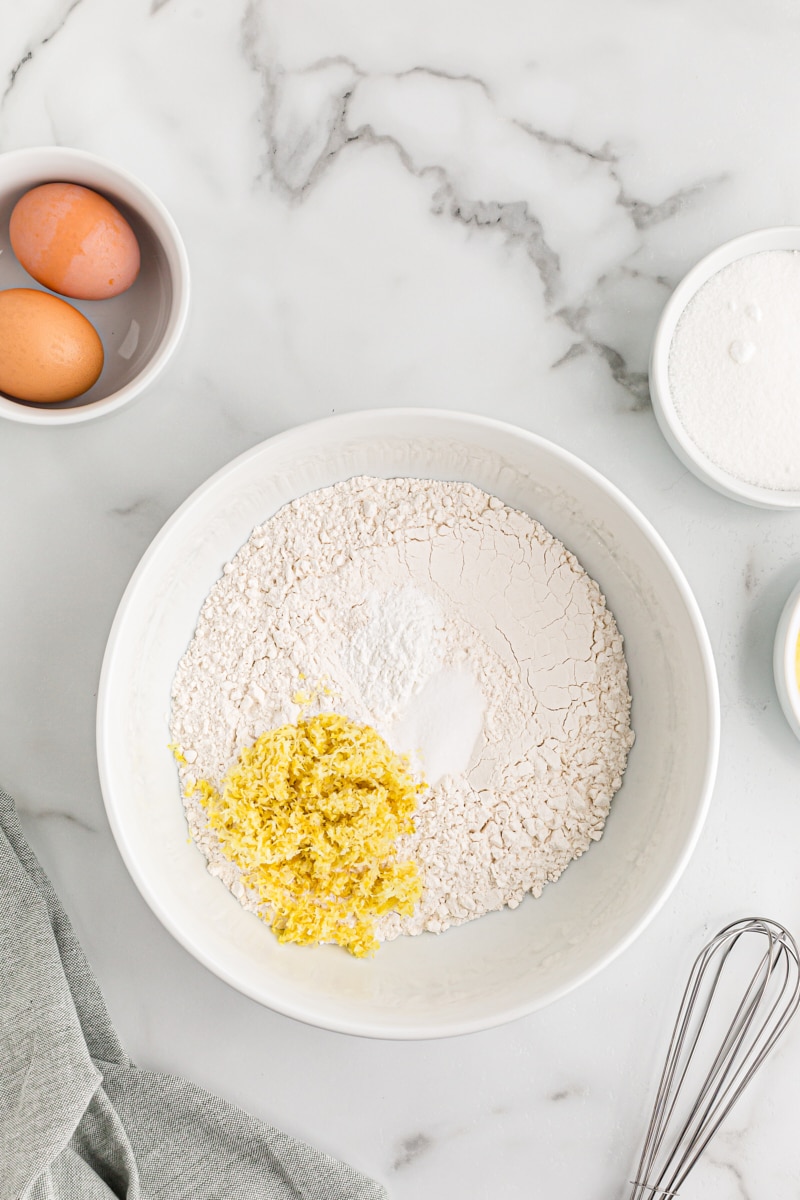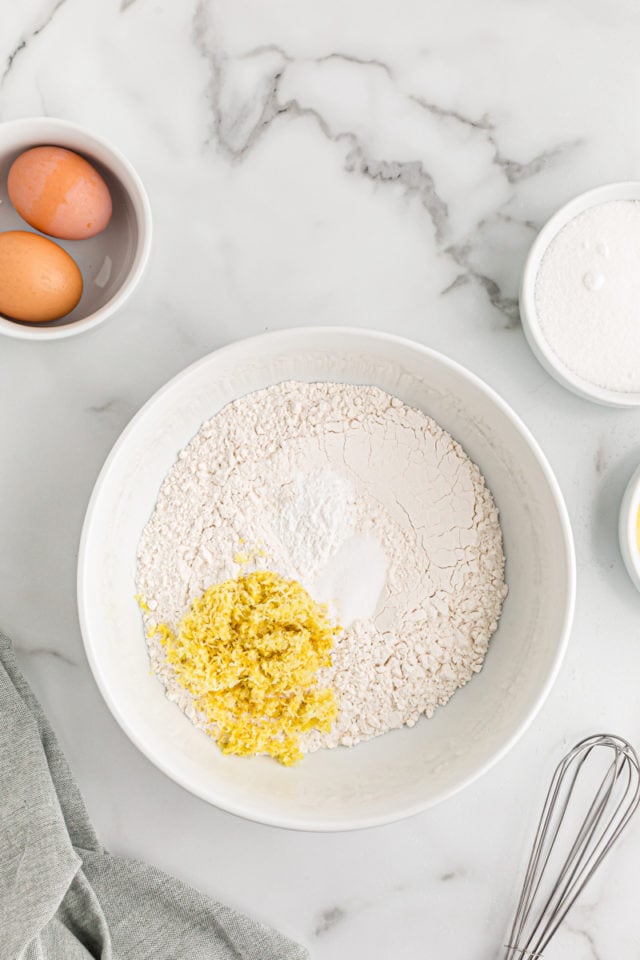 Prepare. Preheat your oven to 350°F and grease a 9″x 5″ loaf pan.
Mix the dry ingredients. Whisk the flour, baking powder, salt, and lemon zest in a large mixing bowl.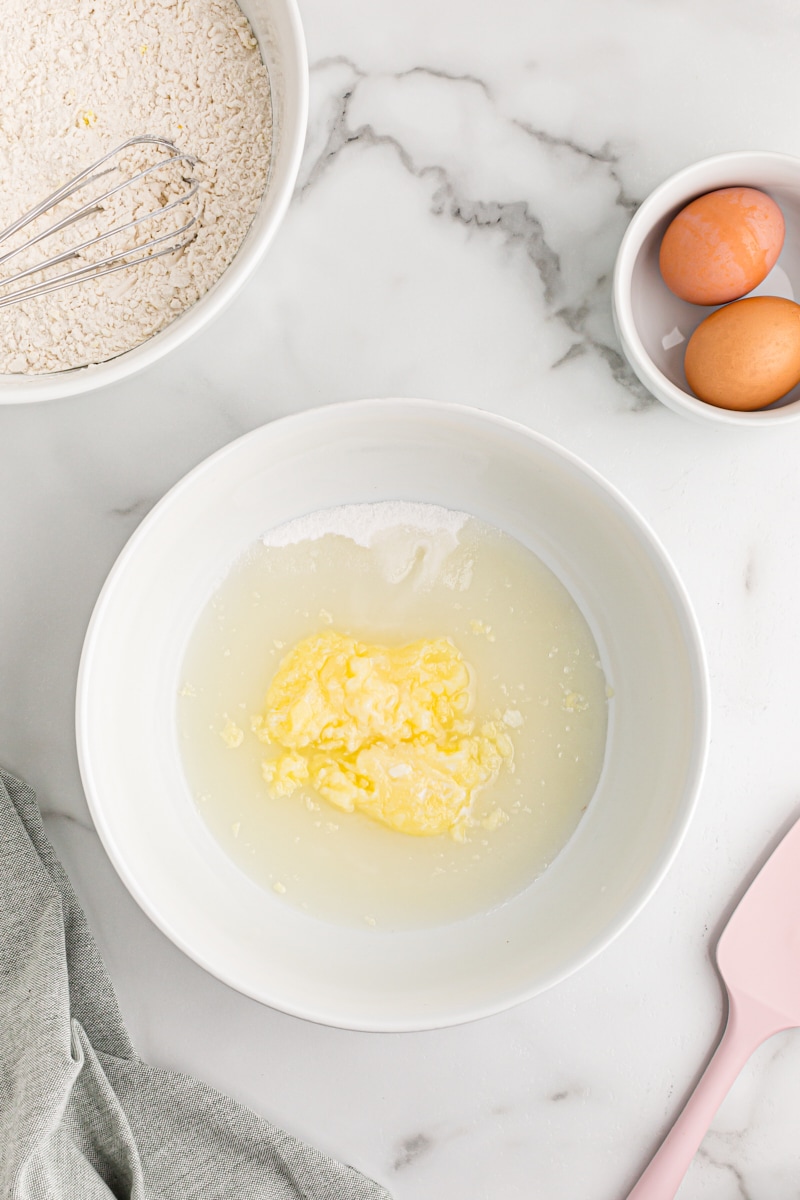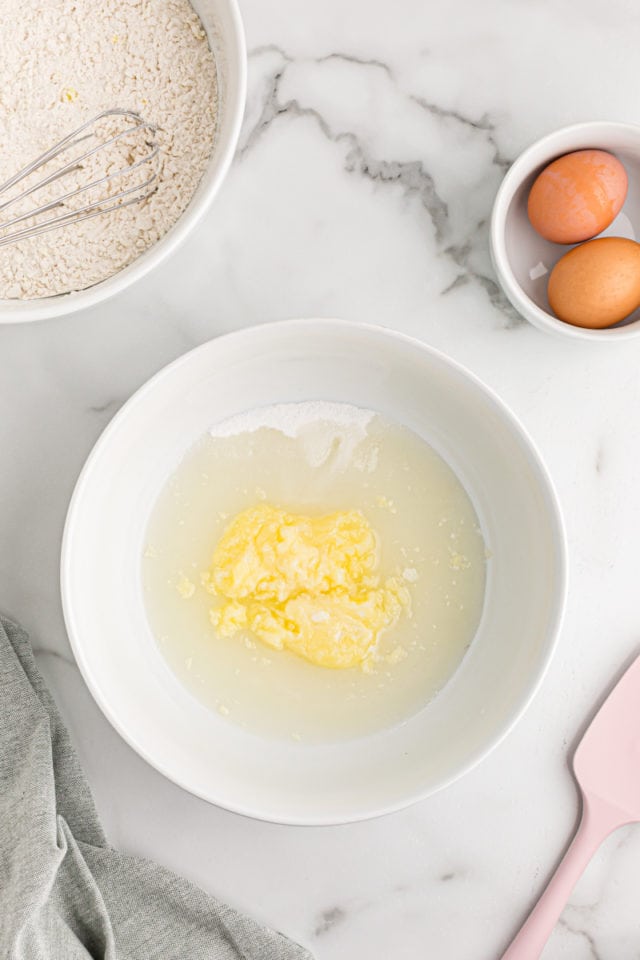 Mix the wet ingredients. In another bowl, combine the sugar, butter, lemon extract, and lemon juice. Add the eggs one at a time, mixing well after each addition.
Finish the batter. Add the wet ingredients to the dry ingredients in three portions, alternating with two portions of milk. Mix just until combined, then fold in the pecans.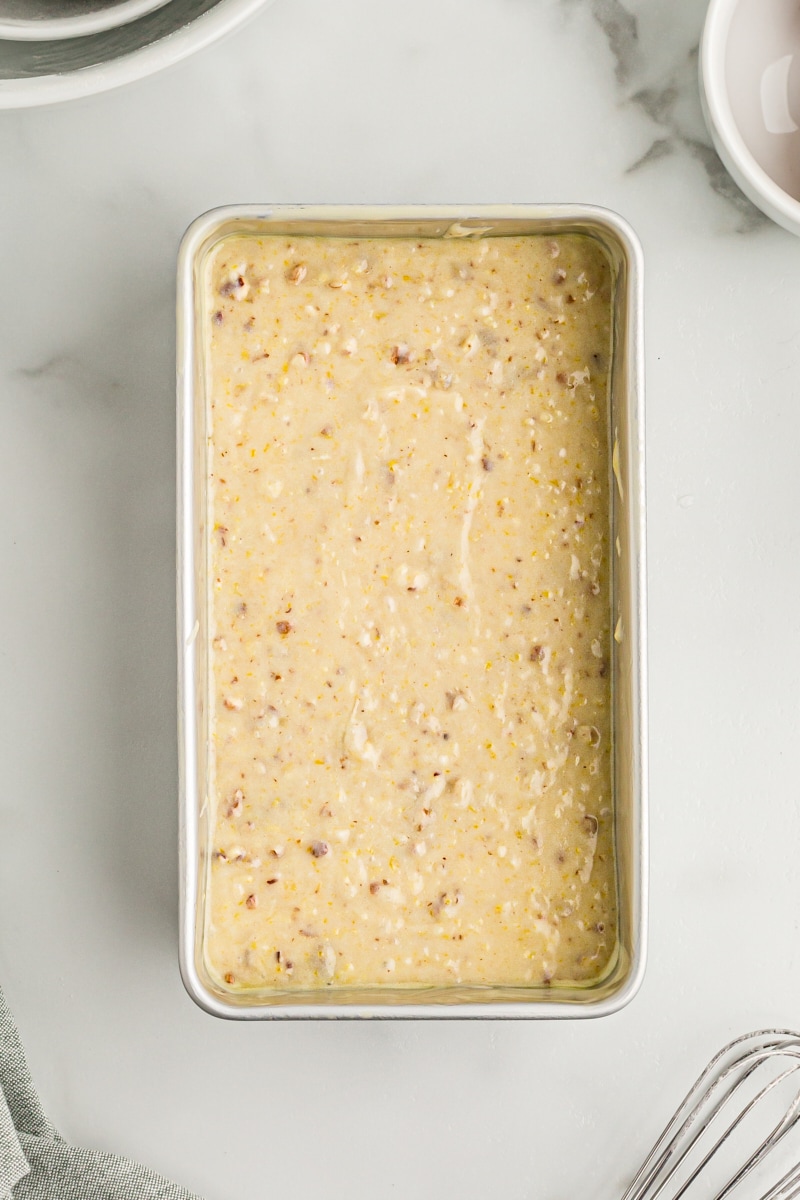 Bake. Pour the batter into the prepared pan and bake for 50 to 60 minutes, or until a toothpick inserted into the center comes out clean.
Make the Topping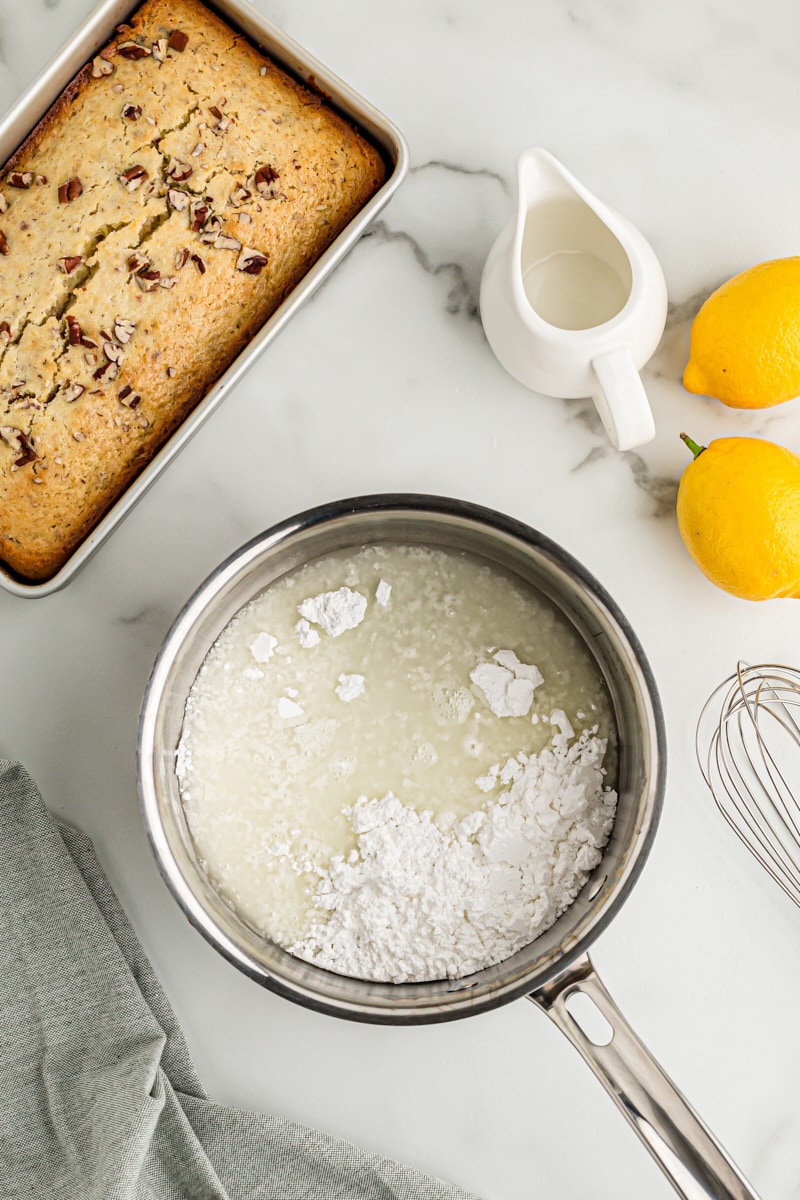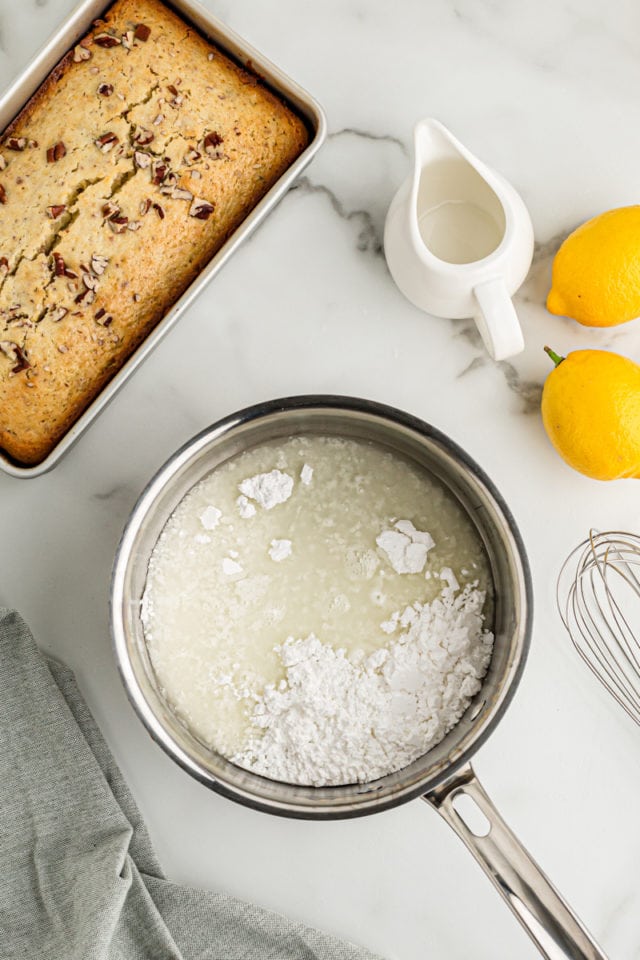 Warm the sugar and juice. Combine the confectioners' sugar and lemon juice in a saucepan and cook over low heat until the sugar dissolves.
Pierce the bread. While the bread is still warm, use a sharp knife to pierce the top of the loaf in several places.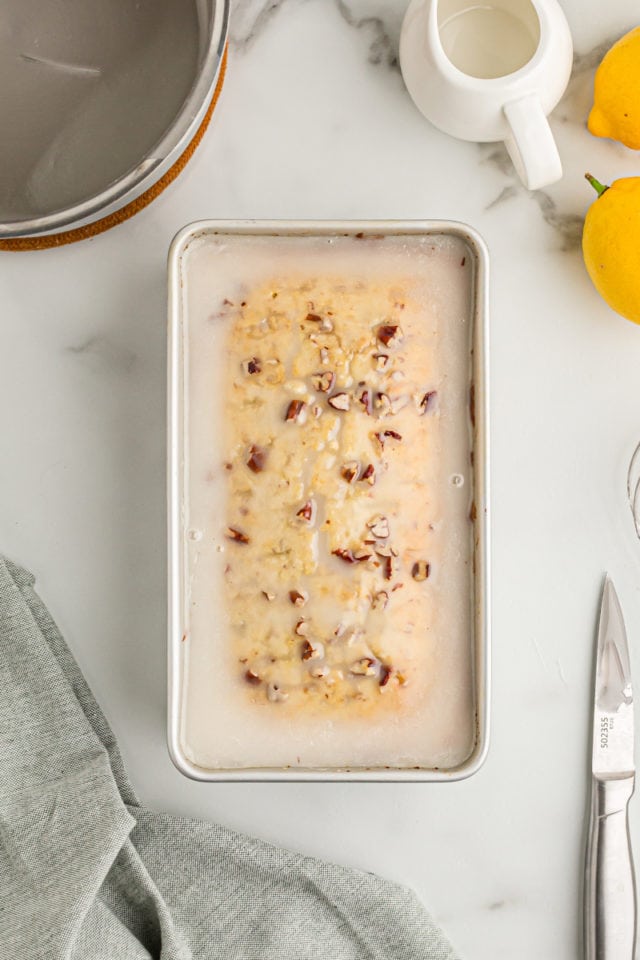 Add the topping. Pour the topping over the bread in the pan. Allow the bread to cool in the pan for 1 hour.
Finish. Remove the bread from the pan, then wrap it in foil. Leave the bread wrapped for 24 hours before serving.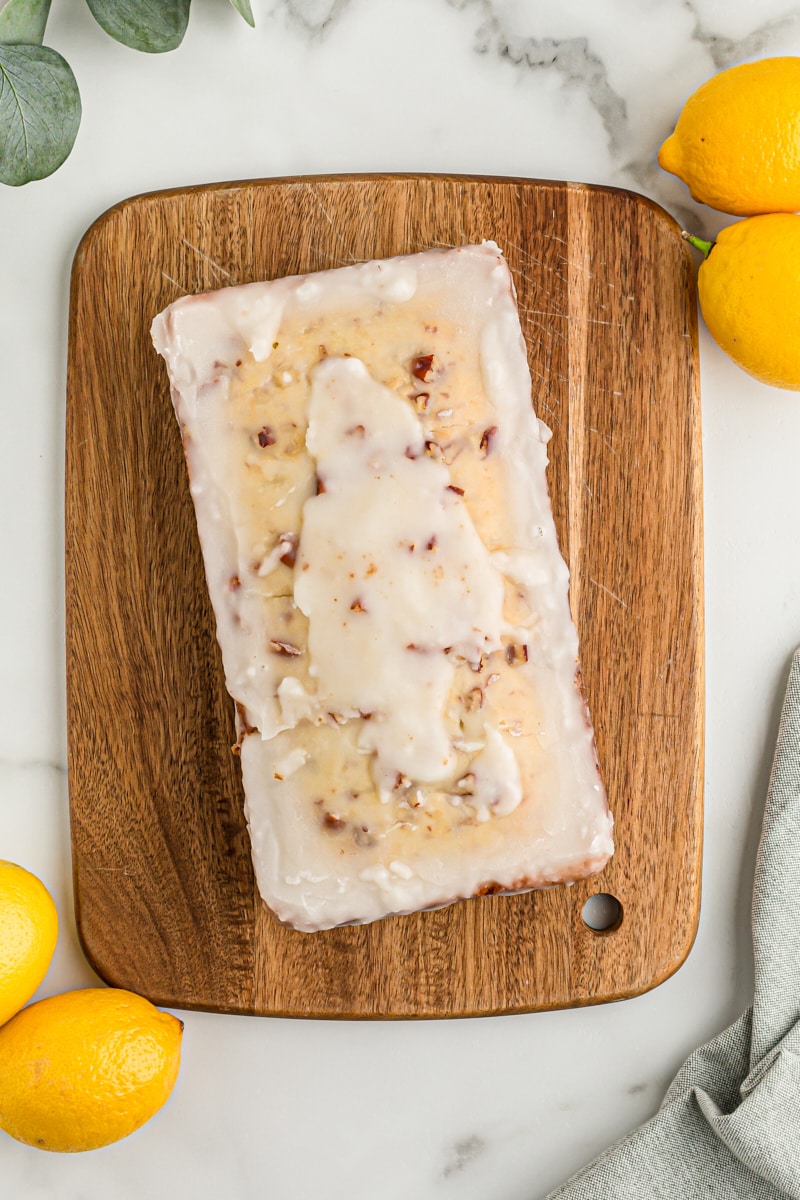 Tips for Success
Read over my baking tips for beginners, then follow these additional pointers for perfect lemon bread.
Use fresh lemons. Be sure to use freshly squeezed lemon juice and zest for the most flavorful bread. For something with this much flavor, it's worth making sure you have fresh lemons in your kitchen instead of using the bottled stuff.
Bake in a light aluminum pan. I consistently get great results from a light, non-reflective, anodized aluminum pan like this one. It's a bit wider than a normal loaf pan, but I love the straight sides and the way it bakes.
Be patient—or not! The recipe recommends waiting 24 hours before serving. I'd say that's not absolutely necessary, although it will get better, softer, and more flavorful the longer you can wait.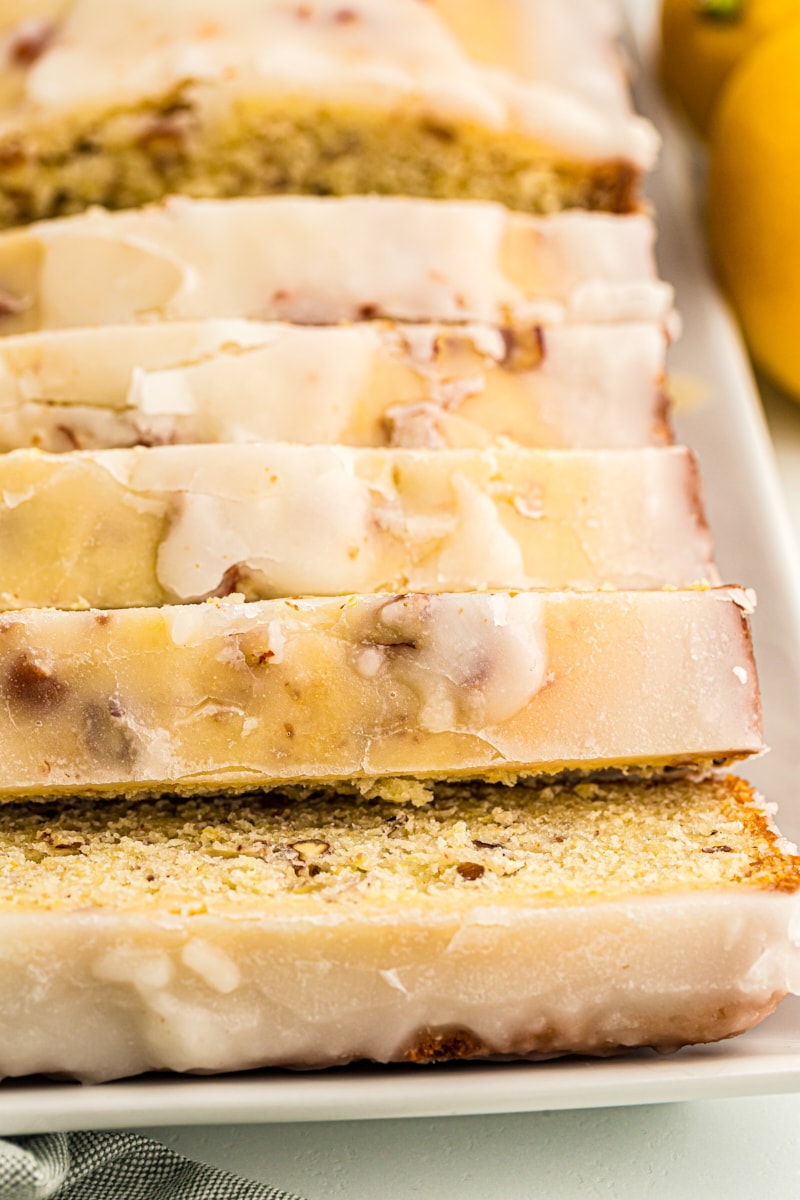 Serving Suggestions
If you're serving your lemon bread as a dessert, plate it with a dusting of powered sugar, fresh berries, and a sprig or two of fresh mint. A scoop of vanilla ice cream or white chocolate shavings are wonderful accompaniments too.
How to Store
Lemon bread can be stored wrapped tightly or in an airtight container on the counter for 4 to 5 days.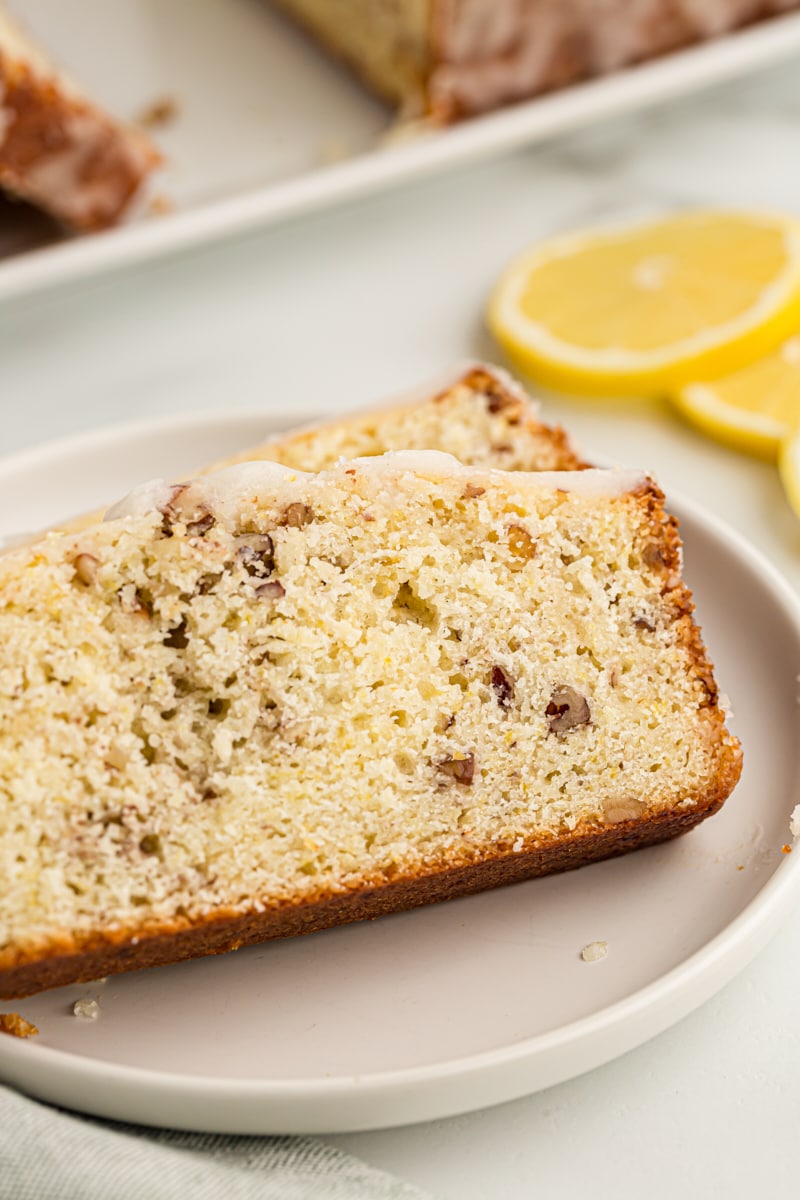 Can This Recipe Be Frozen?
Yes, lemon bread can be frozen for up to 3 months. Wrap it tightly in plastic wrap, then place it in a resealable bag or airtight container and store in the freezer. Thaw overnight at room temperature before serving.
More Lemon Recipes