November 12, 2014
Pear Crisp Cheesecake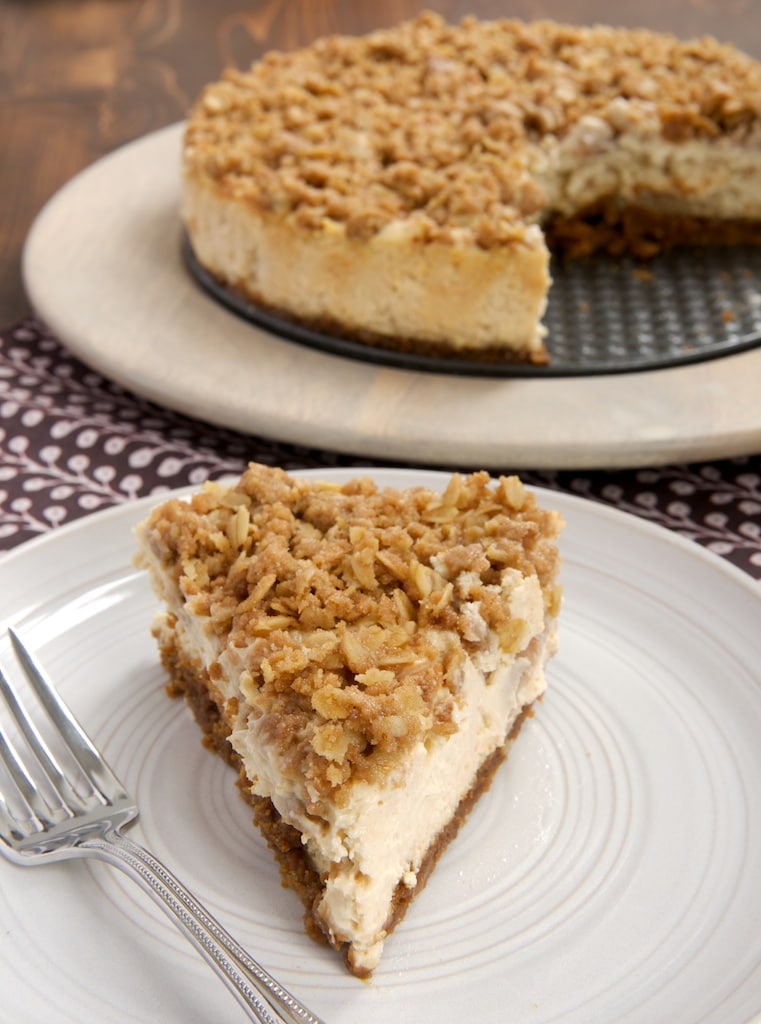 Just last week we were talking about how tough it can be to choose between two desserts. And here I am again with a dessert hybrid. I don't know about you, but I see no problem here. So, let's get to the cheesecake!
What we have here is a sweet, creamy cheesecake underneath a layer of pears and an oat topping. And all of it is flavored with plenty of cinnamon. In other words, it's fall baked into a cheesecake.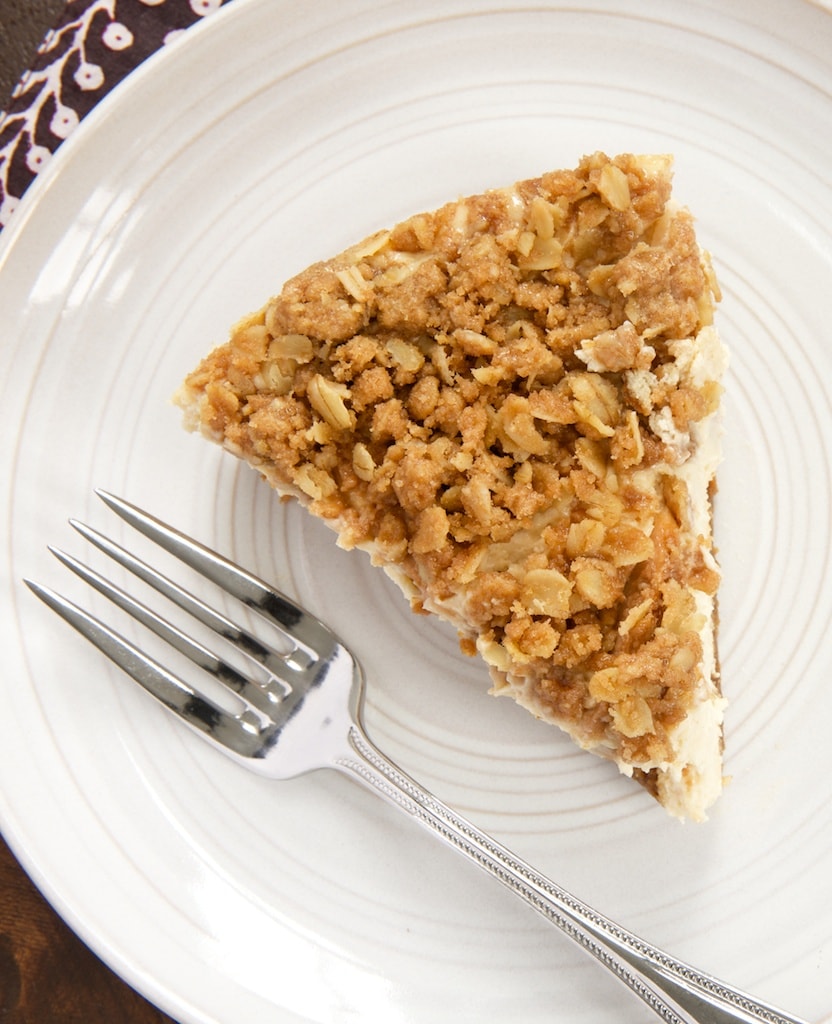 There is certainly no shortage of flavor here. The crust is made with those wonderfully spiced speculoos cookies, so we're already off to a good start. Then, there's a sweet, creamy, cinnamon-y cheesecake. And finally, that's all topped with a layer of pears underneath a buttery oat crisp topping.
I'm a big, big fan of pears. They are perhaps my favorite fall baking ingredient. But if you prefer, this recipe should work just as well with apples or a combination of apples and pears.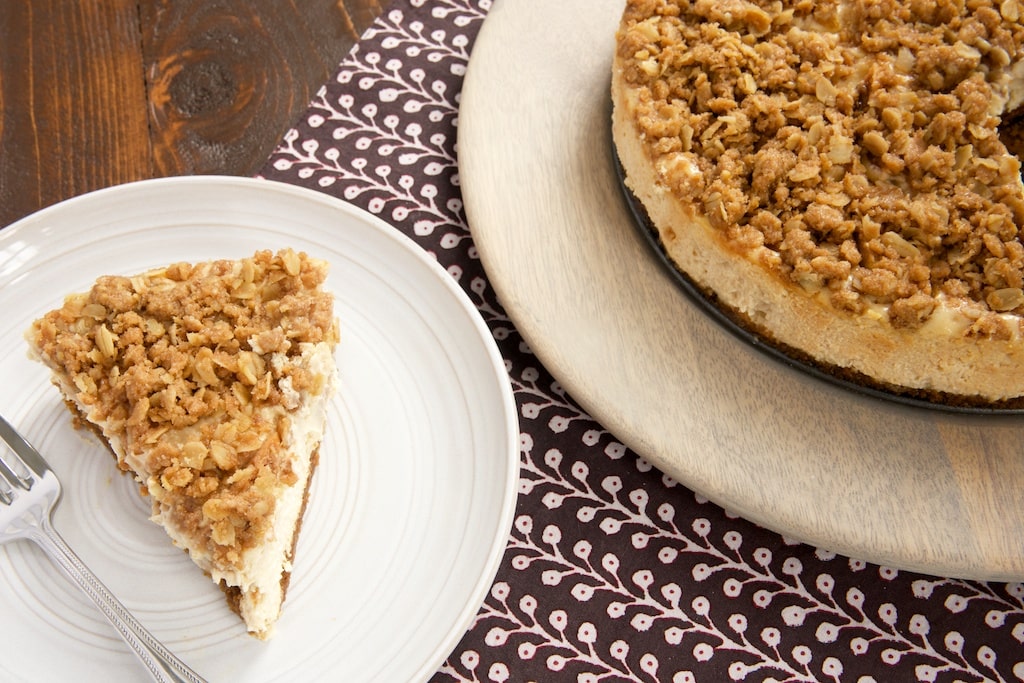 I don't think there are adequate words to express how much we love this cheesecake. It's so amazingly delicious and so wonderfully creamy. Quinn and I both agree that it's one of our favorite desserts I've made this year.
This cheesecake is pretty much perfect for Thanksgiving. It has such wonderful fall flavors. Plus it has the benefit of being a great make-ahead dessert so you can concentrate on cooking your meal on the big day. This is just the kind of beautiful, delicious dessert you want to find at the end of your big meal.
Pear Crisp Cheesecake
Yield: 10 to 12 servings
Prep Time:40 minutes
Cook Time:2 hours 35 minutes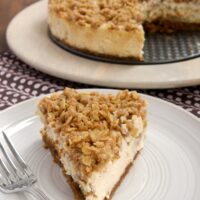 Ingredients:
For the crust:
7 ounces speculoos cookie crumbs*
1/4 cup unsalted butter, melted
For the filling:
24 ounces cream cheese, softened
1 cup granulated sugar
3 large eggs
1 teaspoon vanilla extract
1 teaspoon ground cinnamon
1/2 cup sour cream
For the topping:
1/2 cup old-fashioned oats
1/3 cup all-purpose flour
3 tablespoons packed light brown sugar
1 teaspoon ground cinnamon
1/4 teaspoon salt
3 tablespoons unsalted butter, softened and cut into small cubes
2 medium pears, chopped into bite-size pieces
Directions:
To make the crust:
Preheat oven to 350°.
Combine cookie crumbs and butter until thoroughly moistened. Press evenly into the bottom of a 9-inch springform pan.
Bake 15 minutes. Set aside to cool slightly.
To make the filling:
Place cream cheese and sugar in a large mixing bowl. Using an electric mixer on medium speed, beat until combined and smooth. Add eggs, one at a time, mixing well after each addition. Mix in vanilla and cinnamon. Mix in sour cream.
Pour batter over partially baked crust. Spread evenly. Set aside while you prepare the topping.
To make the topping:
Combine oats, flour, brown sugar, cinnamon, and salt. Using a pastry blender, a fork, or your hands, mix butter into oat mixture until crumbs form.
Arrange pears evenly over the top of the cheesecake batter. Crumble oat mixture evenly over pears.
Bake 15 minutes at 350°.
Reduce oven temperature to 200°. Bake for 2 hours 10 minutes.
Turn off oven and remove cheesecake from the oven. Run a knife around the edges of the pan.
Return cheesecake to oven and leave inside with the heat off for 2 hours.
Remove cheesecake from oven. Cover and chill overnight before serving.
Notes:
*There are several brands of these spiced cookies. I used Biscoff. If you are unable to find them, I would recommend using graham crackers, cinnamon graham crackers, or vanilla wafers.
This recipe was originally developed for Go Bold with Butter, where I am a paid contributor.