Frozen puff pastry serves as a wonderful shortcut in these Apple Butter Pinwheels. With a short list of ingredients and a quick prep time, it's a breeze to whip up a batch of these beauties!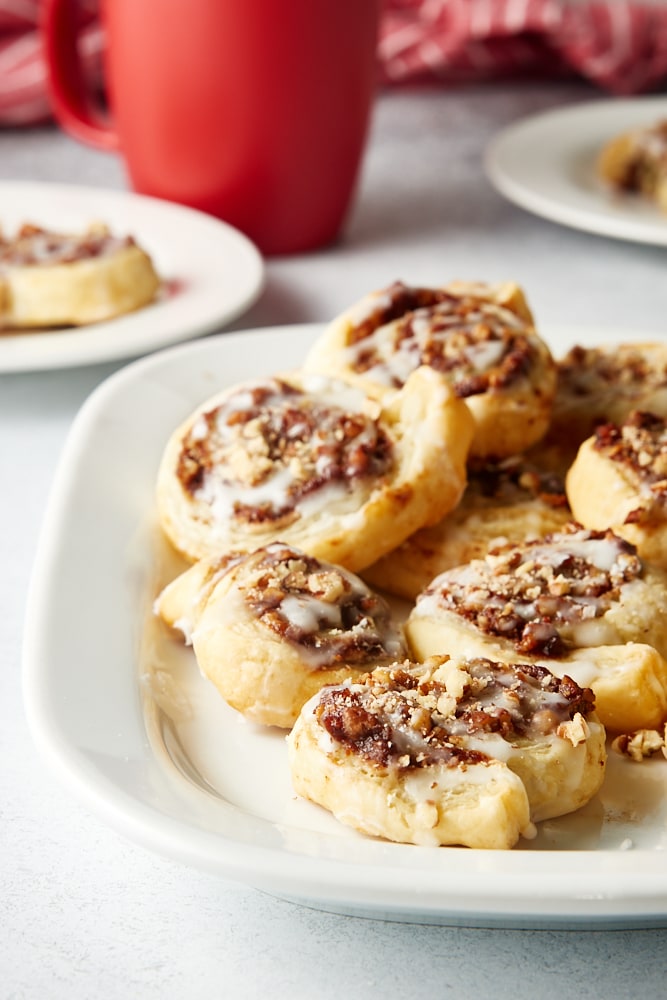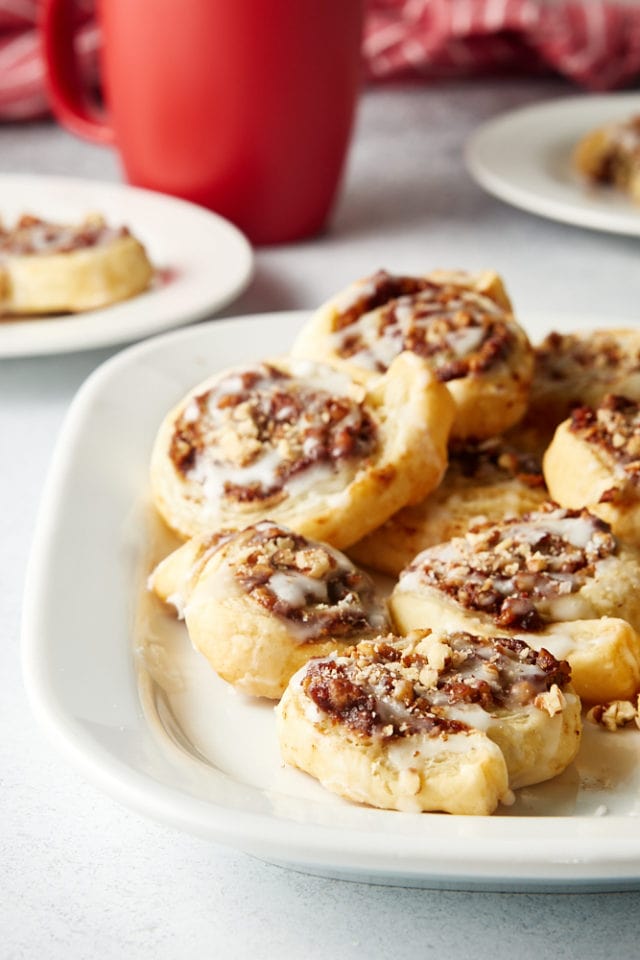 Puff Pastry Apple Butter Pinwheels
These Apple Butter Pinwheels use one of my favorite shortcut ingredients – frozen puff pastry! It's rare you won't find a package of that in my freezer. It's such a handy baking trick to have on-hand for something quick and easy.
And quick and easy is exactly what these tasty treats are. Using a simple combination of apple butter, chopped nuts, and toffee, these pastries are a delicious taste of fall flavors. Serve a tray of these alongside your next brunch. Or whip up a batch to enjoy with your favorite cup of coffee or tea. They're a great choice for a simple, not-too-heavy dessert, too.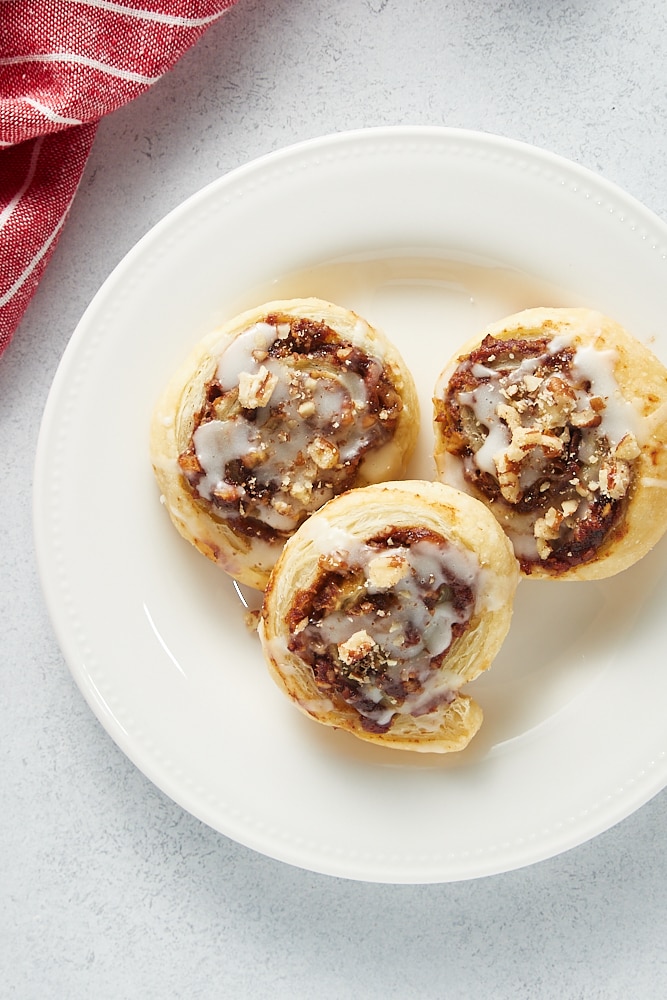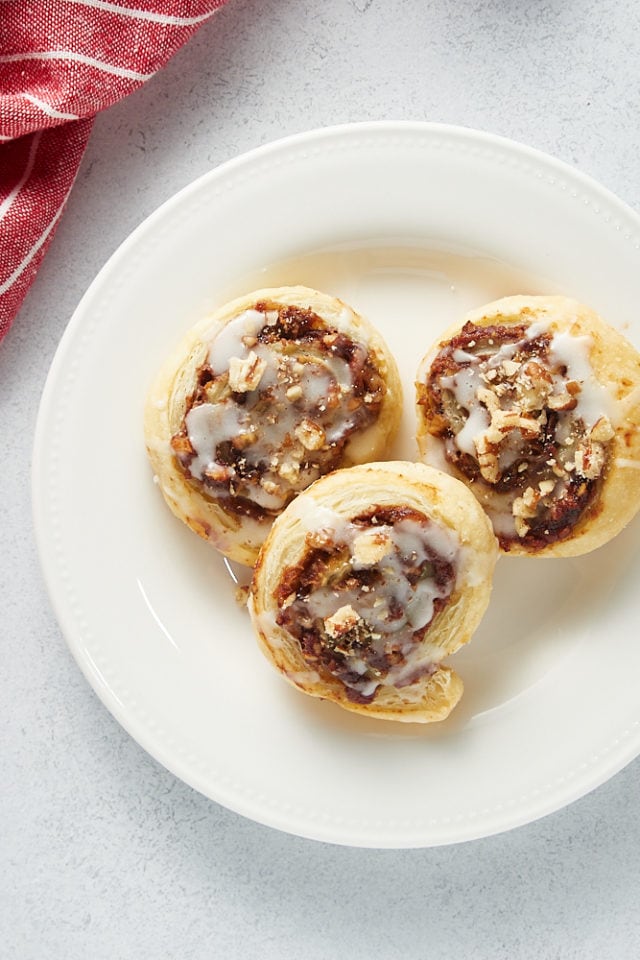 To make them extra special, I like to add a sweet, simple glaze. That dresses them up a bit and adds a little bonus sweetness. They're perfectly delicious without the glaze, too, so just go with your preference.
The flavors in these simple Apple Butter Pinwheels are phenomenal. And the recipe is so wonderfully versatile, too. (See my ideas for variations below.)
And if you should want to make a bigger batch? Just double the recipe and make use of that other sheet of puff pastry. I highly recommend keeping this recipe in your back pocket for those times you need a fast, no-fuss treat to share.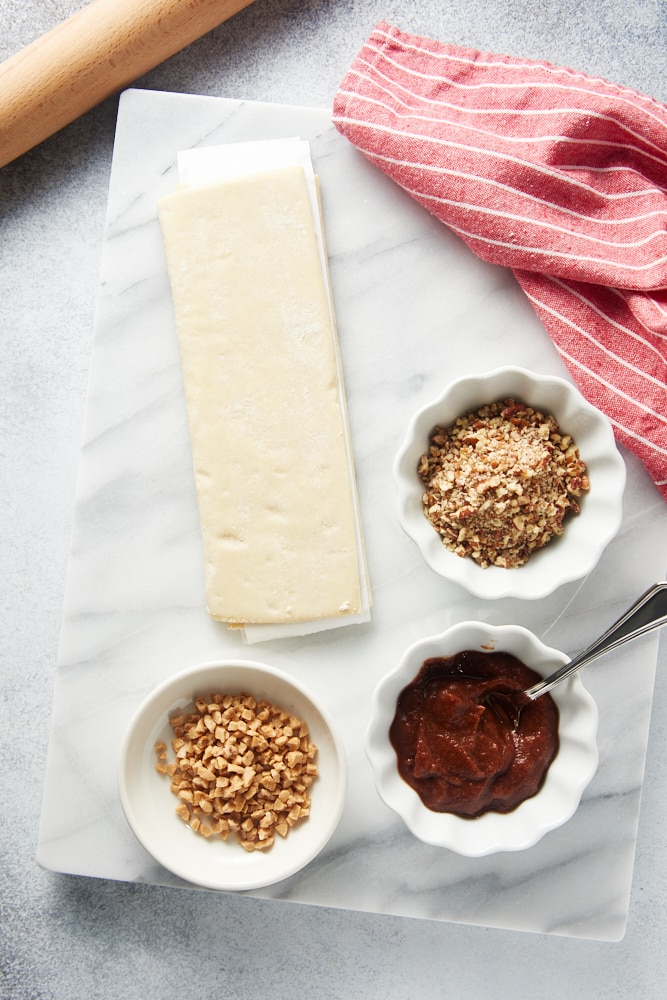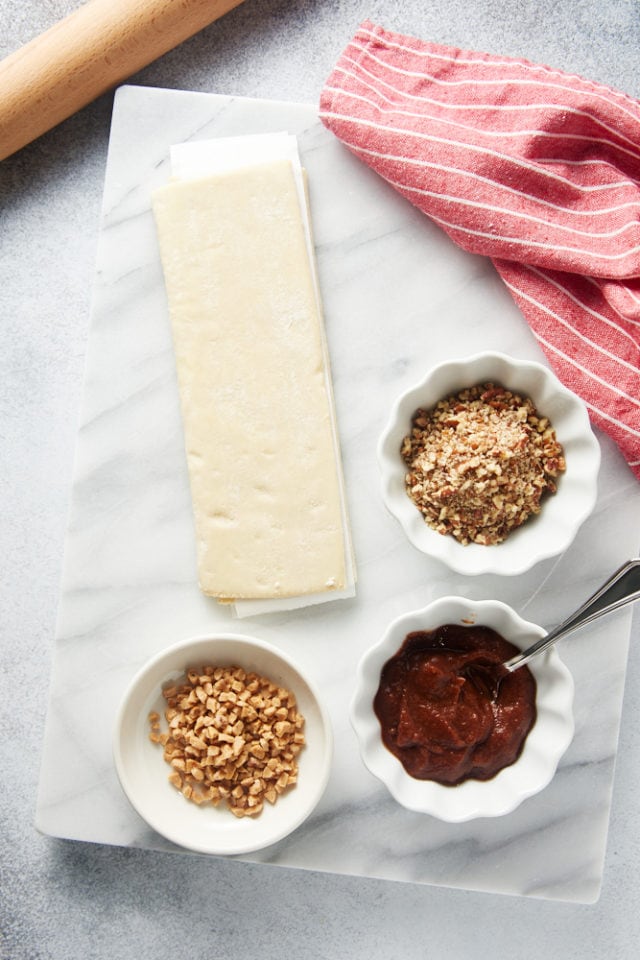 What You'll Need
Get excited about this super short ingredient list!
For the pastries:
Frozen puff pastry – The most commonly found brand is Pepperidge Farm. There are two sheets in each box, but you'll just need one for these pastries.
Apple butter – Store-bought or homemade
Pecans – Chop these into small pieces so they'll roll up well in the pastry. Set some aside or chop a little extra to sprinkle on top of the baked and glazed pastries if you like.
Toffee bits – These add a nice flavor and extra crunch.
For the glaze:
Confectioners' sugar – Sift it for a smooth glaze.
Milk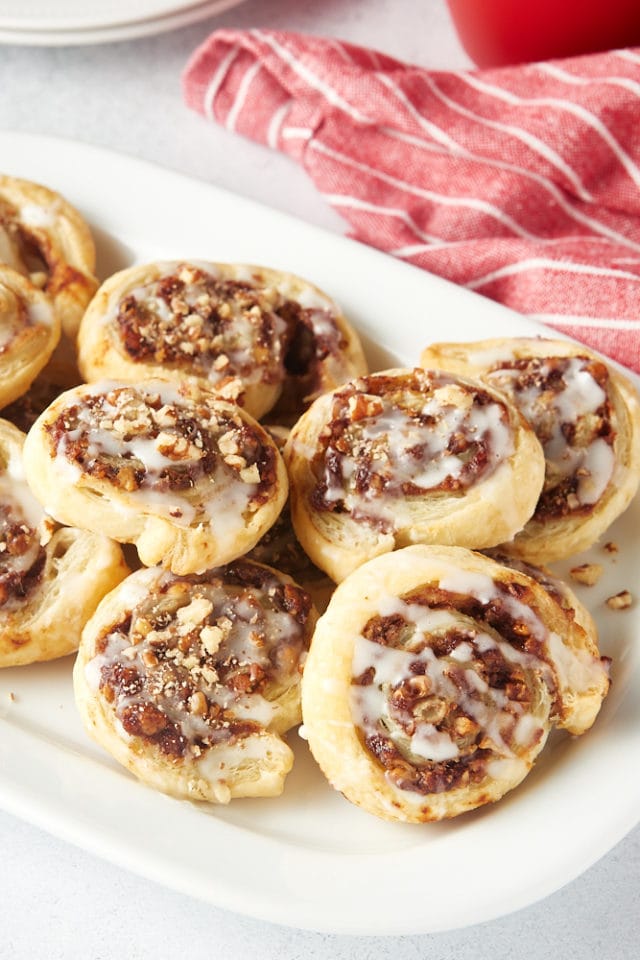 How to Make Apple Butter Pinwheels
These little pastries are quick and easy to assemble. You'll just need a surface for assembly, a sheet pan, and a small mixing bowl for the glaze.
Prepare for baking. Heat the oven to 375°F. Line a baking sheet with parchment paper or a silicone liner.
Prepare the puff pastry. Unfold a sheet of puff pastry on a lightly floured surface. I prefer to roll out the pastry lightly to smooth the folds, but it isn't a requirement. If you do roll the pastry, be sure to be gentle and not apply too much pressure.
Spread the apple butter on the dough. Dollop the apple butter over the pastry. Use an offset spatula or the back of a spoon to spread it gently over the puff pastry, leaving a small border around the edges.
Add the pecans and toffee bits. Sprinkle the pecans and toffee over the apple butter.
Roll up the dough. Starting from one short end, roll up the dough as tightly as possible. Use a sharp knife to trim the ends and then cut the dough into 12 slices. Alternatively, you could begin rolling from a long end to make more pastries that are smaller in diameter.
Bake. Place the pastries cut-side down on the prepared pan. Bake for 18 to 20 minutes, or until golden brown. Cool the pastries for about 10 minutes before transferring to a plate or wire rack to continue cooling. If you're serving them warm, you can leave them on the pan for easy clean-up after adding the glaze.
Make the glaze. Combine the confectioners' sugar and 2 teaspoons of milk. Add more milk, a small amount at a time, until the glaze is the thickness you want. It should be thick but pourable. Drizzle the glaze over the pastries, and allow it to set before serving. If you like, sprinkle more nuts on top of the pastries.
Ideas for Variations
These types of pastries are infinitely variable and adaptable!
Like pumpkin butter? Use it in place of the apple butter. Or go with another fruit butter that you enjoy. Fruit butters work well here because they spread so easily.
Try different nuts. Pecans are my go-to, but walnuts, hazelnuts, or almonds would be good choices, too.
Add a little cinnamon to the glaze for some bonus fall flavor.
Skip the glaze for a less sweet alternative, or just sprinkle with confectioners' sugar for a simple topping alternative.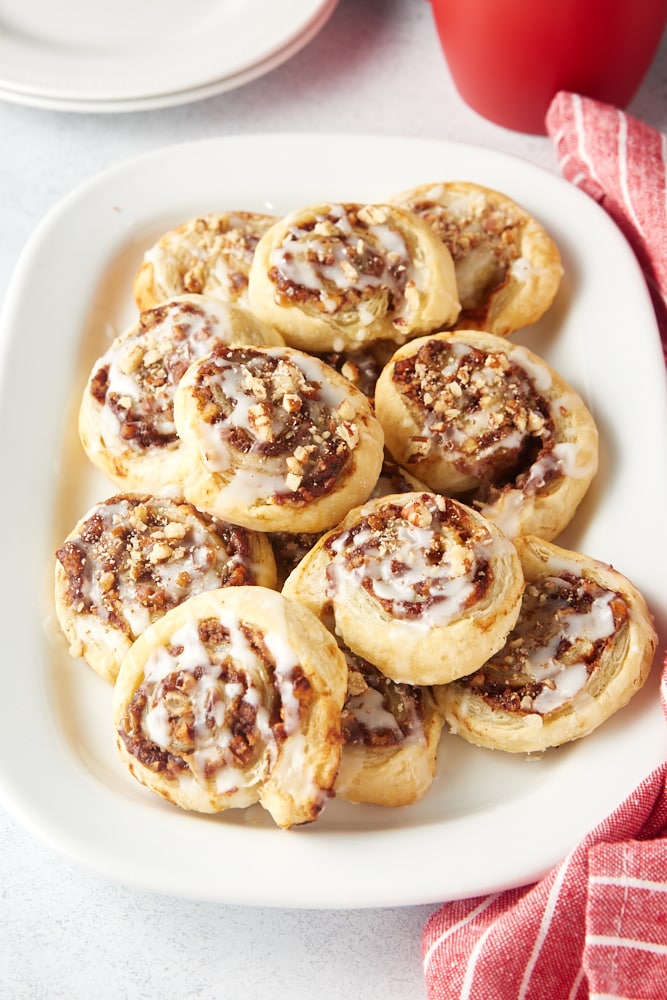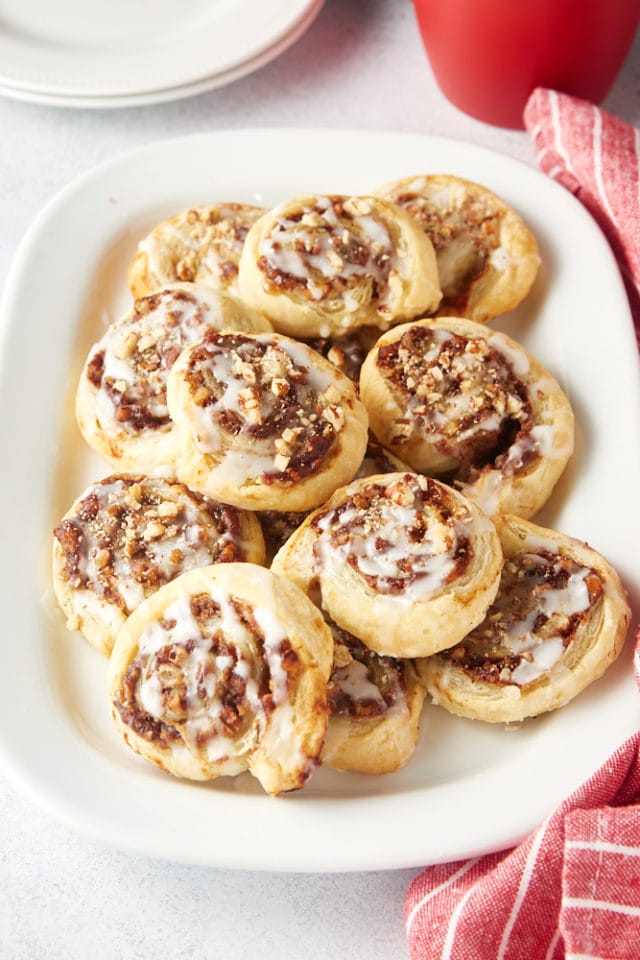 Tips for Success
While these Apple Butter Pinwheels are easy to make, there are a couple of things to keep in mind while working with puff pastry so that your pastries turn out beautifully.
Thaw the puff pastry overnight in the refrigerator. That will keep it cold but easily handled. If you forget to thaw it this way, you can thaw it at room temperature for 20-30 minutes. Just keep an eye on it so it doesn't become too warm and soft. Be sure to use thawed puff pastry within 24 hours.
Don't unfold the puff pastry until it's thawed. Otherwise, it may crack or tear. If it does crack, dab a little water on it and press to seal.
Work quickly when assembling. If puff pastry gets too warm, it can get sticky and difficult to handle.
Refrigerate the cut, unbaked pastries if needed. If your kitchen is warm or you tend to be slow with kitchen prep, put the pan of cut pastries in the refrigerator for 5-10 minutes. That will help make sure your pastries puff nicely.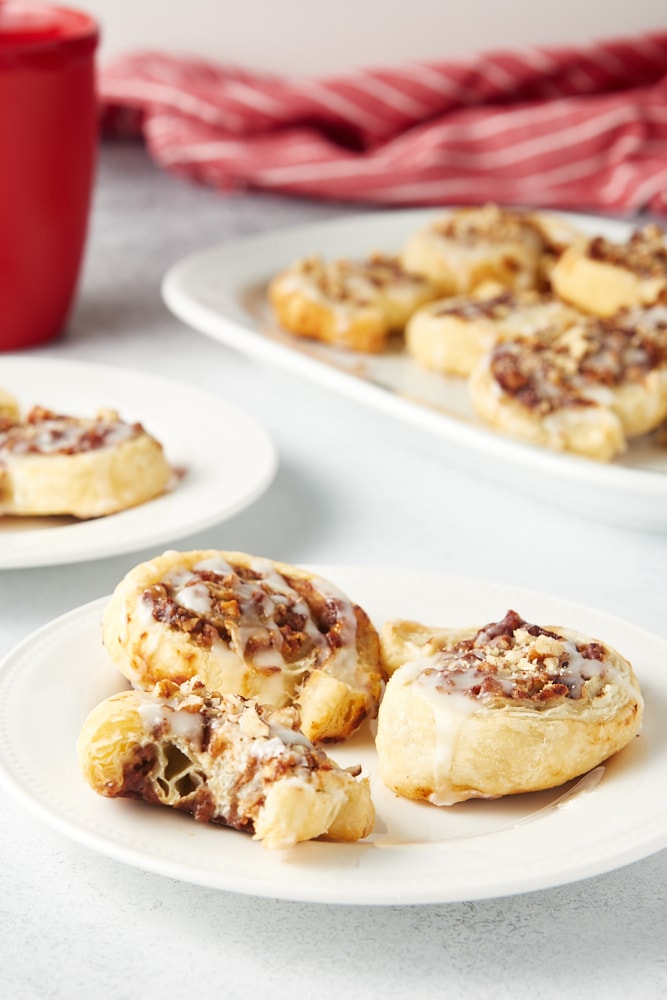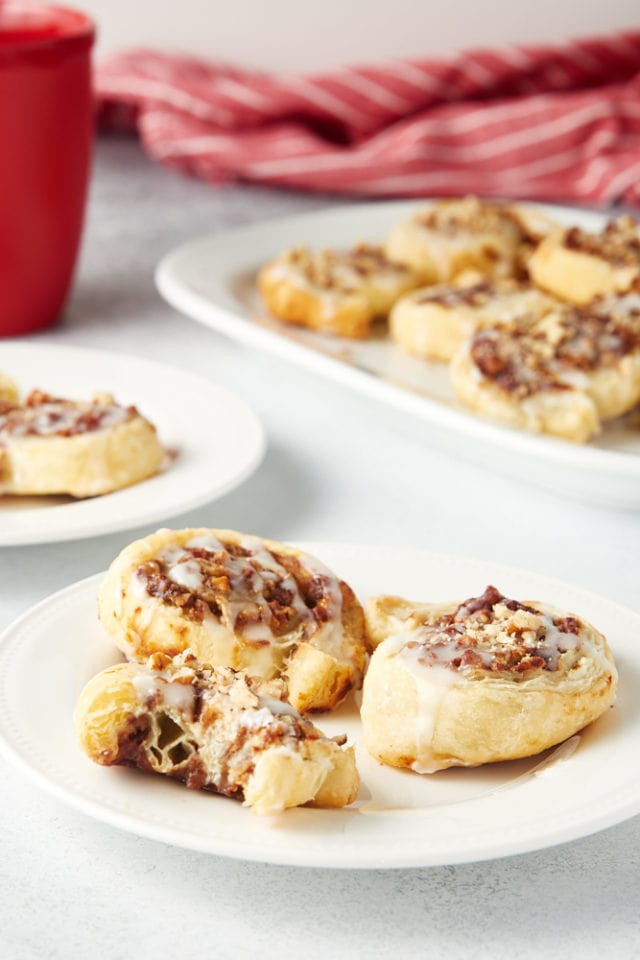 How to Store Leftovers
You'll find that these Apple Butter Pinwheels are best the day they're made, but they'll keep for a day or two in an airtight container. The glaze may make them a little soggy, so store that separately if possible.
For longer storage, refrigerate the container of pastries. That should extend them for a couple of days.
To reheat the pastries, place them in a 375°F oven for a few minutes until they're warmed.
Can You Freeze Puff Pastry Pinwheels?
Yes! Place the baked and cooled pastries (without the glaze) in a single layer on a baking sheet, and place the pan in the freezer. Once the pastries have frozen, transfer them to a freezer-safe bag or container. Properly stored, they should keep for up to 2 months.
Thaw the pastries overnight in the refrigerator, or place them in a 375°F oven until they're warmed.
More Apple Butter Recipes