Brown Sugar Snack Cake with Dulce de Leche Frosting combines big flavor in an easy-to-make cake. Serve this one as a sweet snack or a casual dessert!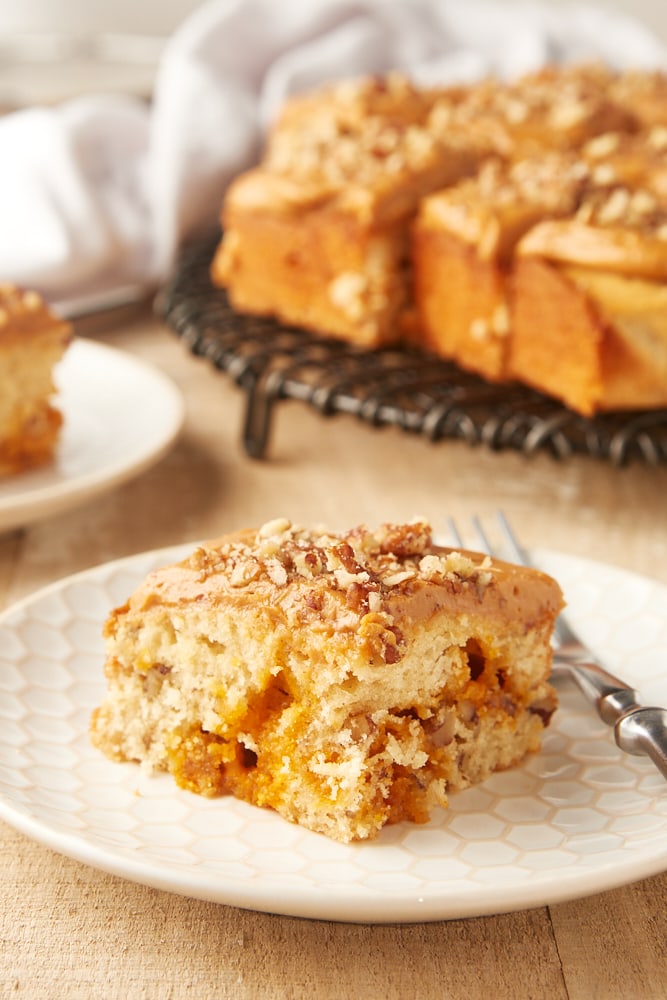 Easy Brown Sugar Cake
I'm positively smitten with this quick and easy Brown Sugar Snack Cake. It's made with plenty of brown sugar for a wonderful flavor. To that, we add nuts for some crunch and butterscotch chips for even more brown sugar flavor!
And if all that weren't enough, this cake is topped with a ridiculously simple dulce de leche frosting that's made with just THREE ingredients. The rich, caramel-like flavor of the frosting really amps up the flavors in the cake to create an irresistible dessert.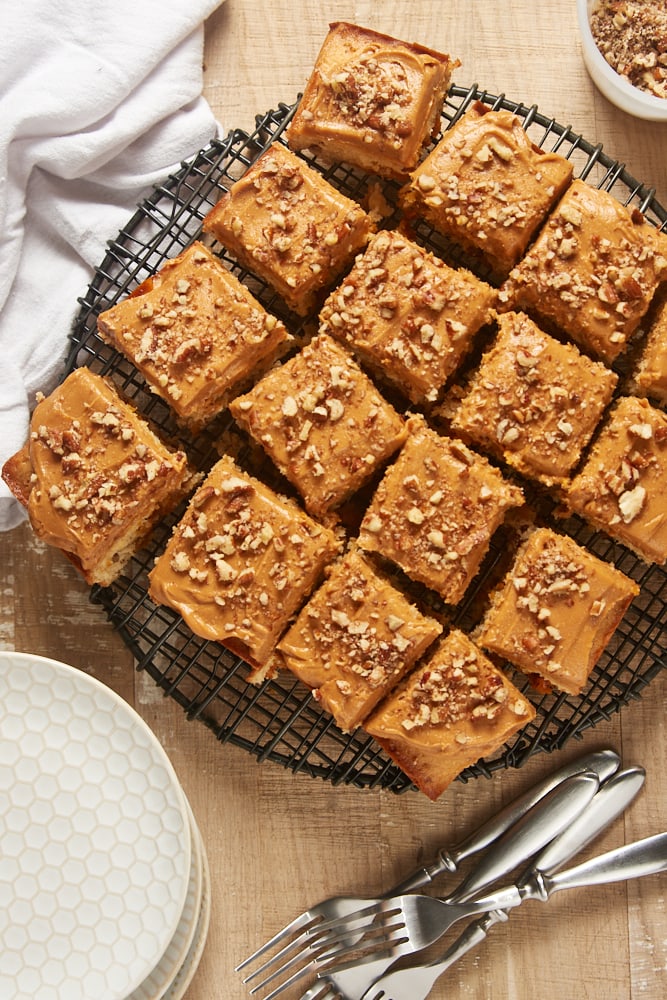 This cake somehow manages to be both simple and bold at the same time. The focus is on similar flavors so that you aren't overwhelmed with different tastes. Yet emphasizing those flavors makes you stand up and take notice after just one bite.
This is just the kind of cake that's perfect for a casual dessert or for a sweet snack. No stacking cake layers, no elaborate decorating. Just really good cake. It's a great recipe to keep in your go-to list of easy desserts that are sure to impress!
For more tasty snack cake recipes, try Chocolate Chip Cookie Butter Snack Cake, Peanut Butter Toffee Snack Cake, and Blueberry Snack Cake!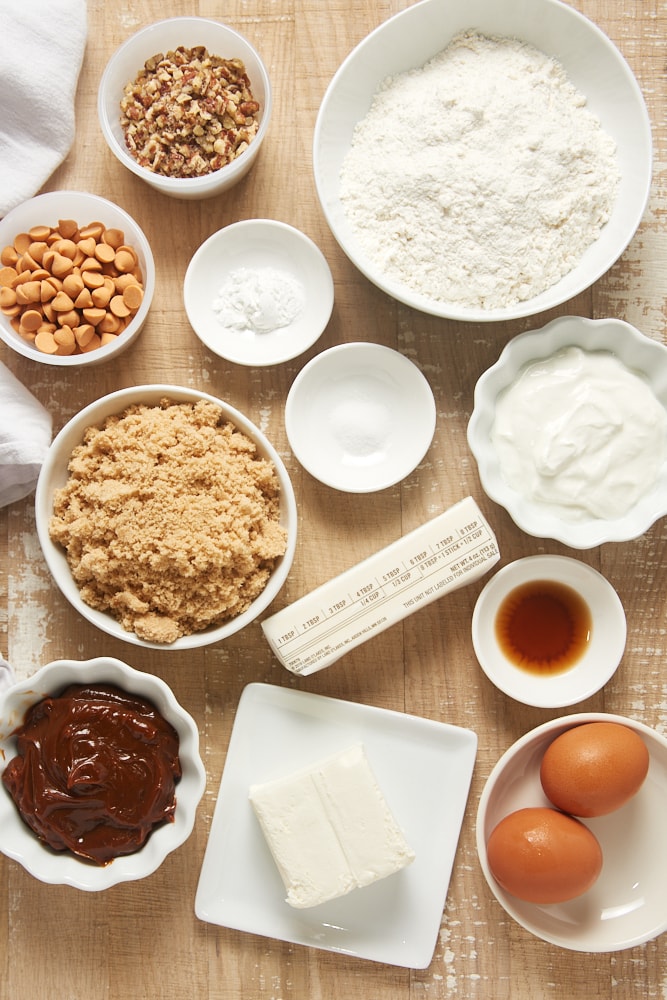 What You'll Need
You'll just need a few ingredients besides the basics to whip up this snack cake. See the recipe card at the bottom of this post for ingredient quantities and full instructions.
For the cake:
All-purpose flour
Baking powder
Salt
Unsalted butter: Set out the butter about half an hour before baking to allow it to soften.
Brown sugar: Light brown sugar or dark brown sugar will work for this cake, depending on how pronounced you'd like its molasses flavor. If yours has hardened during storage, see How to Soften Brown Sugar for some easy ways to fix it.
Eggs – Set these out so they can come to room temperature before mixing. I recommend baking with large eggs.
Vanilla extract: Almond extract is a great choice, too.
Sour cream: Full-fat sour cream works best.
Nuts: I usually prefer pecans, but most any nut will do. Almonds, walnuts, and hazelnuts would all be great choices in this cake. Chop them roughly into bite-size pieces. Save some or chop a little extra for garnishing the cake, if you like.
Butterscotch chips: Use a good quality brand of butterscotch chips. There are some out there that just aren't all that good. My favorite brand is Guittard.
For the frosting:
Dulce de leche: This is thick and caramel-like. Look for dulce de leche alongside the condensed milk, in the international foods section, or with the ice cream toppings.
Cream cheese: Full-fat cream cheese works best. Be sure to bring it to room temperature for a smooth frosting.
Vanilla extract: Try almond extract for a little different taste.
Love this frosting? It's also amazingly delicious on Mexican Chocolate Cupcakes and Coconut Cake.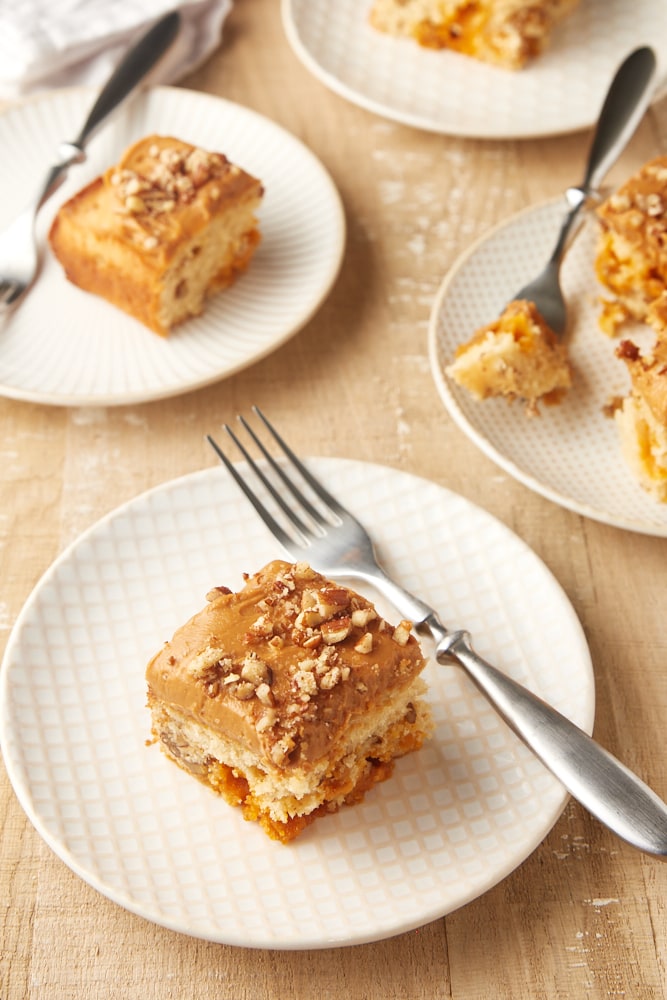 How to Make Brown Sugar Snack Cake
This cake recipe is great for bakers of all skill levels. You'll need a few mixing bowls, a hand or stand mixer, and an 8-inch square baking pan.
Prepare for baking. Heat the oven to 350°F. Line an 8-inch square baking pan with parchment paper so that it overhangs on two sides. Grease the paper and any exposed sides of the inside of the pan. Alternatively, you can skip the lining and grease the pan.
Combine the dry ingredients. Whisk together the flour, baking powder, and salt.
Mix the wet ingredients. Cream together the butter and brown sugar with an electric mixer on medium speed. Mix in the eggs, one at a time. Then mix in the vanilla.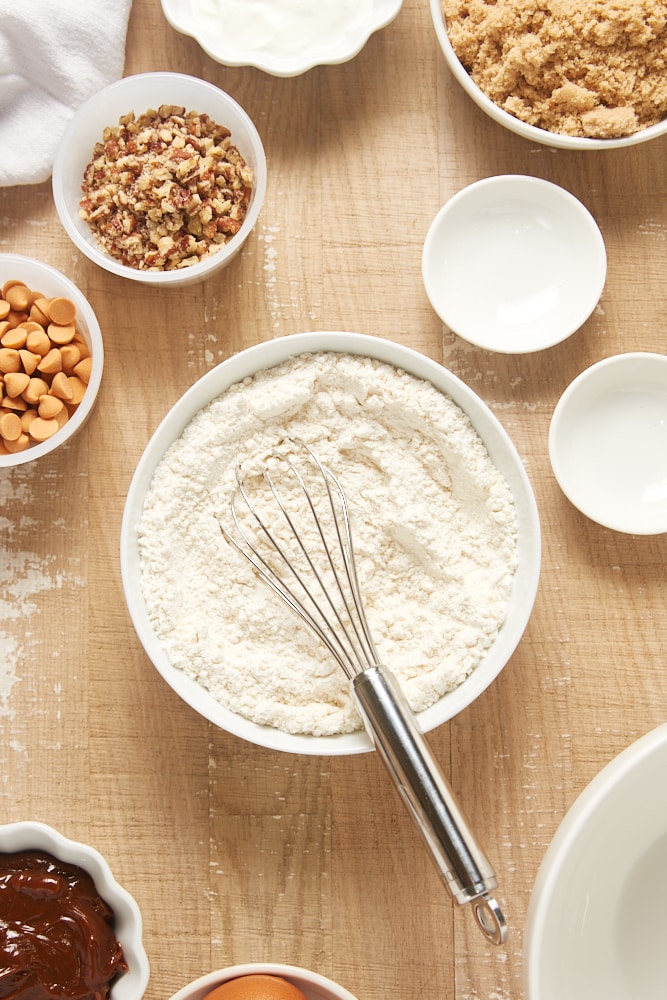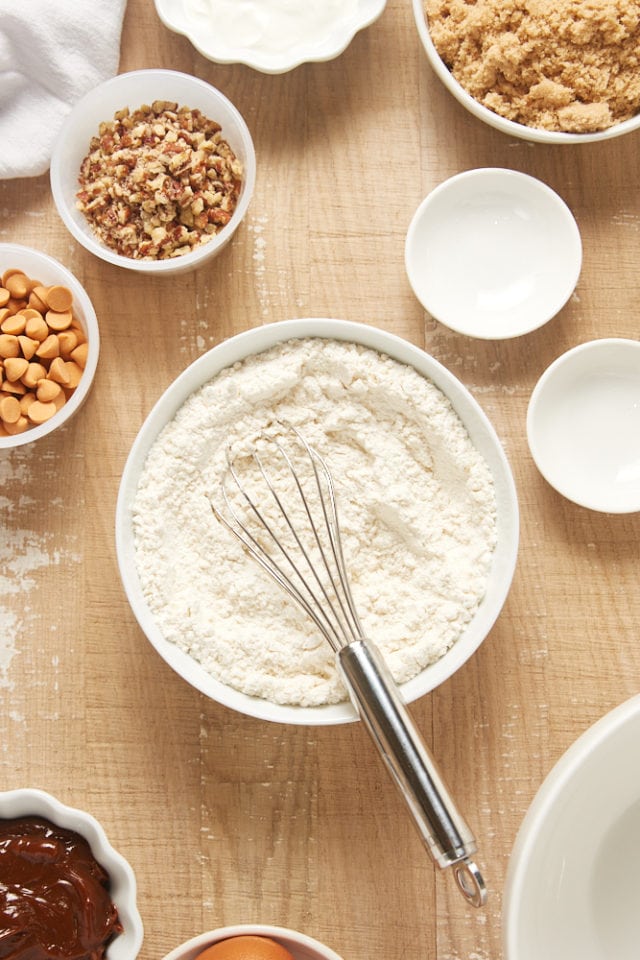 Add the dry ingredients and sour cream to the wet ingredients. With the mixer on low speed, add the flour mixture in three portions while alternating with two portions of the sour cream. Mix just until combined or a few streaks of flour remain.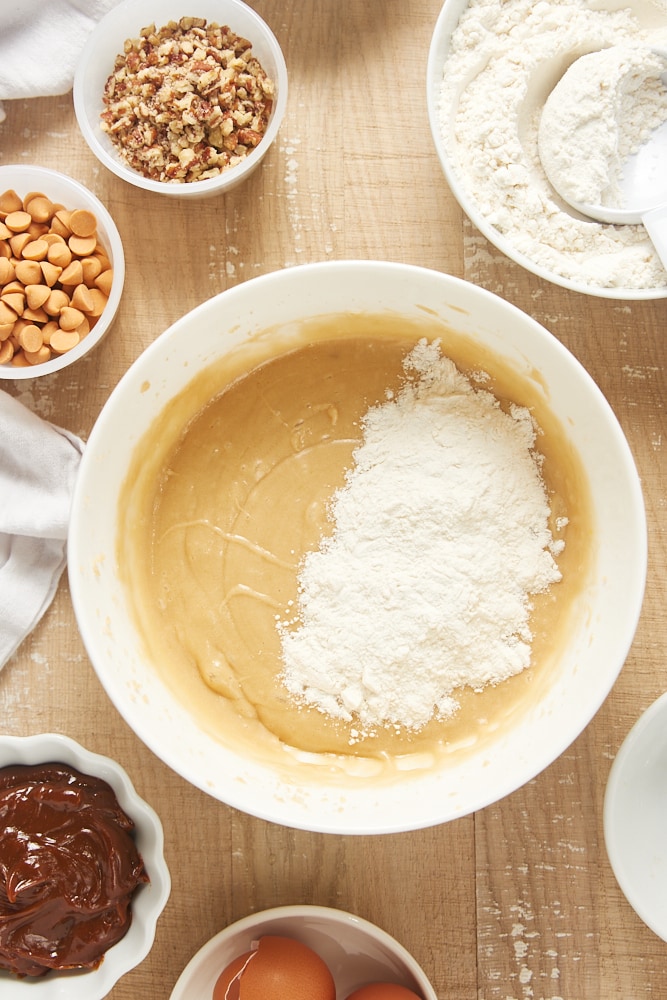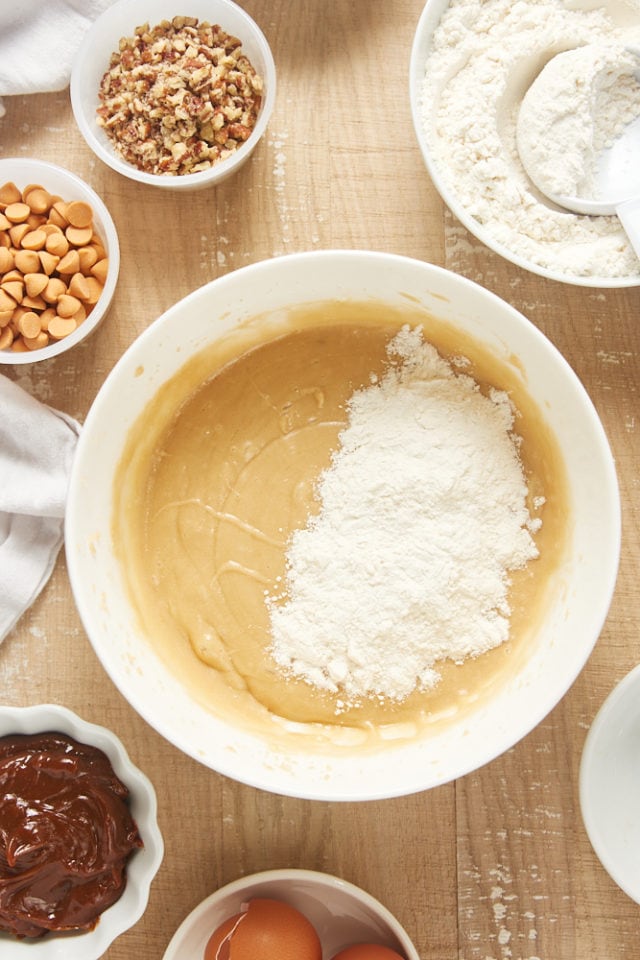 Stir in the add-ins. Mix in the nuts and butterscotch chips. Don't over-mix. Just stir until combined.
Spread the batter in the pan. Transfer the batter to the pan, and spread it evenly.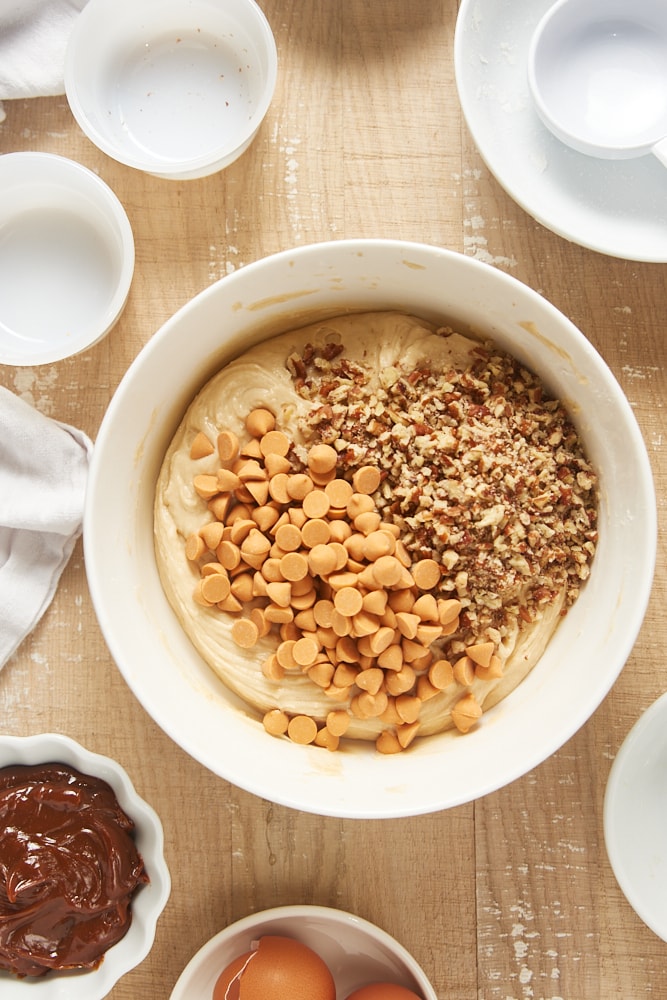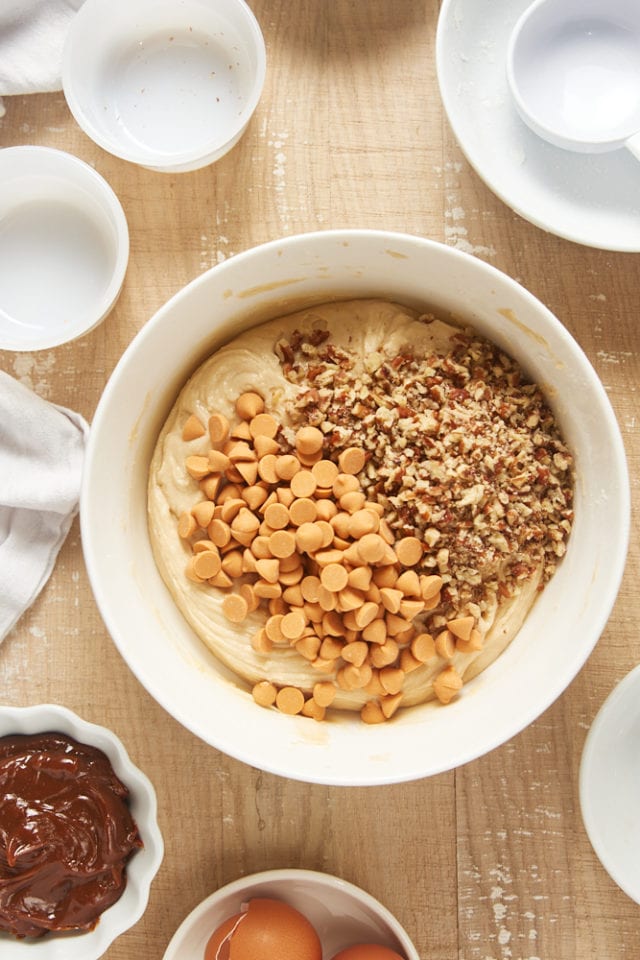 Bake. Bake 30-35 minutes, or until a toothpick inserted in the center comes out clean. Then cool the cake in the pan on a wire rack for 15 minutes. Then use the overhanging parchment paper to lift the cake from the pan onto a wire rack to cool completely.
Make the frosting. Beat together the dulce de leche, cream cheese, and vanilla with an electric mixer on medium speed. When the frosting is thoroughly combined and smooth, spread it on top of the cooled cake. An offset spatula is a great tool for frosting. Sprinkle with the reserved pecans.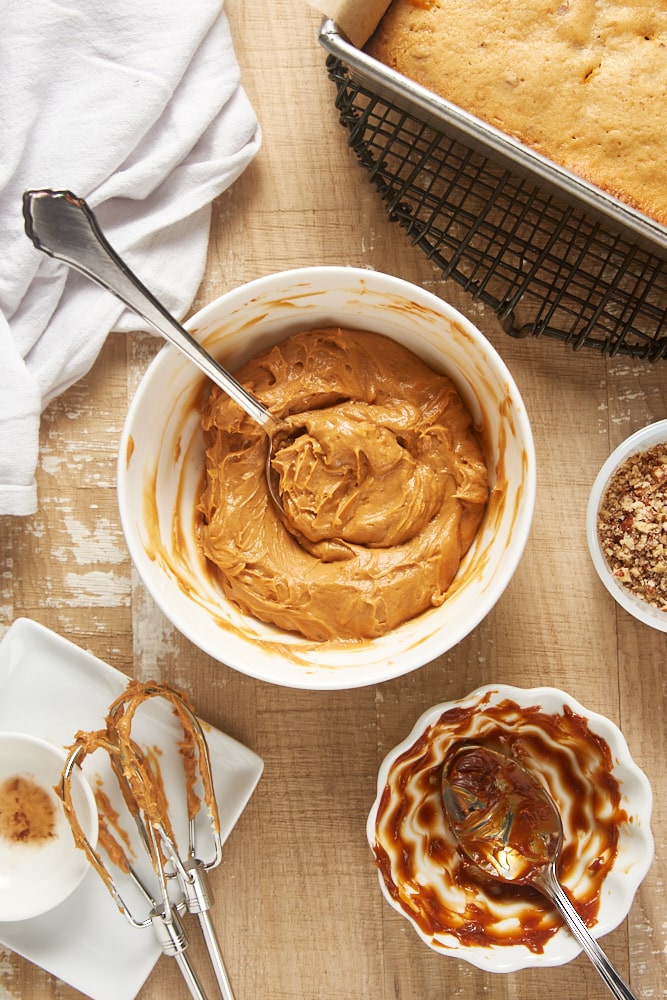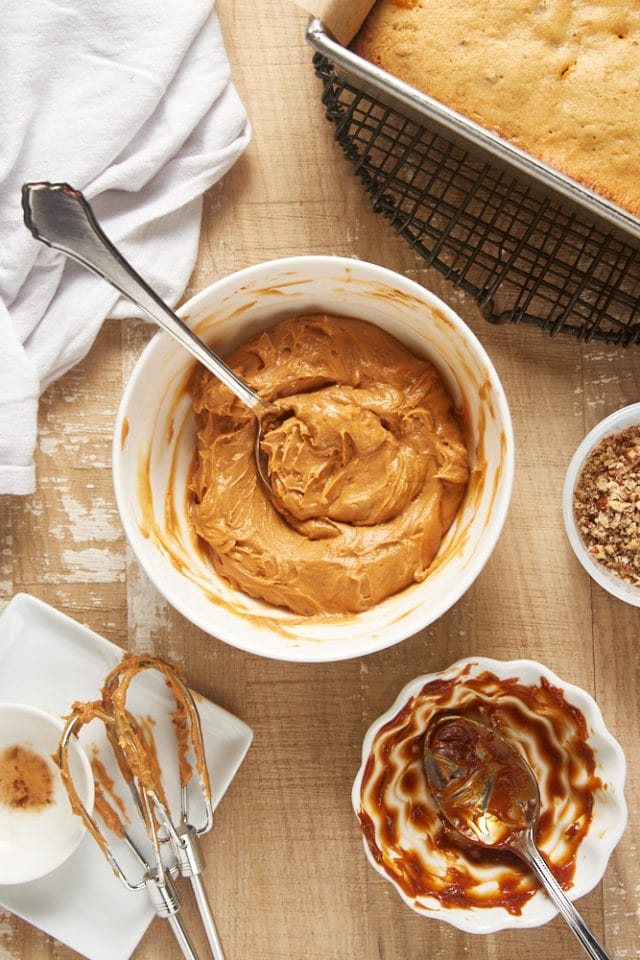 Recipe Variations
Skip the frosting in favor of a simpler cake. Serve plain or with a dusting of confectioners' sugar.
Try a simple chocolate frosting like the unbelievably easy one on this Chocolate Chip Snack Cake.
Vary the add-ins with different nuts, chocolate chips, dried fruits, coconut, or anything else that sounds good!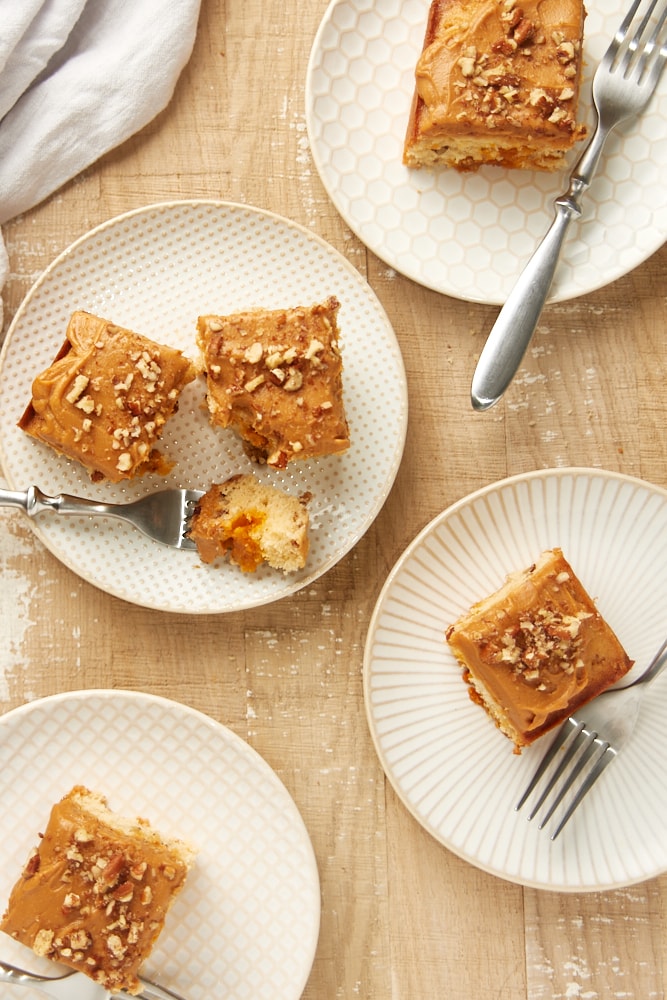 Tips for Success
Here are a few tips to help ensure that your cake is the best it can be!
Measure accurately. Use a kitchen scale to measure by weight if possible. This is especially important with flour, as too much can mean a dry, tough cake. Learn more: How to Measure Flour
Use a light-colored, metal baking pan. You'll get a more evenly baked cake with this type of pan.
Line the pan with parchment paper. While not necessary, the lining makes it a cinch to lift the cake out of the pan for frosting and serving. It also helps ensure even baking and easy cleanup.
How to Store Leftovers
Keep the frosted cake tightly covered in the refrigerator. It should keep for up to 3 days, although it will be best the day it's made. Set it out on your kitchen counter an hour or two before serving time to let it come to room temperature.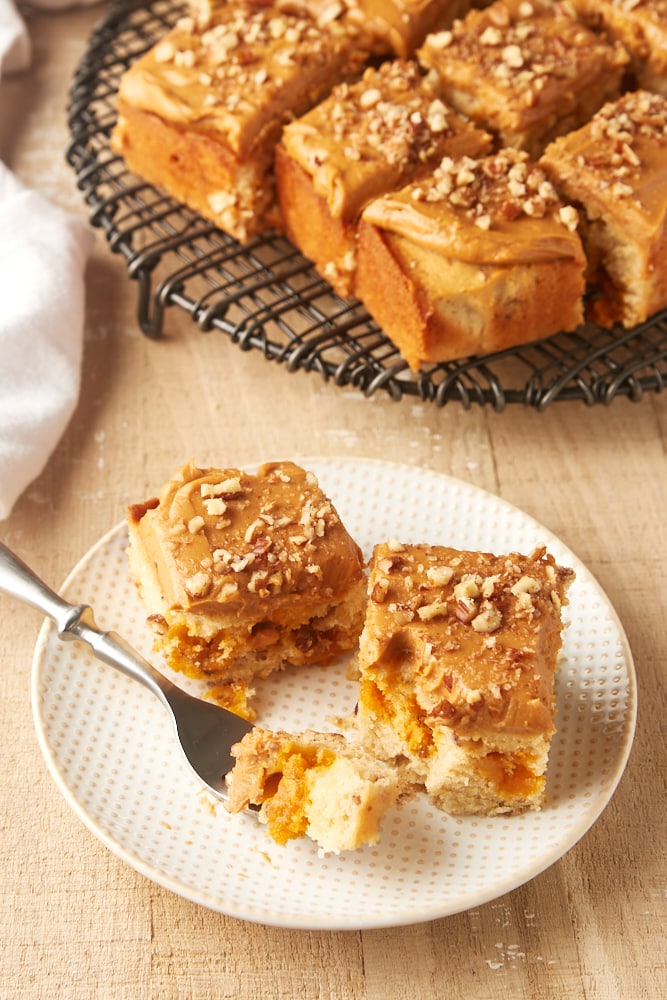 Can Brown Sugar Snack Cake Be Frozen?
Yes! To freeze the frosted cake, first place the cake (sliced or unsliced) uncovered in the freezer until the frosting is frozen. Then wrap the cake or the individual slices in a couple of layers of plastic wrap. Wrap again with aluminum foil or place in an airtight, freezer-safe container or freezer bag.
To freeze the unfrosted cake, wrap the cake or leftover slices well in plastic wrap. Then wrap again with foil or place in an airtight, freezer-safe container or freezer bag.
Thaw the frozen cake overnight in the refrigerator.