Sweet and Salty Peanut Butter Crinkle Cookies combine peanut butter, potato chips, and chocolate for a fun and different cookie with wonderful flavor!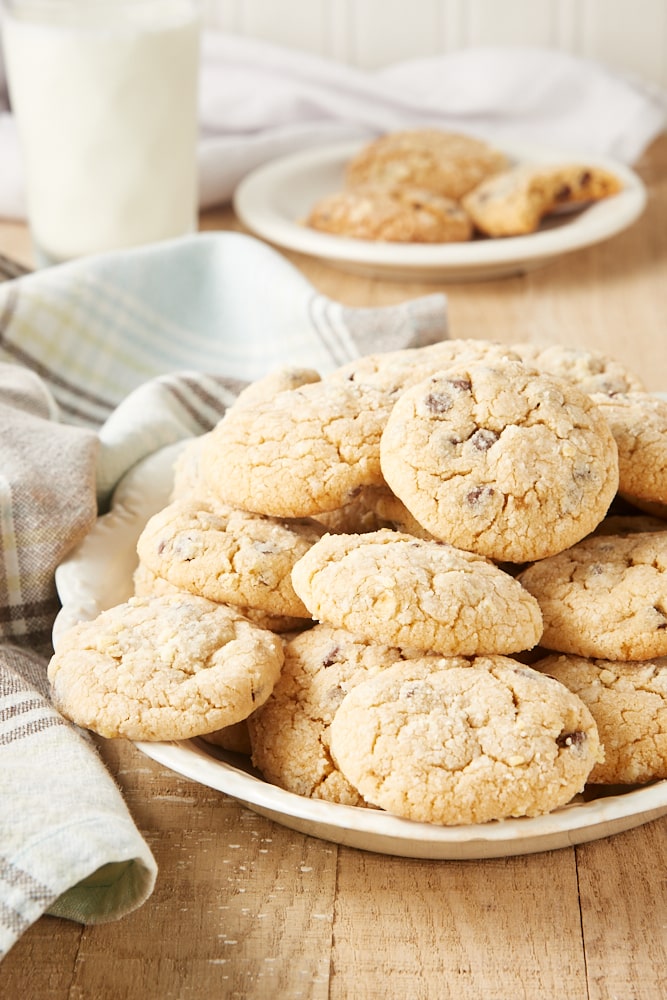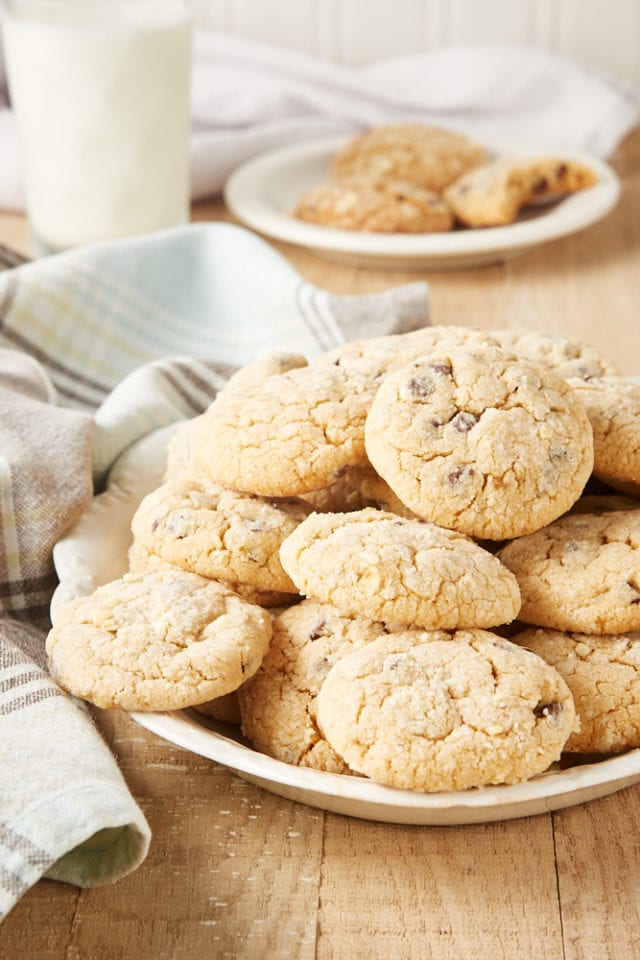 Peanut Butter Crinkle Cookies
I don't need much convincing to make peanut butter cookies, but once I got the idea to make these Sweet and Salty Peanut Butter Crinkle Cookies, I couldn't get in the kitchen fast enough!
These cookies begin simply enough as a peanut butter cookie designed to be rolled in a sweet coating and baked until they crack open to give that signature crinkle cookie look. But we're going several steps beyond that with the addition of crushed potato chips to the coating for a salty bite. And for good measure, we're adding chocolate chips to the cookies, too.
The flavor of the potato chips isn't a bold one here. Instead, they add a hint of saltiness and just a little extra flavor. They're a perfect pair with the peanut butter in the cookies!
If you're a big sweet and salty fan, you can easily adjust the salt to your tastes. And if you're looking for more sweet and less salty, you can simply skip the potato chips for a more traditional cookie.
(And if you can't get enough peanut butter cookies, try 3-Ingredient Peanut Butter Cookies, Peanut Butter Lovers' Cookies, and Classic Peanut Butter Cookies!)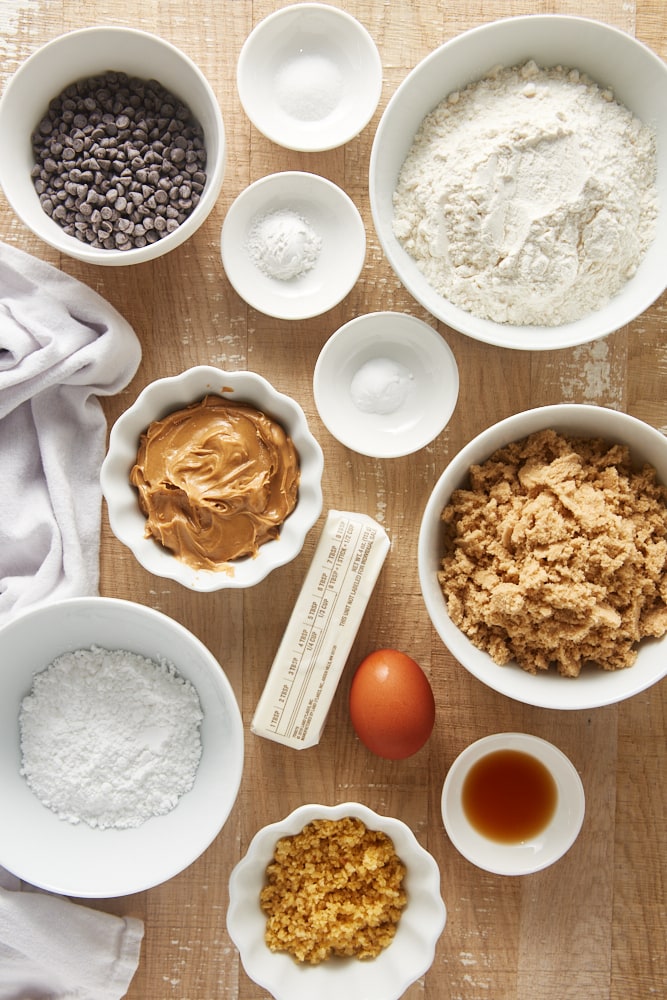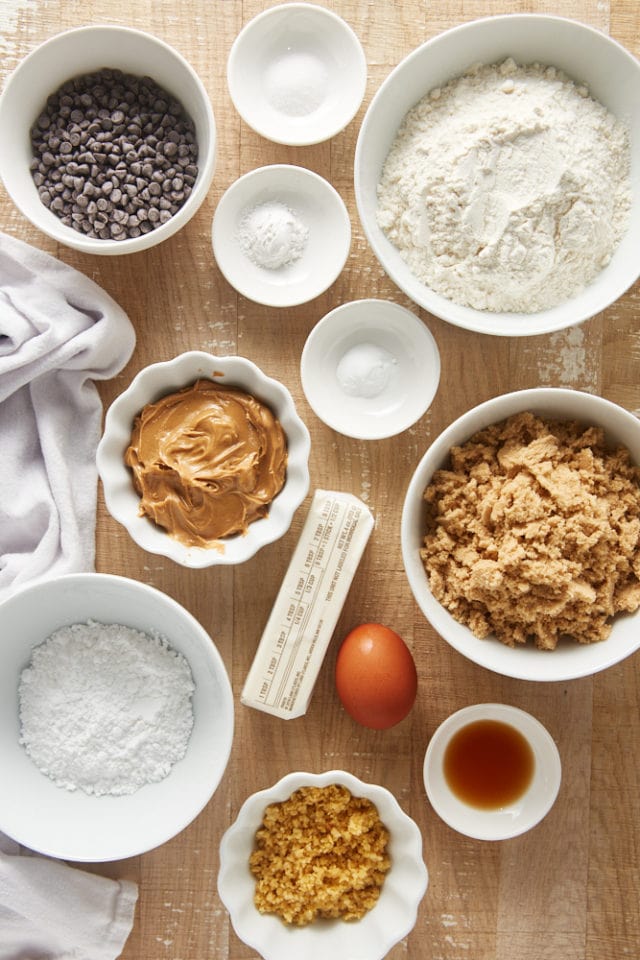 What You'll Need
The odds are pretty good that you've got most if not all of these ingredients in your kitchen.
For the cookies:
All-purpose flour – Measure by weight for the best results. If you don't have a kitchen scale, then spooning and sweeping is best.
Baking powder
Baking soda
Salt
Unsalted butter – Set out the butter about half an hour before baking to allow it to soften.
Peanut butter – For best results, use regular creamy peanut butter. There's a lot of variance in natural peanut butters, so I don't bake with them as a general rule.
Brown sugar – Need to soften your brown sugar? I've got tips for that!
Egg – Set out the egg when you set out the butter to allow it to come to room temperature.
Vanilla extract
Mini chocolate chips – The mini size works best in these cookies. If you don't have mini chips, you can use chopped chocolate.
For the coating:
Confectioners' sugar or granulated sugar – I prefer the look of confectioners' sugar for this coating, but the moisture from the potato chips can cause the coating mixture to clump. You can easily break that up periodically with a fork. Or you can opt to use granulated sugar (or a coarse sugar) instead of confectioners' sugar.
Potato chips – Make sure these are ground finely. I usually give them a quick spin in my mini food processor, but you can use any method that results in fine crumbs.
Salt – Adjust this to suit your tastes. I like a heavy pinch, but alter that as you like.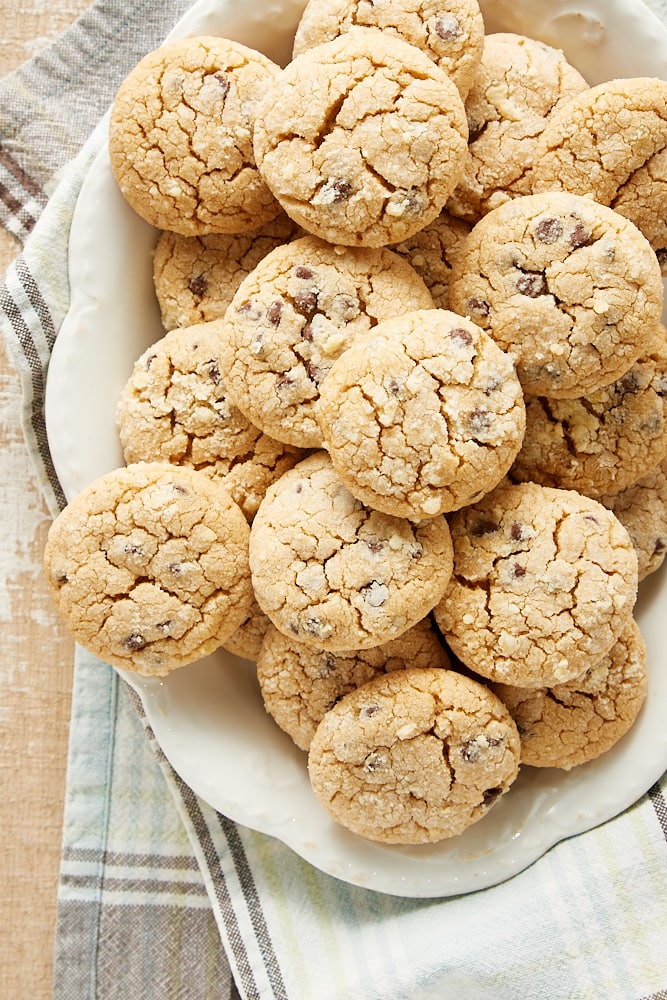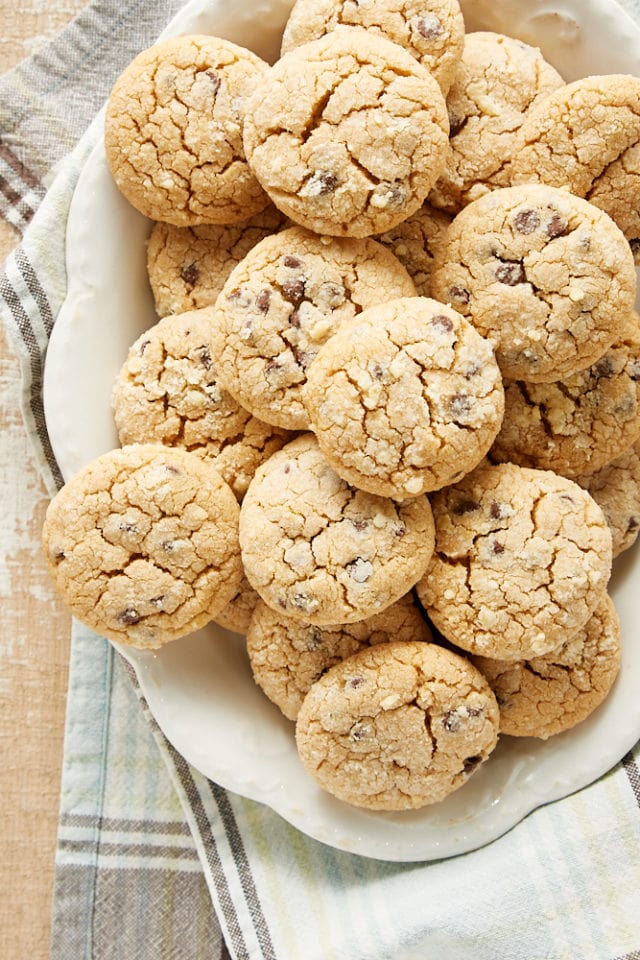 How to Make Peanut Butter Crinkle Cookies
These cookies mix easily and don't require any special equipment. You'll need a few mixing bowls, a hand or stand mixer, and your favorite sheet pans. I also recommend using a cookie scoop, but it isn't a necessity.
Combine the dry ingredients. Whisk together the flour, baking powder, baking soda, and salt.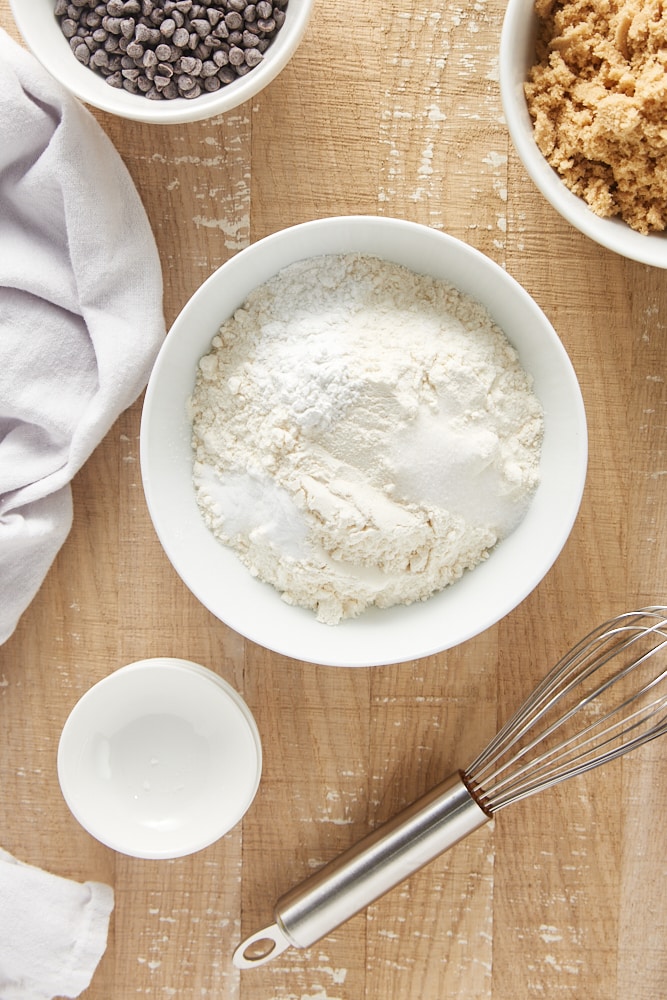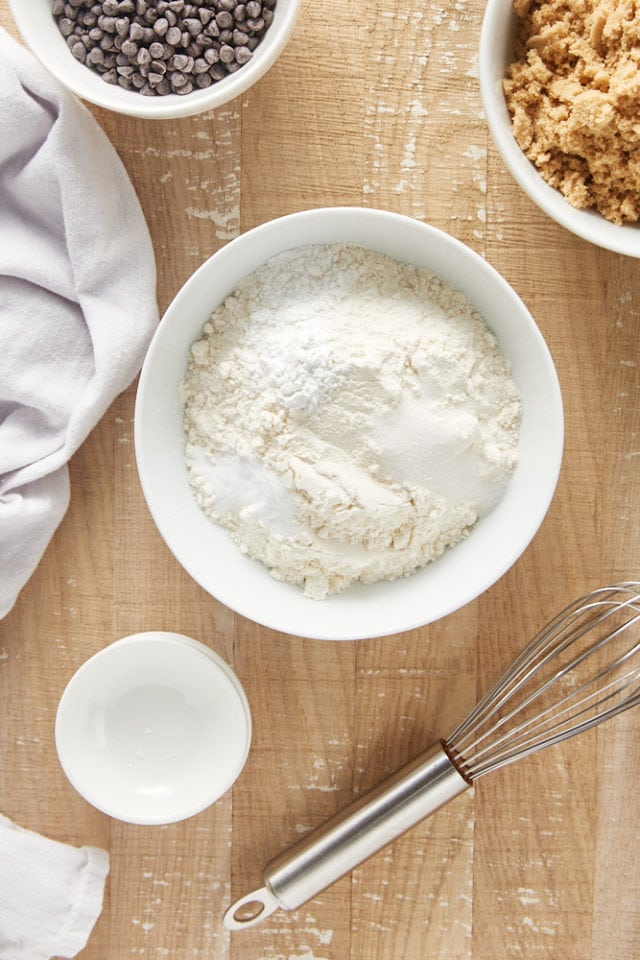 Combine the wet ingredients. Place the butter, peanut butter, and brown sugar in a separate bowl. Use an electric mixer on medium speed to beat until light and fluffy. Add the egg and vanilla, and mix well.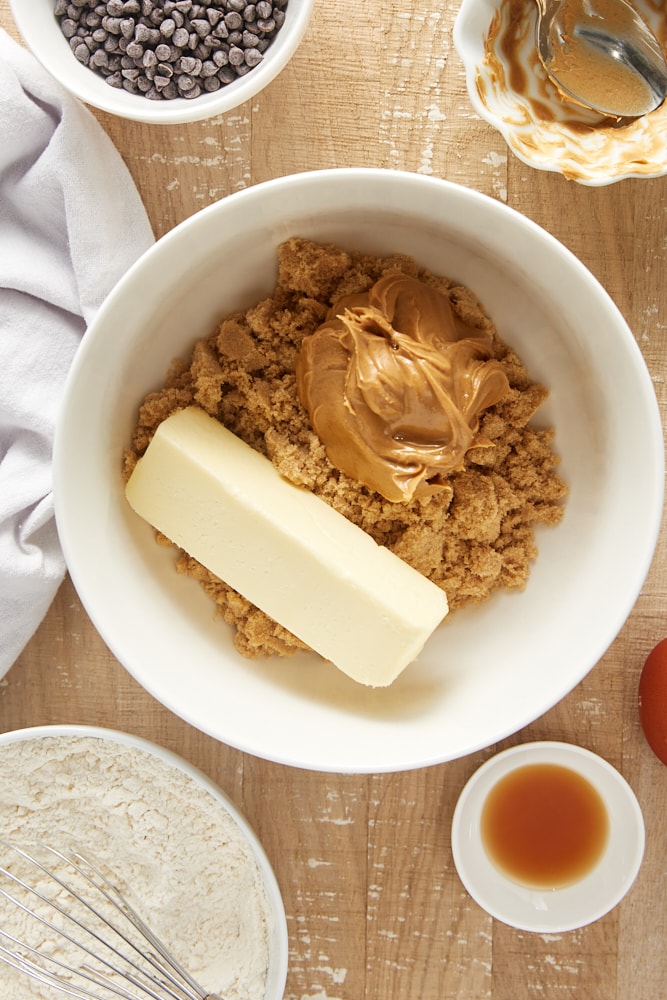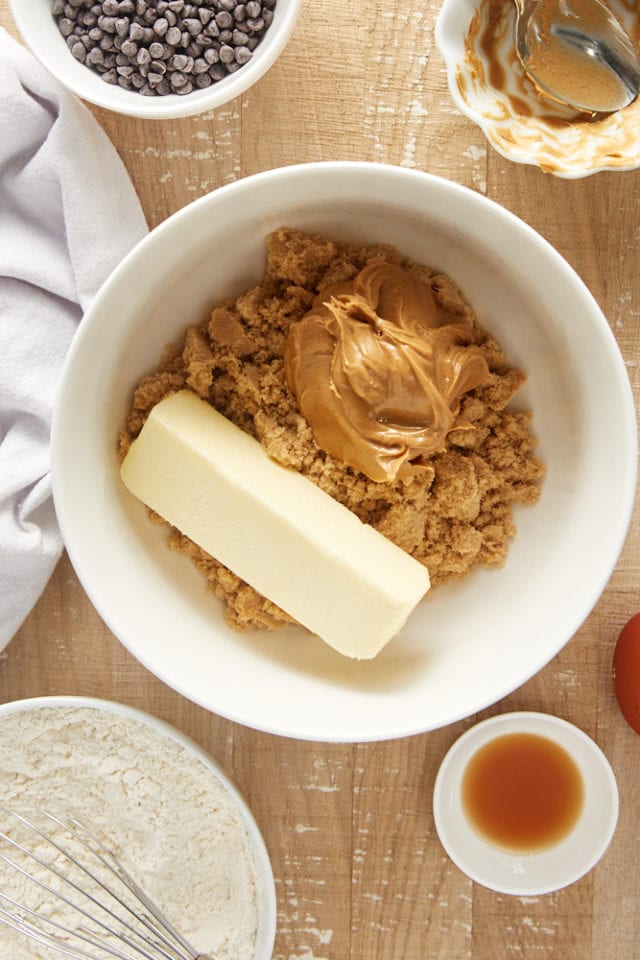 Add the dry ingredients to the wet ingredients. With the mixer speed on low, gradually add the flour mixture. Mix just until combined or a few streaks of flour remain.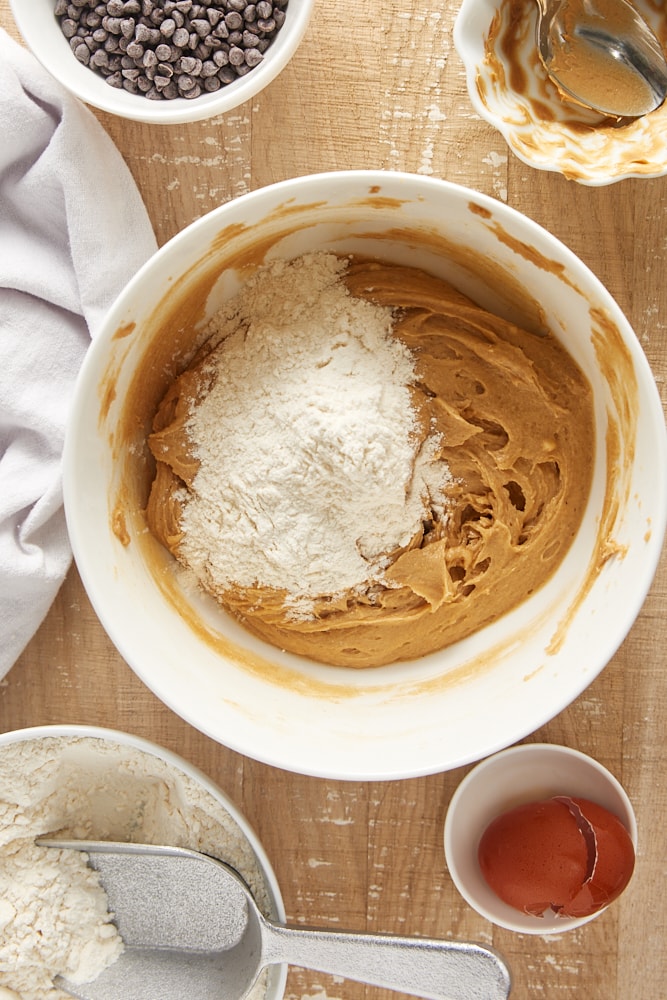 Add the chocolate chips. Stir them into the dough just until they're well-distributed.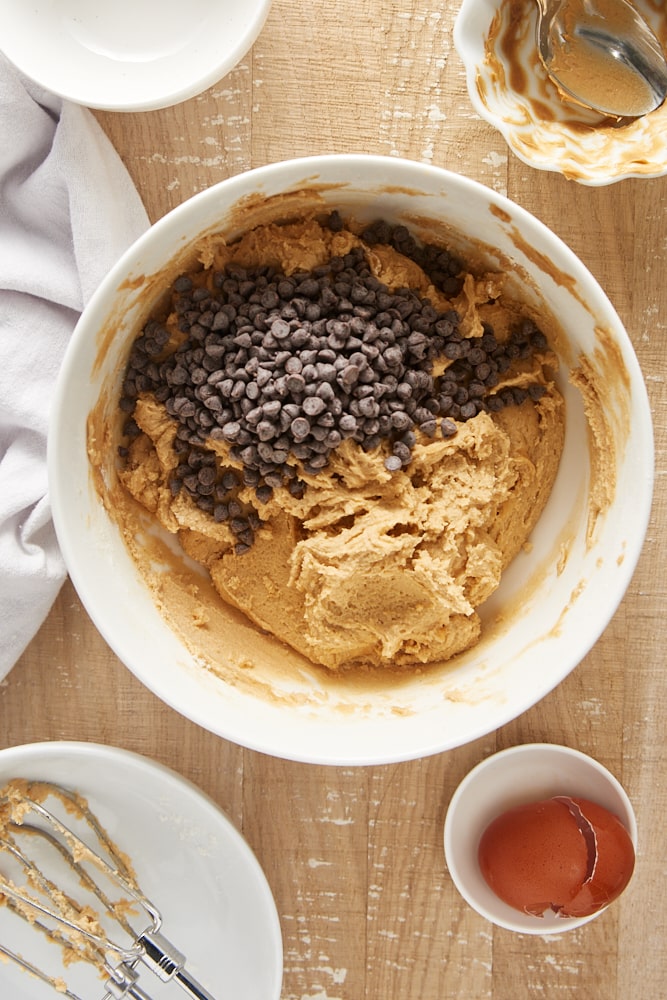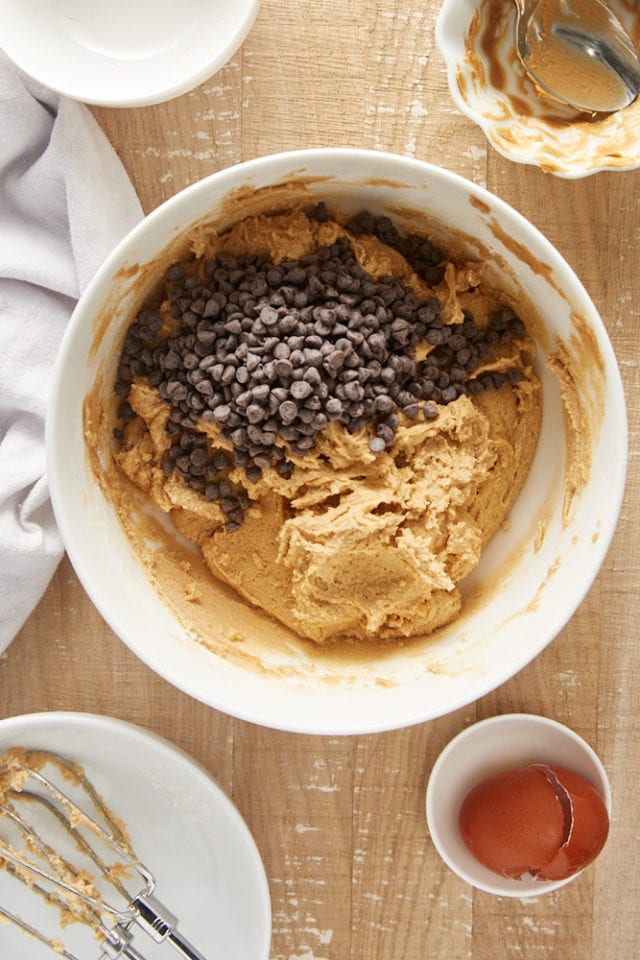 Chill the dough. Cover and refrigerate for 1 hour or up to overnight. For longer chilling times, leave the dough at room temperature for about 10 minutes before portioning so it's more easily handled.
Prepare for baking. Heat the oven to 375°F. Line baking sheets with parchment paper or silicone liners.
Make the coating. In a shallow bowl, combine the confectioners' sugar (or granulated sugar), ground potato chips, and salt.
Portion and coat the cookies. Using a tablespoonful of dough at a time (I use a #60 scoop), form the dough into balls. Roll each in the coating mixture. (If the coating mixture starts forming clumps, use a fork to break it up.) Place the cookies on the prepared pans, leaving about 2 inches between the cookies.
Bake. Bake each pan of cookies for 8 to 10 minutes, or until the cookies are golden brown.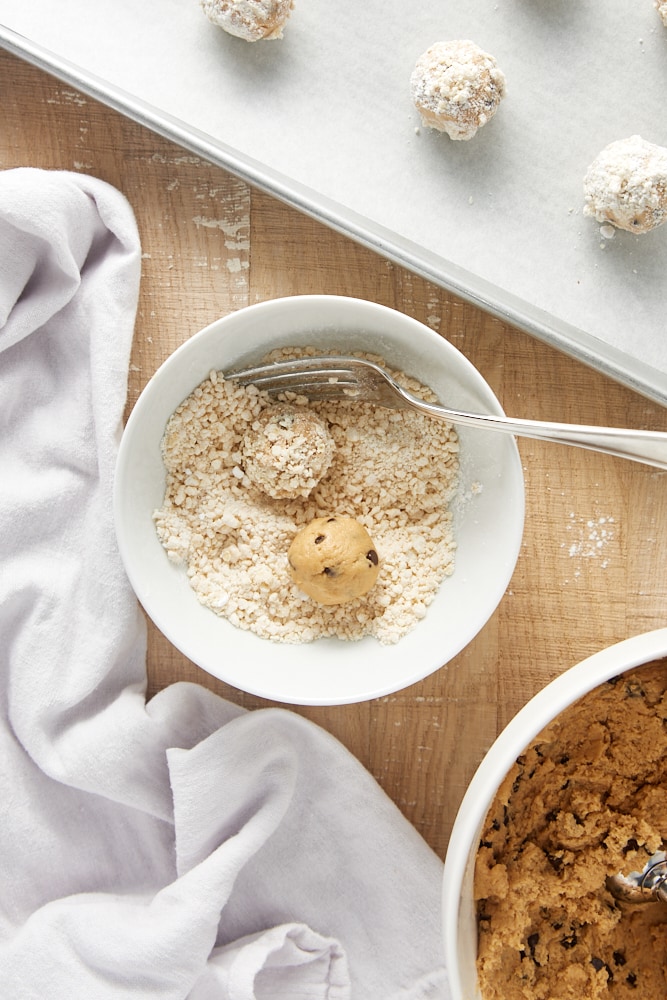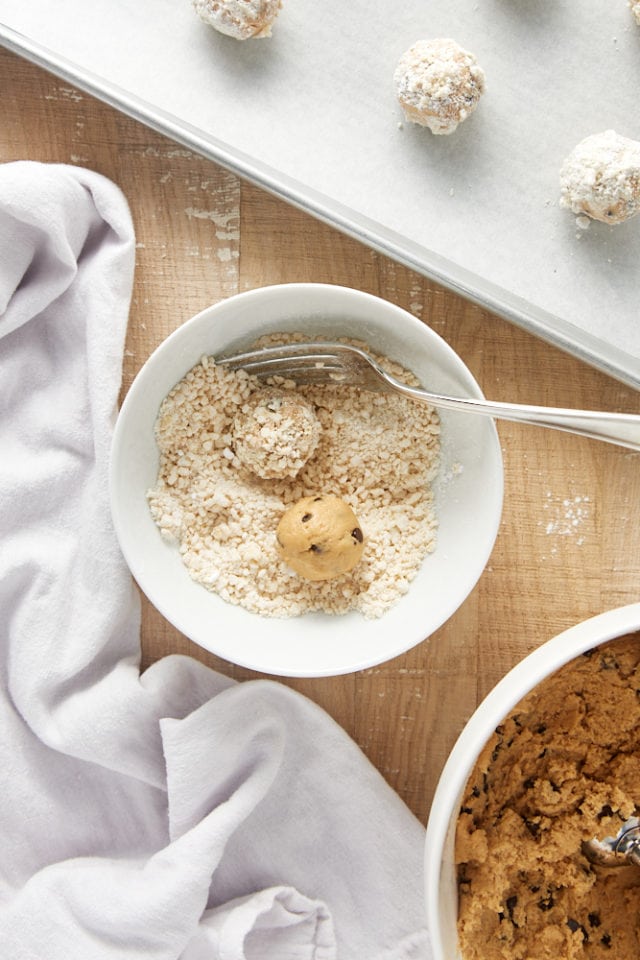 Cool the cookies. Place the pans on wire racks to allow the cookies to begin cooling. If you like, dust the cookies with more of the coating mixture. After 5 minutes, transfer the cookies from the pans to a wire rack to cool completely.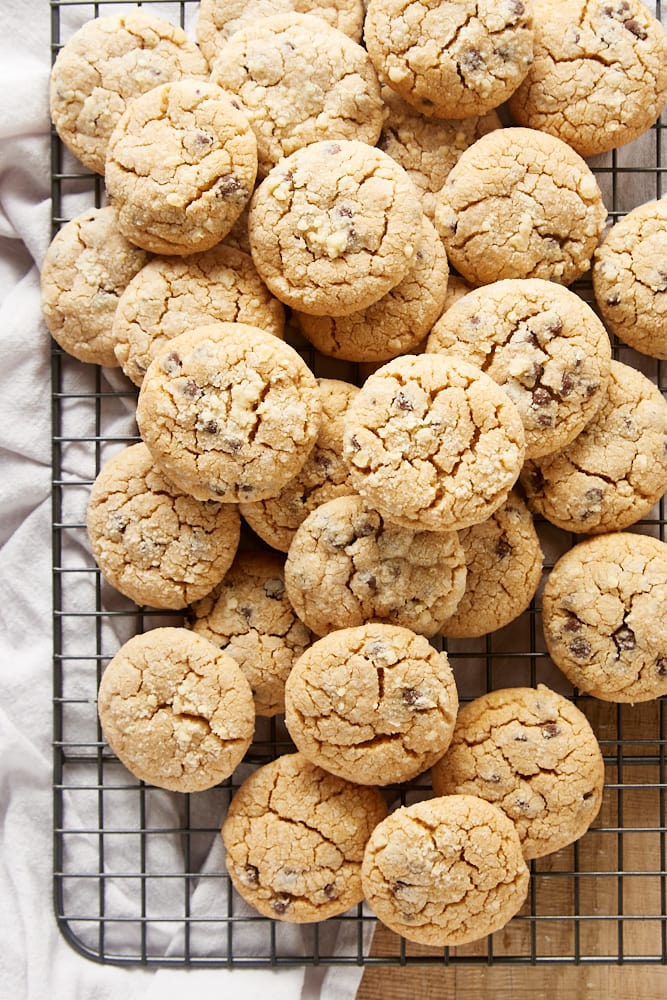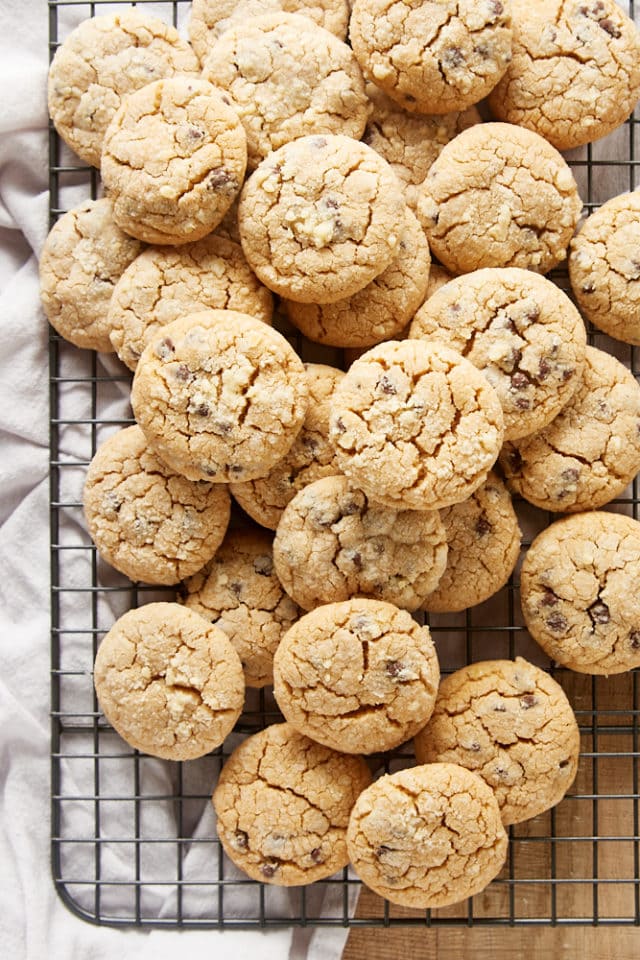 Ideas for Variations
Skip the potato chips to put more focus on the peanut butter. I adore all things peanut butter, so I totally get it if you go that route. You may need a little extra confectioners' sugar without the added volume of the potato chips.
You can omit the chocolate chips, too. I rarely pass up the opportunity to add a little chocolate to my peanut butter, but you can omit them entirely or replace with finely chopped peanuts. Keep in mind that omitting them will result in a few less cookies.
Substitute ground pretzels for the potato chips for a little different sweet and salty treat.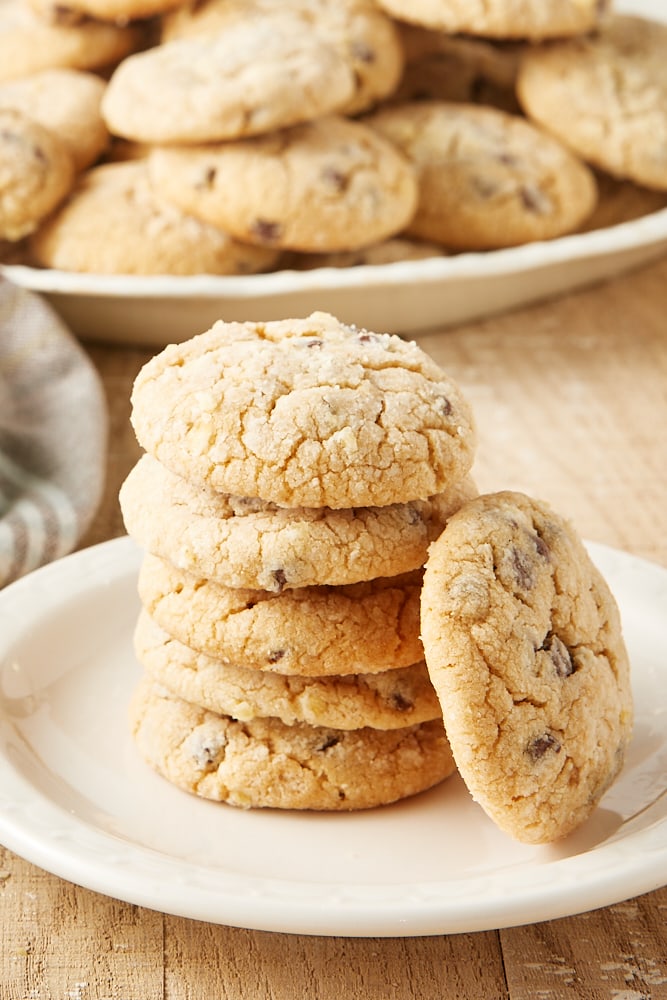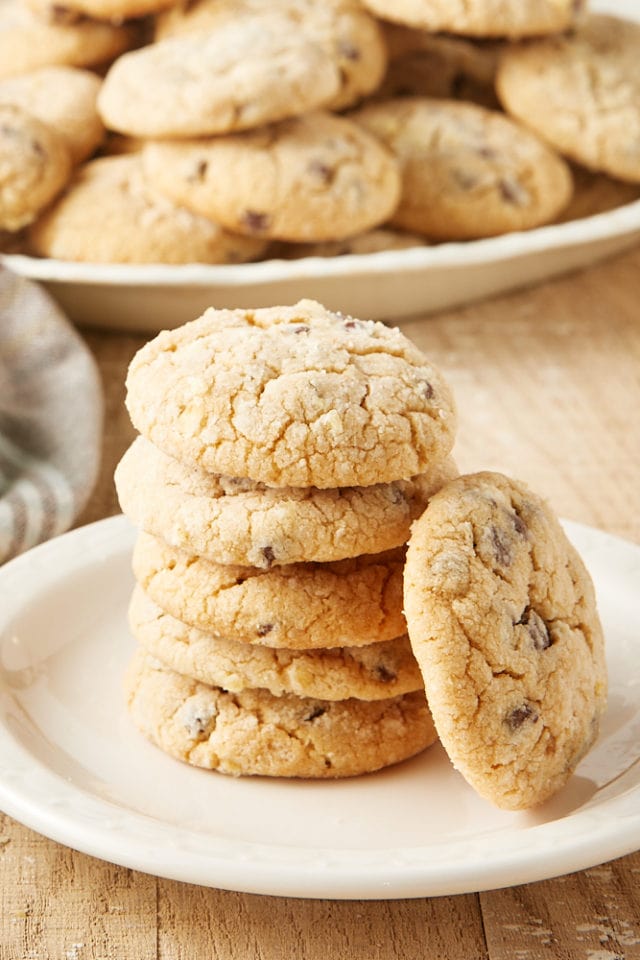 Tips for Success
Don't skip the chilling time. It allows the dough to relax and the flavors to meld. The cookies will also spread less after the dough has been chilled.
Adjust the salt to your tastes. Add a little more to the coating to increase the saltiness if you like.
Don't be shy rolling those cookies! You want a generous coating of the sugar-potato chip mixture on each one.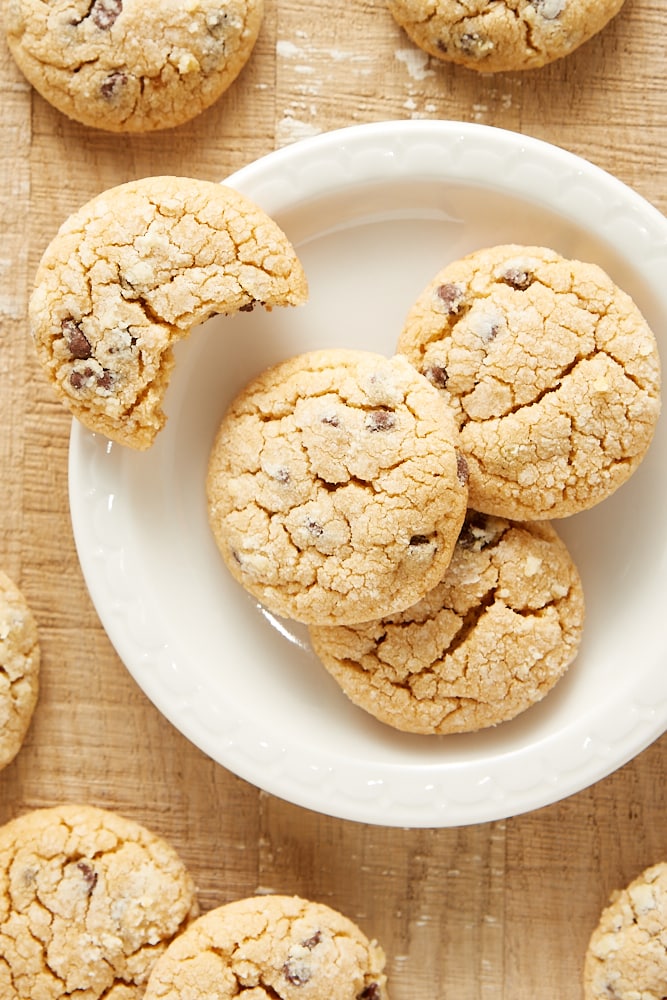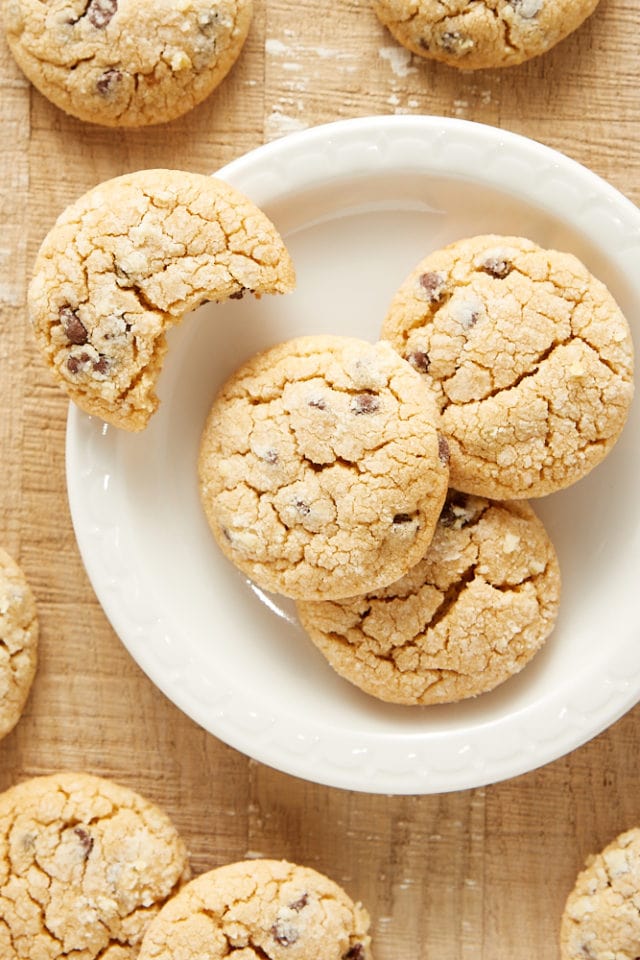 How to Store These Cookies
After the cookies have cooled completely, place them in an airtight container. Place wax paper between layers of the cookies to keep them looking their best. Store at room temperature up to 3 days.
How to Freeze Peanut Butter Crinkle Cookies
To freeze the baked cookies, place the cookies in single layers between sheets of parchment paper or waxed paper in an airtight, freezer-safe container. They should keep up to 3 months. Thaw overnight in the refrigerator or for an hour or so at room temperature.
To freeze the unbaked cookie dough, portion the dough as directed but don't coat them. Place the dough balls on a lined rimmed baking sheet and freeze until solid (at least 2 hours, but no more than 6 to avoid freezer burn). Then transfer the frozen cookie dough to a freezer-safe bag or container. When you're ready to bake the cookies, thaw them at room temperature for about 30 minutes; then roll them in the coating as directed and bake.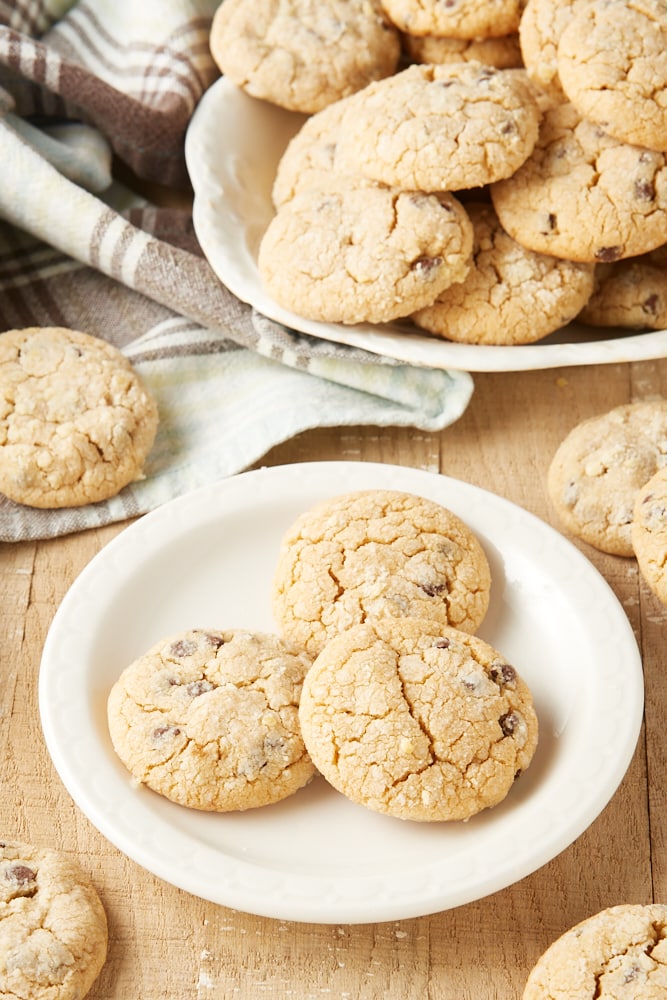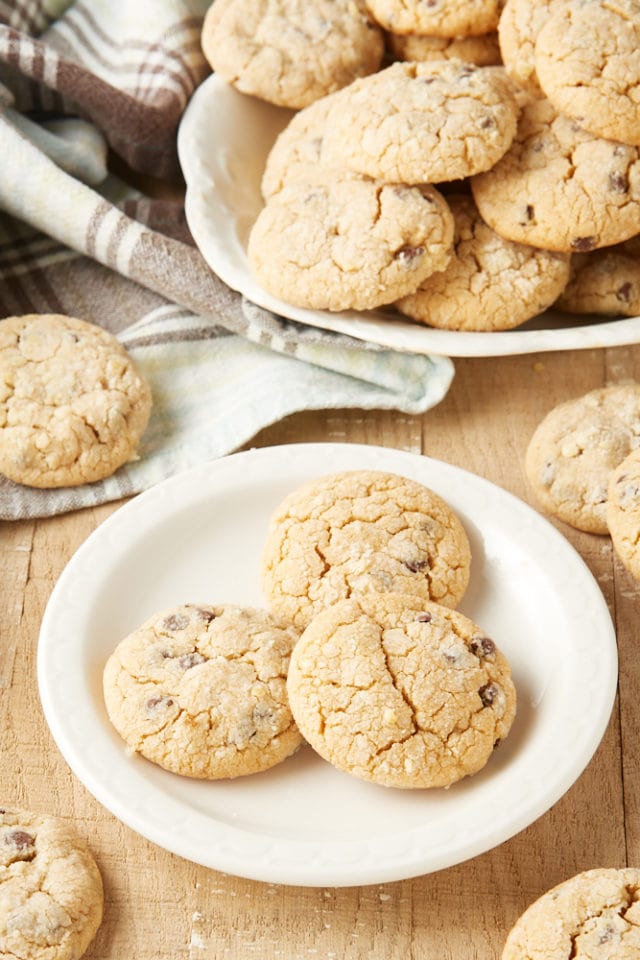 More Crinkle Cookie Recipes