These sweet-and-tart Key Lime Crinkle Cookies are bursting with bright citrus flavor! And because they're crinkle cookies, they're a breeze to make.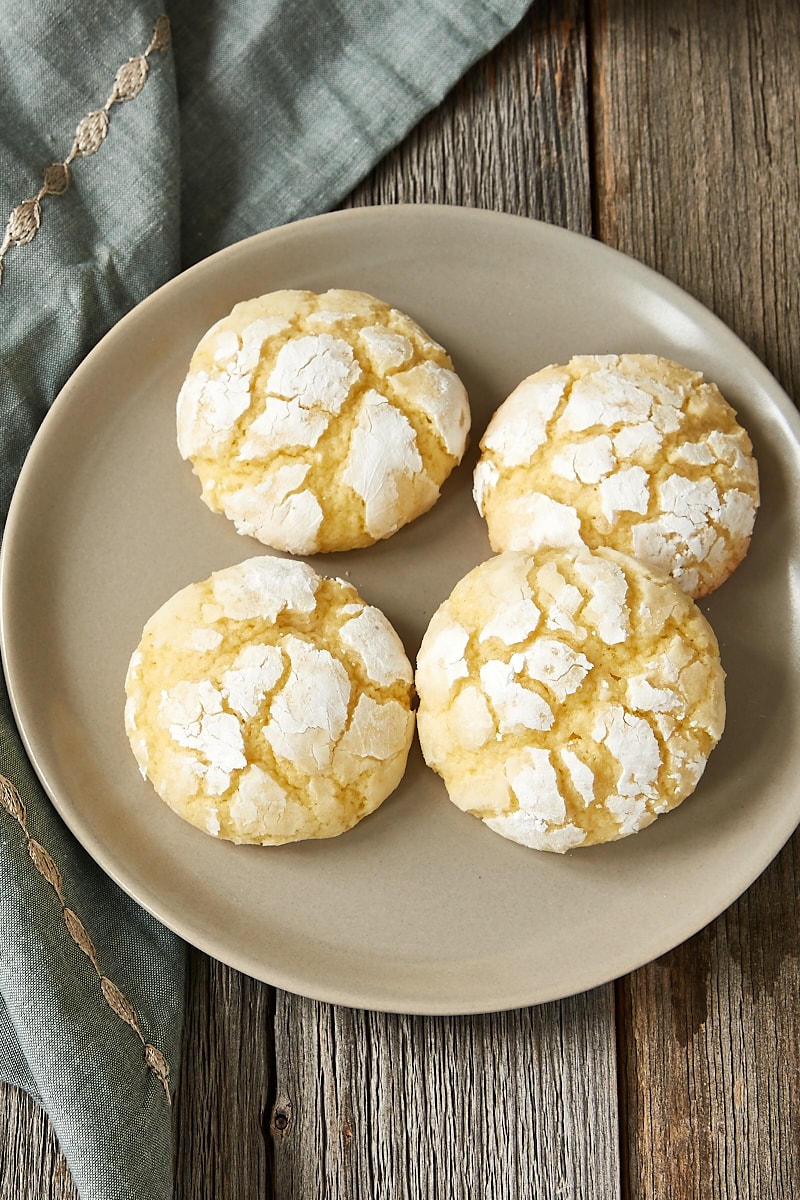 The Best Key Lime Cookies
These cookies came to be when I spied a bag of Key limes at the grocery store. I couldn't resist popping it into my cart, but once I got home, I had to decide what I was going to do with all those little limes.
Of course, there's the predictable Key lime pie, but where's the fun in that? I wanted to try something new, so I got to work zesting and juicing and came up with this recipe for Key Lime Crinkle Cookies.
I have such a soft spot for crinkle cookies. I just love all those cracks and crevices on top surrounded by all that confectioners' sugar! And the tart flavor of Key limes lends itself well to these crinkle cookies—that extra bit of sweetness from rolling the cookies in confectioners' sugar is the perfect complement to the acidic lime juice.
When citrus fruit is in season and Key limes make their debut at the grocery store, these Key Lime Crinkle Cookies are the perfect way to put them to use. As for the rest of the year? Try my Sprinkle Crinkle Cookies or Hazelnut Crinkle Cookies.
What You'll Need
Scroll down to the recipe card to find the ingredient quantities and recipe instructions.
All-purpose flour – Learn more: How to Measure Flour
Baking powder
Key lime zest – Fine zest is best, as it will distribute more evenly into the cookie dough.
Salt
Unsalted butter – Let this soften at room temperature until it holds a thumbprint when pressed but is still cool. Learn more about why this recipe calls for unsalted butter: Unsalted or Salted Butter: Which is Better for Baking?
Granulated sugar
Eggs – Put the eggs on the counter with the butter so they can come to room temperature.
Key lime juice
Confectioners' sugar – Sift this to get all the lumps out.
Key Lime vs. Regular Lime: What's the Difference?
Key limes are smaller than standard limes, and they have more of a yellow hue to them. The skin is thinner and they have more seeds, which means a juicer that catches seeds will be your friend when making these Key lime cookies! The juice from key limes is aromatic, with less acidity than regular limes, so they're a bit sweeter.
Because Key limes aren't as widely cultivated as Persian limes (the variety regarded as "regular" limes), you'll usually only find them at the grocery store when they're in season in Florida, which is June through September. If you can't find Key limes for this recipe, you can certainly substitute regular limes; just keep in mind that there will be a subtle difference in flavor.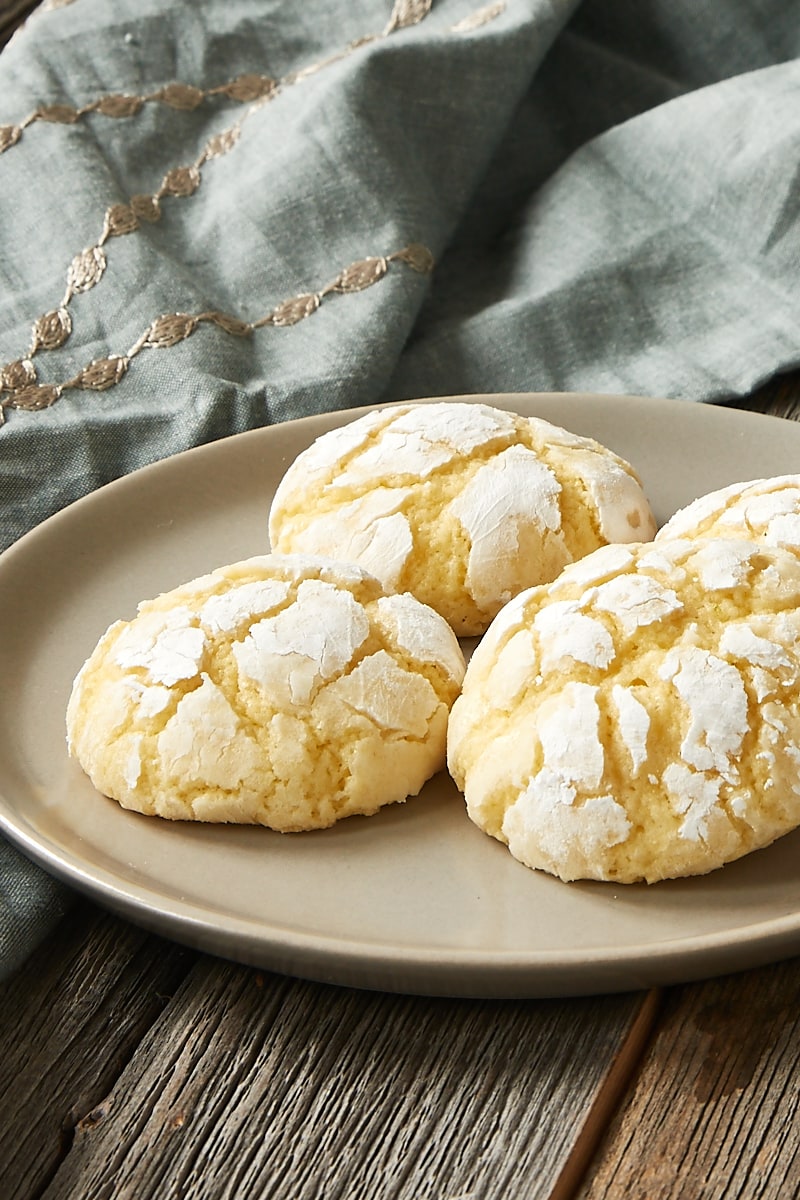 How to Make Key Lime Cookies
Like all crinkle cookies, this recipe for Key Lime Crinkle Cookies is practically a no-fail recipe. Just be sure to chill the dough so it's easy to roll into balls.
Mix the dry ingredients. Whisk the flour, baking powder, zest, and salt in a mixing bowl.
Mix the wet ingredients. In a second mixing bowl, use an electric mixer on medium speed to beat the butter and sugar until they're light and fluffy. Beat in the the eggs one at a time, followed by the lime juice.
Finish the dough. Reduce the mixer speed to low. Slowly add the flour mixture, beating until the wet ingredients and dry ingredients are just combined.
Chill. Refrigerate the cookie dough for 30 minutes.
Prepare. Preheat your oven to 350°F and line baking sheets with silicone mats or parchment paper. Place the confectioners' sugar in a small bowl.
Form the cookies. Scoop a tablespoon of cookie dough and roll it into a ball. Once you have a nice, uniformly round shape, roll the ball in the confectioners' sugar, making sure it's coated evenly. Place the cookie onto the prepared pan and repeat with the remaining dough, leaving about 2 inches between the cookies.
Bake. Place the pans in the oven and bake for 15 to 18 minutes, or until the edges are lightly browned.
Cool. Let the cookies cool on the pans for 5 minutes, then transfer them to a wire rack to cool completely. (Learn more: Why Every Baker Needs Wire Cooling Racks)
Tips for Success
Here are some tips for perfect Key Lime Crinkle Cookies. (Be sure to read over my tips for beginning bakers, too!)
Let the butter soften. Sometimes we forget to take out the butter before baking, but it's so important! Softened butter incorporates into the dough more evenly, and it also holds more air when it's beaten, giving your cookies a light, airy texture, as opposed to being dense and hard.
Pop the dough back into the fridge if you have to. If it's taking you longer than expected to roll the dough into balls, put the bowl of dough back into the refrigerator and let it chill until it's easy to work with again. This will keep your cookies from spreading, too.
Don't reuse baking sheets. Putting cookie dough on a hot baking sheet is never a good idea, as it leads to spreading and over-cooked bottoms. If you don't have enough baking sheets to accommodate all of the cookies at the same time, let your baking sheet cool between batches; store the dough in the refrigerator while you wait.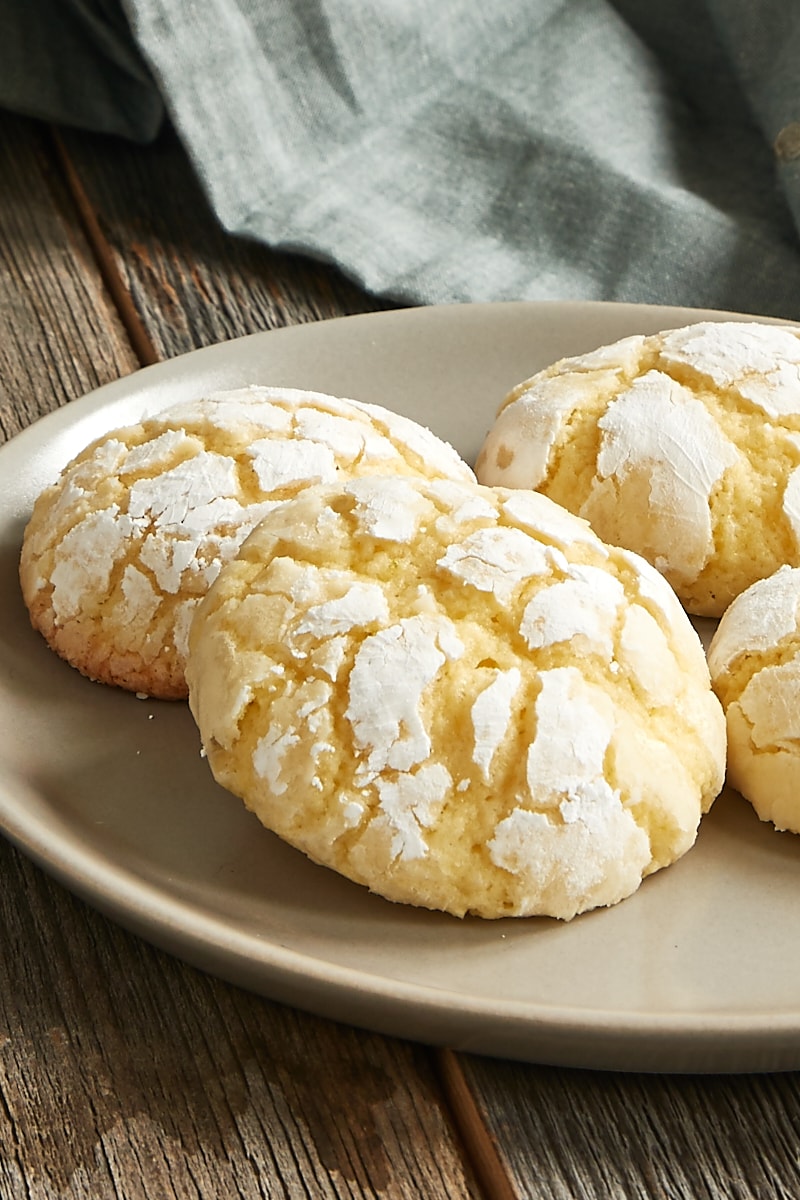 Crinkle Cookies FAQs
If you've never made crinkle cookies before, here are some quick answers to common questions you might have.
What Are Crinkle Cookies?
Crinkle cookies are a delicious type of cookie made by rolling dough into balls, then rolling the balls into confectioners' sugar. When baked, the sugar cracks, giving the cookies a distinctive appearance. In fact, crinkle cookies are often a holiday staple because the exterior looks like cracked ice or snow. Crinkle cookies have been around for generations, with recipes ranging from traditional chocolate to these more exotic Key lime cookies.
Why Did My Crinkle Cookies Not Crinkle?
Crinkle cookies are known for their crinkled effect and snowy coating, but you may have noticed that your cookies didn't turn out quite as expected. This can happen if you don't chill the dough before baking, or if it is overworked.
How Do You Keep Crinkle Cookies Moist?
The secret to keeping your crinkle cookies moist is to store them in an airtight container. This will help trap the moisture inside, so they stay soft and chewy with each bite.
Why Do Crinkles Crack?
The confectioners' sugar forms a hard shell during the first few minutes a crinkle cookie is in the oven. Then, as the cookies continue to bake, they expand, which cracks the shell.
How to Store
Store Key Lime Crinkle Cookies in an airtight container at room temperature for 3 to 4 days.
Can I Freeze These?
Baked Key Lime Crinkle Cookies can be stored in a freezer bag or airtight container and frozen for up to 2 months. Another option is to store the dough in the freezer; roll it into balls, then let the balls thaw on the countertop for 30 minutes before rolling them in the confectioners' sugar and baking as directed.
More Easy Cookie Recipes
This recipe was originally developed for Clabber Girl, where I am a paid contributor.