Cinnamon Oat Scones are a wonderfully delicious treat featuring simple flavors. Not too sweet and nicely soft, these scones are a great breakfast treat or afternoon snack.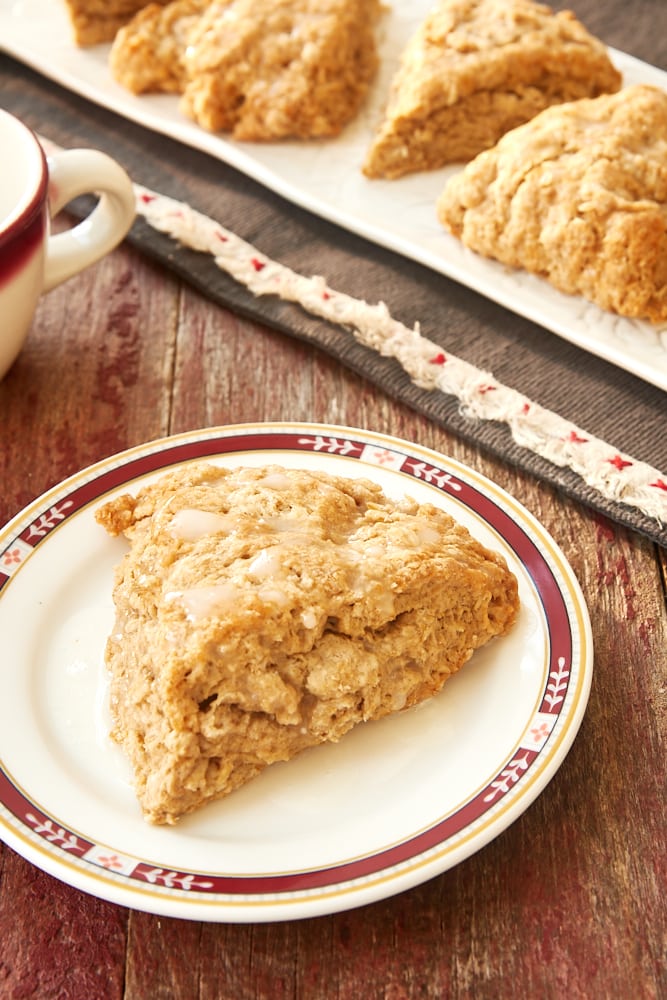 Cinnamon Oat Scones
One of my favorite flavors is cinnamon. I find myself sneaking it into my baking whenever I can. It's often not front and center, but these Cinnamon Oat Scones are a really lovely way to feature cinnamon in a quick and easy treat.
These soft, not-too-sweet scones have a nice dose of cinnamon alongside plenty of oats for some chewiness. While they're perfectly delicious all on their own, you can add a simple, sweet glaze for a little more sweetness. The flavors are simple, but the taste is amazing.
And maybe the best part? They taste a little bit like an oatmeal cookie in scone form!
This is the kind of recipe to keep in mind for a simple breakfast treat, a brunch gathering, or just for snacking with your favorite coffee or tea. They're just the right amount of sweet, have a nice chewiness, and aren't too dry or tough like a lot of scones.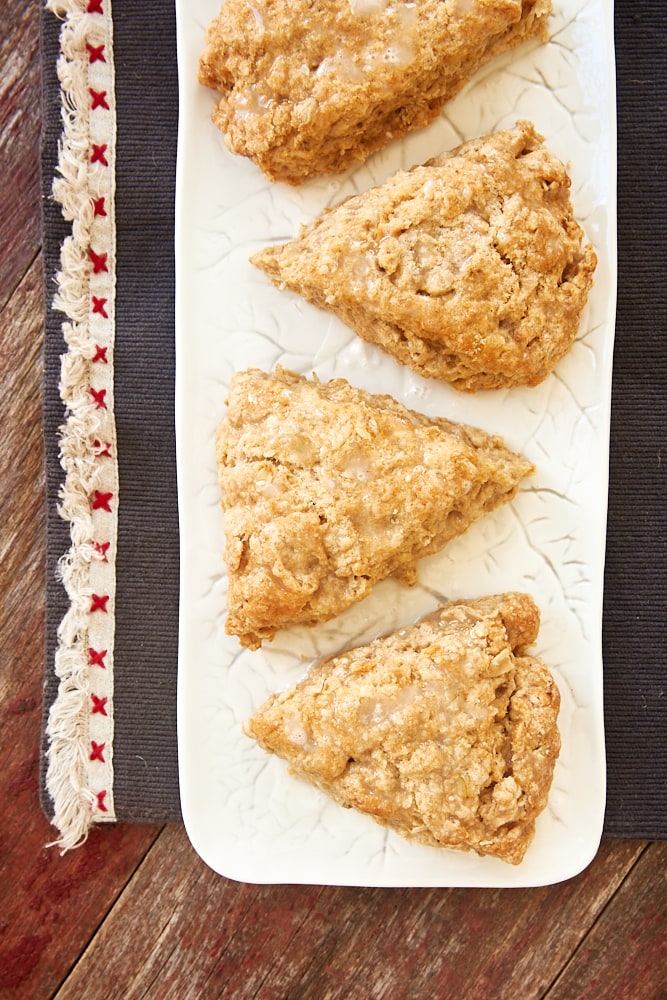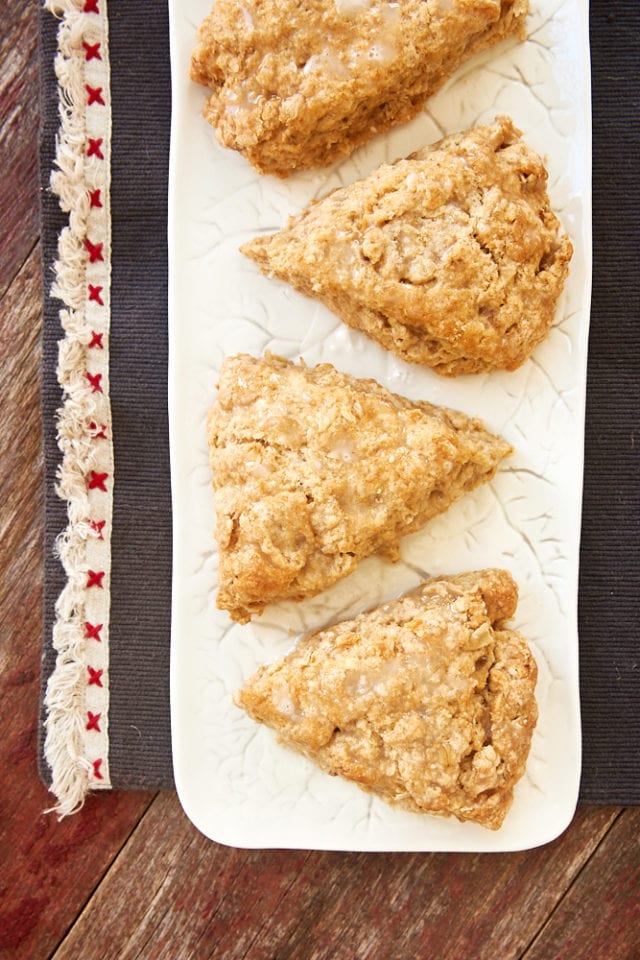 What You'll Need
These Cinnamon Oat Scones are made with ingredients you're likely to have on-hand, so you just may find yourself making them again and again!
All-purpose flour
Oats – Old-fashioned rolled oats work best to give these scones a hearty, chewy texture. Quick oats (substituted by volume) will work, but you'll get quite a different texture.
Brown sugar – Either light or dark brown sugar
Baking powder
Baking soda
Salt
Cinnamon – Feel free to increase the cinnamon for bigger cinnamon flavor!
Butter – Make sure your butter is cold!
Buttermilk – Out of buttermilk? Try one of these buttermilk substitutions.
Extract – I can never decide if I like these better with vanilla or almond extract. Either is a great choice!
Confectioners' sugar – Be sure to sift the sugar for a smooth glaze.
Milk
How to Make Cinnamon Oat Scones
One of the best things about these scones is how easy they are to make. Just one bowl and a few minutes of mixing, and they're ready for the oven! And the glaze is super easy, too, only needing a small bowl and a spoon.
Prepare for baking. Heat the oven to 400°F. Line a sheet pan with parchment paper.
Combine the dry ingredients and sugar. Stir or whisk the flour, oats, brown sugar, baking powder, baking soda, salt, and cinnamon.
Add the butter. Mix the cold butter into the flour mixture. I prefer using a pastry blender, but you can also do this with a fork or even your hands. When it's mixed, you should see pieces of butter that are about the size of small peas.
Add the buttermilk and extract. Stir these into the dough just until everything is combined and moistened.
Shape the scones. There's no need to roll the dough. Just shape it into a disk that's about 7 inches in diameter. Then cut the dough into 6 wedges. Separate the wedges a bit so there's about a half an inch of space between them. You can do all of this directly on the lined pan if you're careful not to cut through the parchment paper.
Bake. The scones will need 15-20 minutes to bake. They'll be golden brown when done. Place the pan on a wire rack to let the scones cool completely.
Make the glaze. Stir together the confectioners' sugar and a tablespoon of milk. Add a little bit of milk at a time until the glaze is the consistency you want. Then drizzle the glaze over the scones before serving.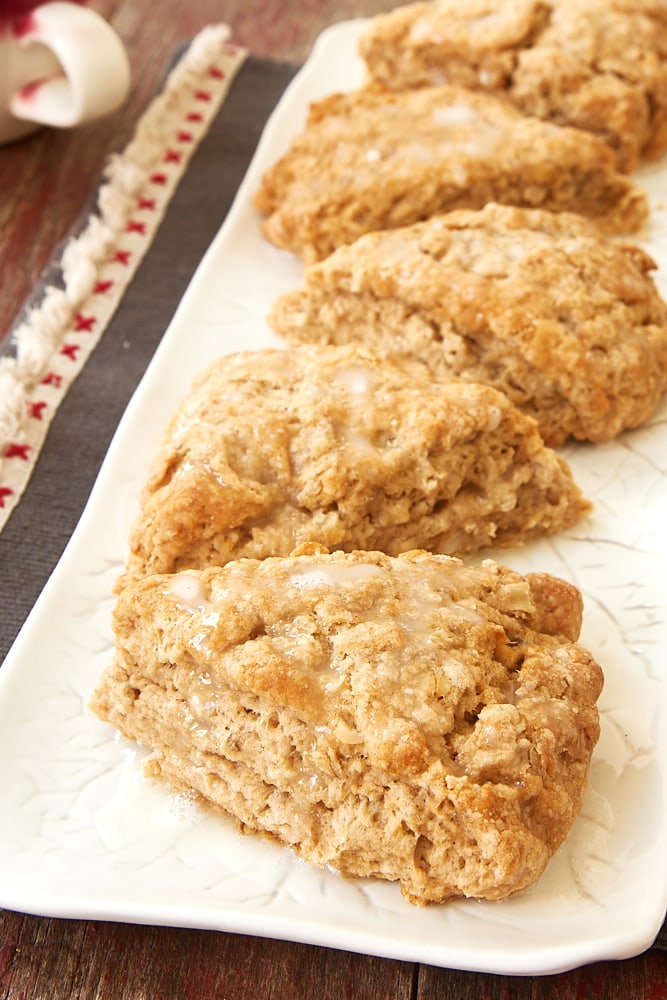 Recipe Variations and Serving Suggestions
This recipe is quite versatile, so you can easily change it up a bit. They also pair well with different spreads to add a little flavor variety after they're baked.
Skip the glaze for a simpler, less sweet option.
Dust with confectioners' sugar if you want a little extra sweetness without making the glaze.
Can't get enough cinnamon? Sprinkle the dough with cinnamon-sugar before baking.
Add a handful of dried fruit or chopped nuts to the dough.
Serve with your favorite fruit preserves or apple butter.
How to Store Cinnamon Oat Scones
These scones should keep in an airtight container for up to 3 days. For best results, store the glaze separately so the scones don't get soggy. If you want them warmed, a short stint in the microwave should do it.
To freeze the scones, wrap them in plastic wrap, and then wrap again in aluminum foil or place in a freezer-safe bag or container. Again, I recommend storing them without the glaze. They should keep in the freezer for up to 3 months. Thaw them overnight in the refrigerator, at room temperature for a couple of hours, or in the microwave.
Find more breakfast recipes in the Recipe Index.
More Oat Scone Recipes