June 6, 2012
Peanut Butter and Jelly Thumbprint Cookies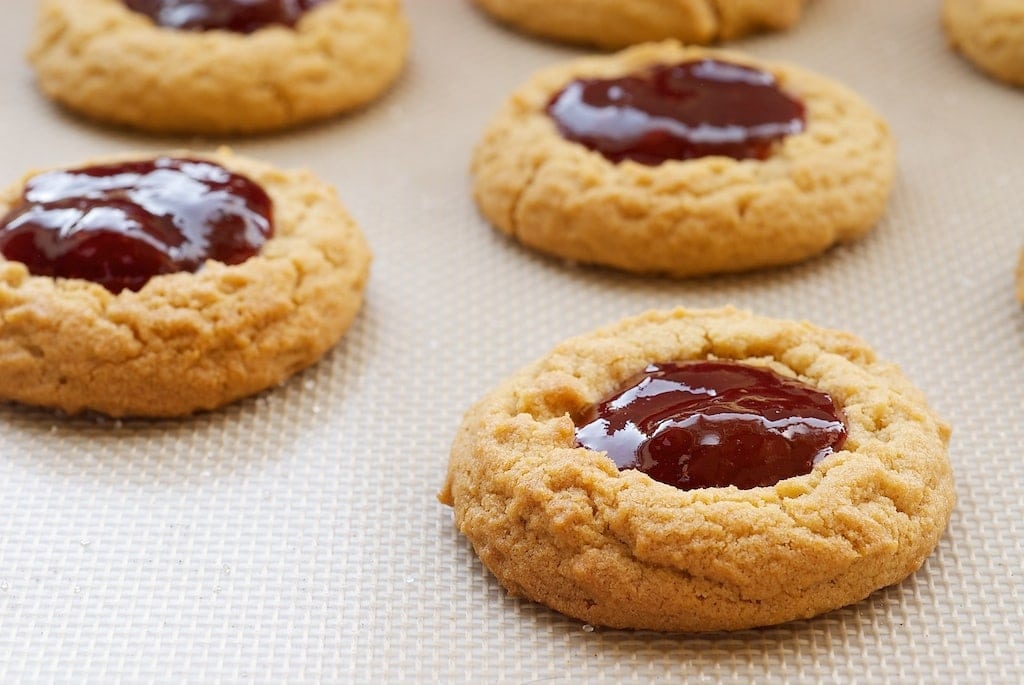 Peanut butter and jelly are a long-standing comfort duo for me. I wouldn't even try to think how many pb&j sandwiches I've eaten in my lifetime. Not exactly a gourmet meal, but I'll take it just the same.
These cookies take that old favorite combination and move it into dessert territory. I started with what is my most often made version of peanut butter cookies. When they're hot from the oven, a little indention is made and then later filled with your favorite jelly or preserves.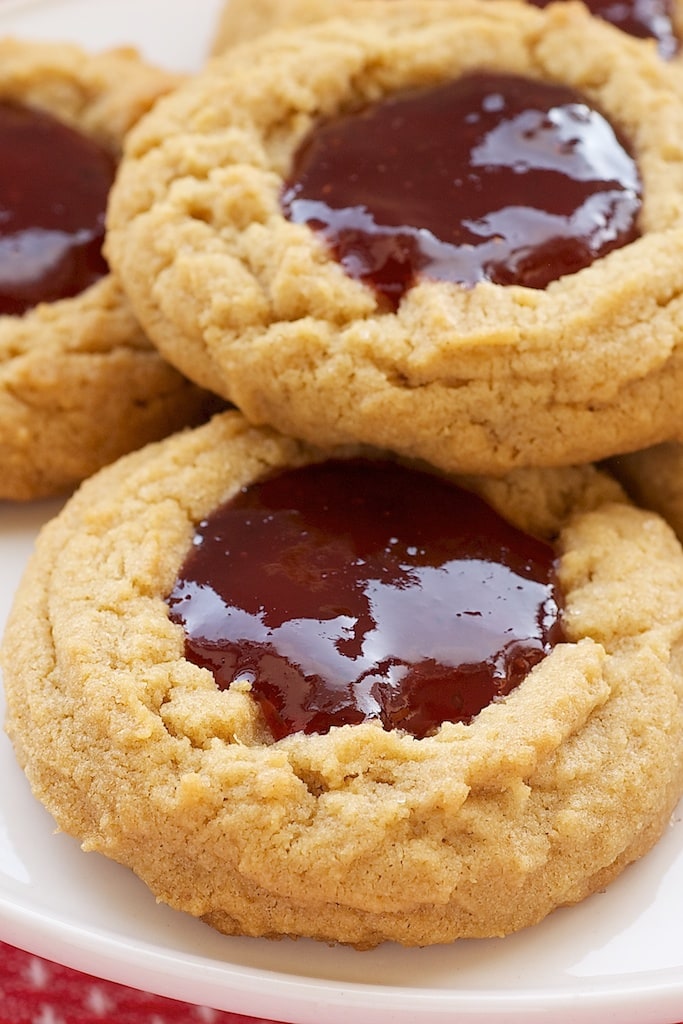 While my sandwich preferences tend toward grape, I made these with strawberry preserves. Of course, use your favorite, or open up several jars and make a variety of combinations.
Peanut Butter and Jelly Thumbprint Cookies
Yield: about 36 cookies
Prep Time:20 minutes
Cook Time:16 minutes per pan
Nutty peanut butter cookies and your favorite fruit preserves combine to make these delicious cookies.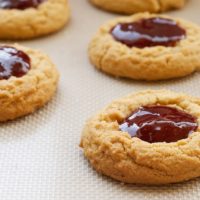 Ingredients:
1 & 1/4 cups all-purpose flour
1/2 teaspoon baking powder
1/2 teaspoon baking soda
1/4 teaspoon salt
1/2 cup unsalted butter, softened
1/2 cup granulated sugar
1/2 cup packed light brown sugar
1 cup creamy peanut butter
1 large egg
1 teaspoon vanilla extract
your favorite jelly or preserves (about 4 ounces)
Directions:
Preheat oven to 350°F. Line baking sheets with parchment paper or silicone liners.
Whisk together the flour, baking powder, baking soda, and salt in a medium-sized bowl. Set aside.
Using an electric mixer on medium speed, beat the butter, sugar, and brown sugar until light and fluffy. Add the peanut butter and mix just until blended. Mix in the egg and vanilla.
Reduce mixer speed to low. Gradually add the flour mixture, mixing just until blended. Be sure not to overmix.
Using a cookie scoop or your hands, place tablespoonful-sized balls of dough onto prepared pans. Bake cookies, one pan at a time, 14-16 minutes or until lightly browned. (You may need to refrigerate the remainder of the dough until ready to bake.)
While the cookies are still hot, use the back of a spoon or a tart tamper to press an indentation into the center of each cookie.
Cool the cookies on the pans on a wire rack for about 5 minutes. Then, transfer the cookies from the pans to a wire rack to cool completely. Fill the indentations with jelly or preserves.
Notes:
Cookies can be stored in layers with parchment paper or wax paper in between the layers.
This post contains affiliate links.