April 9, 2015
Lemon Cream Cake
This Lemon Cream Cake recipe is my go-to when I want an all-out lemon dessert experience!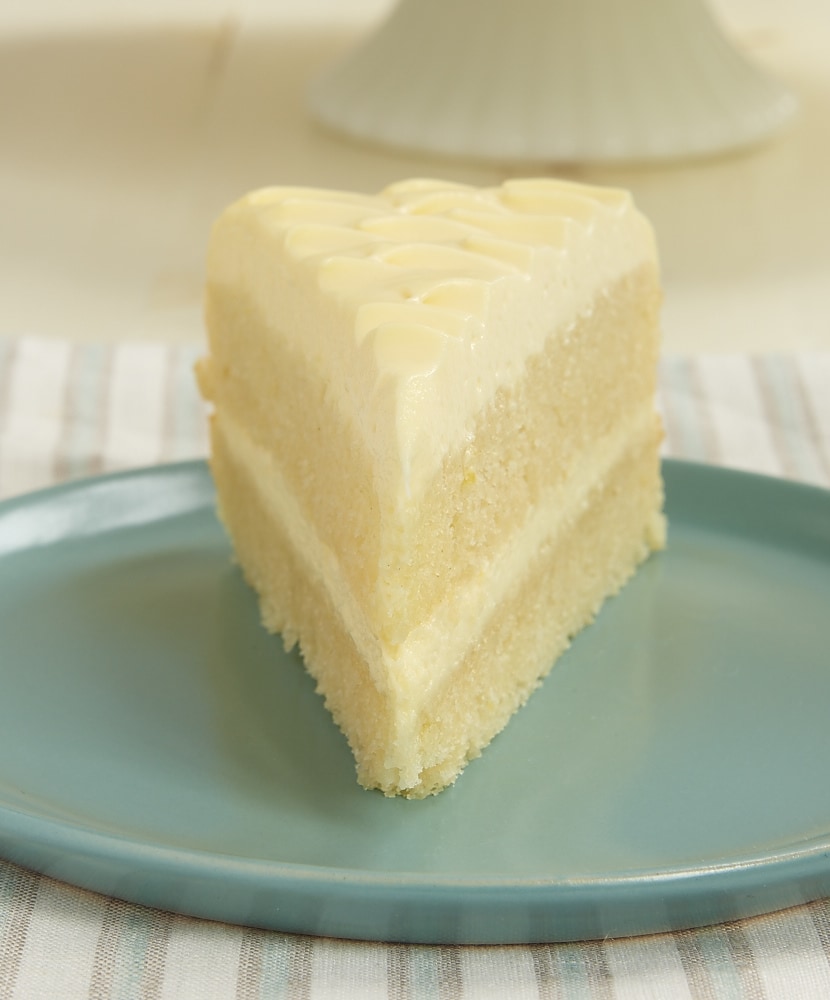 I often mention my grandmother and her love of baking. She was always making something delicious, from cakes to fried pies. One of the cakes she frequently made was a lemon cake that consisted of dense lemon cake layers and a light, fluffy, lemon-y frosting that I could have eaten with a spoon!
I have many of her recipes, but the one for her lemon cake is regrettably absent from that collection. I've been trying to recreate that cake for a long time, and I believe I've finally gotten very, very close with this Lemon Cream Cake! Yay!

I do feel pretty sure, however, that her version didn't involve Limoncello. That lovely lemon liqueur isn't baked into the cake. Rather, it is brushed over the baked cake layers and allowed to soak into them to add even more lemon flavor to this all-out lemon delight.
The frosting really couldn't be simpler. Just three ingredients give you a fantastic frosting with a lovely lemon flavor! I will warn you that once mixed, the frosting is very thin. It doesn't have the consistency of a traditional frosting. But chill your frosted cake for a bit, and it will set up beautifully.
If you like, top this cake with some fresh berries. Blueberries, raspberries, blackberries, strawberries… whichever you prefer. It will add more flavor and will certainly be eye-catching. Personally, I prefer to put the focus solely on lemon for this cake to make it as close as possible to the cake I remember.
My grandmother always kept her lemon cake in the refrigerator and served it straight from there. I do the same with this cake. Keeping it chilled will keep your frosting from running away. And you'll also enjoy every bite of this cake in its cool, creamy, lemon glory!
Find more cake recipes in the Recipe Index.
More Lemon Cake Recipes
Lemon Cream Cake
Yield: 12 to 14 servings
Prep Time:30 minutes
Cook Time:35 minutes
Lemon Cream Cake is an all-out lemon dessert experience!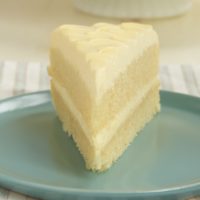 Ingredients:
For the cake:
2 cups (240g) all-purpose flour
2 teaspoons baking powder
1/2 teaspoon salt
zest of 1 medium lemon
1/2 cup (113g) unsalted butter, softened
1 & 1/4 cups (250g) granulated sugar
3 large eggs
juice of 1 medium lemon
1 cup (237ml) milk
For the frosting:
8 ounces (227g) mascarpone, softened*
1 cup (237ml) heavy cream
1/2 cup lemon curd, store-bought or homemade
2 to 3 tablespoons Limoncello**
Directions:
To make the cake:
Preheat oven to 350°F. Butter 2 9-inch round cake pans and line the bottoms with parchment paper. Butter the paper.
Whisk together the flour, baking powder, salt, and lemon zest. Set aside.
Using an electric mixer on medium speed, beat the butter and sugar until light and fluffy. Add the eggs, one at a time, mixing well after each addition. Mix in the lemon juice.
Reduce mixer speed to low. Add the flour mixture in three portions, alternating with two portions of milk. Mix just until combined.
Divide the batter evenly between the prepared pans. Spread evenly.
Bake 30 to 35 minutes, or until a pick inserted into the center of the cakes comes out clean. Cool the cakes in the pans for 10 minutes. Then invert the cakes onto a wire rack to cool completely.
To make the frosting:
Using an electric mixer on medium speed, beat the mascarpone, cream, and lemon curd until thoroughly combined and smooth.
Place one cooled cake layer on a cake plate. Brush or drizzle about half of the Limoncello onto the cake. Spread about half of the frosting over the top of the cake.
Place the other cake layer on top of the frosted layer. Brush with the remaining Limoncello. Spread the remaining frosting over the top of the cake.
Chill the cake for at least an hour before serving to allow the frosting to set.
Notes:
*Cream cheese will work if you don't have mascarpone.
**If you don't have Limoncello or just prefer not to use it, you can omit it.