April 8, 2015
Hot Pepper Mini Flatbreads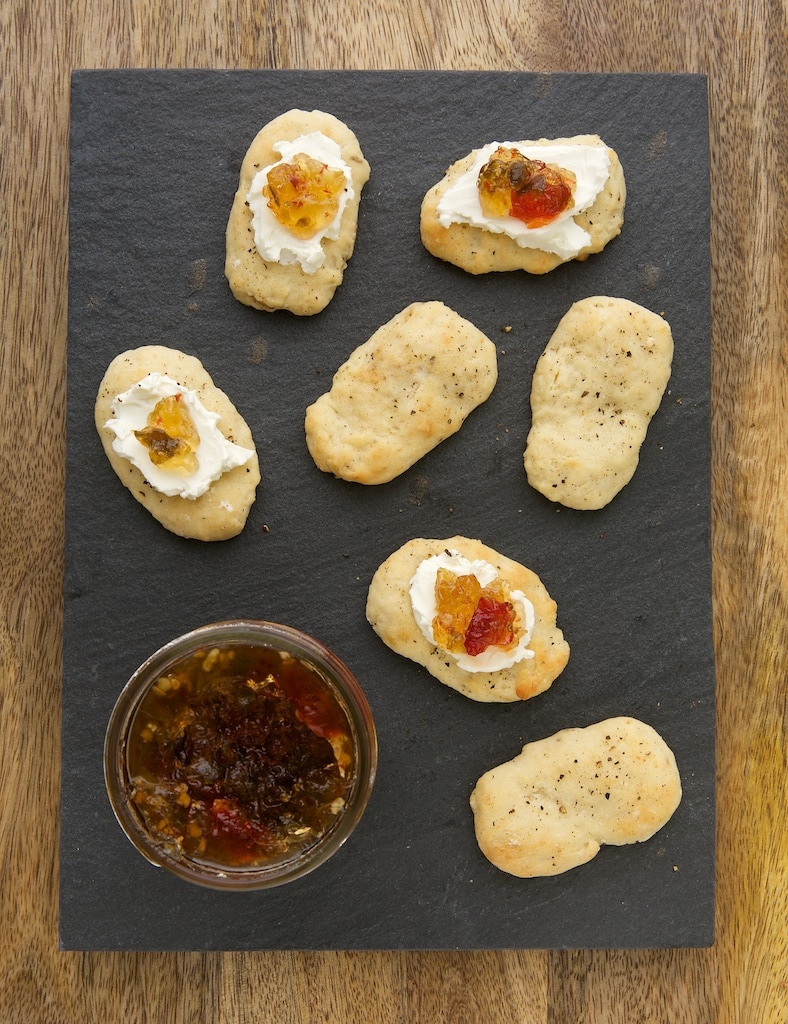 A few months ago, I introduced you to the new Flatbreads mixes from Krusteaz. For those of us who are a bit wary of making homemade breads, these mixes are a great way to get some simple practice making bread dough.
We've enjoyed these flatbreads just as a complement to our meal or dressed up a bit as cheesy herbed breadsticks. And now we have these mini flatbreads!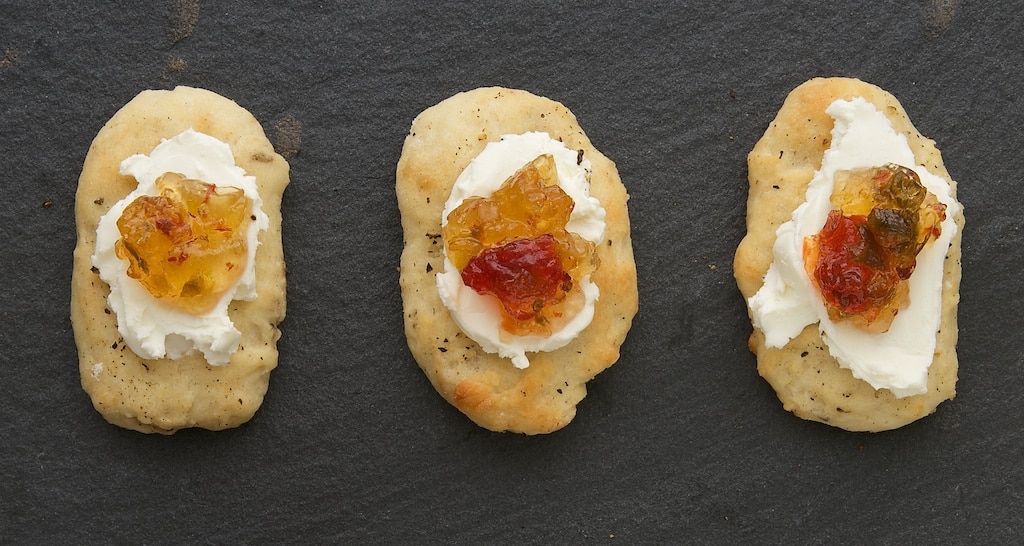 I was inspired to make these by one of my favorite things – pepper jelly! When I lived in the South, pepper jelly was easily found. It can be a bit tougher to find here in New York, but I usually find it whenever I have a craving.
The combination of spicy pepper jelly and cream cheese is a long-time favorite. There's just something about that tangy cream cheese and the spicy peppers that's irresistible! And it's a perfect topping for these simple little flatbreads flavored with a bit of black pepper. Be warned that these are addicting! Luckily, they're super quick to make so you can easily make more!
Hot Pepper Mini Flatbreads
Yield: 30 mini flatbreads
Prep Time:15 minutes
Cook Time:9 minutes
Ingredients:
1 package Krusteaz Whole Wheat Flatbread Mix
1 cup + 2 tablespoons very warm water (115° – 125°)
1/4 cup olive oil
freshly ground black pepper, to taste
about 1/2 cup cream cheese, softened
about 1/3 cup hot pepper jelly
Directions:
Preheat oven to 475°. Lightly grease baking sheets or line with parchment paper.
Stir together the flatbread mix and the enclosed yeast. Add warm water and olive oil, and stir until the dough forms a ball. Cover dough and allow it to rest for 10 minutes.
Using about a tablespoonful of dough at a time, pat out dough with floured hands to about 1/8- or 1/4-inch thick and form into rounded rectangles. Place on prepared pans. Sprinkle the tops with black pepper. Bake 7 to 9 minutes, or until the edges are golden brown.
Spread a heaping teaspoonful of softened cream cheese on top of each flatbread. Top with about 1/2 teaspoon pepper jelly.
Disclosure: I have been chosen by Krusteaz to be a paid brand ambassador. All opinions written are my own. This recipe also appears at Krusteaz.com