April 20, 2015
Biscoff Gooey Butter Cake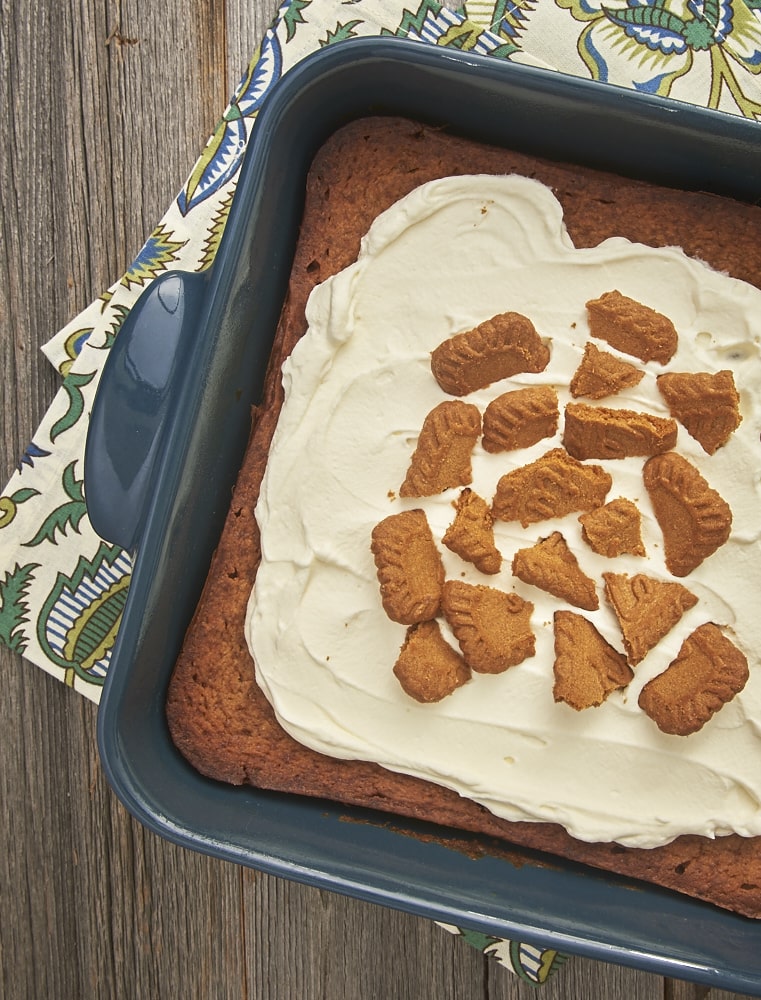 I've been a bit slow to jump wholeheartedly onto the cookie butter bandwagon. Sure, I liked it, but I hadn't really loved it. Recently, I feel as though I've rediscovered it and become entirely smitten.
I hadn't done much with cookie butter in a while, and then I made that Cookie Butter No-Bake Cheesecake. My goodness, was that good stuff! So it didn't take much convincing to use the remaining Biscoff spread I had in my pantry to make this Biscoff Gooey Butter Cake.

Gooey butter cakes are certainly not a new sensation. I've made their cousin Chess Squares many times. But I've never made a gooey butter cake. I stumbled upon this Biscoff version in an issue of Taste of the South a while back. And with my new and improved adoration of all things Biscoff, I immediately remembered it and got busy baking.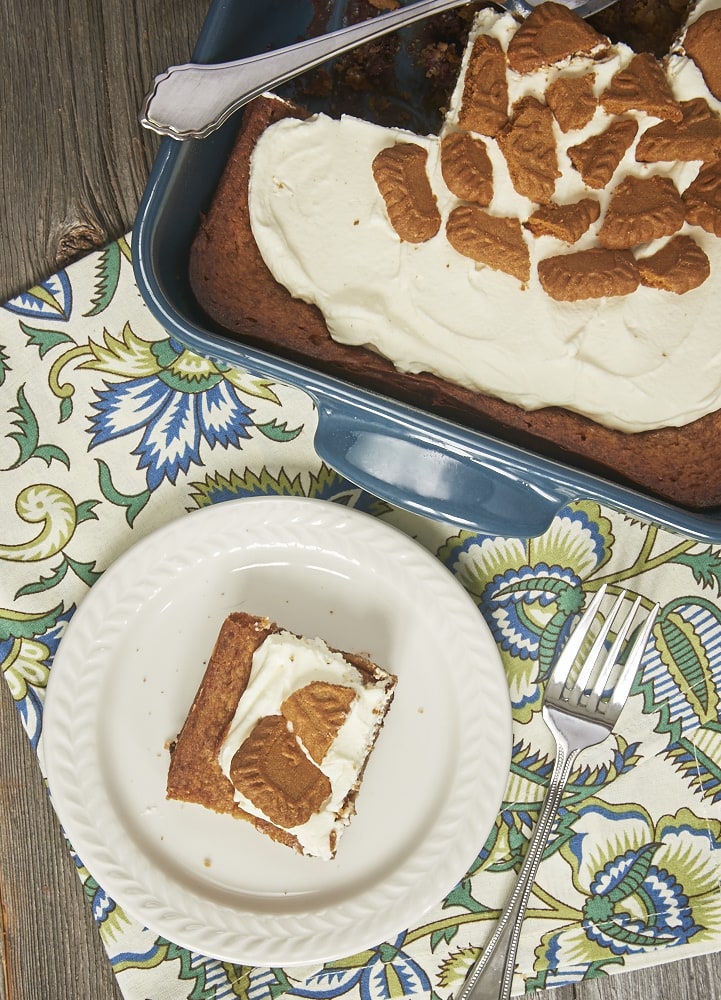 Instead of a crust, this gooey butter cake is baked on top of a layer of chocolate ganache. I adore ganache not just for the flavor, but also because it's quite possibly the biggest dessert return on a very small time investment. And in this case, it's also a great flavor addition to the already flavorful topping.
We absolutely adored this dessert. As much as I looked forward to trying it, I have to say that it tasted even better than I had hoped. The spiced cake, the rich ganache, the sweet whipped cream… It all adds up to one irresistible dessert!
I'll offer one word of warning. While that layer of ganache is fabulous, it can make this cake a bit tricky to serve neatly. Once I embraced that fact, it seemed to serve a bit better for me. You'll need to scoop more than cut the servings. Or just grab some friends and some spoons and dig in!
Biscoff Gooey Butter Cake
Yield: 8 servings
Prep Time:25 minutes
Cook Time:50 minutes
Cookie butter spread and a simple chocolate ganache combine for this flavorful Biscoff Gooey Butter Cake!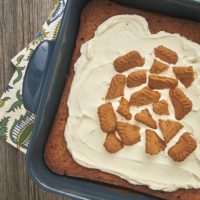 Ingredients:
6 ounces (1 cup) bittersweet or semisweet chocolate
1/2 cup heavy cream
4 ounces cream cheese, softened
6 tablespoons unsalted butter, softened
2 large eggs
1 cup confectioners' sugar
1 cup cookie butter spread (such as Biscoff)
1/4 teaspoon salt
sweetened whipped cream, for garnish
roughly chopped Biscoff cookies, for garnish
Directions:
Preheat oven to 350°F. Grease a 9-inch square baking pan.*
Place chocolate in a heatproof bowl.
Place the cream in a small saucepan. Heat over medium heat just until the cream begins to bubble. Pour the cream over the chocolate, and allow to sit for 5 minutes. Then, stir until smooth.
Pour the chocolate mixture into the bottom of the prepared pan. Refrigerate while you continue with the recipe. It will need about 10 minutes to become firm.
Using an electric mixer on medium speed, beat the cream cheese and butter until smooth. Add the eggs, sugar, cookie butter, and salt. Mix until combined.
Use a spoon to drop the batter over the chilled chocolate ganache. Carefully spread the batter evenly over the ganache.
Bake 40 to 45 minutes, or until the center is almost set.
To serve, garnish with sweetened whipped cream and cookies.
Notes:
*The original recipe uses a 10-inch skillet.