March 19, 2018
Key Lime Bundt Cake
This sweet and tart Key Lime Bundt Cake is a must-bake for citrus lovers. Dial up the lime flavor with a simple glaze or just dust with confectioners' sugar for a simple, delicious dessert!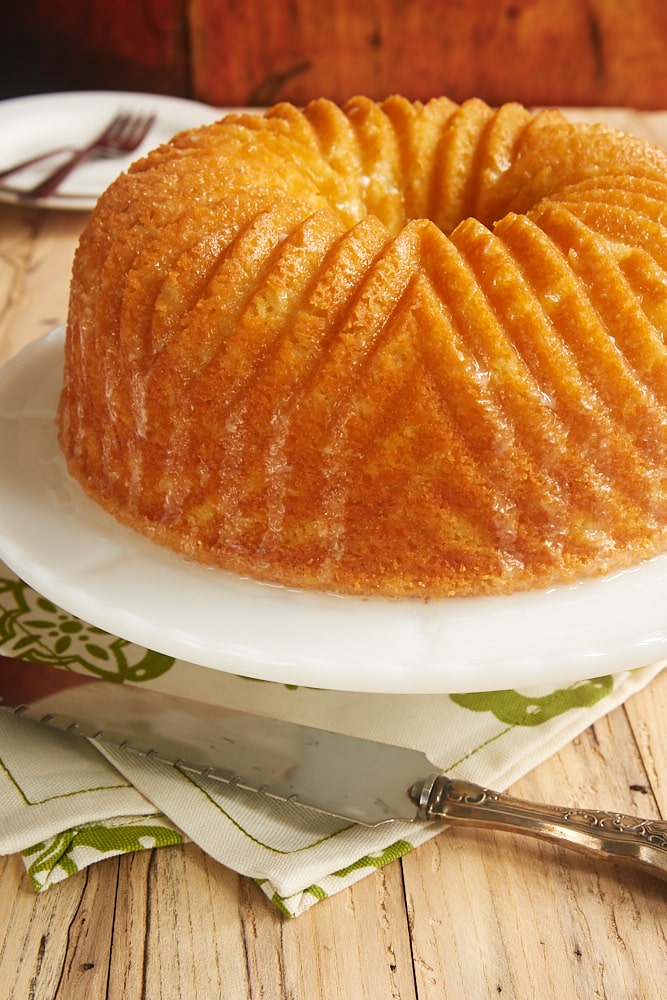 All of my fellow citrus fans pay attention because this Key Lime Bundt Cake recipe just may be the one you've been longing to try. It has just the right amount of sweet, tart lime flavor packed into a simple Bundt cake. Top that with a glaze made with even more lime, and you'll find yourself firmly in lime bliss.
I've seen so many lime cake recipes over the years that use artificial lime flavor in the form of gelatin mix or some other addition. I love that this cake gets its lime flavor only from limes. While those other additions may get a bigger flavor, that doesn't necessarily mean a better flavor. Try making this Key Lime Bundt cake from scratch, and I think you'll agree!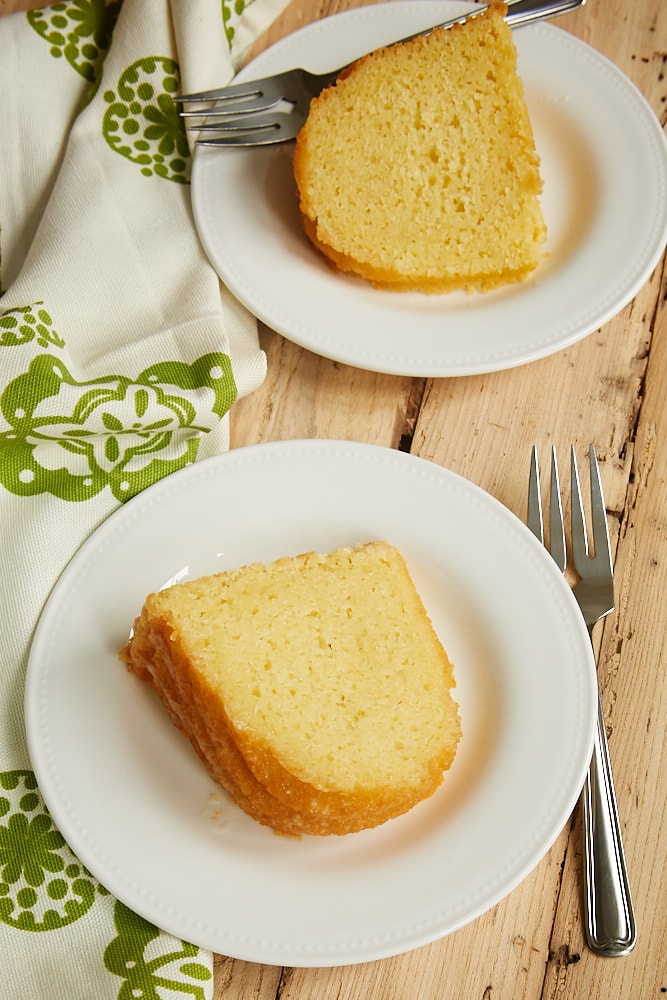 I know it's tempting to take a shortcut with bottled lime juice, but fresh is really just so much better, especially when it's the main flavor focus like it is in this cake. Juicing all of those little limes adds a bit of labor, but it's worth it. Plus, fresh limes are the only way you'll get the zest. You definitely don't want to skip the zest when making this cake, or you'll be missing out on a big part of the flavor.
The batter for this cake really fills up a 10-cup bundt pan, so you might want to go with a 12-cup if you're worried about spills. I'll admit I have a few minutes of anxiety watching this one bake in a 10-cup pan, but it works for me. If you go with a 10-cup pan, just be sure you've measured everything accurately so you don't have a disaster.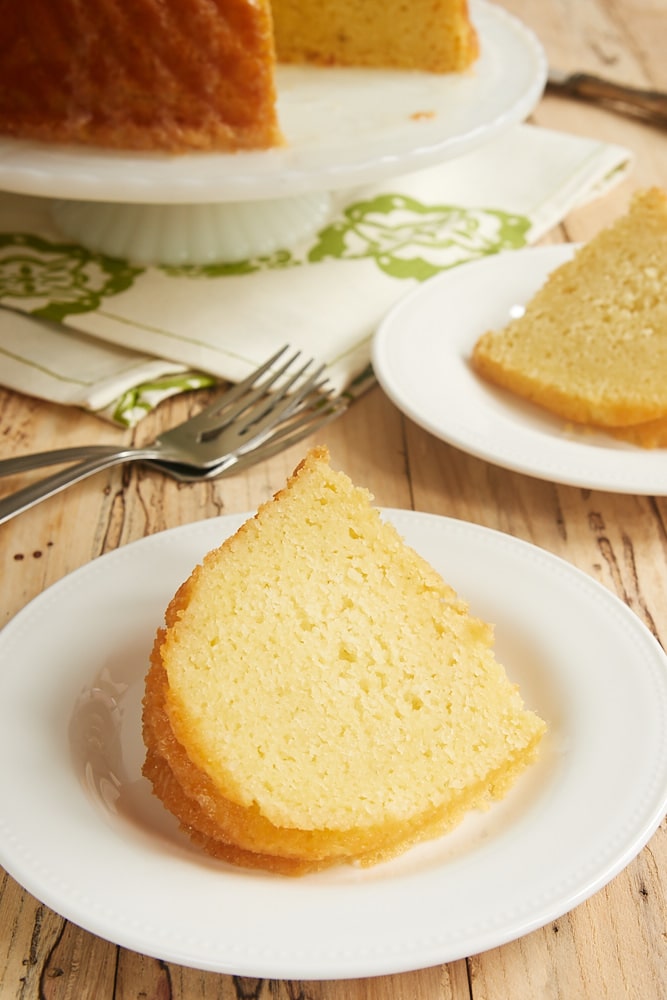 The simple glaze for this cake adds even more lime flavor to make this cake a delicious lime celebration. The lime flavor isn't overwhelming, but if you prefer to tone it down, just a dusting of confectioners' sugar on top of the cake is a good alternative. Personally, I like the extra lime goodness of the glaze, but I think the confectioners' sugar gives you a good alternative.
I just can't get enough of this soft and sweet, lightly tart cake. It's at the top of my list whenever I have access to some good key limes. Whether it's for a casual gathering, a picnic, a family dinner, or whatever occasion you decide to celebrate, this Key Lime Bundt Cake is a great dessert option for all of you citrus lovers.
Find more Bundt cake recipes in the Recipe Index.
More Lime Desserts
We are a participant in the Amazon Services LLC Associates Program, an affiliate advertising program designed to provide a means for us to earn fees by linking to Amazon.com and affiliated sites.
Key Lime Bundt Cake
Yield: 12 to 16 servings
Prep Time: 25 minutes
Cook Time: 1 hour
Key Lime Bundt Cake has just the right amount of amazing sweet, tart lime flavor. A must-bake for citrus lovers!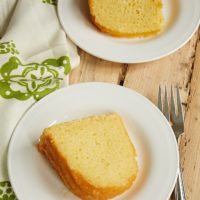 Ingredients:
For the cake:
3 cups + 2 tablespoons all-purpose flour
1 teaspoon key lime zest (3 to 4 medium key limes)*
1 teaspoon baking powder
1/2 teaspoon baking soda
1/4 teaspoon salt
1 cup unsalted butter, softened
2 cups granulated sugar
4 large eggs
1 cup milk
1/3 cup key lime juice (5 to 6 medium key limes)*
For the glaze:
3/4 cup confectioners' sugar, sifted
1 to 2 tablespoons key lime juice (2 to 3 medium key limes)*
Directions:
To make the cake:
Preheat oven to 350°F. Generously grease a 10- or 12-cup Bundt pan.**
Whisk together the flour, zest, baking powder, baking soda, and salt. Set aside.
Using an electric mixer on medium speed, beat the butter and sugar until light and fluffy. Add the eggs, one at a time, mixing well after each addition. Mix in the lime juice.
Reduce mixer speed to low. Add the flour mixture in three portions, alternating with two portions of the milk. Mix just until combined.
Transfer the batter to the prepared pan, and spread evenly.
Bake 50 to 60 minutes, or until a pick inserted into the center comes out clean. Cool in the pan for 15 minutes. Then transfer the cake to a wire rack to cool completely.
To make the glaze:
Whisk together the confectioners' sugar and 1 tablespoon of lime juice. Add more juice, a small amount at a time, until it's the desired consistency.
Spoon or brush the glaze over the cooled cake.
Notes:
*You can substitute Persian limes if you can't find key limes. The flavor may be a bit different, but you'll still get a pretty fantastic cake. Persian limes are larger, so you won't need as many to get the same amount of juice and zest.
**This cake fills a 10-cup pan very full, so go with a 12-cup if you're concerned about potential spills.