February 23, 2015
Peanut Butter Sandwich Cookies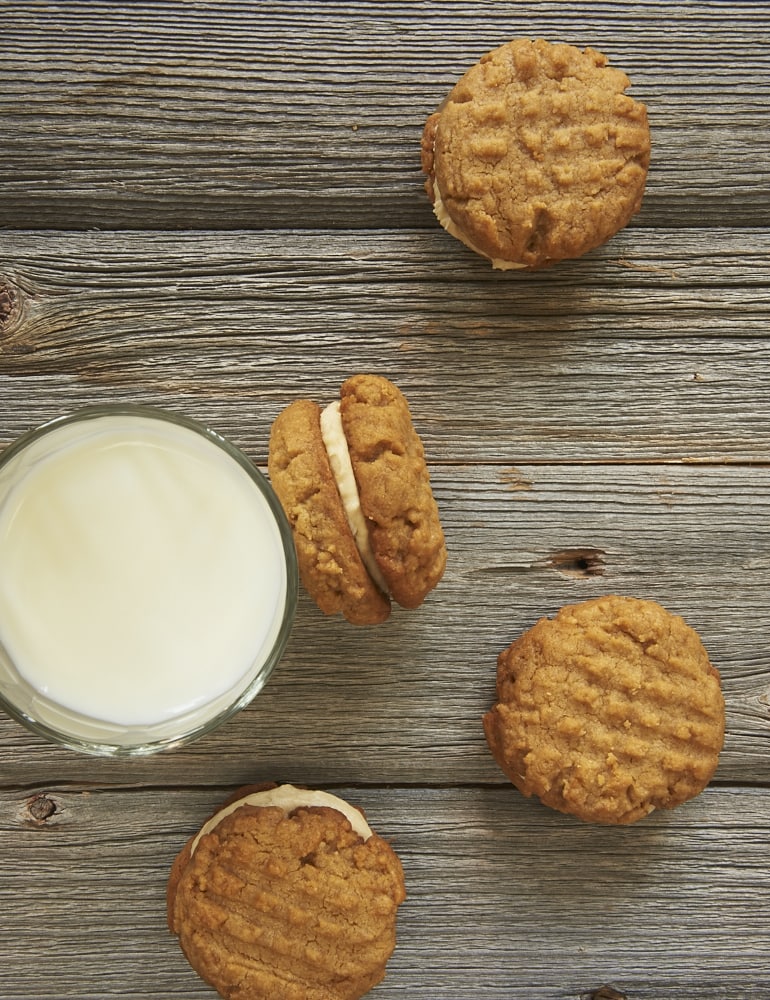 In my 8-plus years of blogging, you'd think I would have covered all my baking bases by now. But I recently realized that I'd never shared a peanut butter sandwich cookie with peanut butter frosting. A double dose of peanut butter? Yeah, that needed to be fixed as soon as possible, which leads us to today and these super tasty cookies.
The inspiration for these, of course, comes from one of my childhood favorites. Being the peanut butter fan that I am, Nutter Butters were always a no-brainer pick for me. These cookies are reminiscent of those peanut butter-y cookies, but with a bit of a grown-up taste. And I must say they are delicious!


I started with what has become my go-to peanut butter cookie recipe. I've tweaked it a bit here and there over the years to get it just as I want it, and I think it's pretty fantastic.
Then there's the frosting. We're going all-out peanut butter here with a peanut butter cream cheese frosting. I feel pretty confident that those store-bought cookies didn't have a cream cheese frosting, so I took some liberties there. But seriously, it is so good that I could eat it all by itself with a spoon and call it dessert. But I showed some restraint and dedicated at least the vast majority of the frosting to assembling the cookies.
If you're a fan of peanut butter like I am, you'll adore these cookies. The cookies themselves are a favorite, but add that frosting and you've really got something special! I prefer my peanut butter cookies on the soft side, but just add a couple of minutes to the baking time to get crispier cookies if you prefer.
We are a participant in the Amazon Services LLC Associates Program, an affiliate advertising program designed to provide a means for us to earn fees by linking to Amazon.com and affiliated sites.
Recommended Equipment:
Peanut Butter Sandwich Cookies
Yield: about 16 sandwich cookies
Prep Time: 20 minutes
Cook Time: 15 minutes per pan
Get a double dose of peanut butter with these Peanut Butter Sandwich Cookies.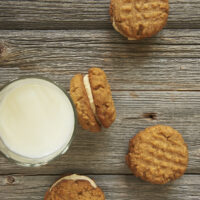 Ingredients:
For the cookies:
1 & 1/2 cups all-purpose flour
1/2 teaspoon baking soda
1/2 teaspoon salt
1/2 cup unsalted butter, softened
1/2 cup creamy peanut butter
1/2 cup firmly packed light brown sugar
1 large egg
1 tsp vanilla extract
For the frosting:
4 ounces cream cheese, softened
1/4 cup unsalted butter, softened
1/4 cup creamy peanut butter
1/2 teaspoon vanilla extract
1 & 1/2 cups confectioners' sugar, sifted
Directions:
To make the cookies:
Preheat oven to 350°F. Line baking sheets with parchment paper or silicone liners.
Whisk together the flour, baking soda, and salt. Set aside.
Using an electric mixer on medium speed, beat the butter, peanut butter, and brown sugar until light and fluffy. Add the egg and vanilla, and mix well.
Reduce mixer speed to low. Gradually add the flour mixture, mixing just until combined.
Drop dough by tablespoonfuls onto prepared baking sheets, leaving about 2 inches between cookies. Use a fork to make a crosshatch design on top of each cookie.
Bake, one pan at a time, 12 to 16 minutes, or until lightly browned. Cool on pans for 5 minutes. Then transfer the cookies to a wire rack to cool completely.
To make the frosting:
Using an electric mixer on medium speed, beat the cream cheese, butter, peanut butter, and vanilla until thoroughly combined. Gradually add the confectioners' sugar, and mix until smooth.
Spread about a tablespoonful of frosting on the bottoms of half of the cookies. Place another cookie on top of the filling so that the bottoms of the cookies are facing each other.