February 19, 2015
Chocolate Peanut Butter Pudding Tarts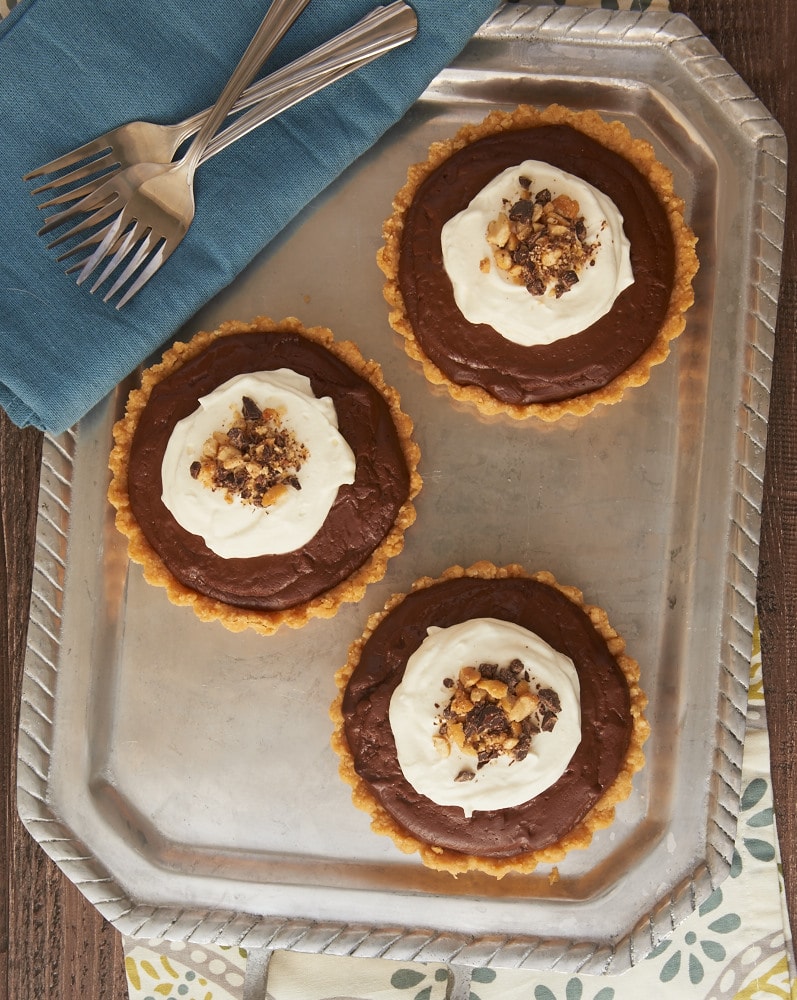 This post and giveaway are sponsored by Walker's Shortbread.
Chocolate pudding is just the best, isn't it? Sadly, it's only been in the last few years that I discovered the deliciousness that is homemade chocolate pudding. Since then, though, I've made it frequently, often with Quinn's urging. It's just so simple to make that it's easy to convince myself to make the modicum of effort involved to get a batch whipped up and chilling.
If you want to take chocolate pudding even further, then that's where these tarts come into the picture. We're bringing peanut butter and shortbread to the party and turning it all into these beautiful little tarts.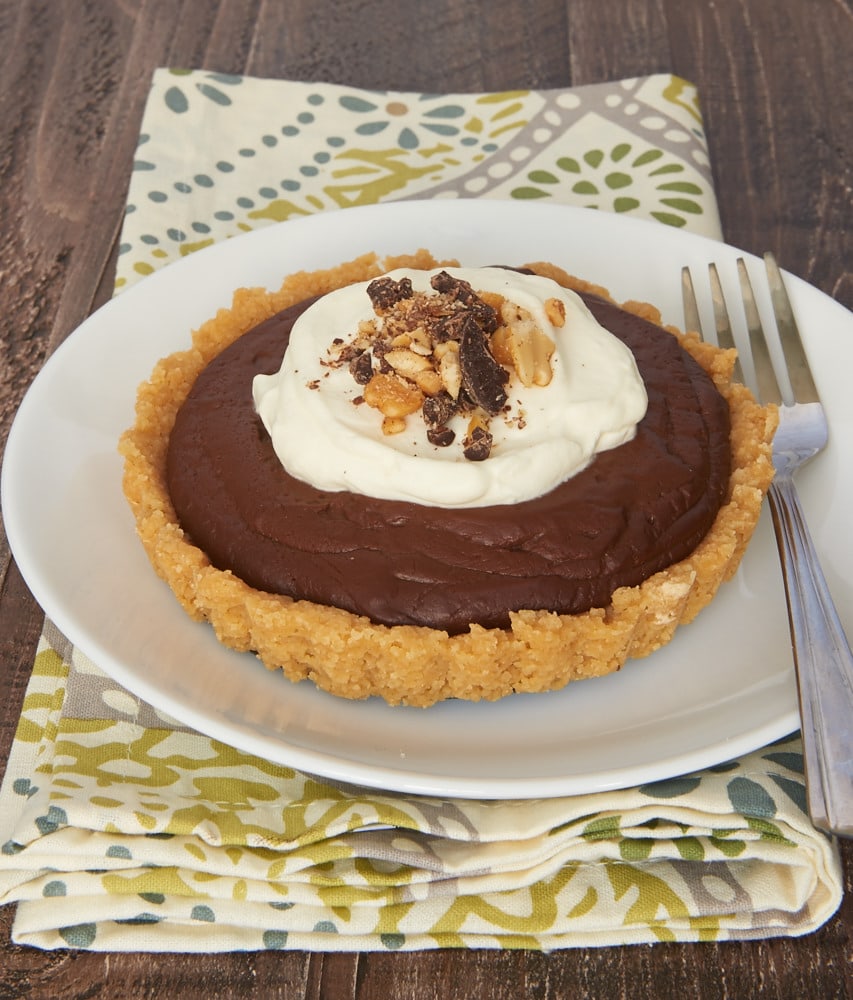 I've previously made a chocolate pudding pie and even included a layer of peanut butter in it. But here we're mixing the peanut butter directly into the pudding. It is a fantastic way to satisfy your chocolate-peanut butter craving.
All of that chocolate and peanut butter goodness is nestled inside a simple shortbread crust made from Walker's Shortbread. Their subtly sweet, buttery shortbread are the perfect companion to that filling.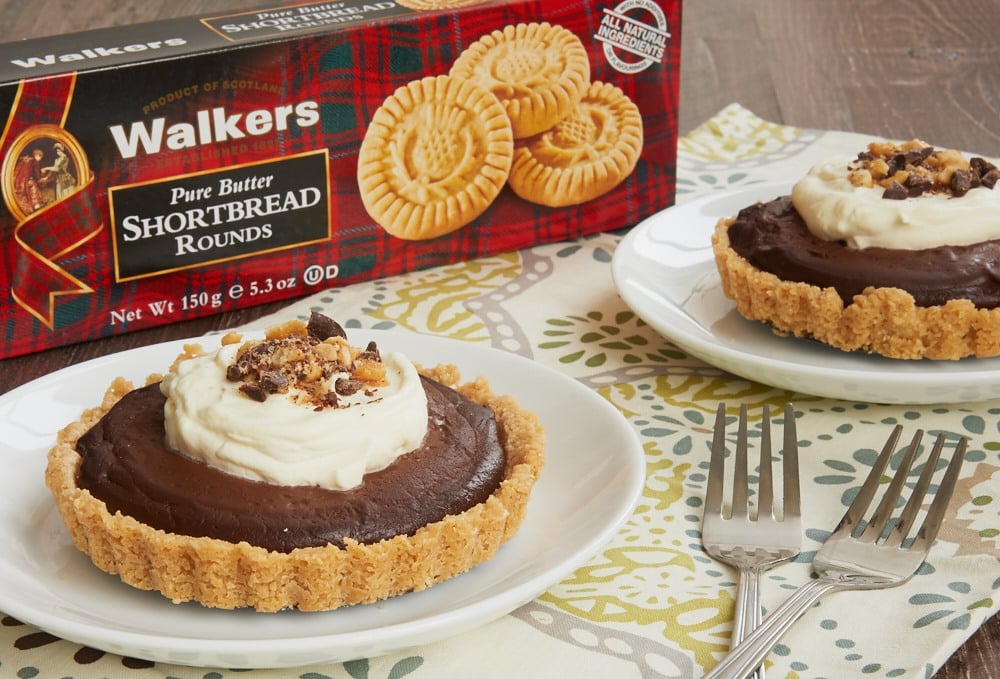 The combination of chocolate and peanut butter is tried and true, but it's always fund (and delicious!) to find new ways to enjoy it. These little tarts are not only super tasty, they are also just lovely and quite elegant. You'll get four beautiful tarts from this recipe. They are theoretically big enough to share, but I won't tell if you keep one all to yourself.
We are a participant in the Amazon Services LLC Associates Program, an affiliate advertising program designed to provide a means for us to earn fees by linking to Amazon.com and affiliated sites.
Recommended Equipment:
Chocolate Peanut Butter Pudding Tarts
Yield: 4 4.75-inch tarts
Prep Time:40 minutes
Cook Time:15 minutes
Rich pudding and a sweet shortbread crust make these Chocolate Peanut Butter Pudding Tarts absolutely irresistible!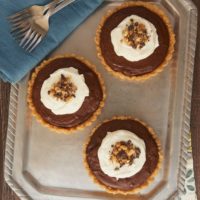 Ingredients:
For the crust:
8 ounces Walker's Shortbread Rounds, crushed
1/4 cup unsalted butter, melted
For the pudding:
1/3 cup granulated sugar
1/4 cup unsweetened cocoa powder
2 tablespoons cornstarch
1/4 teaspoon salt
2 cups milk
4 ounces bittersweet chocolate, roughly chopped
2 teaspoons vanilla extract
1 tablespoon unsalted butter
1/4 cup creamy peanut butter
Suggested toppings:
chopped peanuts
chopped semisweet or bittersweet chocolate
Directions:
To make the crust:
Preheat oven to 350°. Grease four 4.75-inch round tart pans with removable bottoms.
Combine the shortbread crumbs and butter until thoroughly combined. Divide the crust mixture among prepared pans. Press the crust into the bottom and up the sides of each pan.
Set pans on a baking sheet. Bake 15 minutes or until the crusts are lightly browned. Set aside to cool.
To make the pudding:
Place sugar, cocoa powder, cornstarch, and salt in a heavy saucepan. Stir to combine.
Place saucepan on the stovetop over medium heat. Add about 1/2 cup of milk. Whisk to combine with sugar mixture.
Gradually add remaining milk and continue cooking, whisking constantly, until the mixture begins to boil. Continue cooking for 3 to 5 minutes until mixture has thickened.
Remove pan from heat. Add chocolate, butter, and vanilla. Stir until smooth. Stir in peanut butter.
Divide the pudding among the baked crusts. You'll use about 1/2 cup of pudding in each tart. Cover with plastic wrap, placing the wrap directly onto the surface of the pudding. Refrigerate for at least 2 hours.
If desired, top each tart with sweetened whipped cream, nuts, and chocolate before serving.
This post and giveaway are sponsored by Walker's Shortbread.