This apple streusel coffee cake pairs tender baked apples and currants with crunchy pecans, cinnamon-spiced brown sugar streusel, toffee bits, and a supremely buttery, moist cake for the perfect autumnal treat!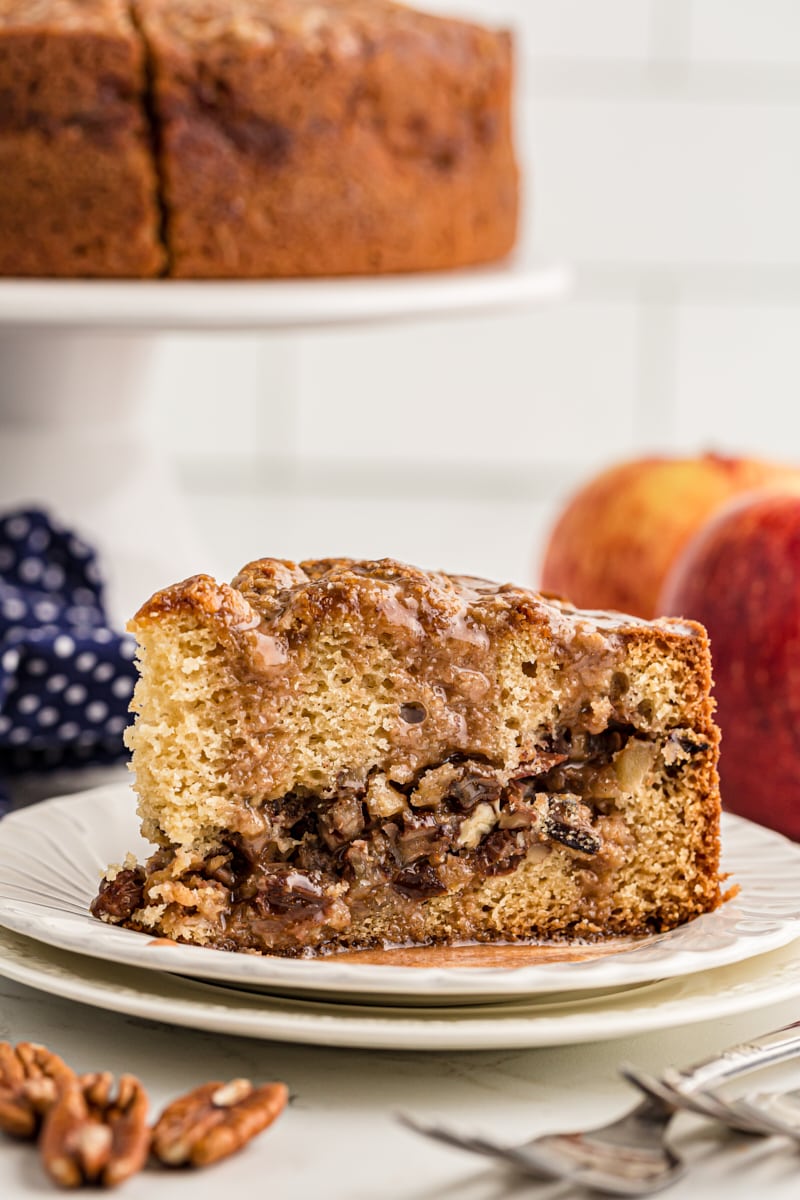 Apple Coffee Cake With Streusel and Cinnamon Glaze
Fall is a thrilling time for bakers. You can make such homey, comforting desserts with fall fruits like apples and pears. The kind of desserts that make you want to curl up under a blanket and just savor every bite. Desserts like this apple streusel coffee cake.
Let me tell you that this is, simply put, fall in a pan. The cake portion of this coffee cake is not that different from other cakes. It's buttery and sweet. And, it has plenty of sour cream, which is one of my favorite cake ingredients.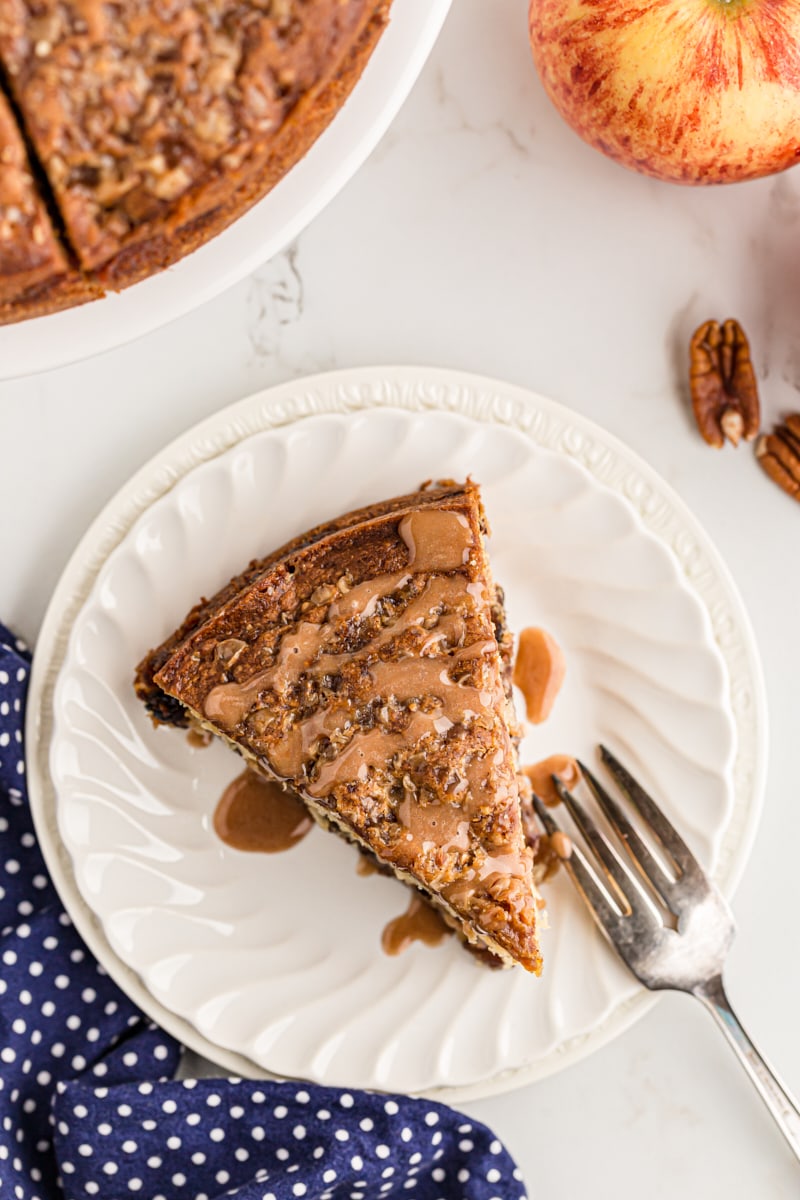 But, in between layers of soft, moist, delicious cake is a combination of apples, currants, pecans, brown sugar, and cinnamon. Frankly, it's pretty amazing. It gives a wonderful contrast to the cake in both flavor and texture. Then, there are all those toffee bits scattered on top, plus a sweet cinnamon glaze as the perfect finishing touch.
With so many different elements, this is a coffee cake with something for everyone!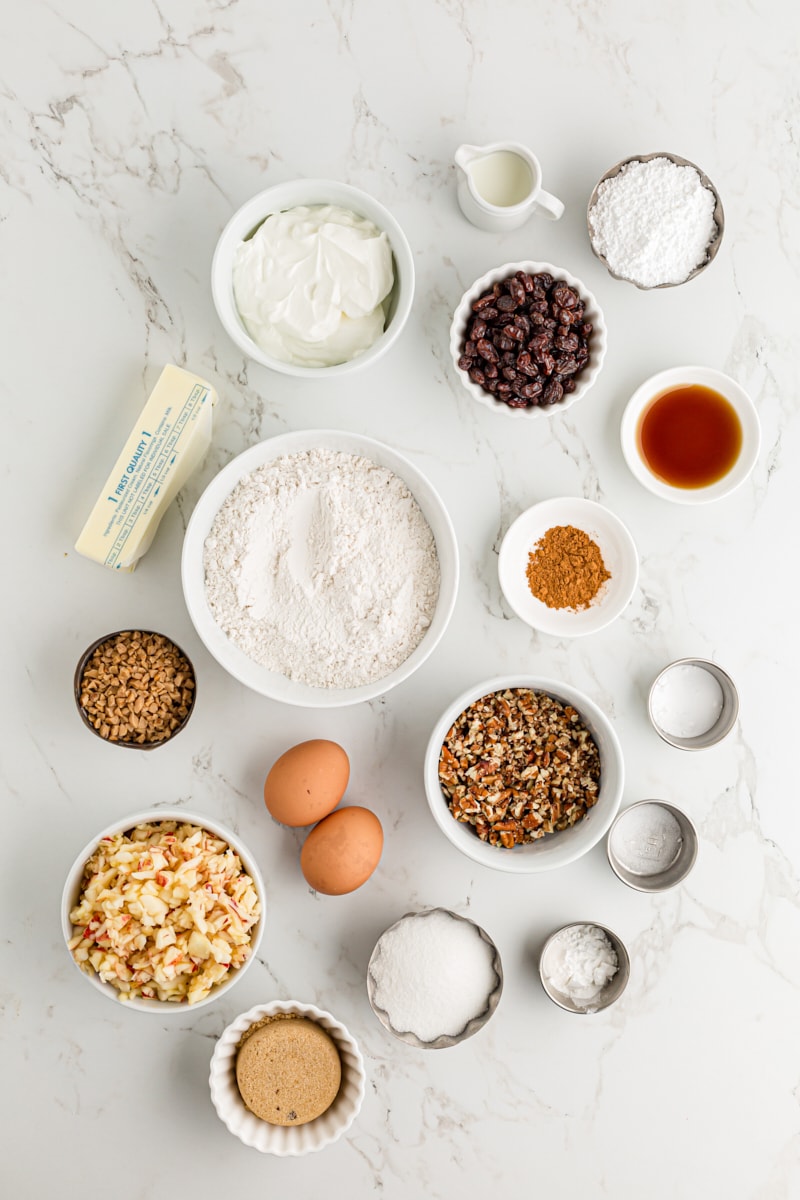 What You'll Need
Scroll down to the recipe card to find the ingredient quantities and recipe instructions.
Streusel:
Apples – Most bakers like to peel the apples first, but you can leave the peel on if you prefer.
Dried currants
Pecans – Save yourself some money and buy the cheaper pecan pieces instead of whole pecans. They'll end up being chopped anyway!
Light brown sugar – Learn more: Light Brown Sugar vs Dark Brown Sugar: What's the Difference?
Ground cinnamon
Cake:
Glaze:
Confectioners' sugar – Also known as powdered sugar.
Milk – Any kind you have on hand.
Ground cinnamon
What Kind of Apples Are Best for Baking?
Your best bet is a tart or sweet-tart apple variety, with crisp, firm flesh. The classic choice is Granny Smith, but there's no reason you can't choose a sweeter apple like Pink Lady, Braeburn, Cortland, Jonagold, or Fuji.
How to Make Apple Streusel Coffee Cake
Each component of this coffee cake is quite simple to make, so this is a treat that can be easily put together in an afternoon.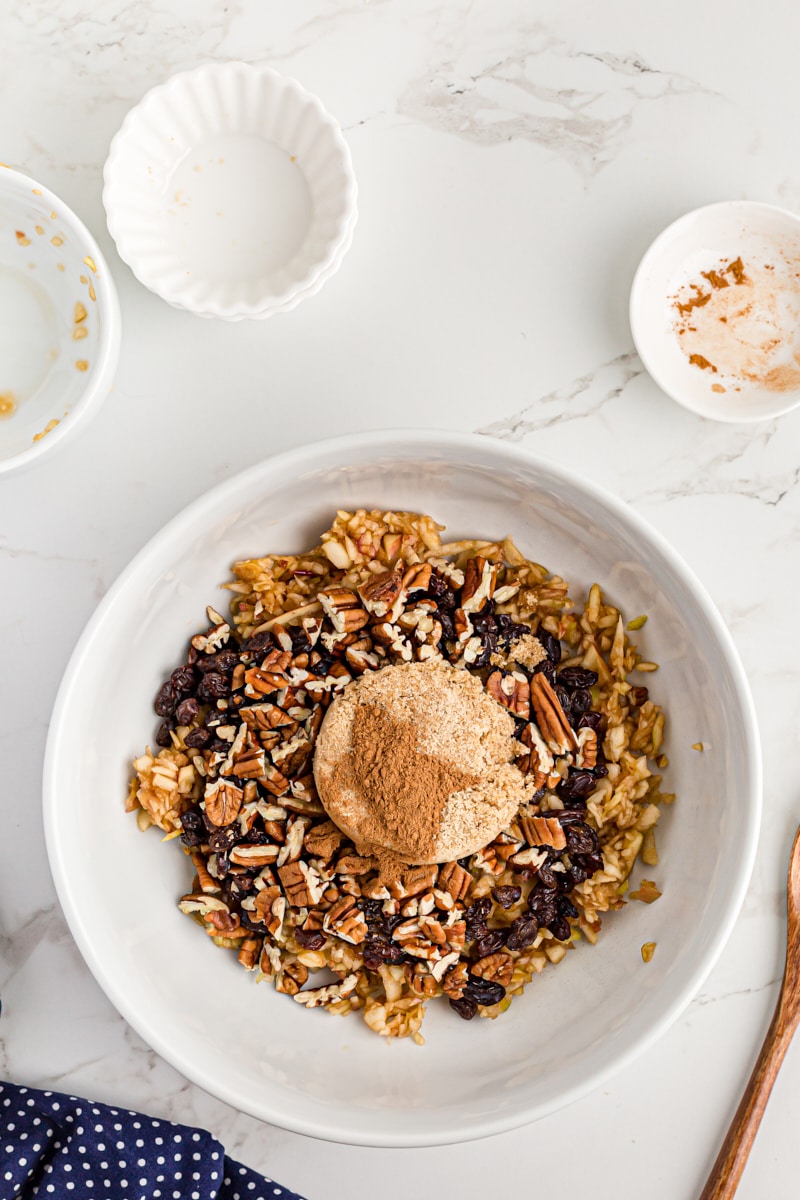 Make the streusel. Toss the apples, currants, pecans, brown sugar, and cinnamon in a small bowl.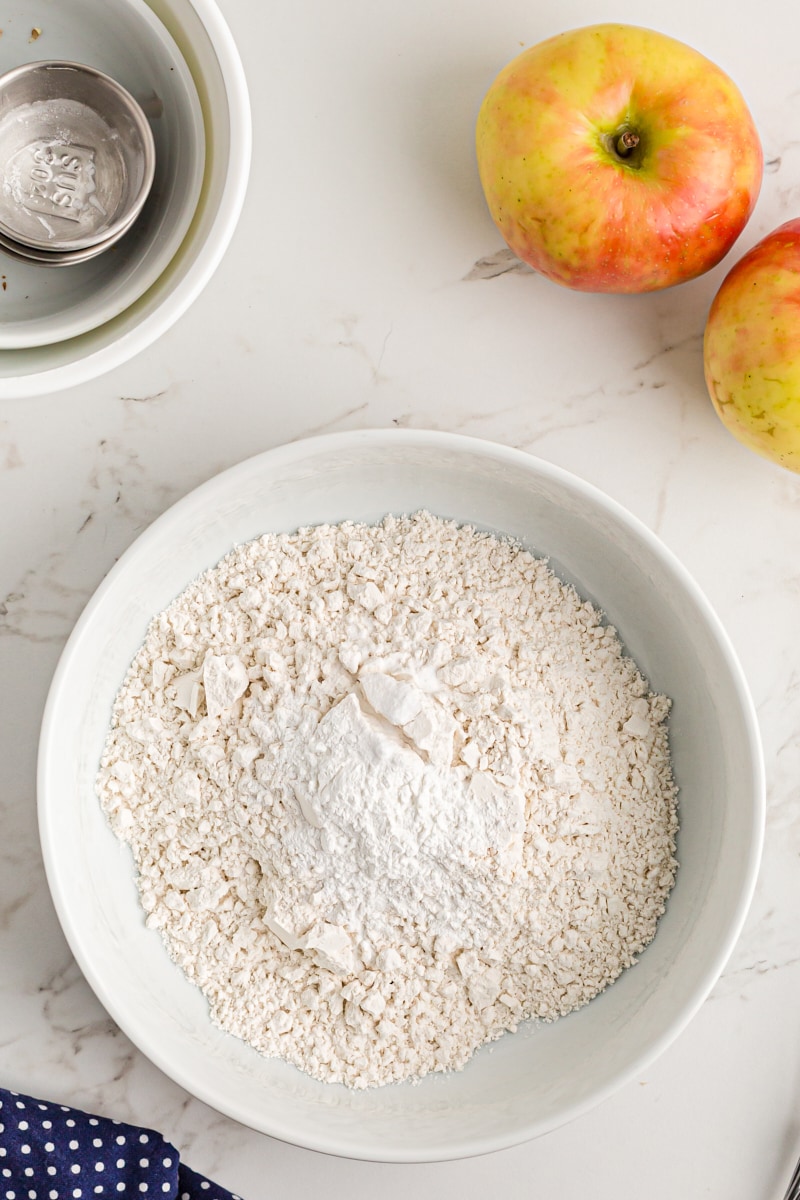 Prepare. Preheat your oven to 350°F, then grease and flour a 9-inch round cake pan.
Mix the dry ingredients. Whisk the flour, baking powder, baking soda, and salt in a medium bowl.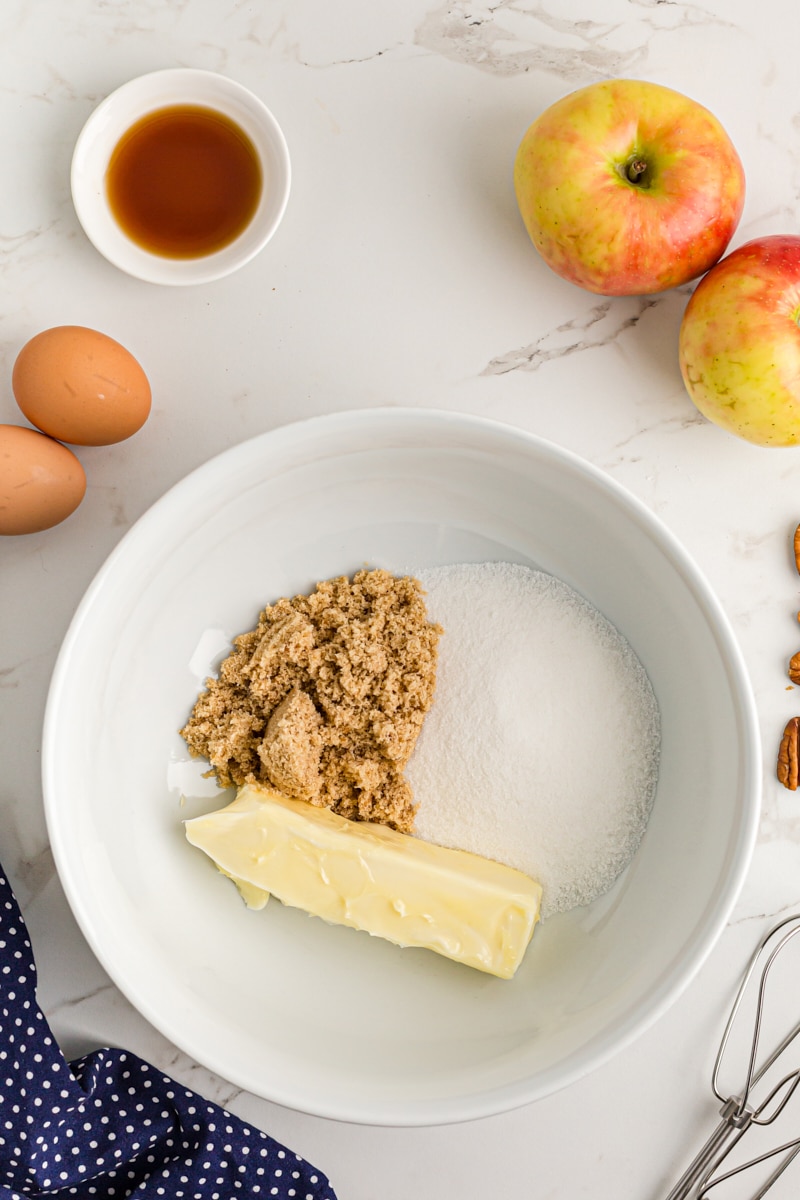 Mix the wet ingredients. Use an electric mixer on medium speed to beat the butter, sugar, and brown sugar in a large bowl until they're light and fluffy. Beat in the eggs and vanilla.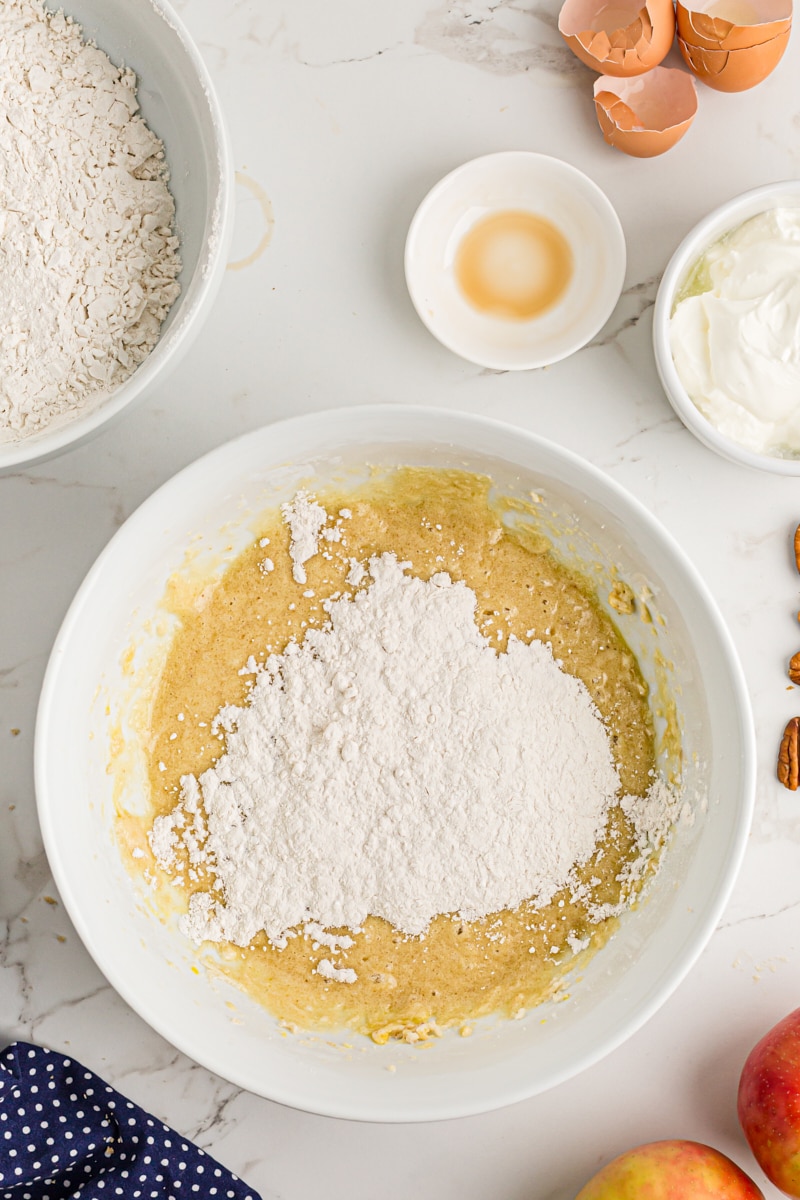 Finish the batter. Decrease the mixer speed to low. Mix in the dry ingredients in three portions, alternating with two portions of the sour cream.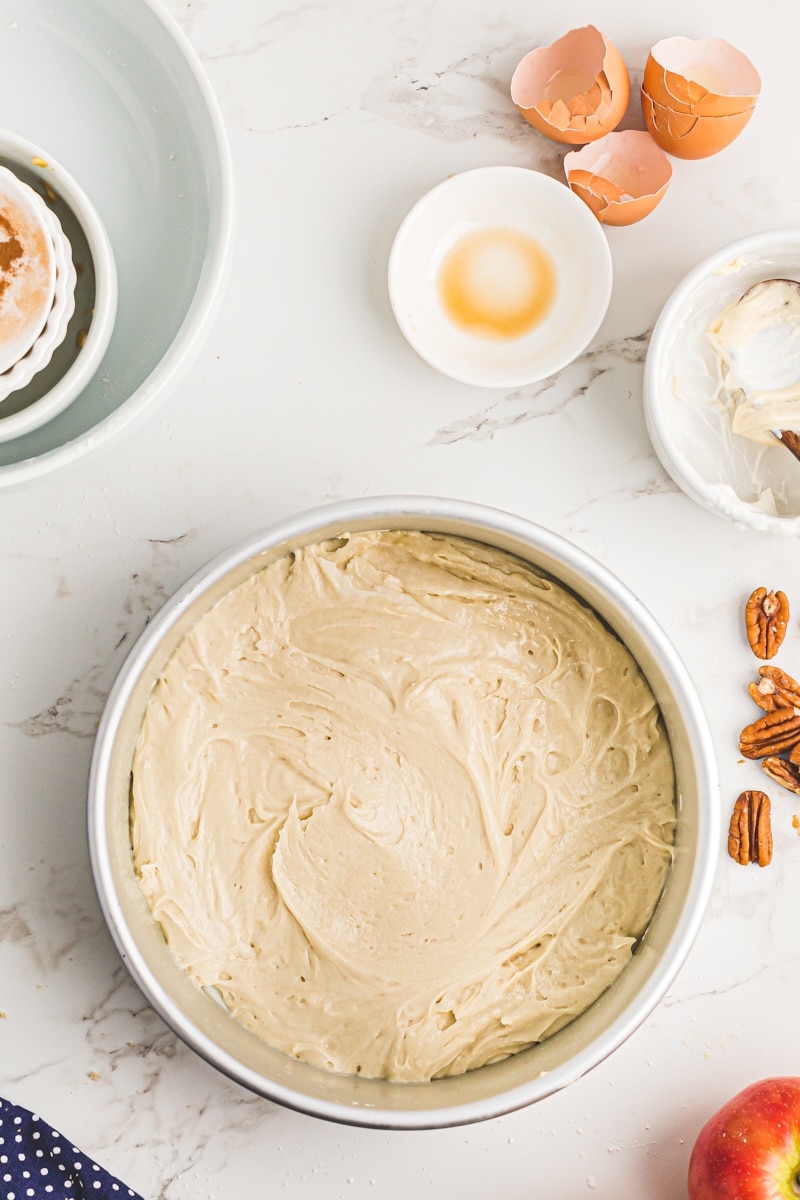 Assemble. Spread half of the batter into the prepared pan, then sprinkle the streusel mixture evenly over the top. Spread the remaining cake batter over the streusel layer and scatter toffee bits over the top.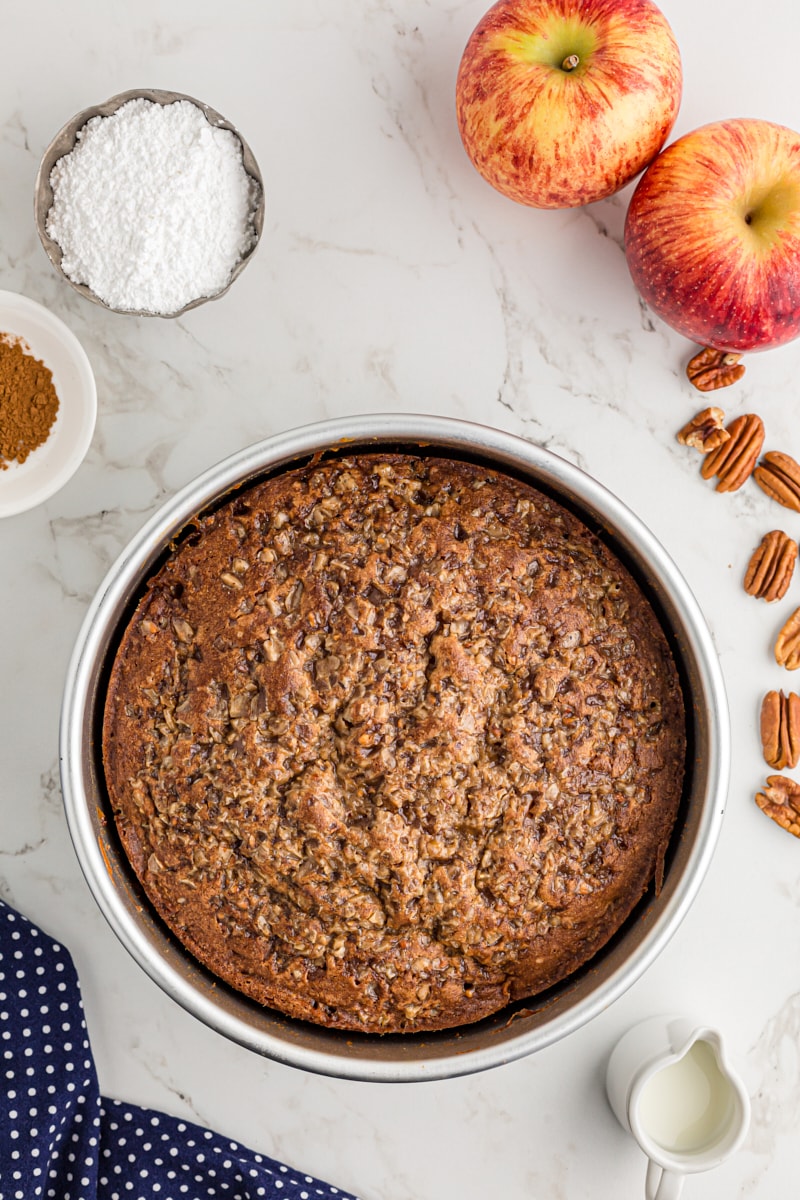 Bake. Place the pan in the oven and bake for 45 to 50 minutes, or until a toothpick inserted into the center comes out clean.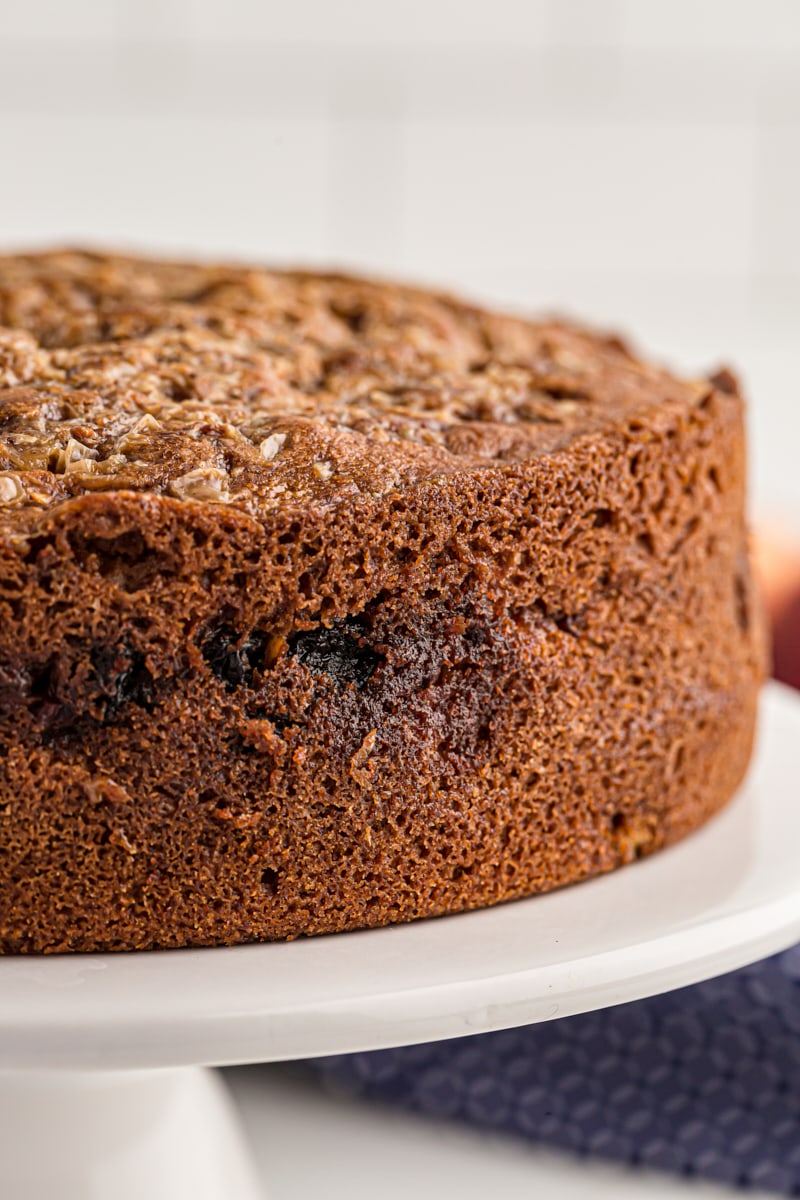 Cool. Let the cake cool in the pan for 10 minutes, then transfer it to a serving plate. (Alternatively, you can let the cake cool completely in the pan if you plan on serving it from there.)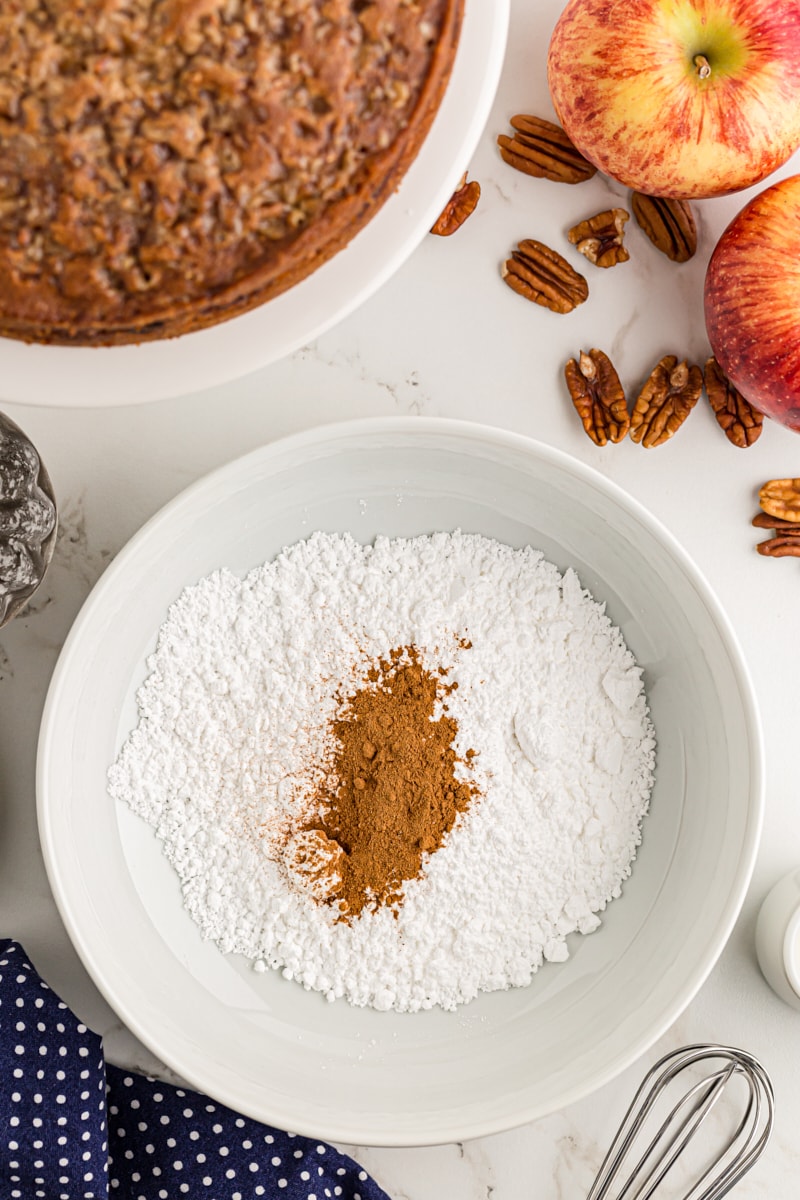 Make the glaze. Whisk the confectioners' sugar, 2 teaspoons of milk, and cinnamon in a small bowl. Add more milk if needed, until the glaze reaches your desired consistency.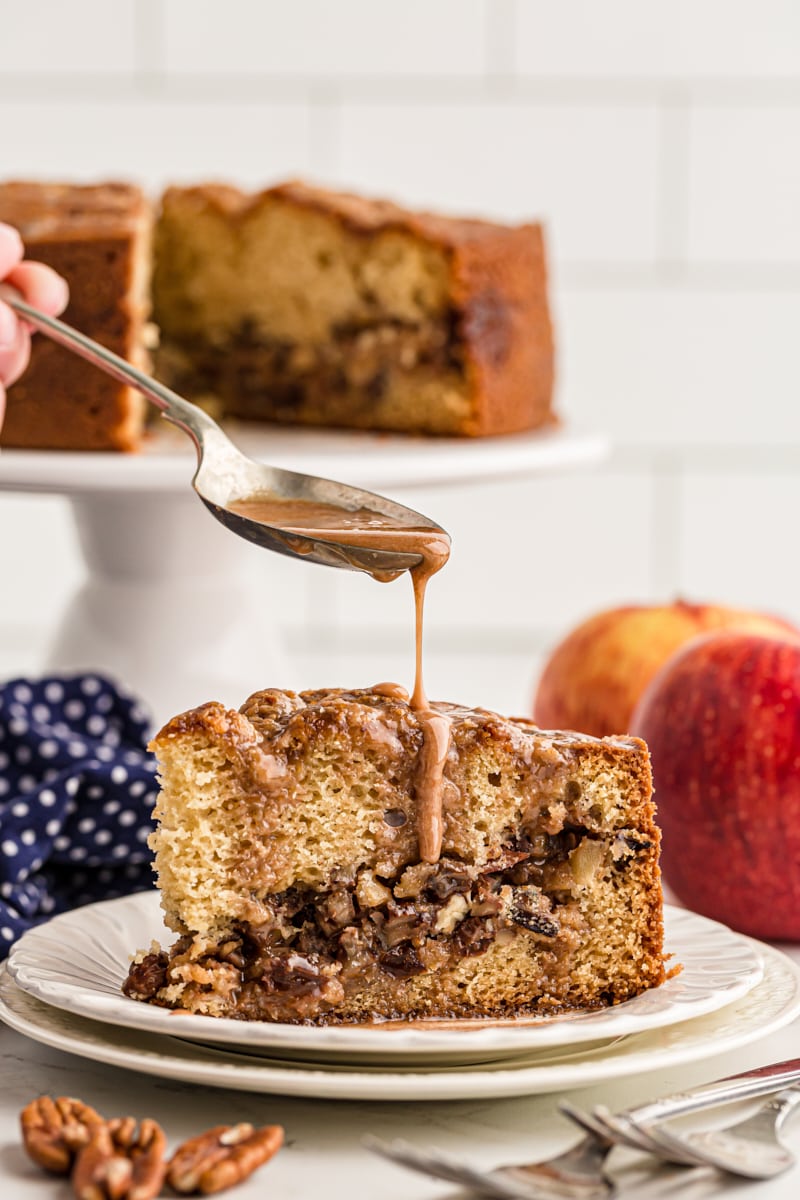 Glaze the cake. Drizzle the glaze over the cooled cake and serve.
Tips for Success
Read my baking tips for beginners, then follow these additional tips for a perfect apple streusel coffee cake:
Grease the pan well. Then, flour it and tap out the excess. You can also use a cooking spray with flour, like Baker's Joy or Pam Baking.
Don't over-mix. This is key to a coffee cake that's light and fluffy, as opposed to being dense and tough.
Distribute the streusel layer evenly. Make sure each slice of cake will have bites of apple, pecans, and currants.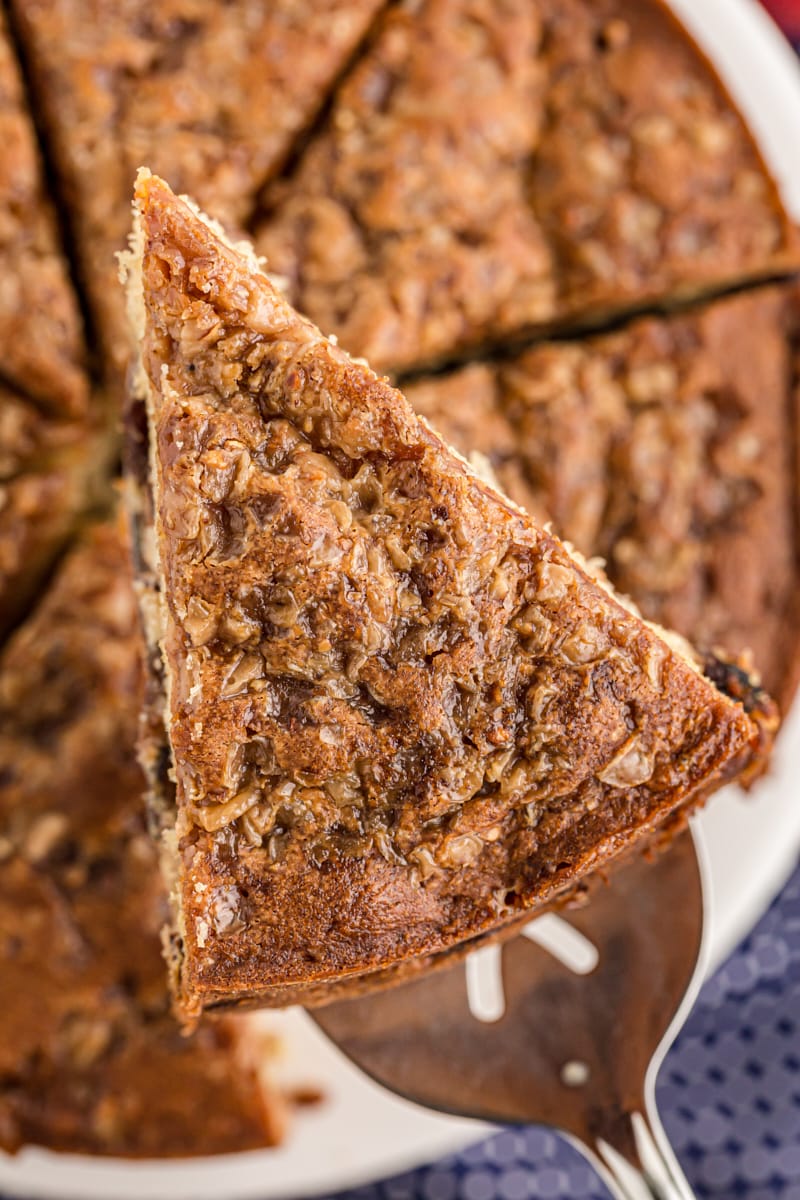 Variations
With all the mix-ins in this apple streusel coffee cake recipe, there's a lot of room for customization. Swap the pecans for walnuts; try pears instead of apples; use white chocolate chips or cinnamon chips instead of toffee bits. As long as you keep the ratio of cake-to-streusel the same, you won't go wrong.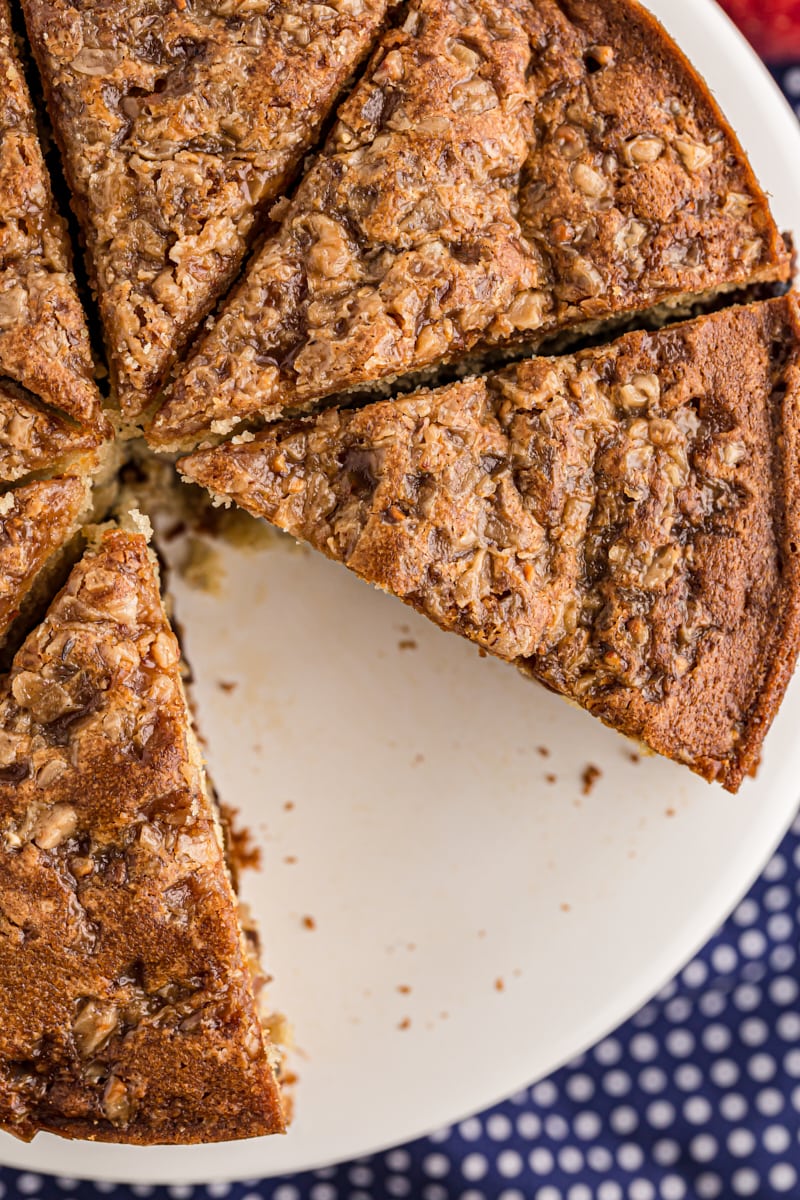 How to Store
This apple streusel coffee cake will last 3 to 4 days at room temperature. Wrap it tightly in plastic wrap, or transfer leftovers to an airtight container.
Can This Recipe Be Frozen?
Yes, you can freeze this coffee cake for up to 2 months. Wrap it tightly and place it in a freezer bag or airtight container; let it thaw at room temperature overnight, or warm it up in the microwave before serving.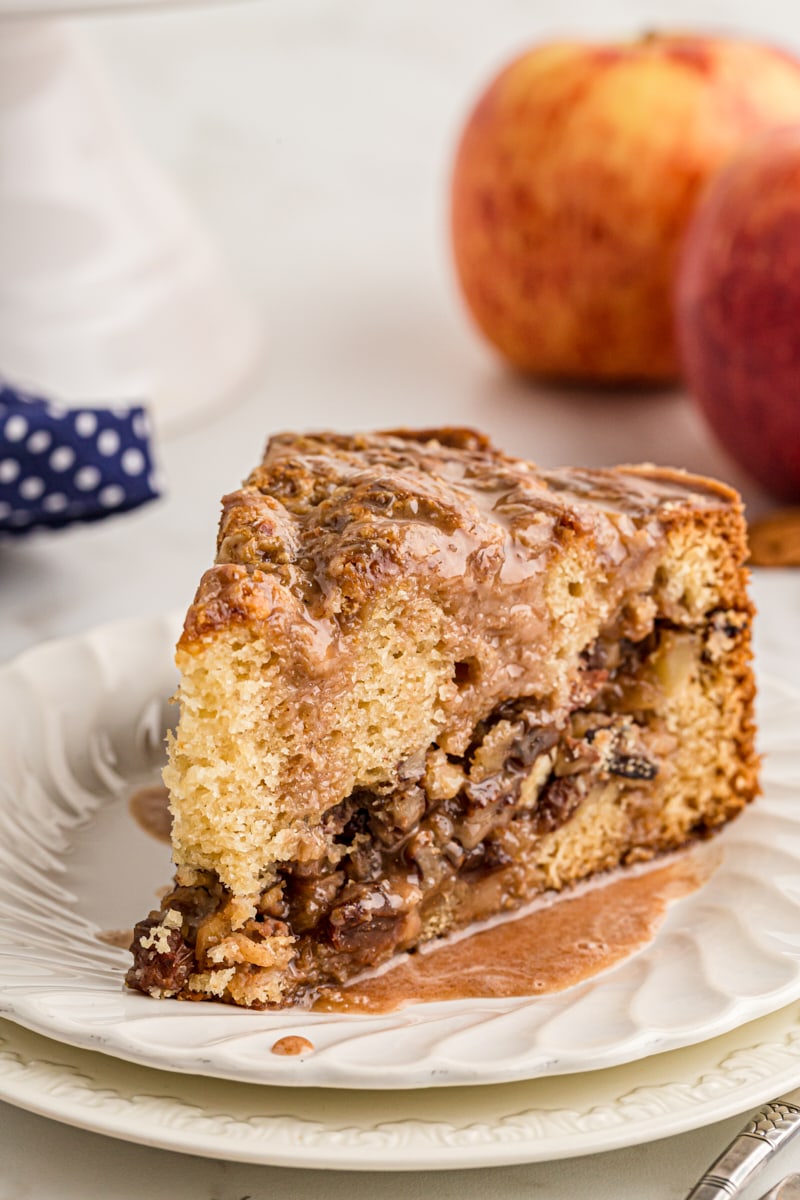 More Cozy Coffee Cake Recipes