October 21, 2013
Apple Streusel Coffee Cake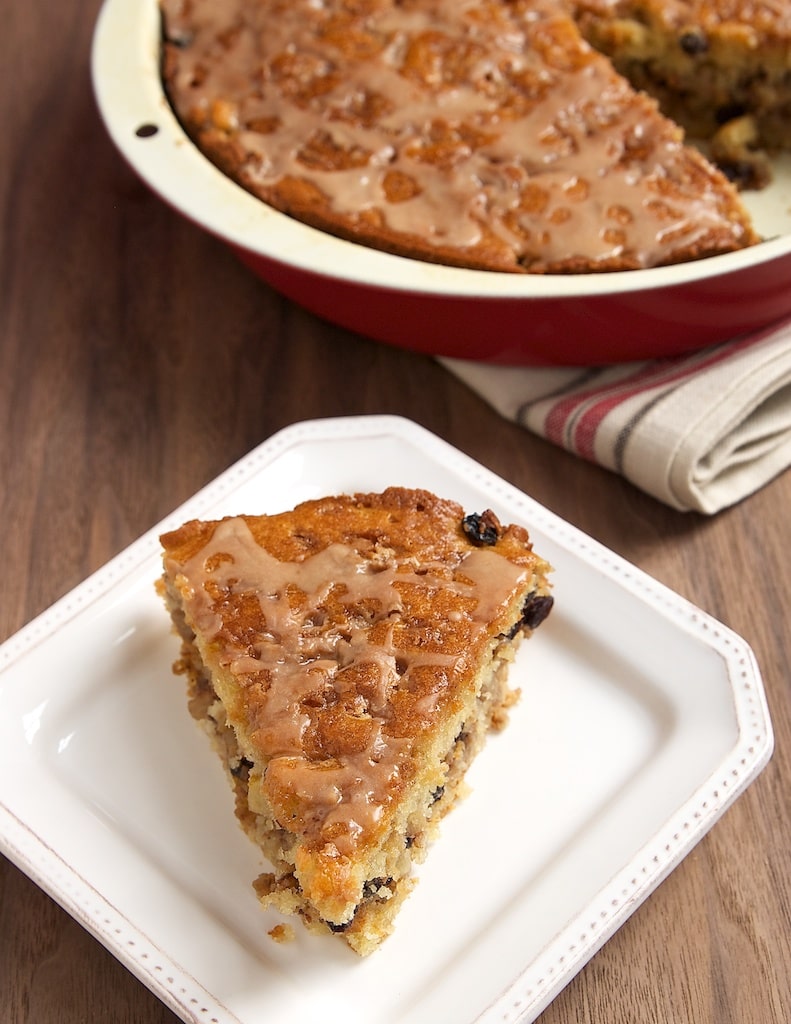 It's been a few days since I mentioned it here, but I'm so very happy that it's fall! Oh, I love it so. I wore a scarf to go to dinner last week. A scarf! And, I'm spending a good portion of my brain activity thinking about what kind of boots to buy. Is anyone else this excited?
Of course, fall is also a very thrilling time for bakers. I get so giddy when I see fresh apples and pears and such. You can make such homey, comforting desserts with fall fruits. The kind of desserts that make you want to curl up under a blanket with your fall-inspired dessert and just savor every bite.
I've had so many apples staring back at me from my countertop recently. I'm rightly amazed that I've not been overwhelming all of you with apple recipes. But, I could resist them no longer and decided to make this coffee cake. Let me tell you that this is, simply put, fall in a pan.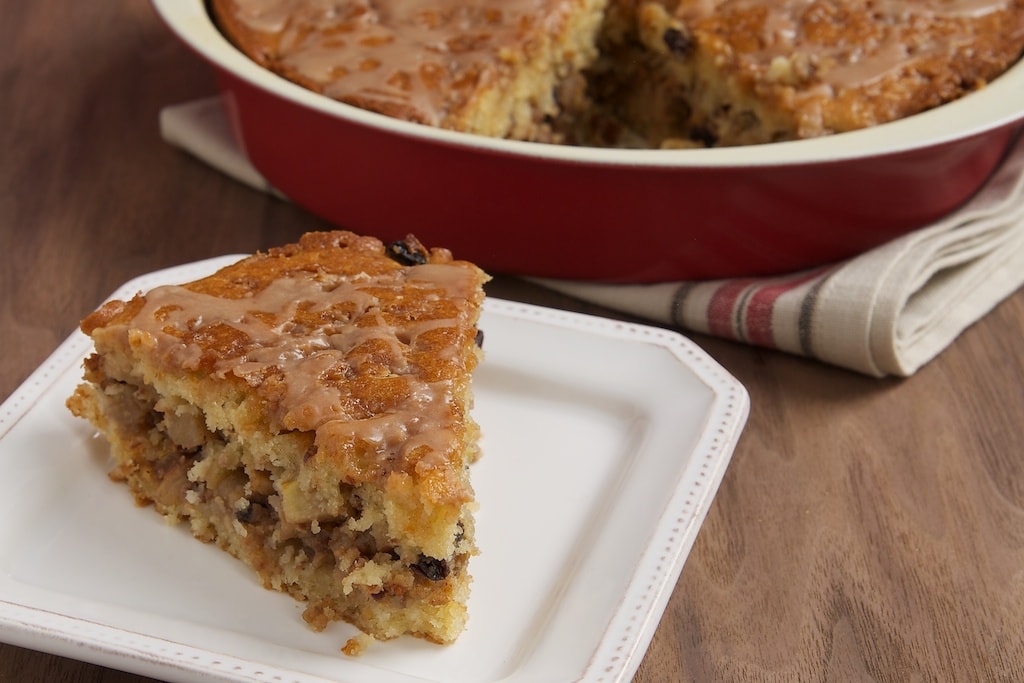 The cake portion of this coffee cake is not that different from other cakes. It's buttery and sweet. And, it has plenty of sour cream, which is one of my favorite cake ingredients.
But, in between layers of soft, moist, delicious cake is a combination of apples, currants, pecans, brown sugar, and cinnamon. Frankly, it's pretty amazing. It gives a wonderful contrast to the cake in both flavor and texture. Then, there are all those toffee bits scattered on top plus a sweet cinnamon glaze. It's everything I want a fall cake to be.
Apple Streusel Coffee Cake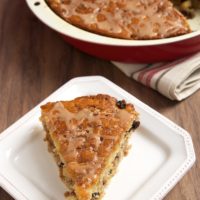 Ingredients:
For the streusel:
1 & 1/2 cups finely chopped apples*
1/2 cup dried currants
1/2 cup chopped pecans
1/4 cup packed light brown sugar
1/2 teaspoon ground cinnamon
For the cake:
1 & 1/2 cups all-purpose flour
1 teaspoon baking powder
1/2 teaspoon baking soda
1/4 teaspoon salt
1/2 cup unsalted butter, softened
1/2 cup granulated sugar
1/4 cup packed light brown sugar
2 large eggs
2 teaspoons vanilla extract
3/4 cup sour cream
1/4 cup toffee bits
For the glaze:
1/2 cup confectioners' sugar
2 to 3 teaspoons milk
1/4 teaspoon ground cinnamon
Directions:
To make the streusel:
Combine apples, currants, pecans, brown sugar, and cinnamon in a small bowl.
Set aside.
To make the cake:
Preheat oven to 350°. Grease and flour a 9-inch round cake pan.
Whisk together flour, baking powder, baking soda, and salt. Set aside.
Using an electric mixer on medium speed, beat butter, sugar, and brown sugar until light and fluffy. Add eggs and vanilla, and mix well.
Decrease mixer speed to low. Add flour mixture in three portions, alternating with two portions of sour cream. Mix just until combined.
Transfer half of batter to prepared pan and spread evenly. Sprinkle streusel mixture evenly over batter. Spread remaining cake batter evenly over streusel.
Sprinkle top of batter with toffee bits.
Bake 45 to 50 minutes, or until a pick inserted into the center comes out clean.
Cool in pan for 10 minutes, then transfer to a serving plate. Or, cool completely in pan if serving directly from the pan.
To make the glaze:
Combine confectioners' sugar, 2 teaspoons of milk, and cinnamon in a small bowl. If necessary, add more milk until the glaze is the desired consistency.
Drizzle glaze over cooled cake.
Notes:
*I used one large Jonagold apple.
Recipe adapted from an unidentified recipe clipping.
As I'm sure many of you do, I have so very many recipes I've collected from magazines over the years. Some are ones I've saved, and some I got from my mother. I found this recipe among the hundreds, but the source was not indicated on the recipe. If any of you happen to know the original source, please let me know so that I can credit it properly.