It's been a few days since I mentioned it here, but I'm so very happy that it's fall! Oh, I love it so. I wore a scarf to go to dinner last week. A scarf! And, I'm spending a good portion of my brain activity thinking about what kind of boots to buy. Is anyone else this excited?
Of course, fall is also a very thrilling time for bakers. I get so giddy when I see fresh apples and pears and such. You can make such homey, comforting desserts with fall fruits. The kind of desserts that make you want to curl up under a blanket with your fall-inspired dessert and just savor every bite.
I've had so many apples staring back at me from my countertop recently. I'm rightly amazed that I've not been overwhelming all of you with apple recipes. But, I could resist them no longer and decided to make this coffee cake. Let me tell you that this is, simply put, fall in a pan.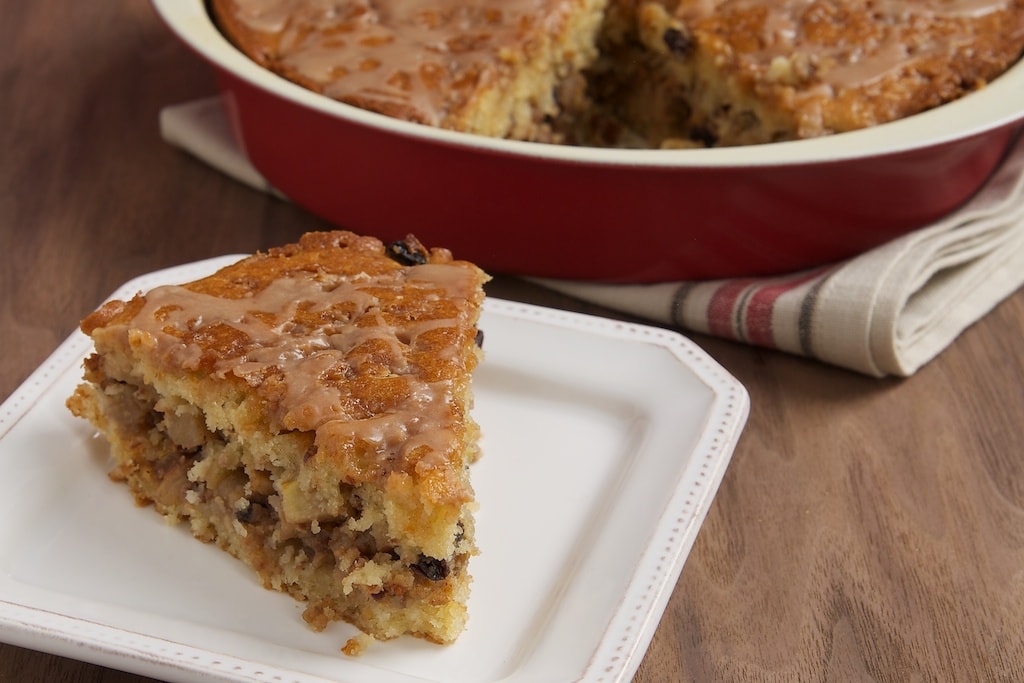 The cake portion of this coffee cake is not that different from other cakes. It's buttery and sweet. And, it has plenty of sour cream, which is one of my favorite cake ingredients.
But, in between layers of soft, moist, delicious cake is a combination of apples, currants, pecans, brown sugar, and cinnamon. Frankly, it's pretty amazing. It gives a wonderful contrast to the cake in both flavor and texture. Then, there are all those toffee bits scattered on top plus a sweet cinnamon glaze. It's everything I want a fall cake to be.
As I'm sure many of you do, I have so very many recipes I've collected from magazines over the years. Some are ones I've saved, and some I got from my mother. I found this recipe among the hundreds, but the source was not indicated on the recipe. If any of you happen to know the original source, please let me know so that I can credit it properly.