This brown butter cinnamon pecan pull-apart bread has it all! Tender, fluffy bread, crunchy pecans, rich brown butter, the irresistible combination of cinnamon and sugar—every element comes together for the perfect brunch bread.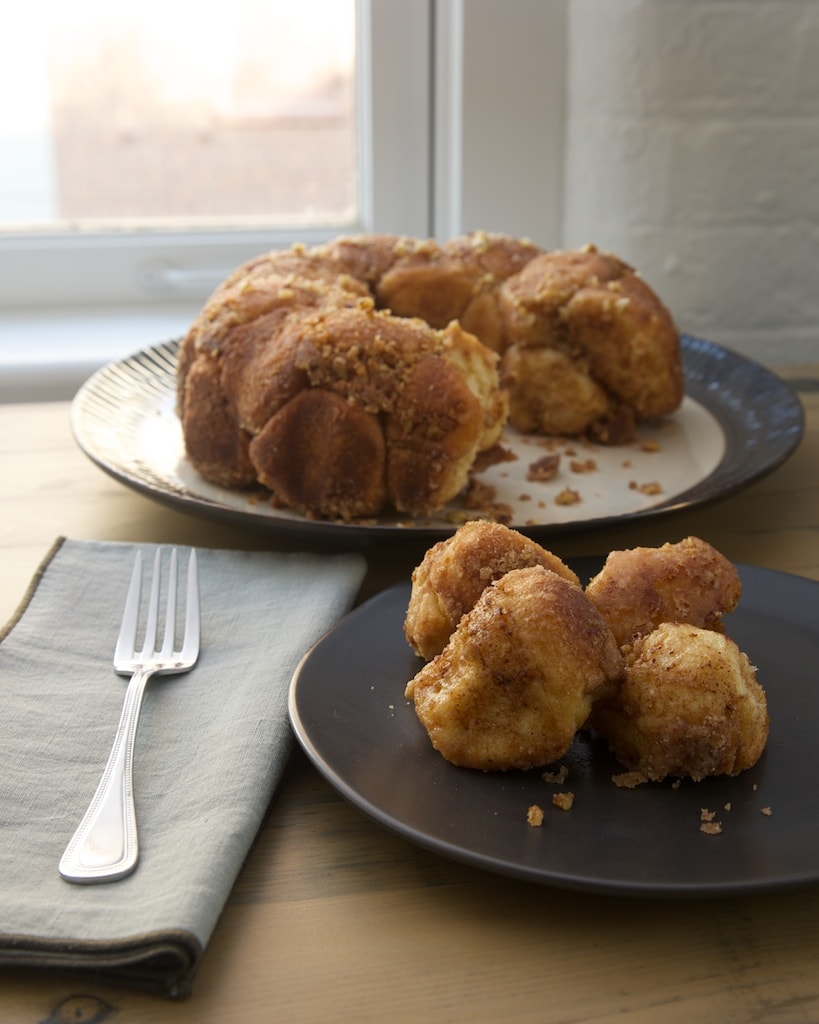 Cinnamon Pull-Apart Bread With Pecans and Brown Butter
As much as I enjoy baking, I've always shied away from baking yeast breads. They say baking is a science, but baking with yeast—well, that's even more of a science. After a few bad experiences, I all but gave up on using yeast in my baking for a time, but I do make exceptions for exceptional baked goods. This brown butter cinnamon pecan pull-apart bread is case in point.
Brown butter cinnamon pecan pull-apart bread is quite similar to monkey bread, but it's a little less sticky, which makes it a great choice for a brunch with friends or family—no messy fingers!
As for the dough portion of the recipe, it's definitely on the easier end of the scale when it comes to working with yeast. The kneading time comes in well-under 10 minutes, and while there's a 10 minute rest, there's only one 45-minute rise needed. It's surprisingly fun to assemble too, with each ball of dough being dipped into brown butter and cinnamon sugar before being nestled into a pan with the rest of the dough and pecans.
Serve brown butter cinnamon pecan pull-apart bread for a holiday breakfast or brunch, or do what I did and make it on a lazy Saturday morning and enjoy a bite here and there all weekend long!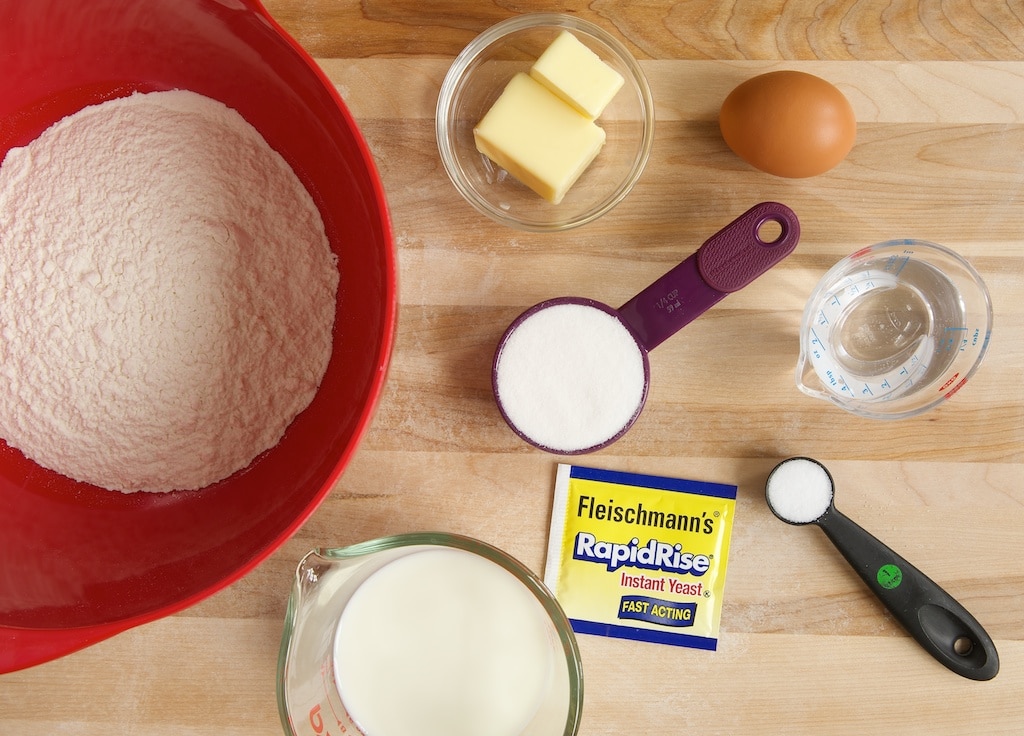 What You'll Need
Scroll down to the recipe card to find the ingredient quantities and recipe instructions.
For the Bread:
For the Filling:
Unsalted butter
Granulated sugar
Ground cinnamon – Cinnamon is a key player in this recipe, so make sure yours isn't past its prime! When you open the bottle and take a whiff, it should smell fragrant and spicy.
Pecans
What Is the Difference Between RapidRise and Active Dry Yeast?
RapidRise yeast is a type of instant yeast; the difference between this kind of yeast and active dry yeast is that it's made with finer granules, which don't need to be dissolved in water to be activated. This cuts down on rise time, so baked goods made with RapidRise yeast only need one rest and one rise, rather than two full rises.
How to Make Brown Butter Cinnamon Pecan Pull-Apart Bread
Although this brown butter cinnamon pecan pull-apart bread doesn't have hours of rising time like other bread recipes, do make sure you plan your baking to account for rest and rise needed. Save this recipe for a time when you'll be home for a few hours.
Make the bread:
Mix the dry ingredients. Stir together 2 cups of flour, sugar, yeast, and salt in a large mixing bowl.
Warm the liquid ingredients. Combine the milk, water, and butter in a microwave-safe bowl. Microwave on high in 15-second bursts until the mixture very warm, but not hot to the touch (120°F to 130°F); the butter will not melt completely.
Mix the dough. Add the milk mixture and egg to flour mixture. Use an electric mixer on medium speed to beat the dough for 2 minutes, stopping to scrape the bowl occasionally. Add 1 cup of flour and beat for 2 minutes on high speed, scraping the bowl as needed. Stir in just enough of the remaining flour to form a ball of dough.
Knead. Turn out the dough onto a lightly floured work surface. Knead it until it's smooth and elastic, and the dough springs back when lightly pressed with 2 fingers; this should take 6 to 8 minutes.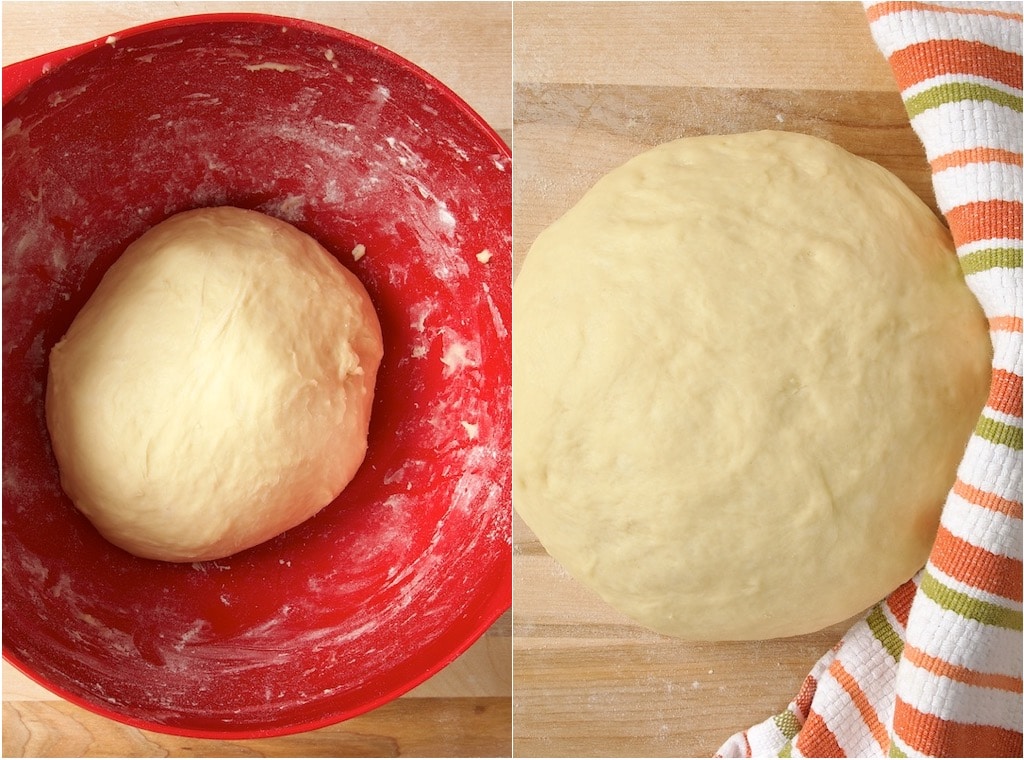 Rest. Cover the bowl with a towel and let the dough rest for 10 minutes.
Make the brown butter cinnamon pecan pull-apart bread filling:
Brown the butter. Place the butter in medium saucepan set over medium heat. Stir frequently; once the butter melts and begins to foam, continue to let it cook until brown specks start to form on the bottom of the pan and the butter has a nutty aroma. Transfer the brown butter to a small heat-proof bowl.
Make the cinnamon sugar. Stir together the sugar and cinnamon in a small bowl.
Add nuts to the pan. Scatter about 1/3 cup of the pecans into the bottom of a greased fluted tube pan.
Assemble:
Form the dough balls. After the dough has rested, cut it into 36 evenly-sized pieces and roll them into balls.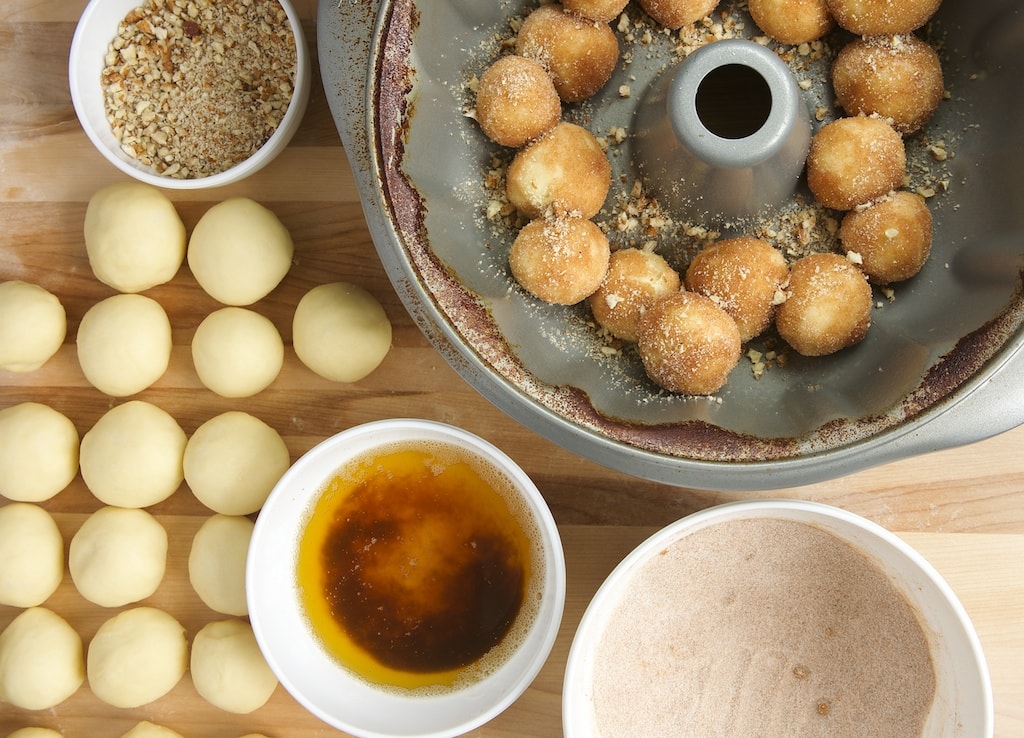 Coat the balls. Dip each ball of dough into the browned butter and then roll in the cinnamon sugar mixture.
Add more pecans. After one layer of dough balls is in the pan, scatter another 1/3 cup of pecans over the top. Continue with assembling the pull-apart bread.
Finish. Combine any remaining browned butter and cinnamon sugar, then drizzle this mixture over the bread. Sprinkle the remaining pecans over the top.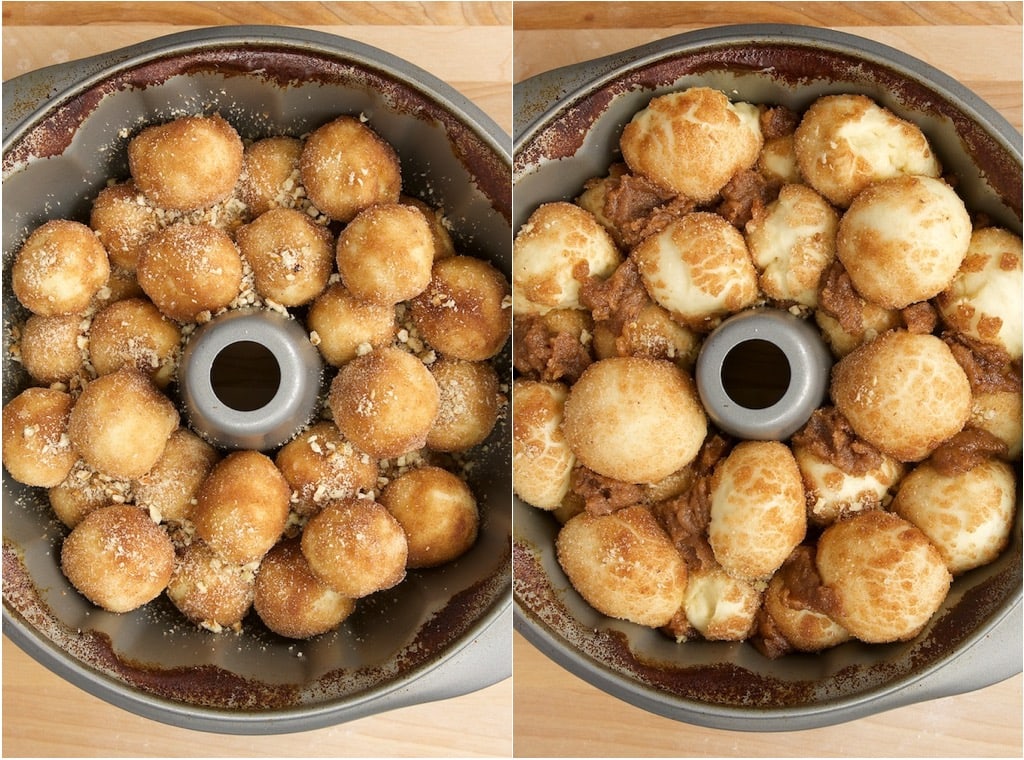 Rise. Cover the pan with a towel and let the bread rise in a warm place until it has roughly doubled in size; this should take about 45 minutes.
Bake. Near the end of the rising time, start preheating the oven to 375°F. Bake the bread for 25 to 30 minutes, or until it's golden brown.
Cool and serve. Let the brown butter cinnamon pecan pull-apart bread cool in pan for 5 minutes, then invert it onto a plate for serving.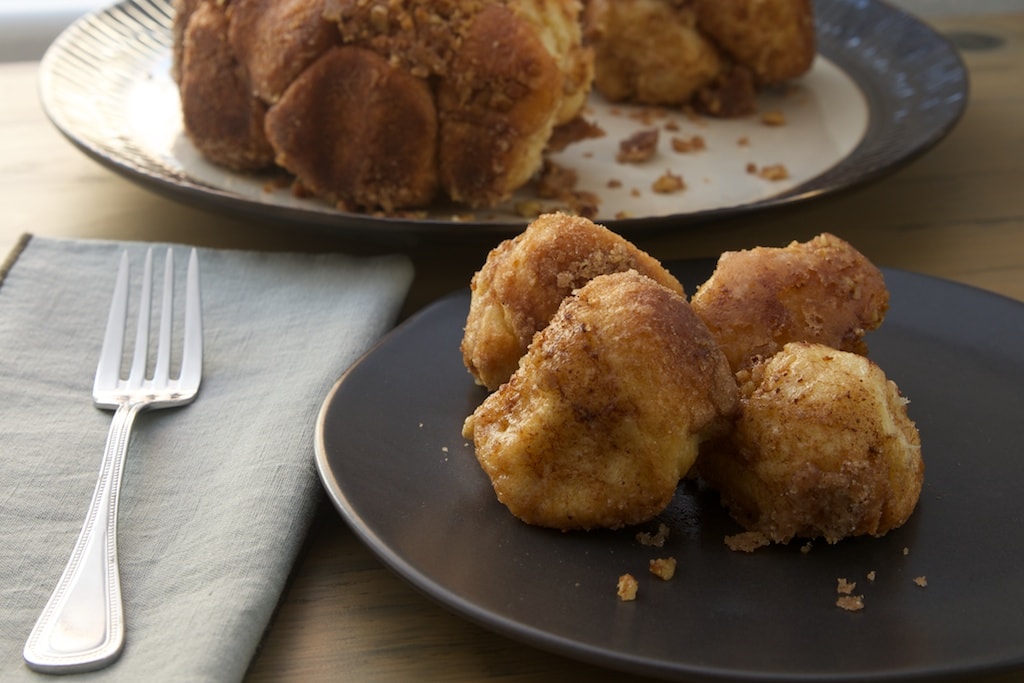 Tips for Success
If you're new to baking, start by reading my baking tips for beginners. Then, read over these additional tips for making this brown butter cinnamon pecan pull-apart bread.
Use RapidRise or instant yeast for this recipe. Active dry yeast works differently and requires proofing and an additional rise, so it won't work in this recipe as it's written.
Don't let the brown butter burn. Brown butter can go from perfect to burnt quite quickly. Once it has a nice, golden brown color and a fragrant, nutty aroma, remove it from the heat.
Let the dough rise longer, if needed. If your kitchen is cold or drafty, you may need more than 45 minutes for the rising time. Rather than focusing on the time, wait until the dough has doubled in bulk, however long this takes.
Variations
As I mentioned at the beginning, baking yeast bread really is a science, so you don't want to tweak the dough recipe or it may not work out. You can, however, play around with the filling. Here are some ideas.
Swap out the pecans for walnuts or almonds.
Add cardamom, nutmeg, ginger, or other cozy spices to the cinnamon sugar mixture.
Try adding chocolate chips in addition to the pecans.
Finish the bread with a simple glaze made with milk, powdered sugar, and vanilla extract.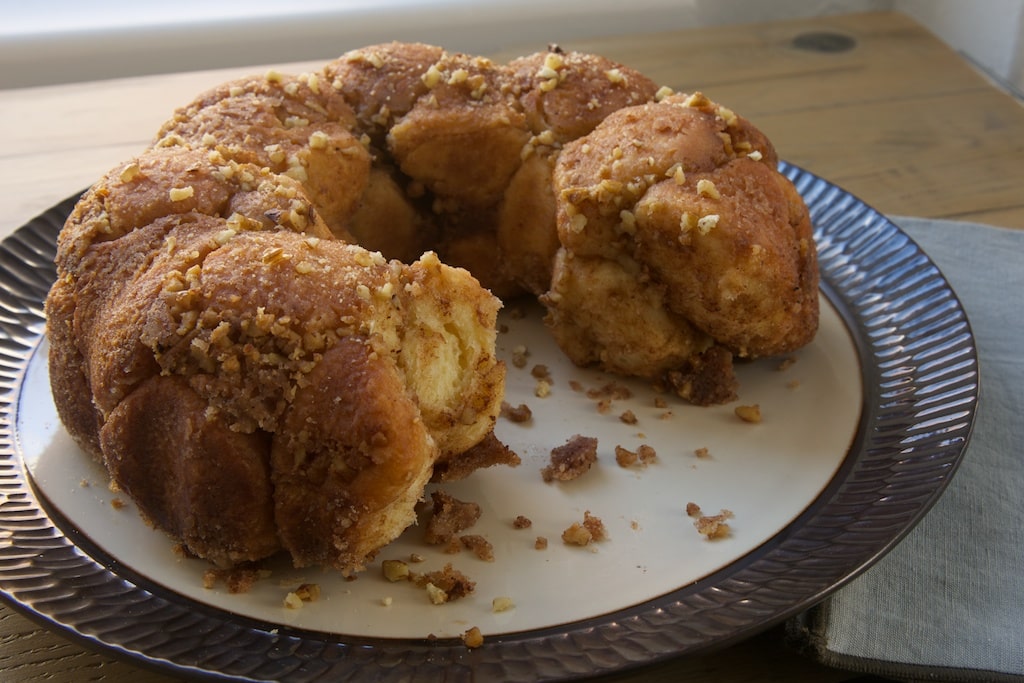 How to Store
Leftover brown butter cinnamon pecan pull-apart bread can be stored in an airtight container at room temperature for up to 3 days. While you can eat it room temperature, it's even better if you warm it up in the microwave a bit.
Can This Recipe Be Frozen?
Yes, this recipe can be frozen. To freeze, let the pull-apart bread cool completely. Place it in a freezer-safe container or bag and freeze for up to 3 months. Thaw at room temperature overnight, then eat it as-is or warm it in the microwave.
More Yeast Bread Recipes