December 9, 2014
Brown Butter Cinnamon Pecan Pull Apart Bread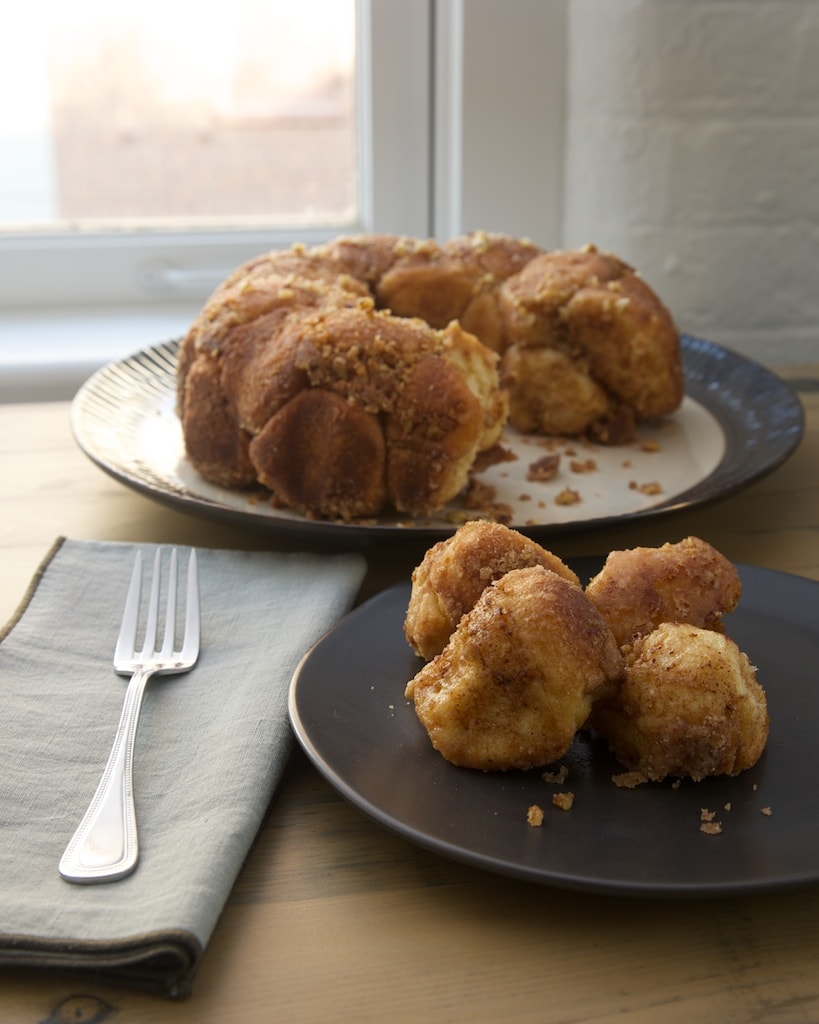 As much as I enjoy baking, I've always shied away from baking yeast breads. I think it all stems from a few efforts I made years ago that didn't go as well as I would have liked. So earlier this year, I added "bake more with yeast!" to my baking to-do list. True, it's December so I'm just squeezing it in this year. But I did it!
The best way to overcome any fear of yeast baking you may have is just to dive in and get baking! This pull apart bread from Fleischmann's® Yeast is a great place to start if you're not experienced with baking yeast breads. It's really simple to make, and the flavor is amazing.
I don't often include step-by-step photos in my posts here on BoB. But, these in-process photos will hopefully help any of you who are a little timid when it comes to baking with yeast.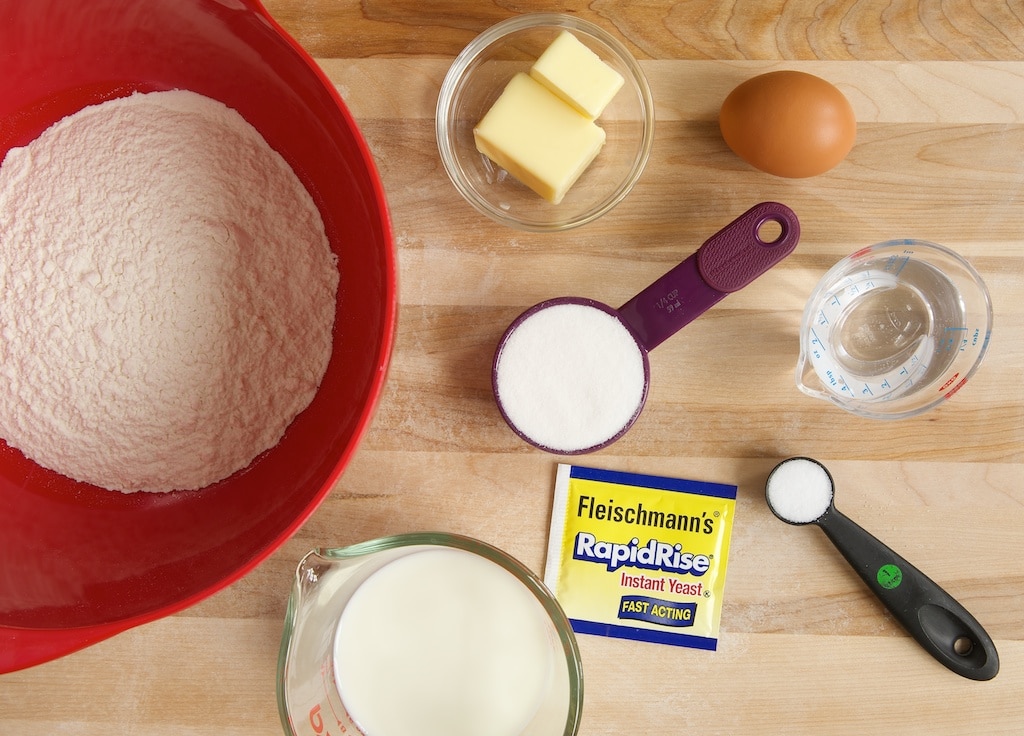 As you can see, you only need a handful of ingredients to get started making the bread. We'll get to the filling later, but we'll start first with the bread itself. Mixing the dough is really simple and quick. Use a sturdy electric mixer to get it throughly mixed. Then add flour until the dough forms a ball.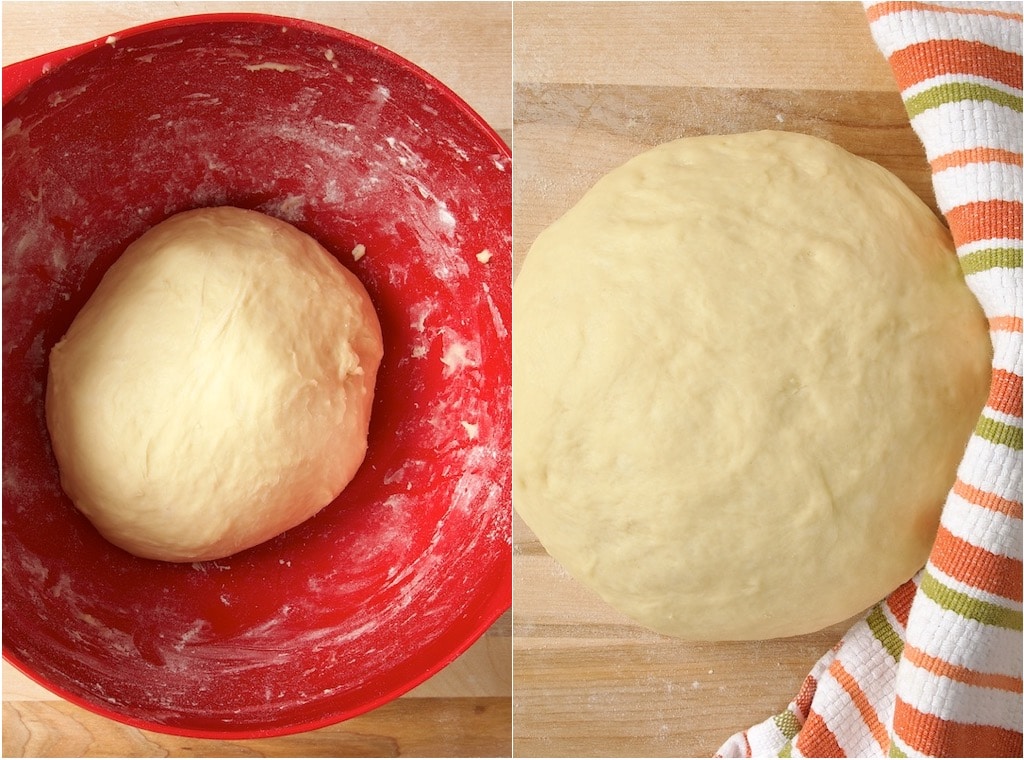 After the dough is mixed (above left), then place it on a lightly floured surface. Now it's kneading time. Flatten the dough and fold it toward you. Use the heels of your hands to push the dough away with a rolling motion. Then rotate the dough 90 degrees and repeat. Continue the process until the dough is smooth and springs back if you press it with your fingers (above right). If your dough is too sticky, you can add a bit more flour and work it into the dough.
Then, cover it with a towel for 10 minutes while you make the filling.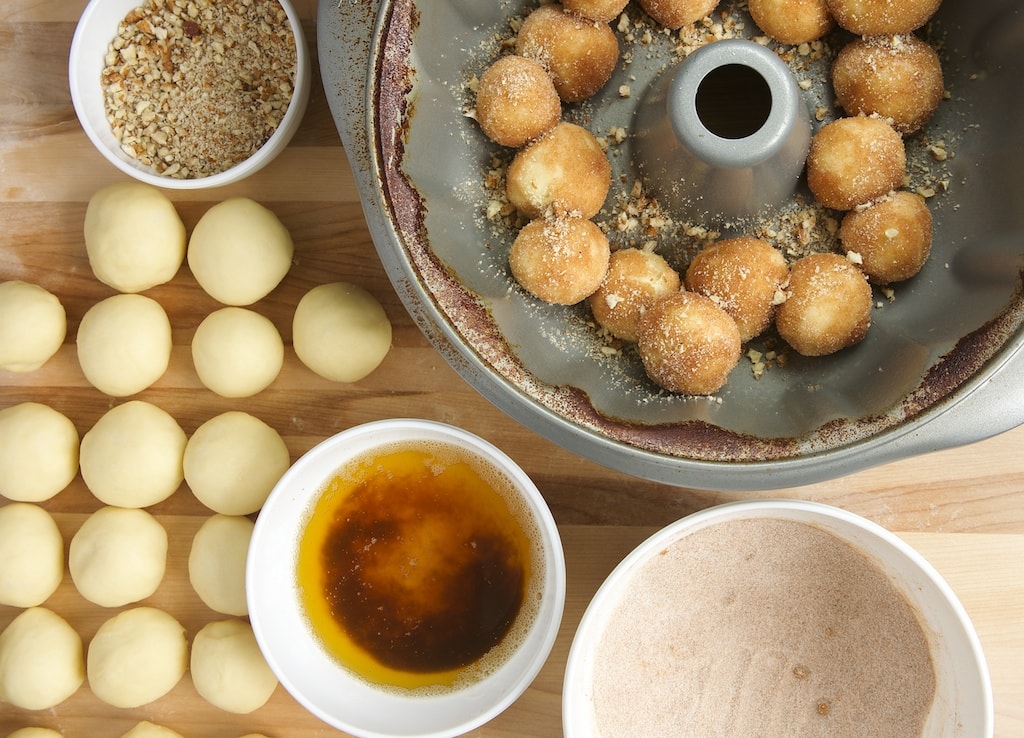 The filling is where you can get a bit creative. The original recipe uses a simple cinnamon-sugar for big flavor. I do love cinnamon, so I kept that aspect. But, I opted to add a bit of brown butter and pecans for even more flavor!
Sprinkle some of the pecans in the bottom of the pan to get started. Then, divide dough into 36 portions and roll each into a ball. Dip each in brown butter, roll in cinnamon-sugar, and layer in the pan. As you layer, sprinkle more pecans between the layers. Then, combine any remaining brown butter and cinnamon-sugar, and pour it over the bread.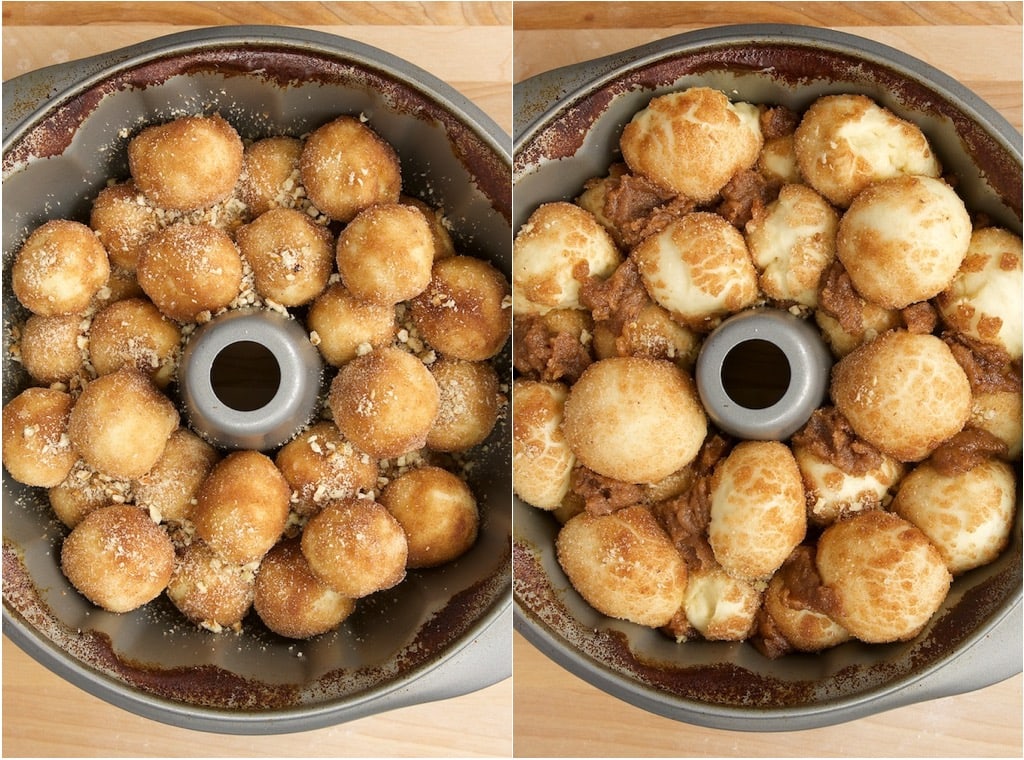 Once all the little dough balls are in the pan (above left), it's time to let it rise. Just cover it with a towel and put it in a warm place. After about 45 minutes, the dough should double in size (above right).
Then it's oven time. Bake it for about 25 minutes, then let it cool for about 5 minutes before you invert it onto a plate for serving. Then just watch it disappear!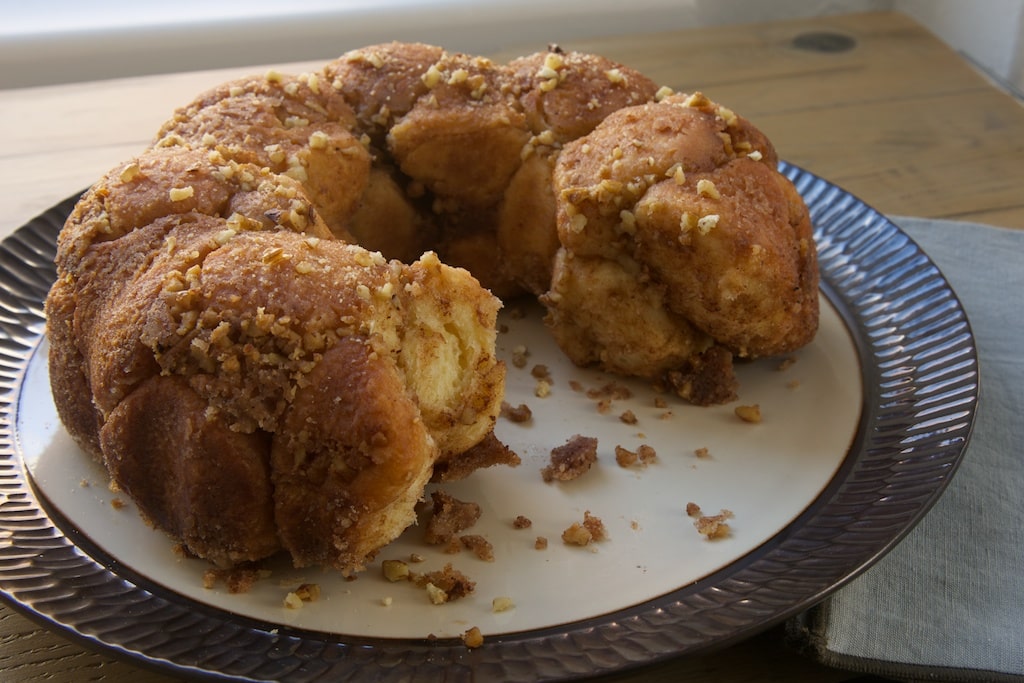 Quinn and I made a batch of this pull-apart bread on a lazy Saturday morning and enjoyed it throughout the weekend. I plan to revisit this recipe again during the holidays for a special treat.
And for more tips for successful yeast baking, visit Fleischmann's Education Center.
Brown Butter Cinnamon Pecan Pull Apart Bread
Prep Time:40 minutes
Cook Time:30 minutes
Total Time:2 hours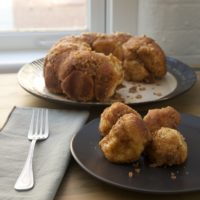 Ingredients:
For the bread:
3 & 1/4 to 3 & 3/4 cups all-purpose flour
1/4 cup granulated sugar
1 packet Fleischmann's ® RapidRise® Yeast
1 teaspoon salt
3/4 cup milk
1/4 cup water
1/4 cup unsalted butter
1 large egg
For the filling:
5 tablespoons unsalted butter
1 cup granulated sugar
1 tablespoon Spice Islands® Ground Saigon Cinnamon
1 cup chopped pecans
Directions:
To make the bread:
Combine 2 cups flour, sugar, yeast, and salt in a large mixing bowl. Stir until blended.
Combine milk, water, and butter in a microwave-safe bowl. Microwave on high in 15-second increments until very warm but not hot to the touch (120° to 130°). Butter will not melt completely.
Add milk mixture and egg to flour mixture.
Using an electric mixer on medium speed, beat for 2 minutes, scraping the bowl occasionally. Add 1 cup flour and beat 2 minutes on high speed, scraping the bowl occasionally. Stir in just enough of the remaining flour so that the dough forms a ball.
Transfer dough to a lightly floured surface. Knead until smooth and elastic, and dough springs back when lightly pressed with 2 fingers (about 6 to 8 minutes). Cover with a towel and allow to rest for 10 minutes.
To make the filling:
Place butter in medium saucepan. Heat over medium heat, stirring frequently. Once butter melts and begins to foam, continue to cook until brown specks start to form on the bottom of the pan. Butter will have a nutty aroma. Remove from heat and transfer to a small bowl.*
Combine sugar and cinnamon in a small bowl.
Scatter about 1/3 cup of pecans into the bottom of a greased fluted tube pan.
To assemble:
After dough has rested, cut into 36 pieces and roll into balls. Dip each piece into browned butter and then roll in cinnamon sugar mixture. Place in pan.
After one layer of bread is in the pan, scatter another 1/3 cup of pecans over the bread. Then continue assembly.
Combine any remaining browned butter and cinnamon-sugar. Drizzle over bread. Sprinkle remaining pecans over the bread.
Cover pan with a towel. Let rise in a warm place until doubled in size (about 45 minutes).
Heat oven to 375°. Bake 25 to 30 minutes or until golden brown. Cool in pan for 5 minutes before inverting bread onto a plate for serving.
Notes:
*If you prefer, you can strain the butter before putting it into the bowl. I prefer to leave the browned bits, but that's a matter of preference.
There's a sense of pride in sharing something you've baked from scratch. With
Fleischmann's Yeast, you won't be afraid to find your creativity in the kitchen or even get your apron a little dirty. Baking with yeast this holiday season can be as easy as pre-heating the oven. To find out more, visit foodnetwork.com/holidaybaking.
This is a sponsored conversation written by me on behalf of ACH. The opinions and text are all mine.