Take your blondies up a notch with these Brown Butter Blondies. Their rich, nutty flavor is irresistible!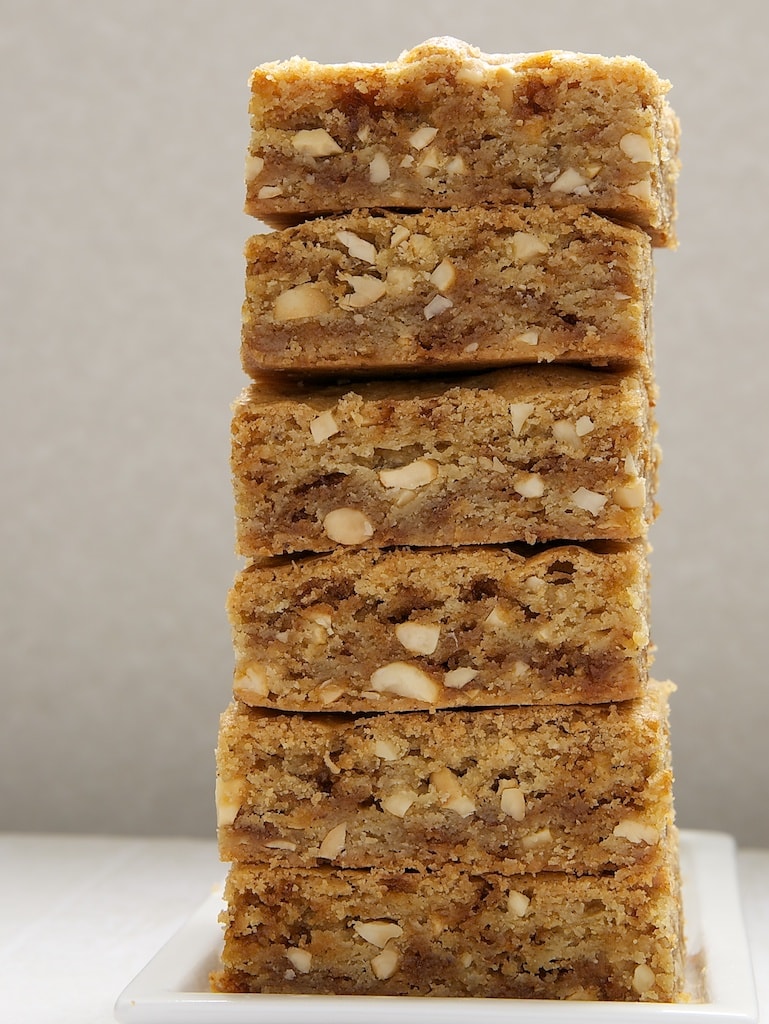 Brown Butter Blondies
Brown butter is one of my baking obsessions. I'll admit that I didn't really get what all the fuss was about until I tried it. From that first moment, though, I was 100% sold!
The process of browning butter adds a whole other flavor dimension to an everyday ingredient. Sure, there's an extra step involved in anything you bake with brown butter, but it's absolutely worth those few extra minutes.
Another of my favorite things in the baking world is making bars. When I'm thinking simple, that's usually where my thoughts turn. No scooping dough, no glazing or frosting. Just one pan of deliciousness.
These blondies, of course, benefit from the addition of brown butter. From there, you're in traditional blondie territory. I like to add some nuts and toffee bits for a little extra flavor and crunch.
Make these blondies for a casual gathering, a bake sale, or just a fun, easy baking project.
What Does Brown Butter Do In Baking?
When you brown butter, the milk solids separate and sink to the bottom of the pan, where they get browned. That browning creates a brand new flavor profile for the butter, giving your baked goods a nutty, caramel-like flavor.
You'll begin to smell that nuttiness as the butter browns. After you've done the browning process a few times, you'll likely be able to tell when it's done just by that smell.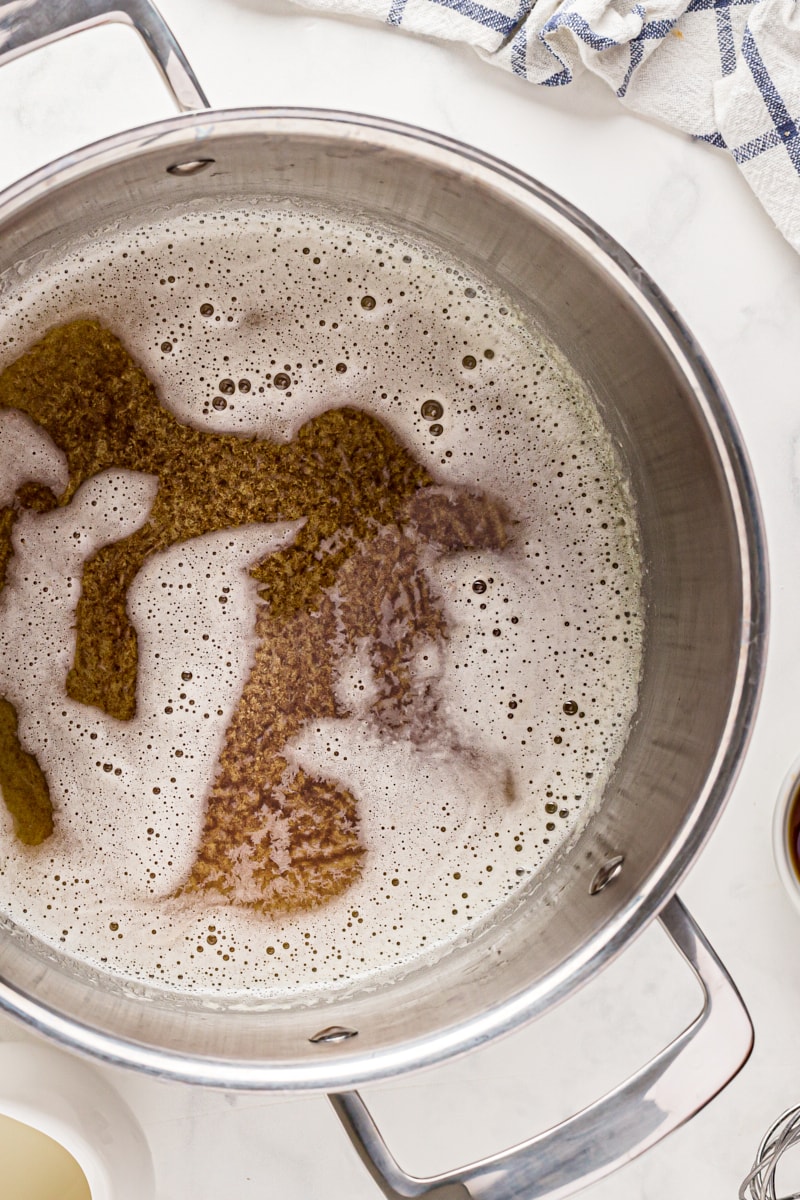 What You'll Need
Scroll down to the recipe card at the bottom of this post for ingredient quantities and full instructions. Here are some notes about the ingredients you'll need to make these brown butter blondies.
Unsalted butter – See my tip below for browning butter.
All-purpose flour – As always, measure by weight or use the spoon and sweep method for best results. Learn more: How to Measure Flour
Baking powder
Salt
Brown sugar – I recommend light brown sugar here, as the bolder flavor of dark brown sugar could overpower the brown butter. But you can certainly use the dark variety if you prefer. Learn more: Light Brown Sugar vs Dark Brown Sugar
Granulated sugar
Eggs – Set these out before baking so that they can come to room temperature.
Vanilla extract
Add-ins – My favorite additions are toffee bits and chopped nuts, like cashews, pecans, hazelnuts, etc. You can certainly customize these blondies with your favorite add-ins. Just keep the total amount at 2 cups.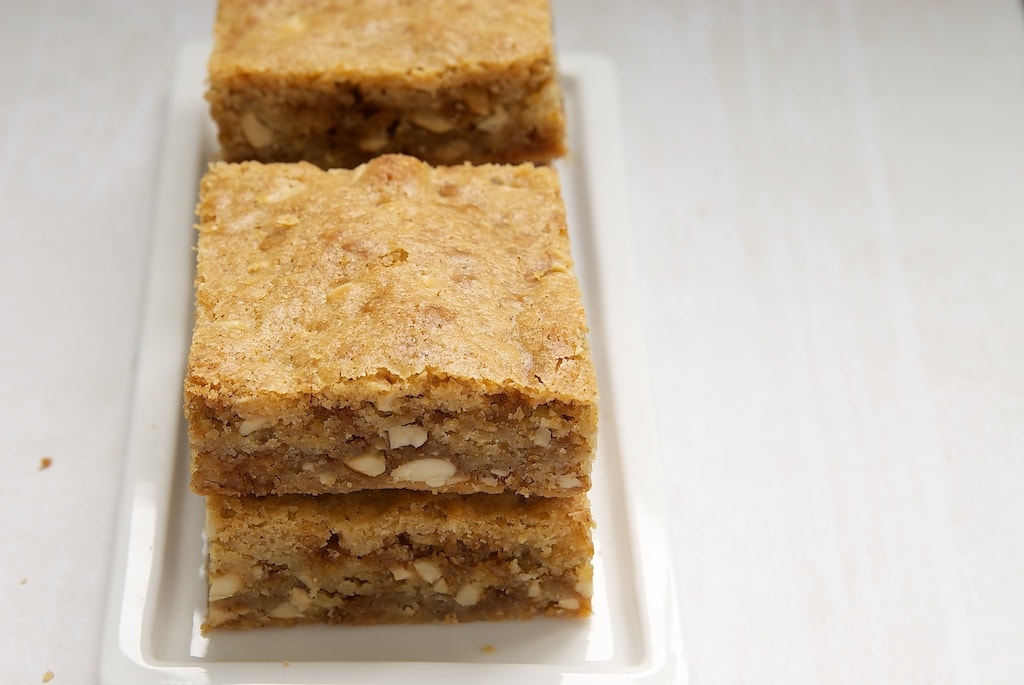 How to Make Brown Butter Blondies
Even with the added step of browning the butter, these blondies come together quickly and easily. This is a great recipe for bakers of all skill levels!
Brown the butter. Place the butter in a saucepan, and cook over medium heat. When the butter melts and begins to foam, continue cooking until you see brown specks forming on the bottom of the pan. The foaming will subside, and the butter will have a nutty aroma. Remove from the heat, and transfer the butter to a large mixing bowl to cool for several minutes. It should still be warm but not hot.
Prepare for baking. Heat the oven to 350°F. Grease a 9″ x 13″ x 2″ baking pan, line it with parchment paper, and lightly grease the paper.
Combine the dry ingredients. Whisk together the flour, baking powder, and salt.
Combine the wet ingredients. Add the brown sugar and granulated sugar to the cooled butter, and stir until combined. Add the eggs, and mix with an electric mixer on medium speed until light and fluffy. Mix in the vanilla.
Finish mixing. With the mixer on low speed, add the flour mixture in three portions, and mix just until combined after adding each portion.
Add nuts or other add-ins. Stir in any nuts, toffee bits, or other add-ins you're using.
Bake. Spread the batter evenly in the prepared pan. Bake the blondies or 35 to 40 minutes, or until a pick inserted into the center comes out clean.
Cool. Place the pan on a wire rack, and allow the bars to cool completely before cutting into bars.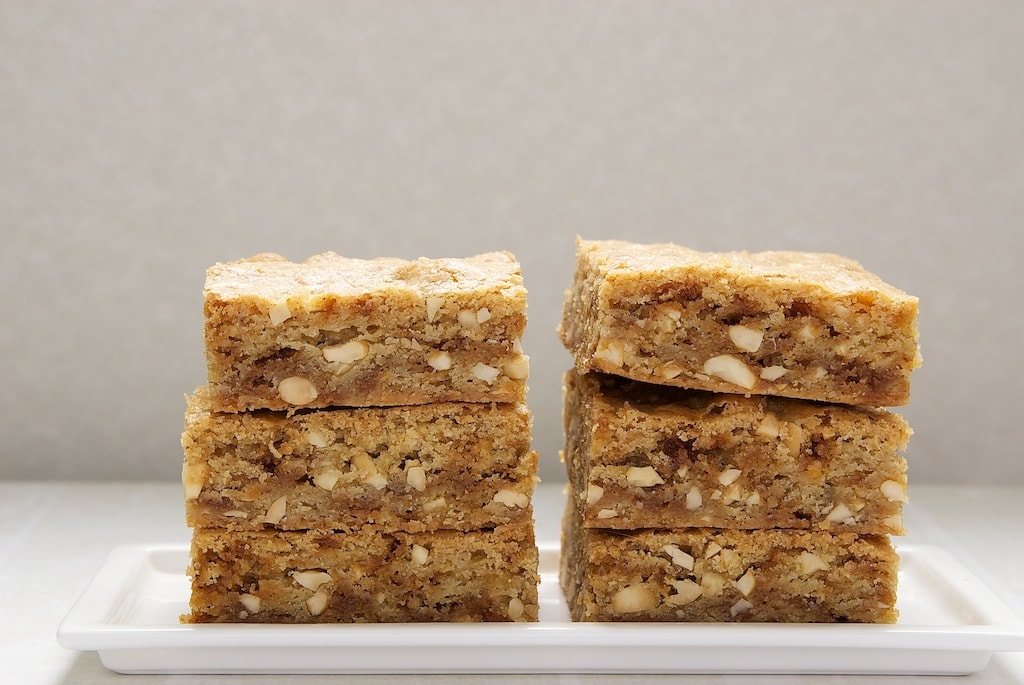 Ideas for Variations
There are lots of ways to customize these blondies! Here are some ideas to get you started.
Chocolate chips – A classic addition to blondies! Add them in place of some or all of the add-ins in the recipe.
Go nutty! – Use a combination of your favorite nuts instead of just one kind.
Other flavor baking chips – Butterscotch chips, peanut butter chips, white chocolate chips… so many possibilities!
Coarse salt – Sprinkle the tops of the blondies with a flaky sea salt when they come out of the oven.
Melted chocolate – Drizzle melted dark chocolate over the tops of the blondies before serving.
Ice cream – Turn these simple blondies into an over-the-top treat with a big scoop of vanilla ice cream plus any toppings you want to add.
Tips for Success
Here are some tips to help make sure your blondies turn out perfectly.
Keep an eye on the butter. While browning butter is a simple process, it requires your undivided attention. It can go from brown to burned pretty quickly, so watch it closely and don't try to multitask.
Let the butter cool. It needs to be warm enough to soften and begin to melt the sugars during mixing, but not so hot that it will start cooking the egg. Depending on your kitchen environment, let the butter cool for around 10 minutes. It should still be warm to the touch but not hot.
Use a light-colored metal pan. Your blondies will bake more thoroughly and evenly.
Don't over-mix. Too much mixing leads to tough blondies that are overly chewy.
Don't over-bake. That leads to dry, crumbly bars.
How to Store Leftovers
After the blondies have cooled completely, place them in an airtight container. They should keep at room temperature up to 3 days.
Can These Blondies Be Frozen?
Sure! Wrap the cooled blondies in plastic wrap and place in an airtight, freezer-safe bag or container. Properly stored, they should keep in the freezer up to 3 months. Thaw at room temperature for an hour or two before serving.
More Brown Butter Desserts