This triple chocolate brownie cake is dense and chewy like a brownie, but it's baked in a round pan and sliced like a cake! It's the perfect cake recipe for brownie lovers.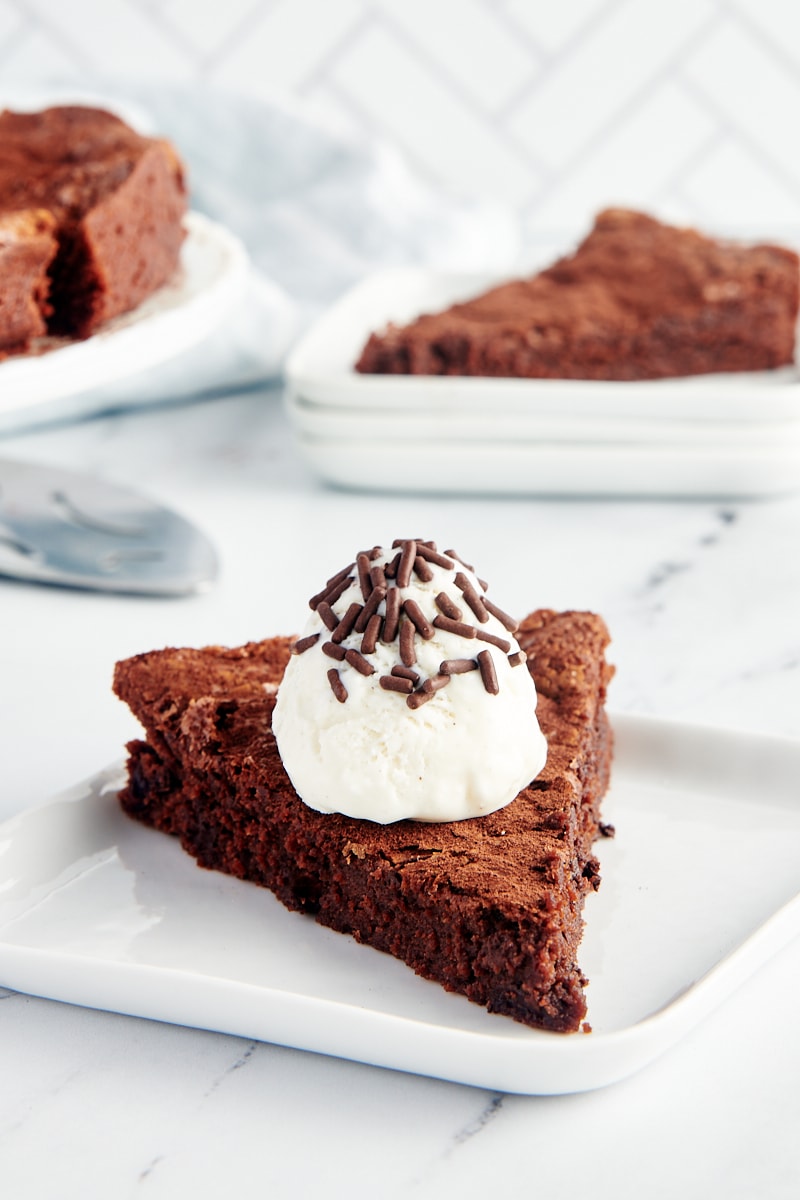 Rich Fudge Brownie Cake Recipe
While the name of this recipe has the word "cake" in it, don't be fooled—this dessert is essentially a brownie. And I consider that a good thing. It's rich and dense, perfectly chewy, and it has that delightful thin, crinkly-crisp layer on top that all the best brownies seem to have. Somehow putting it all in cake form makes this brownie recipe extra special.
There is plenty of chocolate that gets melted and stirred into the batter, but I also stirred in some semisweet chocolate chunks for good measure. And, then let's just go all out and dust the top with cocoa powder. That's right, my friends. Three kinds of chocolate. If you're feeling especially indulgent, mix in some milk chocolate chips, too.
As-is, this is the kind of recipe you whip up on a whim and serve after a weeknight dinner. But add a dollop of whipped cream and some fresh berries or chocolate sprinkles and you've got a dessert worthy of a special occasion.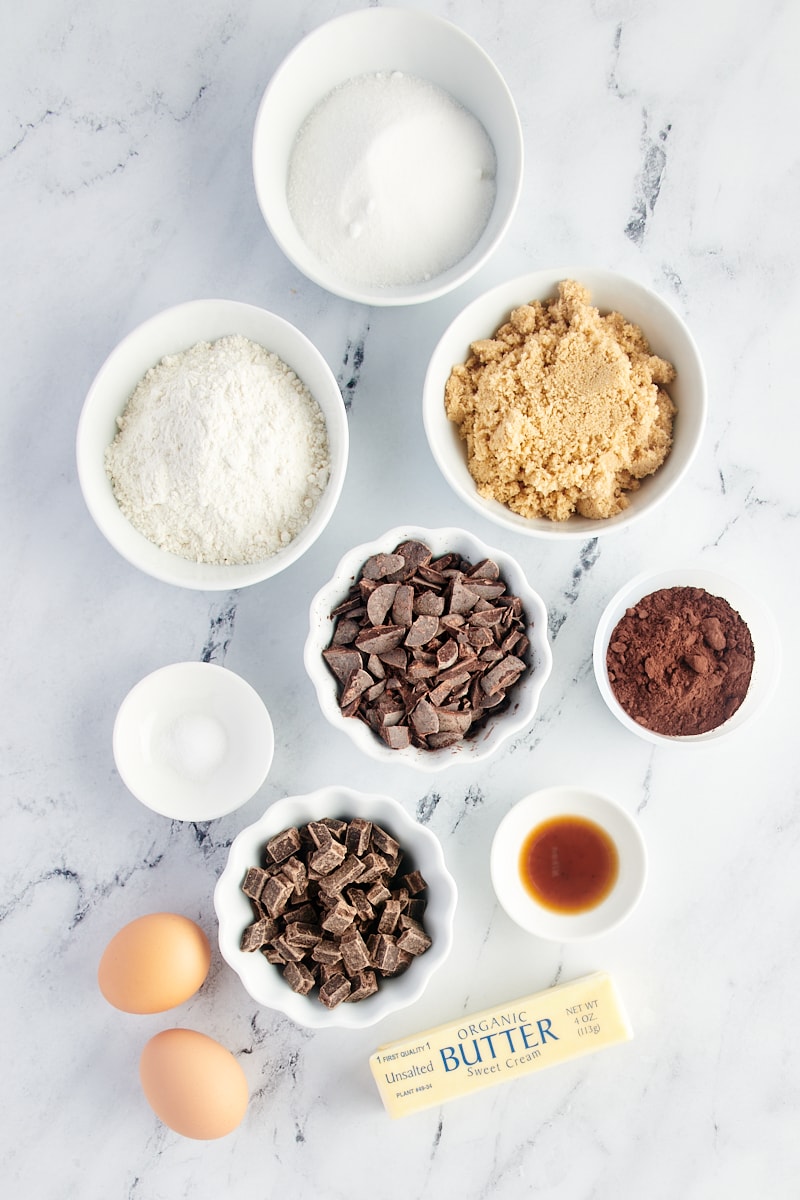 What You'll Need
Scroll down to the recipe card to find the ingredient quantities and recipe instructions.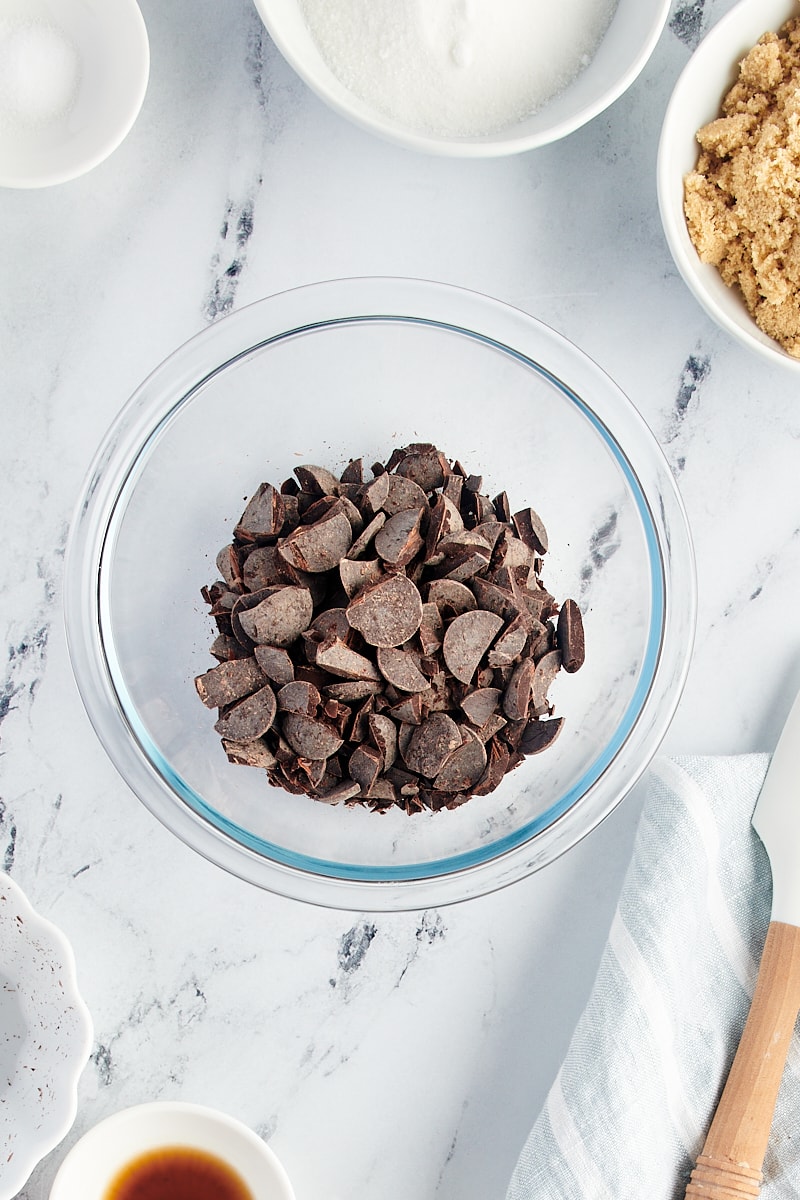 What Kind of Chocolate Is Best for Baking?
This brownie cake will only be as good as the chocolate you put into it. Some of my favorites for this recipe are Guittard 72% bittersweet chocolate in the batter, Callebaut 44% semisweet chocolate chunks, and Scharffen Berger cocoa powder. You can't go wrong with any of these three brands.
How to Make Triple Chocolate Brownie Cake
The method for this brownie cake isn't any different from the method you'd use to make traditional brownies; the only difference is the shape of the pan.
Prepare. Preheat your oven to 350°F and line the bottom of an 8- or 9-inch round cake pan with parchment paper. Grease the paper and any exposed parts of the pan.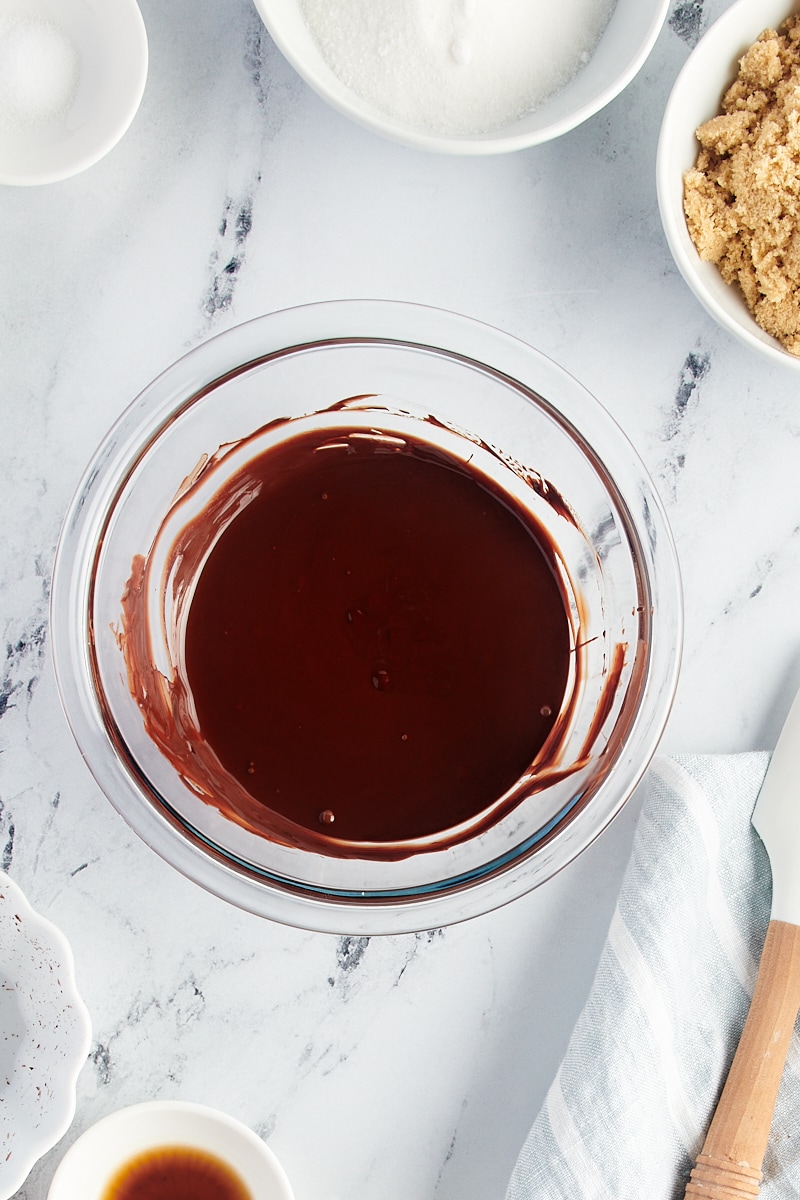 Melt the chocolate. Place the bittersweet chocolate in a microwave-safe bowl. Microwave at half power in 30-second increments until the chocolate melts when stirred. Cool slightly.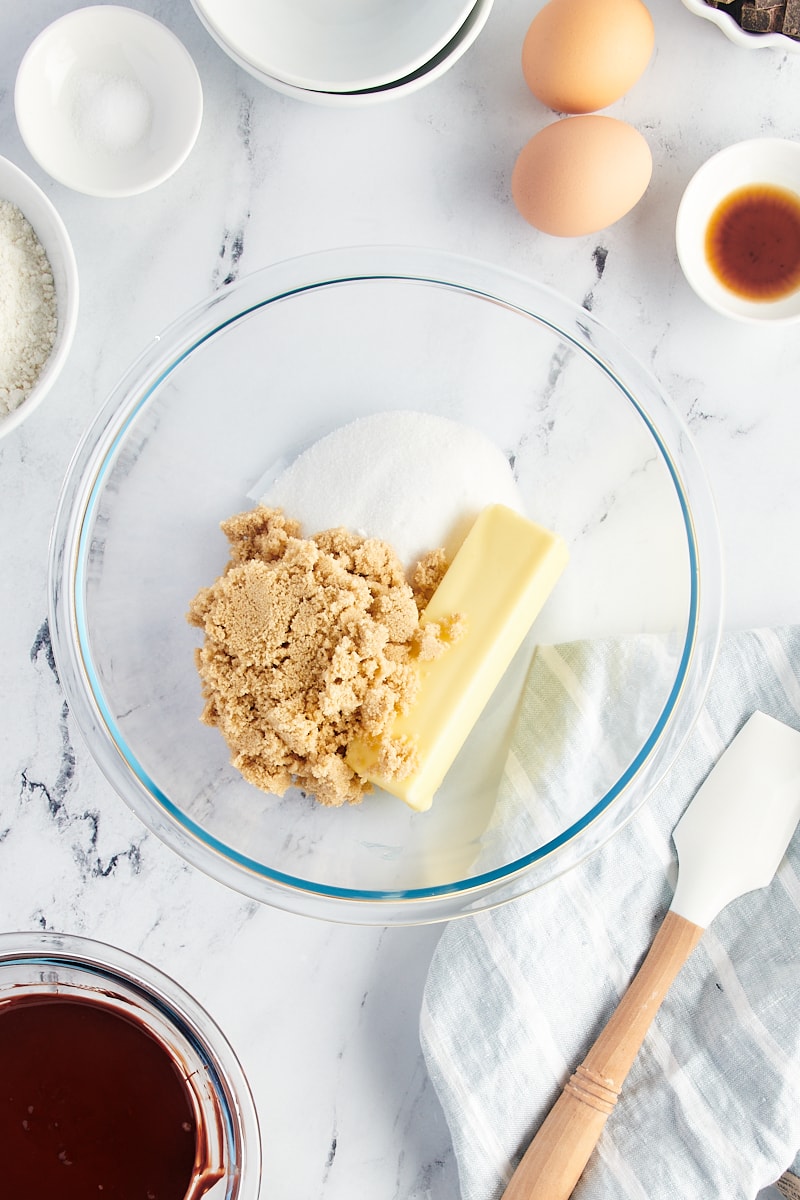 Mix the wet ingredients. Use an electric mixer on medium speed to beat the butter, sugar, and brown sugar in a large bowl until they're light and fluffy. Beat in the eggs and vanilla, followed by the melted chocolate.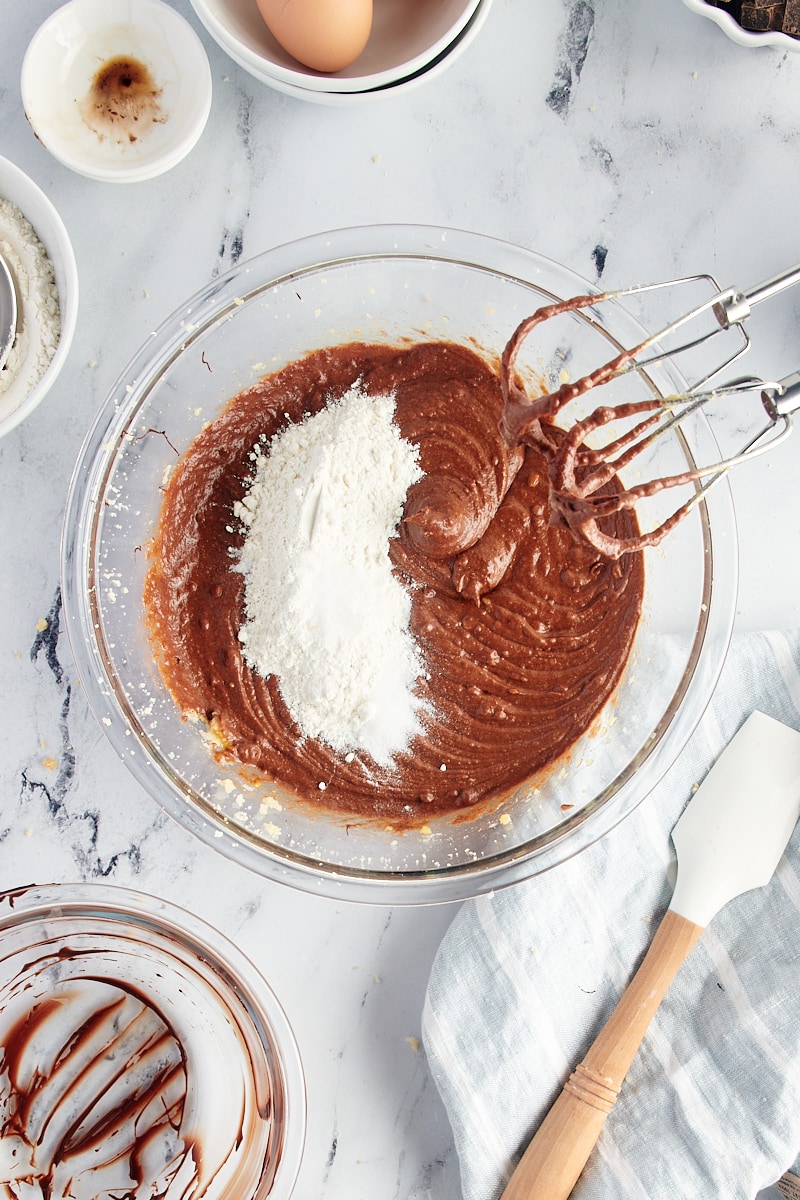 Finish the batter. Reduce the mixer speed to low. Mix in about 1/3 of the flour and all of the salt. Add the remaining flour in two portions, mixing just until combined. Fold in the chocolate chunks.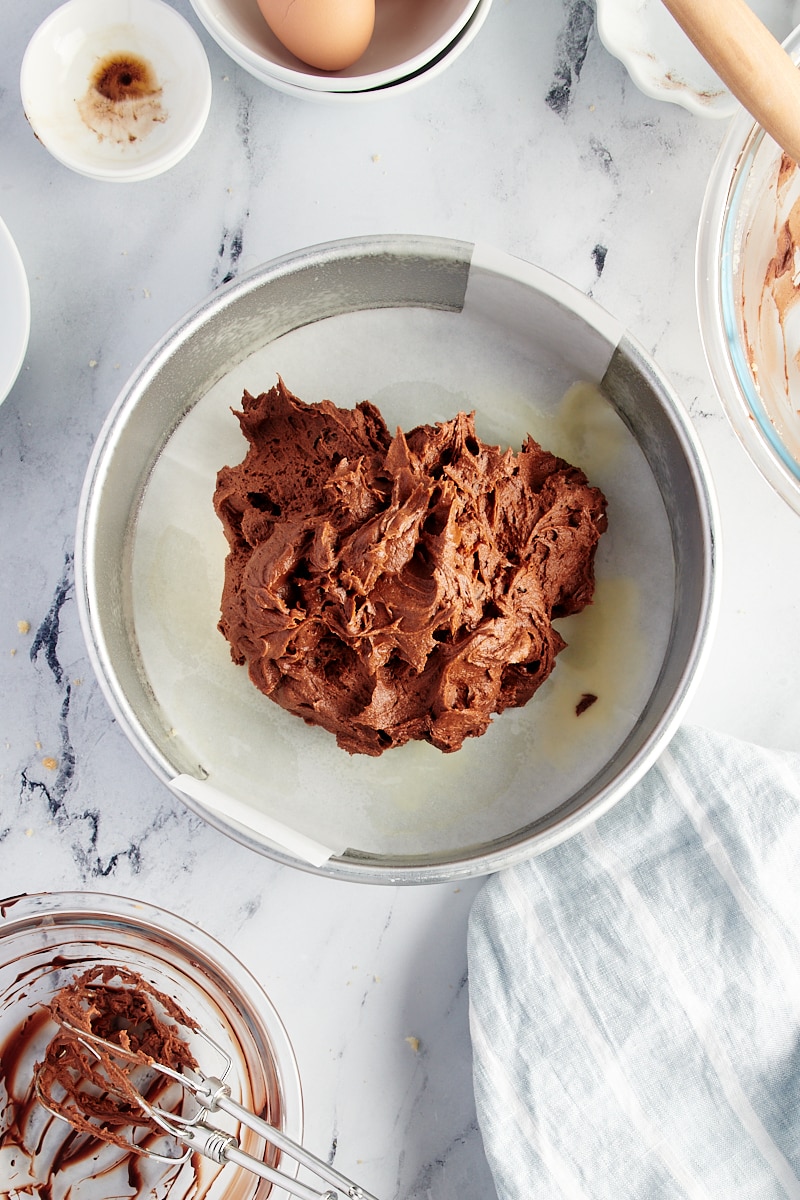 Bake. Transfer the batter to the prepared pan, smoothing the top. Bake for 25 to 30 minutes, or until a toothpick inserted into the center comes out clean or with just a few moist crumbs.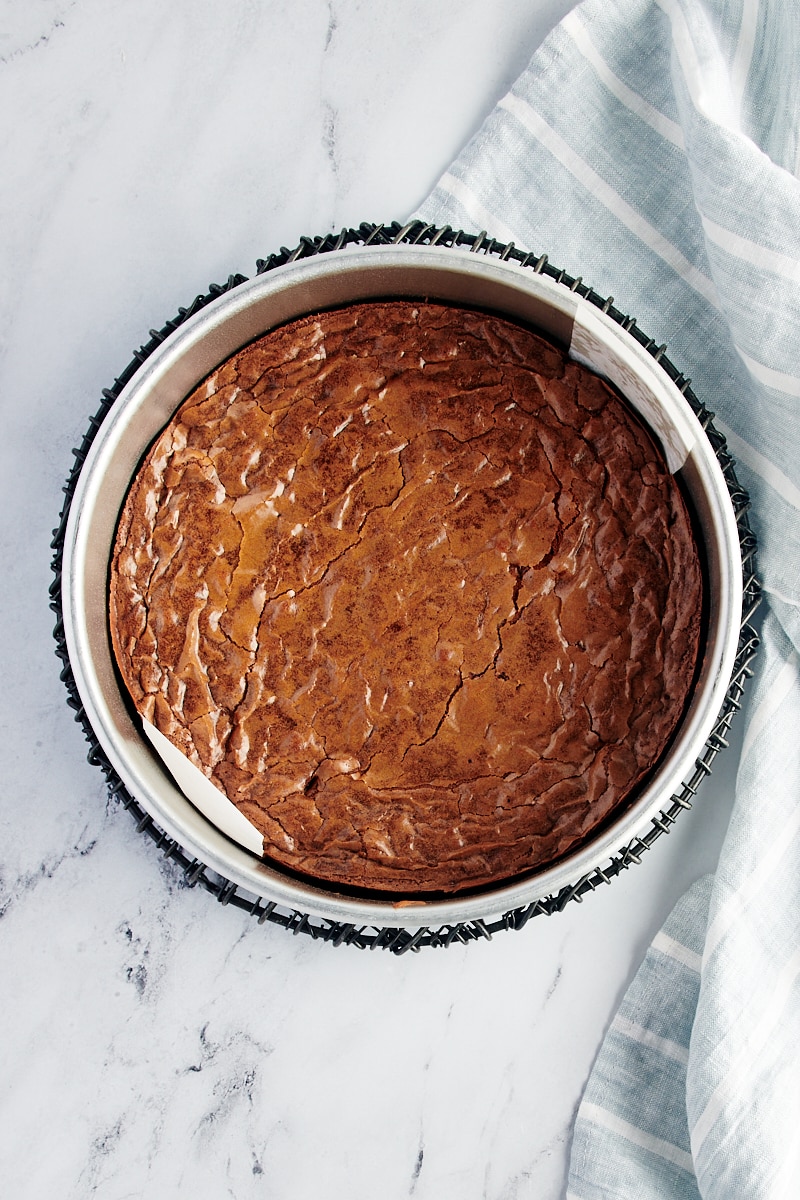 Cool. Set the pan on a wire cooling rack and allow the cake to cool completely. (Learn more: Why Every Baker Needs Wire Cooling Racks)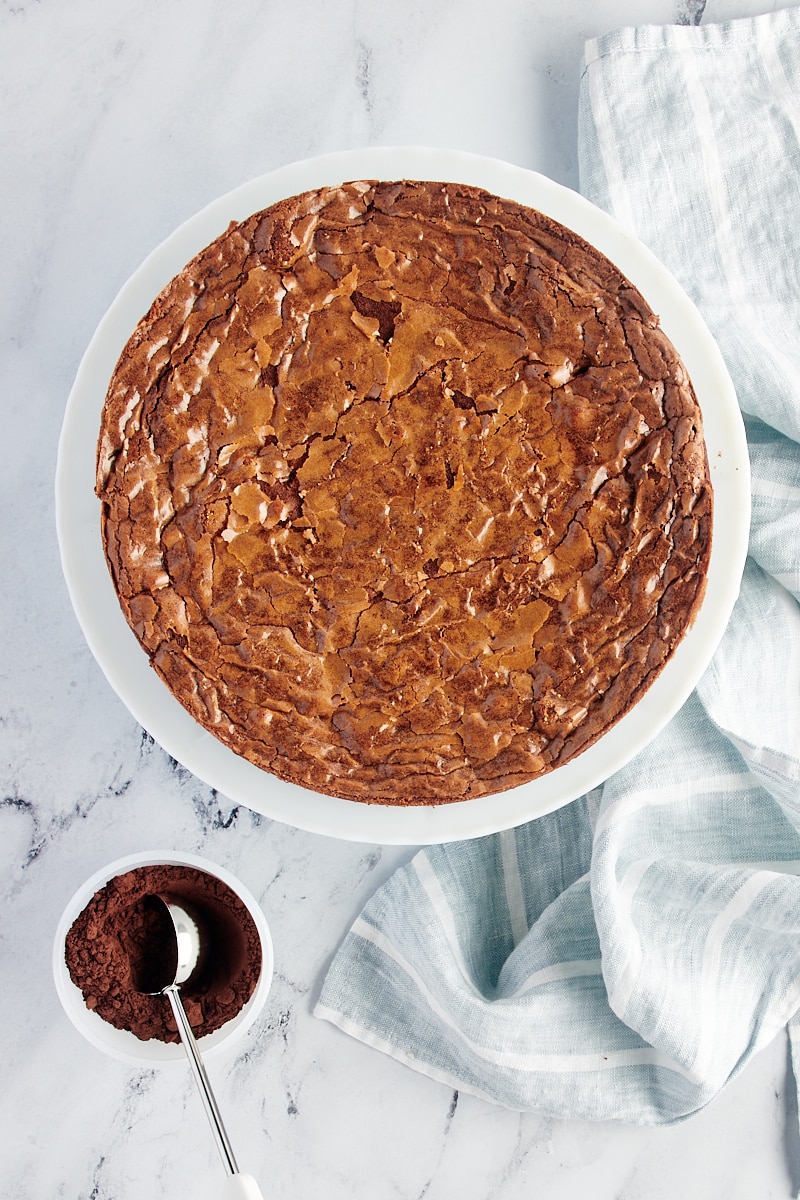 Serve. Carefully remove the brownie cake from the pan and dust the top with cocoa powder before serving.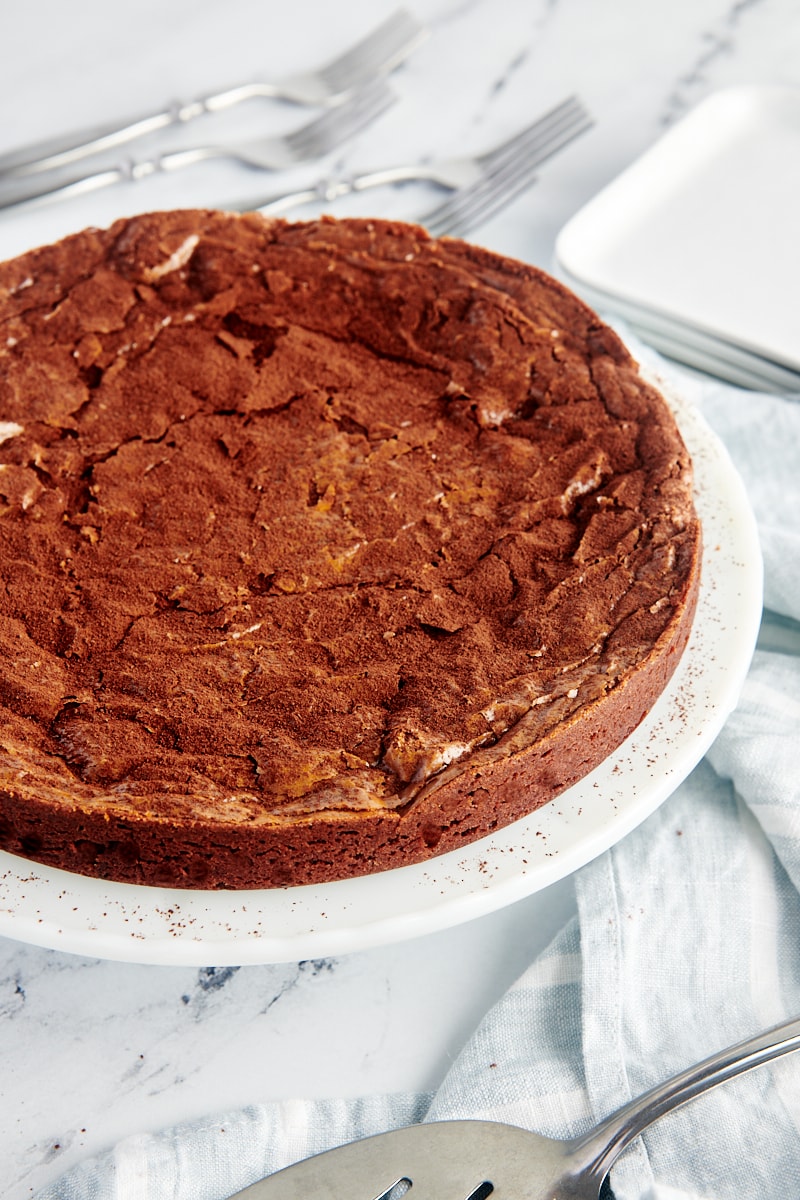 Tips for Success
Read over my baking tips for beginners and tips for baking brownies, then follow the additional pointers below for a perfect brownie cake:
No parchment paper? No problem. Line the pan with aluminum foil, allowing the edge to overhang the rim of the pan, then lightly grease the foil.
Let the melted chocolate cool. If it's piping hot, you may end up cooking the eggs in the batter.
Be patient. Typically, you let a cake cool for about 10 minutes and then remove it from the pan. With its fudgy texture, this brownie cake should cool completely before you invert the pan, otherwise it may fall apart.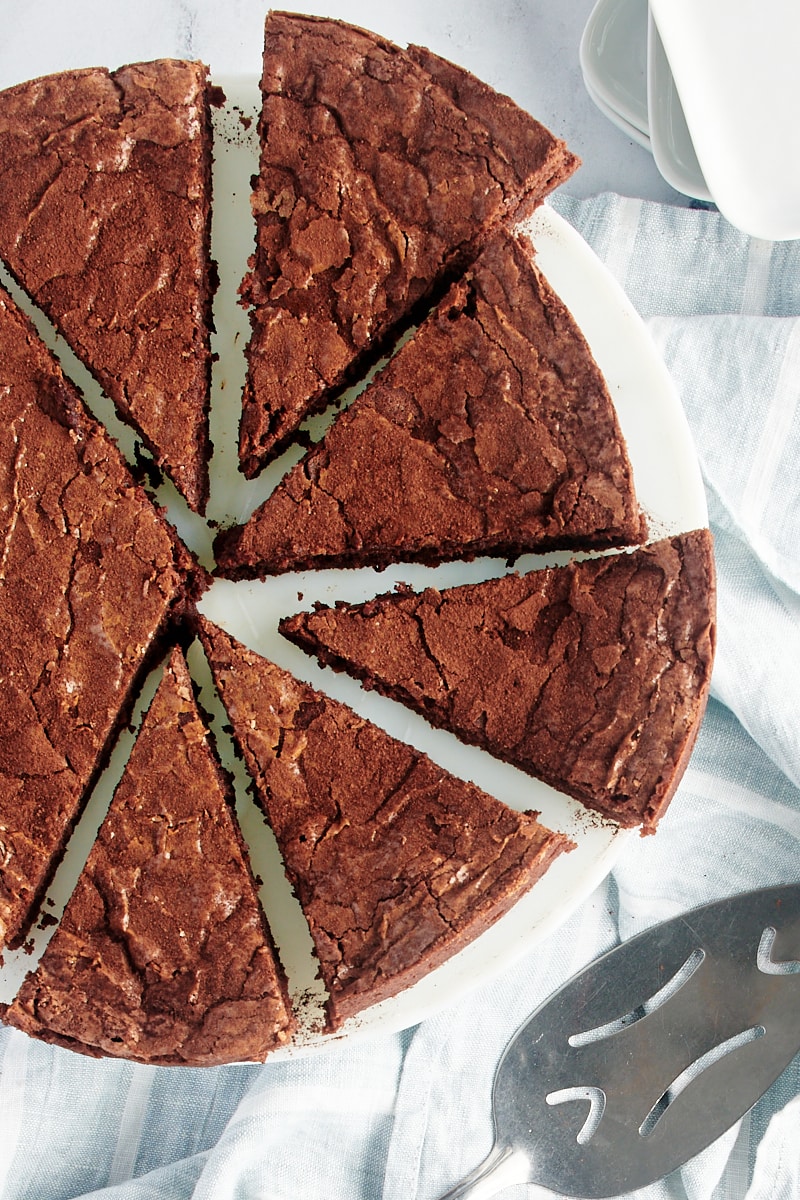 Serving Suggestions
Although you could certainly pour chocolate ganache or spread raspberry jam over the top of this brownie cake, it would take away from that delicate, crisp layer on top. If you'd like to add a topping to dress it up, I suggested a drizzle of melted white chocolate or salted caramel with some toasted pecans or a dollop of vanilla ice cream or whipped cream with fresh berries on each slice.
Variations
You can fold walnuts or pecans into the batter if you like your brownies nutty. Milk chocolate chips are a delicious addition as well, adding even more chocolate decadence to this brownie cake.
How to Store
Store brownie cake tightly wrapped in plastic or in an airtight container at room temperature for 3 to 4 days.
Can This Recipe Be Frozen?
Yes, you can freeze this brownie cake. Wrap it tightly in plastic and store it in the freezer for up to 3 months. Let it thaw at room temperature before serving.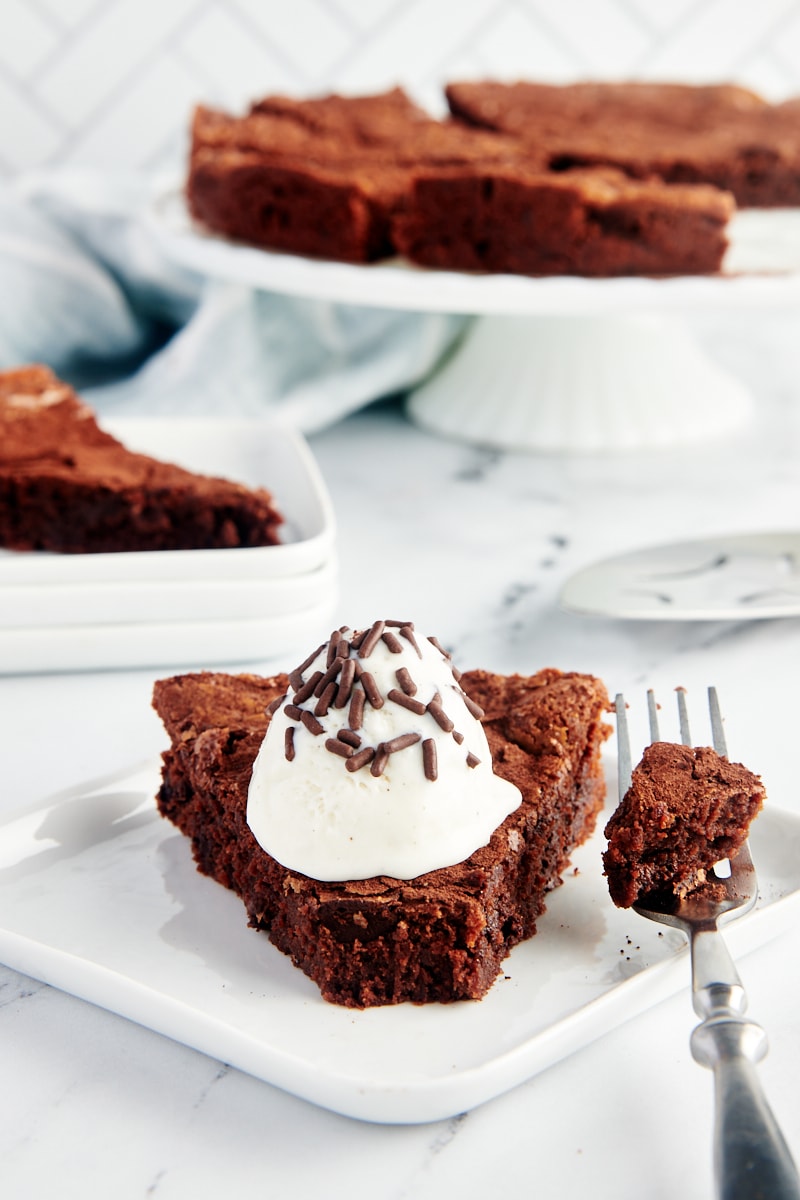 More Reader Favorite Brownie Recipes