March 29, 2018
Chocolate Mousse Pie with Toasted Coconut Crust
The combination of chocolate and coconut really shines in this cool and creamy Chocolate Mousse Pie with Toasted Coconut Crust. All of that toasted coconut combines with the dark chocolate filling for an irresistible dessert!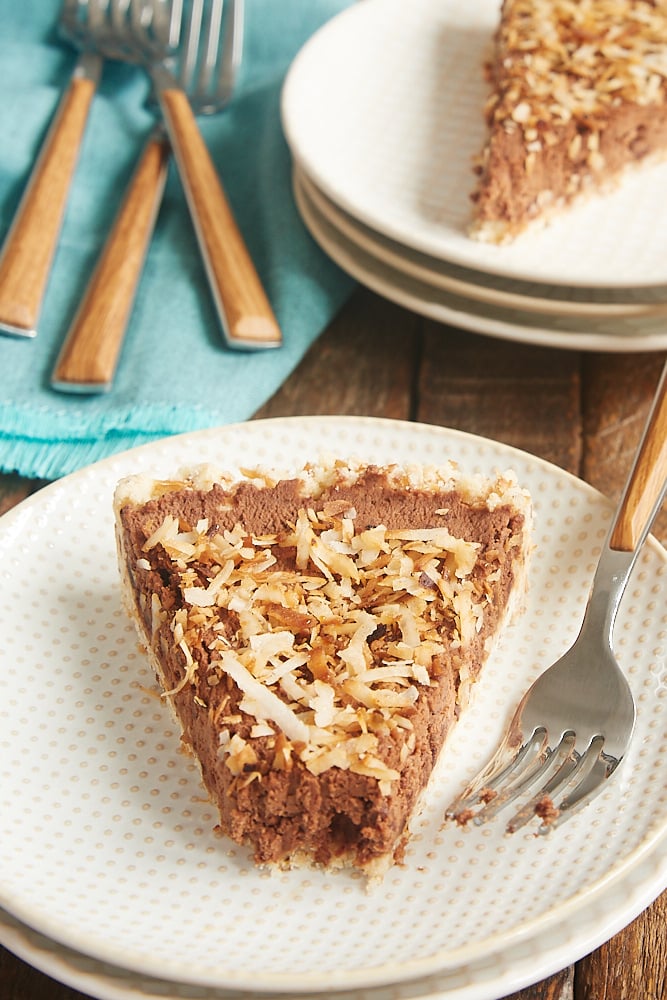 Coconut is one of those love it or hate it foods. I can't get enough of it, but Quinn won't get near it. That means I don't bake with it as much as I'd like, so I really savor the times when I get to enjoy a coconut treat. With this Chocolate Mousse Pie with Toasted Coconut Crust, coconut combines with a cool, creamy chocolate filling for one fantastic pie that's also easy to make. Consider me in dessert bliss!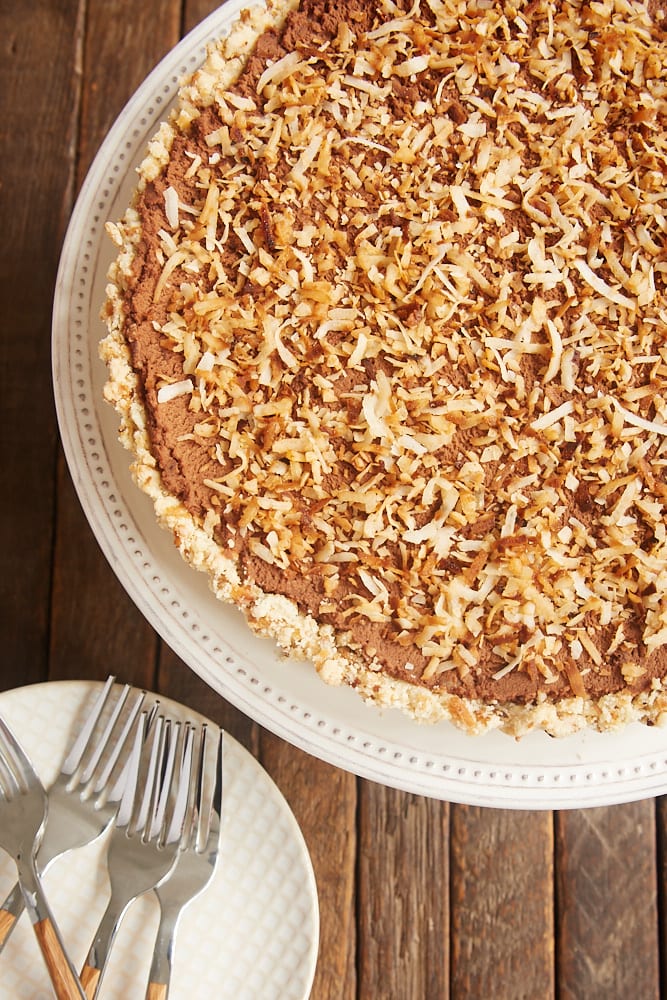 Making the chocolate mousse filling for this pie is quite easy and quick, needing just four ingredients. It can, however, be a bit tough to get it mixed thoroughly. After you've let the chocolate/sugar/vanilla mixture sit, it will be thick and probably a little hard to stir. Once you've made the whipped cream, I strongly suggest that you add about a quarter of it to the chocolate and mix it well. Then you can fold in the rest more easily without deflating all of your whipped cream.
Any time chocolate is the primary flavor, I feel I must recommend that you use a good quality chocolate. You don't have to spend a lot of money to do that. Just find one that tastes good to you and melts well. I aim for somewhere around 70% cacao, which can be labeled as bittersweet or semisweet. Just look for something within 5% or so.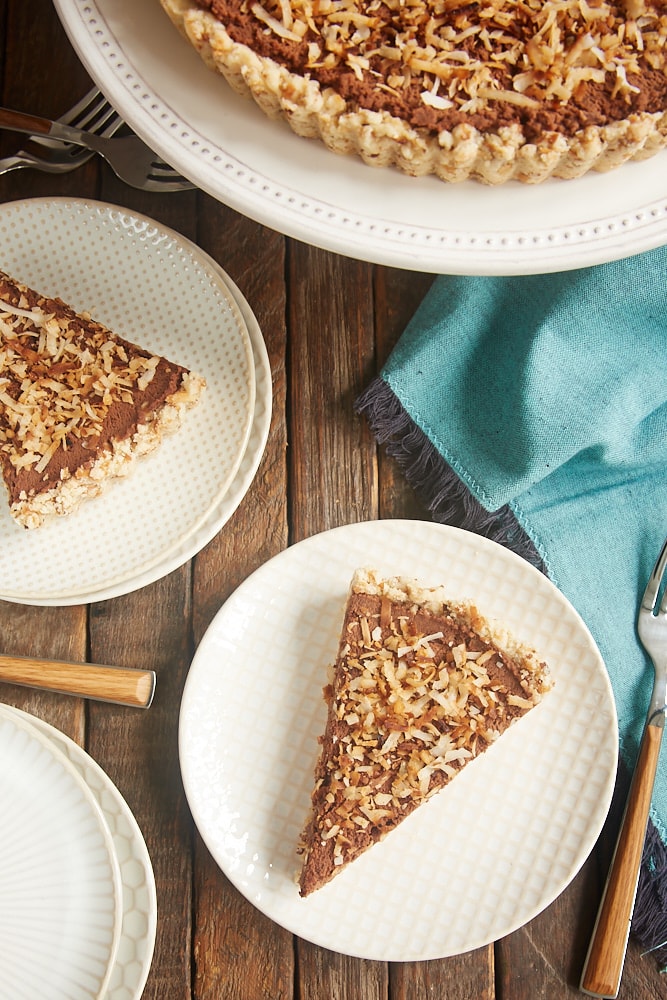 You'll see in the recipe that this pie will need to chill for a couple of hours before serving. Personally, I think it's better if it chills a little longer. Just know that it doesn't have to be an overnight stint in the refrigerator if that works better for your plans.
I know that not everyone loves coconut. In fact, it seems to be one of those foods that you either love or hate. If you want to make this pie with a different crust, that's no problem at all. I recommend a cookie crumb crust or a different shortbread crust. If you're a fan of nuts, then you can substitute nuts for the coconut in this recipe. Otherwise, try this basic shortbread crust. Or how about a chocolate chip cookie crust?
With my abiding love of coconut, I wasn't shy with topping this pie with lots of toasted coconut. Feel free to dial the amount on top up or down as you like. I used probably about 1/3 cup on the pie pictured. Alternately, you could top it with nuts, chocolate shavings, or whipped cream. Or keep things simple and leave it as is in all its chocolate mousse glory.
Find more pie recipes in the Recipe Index.
More Chocolate Pie Recipes
We are a participant in the Amazon Services LLC Associates Program, an affiliate advertising program designed to provide a means for us to earn fees by linking to Amazon.com and affiliated sites.
Chocolate Mousse Pie with Toasted Coconut Crust
Yield: 8 to 10 servings
Prep Time: 30 minutes
Cook Time: 30 minutes
Total Time: 3 hours with chilling
Chocolate Mousse Pie with Toasted Coconut Crust is a celebration of coconut and chocolate. A coconut shortbread crust combined with a creamy chocolate mousse filling makes for one irresistible dessert!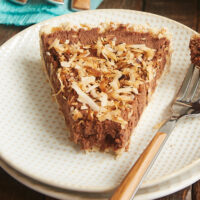 Ingredients:
For the crust:
3/4 cup sweetened shredded coconut (plus more for optional garnish)
1 & 1/4 cups all-purpose flour
3 tablespoons granulated sugar
1/4 teaspoon salt
1/2 cup unsalted butter, cold and cut into 1/2-inch cubes
For the filling:
6 ounces (1 cup) dark chocolate (about 70% cacao)
2 tablespoons confectioners' sugar
1 & 1/2 teaspoons vanilla extract
1 & 1/2 cups heavy cream
Directions:
To make the crust:
Preheat oven to 350°F. Place the coconut in a single layer on a lined, rimmed baking sheet. Bake for 10 to 12 minutes, stirring every few minutes, until the coconut is toasted. Set aside to cool slightly.
Place the flour, sugar, and salt in a large mixing bowl, and stir to combine. Mix in the cooled coconut.
Add the butter and mix with a pastry blender, a fork, or your fingers until thoroughly combined. The mixture will be crumbly but should hold together when pinched.
Transfer the mixture to a 9-inch round pie plate or tart pan with a removable bottom. Press the crust firmly and evenly into the bottom and up the sides of the pan. Use a measuring cup, a spoon, or your fingers to press the crust into the pan.
Bake 15 to 18 minutes, or until the crust is golden brown. Set aside to cool completely.
To make the filling:
Place the chocolate in a small saucepan. Melt over medium heat, stirring until smooth.
Remove from the heat and stir in the confectioners' sugar and vanilla. Transfer the mixture to a large mixing bowl. Allow to sit for 5-10 minutes.
Using an electric mixer with a whisk attachment, whip the cream in a separate bowl until soft peaks form.
Add about 1/4 of the whipped cream to the chocolate mixture. Stir until combined. Gently fold in the remaining whipped cream.
Spread the mousse evenly in the cooled crust. Top with more toasted coconut, if desired.
Cover and refrigerate at least 2 hours before serving.