November 1, 2013
Caramel Pecan Bars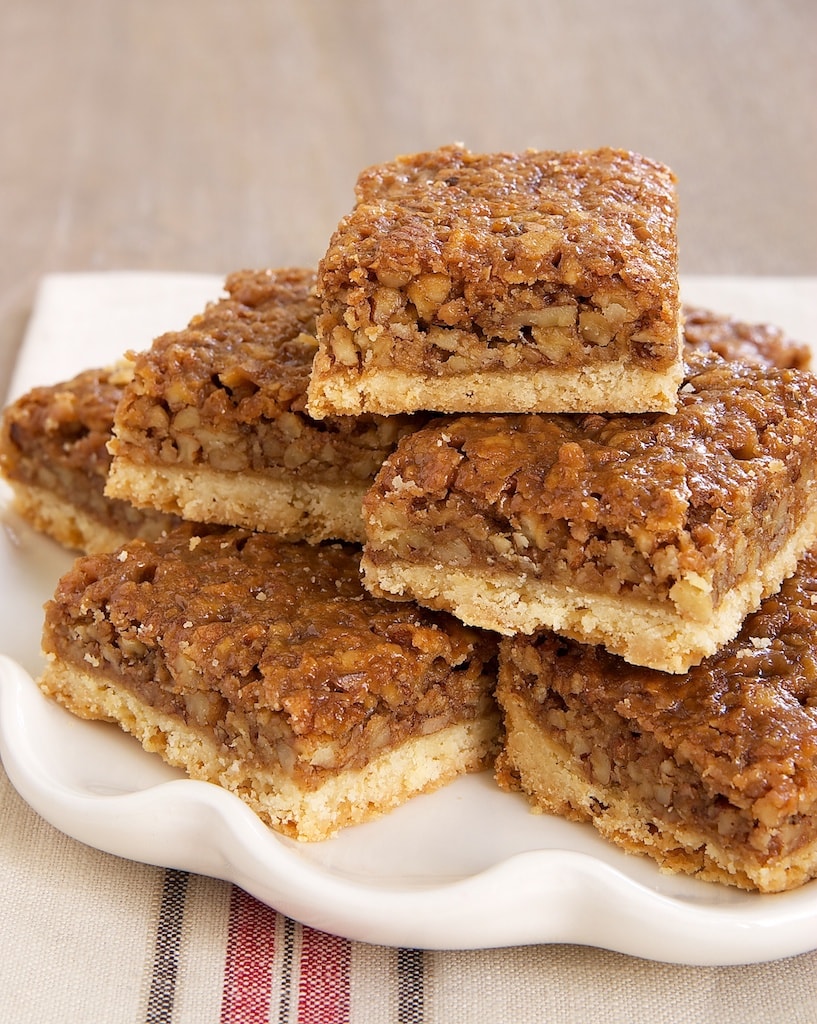 It's November, folks. That means all my thoughts are turning to the upcoming busy baking season. And, to me, pecans are a big part of the impending baking extravaganza. Sure, I bake with them all year, but this time of year just makes me want to put them in everything.
Of course, pecan pie is always an obvious favorite. That encompasses all of its various forms, including pecan bars. Any excuse to pair crust with a gooey filling and pecans is a win in my book.
This particular version features a caramel-y gooey filling that is pleasantly and lightly sweet. It doesn't hit you over the head with sweetness, but rather takes a more subtle approach. I also love the presence of honey in the filling. Not only is the flavor wonderful, but it is also a great alternative to the usual corn syrup.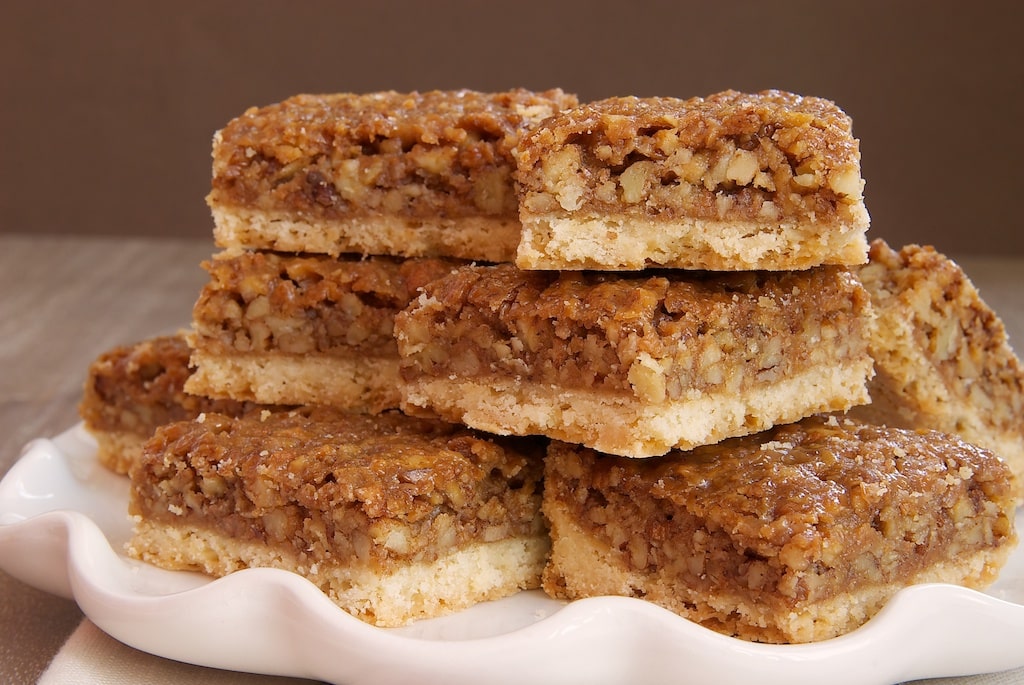 I was tempted to make these a bit saltier because I do love sweet and salty desserts. But, I decided to keep the salty aspect dialed back so that all the glorious flavors of the crust, filling, and pecans could shine through. These little beauties are so buttery and utterly delicious.
Another plus for these is how simple they are to make. If you have a food processor, it will make super quick work of the crust. If you don't have one, don't fret. You can make the crust in a mixing bowl with a pastry blender or a fork. Then, just combine the filling on the stovetop, pour it into the crust, and pop it in the oven.
Caramel Pecan Bars
Yield: 24 2-inch bars
Prep Time:25 minutes
Cook Time:50 minutes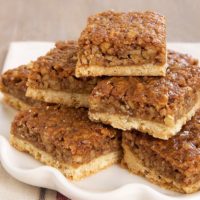 Ingredients:
For the crust:
2 cups all-purpose flour
3/4 cup unsalted butter, cold and cut into 1/2-inch cubes
2/3 cup confectioners' sugar
1/4 teaspoon salt
For the filling:
3 & 1/2 cups coarsely chopped pecans
2/3 cup unsalted butter
1/2 cup firmly packed light or dark brown sugar
1/2 cup honey
3 tablespoons heavy cream
Directions:
To make the crust:
Preheat oven to 350°. Line the bottom and sides of a 9″x13″ baking pan with aluminum foil so that the foil overhangs a couple of inches over the sides. Lightly grease foil.
Place flour, butter, confectioners' sugar, and salt in the bowl of a food processor. Pulse several times until the mixture is combined and resembles coarse meal.
Transfer mixture to prepared pan. Press onto bottom and 3/4 inch up the sides of the pan.
Bake 20 minutes, or until the edges are lightly browned. Place pan on a wire rack and allow the crust to cool completely.
To make the filling:
Preheat oven to 350°.
Place pecans in a single layer in a shallow pan. Bake 8 to 10 minutes or until toasted and fragrant.
Place butter, brown sugar, honey, and cream in a medium saucepan. Bring to a boil over medium-high heat. Stir in pecans.
Transfer filling to crust.
Bake 25 to 30 minutes, or until crust is golden and the filling is bubbly.
Place pan on a wire rack and allow bars to cool completely. Then, use the overhanging foil to lift the bars out of the pan and onto a cutting board. Use a sharp knife to cut into bars.