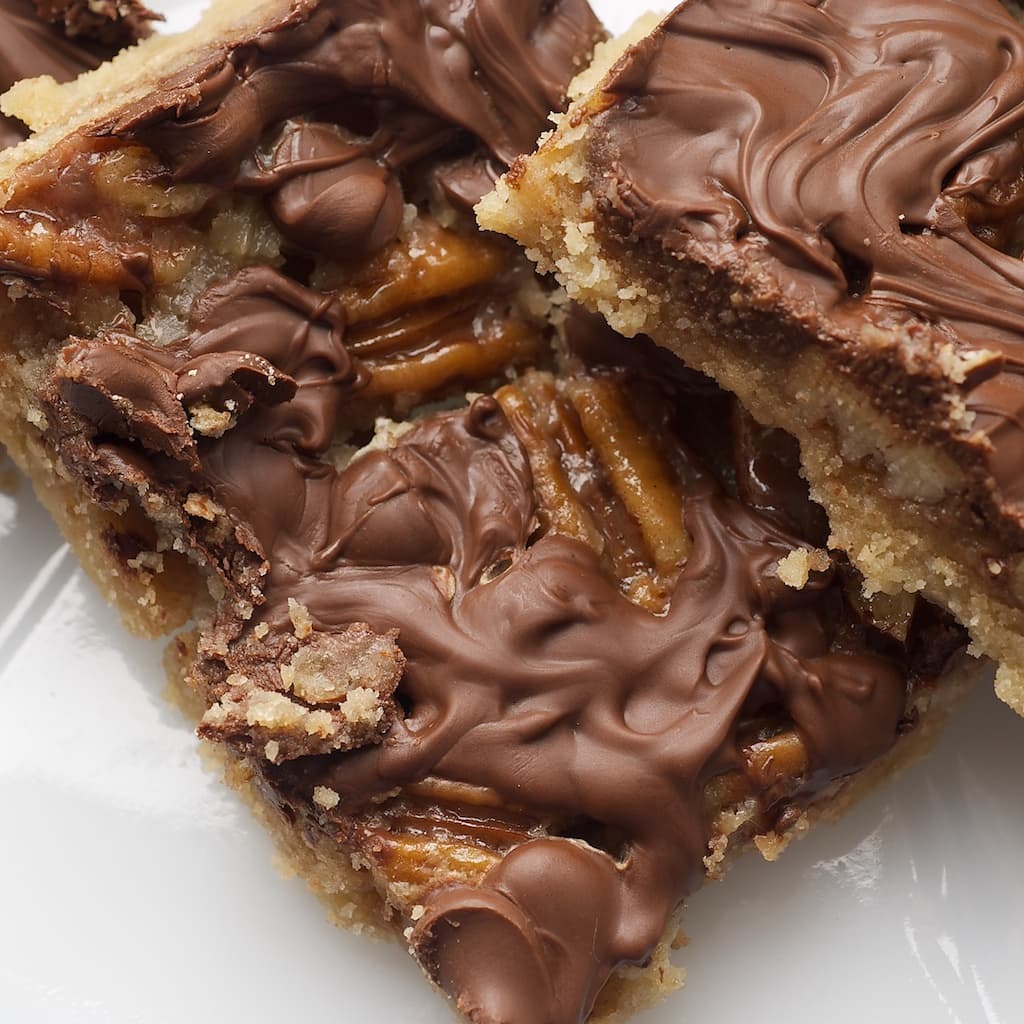 Caramel is an intimidating thing to create. Usually when I need to whip up a batch, I make sure I have plenty of ingredients on hand for at least a second attempt, if not a third. Not being blessed with patience, my willingness to endure the process more than once speaks for the value of caramel itself.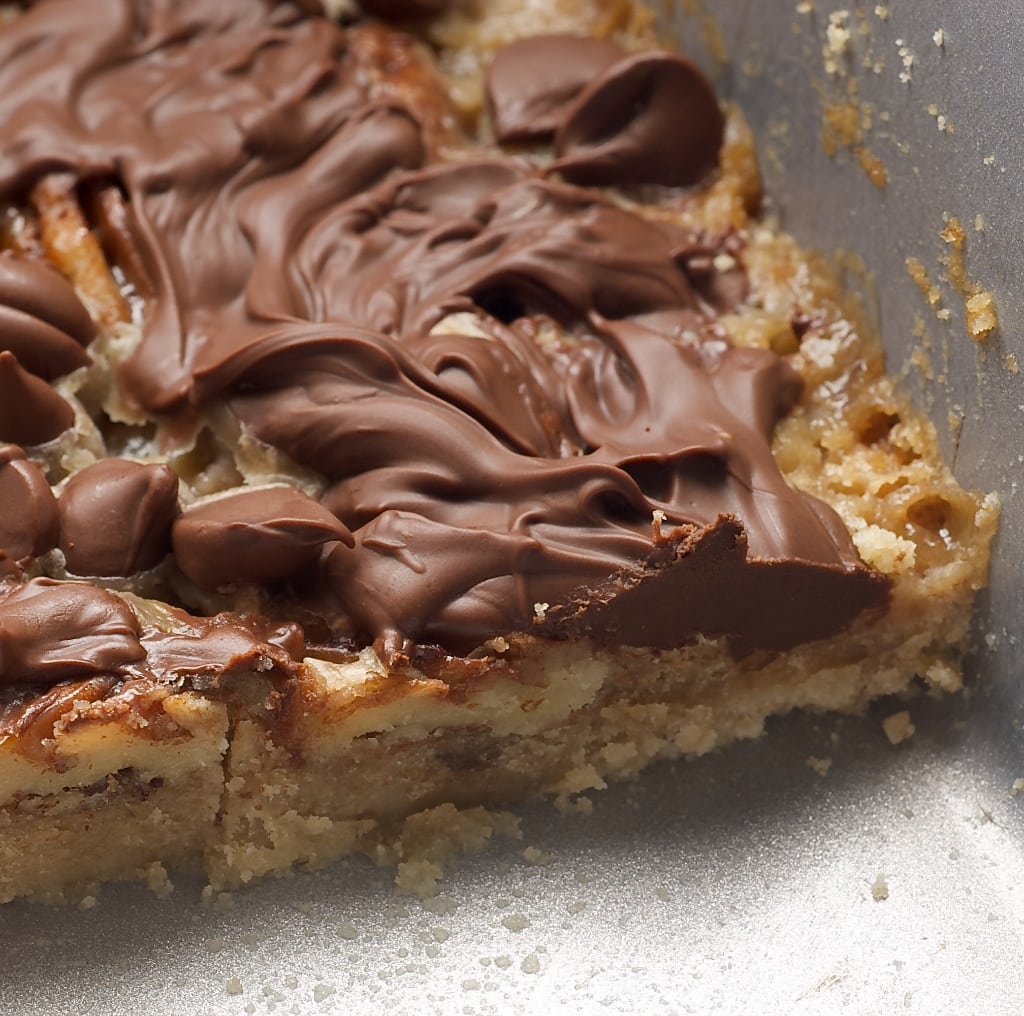 Everything about making these bars is simple, including the caramel layer. No candy thermometer necessary! How amazing is it that two simple ingredients like butter and sugar can turn into caramel in a matter of minutes?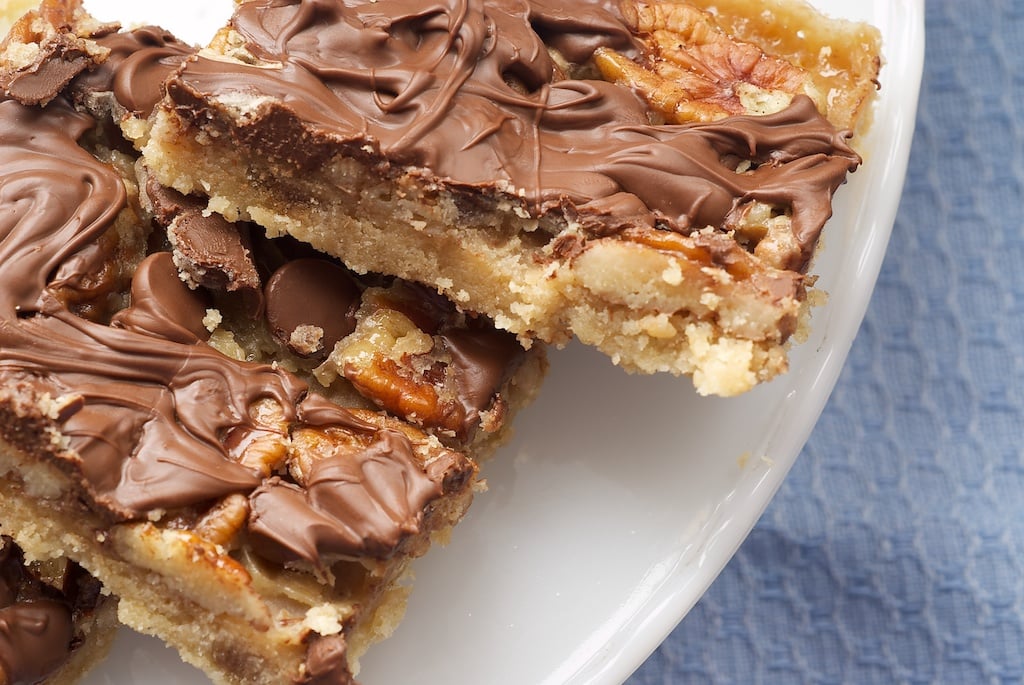 My fascination with caramel aside, there are other components of these bars worth mentioning. There's the sweet, buttery crust. And pecans. (Hey, did you know that I like pecans?) Plus, there's chocolate on top of all of this.
Quinn and I really liked these. Maybe a little too much. They weren't share-worthy. And I mean that in a good way.
Find more bar recipes in the Recipe Index!
This post contains affiliate links. If you make a purchase through one of the links, I'll receive a
small commission at no additional cost to you.
Yield: 24 2-inch bars
Prep Time: 20 minutes
Cook Time: 30 minutes
You only need a handful of ingredients to whip up these simple, delicious Caramel and Chocolate Pecan Bars.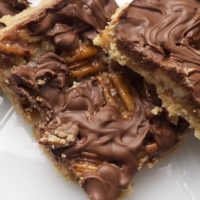 For the crust:
2 cups all-purpose flour
1 cup firmly packed brown sugar
1/2 cup unsalted butter, softened
1 cup pecan halves
For the topping:
2/3 cup unsalted butter
1/2 cup firmly packed brown sugar
1 cup semisweet chocolate chips
Directions:
To make the crust:
Combine the flour, brown sugar, and butter, beating at medium speed with an electric mixer until the mixture resembles fine crumbs.
Press onto the bottom of an ungreased 9″x 13″x 2″ baking pan. Place the pecans evenly over the top of the crust.
To make the topping:
Preheat oven to 350°F.
Combine the butter and brown sugar in 1-quart saucepan. Cook over medium heat, stirring constantly, until the mixture begins to boil. Continue stirring and allow the mixture to boil for 1 minute. Pour evenly over the crust and pecans.
Bake 18-22 minutes, until the caramel layer is bubbly. Be sure not to overbake.
Remove from the oven. Sprinkle with chocolate chips and allow to melt slightly. Swirl the chocolate chips over the crust. Cool completely before cutting into bars.