October 25, 2013
Caramel Popcorn Shortbread Brownies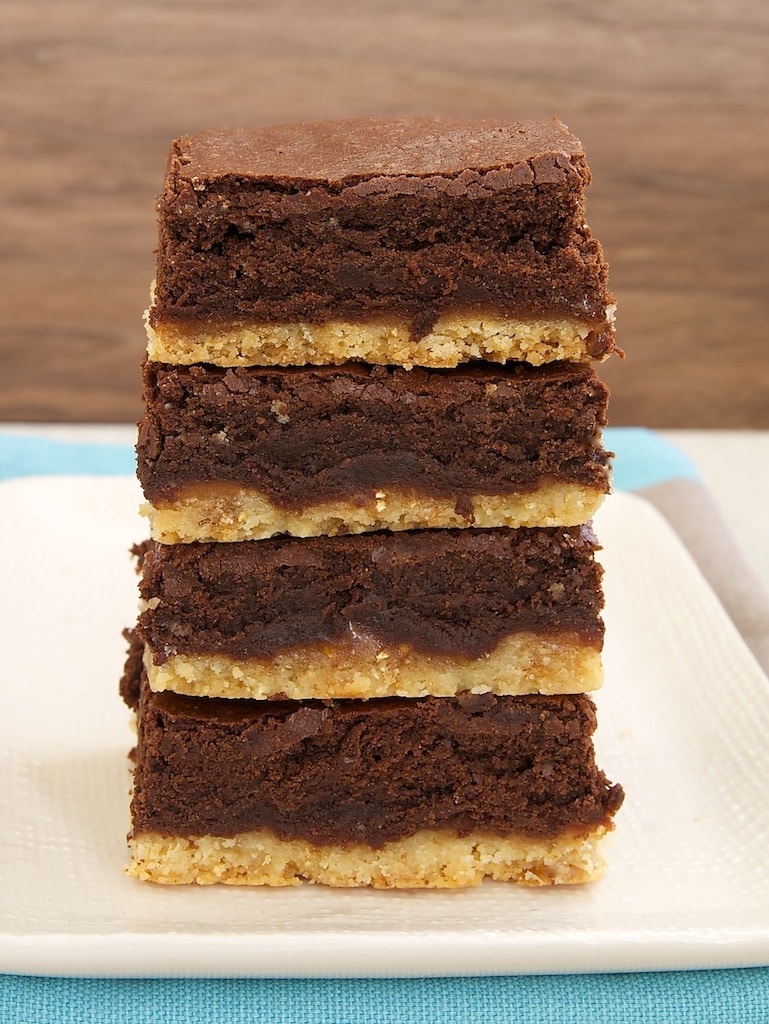 My desire to bake caramel desserts increases exponentially with the arrival of fall. Sure, I love caramel all year, but there's just something about it that makes it go hand in hand with cool, crisp days.
Of course, caramel and chocolate are great friends, too. Having made many versions of caramel brownies, I wanted to do something just a bit different.

Recently, Werther's sent me a sampling of their new Werther's Original® Baking Caramels and Werther's Original® Caramel Popcorn, so I've had plenty of caramel to keep me busy with recipe ideas. I decided quickly that I needed to make good use of the popcorn to prevent us from just eating it all straight from the bag.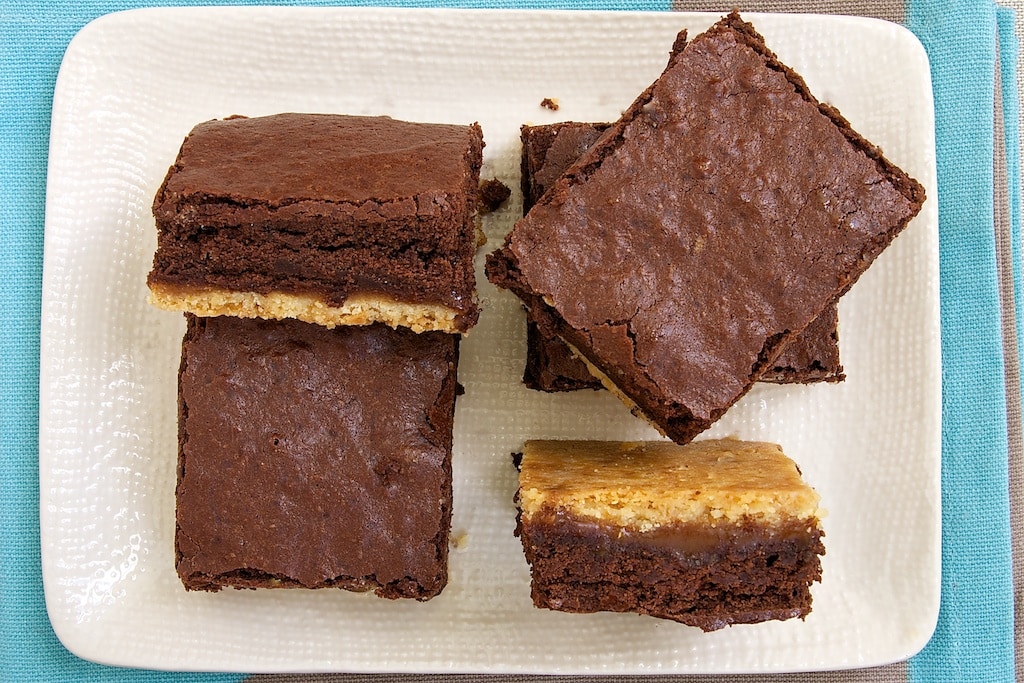 I started with the idea of a shortbread crust topped with caramel and brownies. But, for a fun twist, I added some of that caramel popcorn to the crust. The popcorn gives an otherwise traditional crust a little sweetness and a great flavor twist without being overwhelming.
The crust is topped with a simple caramel layer made from just two ingredients. Then, a rich brownie is baked on top of that. I know, right? These brownies mean business. Serious caramel business.
For more caramel recipes and ideas, be sure to visit Werther's Caramel Shoppe.
Caramel Popcorn Shortbread Brownies
Yield: 24 2-inch bars
Prep Time:30 minutes
Cook Time:1 hour 10 minutes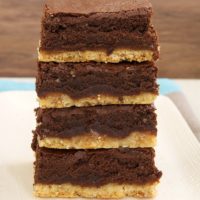 Ingredients:
For the crust:
2 cups all-purpose flour
1 cup unsalted butter, cut into 1/2-inch cubes
1 cup Werther's Original® Caramel Popcorn
1/3 cup granulated sugar
1/4 teaspoon salt
For the caramel:
For the brownies:
10 ounces bittersweet chocolate, coarsely chopped
1/2 cup unsalted butter
1/2 cup granulated sugar
1/4 cup packed brown sugar
3 large eggs
1 tablespoon vanilla extract
1/2 cup all-purpose flour
1/2 teaspoon baking powder
1/4 teaspoon salt
Directions:
To make the crust:
Preheat oven to 325°. Grease a 9″x 13″ baking pan. Line with aluminum foil or parchment paper. Grease lining.
Place flour, butter, popcorn, sugar, and salt in the bowl of a food processor. Pulse until well-combined and the dough begins to come together.
Press crust mixture evenly into the bottom of prepared pan.
Bake 25 to 30 minutes, or until lightly browned. Allow crust to cool completely.
To make the caramel:
Place unwrapped caramels and milk in a microwave-safe bowl. Heat in microwave in 30-second intervals, stirring after each heating, until caramels have melted and mixture is smooth. (This should take a total of 3 to 4 minutes.)
Spread caramel mixture evenly over cooled crust, leaving about 1/2-inch border along the edges.
Place pan in refrigerator and chill until firm, about 1 hour.
To make the brownies:
Preheat oven to 350°.
Place chocolate and butter in a microwave-safe bowl. Heat at half power in microwave in 30-second increments until butter has melted and chocolate melts when stirred. Set aside to cool slightly.
Using a whisk or an electric mixer on medium speed, mix sugar, brown sugar, eggs, and vanilla until combined. Add chocolate/butter mixture and mix until smooth.
Reduce mixer speed to low or stir in flour, baking powder, and salt. Mix just until combined.
Spread brownie mixture evenly over caramel, making sure to spread the brownie mixture all the way to the sides.
Bake 35 to 40 minutes, or until a pick inserted into the brownie layer comes out clean.
Cool completely before cutting into bars.
Disclosure: Werther's provided me with product samples and compensation for this post. All opinions are my own.