These gooey, layered bars topped with a little bit of everything are a nostalgic favorite for me. I'm sure we've all baked or at least eaten a version of these at some time. The traditional version goes by many names – Magic Bars, Hello Dollys, Double Delicious Cookie Bars. 7-Layer Bars.
I like the name Build-a-Bars because that's exactly what you do. You build these bars from a variety of ingredients. The premise is simple. There's a cookie crust, a whole slew of toppings, and usually a filling that consists solely of condensed milk. I've made many, many versions of those. They're a wonderful go-to recipe when you need a quick dessert.

This version is a bit different, in that it foregoes the condensed milk for a cream-cheese based filling. And, we all know how I love cream cheese. This filling is decidedly less sweet than the condensed milk route. At Quinn's urging, I decided to add a bit of peanut butter to the filling for a little extra flavor. That is completely optional, but I really liked that added hint of peanut butter.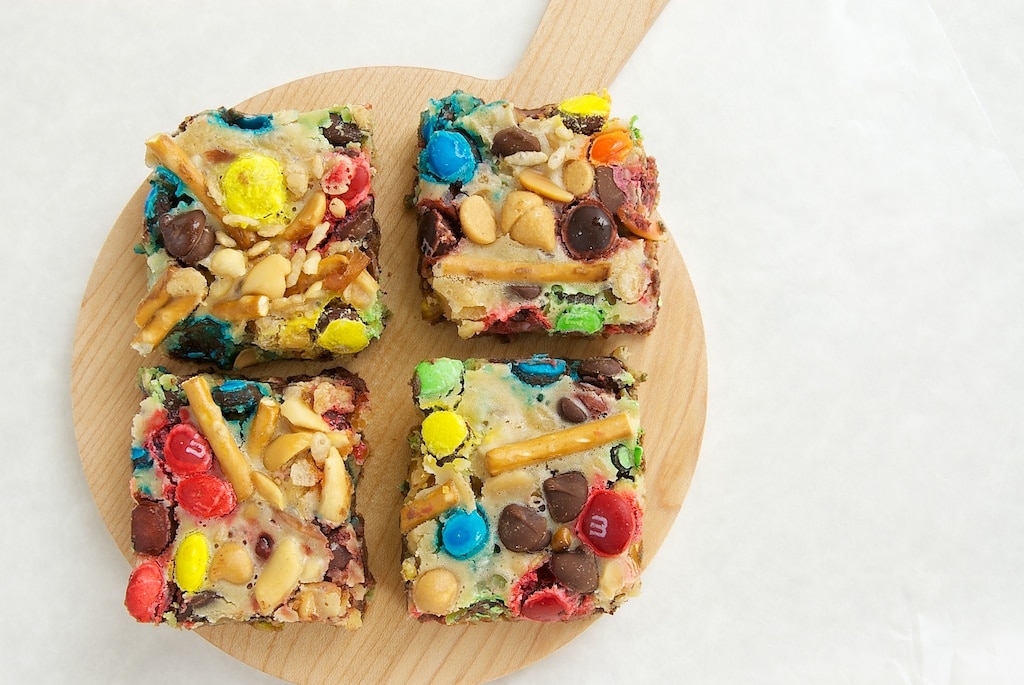 I fished around in my baking pantry for a winning combination of ingredients for the filling. I used chocolate chips, peanuts, pretzels, Rice Krispies, and peanut butter chips. I also raided our Halloween candy stash and added some M&Ms. After all, October is the one month I feel totally justified in baking with candy.
While these bars are similar to the traditional version, the difference in the filling really comes through. It's less sweet and a little tart. With so much going on in the filling and that topping, these little bars are very gooey and messy. And completely delicious.
The original recipe for these comes from The King Arthur Flour Cookie Companion. I've had it bookmarked for ages, and I'm so glad that I finally got around to making them. That cookbook is one of my favorites, and it's this month's featured cookbook for the Baker's Bookshelf Giveaway!
Scroll past the recipe for details on how to enter for a chance to win a copy of The King Arthur Flour Cookie Companion.
Baker's Bookshelf Giveaway
This month's Baker's Bookshelf Giveaway is for The King Arthur Flour Cookie Companion. If you love to bake cookies, this one is a must for your cookbook collection.
I'm giving THREE Bake or Break readers their very own paperback copy of this great cookbook.
Please see all the details and requirements for entering in the giveaway widget below. If you are unable to see the widget, make sure your browser is updated or try using another browser.
Raffle is open to U.S. residents 18 years or older. Please add bakeorbreak at gmail dot com to your address book. If a response is not received from a winner within 48 hours, another winner will be chosen.
Good luck!