April 13, 2017
Glazed Blueberry Cream Cheese Biscuits
Glazed Blueberry Cream Cheese Biscuits take blueberry biscuits to extraordinary heights with the addition of cream cheese and a sweet glaze.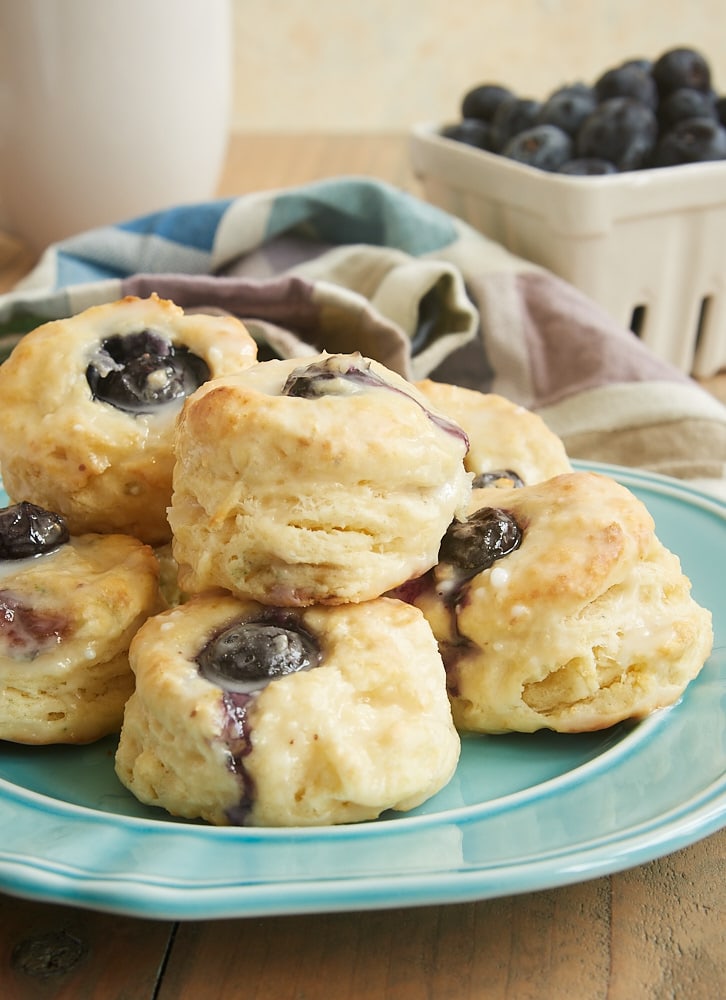 One of my favorite things to bake for breakfast is biscuits. It's tough to beat a batch of warm-from-the-oven, homemade biscuits with their flaky layers and soft, pillowy texture.
As much as I like traditional biscuits, it's fun to mix things up once in a while. That leads us to these Glazed Blueberry Cream Cheese Biscuits.

I've made blueberry biscuits in the past, but I wanted to try a cut-out biscuit versus a drop biscuit. As you can guess, cutting out biscuits with berries mixed into the dough can be tricky.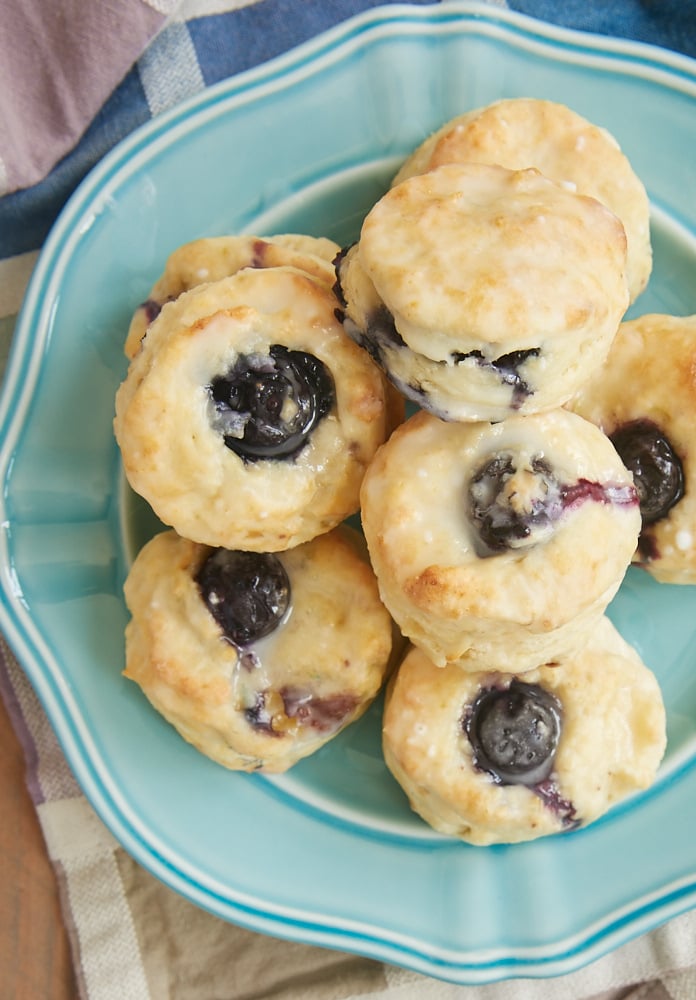 First of all, biscuit dough isn't the softest dough, so mixing in something as delicate as blueberries can be a challenge. Adding cream cheese to the biscuit dough makes it a little softer to make mixing a little easier. (Plus, that cream cheese adds such lovely flavor to the biscuits!)
Secondly, some of the blueberries will inevitably break apart as you're mixing and cutting. And that's fine. Just be as gentle as possible when you're mixing, and be mindful of where the blueberries are in the dough when it's time to cut them out. Using small blueberries will make things a bit easier, but I've made these with large blueberries, too.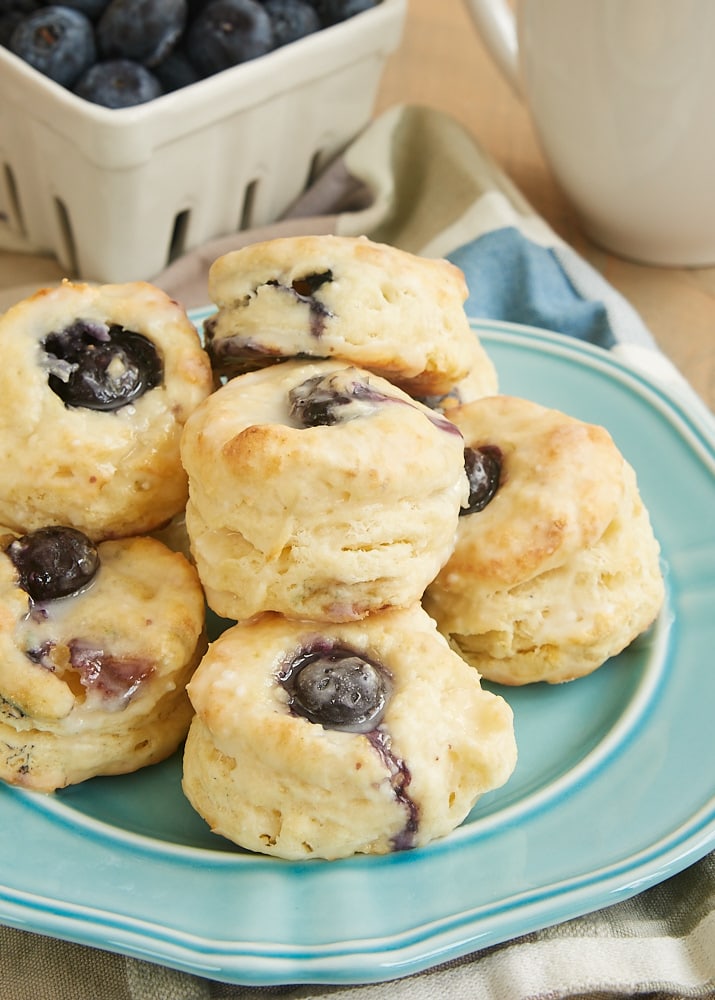 Topping off these berry beauties is a simple sweet glaze. It's the same type of glaze I like to use on cinnamon rolls, but I use a bit more milk to make it thinner. Of course, you can skip the glaze for a less sweet biscuit. If you do so, keep in mind that there's no added sugar in the biscuits, so you might want to sprinkle the tops with sanding sugar before baking to give them a little bit of a sweeter bite.
If you've got a special breakfast or brunch coming up, bake up a batch of these biscuits. Or treat yourself to a batch on a lazy weekend morning. Whatever the motivation, just bake them!
Find more breakfast recipes in the Recipe Index.
More Blueberry Breakfast Recipes
Bake or Break is a participant in the Amazon Services LLC Associates Program, an affiliate advertising program designed to provide a means for us to earn fees by linking to Amazon.com and affiliated sites.
Glazed Blueberry Cream Cheese Biscuits
Yield: 12 biscuits
Prep Time: 20 minutes
Cook Time: 16 minutes
These sweet Glazed Blueberry Cream Cheese Biscuits are a perfect sweet treat for a special breakfast or brunch.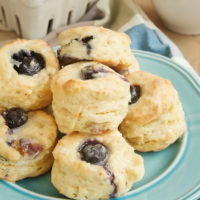 Ingredients:
For the biscuits:
2 cups (240g) all-purpose flour
1 tablespoon baking powder
1/2 teaspoon salt
4 ounces (113g) cream cheese, softened and cut into 1/2-inch cubes
1/4 cup (57g) unsalted butter, softened and cut into 1/2-inch cubes
1/2 cup (119ml) milk
3 to 4 ounces (85 to 113g) blueberries, rinsed and dried
For the glaze:
1 cup (110g) confectioners' sugar, sifted
1 to 2 tablespoons milk
Directions:
To make the biscuits:
Preheat oven to 425°F. Line a baking sheet with parchment paper or a silicone liner.
Whisk together the flour, baking powder, and salt.
Add the cream cheese and butter. Mix with a pastry blender, a fork, or your fingers just until combined.
Add the milk, and continue mixing until the dough comes together. Gently fold in the blueberries.
Place the dough on a lightly floured surface. Pat the dough into a circle about 3/4-inch thick.*
Use a 2-inch round biscuit cutter** to cut out the biscuits. Gather the dough one time and continue cutting out biscuits.
Transfer the biscuits to the prepared pan. Place them close together for softer sides or further apart for crisper sides.
Bake 14 to 16 minutes, or until golden brown.
To make the glaze:
Combine the confectioners' sugar and 1 tablespoon of milk. Add more milk, a little at a time, and mix until the glaze is the desired consistency.
Dip the tops of the biscuits into the glaze or drizzle the glaze over the tops.
Notes:
*Be sure your blueberries are dry before adding to the dough. If the dough is too wet after adding the berries, sprinkle a bit of flour over the dough to make it easier to handle.
**I have this set of biscuit cutters, and use the 2 & 1/4-inch size to yield about 12 biscuits.