These lemon blueberry cheesecake bars have the perfect balance of sweet and tart flavor, with jammy blueberry preserves and a layer of tangy, citrus-infused cheesecake on top. A lovely dessert for springtime or any time of year!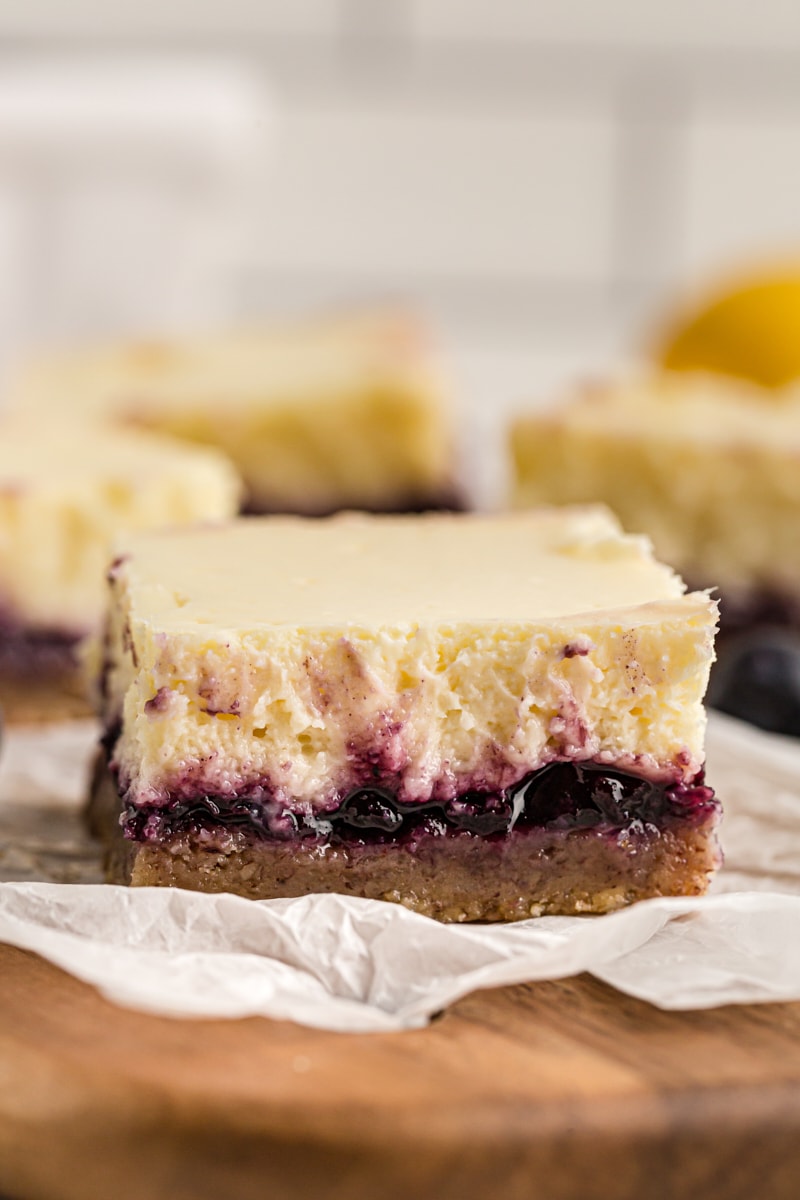 Creamy Blueberry Cheesecake Bars
This recipe came about as I was contemplating how to make a lemon dessert without it being so lemon-y that I wouldn't like it. I'm more of a citrus-in-small-doses fan, you see. I decided to add blueberry to the mix to make things a bit more balanced, and these lemon blueberry cheesecake bars were the result.
Let's start at the bottom of all of this—the crust. Rather than using a traditional graham cracker base, I made a nutty crust with butter, brown sugar, and pecans. This dials back some of the sweetness in the recipe, which is a good thing because the next layer is blueberry preserves.
Over the blueberry layer, you'll add—you guessed it—a thick layer of creamy, citrusy lemon cheesecake. Accompanied by the crust and the preserves, the tart lemon flavor of the cheesecake is quite tame compared to, say, a lemon bar or lemon cream pie. It certainly satisfies my hankering for a dessert befitting springtime.
Also, if you need more blueberry bars in your life, check out this recipe for blueberry jam oatmeal bars!
Why You'll Love These Lemon Blueberry Cheesecake Bars
These blueberry cheesecake bars are the best way to celebrate springtime and warm weather! Here's why I think they're so great:
The perfect balance of tangy and sweet. Fresh, zesty lemon juice and sugary blueberry preserves are a golden combination. Together, they make these cheesecake bars light, refreshing, and just the right level of sweet!
Adaptable. It's so easy to make these cheesecake bars your own! You can use a different kind of preserves if blueberries aren't your favorite fruit, and there are some other small swaps that you can make as well (see variations below).
Crowd-pleaser. These lemon cheesecake bars with blueberry preserves are bound to receive rave reviews! Take them to dinner parties, cookouts, picnics, you name it! Everybody will love them.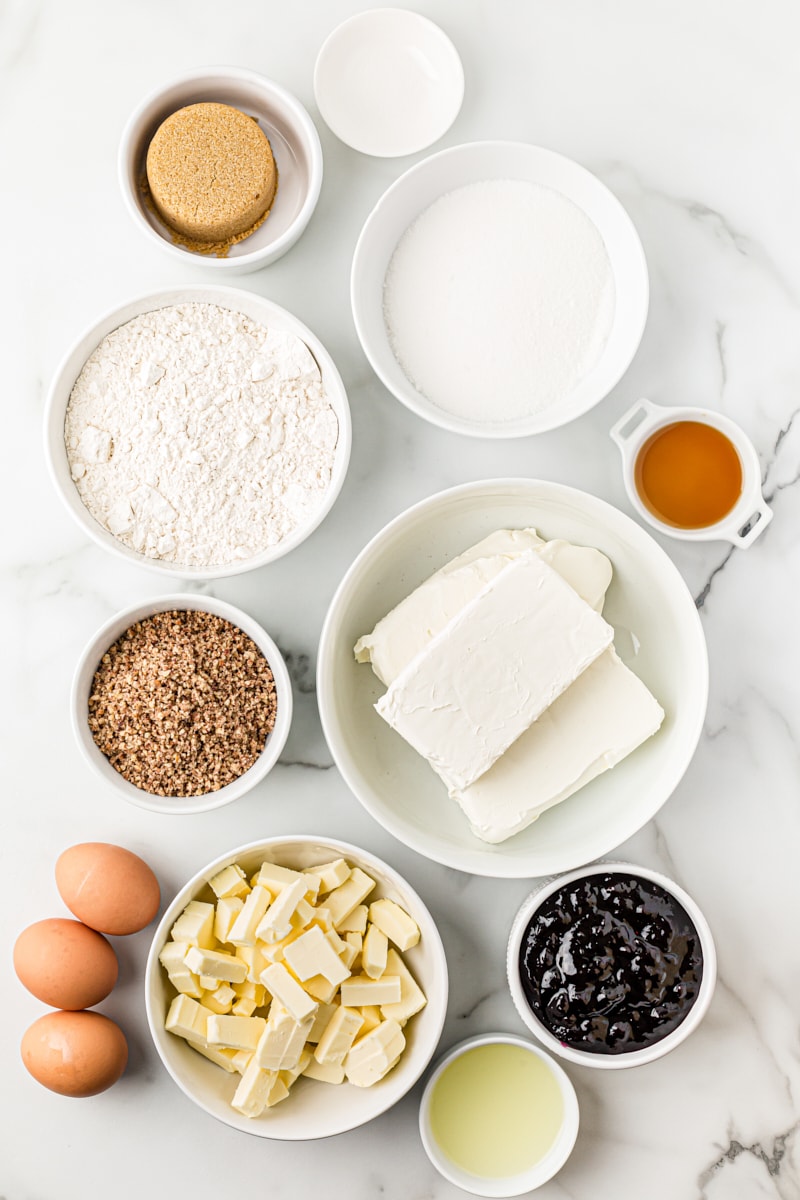 What You'll Need
Scroll down to the recipe card to find the ingredient quantities and recipe instructions.
For the Crust
For the Filling
Blueberry preserves – Use a high-quality brand, preferably one with some intact fruit for a nice texture.
Cream cheese – Let this come to room temperature so it's easy to blend with the other ingredients.
Sugar – For the filling, granulated sugar is best.
Eggs – To bind the ingredients together.
Lemon juice – Learn more by reading about How to Zest and Juice Lemons.
Vanilla extract – Use store-bought or homemade vanilla extract.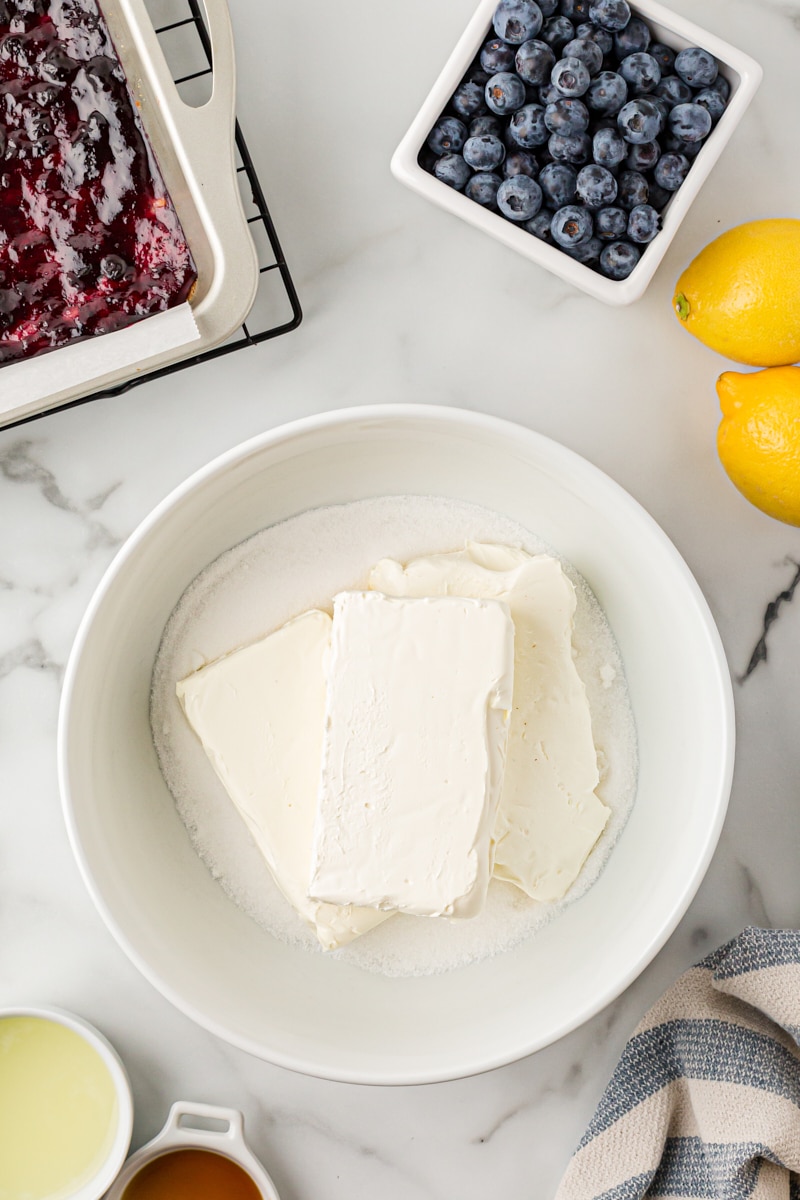 Which Cream Cheese Is Good for Cheesecake?
When it comes to cream cheese for cheesecake, you should always use full-fat. Lower-fat cream cheese has a higher moisture content, which can affect the texture of your cheesecake.
Avoid any brands with added ingredients, and labels with phrases like "cream cheese spread" or "light cream cheese." If you're not sure what to buy, go for a classic like Philadelphia Cream Cheese. It has the perfect texture and tanginess for cheesecake, and it's the preferred choice of professionals and home baking enthusiasts alike.
How to Make Lemon Blueberry Cheesecake Bars
If traditional cheesecake recipes have failed you in the past, cheesecake bars are a great alternative. They're much less fussy to bake because the cheesecake layer is thinner—no springform pan or water bath needed!
Prepare. Preheat your oven to 350°F and grease a 9″x 13″x 2″ baking pan. Alternatively, you can line the pan with parchment paper and grease the paper, which will make it easier to remove the bars.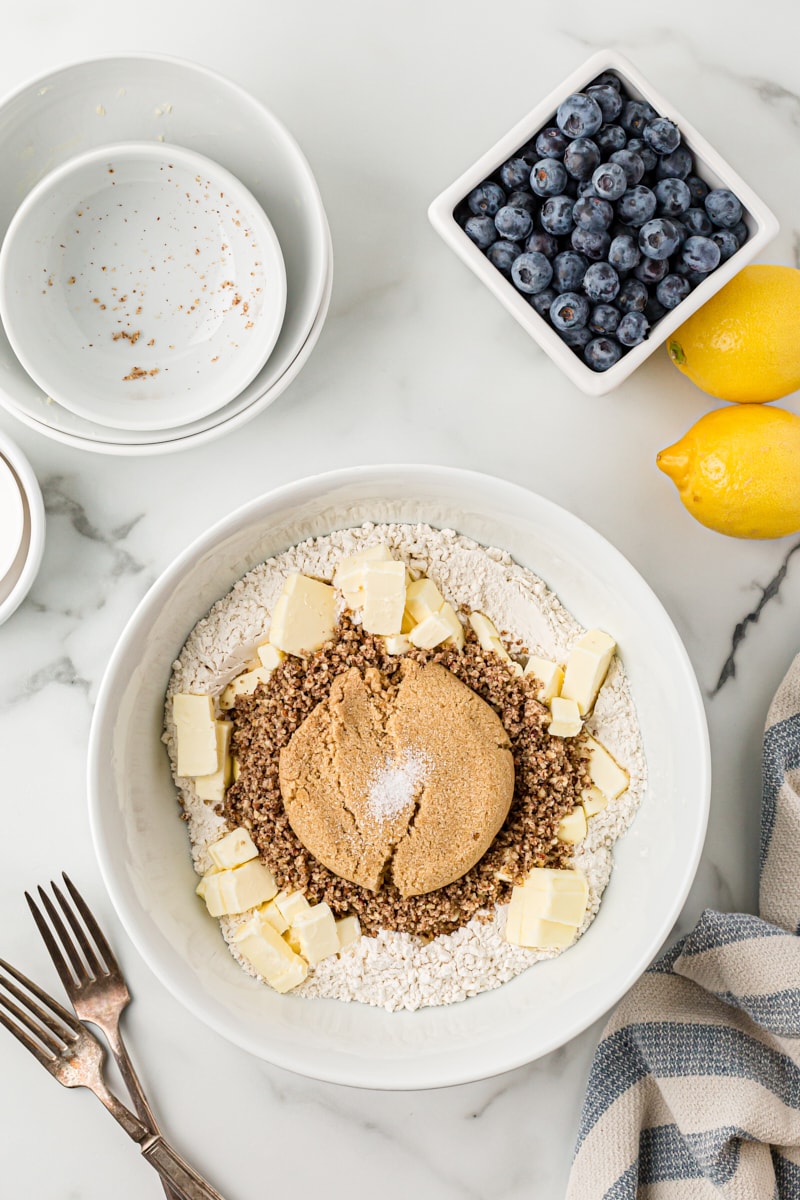 Make the crust. Use a fork or your hands to combine all of the crust ingredients in a medium bowl. Press the mixture evenly into the prepared pan, then bake for 15 minutes. Set aside to cool slightly.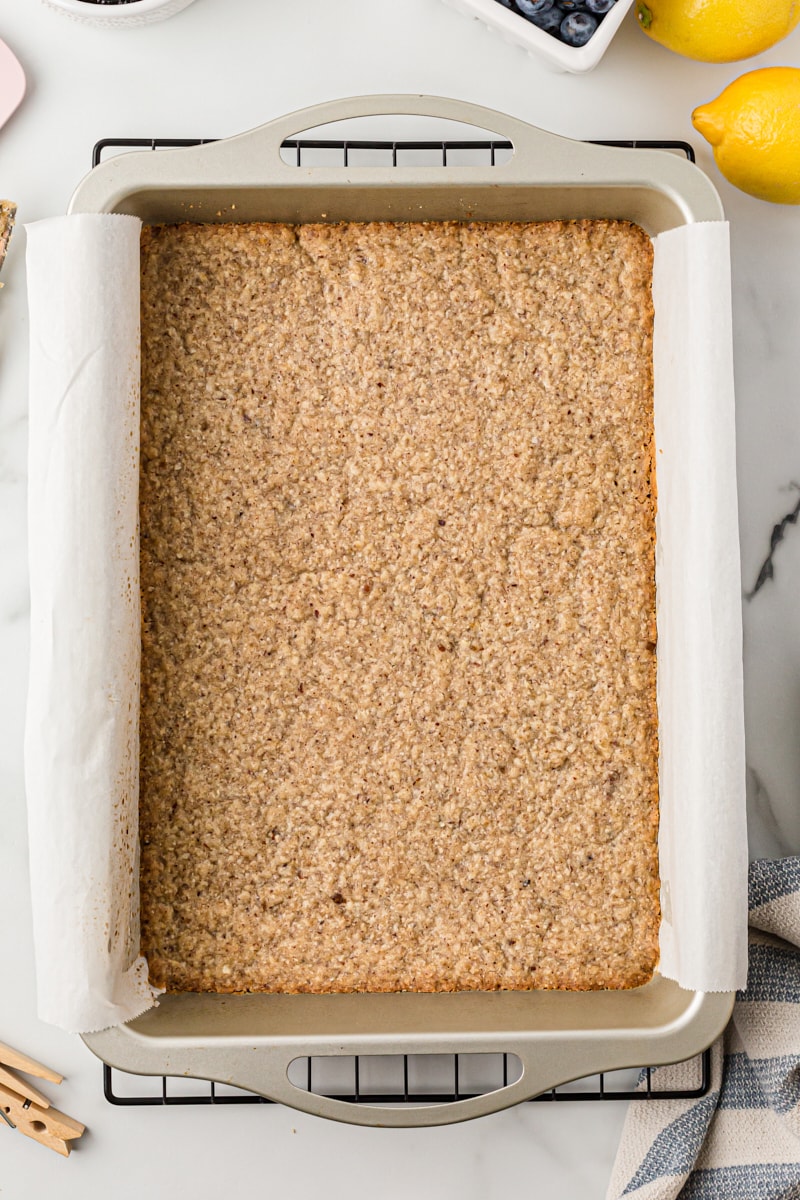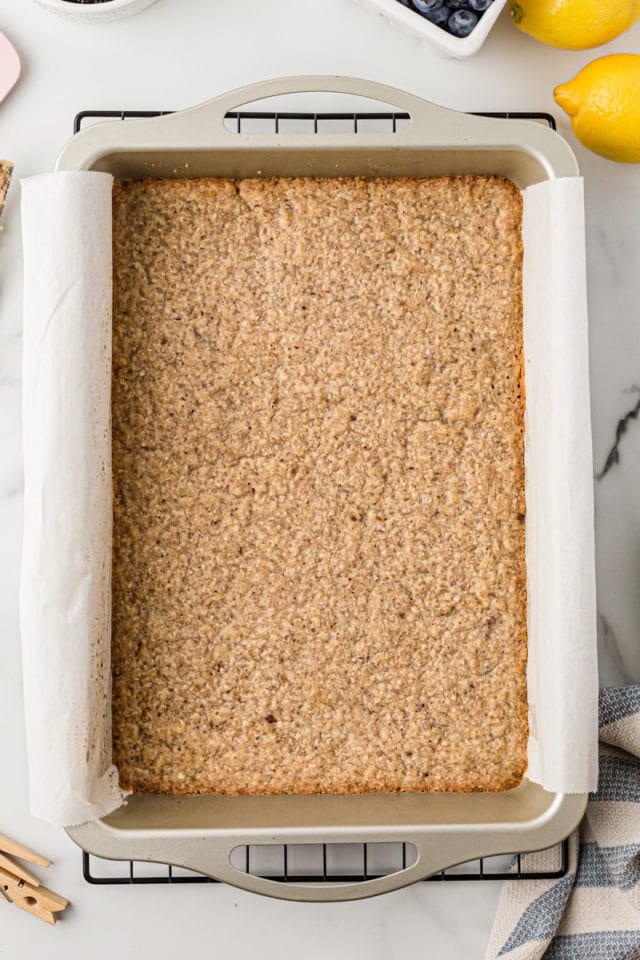 Add the blueberry layer. Spread the blueberry preserves evenly over the slightly cooled crust.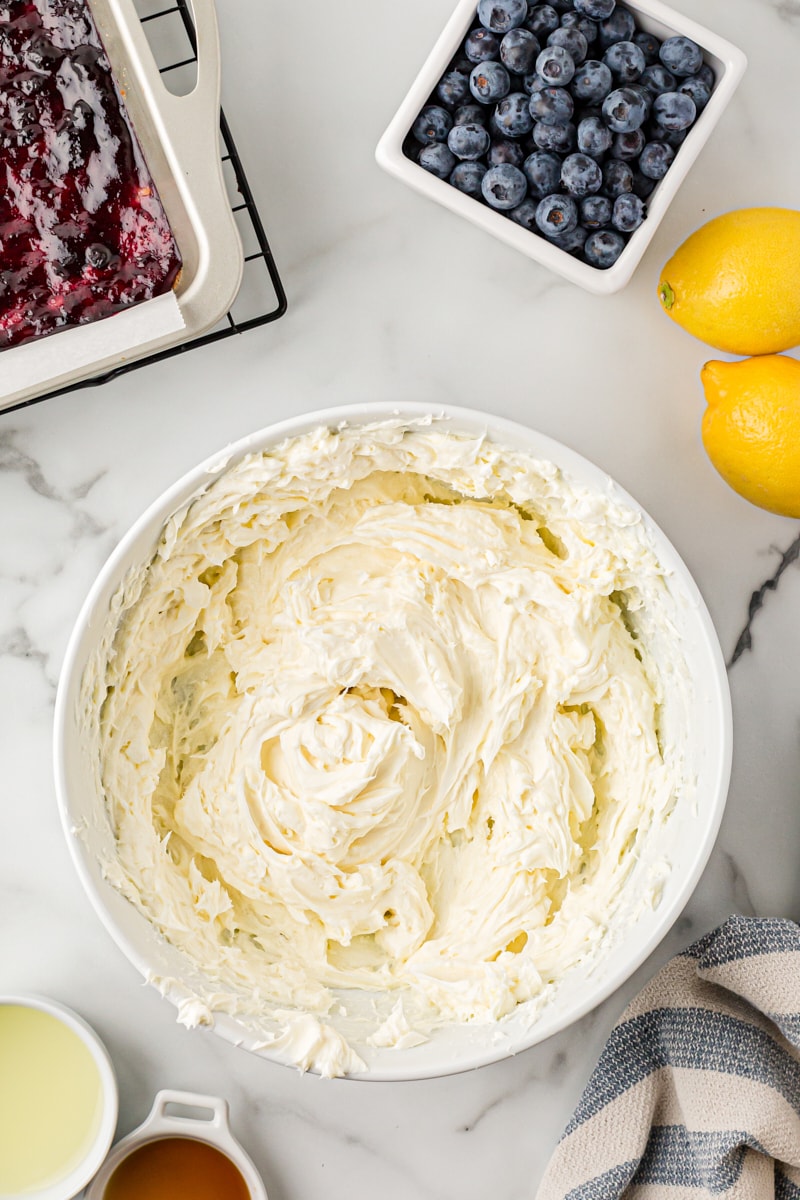 Make the lemon cheesecake layer. Use an electric mixer on medium speed to beat the cream cheese and sugar until they're light and fluffy. Beat in the eggs, one at a time, followed by the lemon juice and vanilla extract. Mix until smooth.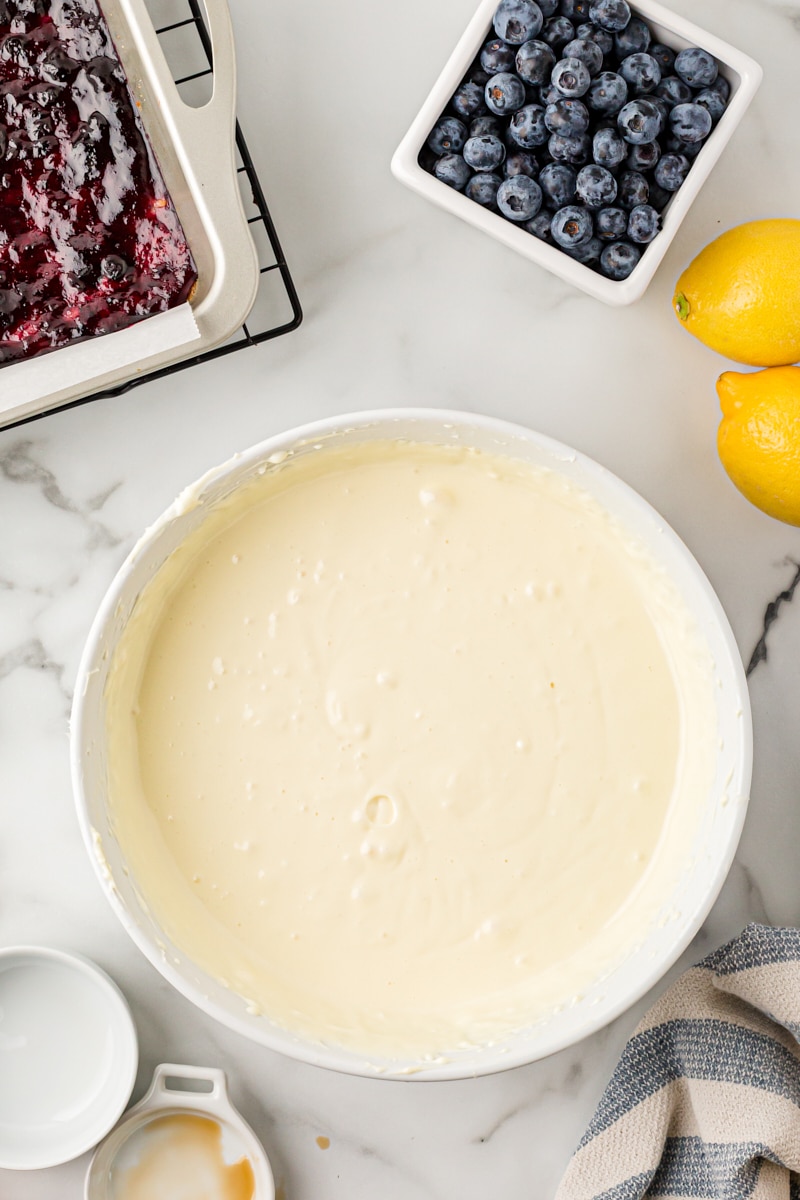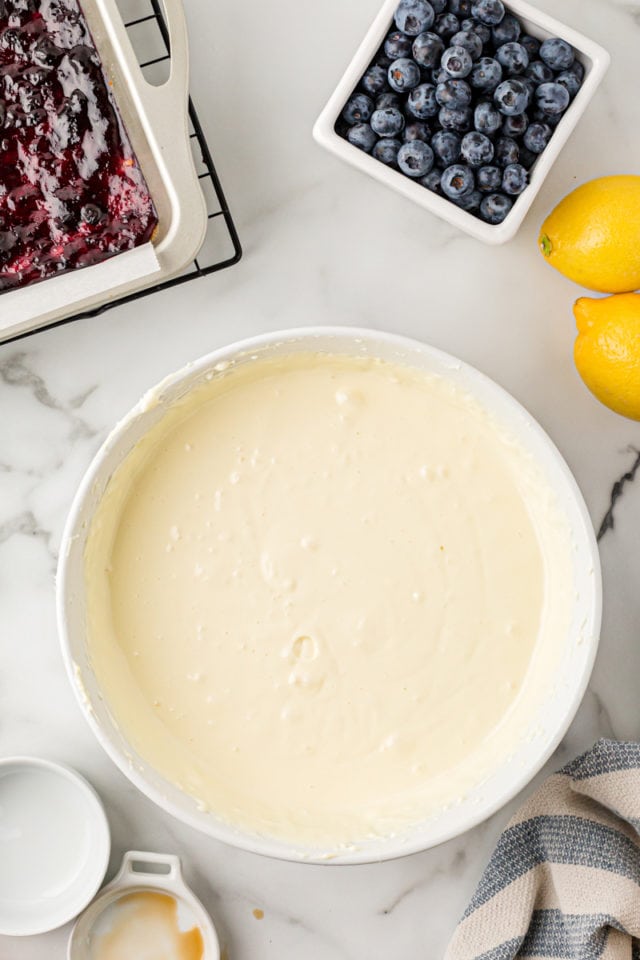 Bake. Pour the cheesecake filling over the crust and preserves. Bake for 40-45 minutes, or until set.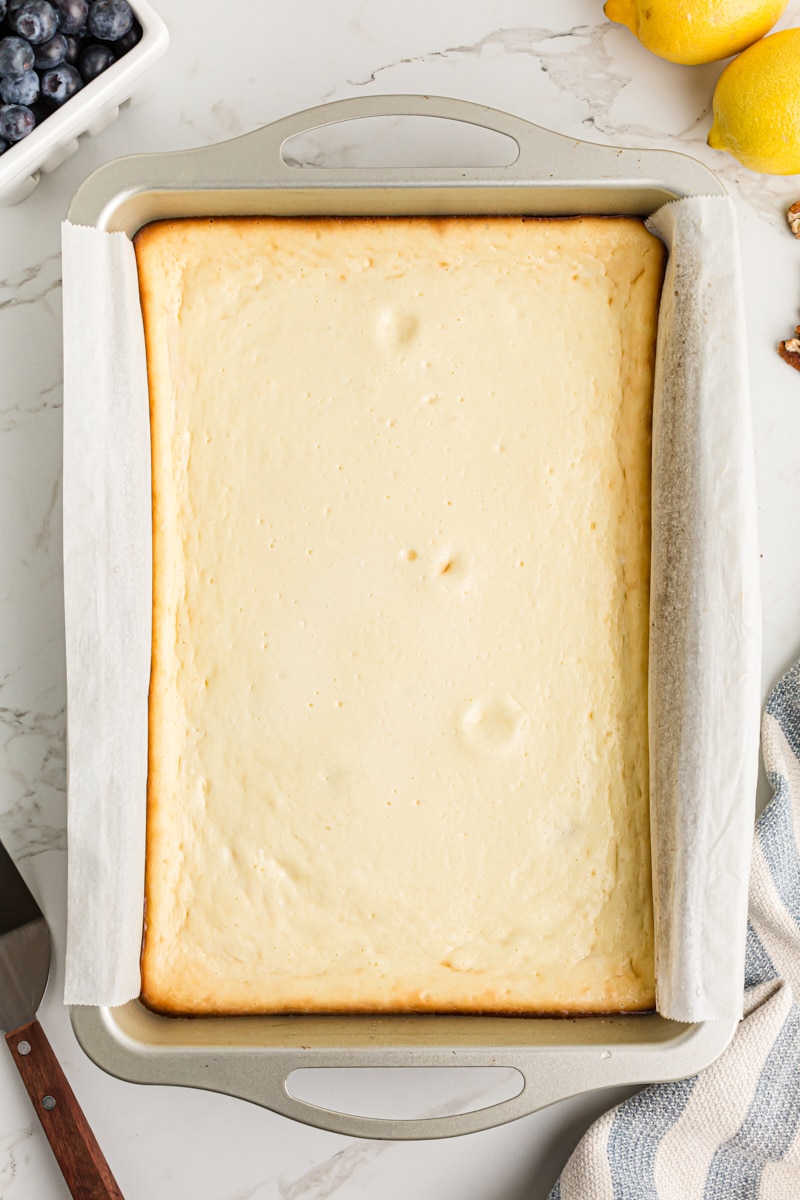 Cool and serve. Let the lemon blueberry cheesecake bars cool in the pan on a wire rack for about an hour. Chill the bars in the refrigerator for at least 2 hours, then cut them into squares.
How to Cut Cheesecake Bars
To get perfectly neat squares, you can use a warm knife to help cut through the cheesecake. Dip a sharp knife in hot water and then wipe it clean before and after each cut. This will make for cleaner slices that look like they came from a professional bakery.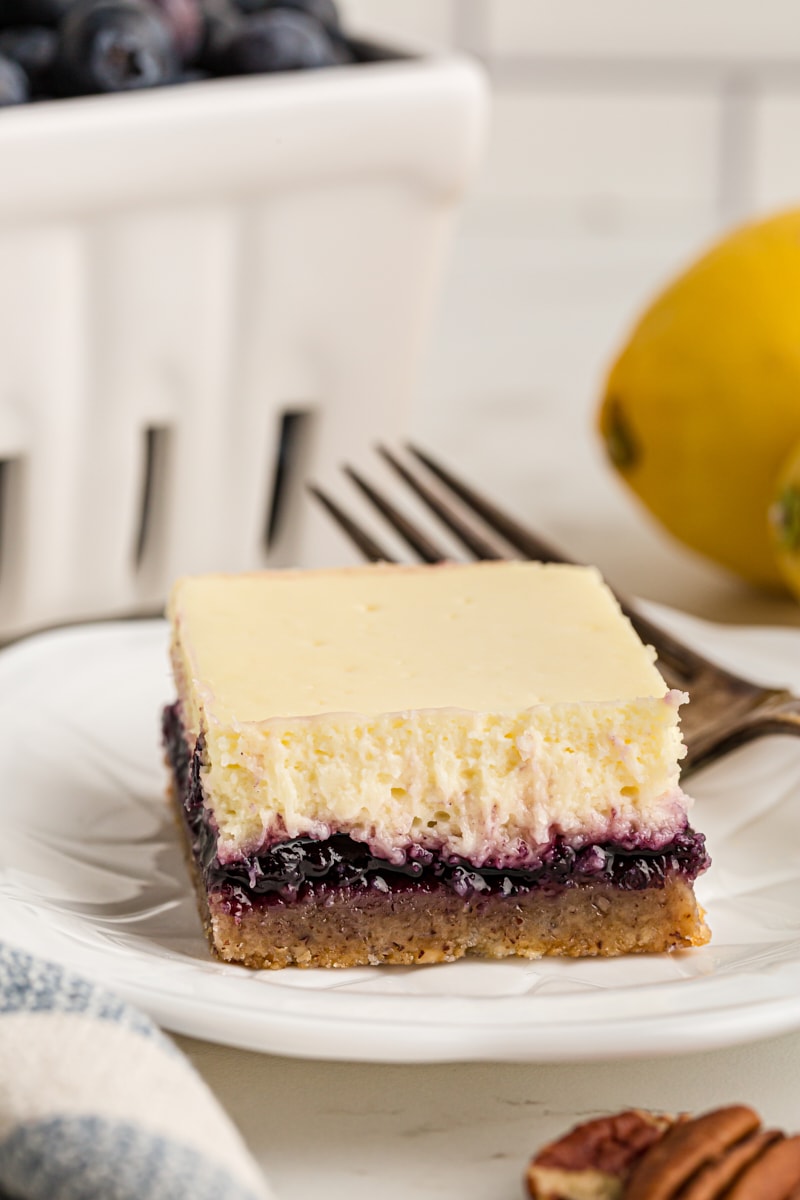 Tips for Success
Read over my baking tips for beginners, then follow these additional tips for perfect lemon blueberry cheesecake bars.
Use room temperature cream cheese. It really matters! Cold cream cheese won't blend smoothly and your finished bars will be flecked with unmixed white spots in the cheesecake layer.
Don't over-bake. Cheesecake bars will be set, but still jiggle slightly in the center, when done.
Be patient. Refrigerate the bars for at least 2 hours before cutting into them. If you rush the process, the bars won't cut cleanly—and warm cheesecake isn't very tasty either!
Substitutions & Recipe Variations
While I'm a big fan of these lemon blueberry bars as they are, there are a few different substitutions that you could make, if you like!
Switch up the preserves. This is a great recipe for customizing to your preferences by using a different flavor of preserves (like strawberries, raspberries, etc.).
Adjust the lemon flavor. You could omit the lemon juice completely and use a different juice or extract if you prefer. You could also intensify the lemon flavor by adding fine lemon zest to the cheesecake mixture.
Make a graham cracker crust. You can go a bit more traditional by making these bars with a graham cracker crust, like the crust from my Nutella swirl cheesecake bars. Or, instead of pecans, use a different nut for the crust like walnuts, etc.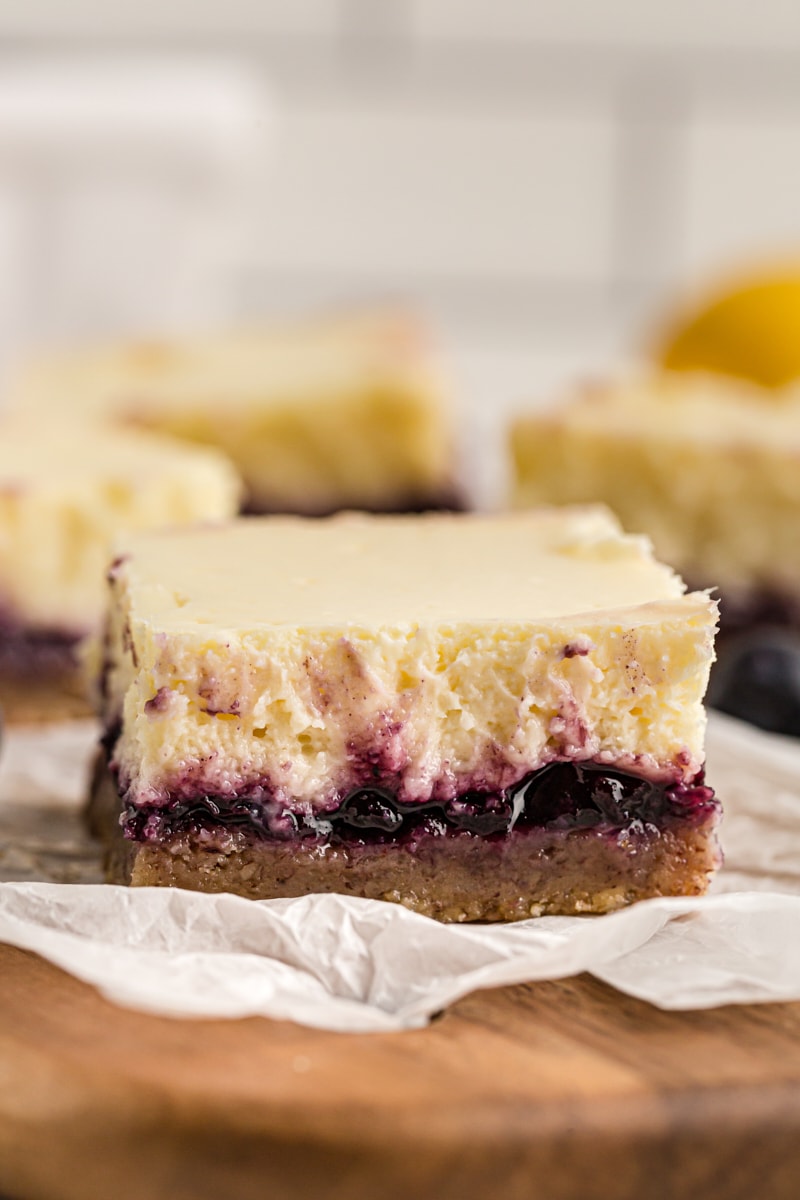 How to Store
These lemon blueberry cheesecake bars can be stored in an airtight container in the refrigerator for up to 5 days. If you're stacking them in the container, parchment paper between the layers will keep them from sticking to each other.
Can I Freeze These Cheesecake Bars?
Yes, these bars can be frozen in an airtight container or freezer bag for up to 3 months. To thaw the bars, simply leave them in the refrigerator overnight.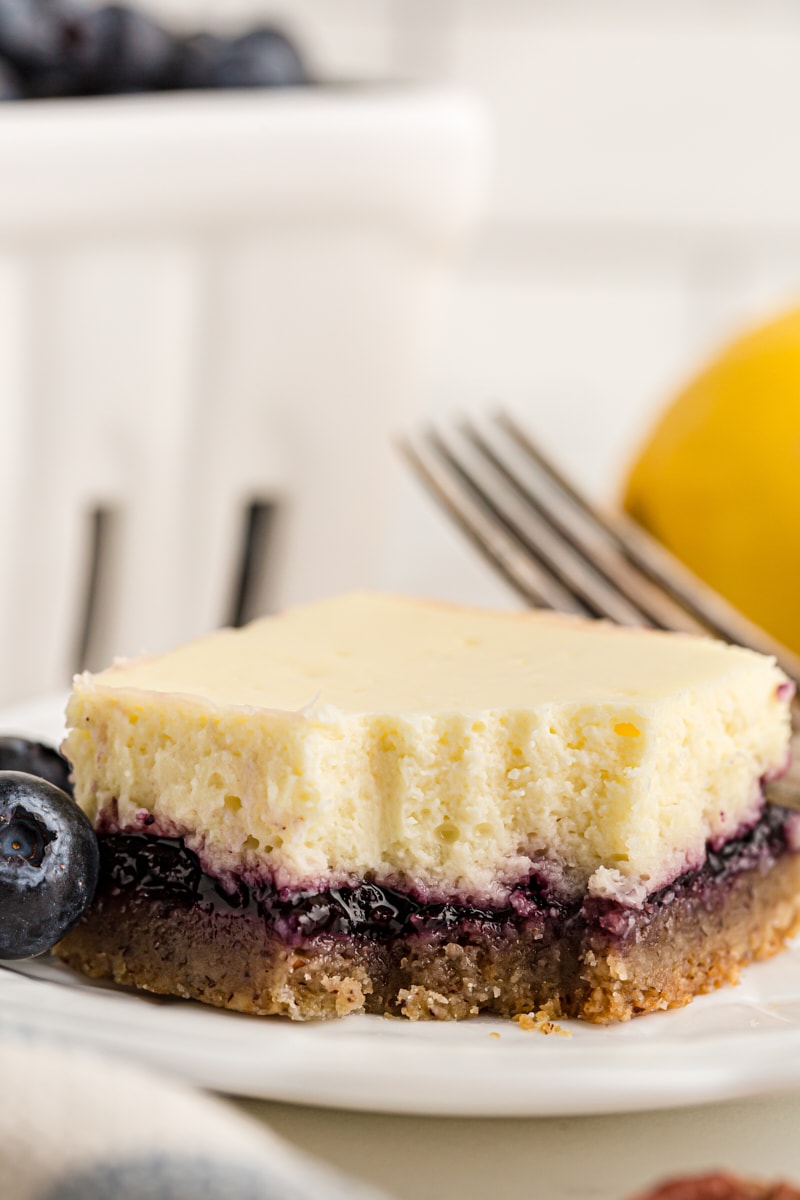 More Cheesecake Bar Recipes
Ready to make more creamy cheesecake bars? I highly recommend these ones!