These hearty cowboy cookies are loaded with oats, coconut, chocolate chips, and nuts for a cookie that's as satisfying as it is delicious!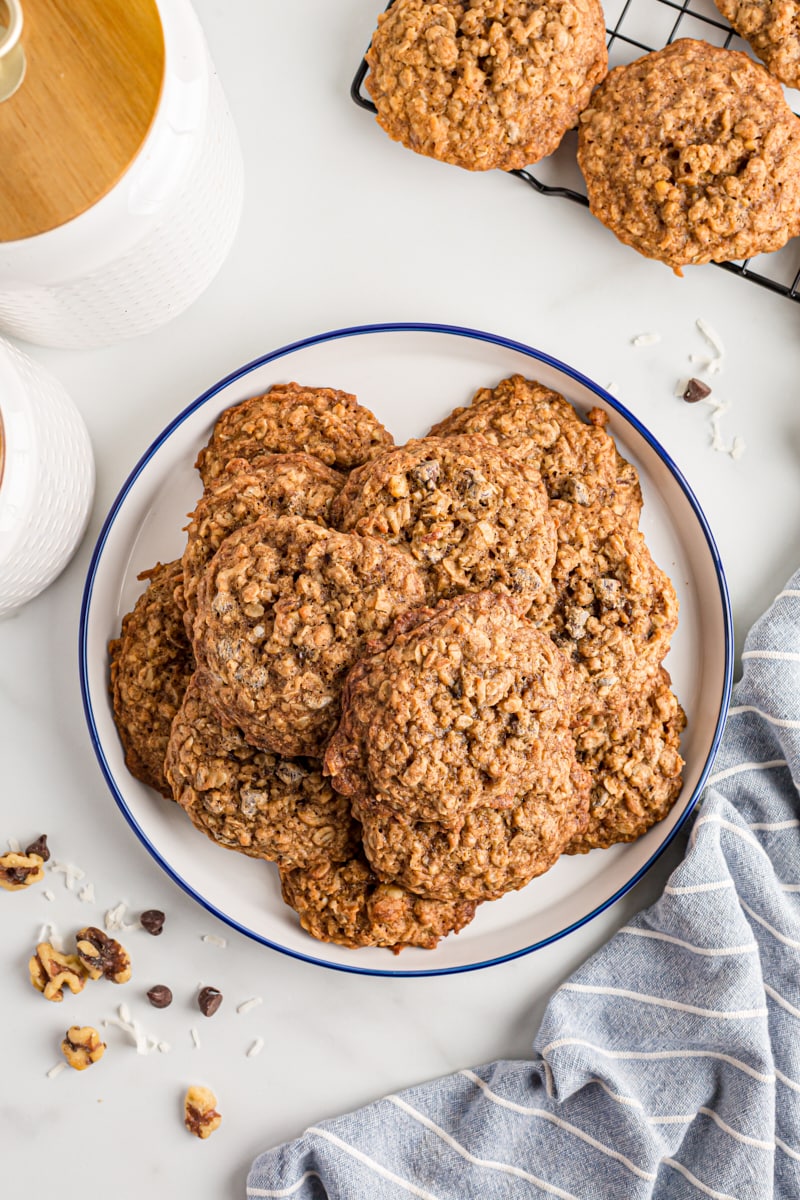 Loaded Oatmeal Cookies
Some people like cookies that are sweet and delicate. These, my friends, are not those cookies. No, these are big, hearty cookies brimming with all kinds of good stuff. Suitable for a cowboy, I suppose.
Cowboy cookies are an American classic—a deliciously chewy cookie made with oats for a little extra staying power. Legend has it that these treats have been enjoyed by cowboys (and cowgirls) across the country for generations, and they make the perfect snack or dessert for big appetites.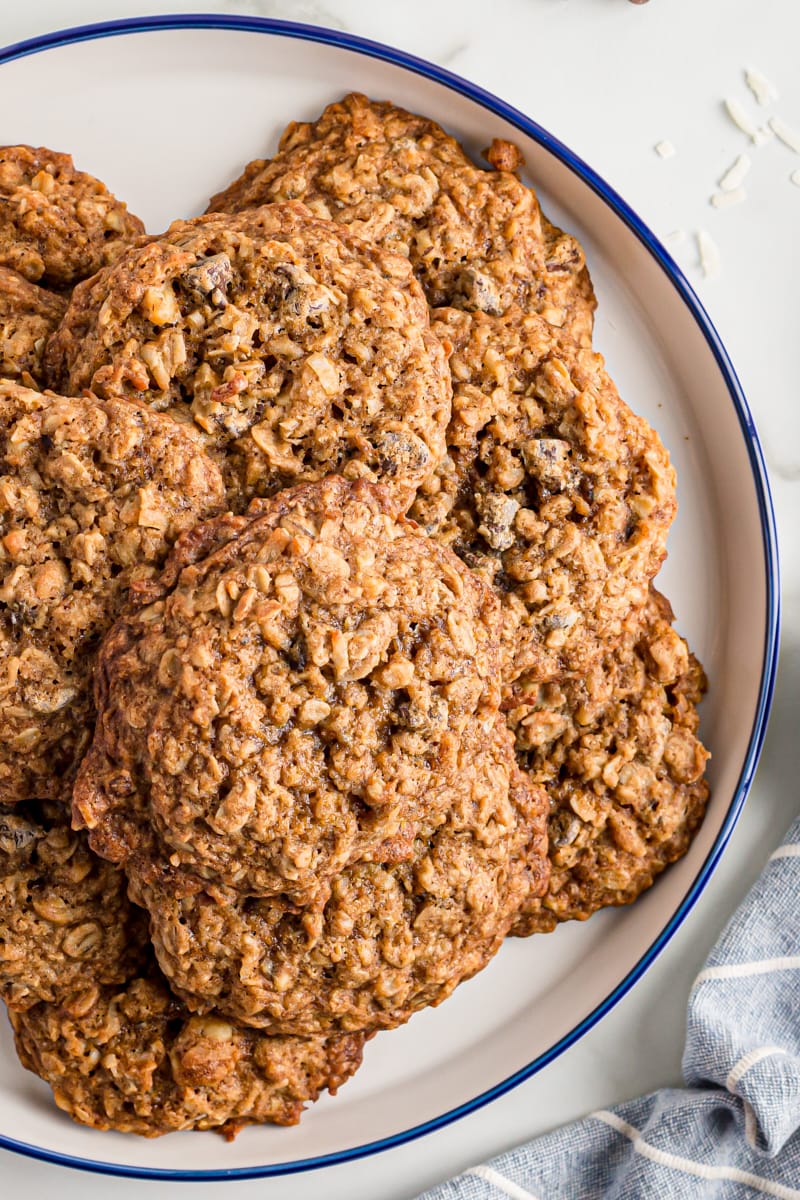 The traditional cowboy cookie recipe includes oats, chocolate chips, coconut flakes, nuts, and dark brown sugar for just a hint of molasses. The particular version is from Tate's Bake Shop's cookbook, Baking for Friends. The book has lots of good looking cobblers and tarts and such, but I kept coming back to these cookies.
While there are many chocolate chip cookie recipes out there, I, for one, believe there are never enough variations. This is a great version for those of us who like our chocolate chip cookies anything but plain.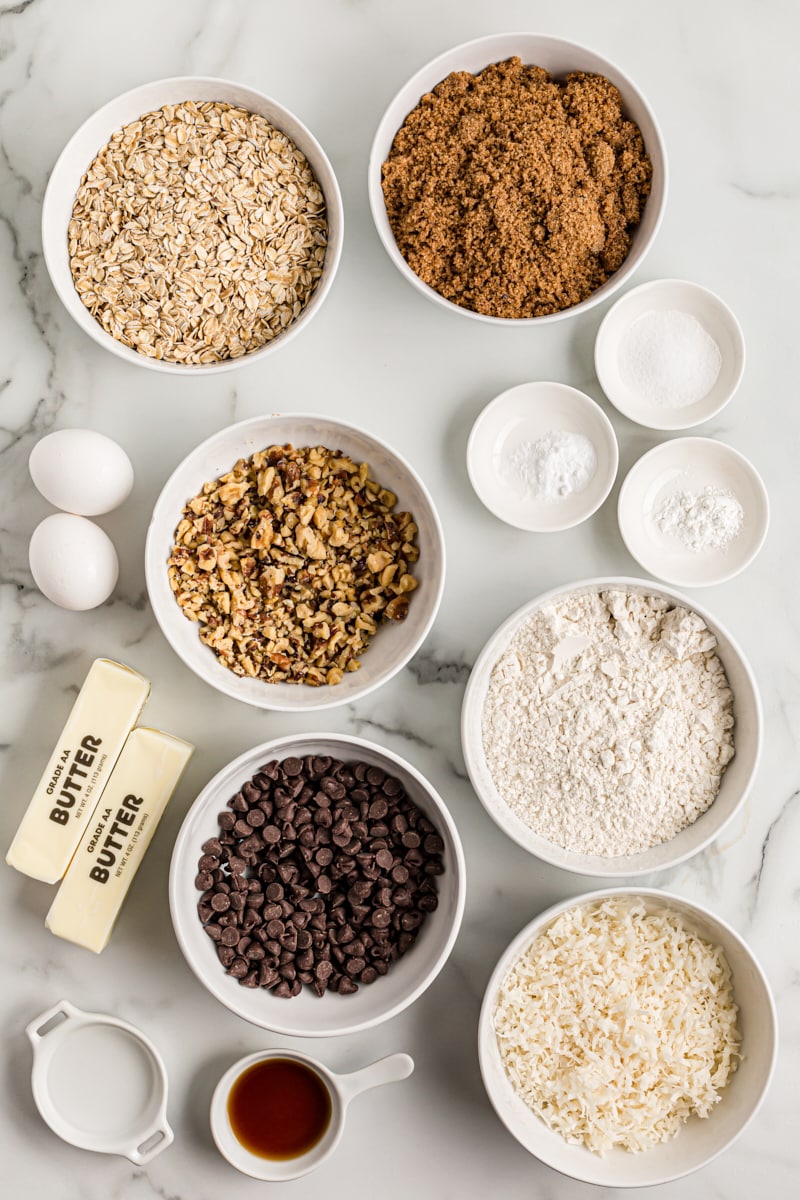 What You'll Need
Scroll down to the recipe card to find the ingredient quantities and recipe instructions.
Is Flaked Coconut the Same as Shredded?
Flaked coconut is not the same as shredded. Flaked coconut, which has larger pieces and a more tender texture, is best for this recipe. You can use shredded coconut instead, but the results won't be the same; if you choose to use shredded coconut, substitute by weight, not by volume.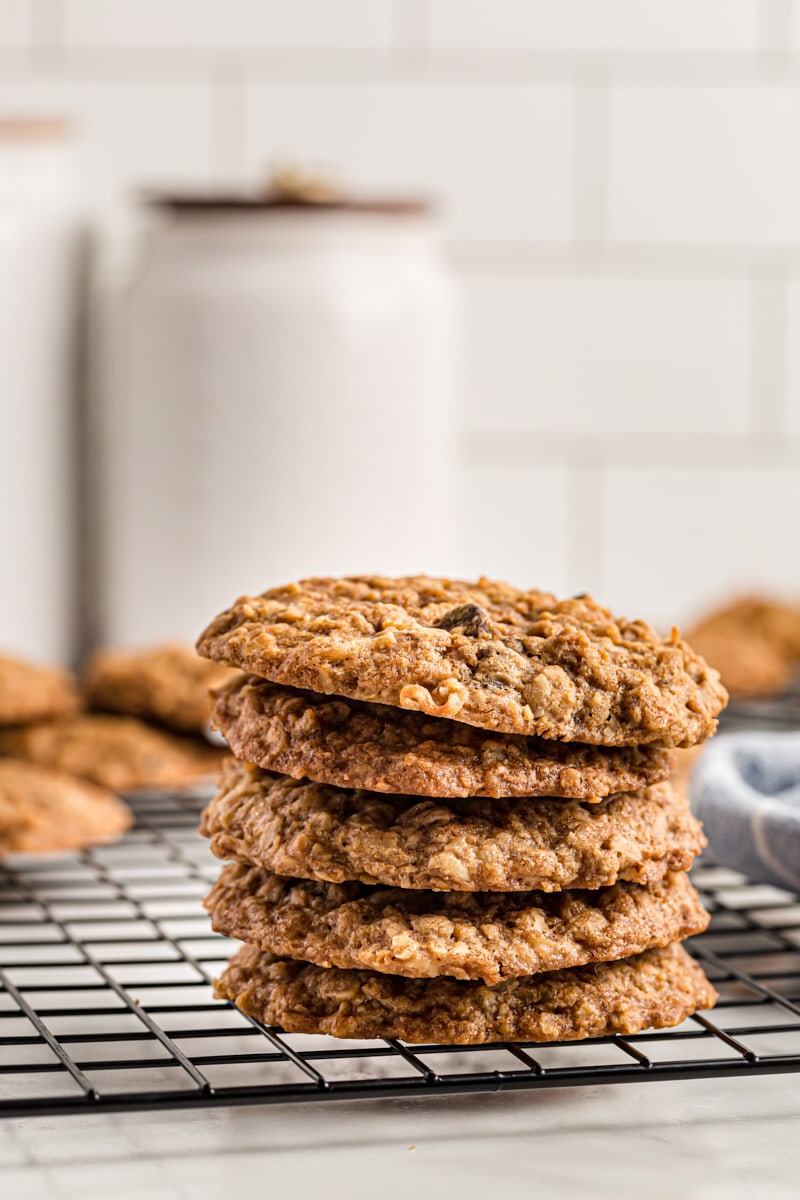 How to Make Cowboy Cookies
Cowboy cookies are an easy drop cookie recipe, which means they come together quickly. Here's what you'll need to do.
Prepare. Preheat your oven to 350°F and line baking sheets with silicone liners or parchment paper.
Mix the dry ingredients. Whisk together the flour, baking soda, salt, and baking powder in a medium bowl, then stir in the oats.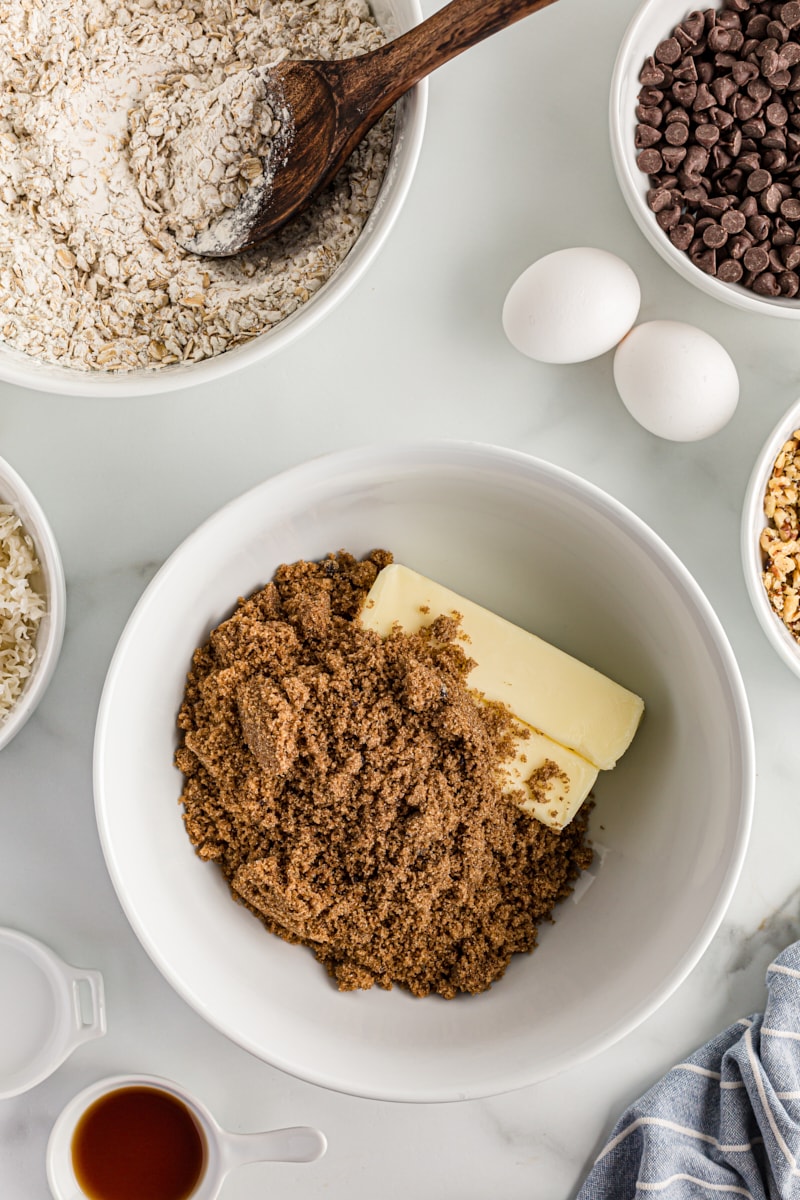 Mix the wet ingredients. Use an electric mixer on medium speed to beat the brown sugar and butter in another mixing bowl until they're light and fluffy. Beat in the eggs one at a time, followed by the water and vanilla.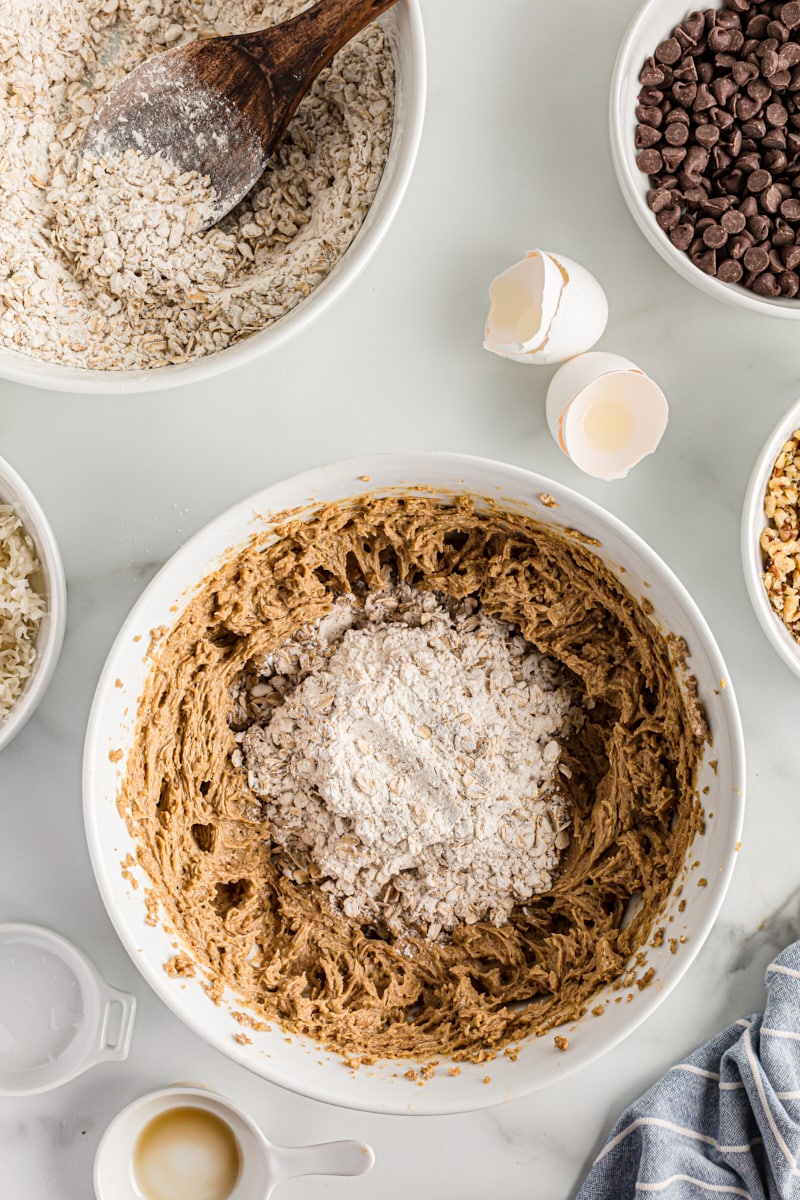 Finish the dough. Reduce the mixer speed to low and slowly mix in the dry ingredients. Fold in the coconut, chocolate chips, and nuts.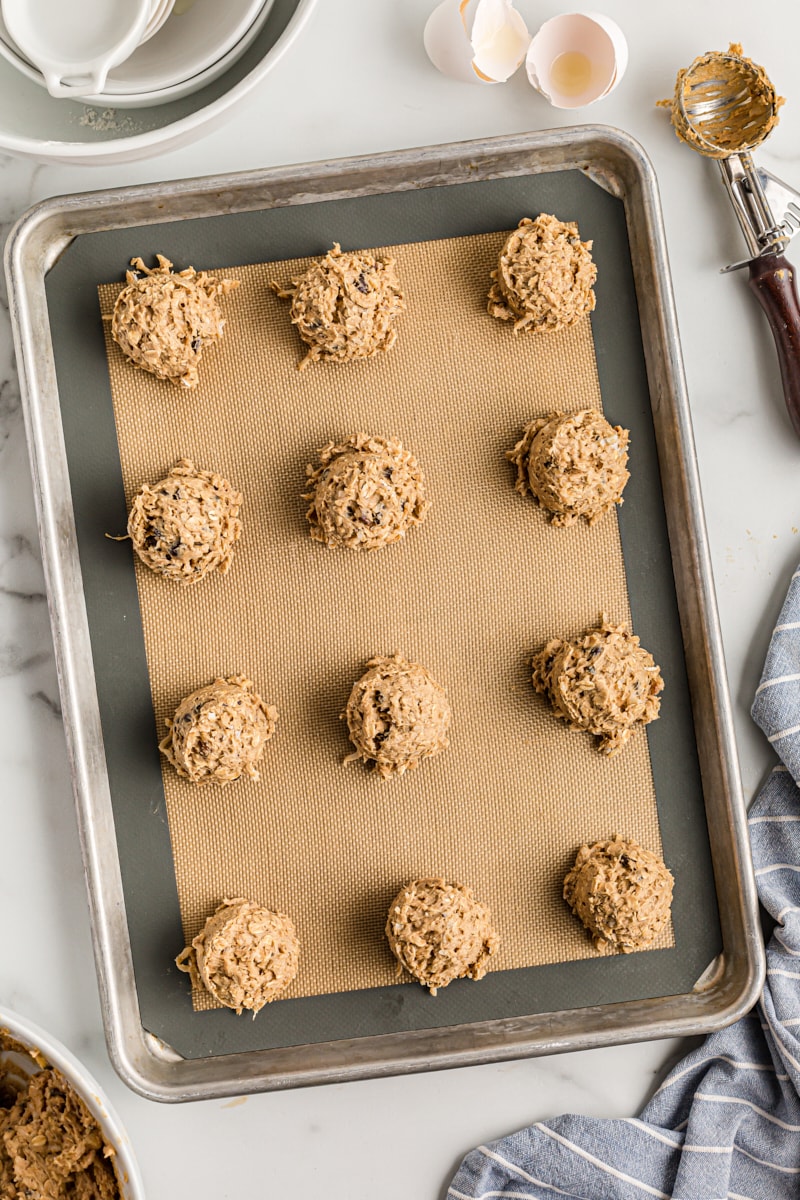 Form the cookies. Drop the dough in two-tablespoon portions, two-inches apart onto the prepared pans.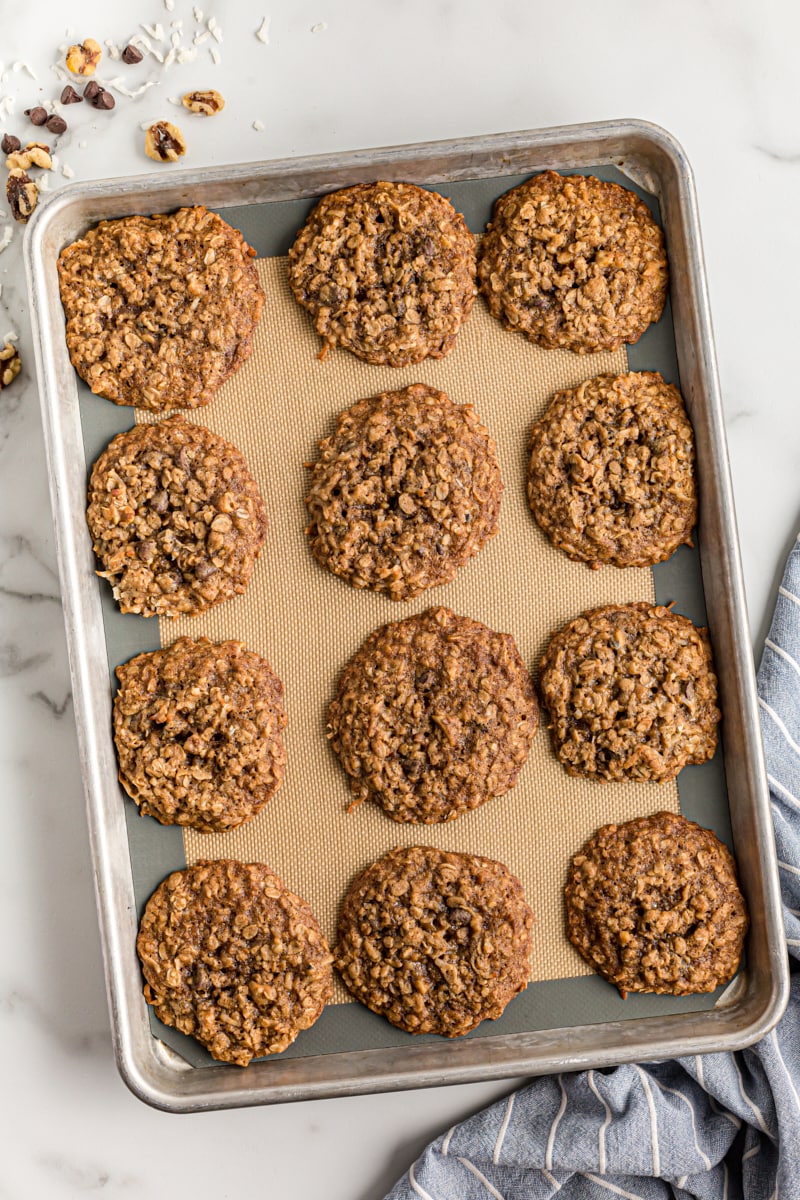 Bake. Place the pans in the oven one at a time and bake for 13 to 15 minutes, or until the edges are lightly browned and the centers are slightly soft. Chill the remaining dough between batches.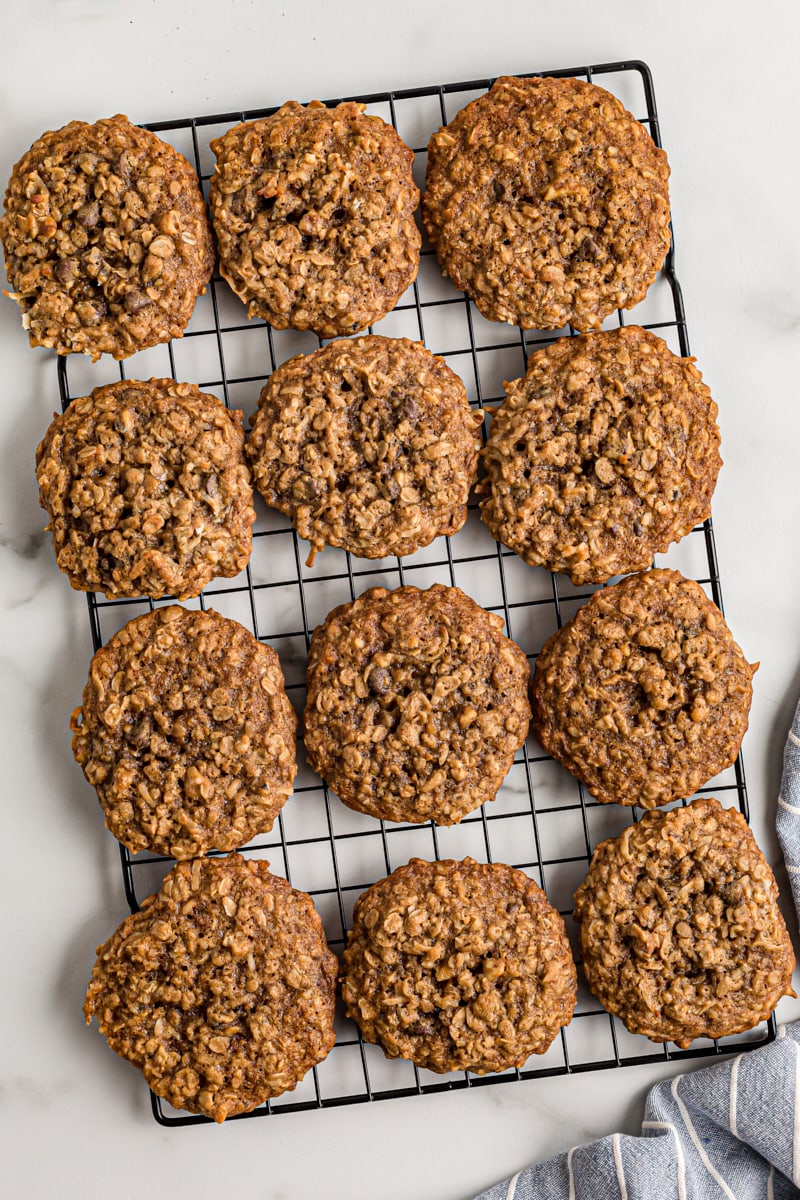 Cool. Set the pans on wire racks and allow the cookies to cool for 5 minutes. Then, transfer the cookies from the pan directly onto the racks to finish cooling. (Learn more: Why Every Baker Needs Wire Cooling Racks)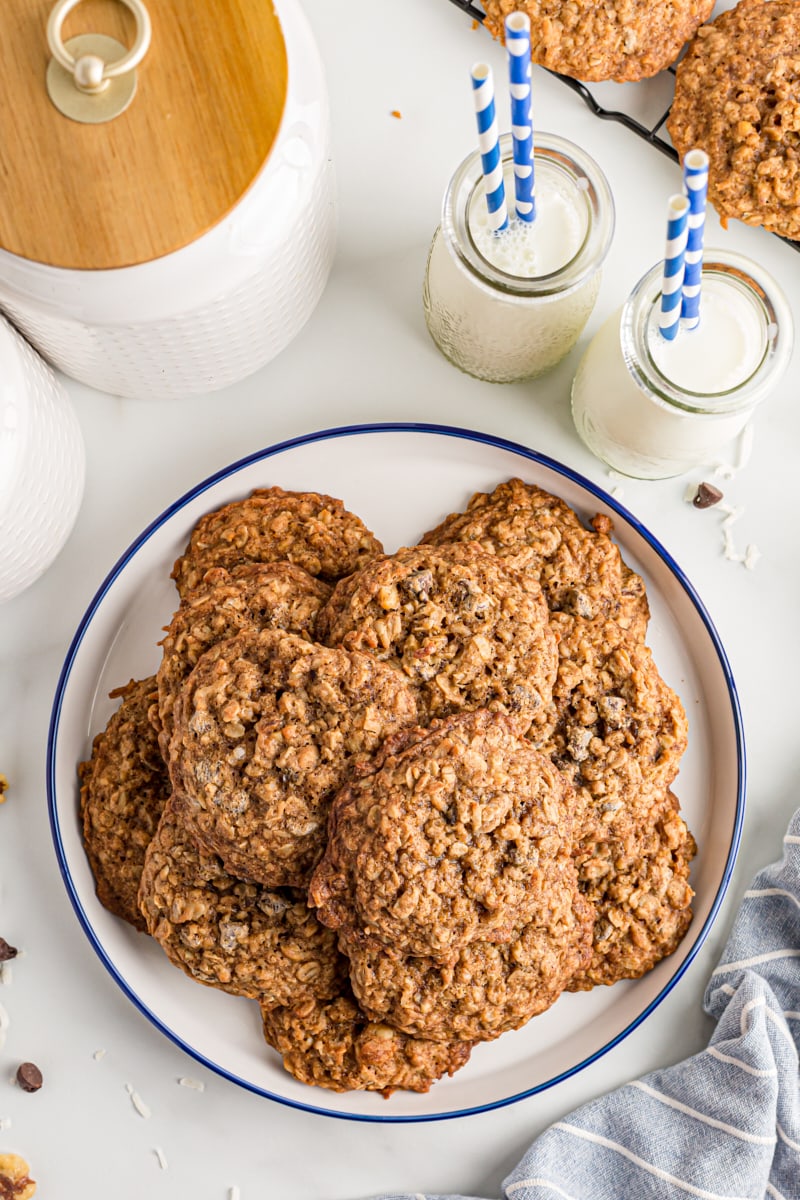 Tips for Success
Start with my baking tips for beginners, then follow these additional pointers for perfect cowboy cookies:
Prevent spreading. This is a thick, firm dough thanks to the addition of oats, but if your kitchen is hot or your butter is a bit too soft, you can chill the chill the dough for 30 minutes before baking to keep the cookies from spreading.
Reusing pans. If you have to reuse the same pan for making these cookies, let it cool completely before adding more dough. This is another way to prevent spreading.
Make them your own. As long as you keep the original ratio of dough-to-mix-ins, you can feel free to customize this recipe with different types of chocolate chips, dried fruit, seeds, etc.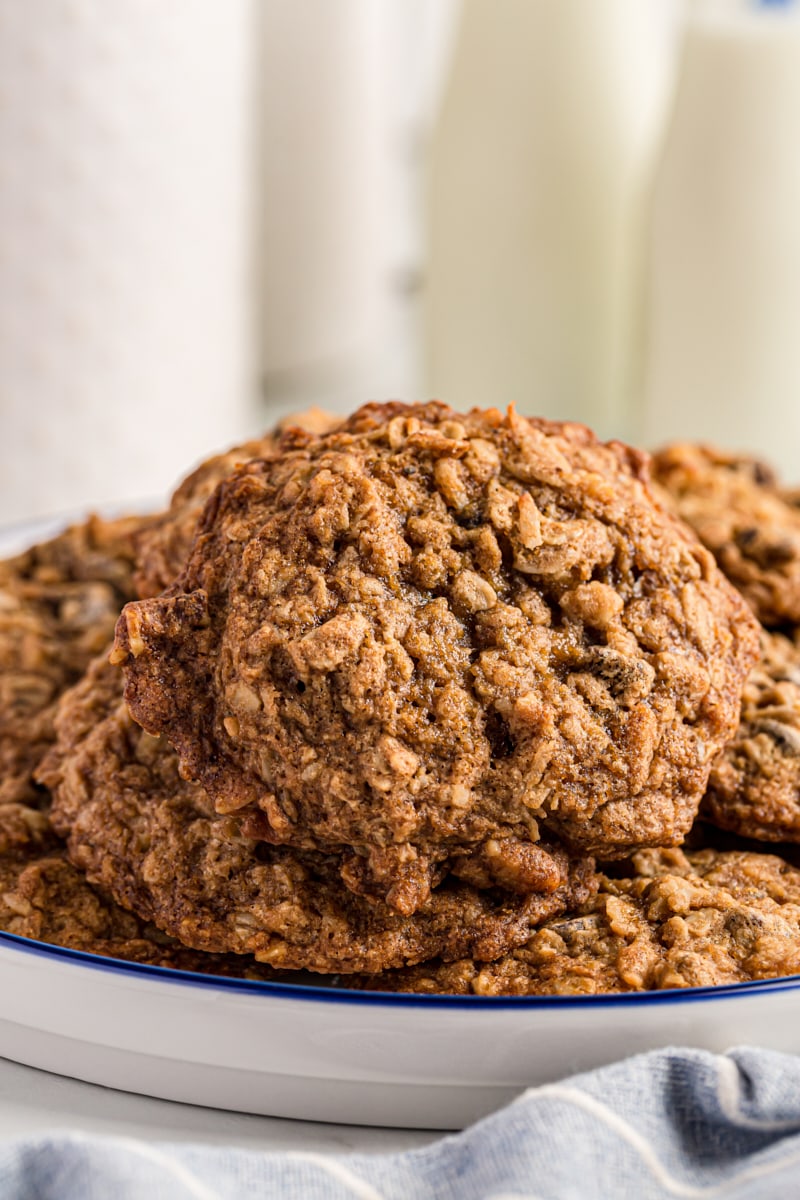 How to Store
Store cowboy cookies at room temperature in an airtight container for 3 to 4 days.
Can This Recipe Be Frozen?
Yes, cowboy cookies can be frozen for up to 2 months in a freezer bag or airtight container. To thaw, simply place the frozen cookies on the counter overnight and they'll be ready to enjoy the next day. You can also warm the frozen cookies in the microwave for 10 seconds at a time until they're warmed through.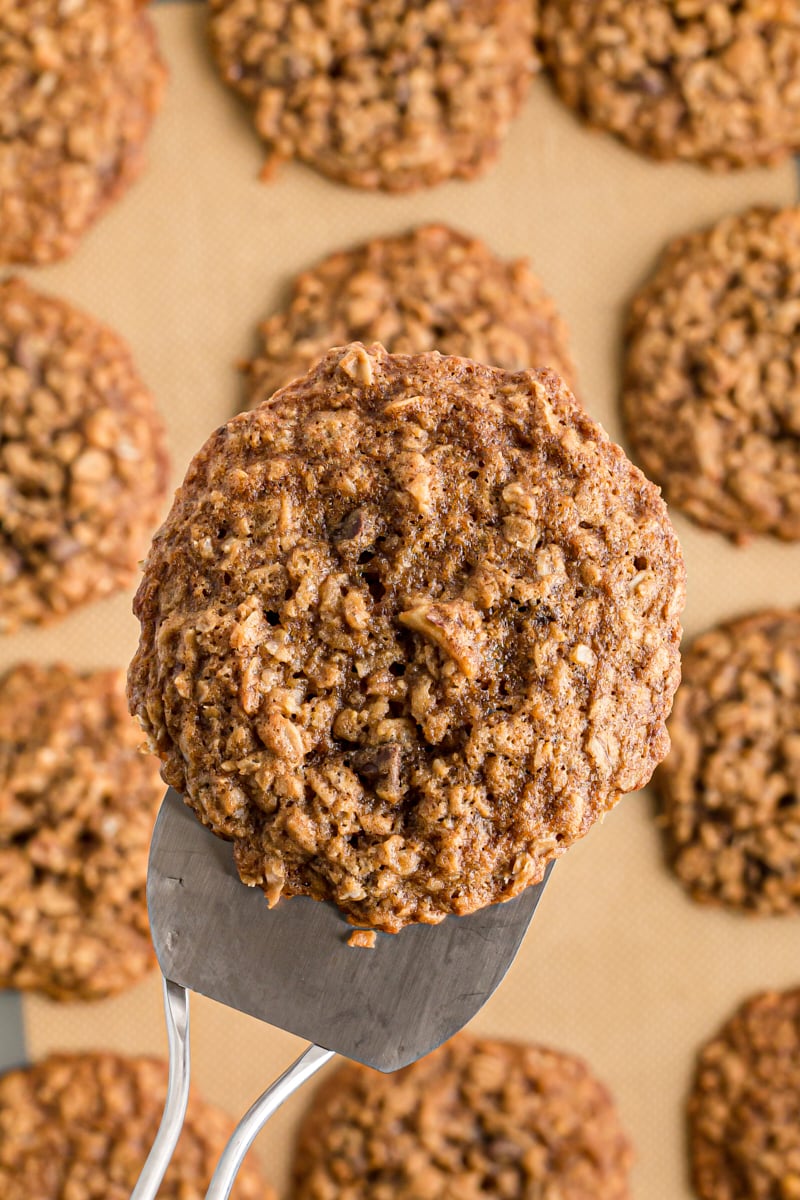 More Classic Cookie Recipes