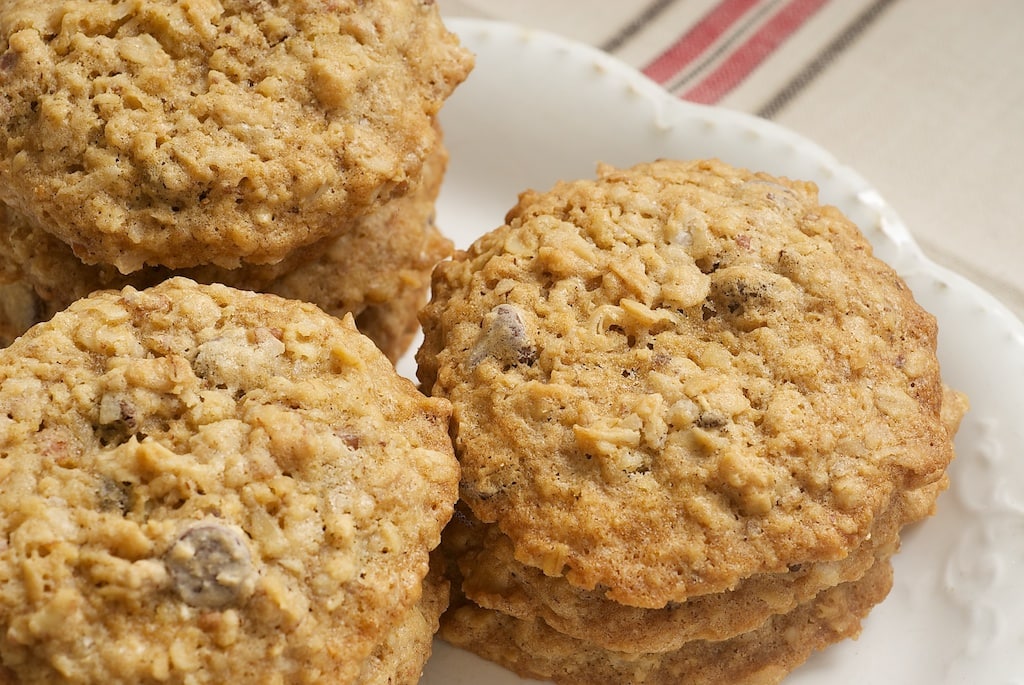 Some people like cookies that are sweet and delicate. These, my friends, are not those cookies. No, these are big, hearty cookies brimming with all kinds of good stuff – oats, chocolate, toasted pecans, and coconut. Suitable for a cowboy, I suppose.
The recipe is adapted from Tate's Bake Shop's newest cookbook, Baking for Friends. The book has lots of good looking cobblers and tarts and such, but I kept coming back to these cookies.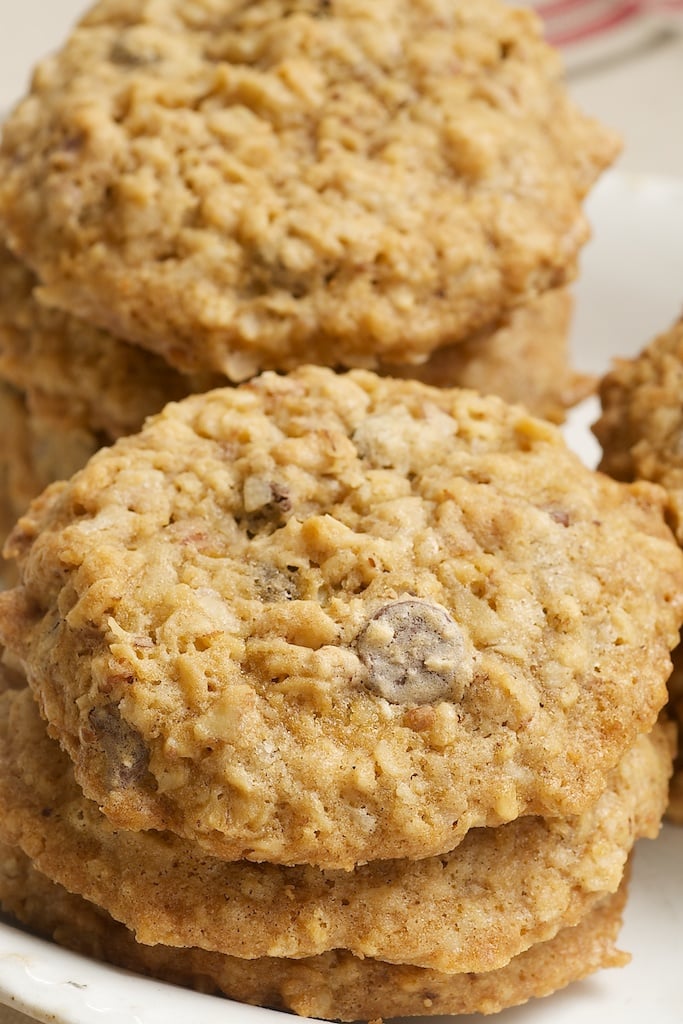 While there are many chocolate chip cookie recipes out there, I, for one, believe there are never enough variations. This is a great version for those of us who like our chocolate chip cookies anything but plain.
The generous people of Tate's Bake Shop not only sent me a copy of their cookbook, they are also giving one lucky Bake or Break reader one of their Cookie and Bar Towers! The tower is filled with a selection of some of their best cookies and bars. It would make a great gift, although you'd be perfectly justified to keep it for yourself. Here's what's included:
7-oz box of chocolate chip cookies
7-oz box of oatmeal raisin cookies
7-oz box of white chocolate chip macadamia nut cookies
two rich, buttery raspberry bars
two chocolate chip and walnut loaded blondies
two rich, dense and fudgy plain brownies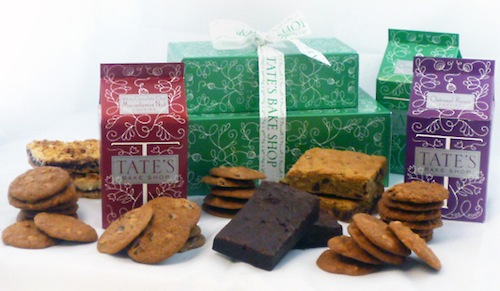 UPDATE: Contest has closed. Thanks to all who entered!
Yield: about 48 cookies
Prep Time: 20 minutes
Cook Time: 15 minutes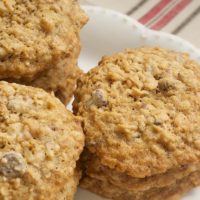 1 & 2/3 cups all-purpose flour
1 teaspoon baking soda
1 teaspoon salt
1/2 teaspoon baking powder
2 cups old-fashioned rolled oats
1 & 1/2 cups firmly packed dark brown sugar
1 cup unsalted butter, softened
2 large eggs
1 tablespoon water
2 teaspoons vanilla extract
1 cup sweetened flaked coconut
1 cup semisweet chocolate chips
3/4 cup coarsely chopped pecans, toasted
Directions:
Preheat oven to 350°. Line baking sheets with silicone liners or parchment paper.
Whisk together flour, baking soda, salt, and baking powder. Stir in oats. Set aside.
Using an electric mixer on medium speed, beat brown sugar and butter until light and fluffy. Add eggs, one at a time, mixing well after each addition. Mix in water and vanilla.
Reduce mixer speed to low and gradually add flour/oat mixture. Mix just until combined. Stir in coconut, chocolate chips, and pecans.
Drop dough by 2 tablespoonfuls onto prepared pans. Place cookies about 2 inches apart. Bake, one baking sheet at a time, 13-15 minutes, or until edges are lightly browned and centers are slightly soft. (Refrigerate unused dough between baking batches.)
Cool on baking sheets for 5 minutes. Then, transfer to wire rack to cool completely.