This Hummingbird Bundt Cake takes everything you love about the classic dessert and turns it into a simplified Bundt with a cream cheese glaze. With pineapple, banana, and toasty pecans, it's packed with flavor!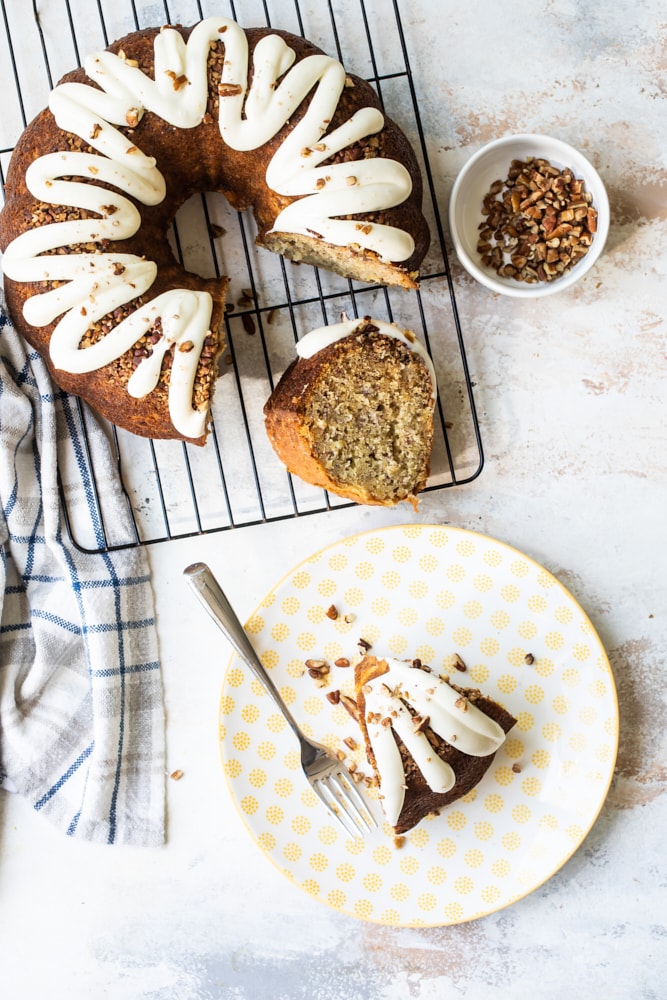 Easy Hummingbird Cake in a Bundt Pan
Hummingbird cake is one of my very favorite cakes. I don't make it often because it's just too dangerous to have within fork's reach. There's something so magical about that combination of bananas, pineapple, cinnamon, and cream cheese. It's hard to resist!
This Hummingbird Bundt Cake is a slight twist on the traditional dessert. It doesn't vary in ingredients, texture, and flavor—the big change is that instead of baking up separate layers, then assembling and frosting, this version of hummingbird cake is made in a Bundt pan. Not much is simpler in the cake world than a Bundt cake. And this one is topped with a sweet cream cheese glaze that is tangy, sweet, and so much easier than frosting a layer cake.
Basically, you get everything you love about hummingbird cake, with much less effort!
Why Do They Call It a Hummingbird Cake?
Hummingbird cake originated in Jamaica; some say the name comes from the fact that the cake is sweet enough to attract hummingbirds, while others think the yellow streaks of banana in the cake look like the feathers of a variety of hummingbird called the doctor bird by locals. In fact, in Jamaica, hummingbird cake is known as doctor bird cake!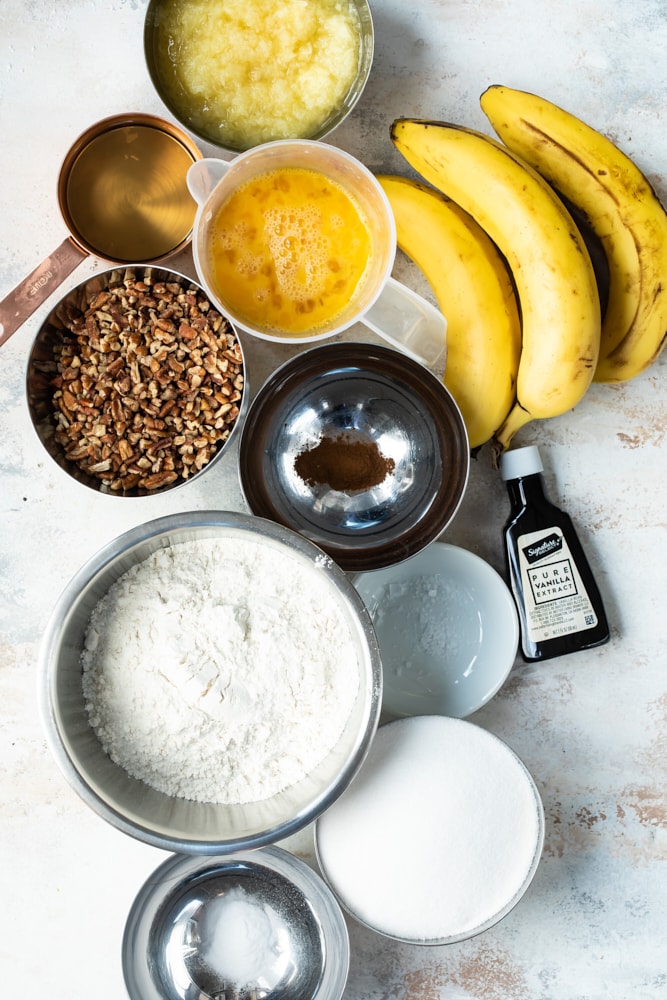 What You'll Need
Gather up all your standard hummingbird cake ingredients! Here's what you'll need to make this Bundt cake.
For the cake:
Chopped pecans
All-purpose flour – Here's how to measure flour.
Granulated sugar
Baking soda
Ground cinnamon
Salt
Eggs – Let the eggs come to room temperature.
Mashed ripe bananas – The riper the bananas, the more banana flavor your Hummingbird Bundt Cake will have.
Crushed pineapple
Canola oil – Another neutral-flavored oil can be used instead.
Vanilla extract
For the glaze:
Cream cheese – Let the cream cheese come to room temperature so it's easy to whip into a smooth glaze.
Confectioners' sugar
Vanilla extract
Milk
How to Toast Pecans
You can either spread the pecans on a sheet pan and roast them in a 350ºF oven for 10 to 15 minutes or toast them in a skillet set over medium heat until they're lightly browned and fragrant.
What Is the Difference Between Carrot Cake and Hummingbird Cake?
Carrot cake has a similar flavor profile to hummingbird cake, but the primary differences are that hummingbird cake is a little bit lighter, and it's made with banana instead of carrots.
How to Make Hummingbird Bundt Cake
Here's what you'll need to do to make hummingbird cake Bundt-cake-style.
Prepare. Preheat your oven to 350°F and grease a 14-cup Bundt pan. Sprinkle 1 cup of toasted pecans evenly into the bottom of the pan.
Make the batter. In a large mixing bowl, stir together the flour, sugar, baking soda, cinnamon, and salt. Then, stir in the eggs, bananas, pineapple, oil, and vanilla. Continue to stir just until the dry ingredients are moistened.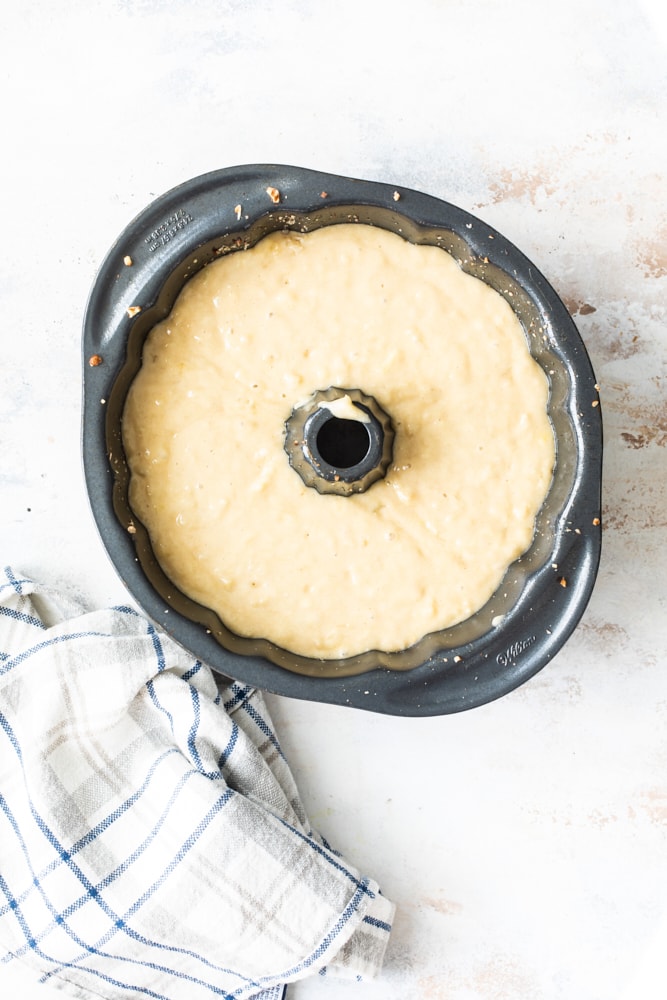 Bake. Spoon the batter evenly into the prepared pan, then bake for 60-70 minutes, or until a cake tester inserted into the center comes out clean.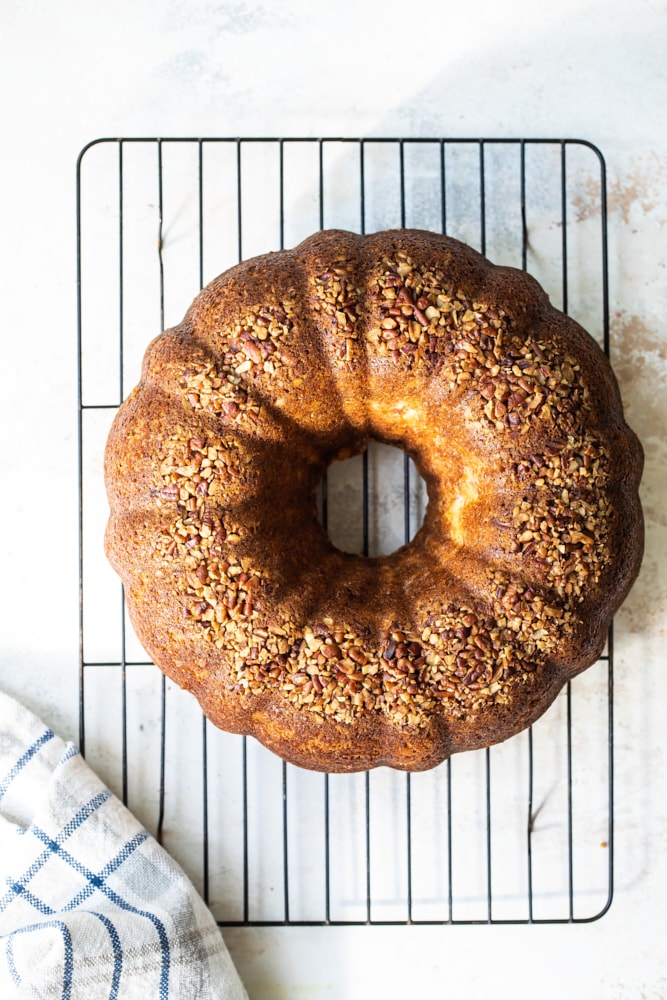 Cool. Let the cake cool in the pan on a wire rack for 15 minutes, then carefully remove the Bundt cake from the pan and return it to the rack to finish cooling. (Learn more: Why Every Baker Needs Wire Cooling Racks)
Make the glaze. Once the cake has cooled, place the cream cheese, sugar, vanilla, and a tablespoon of milk in a mixing bowl and use an electric mixer on medium speed to beat until smooth. Continue mixing and add about a teaspoon of milk at a time until the glaze is smooth and pourable.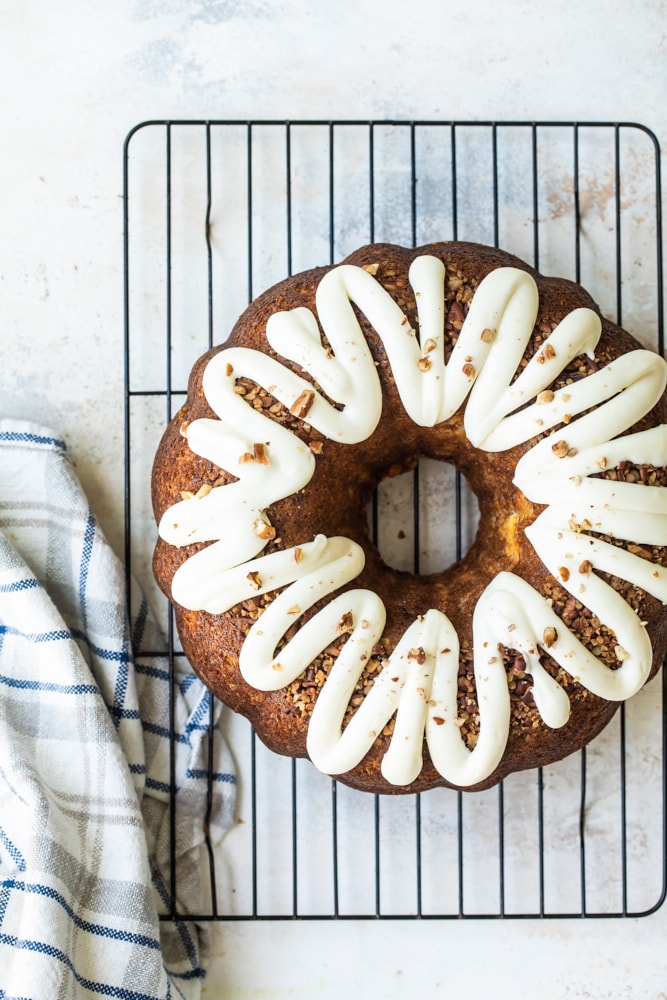 Finish. Pour the glaze over the Bundt cake, then sprinkle the remaining pecans over top.
Tips for Success
Read my tips for making Bundt cakes before starting this recipe to make sure it turns out perfect! Here are a few additional pointers:
Grease the pan generously. Bundt pans have lots of nooks and crannies, so be thorough. I use a cooking spray with flour, like Baker's Joy or Pam for Baking. If you have trouble with the spray settling at the bottom of the pan before you get the batter mixed, wait to spray the pan until you're ready to add the batter.
Don't drain the pineapple. The liquid adds more flavor and helps keep the cake moist.
Sift the confectioners' sugar. This will help prevent lumps in your glaze.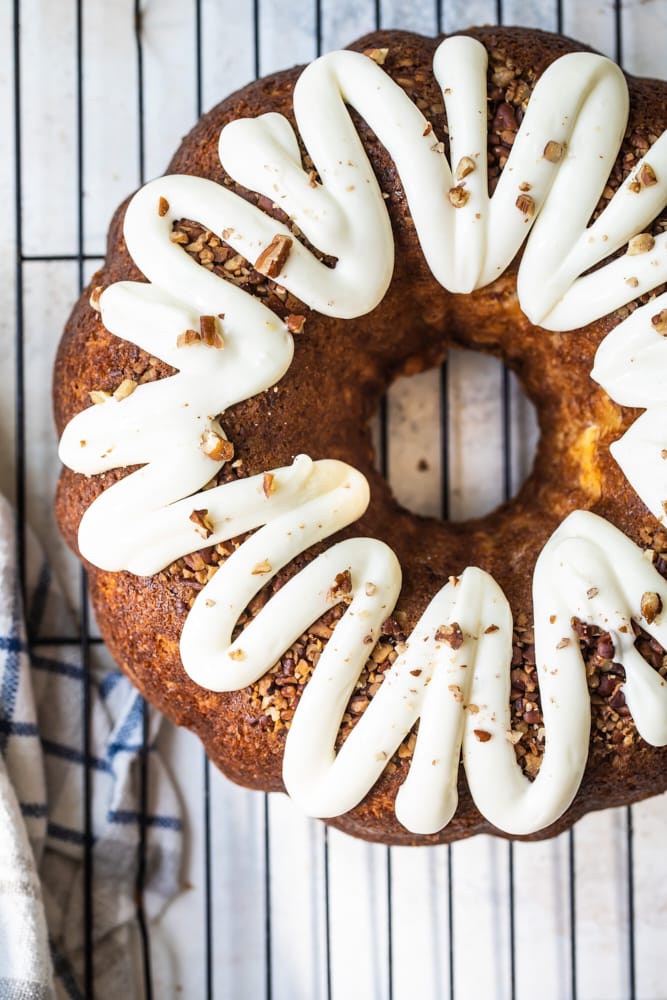 How to Store
Cream cheese frostings and glazes don't hold up well at room temperature, so store your Hummingbird Bundt Cake wrapped or in an airtight container in the refrigerator for up to a week. Bring the chilled cake to room temperature before serving.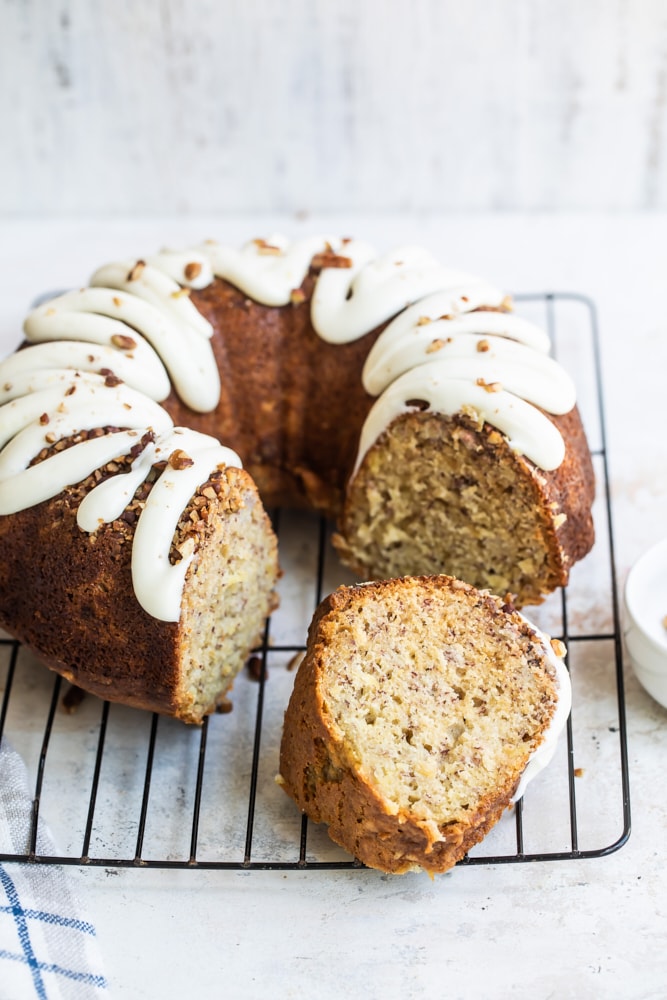 Can This Recipe Be Frozen?
Yes, you can freeze Hummingbird Bundt Cake well-wrapped or in an airtight storage container for up to 3 months. Let it thaw in the refrigerator before serving.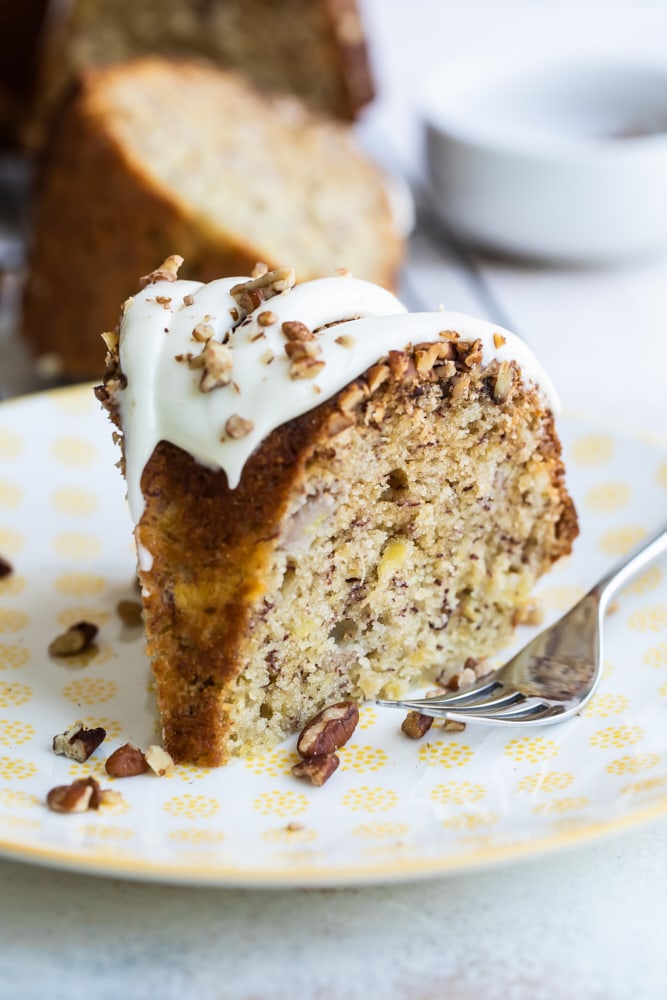 Video Tutorial: Hummingbird Bundt Cake