This Hummingbird Bundt Cake takes everything you love about that classic dessert and turns it into a simplified Bundt with a cream cheese glaze.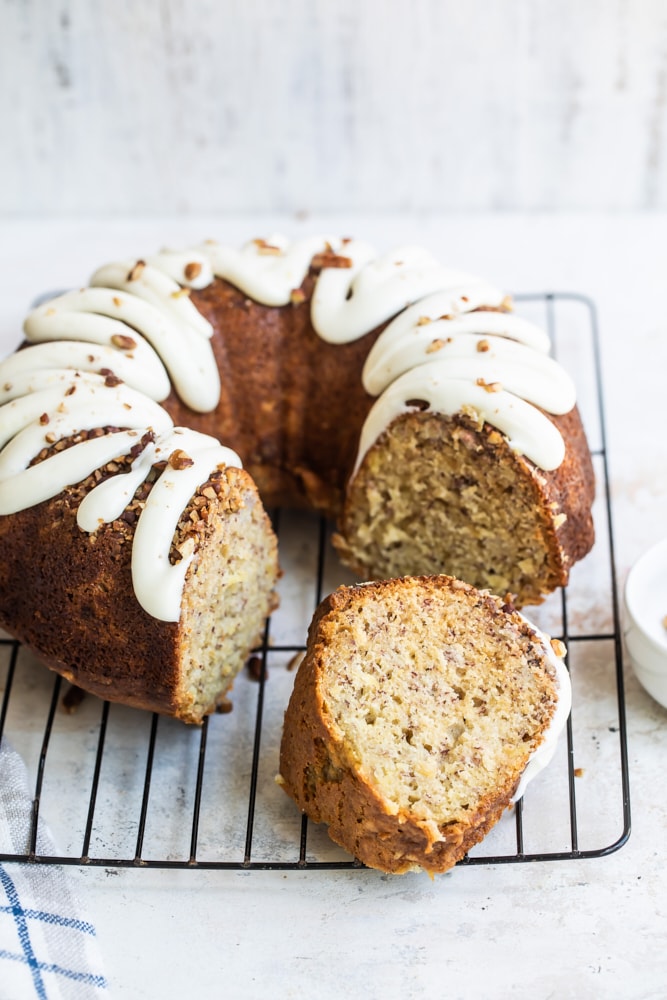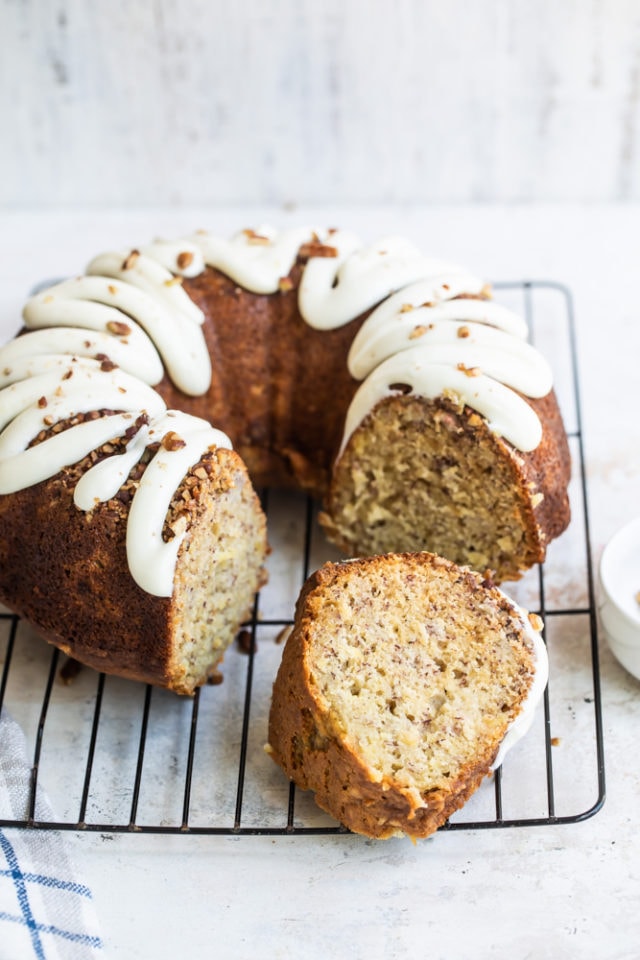 Hummingbird Cake is one of my very favorite cakes. I don't make it often because it's just too dangerous to have within fork's reach. There's just something so magical about that combination of bananas, pineapple, cinnamon, and cream cheese. It's hard to resist!
This Hummingbird Bundt Cake is a slight twist on the traditional dessert. It doesn't really vary in ingredients, texture, and flavor. The big change is its simplification by not making cake layers and skipping the frosting of those layers.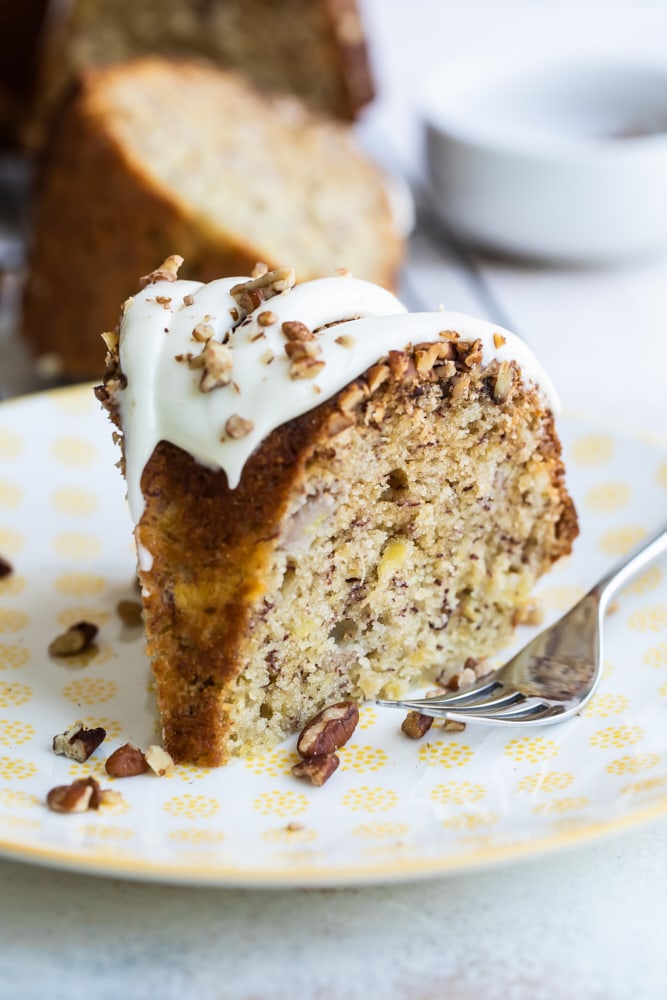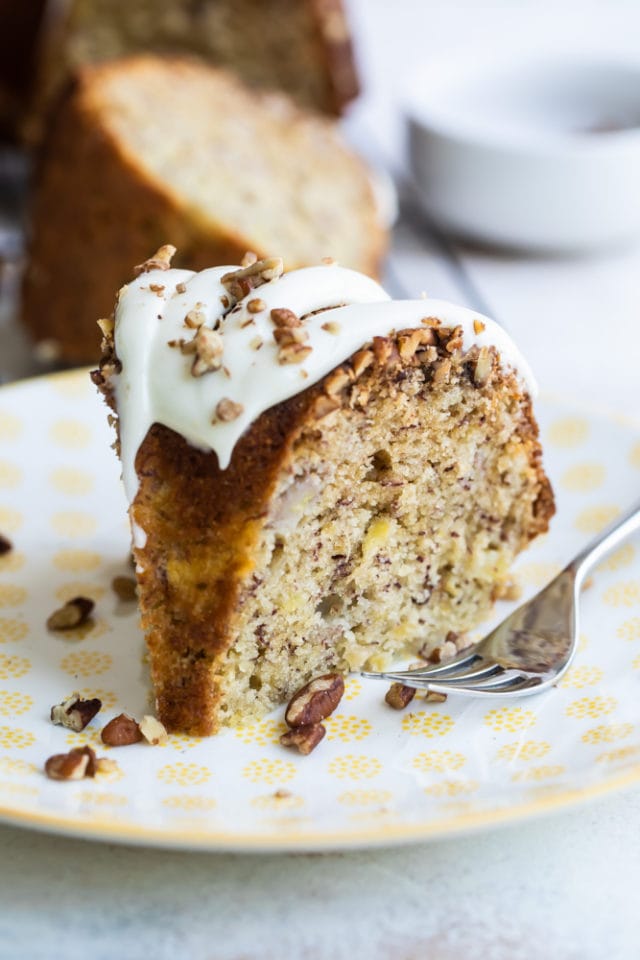 Not much is easier in the cake world than a Bundt cake. And this one is topped with a sweet cream cheese glaze that is so very good. So, you get all the best of Hummingbird Cake, but just dialed down a couple of notches in the labor department.


Tips for Success
Measure accurately. Use a kitchen scale to measure by weight if possible. Otherwise, use the spoon and sweep method for dry ingredients and take care to measure the other ingredients well.
Use a light-colored pan. Dark pans tend to over-bake the outside edges while leaving the center under-baked.
Grease the pan generously. Bundt pans have lots of nooks and crannies, so be sure to be thorough. I use a cooking spray with flour, like Baker's Joy or Pam for Baking. If you have trouble with the spray settling toward the bottom of the pan before you get the batter mixed, wait to spray the pan until you're ready to add the batter.
Toast the pecans. The flavor of the toasted pecans really stands out here. To toast them, spread them in a single layer on a rimmed baking sheet. Bake at 350°F for 10-15 minutes, until the pecans are toasted and fragrant.
Don't drain the pineapple. The liquid adds more flavor and helps keep the cake moist.
Bring the cream cheese to room temperature. It will mix more easily and make a smoother glaze.
Sift the confectioners' sugar. This will help prevent lumps in your glaze.
Store leftovers in the refrigerator. Cream cheese frostings and glazes generally don't hold up well at room temperature. Bring the chilled cake to room temperature before serving.
For more Bundt tips, see my Bundt Cake Baking Tips.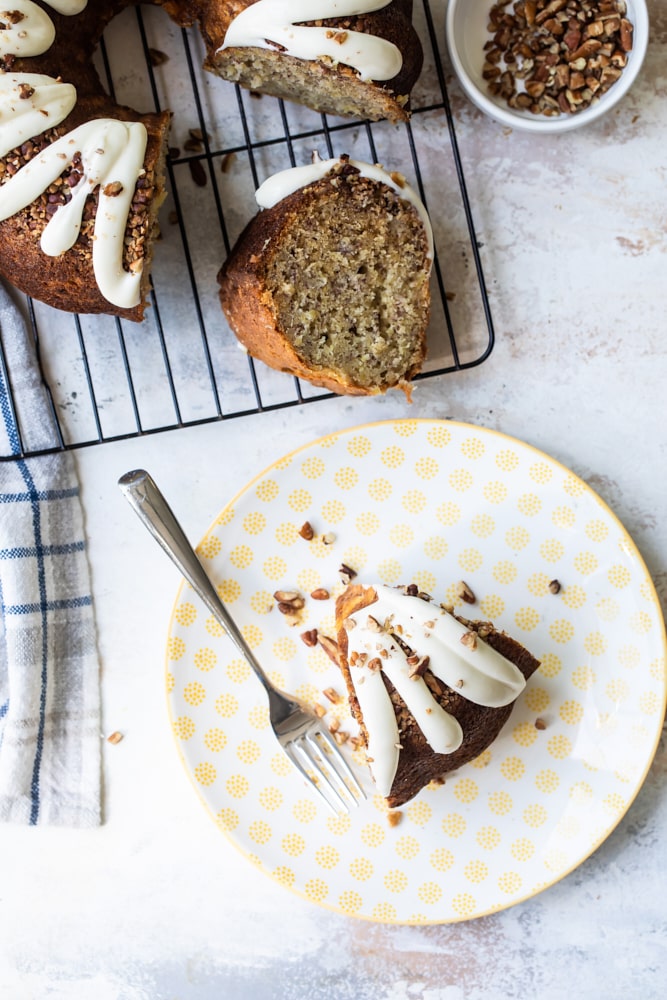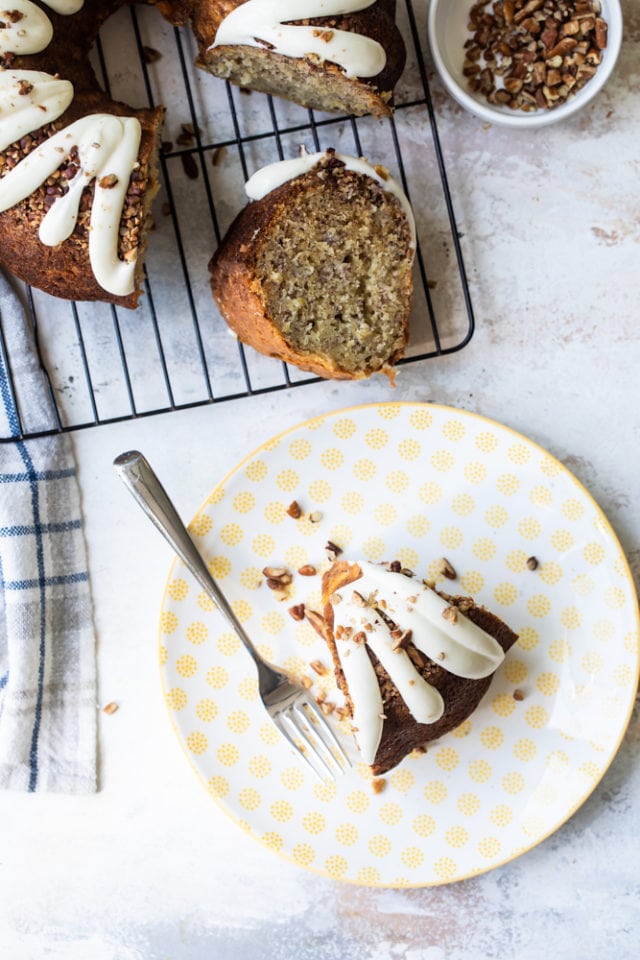 If you've never heard of Hummingbird Cake, I highly encourage you to make this wonderful Hummingbird Bundt Cake. If you're a fan of the classic dessert, then I hope you'll try this Bundt version. Either way, I think you'll agree that this is one fantastic dessert!
More Hummingbird Desserts