This lemon crumb yogurt cake is ultra moist, surprisingly easy, and full of bright citrus flavor. You'll love the layers of lemon curd and buttery crumbs on top!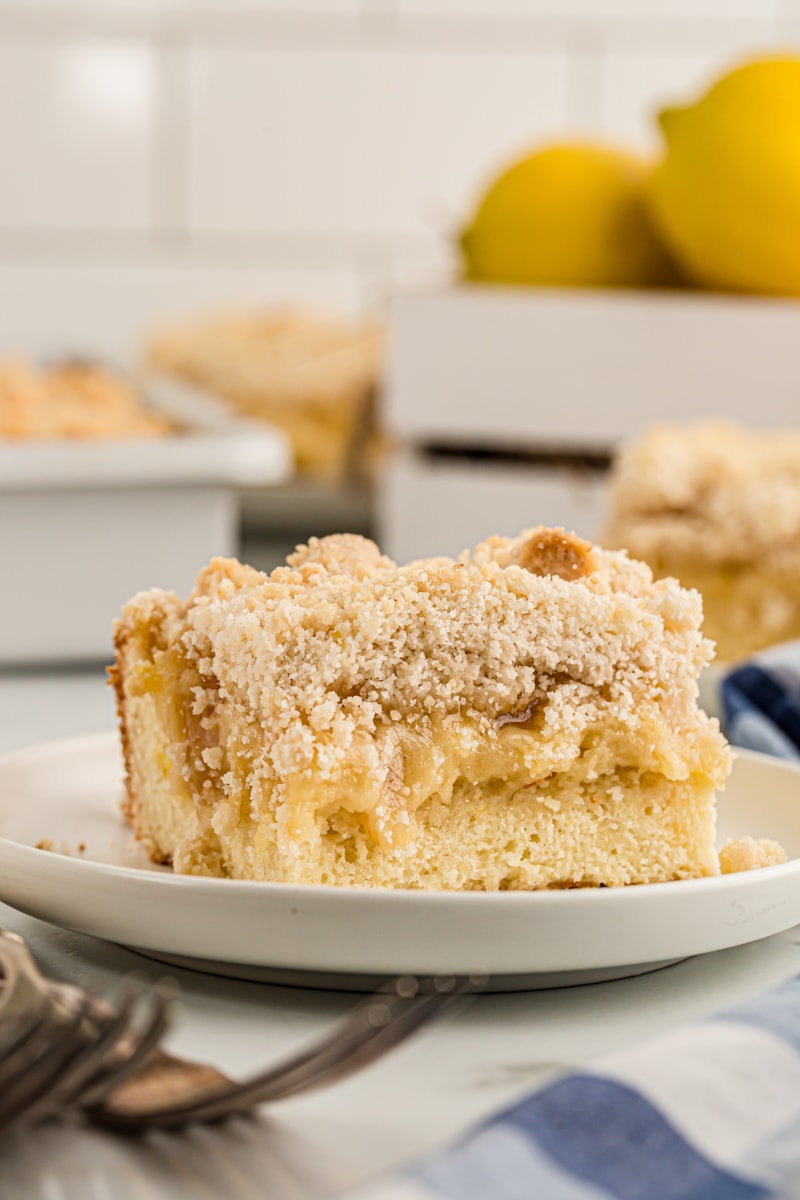 Easy Lemon Yogurt Cake
You might not be a fan of yogurt for breakfast and snacking, but I haven't yet met someone who doesn't like it in cake.
Yogurt brings a lot to the table when it comes to baking. It creates a tender crumb, keeping your cakes perfectly moist. It also adds just a touch of tanginess, similar to sour cream in sour cream pound cake and chocolate sour cream Bundt cake.
In this lemon crumb yogurt cake, the tangy yogurt serves to amp up the bright lemon flavor in the recipe. There's lemon in each component of this cake—the cake itself, the curd, and the crumb. While that might seem like lemon overkill, it's really not. And, that's coming from someone who doesn't like strong lemon flavor.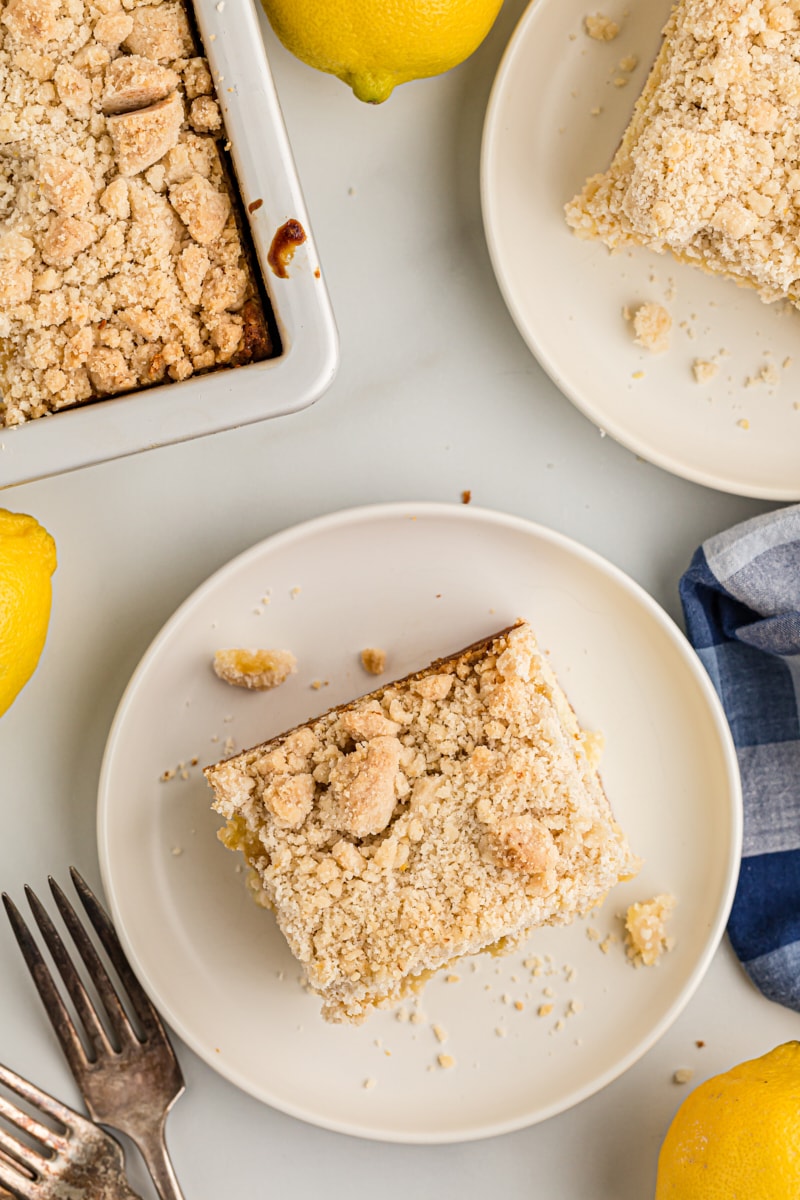 Why You'll Love this Lemon Crumb Yogurt Cake Recipe
These are some of the many reasons I love this lemony yogurt cake recipe: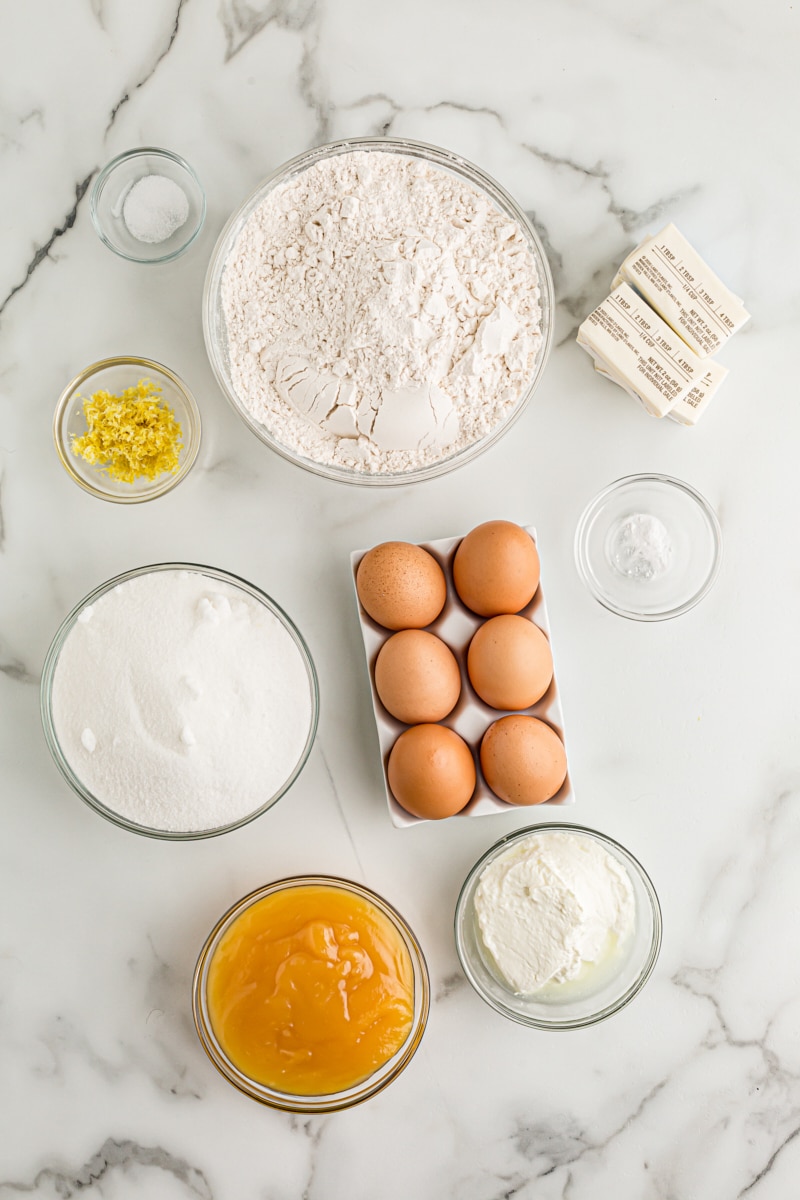 What You'll Need
Scroll down to the recipe card to find the ingredient quantities and recipe instructions.
For the Crumb Topping:
For the Cake:
Is There a Difference Between Greek Yogurt and Regular Yogurt?
Yes, there is; Greek yogurt is strained to remove the whey, making it thicker and giving it a higher protein content. It's important to use Greek yogurt in this recipe.
How to Make Lemon Crumb Yogurt Cake
This lemon crumb yogurt cake is quite simple to make, although it does require one extra step: beating the egg whites and sugar separately. This helps the cake achieve that light, airy texture!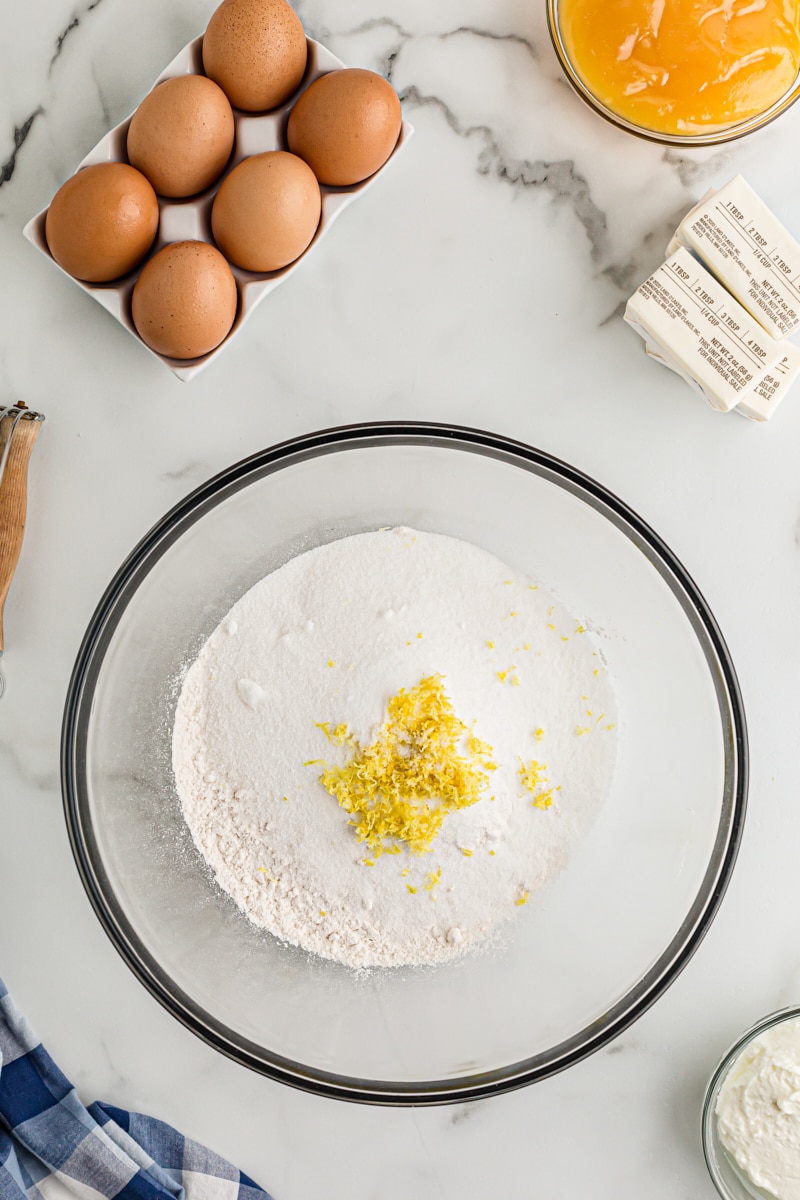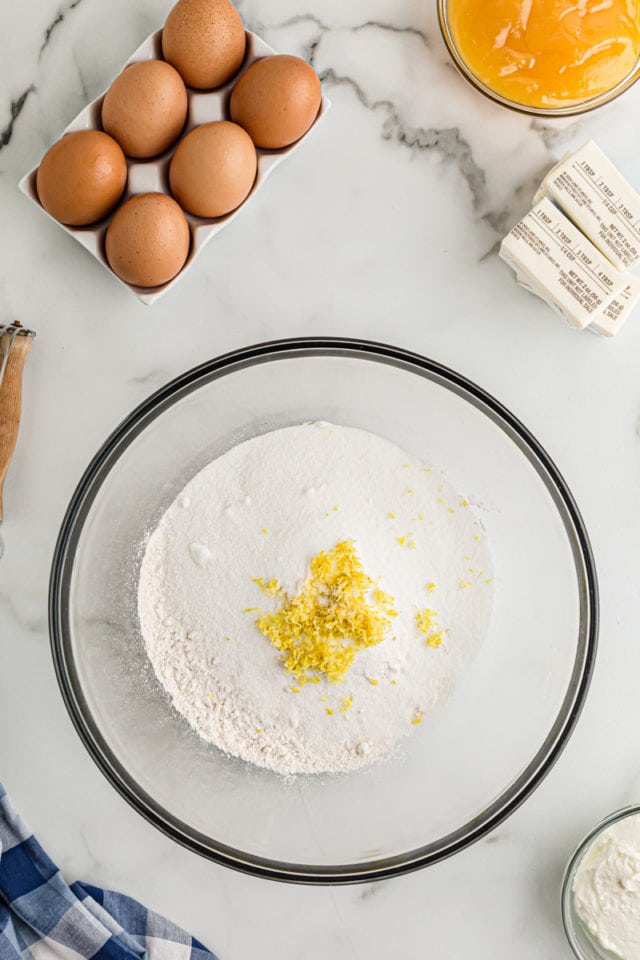 Make the crumb topping. Whisk the flour, sugar, lemon zest, and salt in a bowl. Use a pastry blender to work the butter into the dry ingredients until a crumbly mixture forms. Cover and chill.
Prepare. Preheat your oven to 350°F, then grease and flour a 9-inch square baking pan.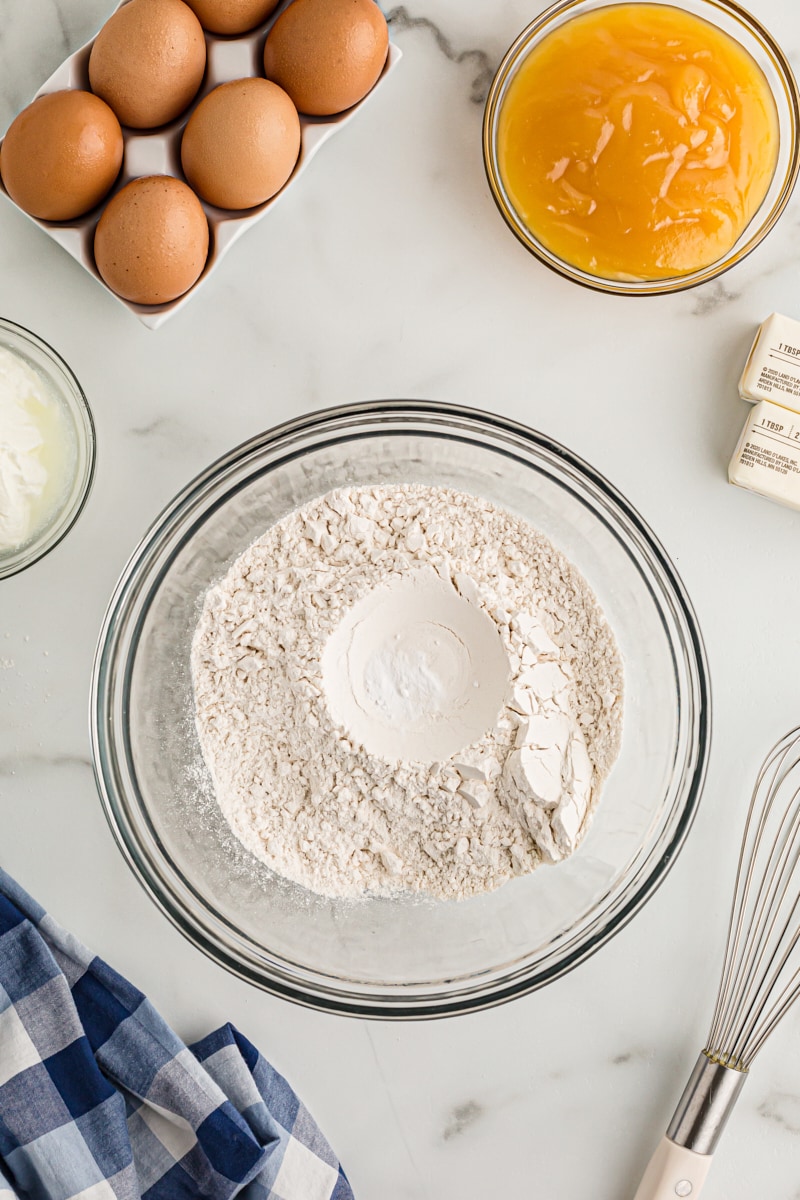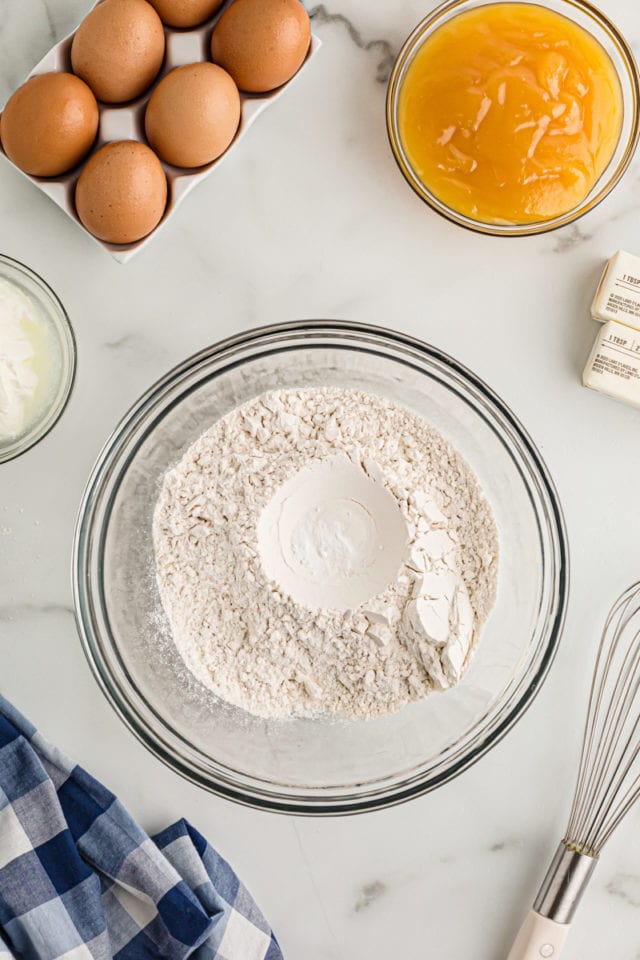 Mix the dry ingredients. Whisk together the flour and baking soda. Set aside.
Combine the butter, sugar, and yolks. Use an electric mixer on medium speed to beat the butter and 1 1/4 cups of sugar until the mixture is light and fluffy. Beat in the egg yolks one at a time.
Add the dry ingredients, yogurt, and zest. Reduce the mixer speed to low and add the flour mixture to the butter mixture in three portions, alternating with two portions of yogurt. Stir in the lemon zest.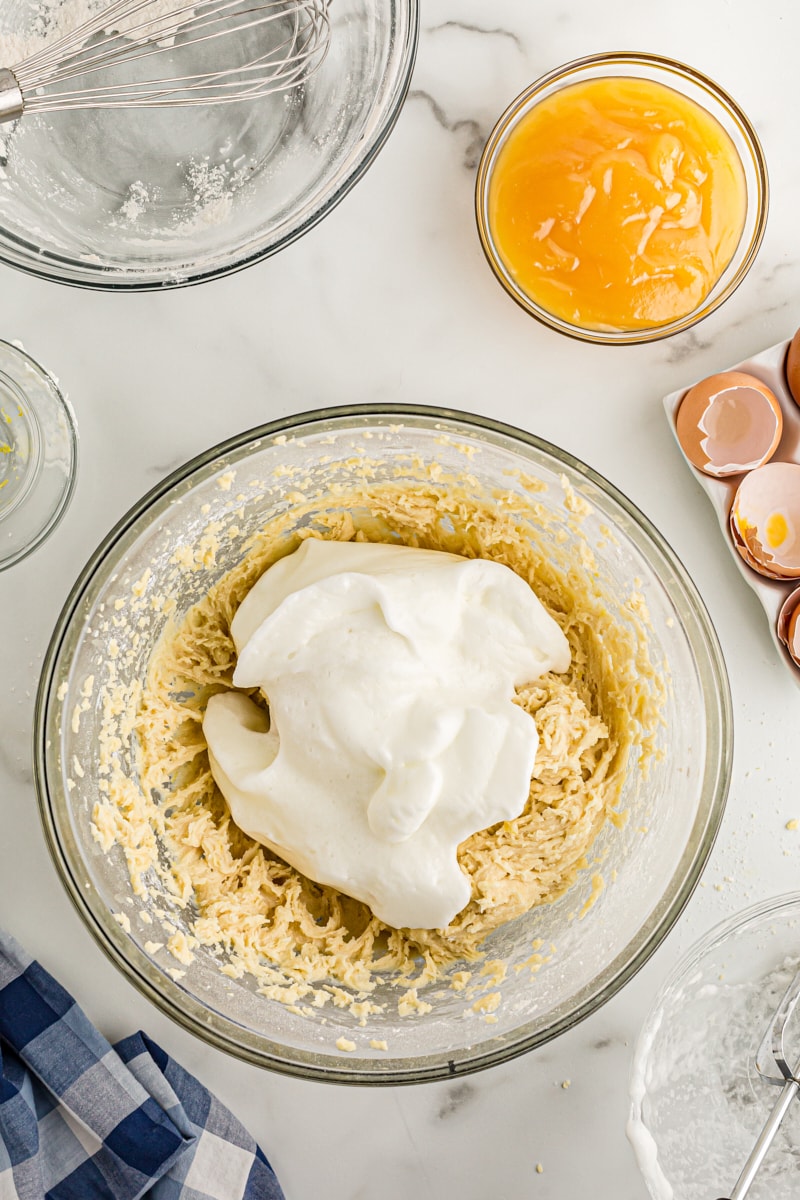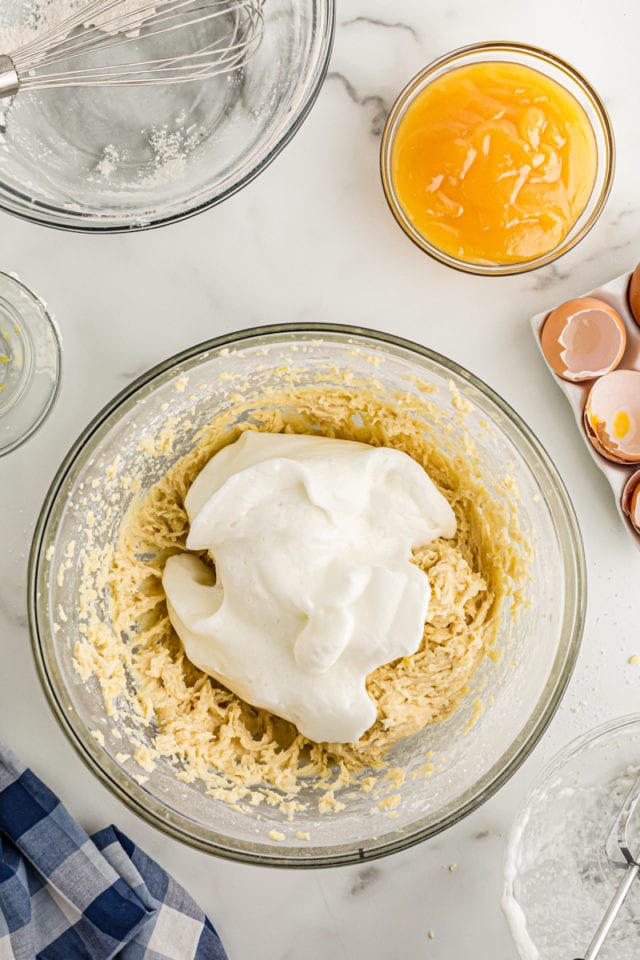 Beat the egg white and sugar. In a separate bowl, beat the egg whites on high speed until they're foamy. Slowly add 1/4 cup of sugar and continue beating until stiff peaks form. Gently fold the egg white mixture into the batter.
Assemble. Pour the batter into the prepared pan, then drop dollops of the lemon curd over the batter. Use a knife to swirl the curd gently into the cake. Sprinkle the chilled crumb topping on top.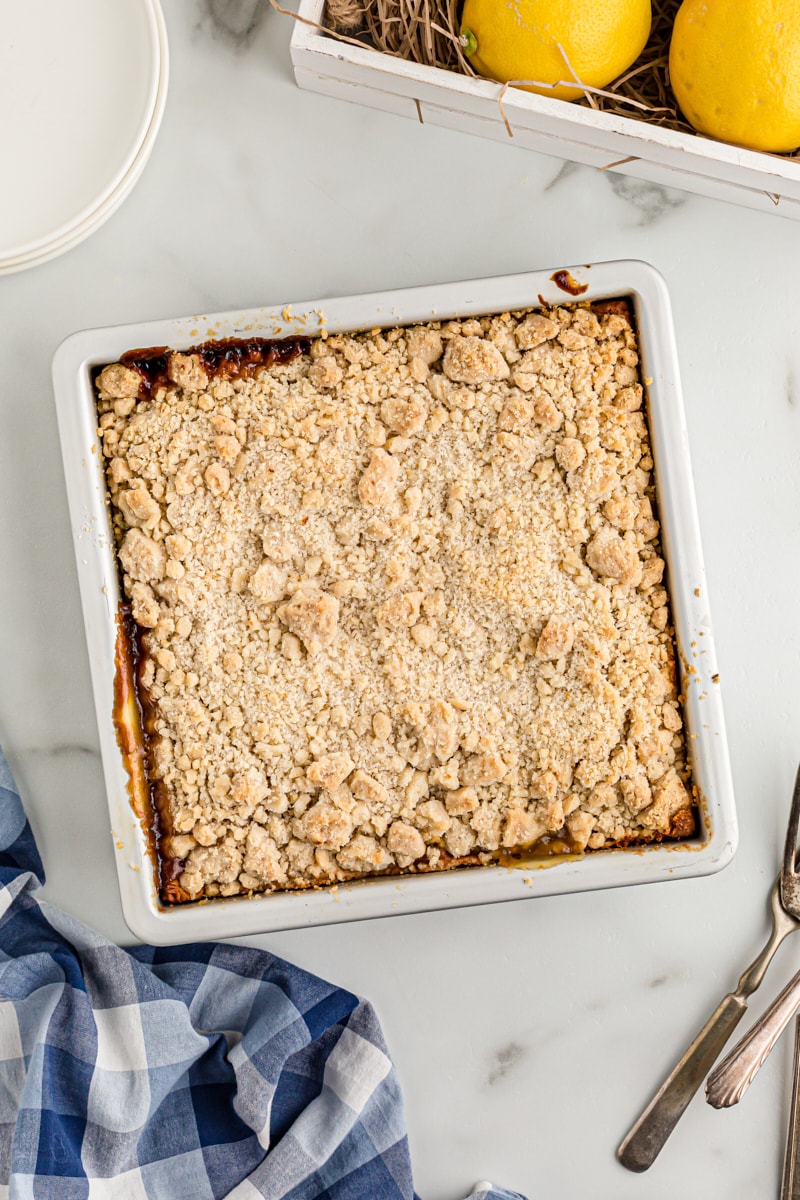 Bake. Place the pan in the oven and bake 45 to 50 minutes, or until a toothpick inserted into the center comes out clean.
Tips for Success
Read over my baking tips for beginners, then follow these additional tips and pointers for a perfect lemon crumb yogurt cake.
Don't over-mix. Not only will this toughen the gluten strands in the flour, it also has the potential to deflate your egg whites.
Know when you have stiff peaks. You'll know your egg whites have stiff peaks when you can lift the beaters from the mixing bowl and the peaks stand up and don't flop over at the tips. If the tips curl, you have medium peaks; keep beating.
Swirl gently. You don't want to mix the lemon curd into the cake batter to the point where it disappears; instead, you want to create ribbons of lemon curd in the cake.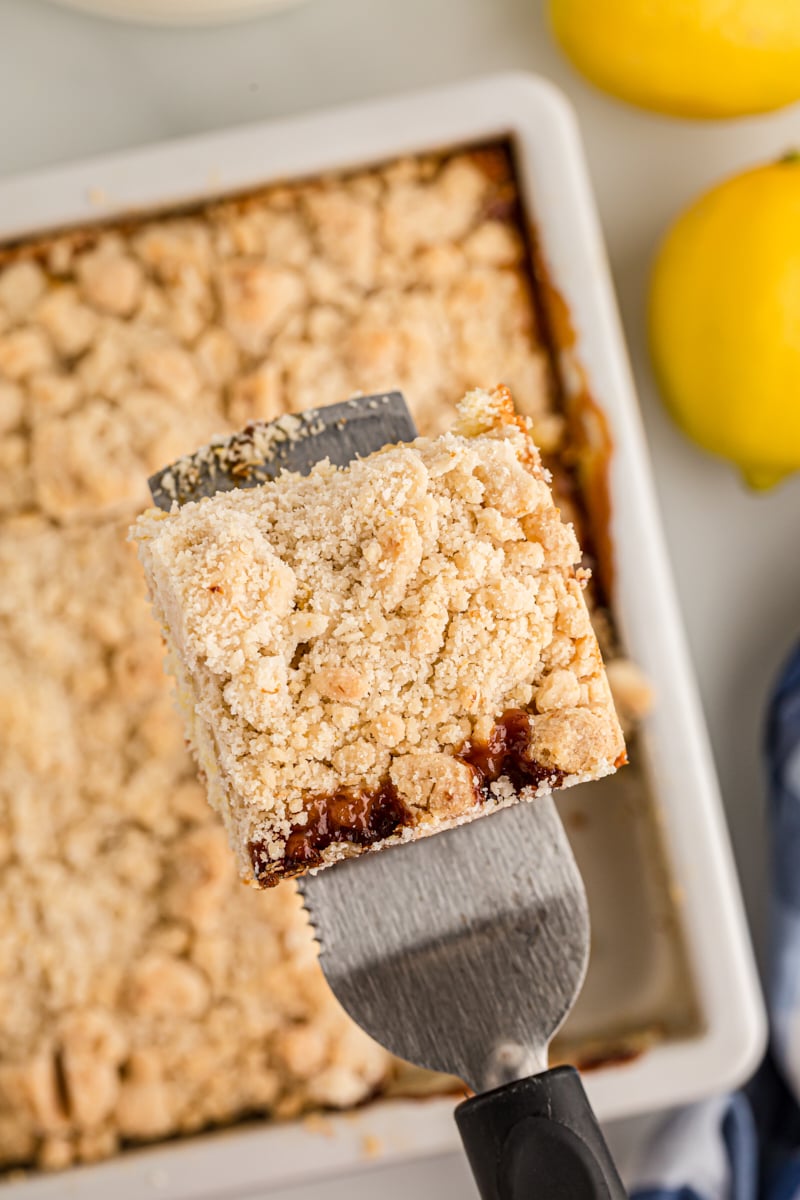 Variations
You could easily put a different spin on this recipe by choosing another citrus fruit as the primary flavor. Use orange curd and orange zest; lime curd and lime zest; or even grapefruit curd and grapefruit zest.
Serving Suggestions
Serve lemon crumb yogurt cake warm or at room temperature. It's delicious without any garnishes, but if you feel so inclined, a dollop of whipped cream is always good.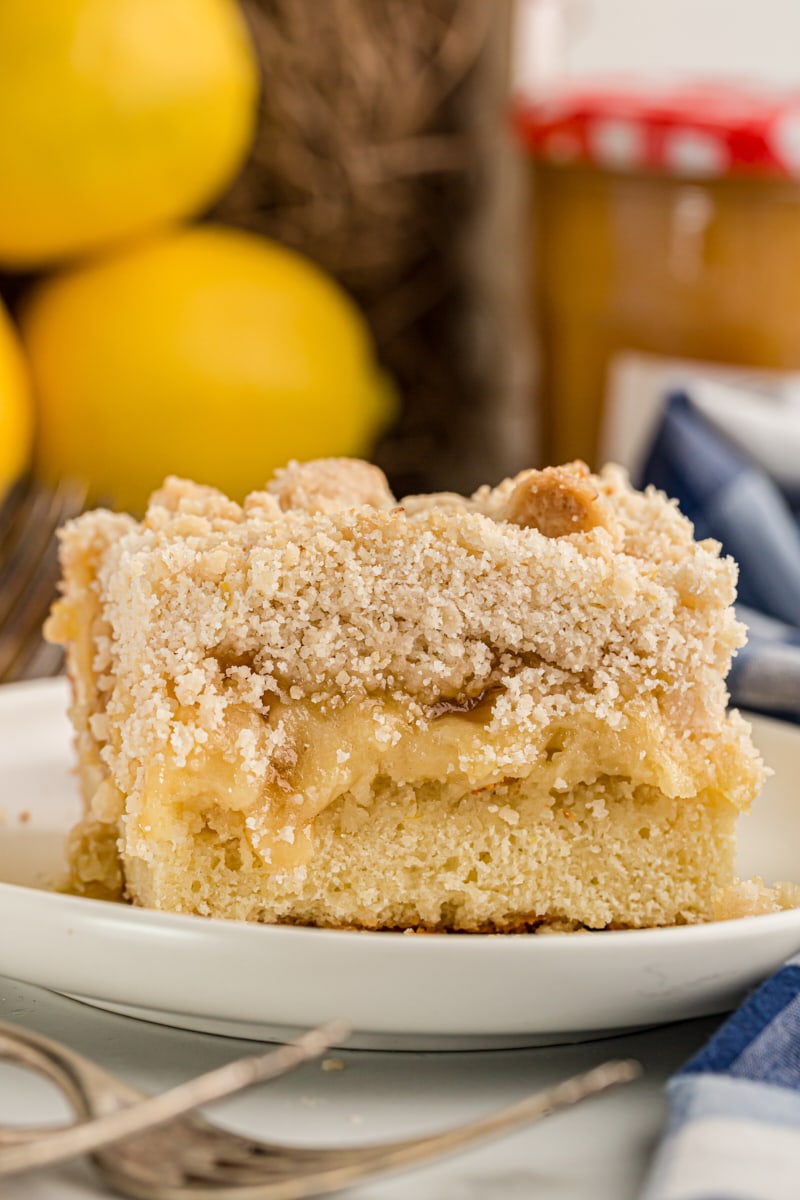 How to Store
Store lemon crumb yogurt cake covered in the pan or in an airtight container at room temperature for 3 to 4 days. You can also refrigerate it for 5 to 6 days; this is advisable if your kitchen is warm.
Can This Recipe Be Frozen?
Yes, you can freeze this lemon crumb yogurt cake for up to 2 months. Wrap it tightly in the pan or transfer leftovers to an airtight storage container. Let it thaw at room temperature before serving.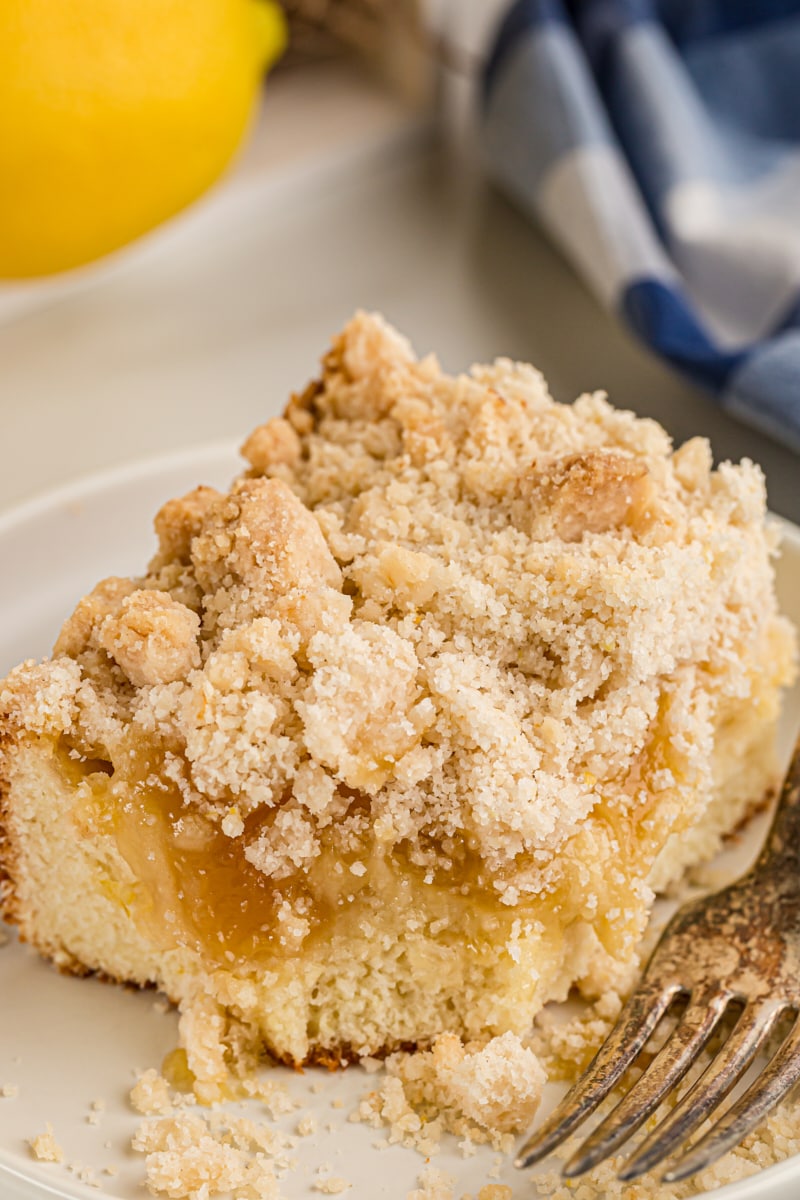 More Baking Recipes With Yogurt