January 27, 2014
Lemon Yogurt Crumb Cake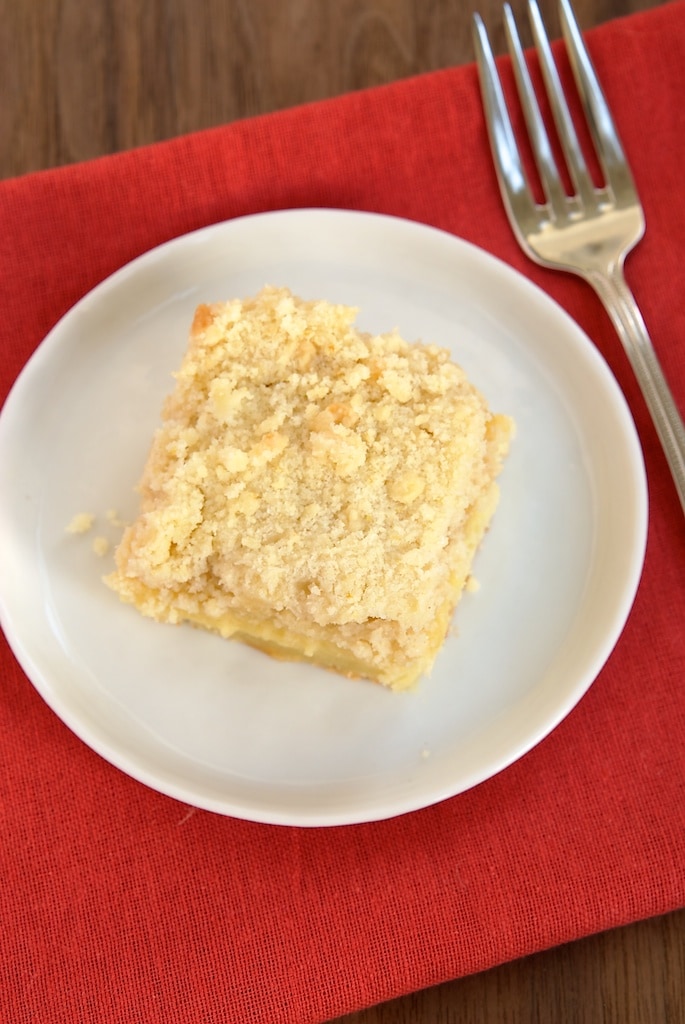 At the beginning of the year, many folks are thinking about resolutions and diets. I'm thinking about lemons. Remember that simple homemade lemon curd I had been wanting to make for so long? This cake is what finally pushed me to make it.
There is lemon in each component of this cake – the cake itself, the curd, and the crumb. While that might seem like lemon overkill, it's really not. And, that's coming from someone who doesn't like strong lemon flavor.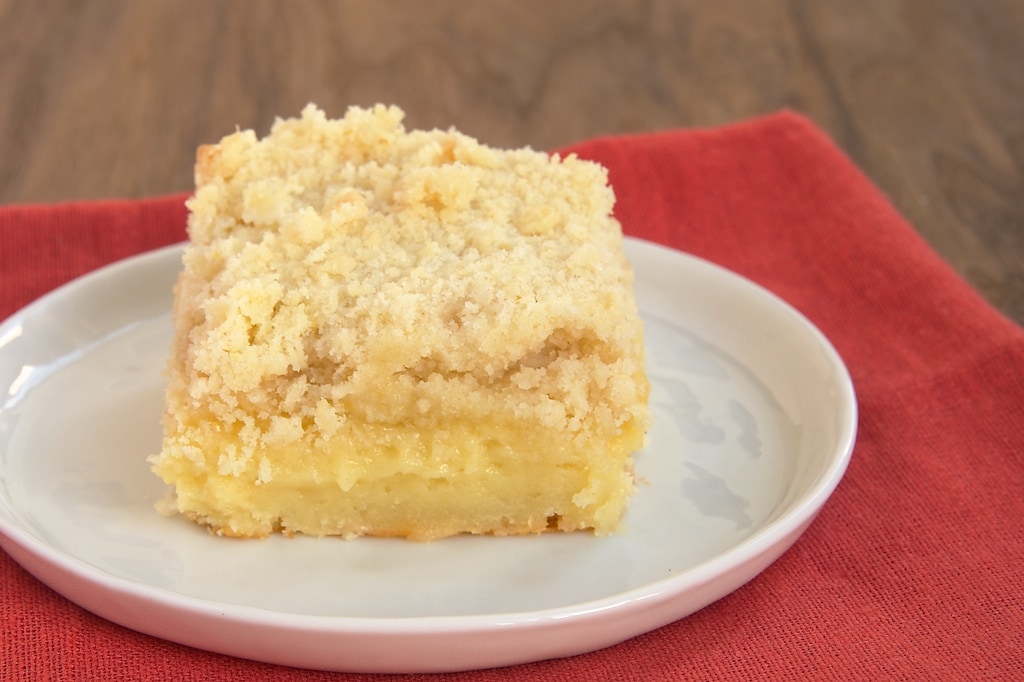 The texture of this cake is just lovely. It's so light and moist. Honestly, I'd be happy with this cake all on its own. Of course, the lemon curd and crumb make it absolutely wonderful.
If you don't want to make your own lemon curd, you can use store-bought. The lemon curd layer is theoretically optional, but I just love that little extra bite of lemon you get with the curd swirled into the cake.
Find more lemon recipes in the Recipe Index.
Lemon Yogurt Crumb Cake
Yield: 16 servings
Prep Time:25 minutes
Cook Time:50 minutes
Lemon Yogurt Crumb Cake is a light, moist cake full of lemon flavor.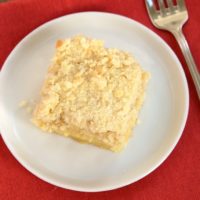 Ingredients:
For the crumb topping:
1 & 1/2 cups all-purpose flour
2/3 cup granulated sugar
1 tablespoon lemon zest
1/4 teaspoon salt
1/2 cup unsalted butter, cold and cut into 1/2-inch pieces
For the cake:
1 & 1/2 cups all-purpose flour
1/8 teaspoon baking soda
1/2 cup unsalted butter, softened
1 & 1/4 cups plus 1/4 cup granulated sugar
3 large egg yolks
1/2 cup plain Greek yogurt
1 tablespoon lemon zest
3 large egg whites
3/4 cup lemon curd (homemade or store-bought)
Directions:
To make the crumb topping:
Combine the flour, sugar, lemon zest, and salt. Add the butter and combine using a pastry blender or a fork. Mix until crumbly.
Cover and chill.
To make the cake:
Preheat oven to 350°F. Grease and flour a 9-inch square baking pan.
Whisk together the flour and baking soda. Set aside.
Using an electric mixer on medium speed, beat the butter and 1 & 1/4 cups sugar until light and fluffy. Add the egg yolks, one at a time, beating just until combined after each addition.
Reduce mixer speed to low. Add the flour mixture in three portions, alternating with two portions of yogurt. Stir in the lemon zest.
In a separate bowl, beat the egg whites with a mixer at high speed until foamy. Gradually add 1/4 cup sugar and continue beating until stiff peaks form. Gently fold into the batter.
Transfer the batter to the prepared pan. Drop the lemon curd over the batter. Use a knife to swirl the curd gently into the cake. Sprinkle with the chilled crumb topping.
Bake 45 to 50 minutes, our until a pick inserted into the center comes out clean.
Serve warm or at room temperature.