April 24, 2008
Chocolate Chip Cookie Dough Cheesecake Bars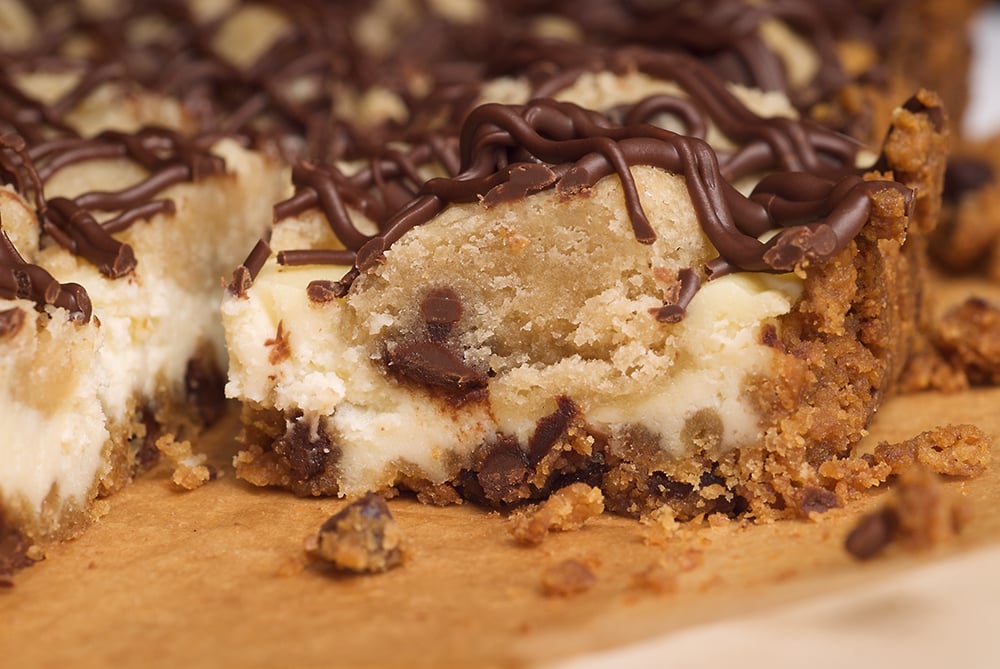 If the title of these alone doesn't win you over, then I will have to shut down BoB. Really, there's no hope if these don't appeal to you.
These delicious bars begin with a graham cracker crust. While that usually means graham cracker crumbs and butter, this crust also contains miniature chocolate chips. Then, there is a cheesecake layer, which has been topped with dollops of chocolate chip cookie. If that weren't enough, the whole thing is drizzled with even more chocolate.


I am happy to tell you that the end result is every bit as good as the name would imply. Each component is delicious, and the combination is just wonderful.
These bars come from The Essential Chocolate Chip Cookbook, which also brought us those Chocolate Chip-Filled Melting Moments. As you may also know, that is also the book I'm giving away. The response to this cookbook giveaway was beyond what I could have ever imagined. I sincerely thank you all for your participation and enthusiasm. I wish I could give all of you a copy of this book. Rest assured that this will not be my last giveaway. This was far too much fun to stop with just one!
That carafe held 772 chocolate chips. No one guessed that number exactly, but kimkim was closest with 777. Congratulations!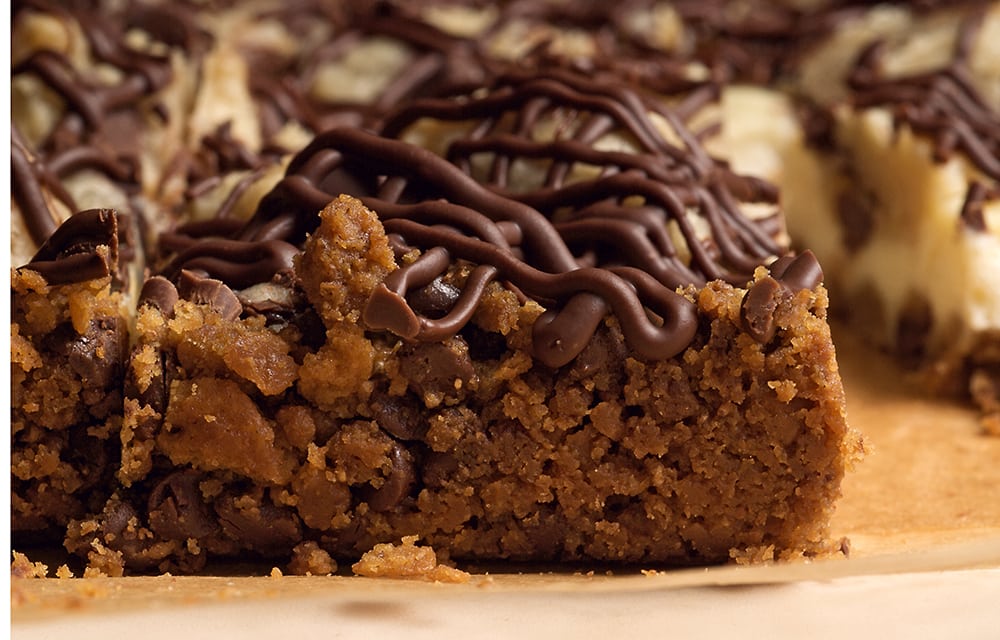 Chocolate Chip Cookie Dough Cheesecake Bars
Yield: 16 2-inch bars
Prep Time:30 minutes
Cook Time:36 minutes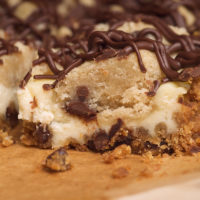 Ingredients:
For the crust:
1 & 1/2 cups graham cracker crumbs
5 tablespoons unsalted butter, melted
2/3 cup miniature semisweet chocolate cups
For the cookie dough:
5 tablespoons unsalted butter, softened
1/3 cup packed light brown sugar
3 tablespoons granulated sugar
1/8 teaspoon salt
1 teaspoon vanilla extract
3/4 cup all-purpose flour
1 cup semisweet chocolate chips
For the filling:
10 ounces cream cheese, softened
1/4 cup granulated sugar
1 large egg, at room temperature
1 teaspoon vanilla extract
For the chocolate topping:
1/3 cup semisweet chocolate chips
1/2 tablespoon unsalted butter, if necessary
Directions:
To make the crust:
Preheat oven to 325°. Butter a 9″-square baking pan. Line pan with parchment paper, leaving enough to extend over the sides. Butter the parchment paper.
Combine graham cracker crumbs and butter until crumbs are moistened. Stir in chocolate chips.
Press crust mixture into bottom of pan and 1 inch up sides. Bake for 6 minutes. Set pan on wire rack to cool.
To make the cookie dough:
Using an electric mixer on medium speed, mix butter, brown sugar, sugar, salt, and vanilla extract at medium speed until smooth.
Decrease mixer speed to low and add flour. Mix just until incorporated. Stir in chocolate chips. Set aside.
To make the filling:
Using an electric mixer, beat cream cheese and sugar just until smooth. Add egg and vanilla extract, beating just until blended.
Pour batter into baked crust. Drop cookie dough by teaspoonfuls over the top of the filling.
Bake about 30 minutes, or until set. Transfer to wire rack.
To make the chocolate topping:
Melt chocolate chips in the microwave or in a double boiler. Add butter if necessary to make chocolate smooth.
Drizzle over top of bars. Cool bars completely in pan (about an hour).
Using the edges of the parchment paper, remove bars from pan. Cut into bars and serve.