July 23, 2006
Oatmeal Chocolate Chip Muffins with Chocolate Streusel
If you're looking for an excuse to have a little chocolate for breakfast, then I'm here to help with these Oatmeal Chocolate Chip Muffins with Chocolate Streusel.
Whether you like muffins for a grab-and-go breakfast, a sweet afternoon snack, or even a simple dessert, these Oatmeal Chocolate Chip Muffins with Chocolate Streusel are just the thing.
These muffins are wonderfully soft and just flat-out delicious. They're pretty great all on their own with just a bit of oats for a little chewiness and just enough chocolate chips for some extra sweetness. But, it's that simple chocolate streusel on top really makes them something special.


The streusel is a fairly loose mixture, as opposed to something like a crumb mixture. What I really love about it (besides the flavor, of course!) is that the mixture is loose enough that some of it will inevitably work its way down the sides of the batter as you sprinkle it on top of the muffins. That means that your baked muffins will have little patches of streusel around the sides, too.
The chocolate flavor isn't overwhelming. Rather, it's more on the subtle side, giving you just a bit of sweet chocolate inside and on top of an otherwise simple, soft, moist muffin. I think semisweet chocolate is a great fit, as milk chocolate would likely make these muffins too sweet.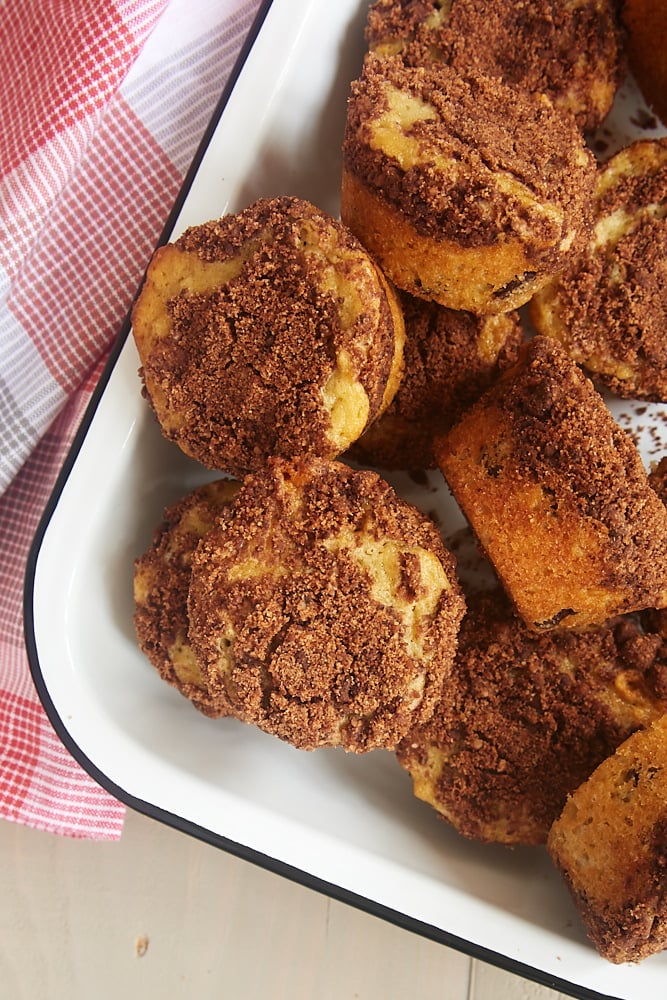 Don't be put off by the long list of ingredients. These muffins come together quickly and easily. I use a basic muffin method to mix the batter. That makes mixing a bit faster, and you won't need to get out your electric mixer. You'll just need a big bowl and a big spoon!
While I think these might be best served warm, it's a slim victory over room temperature. Keep them in an airtight container at room temperature, and they should stay plenty soft for a few days. Of course, they're so very good that they may not last that long!
Find more muffin recipes in the Recipe Index.
More Chocolate for Breakfast
We are a participant in the Amazon Services LLC Associates Program, an affiliate advertising program designed to provide a means for us to earn fees by linking to Amazon.com and affiliated sites.
Oatmeal Chocolate Chip Muffins with Chocolate Streusel
Yield: 12 standard size muffins
Prep Time:15 minutes
Cook Time:22 minutes
These easy Oatmeal Chocolate Chip Muffins with Chocolate Streusel are simple, soft, moist muffins filled with chocolate chips and topped with a simple chocolate streusel. A great excuse to have a little chocolate for breakfast!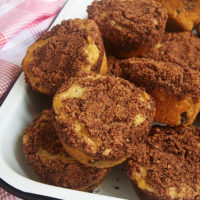 Ingredients:
For the streusel:
1/3 cup firmly packed light brown sugar
1/4 cup all-purpose flour
2 tablespoons unsweetened cocoa powder
2 tablespoons unsalted butter, melted and slightly cooled
pinch of salt (optional)
For the muffins:
1 & 1/4 cups all-purpose flour
1 cup old-fashioned or quick oats
3/4 cup granulated sugar
1 teaspoon baking powder
1/2 teaspoon baking soda
1/2 teaspoon salt
3/4 cup buttermilk
1/4 cup unsalted butter, melted and cooled*
1 large egg, lightly beaten
1/2 teaspoon vanilla extract
1/2 cup semisweet chocolate chips
Directions:
To make the streusel:
Preheat oven to 350°F. Grease or line 12 standard muffin cups.
Combine the brown sugar, flour, cocoa powder, butter, and salt. Set aside.
To make the muffins:
Stir together the flour, oats, sugar, baking powder, baking soda, and salt. Make a well in the center of the mixture.
Combine the buttermilk, butter, egg, and vanilla. Pour into the well of the flour mixture. Stir just until combined.
Stir in the chocolate chips.
Divide the batter among the prepared muffin cups, using about 3 tablespoons of batter in each cup.
Sprinkle the streusel mixture over the top of each muffin.
Bake 20 to 22 minutes, or until the muffins are golden brown and a pick inserted into the center comes out clean.
Cool the muffins in the pan for 5 minutes. Then transfer to a wire rack to continue cooling or serve while warm.
Notes:
*You can substitute 1/4 cup vegetable oil if you prefer.