If you're looking for an excuse to have a little chocolate for breakfast, then I'm here to help with these Oatmeal Chocolate Chip Muffins with Chocolate Streusel.


Whether you like muffins for a grab-and-go breakfast, a sweet afternoon snack, or even a simple dessert, these Oatmeal Chocolate Chip Muffins with Chocolate Streusel are just the thing.
These muffins are wonderfully soft and just flat-out delicious. They're pretty great all on their own with just a bit of oats for a little chewiness and just enough chocolate chips for some extra sweetness. But, it's that simple chocolate streusel on top really makes them something special.
The streusel is a fairly loose mixture, as opposed to something like a crumb mixture. What I really love about it (besides the flavor, of course!) is that the mixture is loose enough that some of it will inevitably work its way down the sides of the batter as you sprinkle it on top of the muffins. That means that your baked muffins will have little patches of streusel around the sides, too.
The chocolate flavor isn't overwhelming. Rather, it's more on the subtle side, giving you just a bit of sweet chocolate inside and on top of an otherwise simple, soft, moist muffin. I think semisweet chocolate is a great fit, as milk chocolate would likely make these muffins too sweet.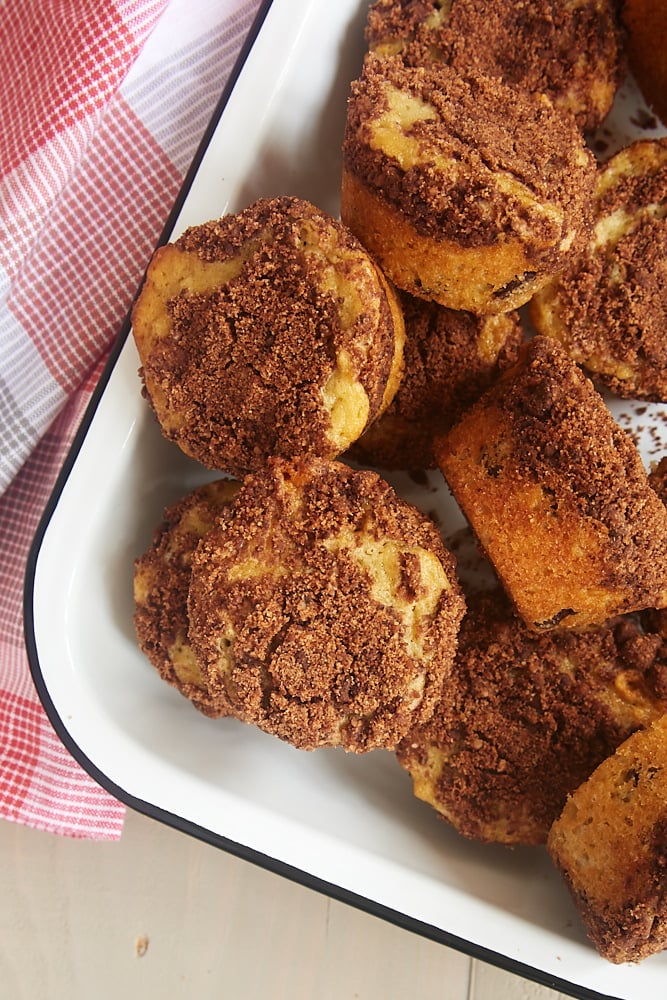 Don't be put off by the long list of ingredients. These muffins come together quickly and easily. I use a basic muffin method to mix the batter. That makes mixing a bit faster, and you won't need to get out your electric mixer. You'll just need a big bowl and a big spoon!
While I think these might be best served warm, it's a slim victory over room temperature. Keep them in an airtight container at room temperature, and they should stay plenty soft for a few days. Of course, they're so very good that they may not last that long!
Find more muffin recipes in the Recipe Index.
More Chocolate for Breakfast