April 17, 2008
Chocolate Chip-Filled Melting Moments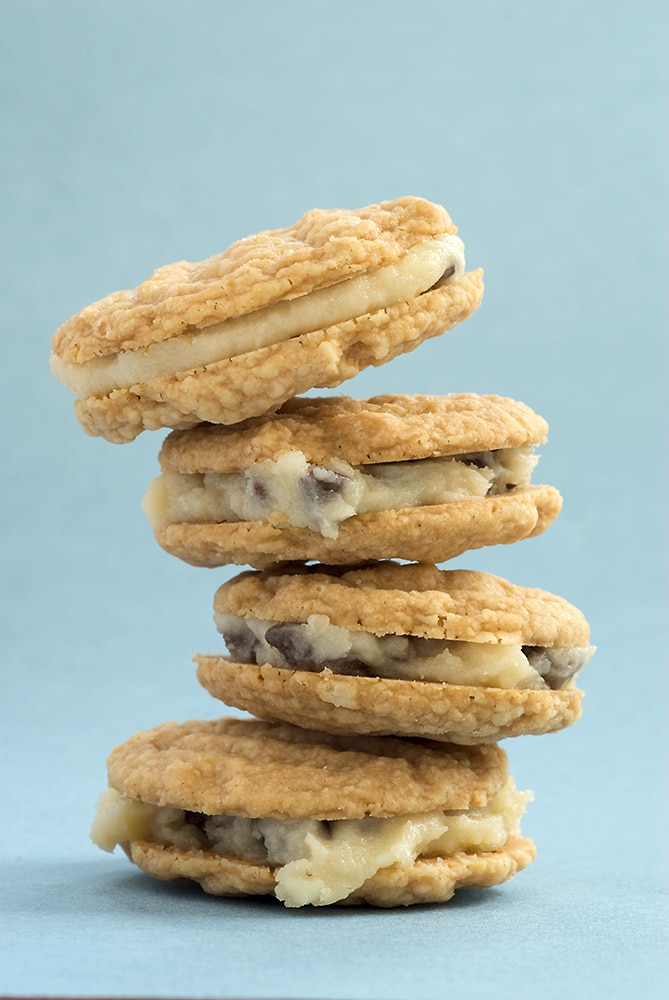 One of my newest cookbook acquisitions is The Essential Chocolate Chip Cookbook. I'll admit that I wasn't immediately sold on the book on first sight. After spending a few minutes flipping through its pages, I was definitely intrigued. Its recipes proved far more interesting and varied than I would have thought.
This book is full of tempting recipes, all packed with chocolate chips. Chocolate Chip Cookie Dough Cheesecake Bars, Chocolate Chip Bread Pudding, Hazelnut and Chocolate Chip Tart. Don't those all sound delicious? These cookies were one of the first recipes that caught my attention. A buttery sandwich cookie with a sweet chocolate chip filling. How could I resist?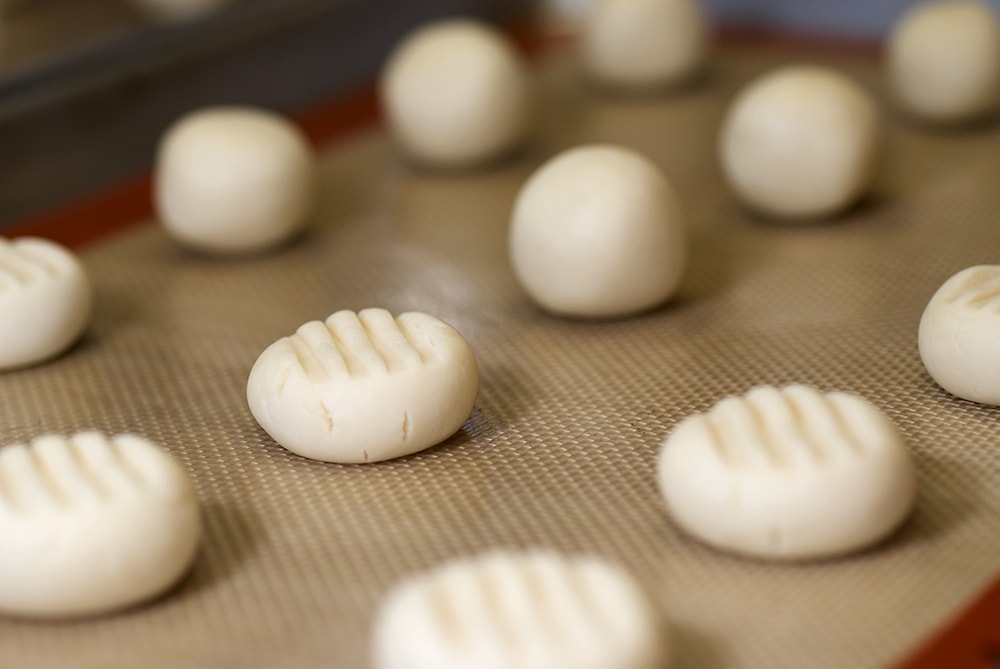 I started making these a little later in the day than I would have preferred. While they aren't difficult or time intensive, the cookies do have a long baking time. With multiple baking sheets, that really added up.
I had one slight problem with making these cookies. I couldn't seem to get the size of them right. I inferred from the cookbook's photo that they would be dainty and small cookies. The first batch spread a good bit and were much larger than I had anticipated. I resized and reshaped the remaining dough, put the baking sheets in the refrigerator for several minutes before baking them, and got a more reasonable sized cookie. In retrospect, I think that the butter was a bit too warm. It was to be at room temperature, but I think just getting it softened would have kept them from spreading so much.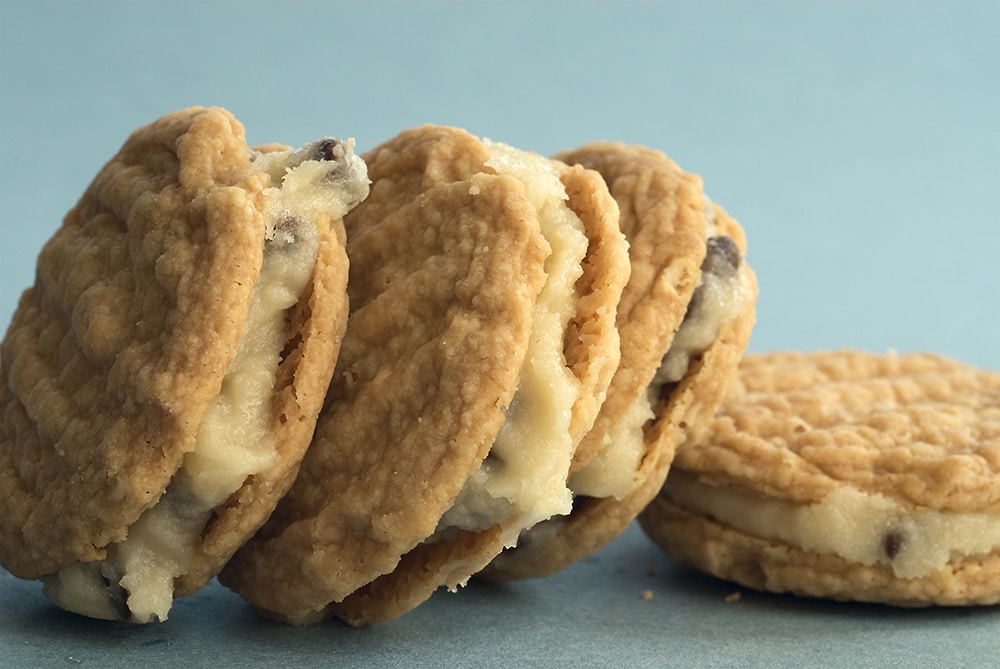 That little hitch aside, I adore these little cookies. The name "Melting Moments" is really quite appropriate, as the cookies seem to melt in your mouth. On its own, the filling is very sweet, but combined with the light cookies it is just right. And, of course, they are so lovely to look at.
Now, for a little treat for one of you. I have an extra copy of The Essential Chocolate Chip Cookbook that I will gladly send you. To be the lucky recipient, just be the first to guess how many chocolate chips are in the container pictured above. The only information I will give you is that these are standard-sized Ghirardelli chocolate chips. Leave your guess in the comments for this post by 12:01 AM Central Time Friday, April 25, 2008. The first person who guesses correctly (or gets the closest) will have this new cookbook for their collection. Please, limit yourself to one guess. I'll announce the lucky winner some time on that day. Good luck!
UPDATE: Contest is closed as of 4/25/2008.
Chocolate Chip-Filled Melting Moments
Yield: 16 sandwich cookies (32 individual)
Prep Time:30 minutes
Cook Time:30 minutes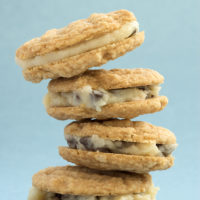 Ingredients:
For the cookies:
1/2 cup unbleached all-purpose flour
1/2 cup cake flour
3/4 cup cornstarch
1/2 teaspoon baking powder
1/4 teaspoon salt
3/4 cup unsalted butter, softened
3/4 cup powdered sugar
1 teaspoon vanilla extract
For the filling:
1/4 cup unsalted butter, at room temperature
3/4 cup powdered sugar
1 teaspoon vanilla extract
1/4 cup mini chocolate chips
Directions:
To make the cookies:
Preheat oven to 300°.
Sift both flours, cornstarch, baking powder, and salt together into a medium bowl. Set aside.
Using an electric mixer, beat together butter and sugar at medium speed until smooth. Scrape sides as needed. Mix in vanilla until blended. Decrease mixer speed to low and add flour mixture. Mix just until combined and a smooth dough has formed.
Use about 1/2 tablespoon of dough for each cookie. Roll each into a ball and place about 2 inches apart on lined baking sheets. Flatten each with a fork to about 1 & 1/4 inches in diameter.
Bake sheets one at a time until the bottoms of the cookies begin to brown, about 25-30 minutes. The tops should not change color. Cool on pan for about 10 minutes, then transfer to wire racks to cool completely.
To make the filling:
Stir together butter, sugar, and vanilla until smooth. Stir in chocolate chips.
Turn half of the cookies over and spread about a teaspoonful of filling on each. Place the remaining cookies on top of the filling. Press gently.